It's been a little over a year since we moved into our home and in looking back at photos, if I didn't know better, I would think that the number of bed transformations we have undergone outweighed the number of times we have taken out the trash. Not big changes… not crazy changes… just small, constant, refreshers. Some may think having a neutral bed is boring (I say this because I have actually read this more than once about our bed haha), but you know what I think is boring? Getting stuck with a vibrant design that limits your ability to trade out pillows and accent colors. After one year, I am sound in my decision to keep my bedding basics, well… basic. No accent pillows are off limits and no flowers will clash. To give a little recap of what my master suite has seen, I have rounded up some of my favorite looks over the last year.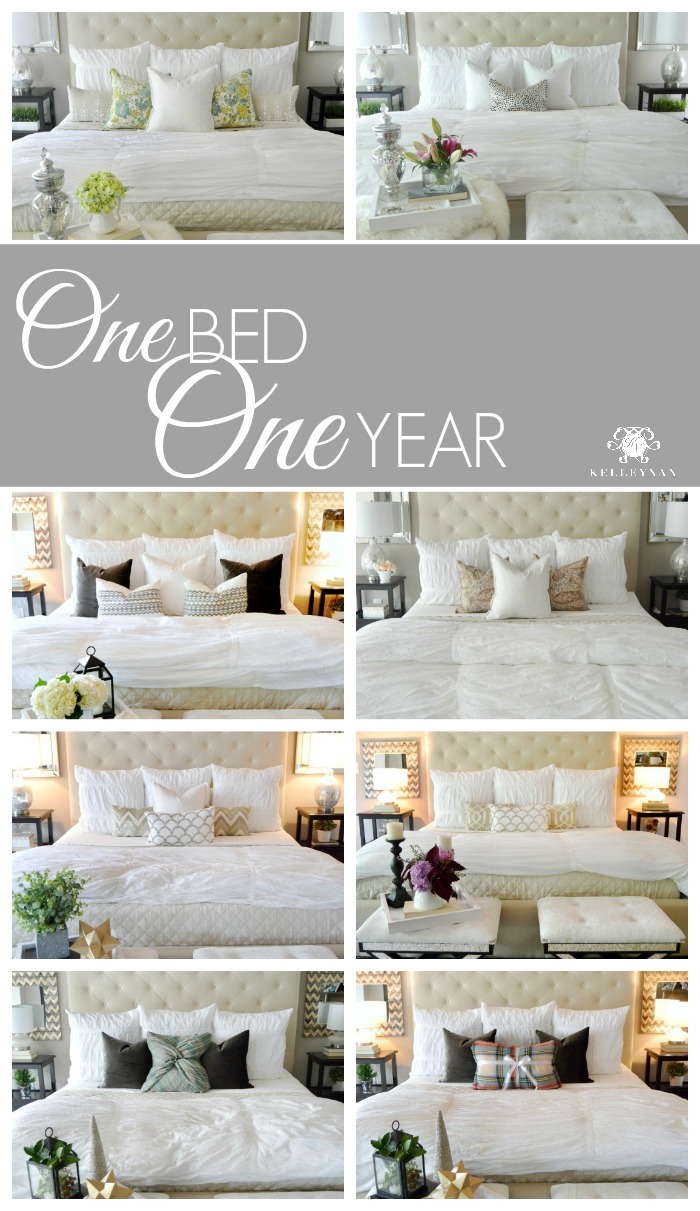 Most recently, I hauled my cool, floral pillows up from the living room to give this space a dose of summer sunshine. I shared a few images of this look in my summer home tour a couple of weeks ago.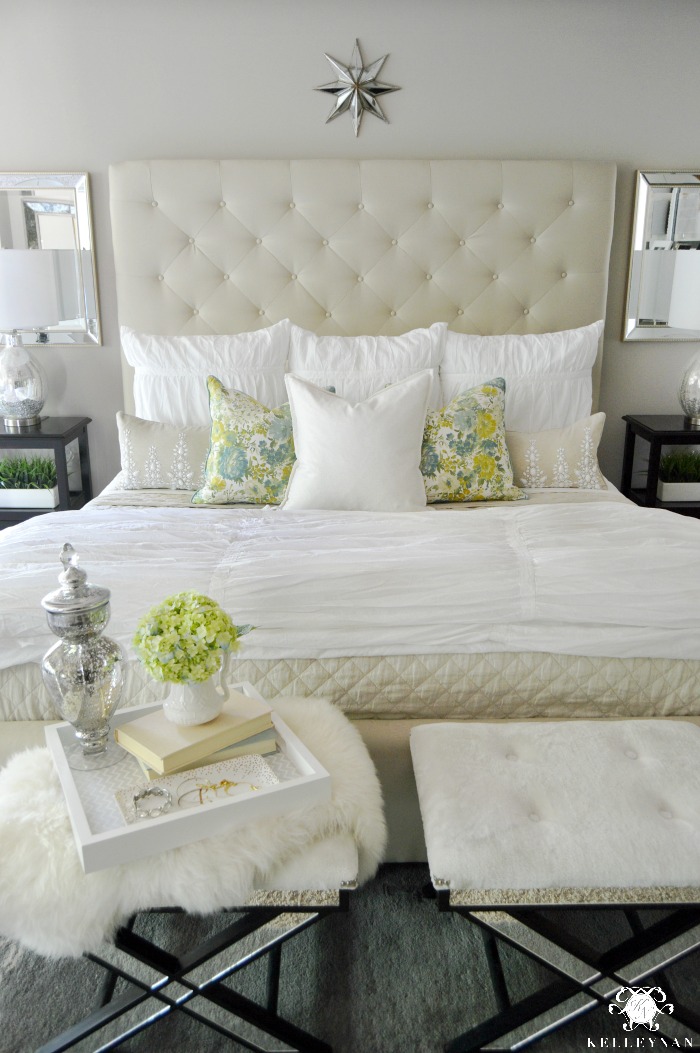 Throughout the past year, the constants have been my 1. Lorraine Tufted Tall Bed & Headboard; 2. Hadley Ruched Duvet Cover & Euro Shams; and 3. Belgian Flax Linen Diamond Quilt. *The linen diamond quilt is my single most favorite bedding piece EVER. While we have it in our master bedroom in 'Natural', we have it in our guest bedroom in 'White'.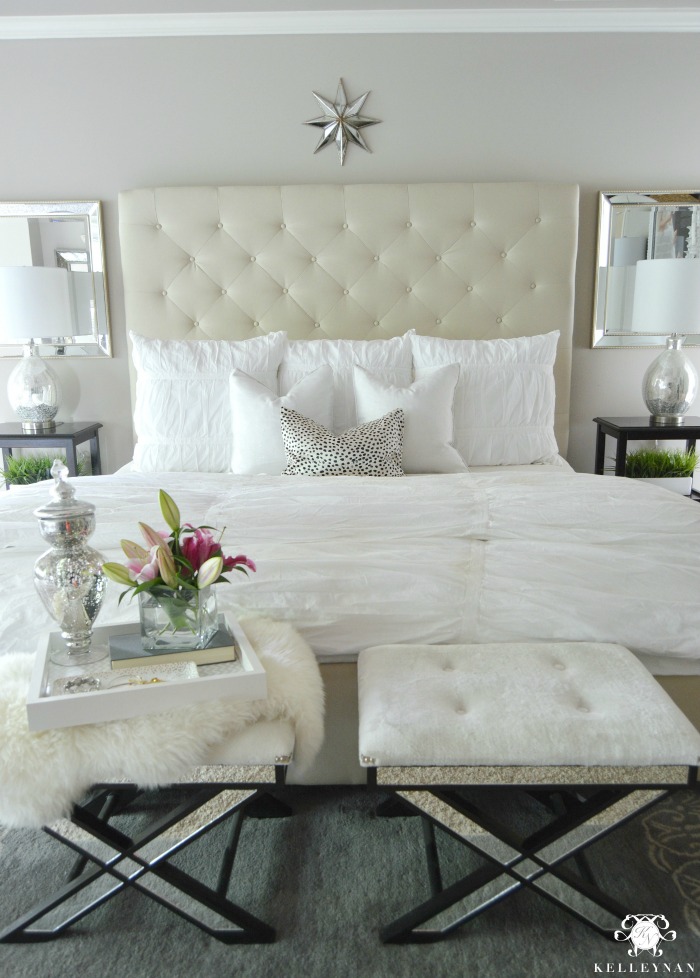 This look was just after I made a few small updates in the bedroom. You can catch the details on the master bedroom refresh HERE.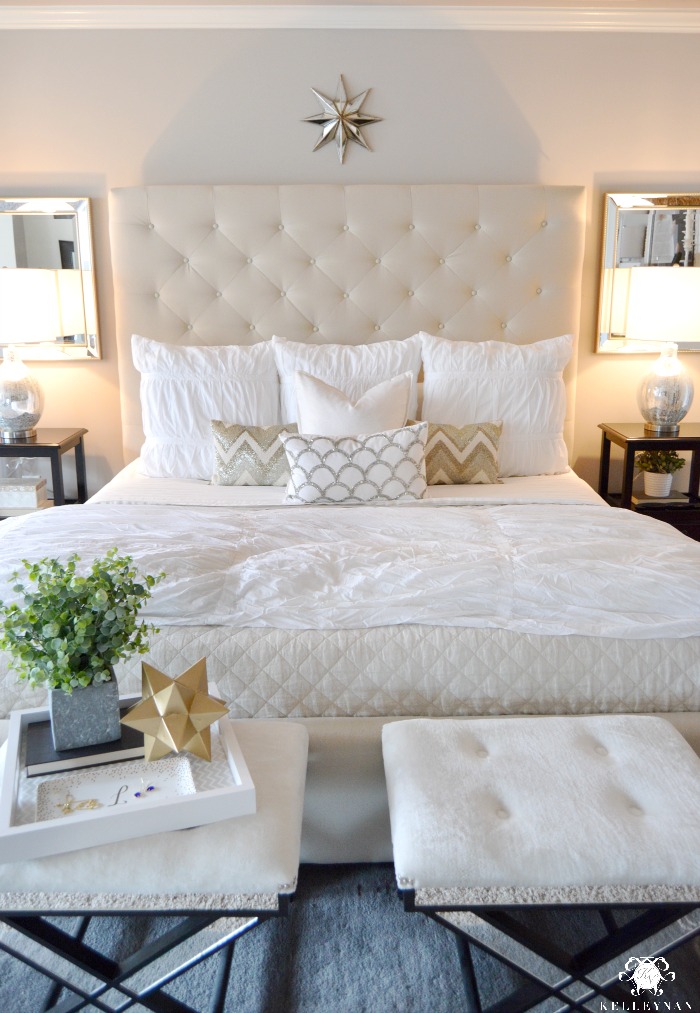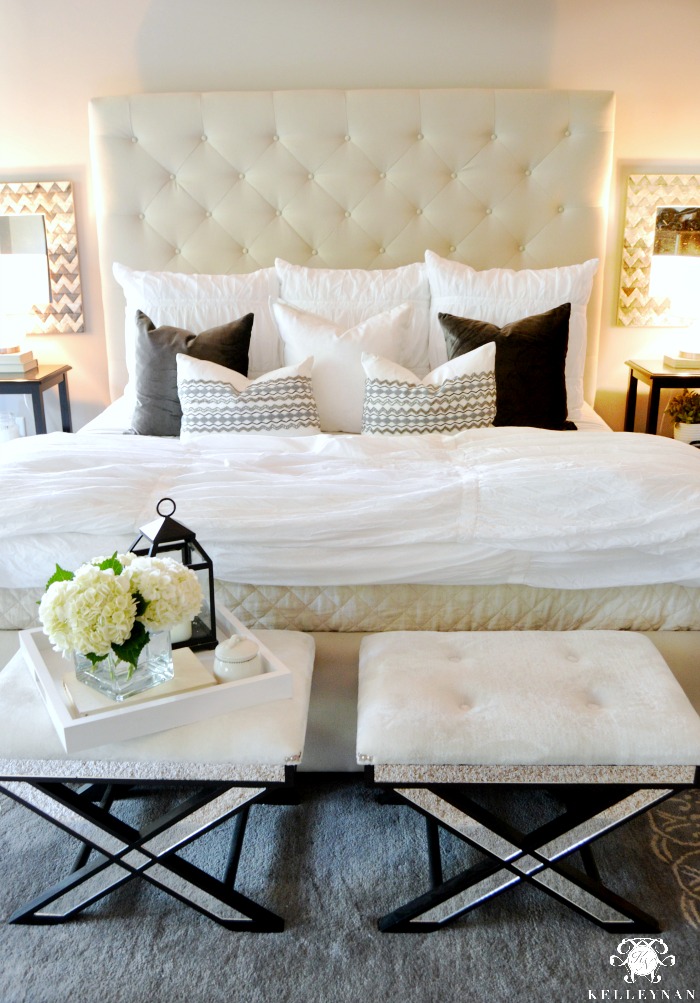 These tan paisley pillows were actually a set that I purchased for my mom. No, they were never mine but I did borrow them for a few days to take them for a test run 😉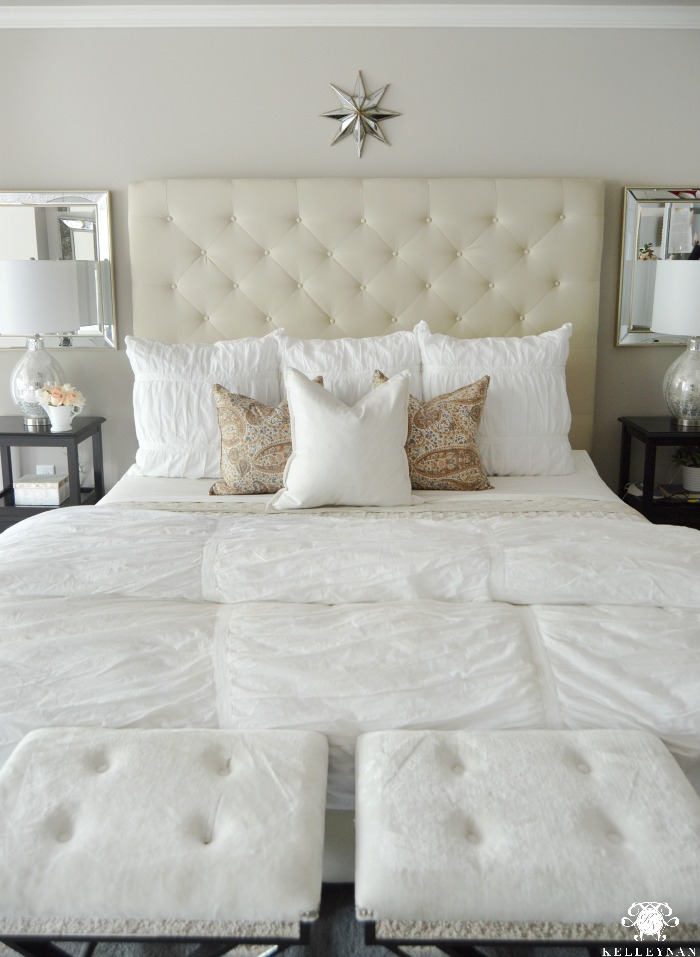 Following Christmas, I was so excited about thin strands of copper wire lights, I used some to outline my headboard to hang on to the season just a little longer.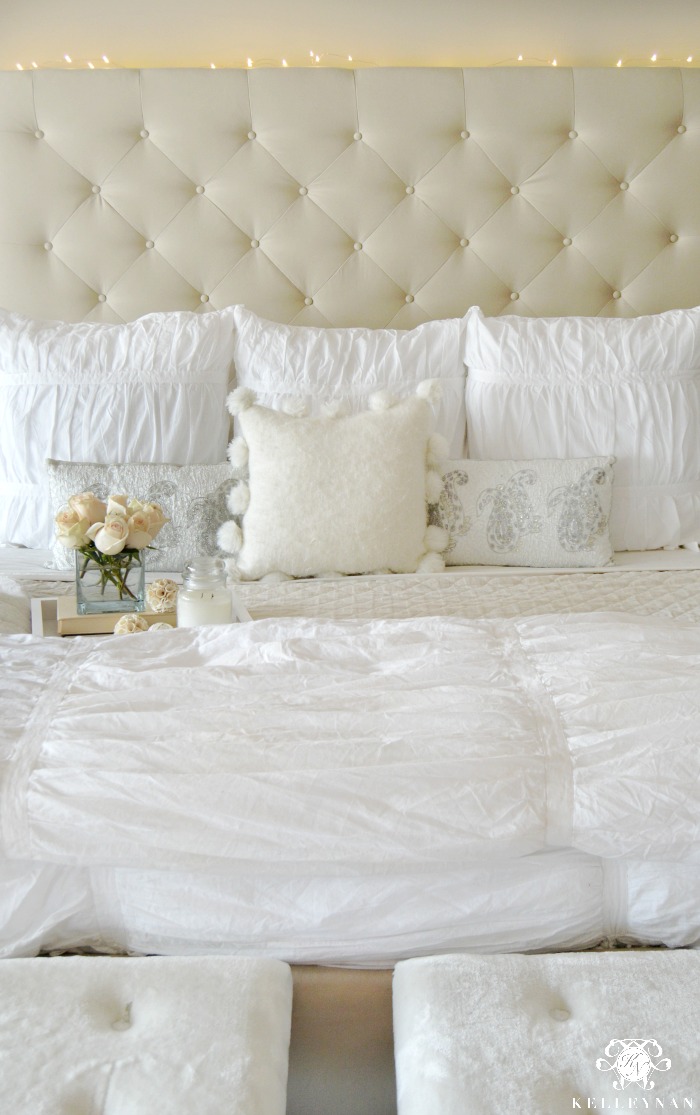 When I was decorating for Christmas, I wanted to find a way to incorporate cozy plaid into my bedroom decor. I came up with a way to easily transform some of my blanket scarves into pillow covers. You can catch the easy tutorial HERE.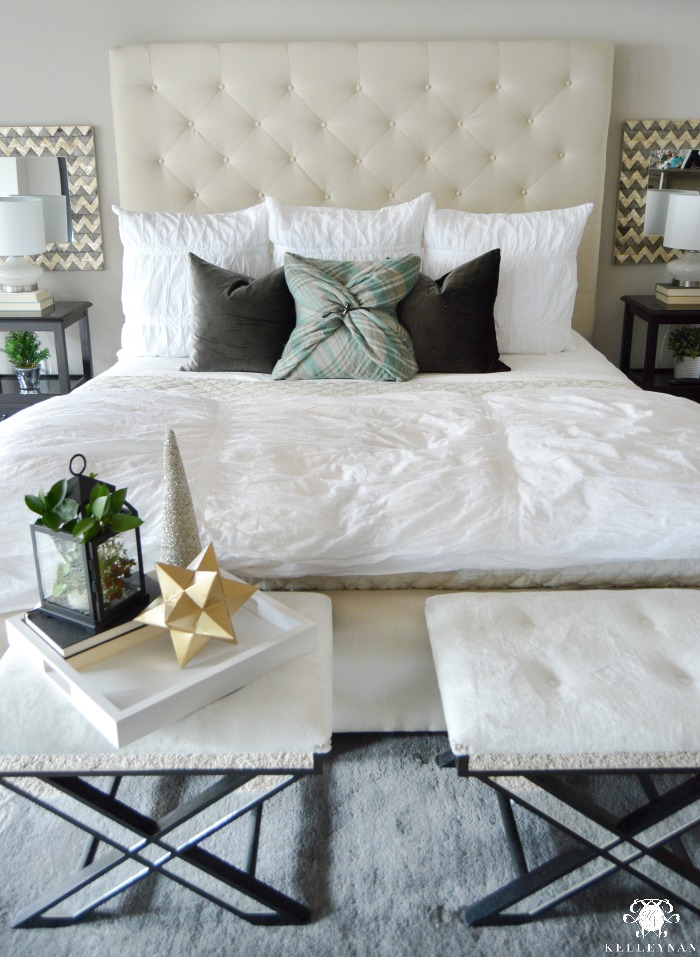 Here's a different winter look using a similar technique.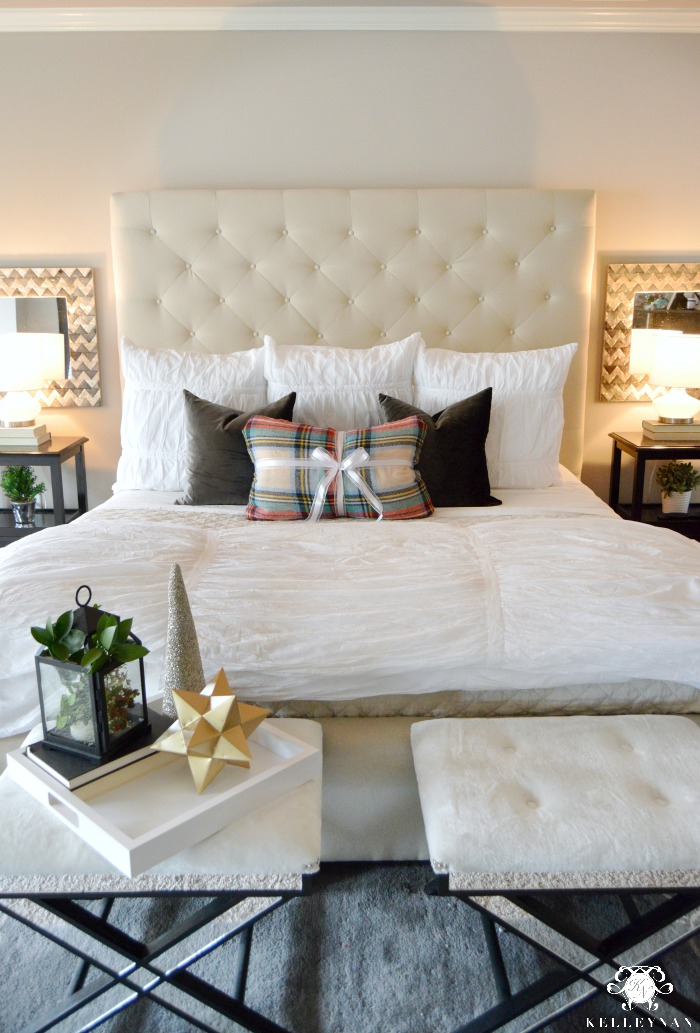 I love keeping all my bed neutral and only bringing some color in through flowers. Last fall, I was clipping my thriving coleus every week (it was out of control on my deck and I LOVED it) to accent my other blooms. More on that HERE.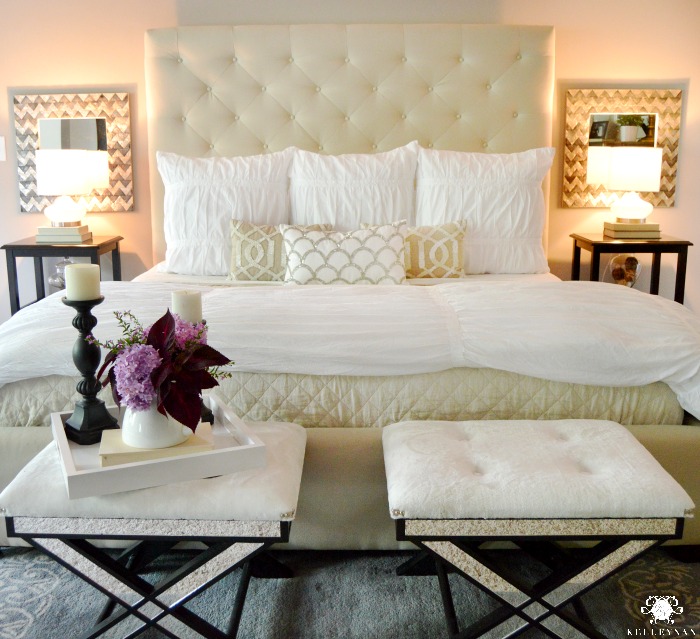 Here's a few other looks over the course of the year.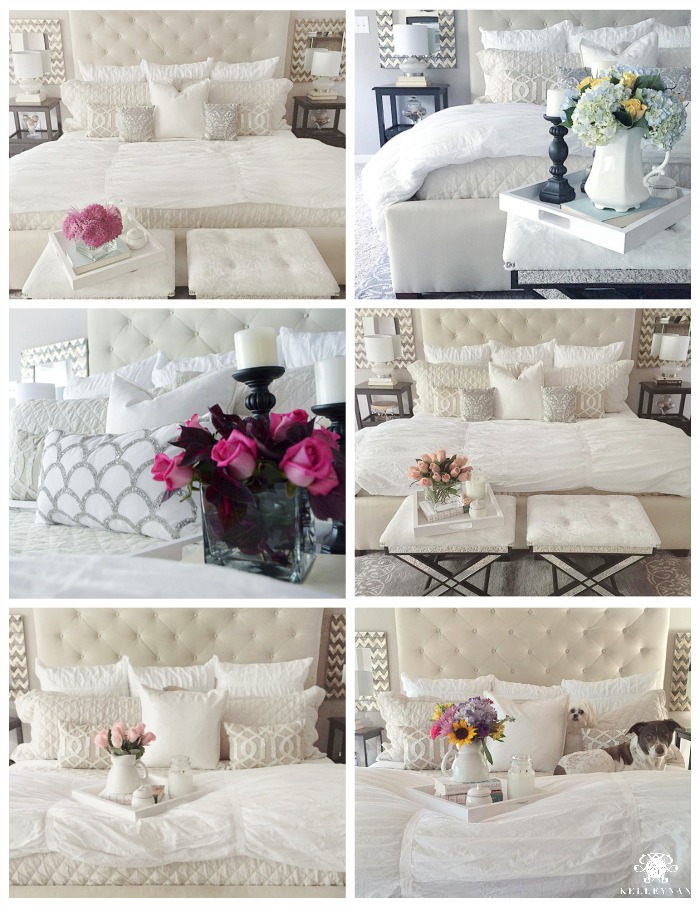 If you aren't sure which direction you want to take your bedroom or you are looking for something you won't easily tire of, go for the neutrals. I even have our guest bedrooms outfitted in neutral bedding (HERE and HERE). You may acquire one heck of an accent pillow collection (which may or may not later be known as your 'closet of shame'), but it is an affordable and easy way to always have a fresh look in your bedroom.
GET THE LOOK

(use the left and right arrows to scroll)
Paint: Versatile Gray by Sherwin Williams
*Note: Post contains affiliate links and sources throughout the post. Where product is no longer available, a similar substitute has been listed.