With the welcome of warm days, there's no better time to share the recipe for the Four Bean Salad I grew up on, with a flavor so specific, it gives cravings that nothing else seems to satisfy. It's the perfect mix of tangy, salty and sweet and an evolution of the classic three bean salad some of you may be familiar with. Served cold, it's refreshing and I. Love. It.
*Posts on KelleyNan.com may contain affiliate links. Click HERE for full disclosure.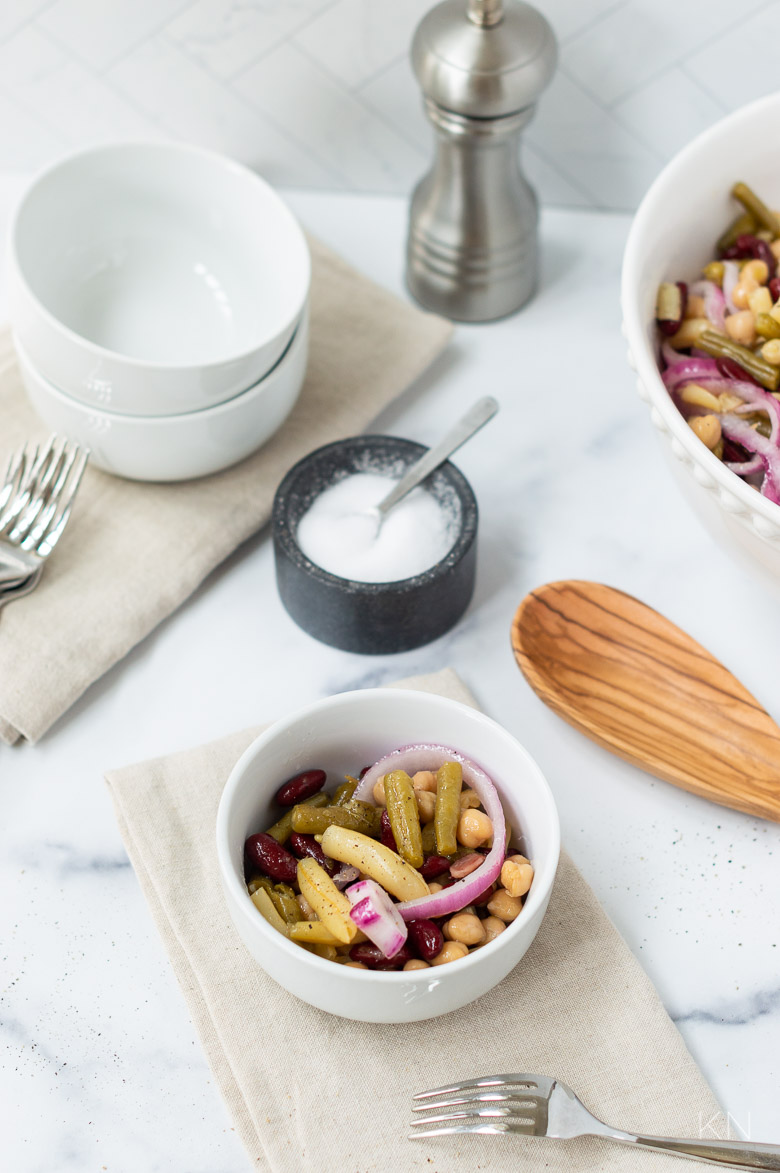 Sources: Small White Bowls | Flatware | Linen Napkins | Stainless Pepper Mill | Wooden Spoon | Serving Bowl (similar)
WHAT INGREDIENTS DO YOU NEED TO MAKE FOUR BEAN SALAD?
The ingredients to make Four Bean Salad are really simple and we typically have most of them on hand. While the standard version featured three beans — kidney, green and wax — I've added garbanzo beans to mine. The standard version also included a three-cup dressing mix of one cup each of oil, vinegar and sugar. But I think you'll agree that is WAY too much and is not needed. My salad only requires a half cup of each dressing ingredient. I like to leave the onions sliced in to rounds, rather than chopping them in to smaller pieces. Here's what you need…
can of cut green beans
can of wax beans
can of dark red kidney beans
can of garbanzo beans
red onion
canola (or other vegetable oil)
white vinegar
sugar
salt
pepper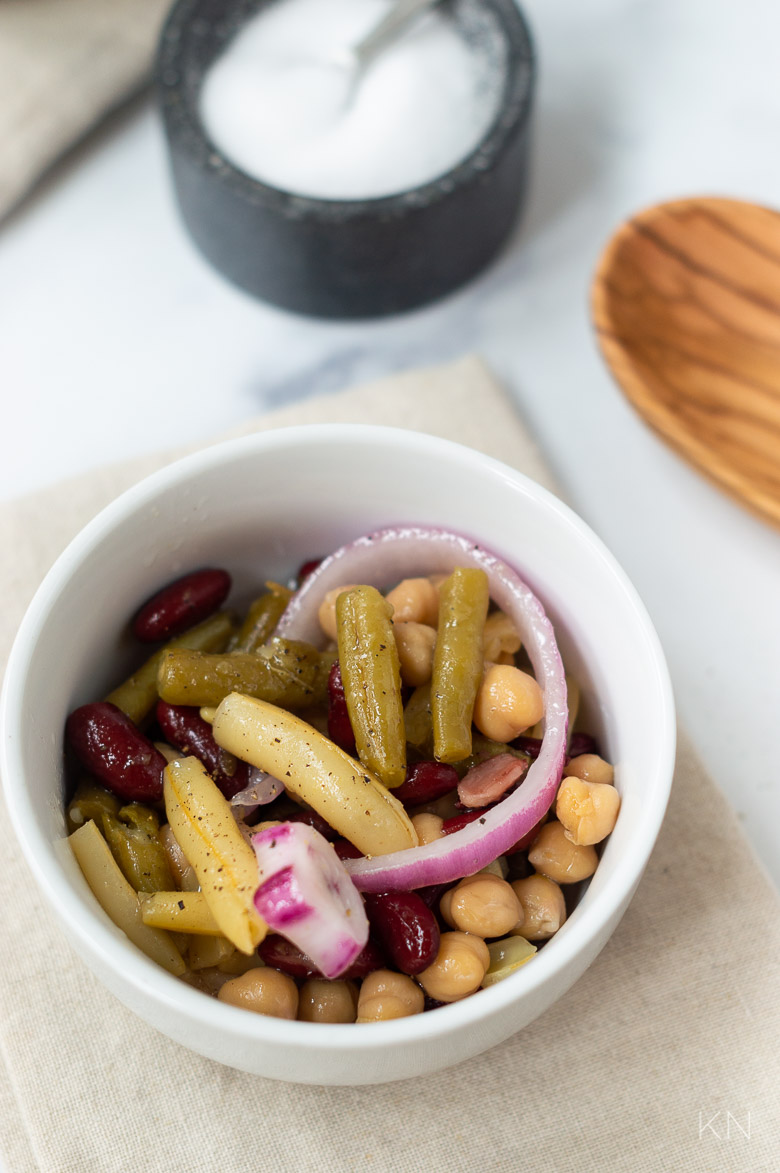 Can You Make Four Bean Salad Ahead of Time?
Yes! And, you should! It's very important to allow the salad to marinate in the refrigerator, at least overnight. The more it marinates, the better it is! While it's an easy dish to pull together, it isn't one you can successfully pull off at the last minute since the flavors would be compromised.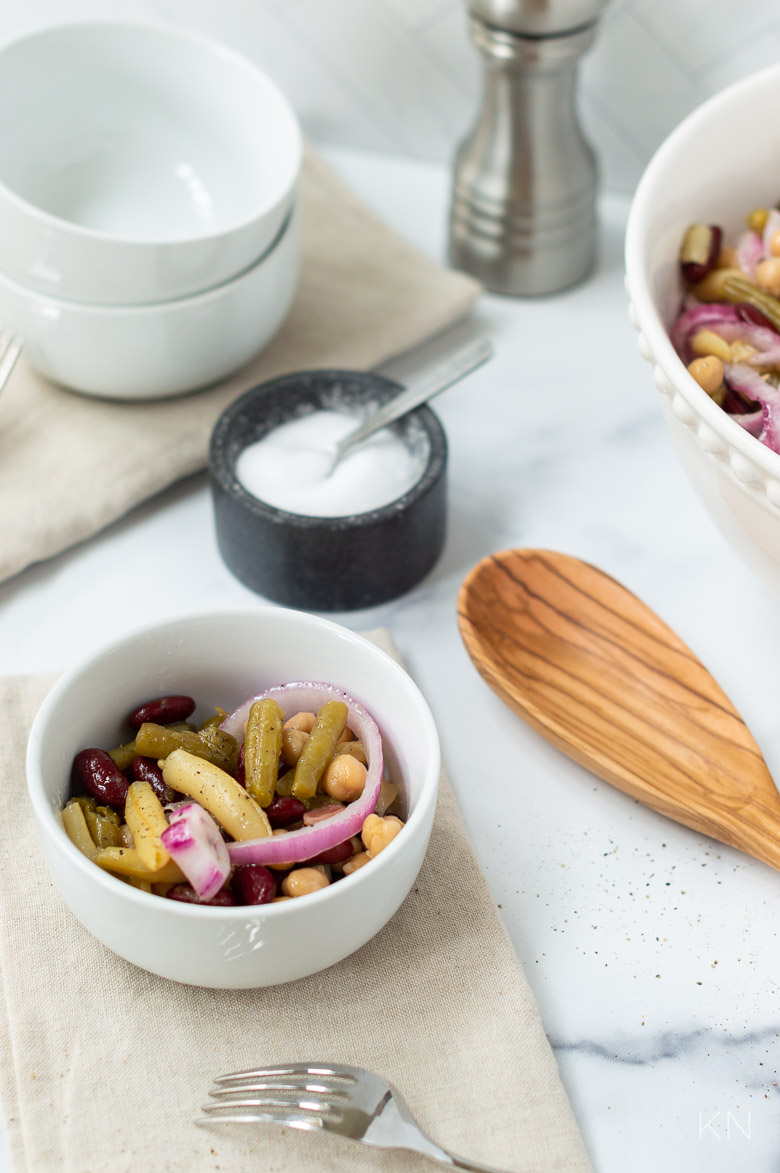 WHAT TO SERVE WITH FOUR BEAN SALAD
We most recently served this Four Bean Salad for our Easter Dinner, alongside smoked beef brisket, hash brown casserole (recipe coming soon), spinach casserole (recipe HERE) and watermelon. The Four Bean Salad pairs perfectly with almost any protein — especially in a cookout setting — including:
Hamburgers
Hot Dogs
Barbecue Pork
Barbecue Chicken
Smoked Beef Brisket
Basked Ham
Rotisserie Chicken
Chicken Casserole
Pork Chops
Sandwiches
Fried Chicken
Pork Tenderloin
Pot Roast
Steak
Baked Chicken
Meat Loaf
Other cold salads may be added to your menu, such as potato or pasta salad. Or, it's also yummy to  serve alongside a warm vegetable or starch, like we did for Easter.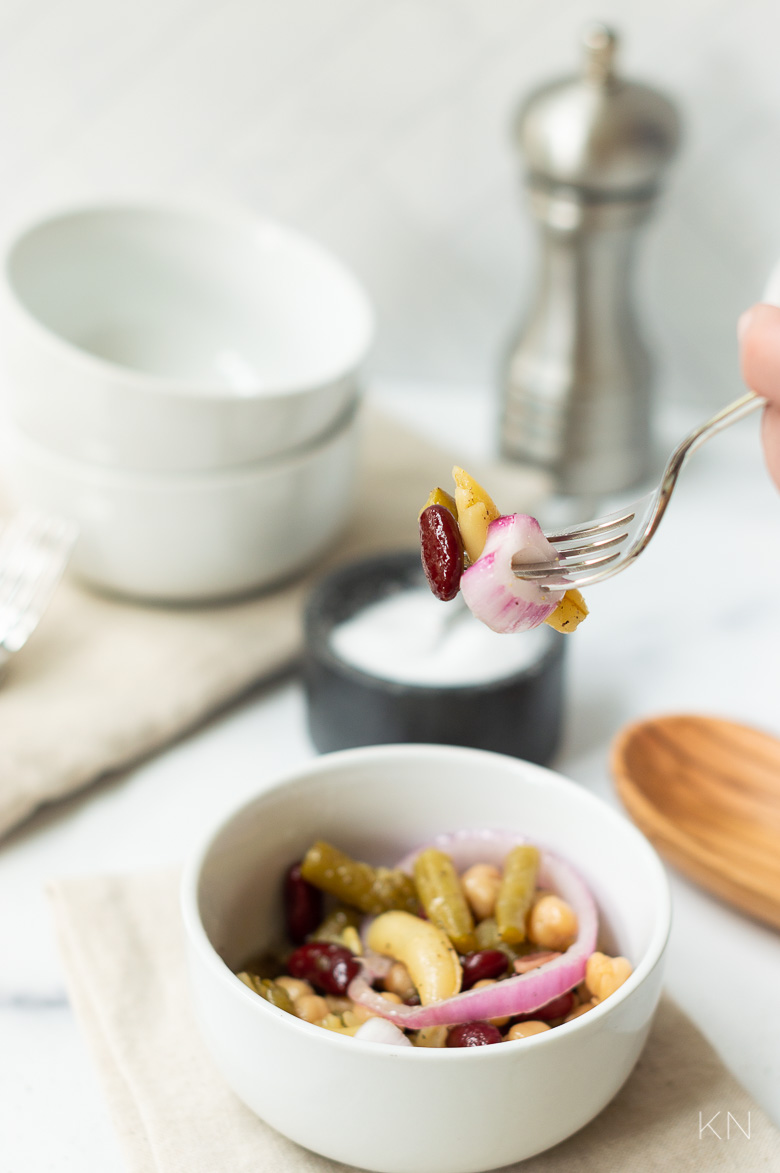 FOUR BEAN SALAD RECIPE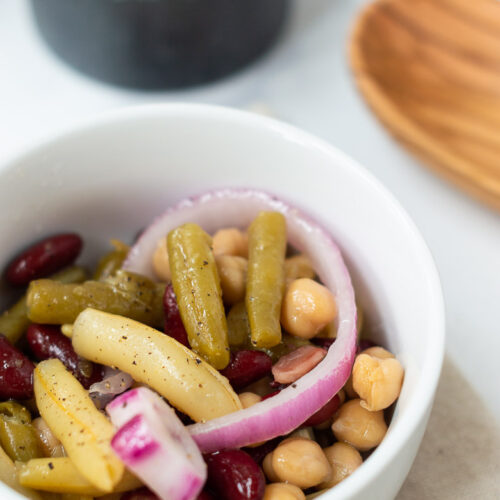 Four Bean Salad
My version of the standard Three Bean Salad features four different beans and is more calorie-friendly with less oil and sugar. This is the perfect side for picnics, grilling and barbecue. It's a perfect blend of savory and sweet!
Ingredients
1

can

Dark red kidney beans

1

can

Garbanzo beans

1

can

Green beans

1

can

Wax beans

1/2

Red onion - sliced and separated into rounds

A Vidalia onion may also be substituted. You may add more onion, if you'd like.

1/2

cup

Canola oil

1/2

cup

White vinegar

1/2

cup

Sugar

Salt and pepper, to taste
Instructions
Open all cans and drain and rinse in the colander in this order.

Dump in kidney beans and rinse well.

Dump in garbanzo beans and rinse.

Dump in green beans and wax beans and rinse lightly.

Slice red onion.

Mix oil, vinegar and sugar together.

Dump beans in mixing bowl. Add red onion (separated in rings.) Pour dressing over beans/onion. Add salt and pepper and stir to incorporate.

Cover and refrigerate overnight. Stir the salad periodically while it is marinating in the refrigerator.

Prior to serving, drain off excess marinade.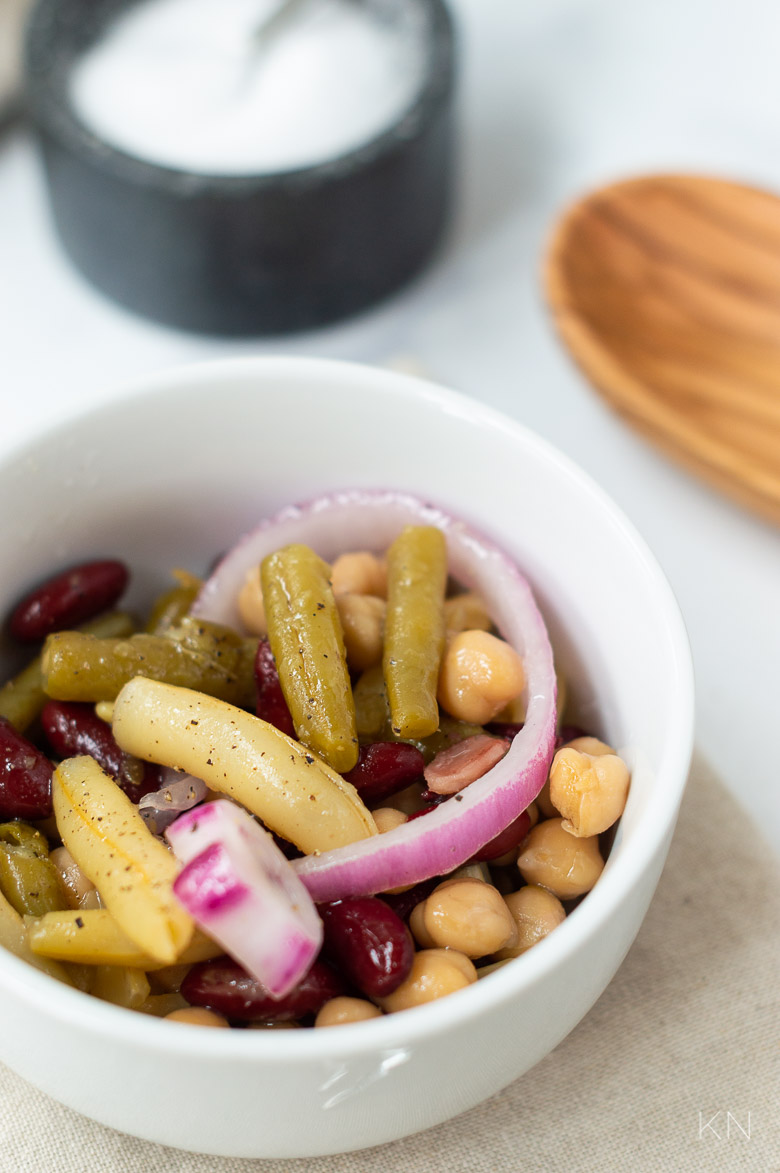 Whenever you think of cold salad sides, I think it's pretty typical for our minds to wander to the more common varieties of pasta and potato salads. This is a great one to keep in your arsenal to mix things up a bit!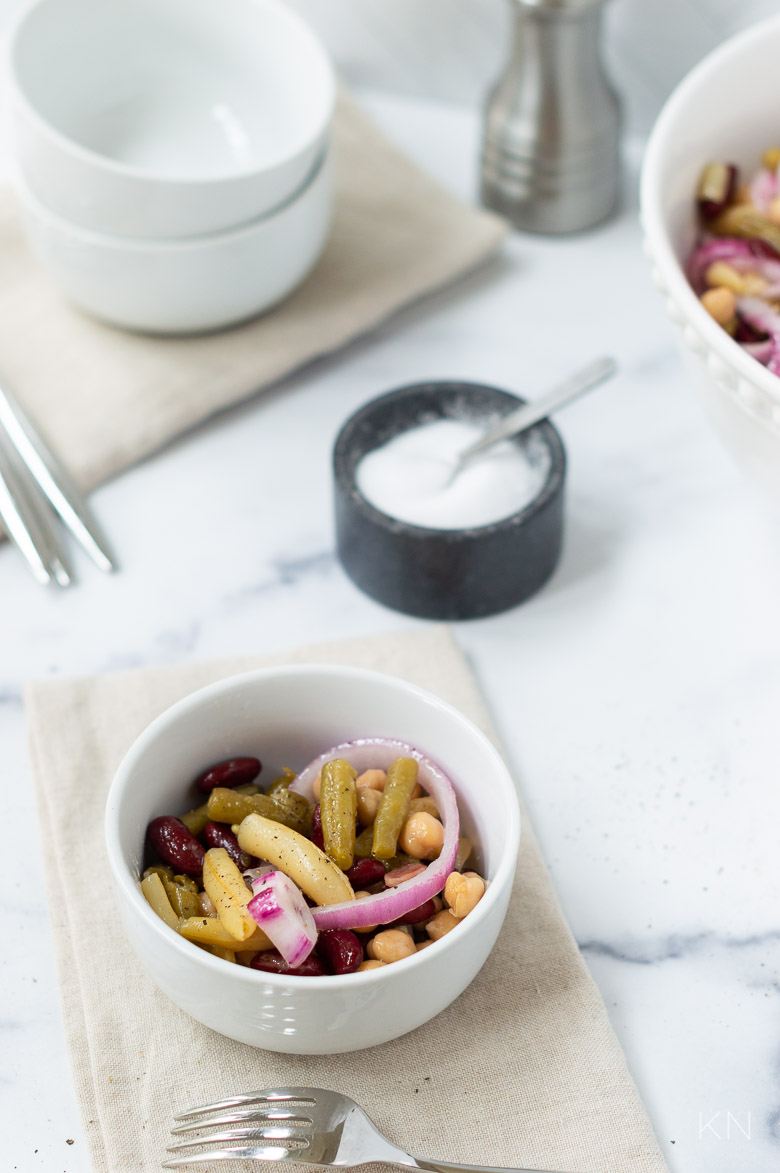 Sources: Small White Bowls | Flatware | Linen Napkins | Stainless Pepper Mill | Wooden Spoon | Serving Bowl (similar)
Be sure to subscribe to emails at the bottom of the post for more easy, long-time family favorite recipes like this!
OTHER SIDE DISH RECIPES YOU MAY BE INTERESTED IN
PIN FOR LATER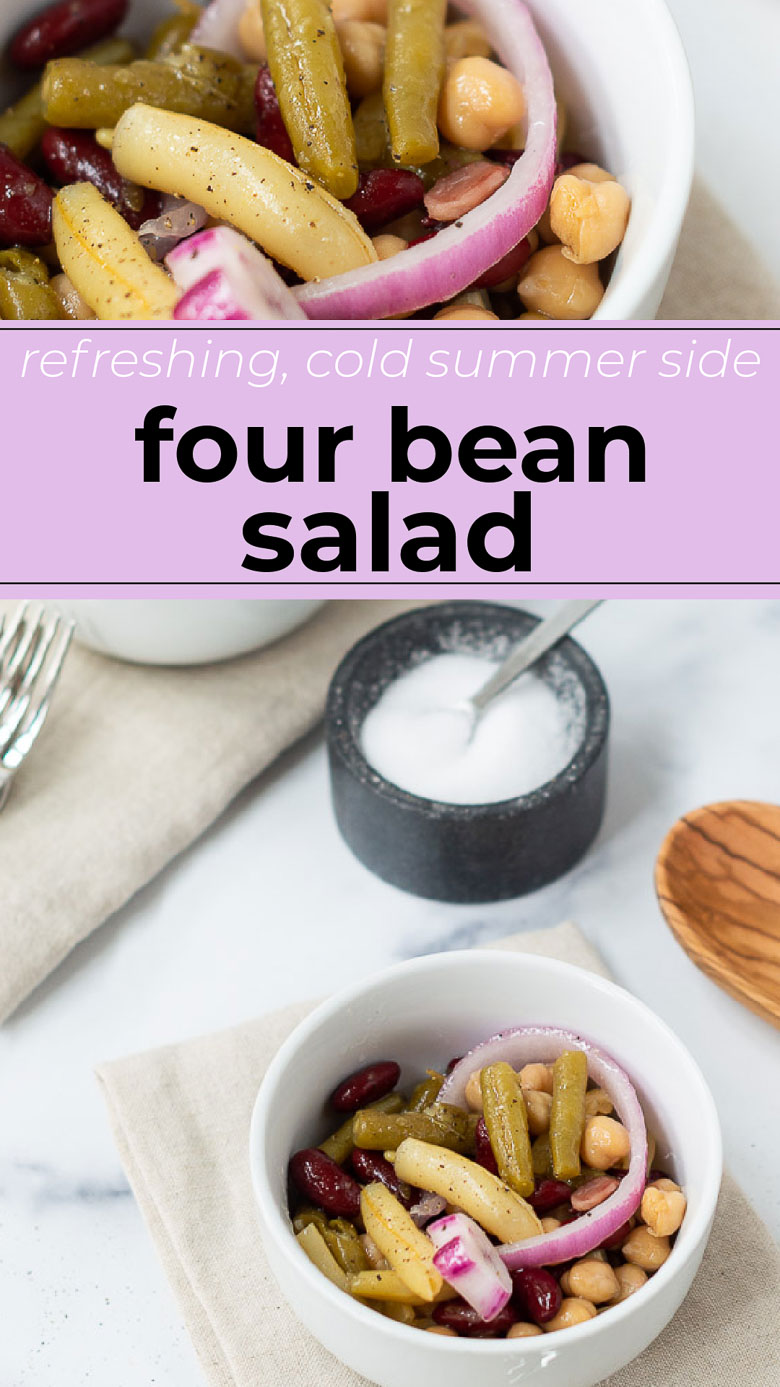 SHOP KITCHEN FAVORITES