I feel like I just shared a life lately-style post (I did — three posts back), full of variety, but with a continued lack of succinct order, I'm back today with a Snack Around the Plate with even more randomness. I'm sharing quick projects, our vacay highlights from earlier this month and what I'm planning for next! You'll find it all below in the latest SAP installment.
What is a "Snack Around the Plate"? Growing up, this was the phrase my mom called meals she would assemble with random favorites when scouring the pantry and fridge. And, while each item didn't totally go together, assembled as one collective, I loved them! Basically, "Snack Around the Plate" posts are just a smorgasbord of randomness — "a little of this and a little of that" from all things lifestyle. It's a mish-mosh highlight reel from a favorite recipes to favorite finds.
*Posts on KelleyNan.com may contain affiliate links. Click HERE for full disclosure.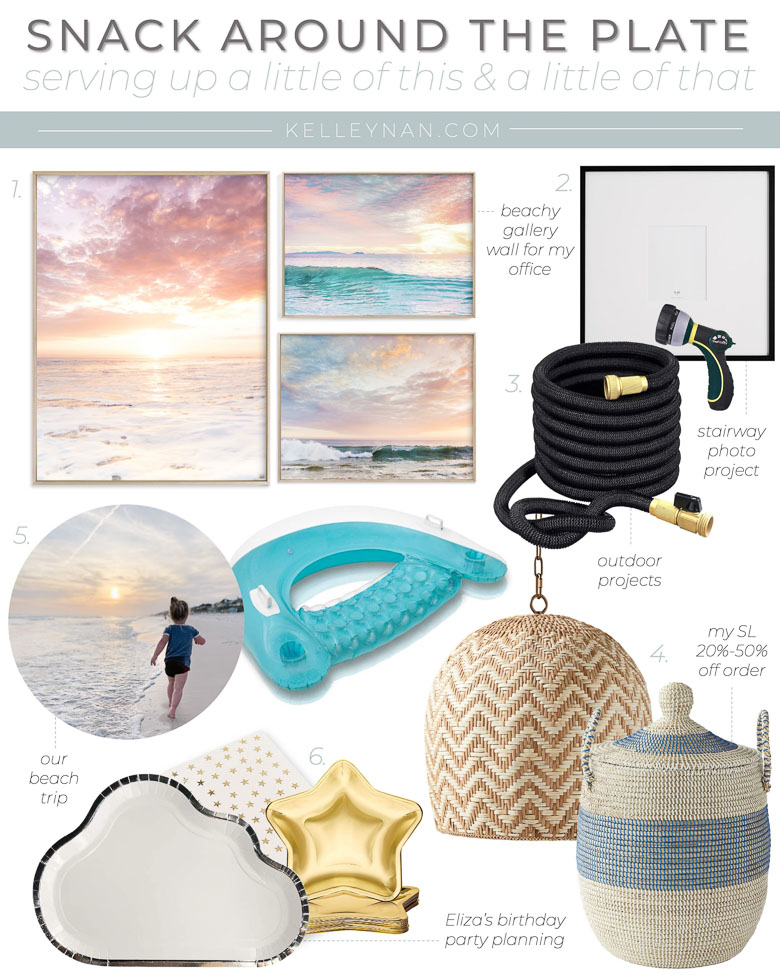 The details of each SAP topic can be found in the post below!
Outdoor Projects
Each spring, it's kind of a toss-up of the outdoor projects we'll take on on the back deck. The yellow pine pollen in Georgia is killer and we typically try to wait until the yellow film has reached its max before getting our outdoor living cleaned up and in order — we also try to tackle most of our spring planting the same weekend. This year, we started a little bit later but I think the pollen also fell a little later. So, our efforts were split over two weekends a few weeks apart. No fresh deck stain was added this year (we'll probably be due next year) and I didn't get around to adding a fresh coat of paint to the large trough planter like I mean to, but we did refresh some things that have been outside for the past few years. In addition to pressure washing, cleaning up and planting flowers, here's what we did for a back deck refresh…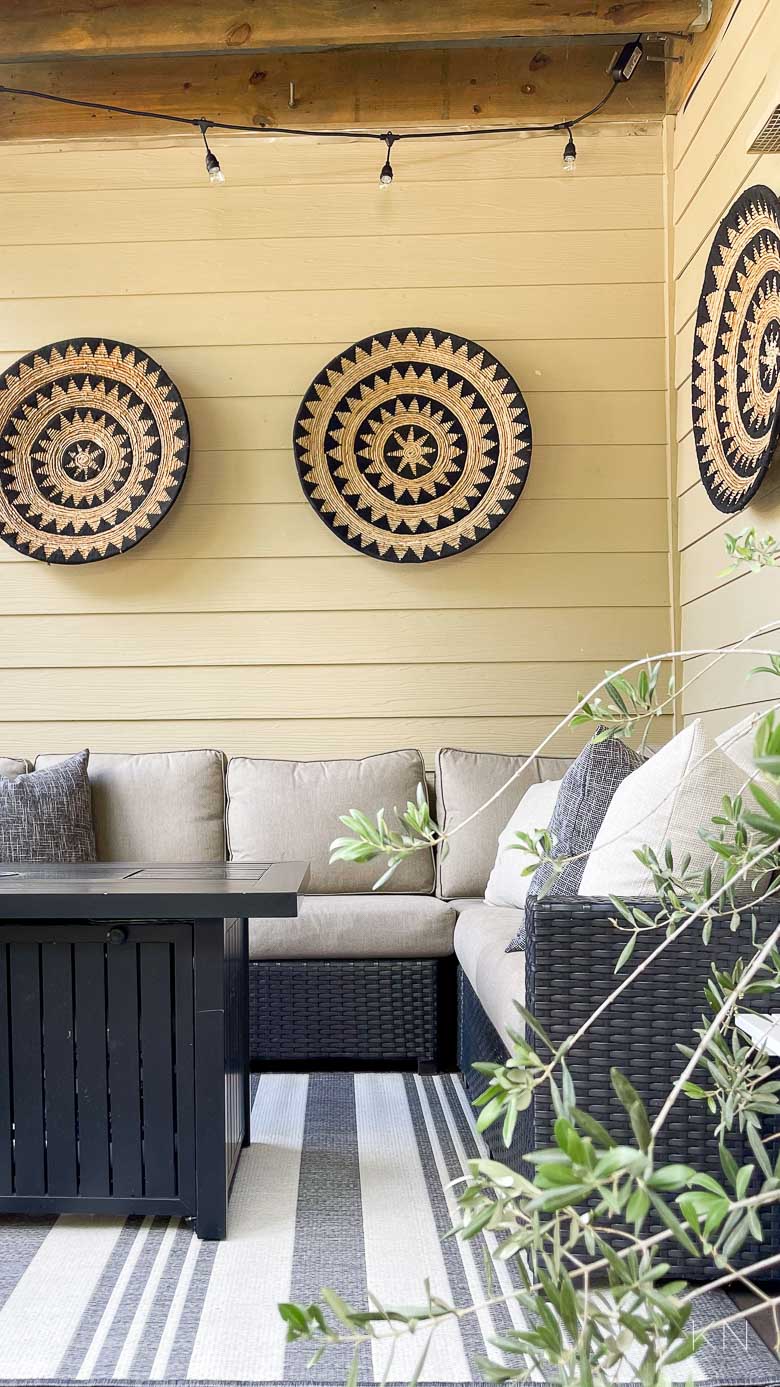 Sources: Sectional (similar) | Rug | Lights | Wall Baskets | Black Pillow Covers (set of 2) — 22″ | White/Nautral Pillow Covers (set of 2) — 22″ | Pillow Inserts (set of 2) — 24″
While inexpensive, the pillow covers have a substantial feel to them…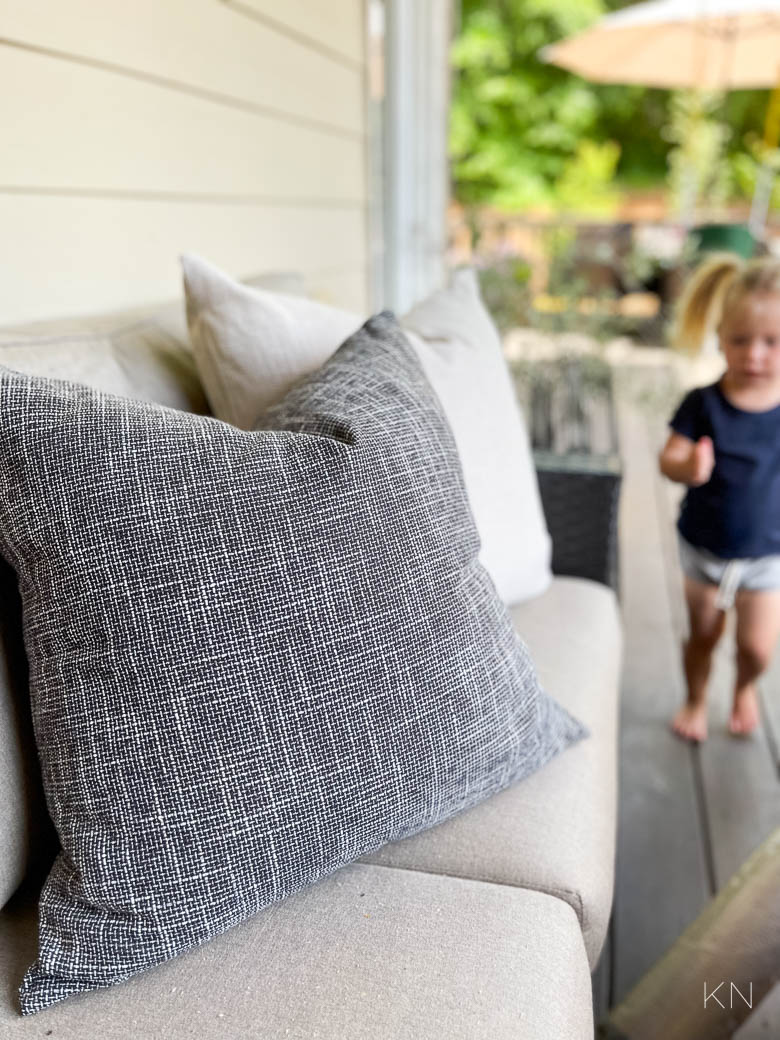 We also added another lightweight expandable hose to the house. I raved about THESE last year and now we, along with my mom, use them exclusively. No more dragging heavy, unwieldy hoses and awkward hose reels for us! We use the 100′ version (there are four sizes available) and then just toss them in a planter when we're finished. I used THIS concrete fluted planter on the more visible side of the house (comes in a bunch of sizes and several colors HERE!) but used THIS similar one made of resin in the back of the house.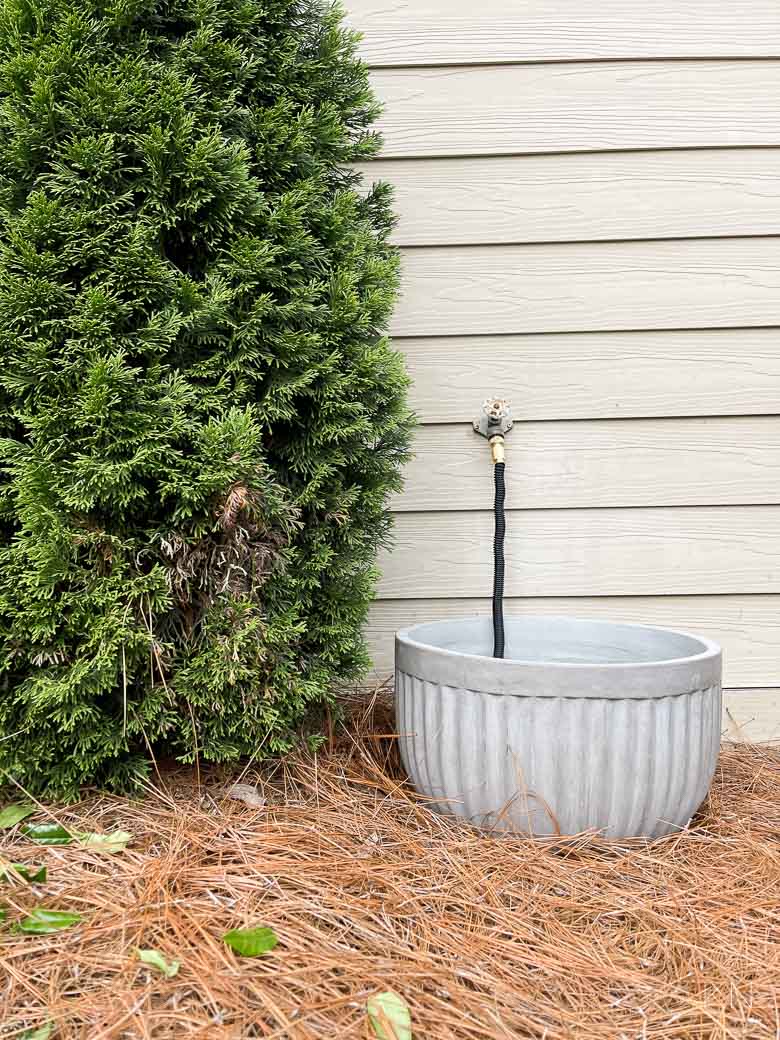 Sources: Bowl Planter | Expandable/Flexible Hose
Stairway Gallery Wall Update
This past weekend, I also took on a quick stairway project I'd been meaning to tackle for far too long. Our stairs aren't open so it's been easier to ignore the too-traditional chunky photo frames that have held our wedding photos since we moved in. While the size of the photos were 11″x14″, the mats and frames didn't extend much beyond that. I wanted to replace our wedding photos with family photos and I wanted a bit of a cleaner, fresher look with a wide mat and streamline, sleek frame. I opted for THIS PB frame in the 8″x10″ photo with 25″ frame version (there are several finish colors and a bunch of size options) HERE. Without getting too complicated, I committed to keeping the arrangement the same — three photos. I ordered a few photo print options since I couldn't decide — both in color and in black and white…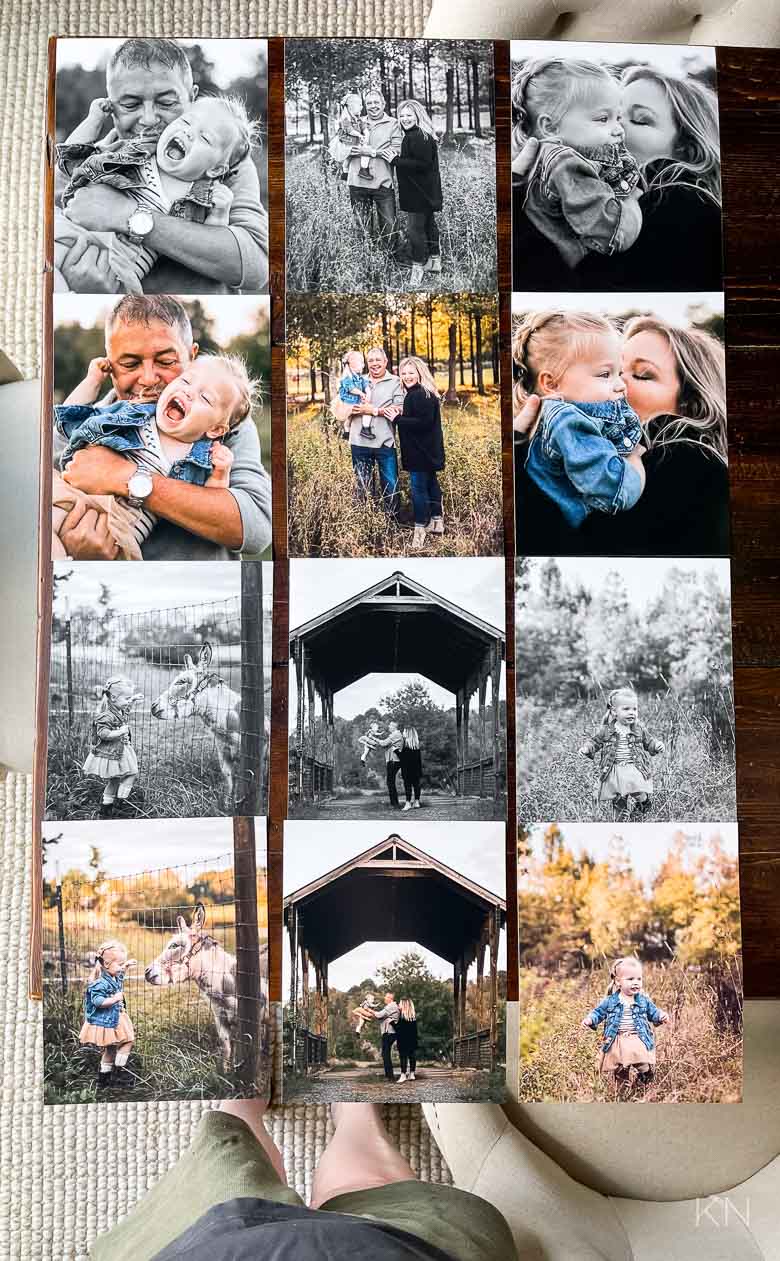 I ultimately went with the first horizontal line and here's how the project turned out!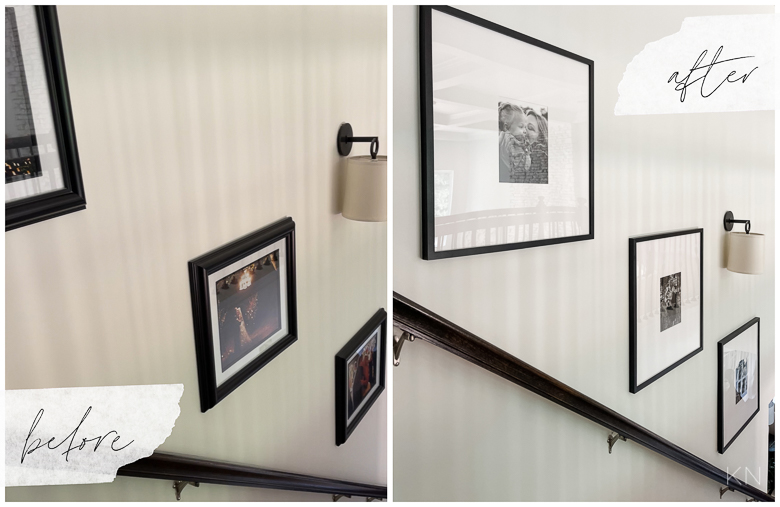 Sources: "After" Frames — Black Frame, 8×10″ Photo, 25×25″ Frame| Sconce
I used THESE claw picture hangers and they worked beautifully. I think they cut my labor time and effort by at least half. I've shared them before but they're essentially drywall picture hanging hardware that comes with sticky markers and helps you hang your photos and art perfectly — with zero tools. You just put your provided sticky marker on the back of your art, push it against the wall where it should go, the sticky marker comes off and shows you exactly where to place your hardware. Then, you push the claw hanger into the wall. That's it. After using them on our bathroom gallery, I was sold. You can get them to support up to 60 lbs. HERE, on Amazon.
Beachy Office Gallery Wall
Speaking of art and galleries, after coming back from vacation (more on that in a bit!), I have this new, renewed appreciation and love of the beach — specifically the Gulf. I've been wanting to update my office a little and decided to change up my current gallery next to my desk. It just felt uninspired and tired so I decided I wanted something to take me to my happy place and remind me why I was working 😉 I set out to find the *just right* art… and I think I did 😉 Here were some of the contenders in sets and trios that I came up with. By the way, Minted is offering 10% off art for new customers with code KELLEYART2022. Note– all art comes in different frame options, size options, and the option to have a mat.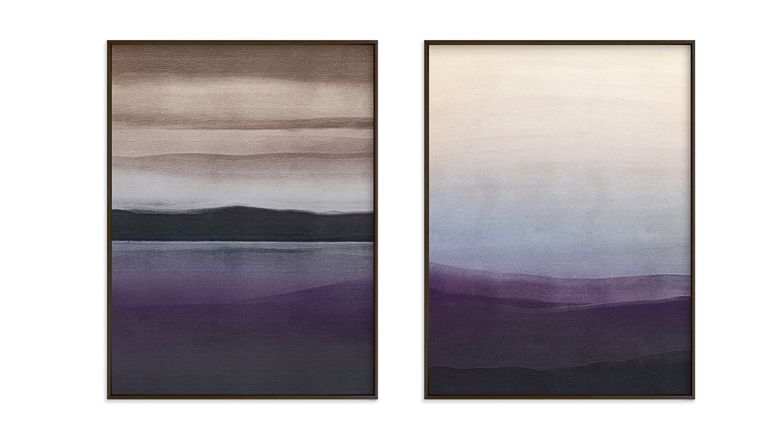 Sources: Above Left | Above Right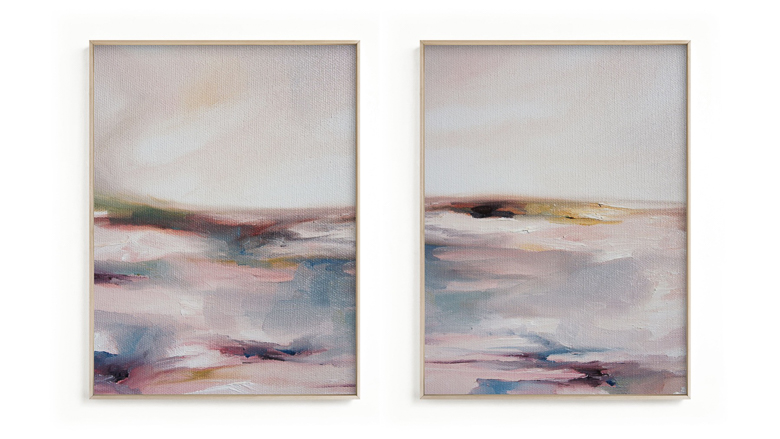 Sources: Above Left | Above Right
I *almost* went for this configuration… I love the colors…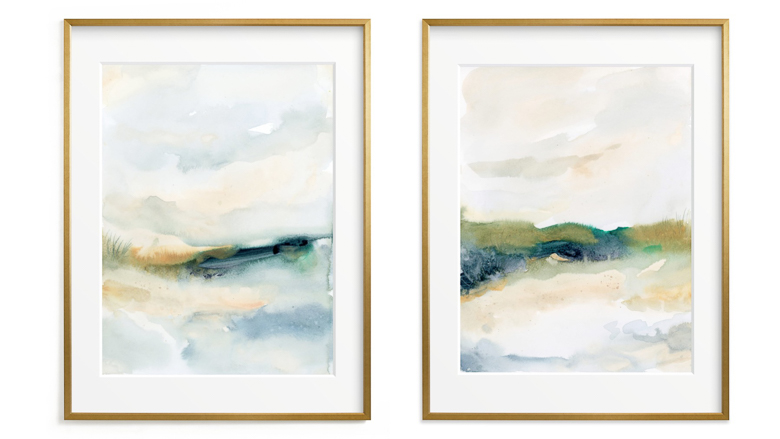 Sources: Above Left | Above Right
Sources: Above Left | Above Center | Above Right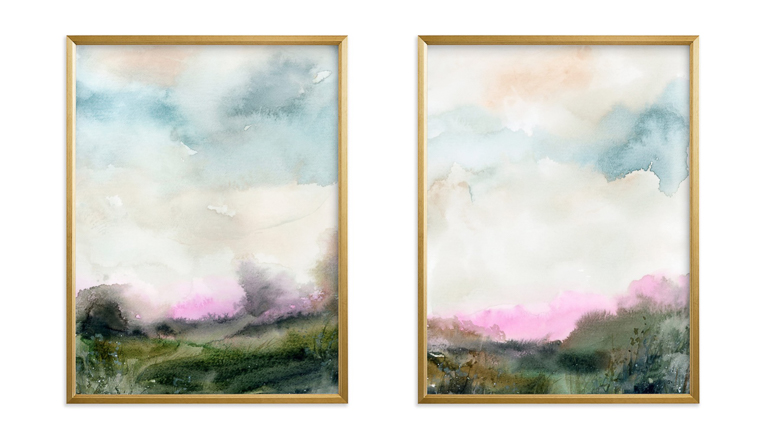 Sources: Above Left | Above Right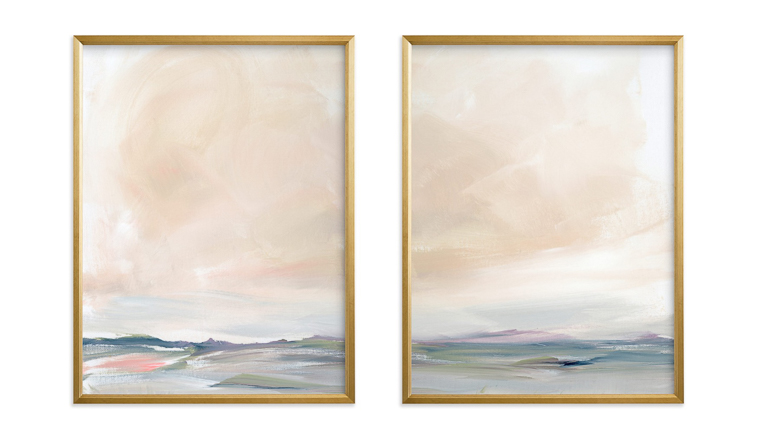 Sources: Above Left | Above Right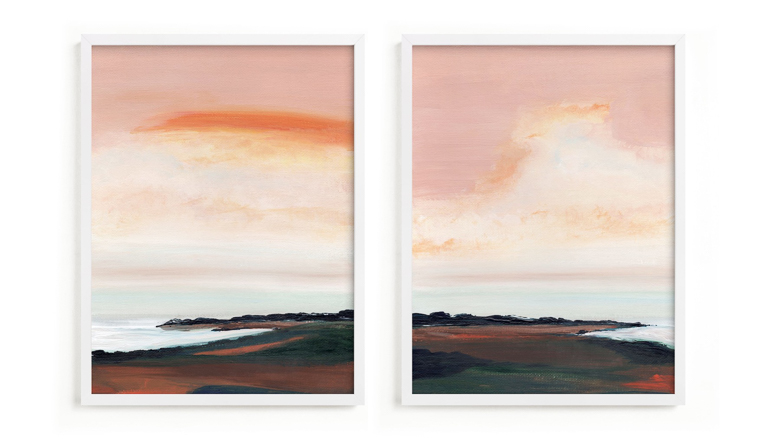 Sources: Above Left | Above Right
And this is the gallery I ultimately decided on! All the pieces arrived this week so I'll share the result soon. When the art arrived, Eliza opened them with me and excitedly exclaimed, "Look! It's my beach!" My heart.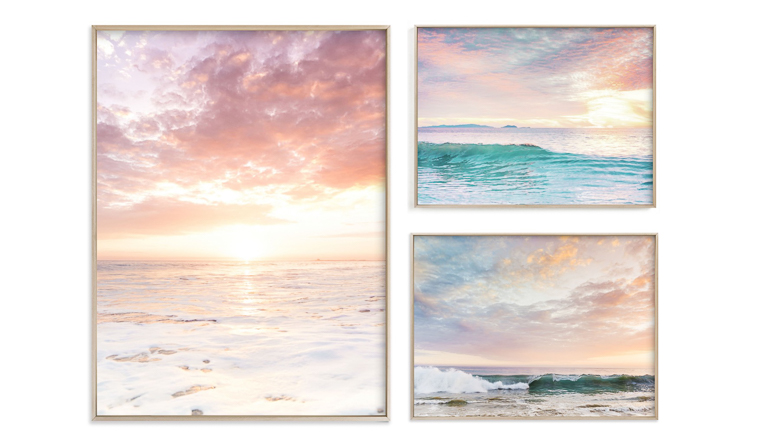 Sources: Above Left | Above Right Top | Above Right Bottom
My Serena & Lily Sale Order from This Past Week
I mentioned I'm working towards a few changes in the office and I decided that while I could get THIS woven pendant light I'd been eyeing for the past couple of years for 20% off, I should go ahead and go for it. And then, I started finding all kinds of things that "just made sense to go ahead and get." But, it wasn't just me — my mom did it too! Haha I ordered the large version of my favorite lidded baskets (I already have the small and medium but wanted the large to replace our bedroom hamper) and while I was at it, found the small blue accented version for almost 50% off since it was already on sale and the 20% off promo can still be applied. Naturally, my mom and I both ordered one. Also almost 50% off was THIS rattan accent table my mom scored for the sitting area in her bedroom AND THIS 2'x3' blue and white textured bath mat I grabbed up for the powder room. We also ordered more bath mats — my mom got THIS ONE in the white runner version to go in front of her double vanity, and I ordered two smalls in THIS bath mat for the tub and shower in our bathroom. You can find lots of great deals right now during the sale and use code GOFORIT for 20% off HERE. Also be sure to check out the sale section HERE because the 20% promo code can be stacked on top of the already reduced price!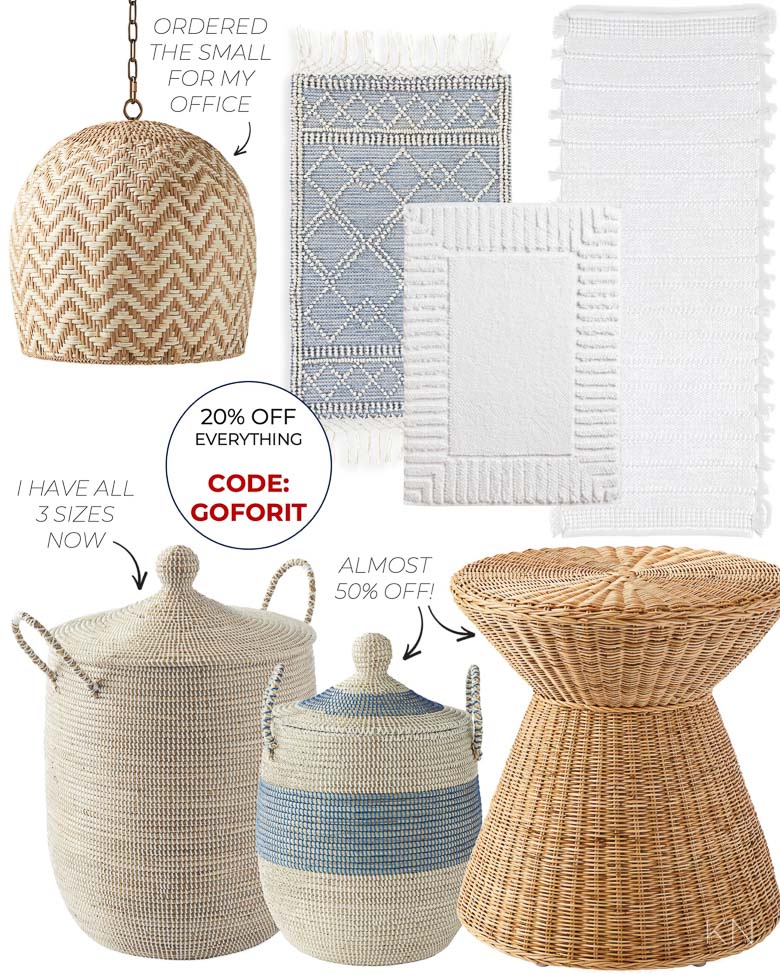 Sources: Pendant Light | Blue and White Rug | White Bath Mat | White Fringed Runner | Covered Natural Basket — Large | Covered Blue and White Basket — Small | Woven Side Table
Shop the sale HERE and use code GOFORIT for 20% off the lowest listed price!
Our Beach Trip & Past Weekend
Earlier this month, we took a family vacation to Rosemary Beach… it was life giving. I love being able to go right now during this timeframe, between spring break and summer vacation, when it's not quite peak season. 30A is one of the closest beach areas to us, at right at an easy six-hour drive (a little longer with stops 😉 ).  Eliza is a champ with all the walking and can't get enough of the swimming. She fell in love with the beach all over again and is way more adventurous in trying new things than I am (she won't hesitate and even asked to try scallops, quail… pretty much anything we had on our plates). I don't think I got any video footage and I didn't share anything while we were there, but I snapped a few photos as I was able. Here's a little bit about how we spent our time…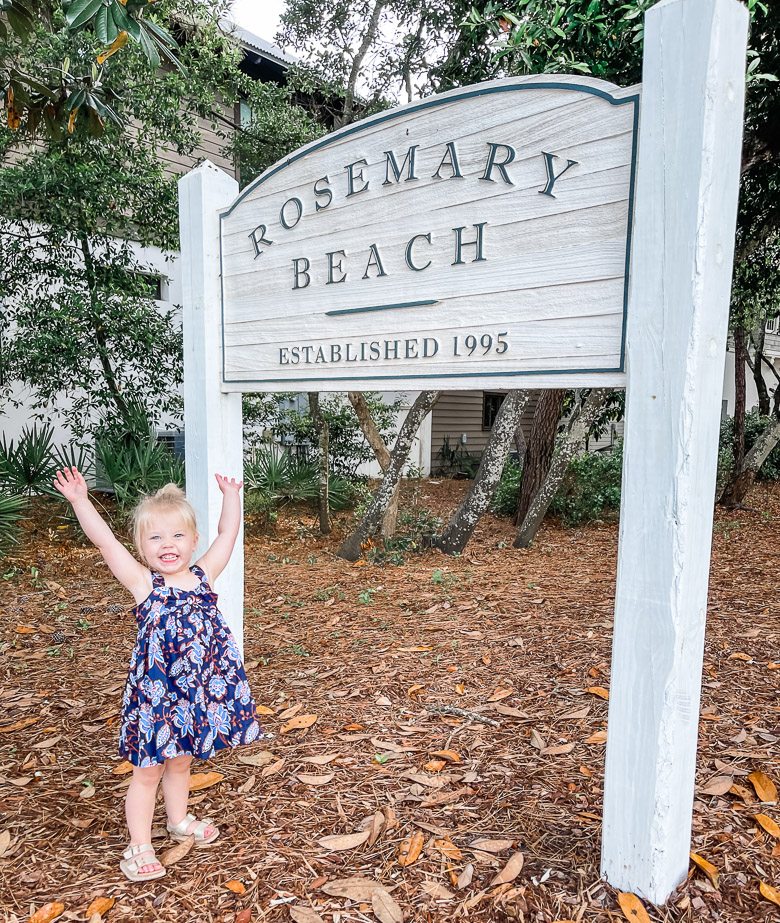 We stayed at 392 Walton Rose Lane — you can Google it for booking info; it was such a pretty house with lots of space in an excellent location with multiple primary bedrooms. The best part and one of the reasons I booked it was that it had a private pool, which we opted to have heated during our stay. It was about a three minute walk to the beach and was so clean. Eliza adored her bunk room for the week and Dave was able to use the downstairs TV room for late nights since he stays up later than the rest of us.  Here's a peek of a portion of the main level…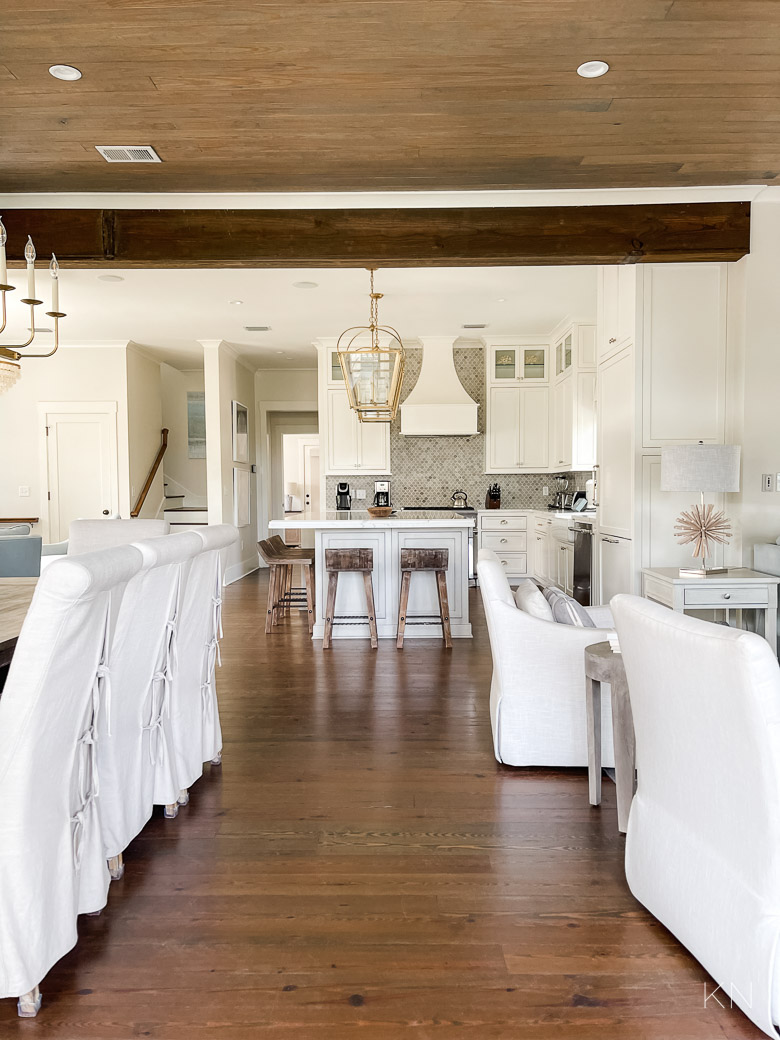 Eliza likes to swim. With two years of ISR under her belt — and with her fearless, water loving nature — she jumps in and paddles to us. Over. And over. And over again. I had ordered THESE floats for the adults, which were key. They are inflatable so easy to travel with and were so comfortable — I loved the option to sit up straight or lounge backwards; they come in a pack of four on Amazon HERE. For Eliza, I had ordered  THIS turtle (on Amazon, currently under $10) and THIS unicorn. We only used the turtle during our trip since it seemed easy for her to flop onto and grasp, but I'm sure we'll be inflating and using the unicorn soon!
We walked everywhere, when possible — for morning coffee, to meals, to the beach, to browse shops, to wander to look at houses… I had to include this screen grab from a walking video of Eliza to point out that THIS adorable H&M seersucker dress is still in stock and under $10 HERE!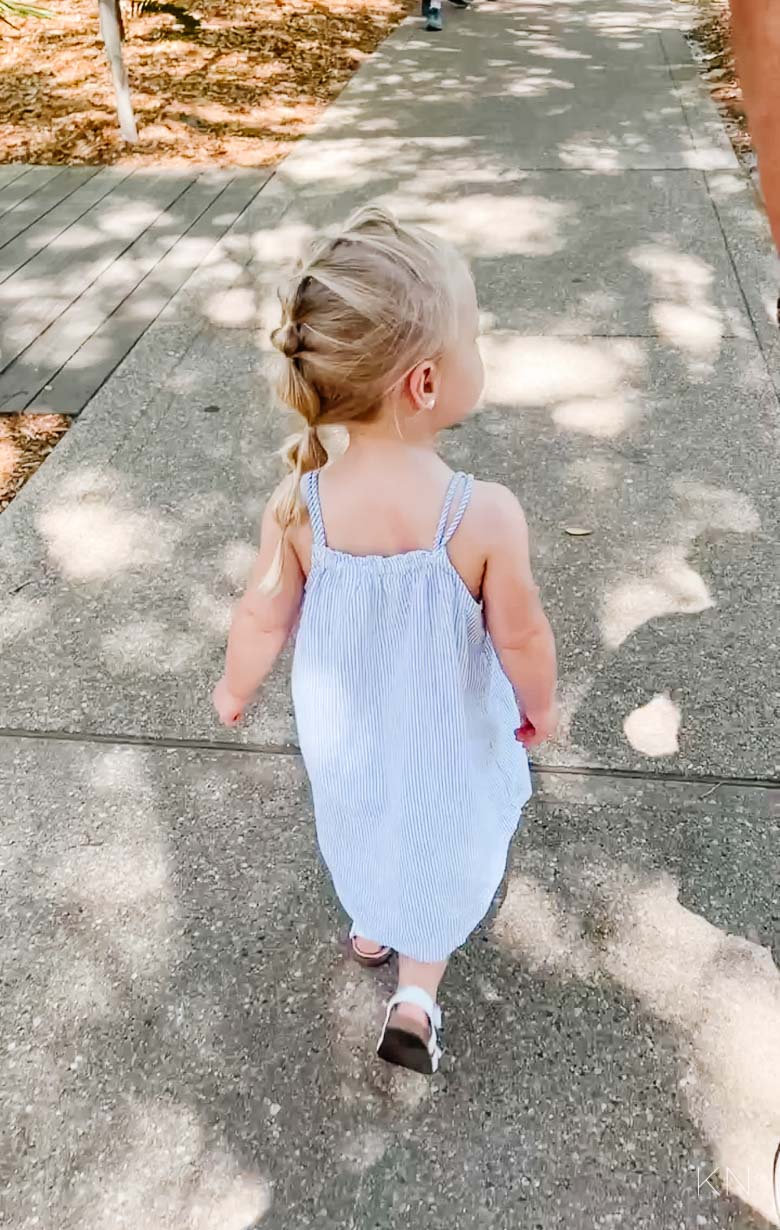 Sources: Seersucker Dress | White Sandals
I had purchased Rosemary Beach hats and tees for the fam during my last trip and was excited to bring them along for this trip 😉 I love looking at all the gorgeous architecture and oil lanterns on the houses — this part reminds me so much of another favorite city, Charleston.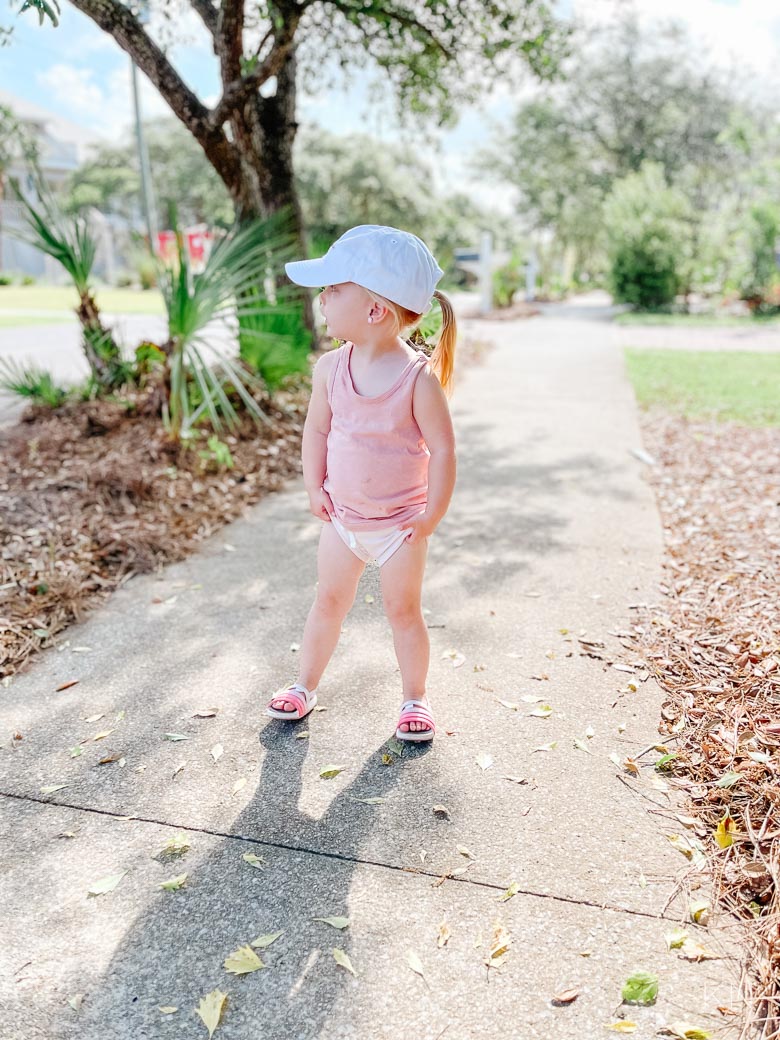 Sources: Pink and White Slide Sandals
We dedicated a day to shopping and wandering and capped it off with an afternoon at our house pool. I love Gigi's (the toy store) and Eliza picked out THIS cute sea turtle backpack from one of the shops. She has slept with it every night since coming home and even stashes flashlights and small items inside…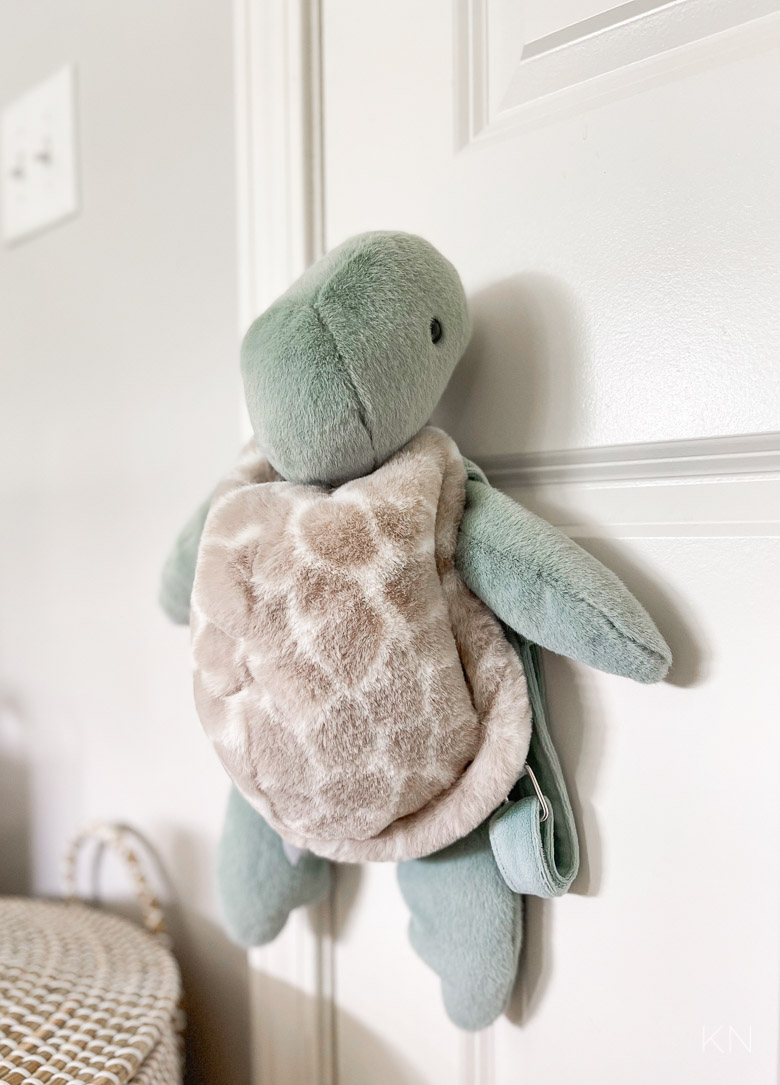 Sources: Turtle Backpack
I focused more on accessories and scored a few bags and hats — I also found the silicone wristlet keychain I purchased online HERE. I love that it's flexible and so practical — it comes in lots of colors, too.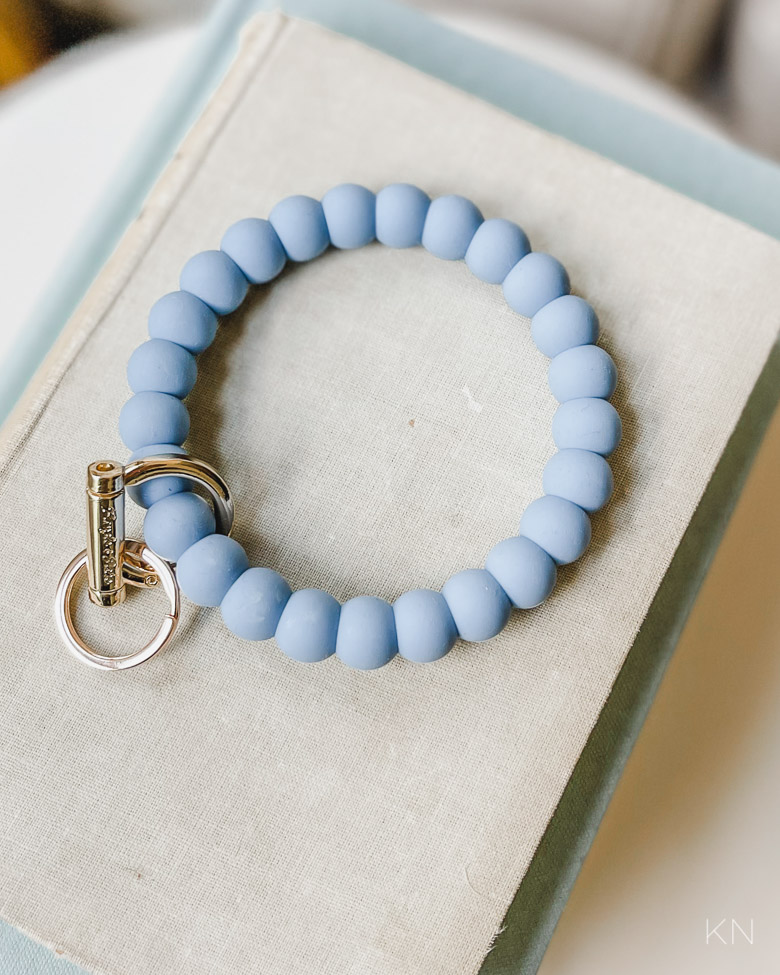 Sources: Bracelet Key Ring
We went to the beach some mornings and some evenings, but reserved one day for a full beach setup. Our chairs and umbrella were private and perfect and it's hard to explain unless you've experienced the blue waters and white sand first hand. We ordered THIS portable waterproof bluetooth speaker off Amazon and hung it from the umbrella — I'm so glad we went for this model out of all the options out there! It's excellent and will be used a ton. It has almost 103k 5* ratings and can be found HERE.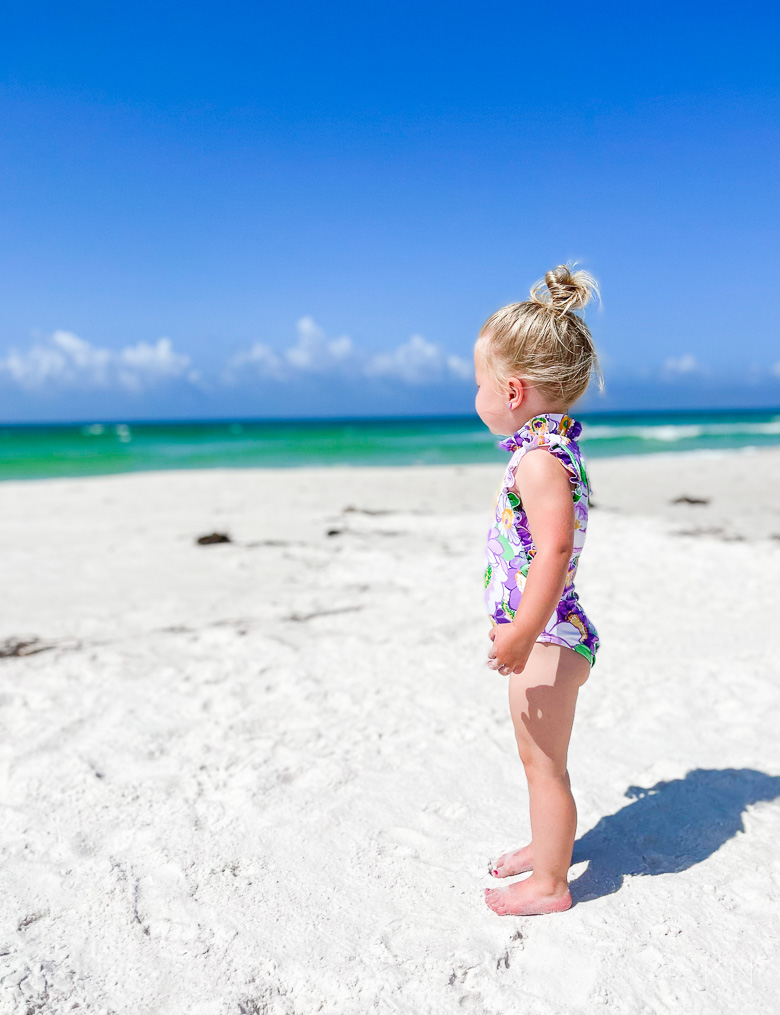 Sources: Swim Suit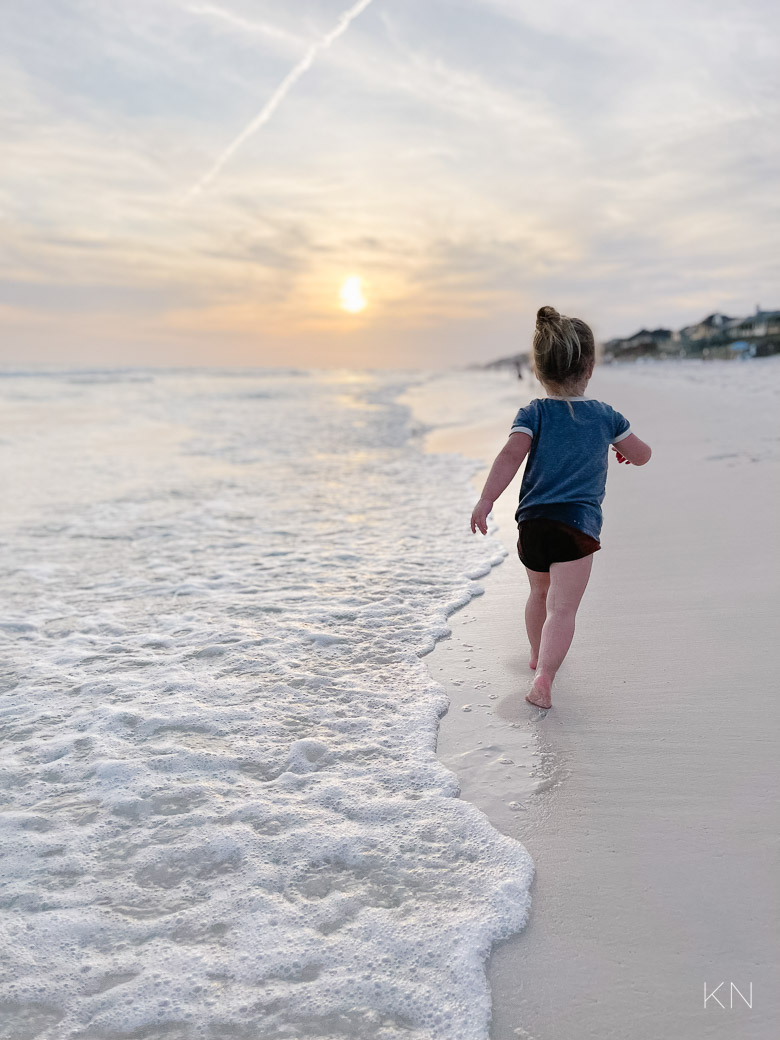 I bought these matching Lilly Pulitzer dresses last year and was stoked to find an opportunity to wear them together this year!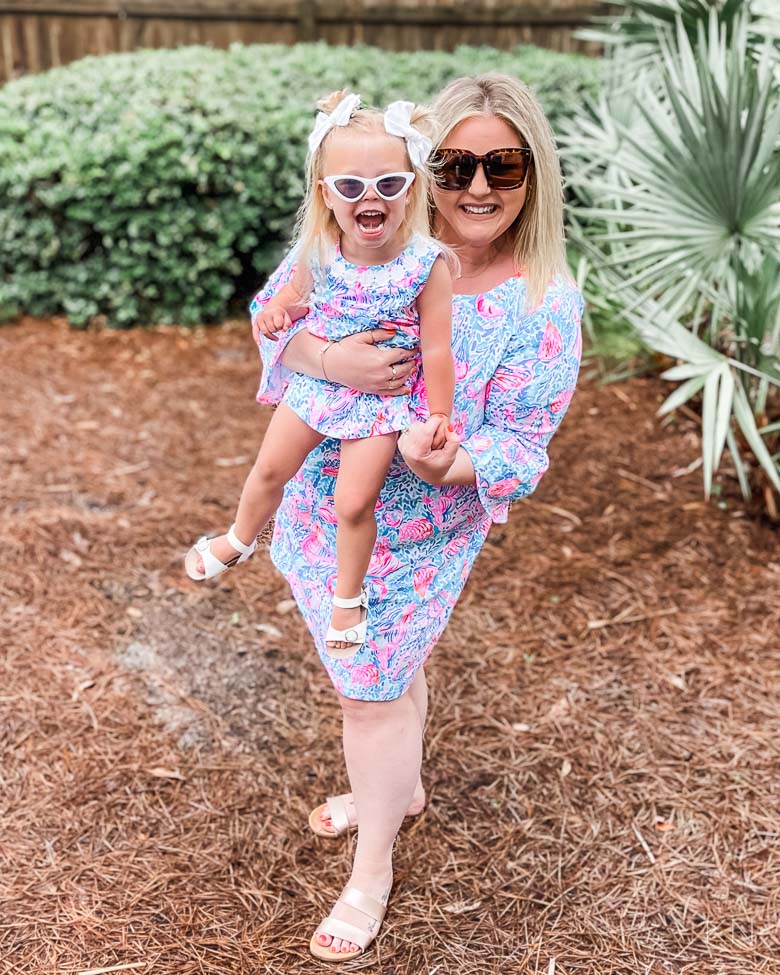 Sources: Eliza's Dress | Eliza's Sunglasses | Eliza's Sandals | Kelley's Dress | Kelley's Sunglasses | Kelley's Sandals
After dinner, we stopped for ice cream and I realized after the fact that Eliza's ice cream even matched her dress!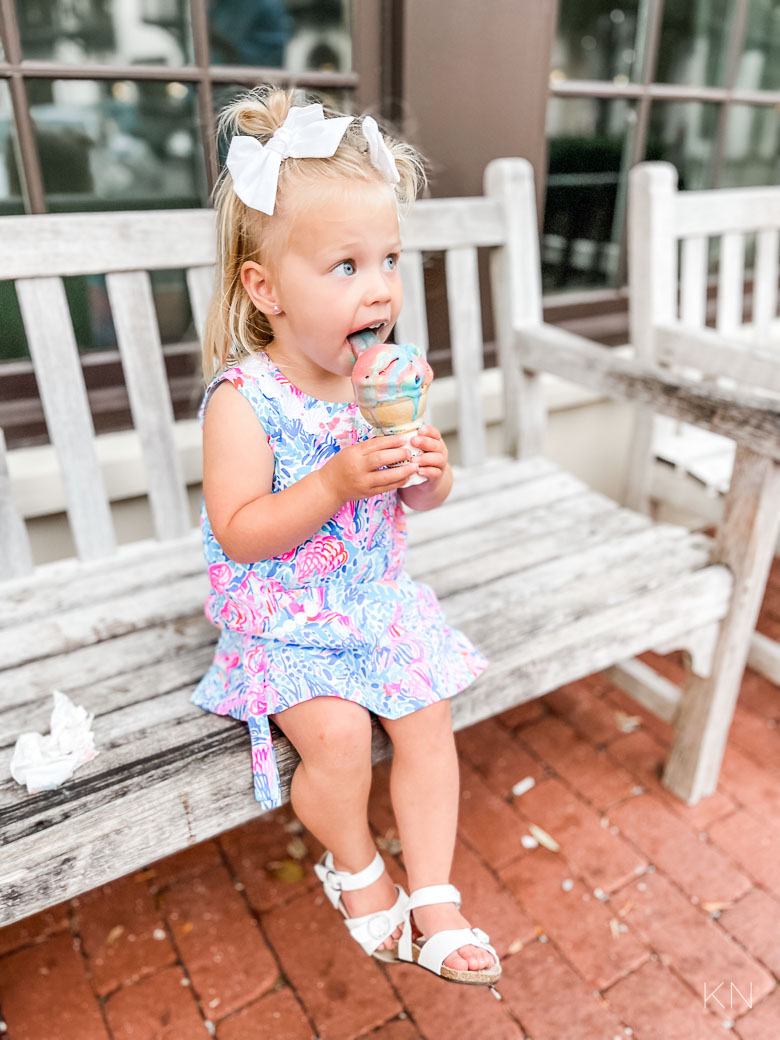 My personal favorite meal we had was our dinner at George's in Alys Beach — all our food was excellent but my mom's spicy salt & pepper shrimp was my favorite. We planned to eat at 5:00pm and even arrived a few minutes early, not knowing that there would already be a waiting line to get in.
I also loved Big Bad Breakfast for brunch and the girls ran to get doughnuts at 6:00 a.m. from Doughnut Hole on our last day — they were all good but the winners for me were the glazed doughnut holes and the strawberry filled doughnut.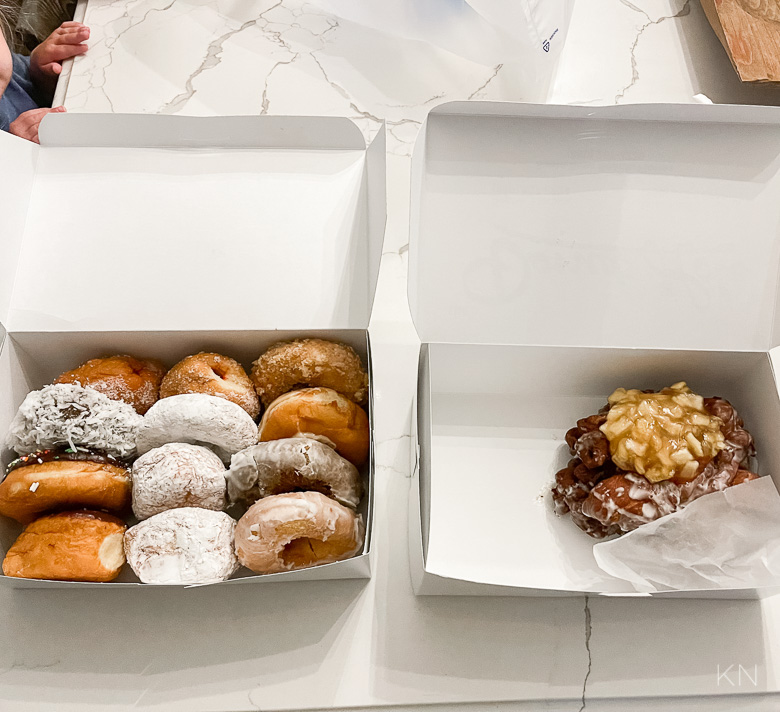 Packing Eliza for a week-long beach trip in a single bag was tricky, but we did it. However, after cramming everything into the small version of the pink glitter suitcase I gifted her a few months ago, I was wishing I had gotten the larger one. Once we got back from the beach, I ordered the bigger one, too. So, I guess she has a set now…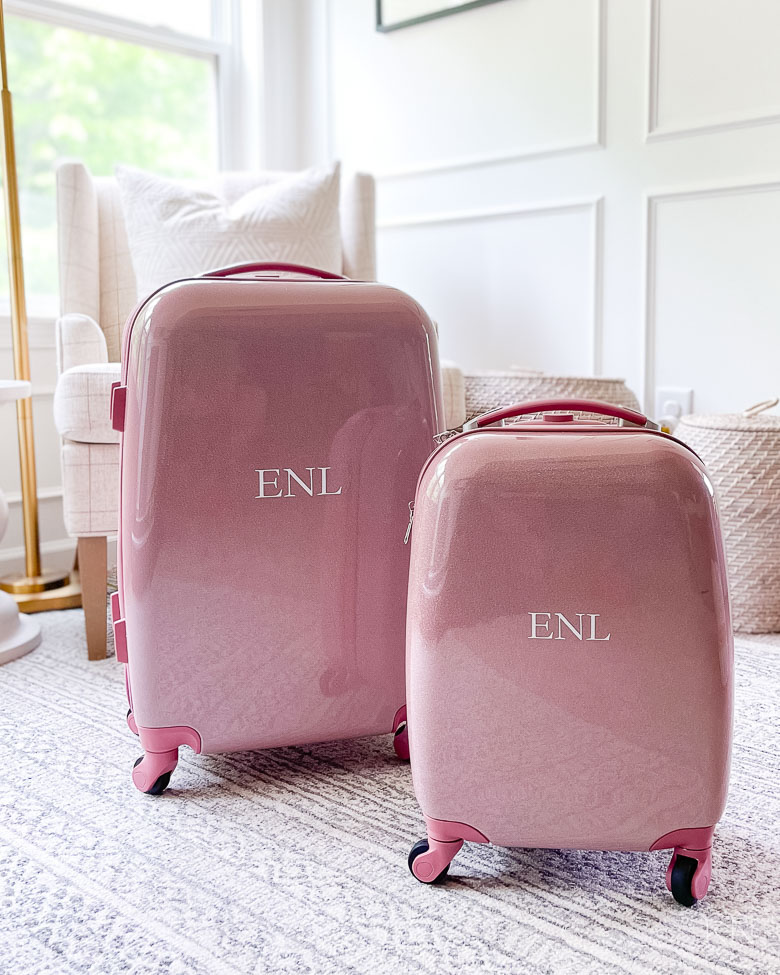 Sources: Luggage
Since getting back, we haven't been able to really sit still. I've been wanting to explore more around our local area and take advantage of playing outside in the gorgeous weather. This past weekend, we enjoyed parks, playgrounds, creeks, and our land…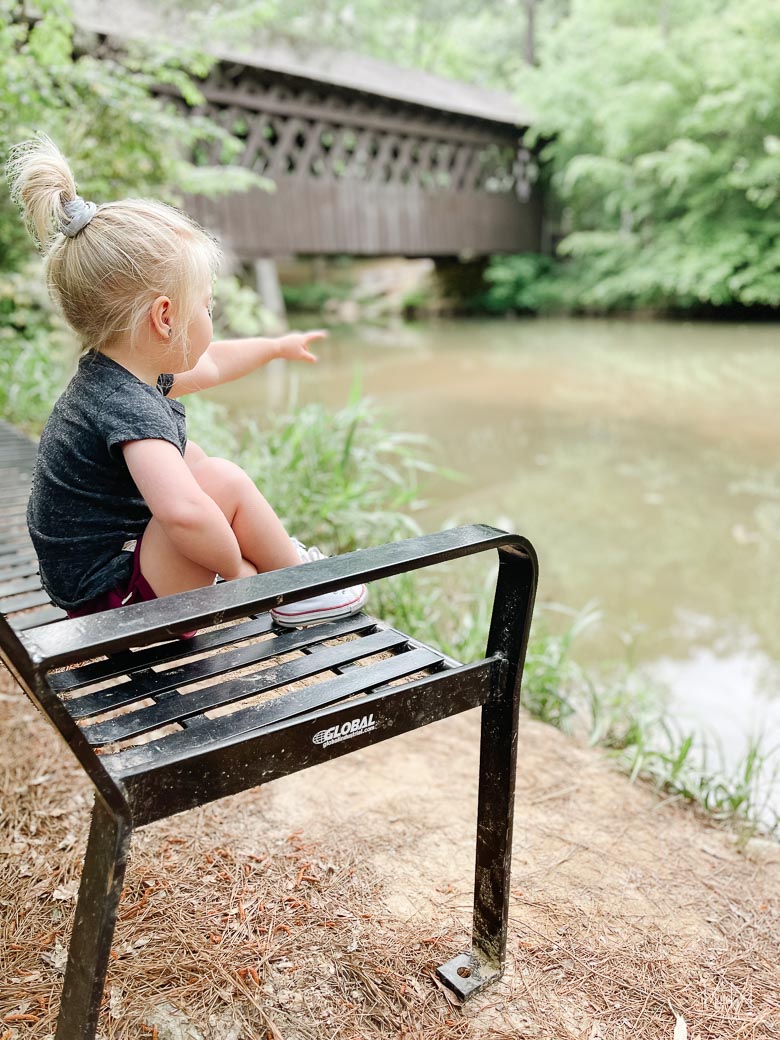 And, we just realized we are going to have to invest in a tractor-style mower to keep the weeds and tall grass at bay on our land and no one's more excited about that than Eliza 😉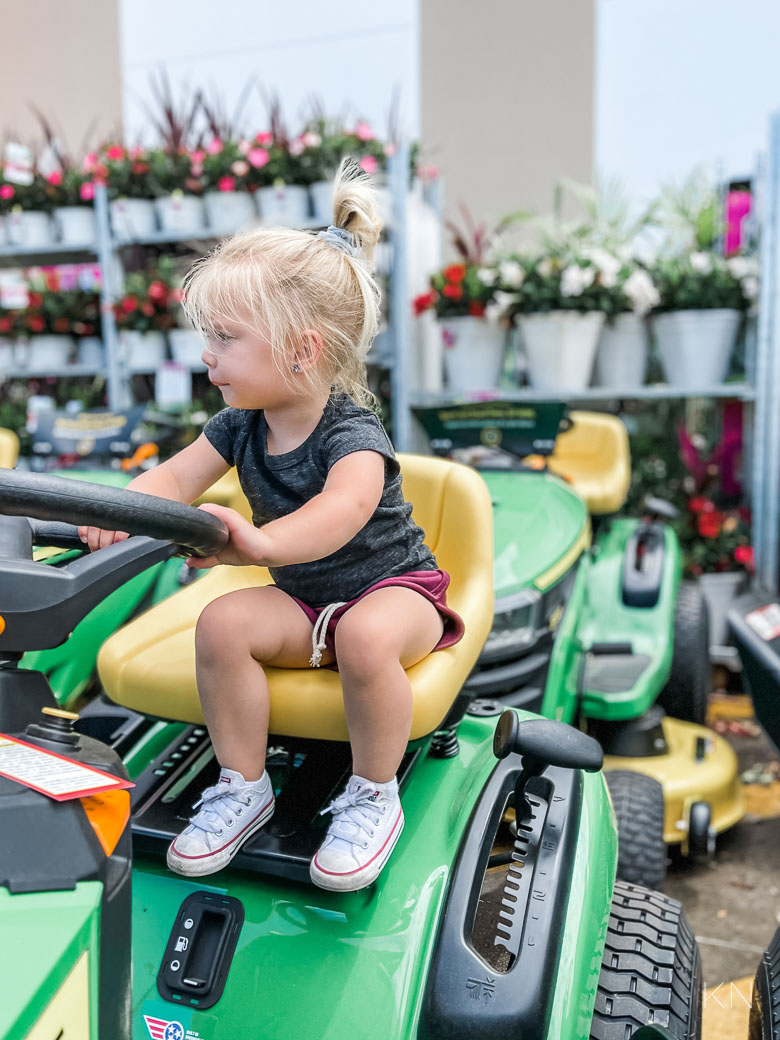 Sources: Converse Tennis Shoes | Scrunchy — Pack of Seven
After our trip, we were re-motivated (once again) to look into having a pool installed. We are at the very beginning stages, just having set up some consultations, so stay tuned for more on that!
Eliza Birthday Party Prep
Eliza's birthday is coming up (Eliza, Dave and I are actually all Geminis with birthdays within 14 days of each other!) and this is the first year we're having an actual "party" and not just taking her for a fun experience for the day. We've been talking about her "party" for months (literally) and during that time, she's made it quite clear that she wants a Super Wings themed event — she loves her baby dolls, Playing in her kitchen, and has a ton of interests but she's most actively interested in dinosaurs, monster trucks, Paw Patrol, anything outdoorsy, and Super Wings, so… Super Wings it is! We're having it at a local trampoline park and along with the lime green walls and what you would typically find in a party room, the decor will be modest. They're strict with no outside food/concessions so it will be a classic pizza party with the focus on the trampoline activity. Eliza is so excited — it definitely won't be a "Pinterest party" but I'm hoping it will be one she loves. I'm really protective about her birthdays being for her (which is why we've always done experiences in lieu of parties, inviting people she doesn't even know) so I hope that will always be at the forefront of her birthday planning. While I was coming up with the few things we will need (cake and some balloons), I built a design board to make sure the bases were covered and thought I'd share it here!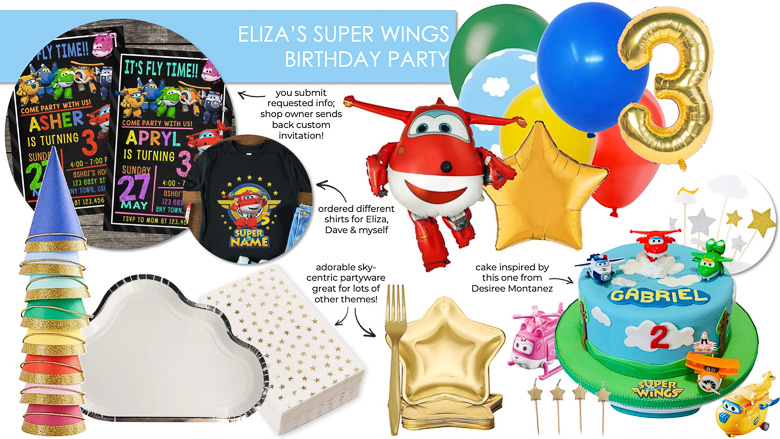 Sources: Party Invitations & Thank You's| Family Birthday Shirts | Jett Super Wings Balloon | Cloud Balloons | Number 3 Balloon | Party Hats | Cloud Plates | Star Napkins | Gold Forks | Star Plates | Star Candles | Super Wings Toy Transformer Figures | Star and Cloud Picks | cake design we're using for inspiration
If you're planning a child's birthday party, I found the invitation template we used at THIS SMALL SHOP and they made it SO EASY! For a few dollars, you send the child's name and event details and customization requests and they send you a pdf, ready for print, right back to your email. She even included complimentary thank you notes. I had them printed at the UPS store next to my house.
I also love the mix of THESE cloud plates, THESE star plates for dessert, and THESE star napkins which fit so many different themes!
I don't think I can squeeze another ounce of randomness into today's SAP but I think I mentioned before — as things over here continue to be a little sporadic, posts here on KN will likely reflect that, too 😉 For more updates, projects, and as always — randomness — be sure to subscribe to emails at the bottom of the post!