I teased my first fall table a little bit in my Fall Home Tour (HERE), but today gave me the perfect opportunity to share since I have joined a few other bloggers to share all things "fall" in a loop for Autumn's in the Air. If you are joining from lover of all things glam, Summer at She Leaves a Little Sparkle, welcome! I wanted to create something different than the tables I shared last year (HERE and HERE), so I used some of my own advice in yesterday's tips and focused on those perishable pumpkins that I wouldn't have to spend a lot of money on/store after the season. The result is one of my favorite tables yet. *You can check out all of my tablescapes HERE.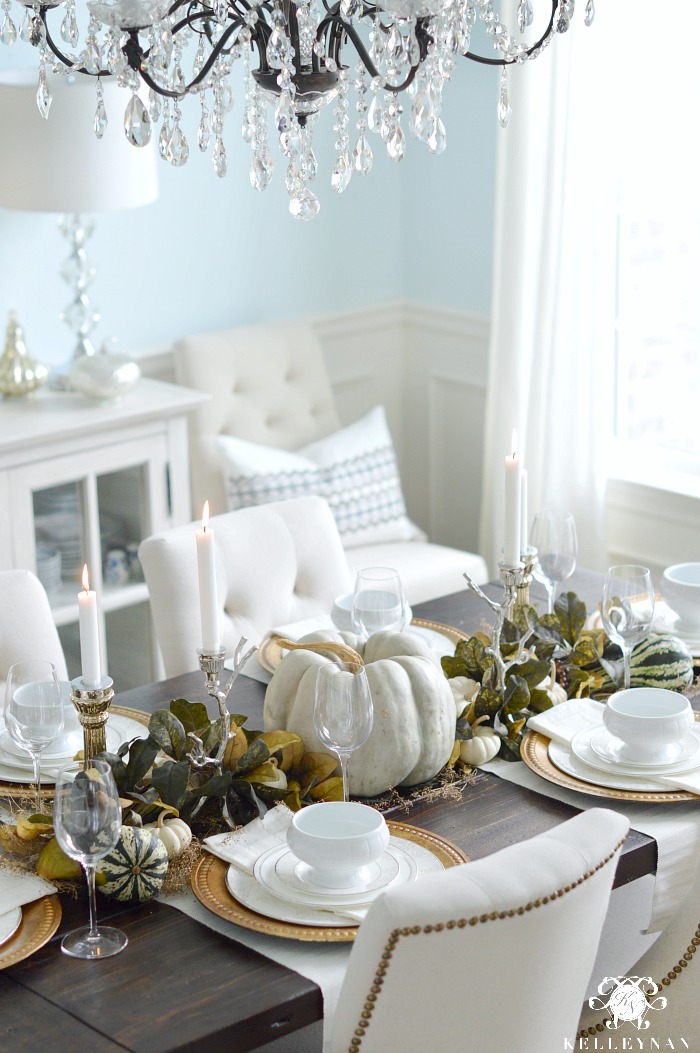 I love using a garland of sorts as a table runner. However, I knew what I wanted and was striking out in the fall decor section of Hobby Lobby and Michaels. Before leaving the last store in defeat, I made one last ditch effort and went to the aisle that held regular, non-seasonal garland. They had a ficus leaf variety that I thought more closely resembled magnolia leaves with some of the faded browns and dark greens. It was perfect.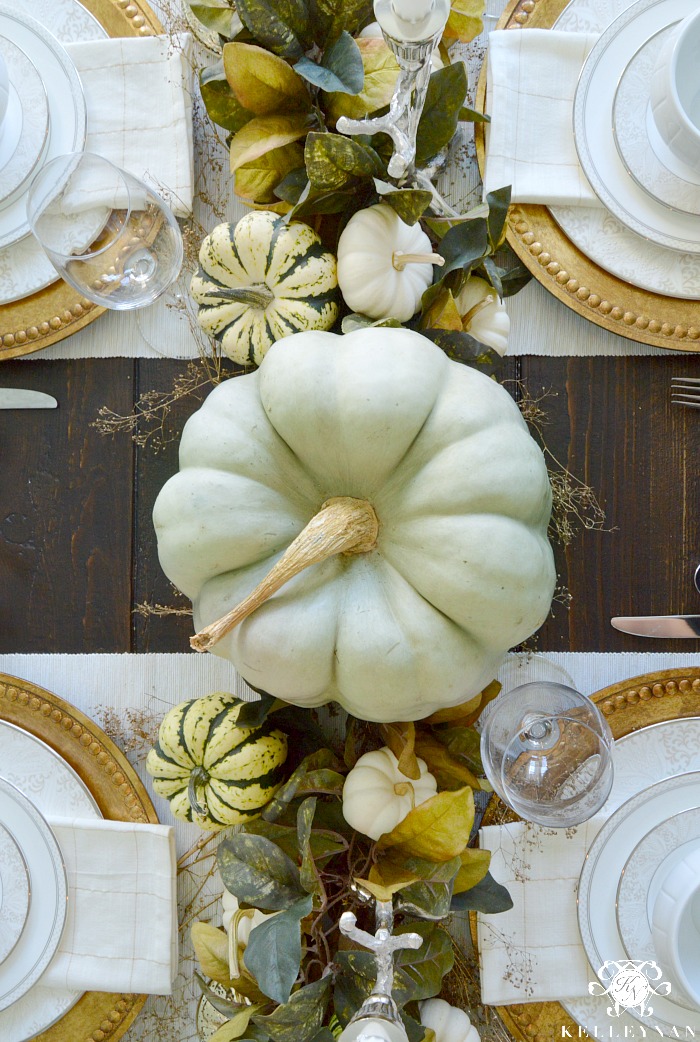 I had picked up a green pumpkin for the centerpiece, the baby boos, and the green and white squash from a local pumpkin farm. They were able to be nestled into the greenery so perfectly, as though I had my own mini pumpkin patch running down the table. If you caught my Instagram story, you saw me in action, first laying down the golden, twiggy spray I also picked up from Michaels.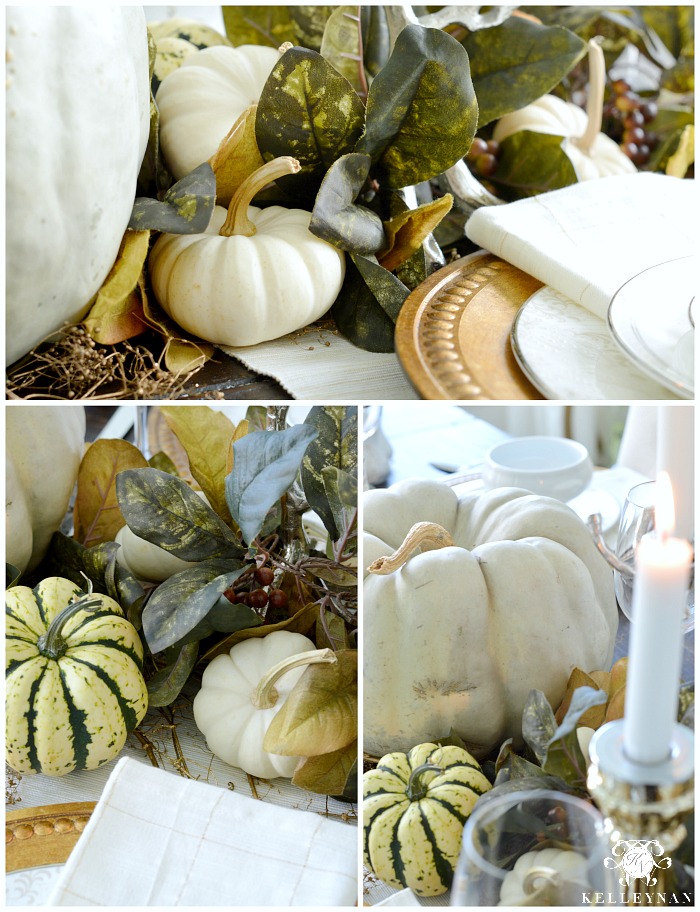 I have seen some gorgeous farmhouse/rustic looks with green/white pumpkins but to stay true to my style, went with gold as my accent for an elegant finish. The gold chargers (similar HERE) brought just the contrast I was looking for. I recently found these sweet little soup bowls (similar HERE) while I was visiting my mom in lower Alabama at Market on Main. (If you are around Daphne, you must stop in!) We are total soup people during the fall and I love to whip it up in huge quantities and freeze batches for easy dinners. I've included my FAVORITE, easy soup recipe further in the post 😉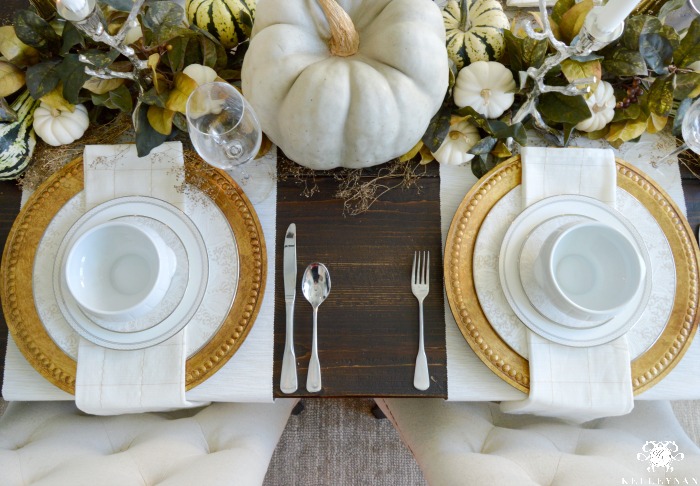 SHOP THE TABLE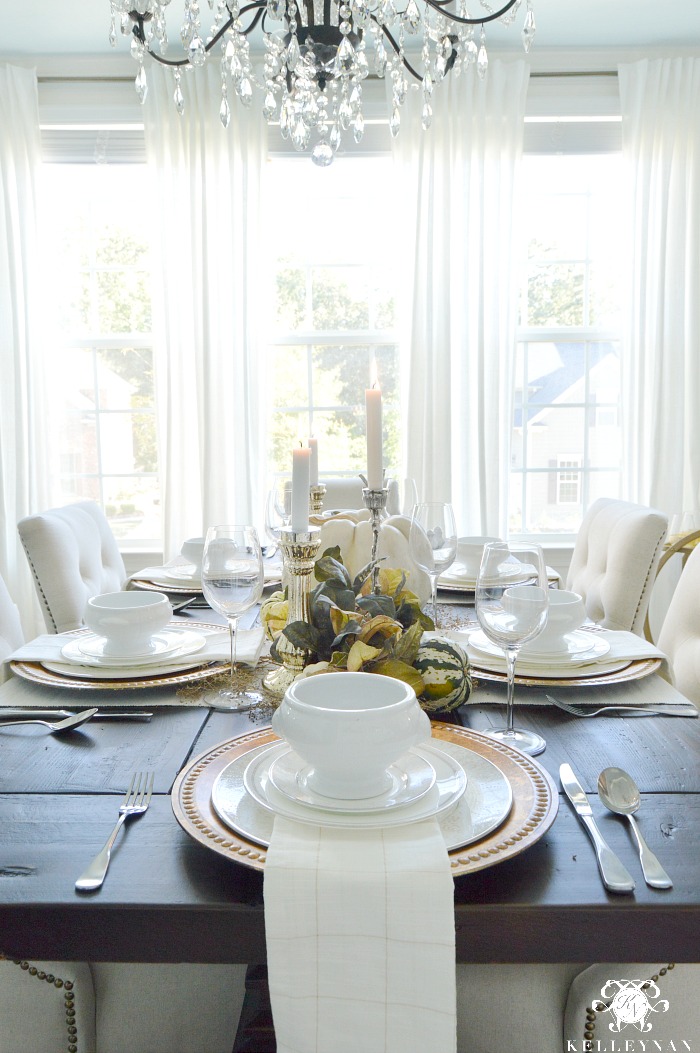 I recently talked about the beauty in changing a table setting by simply changing your napkin (HERE), so you probably know, I have a lot. More than a lot… haha But, I couldn't resist these sweet, neutral napkins, woven with golden thread (HERE).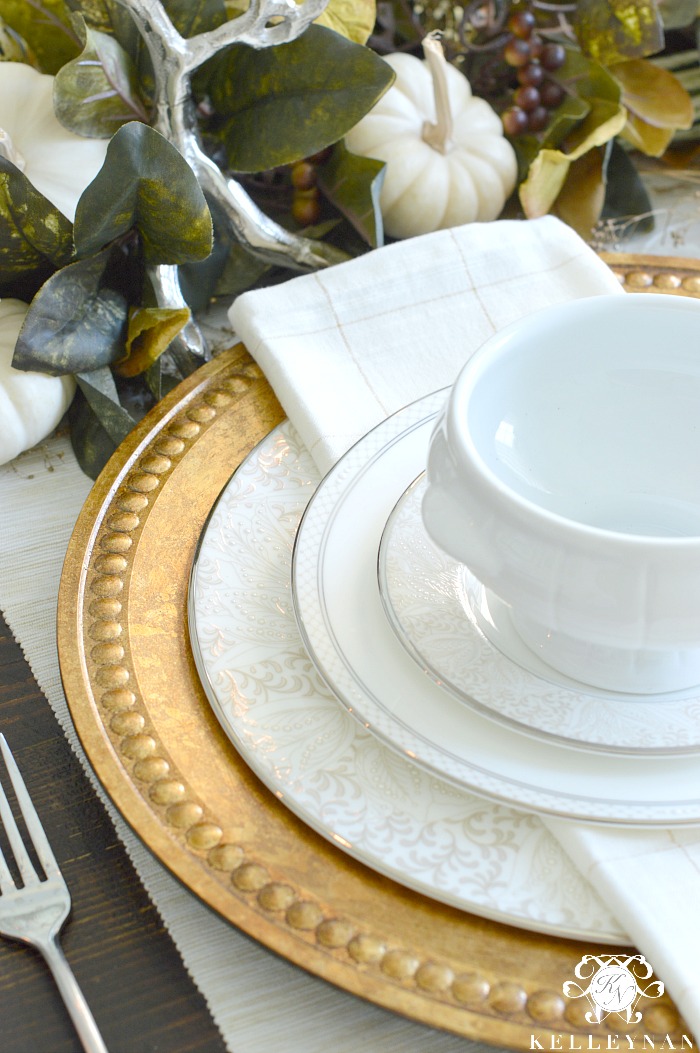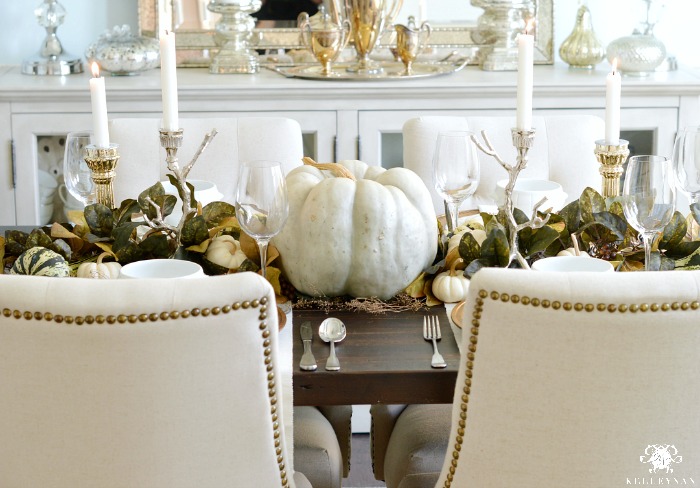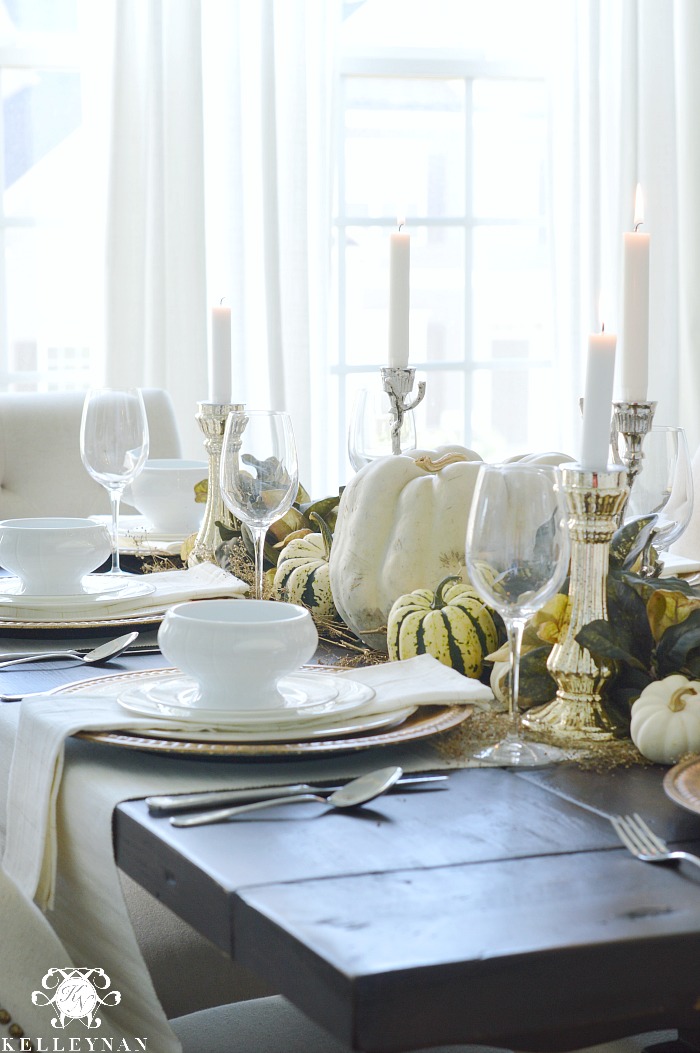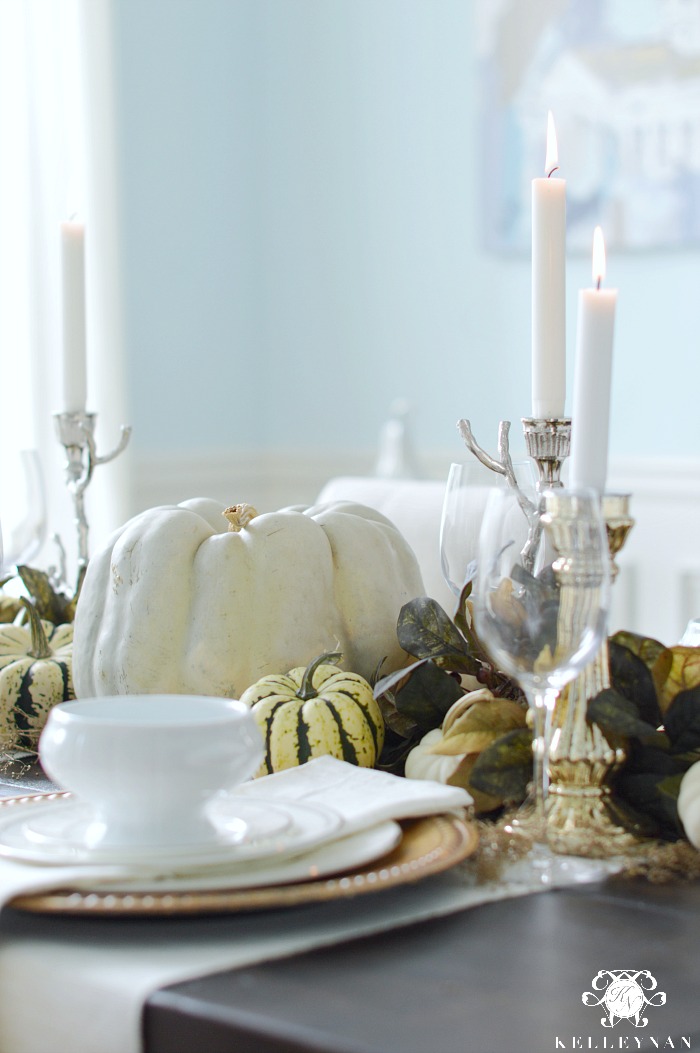 From this view, you can peek past my entry into my formal sitting room, all decked out for the season. If you missed it, I've included all the details from this room and my entire home in my fall home tour (HERE).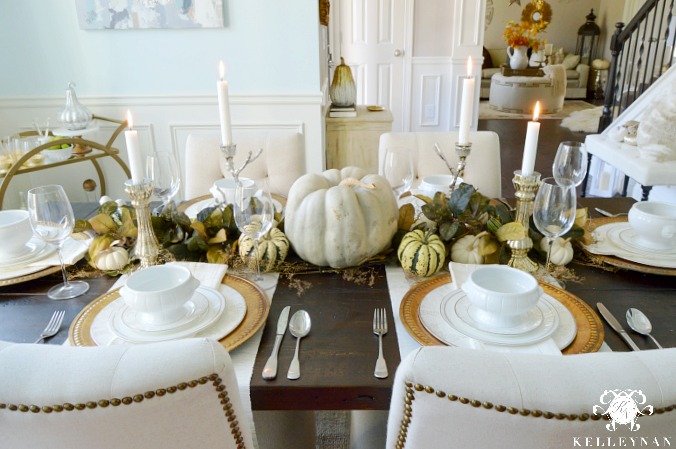 If you missed the excitement over my new Asher bar cart, you can that out HERE.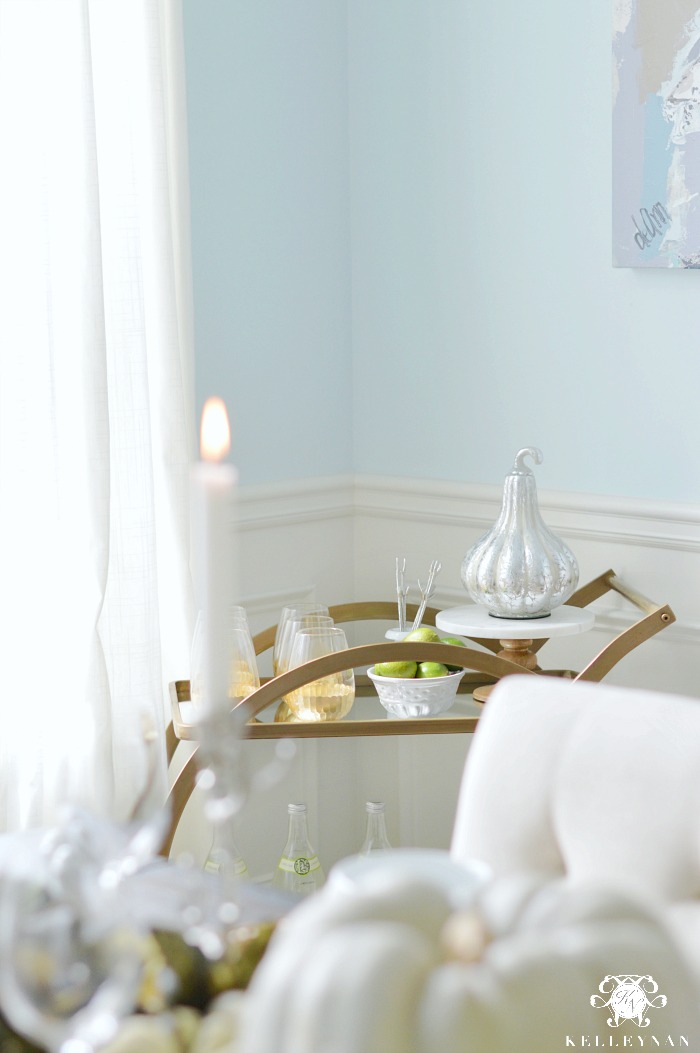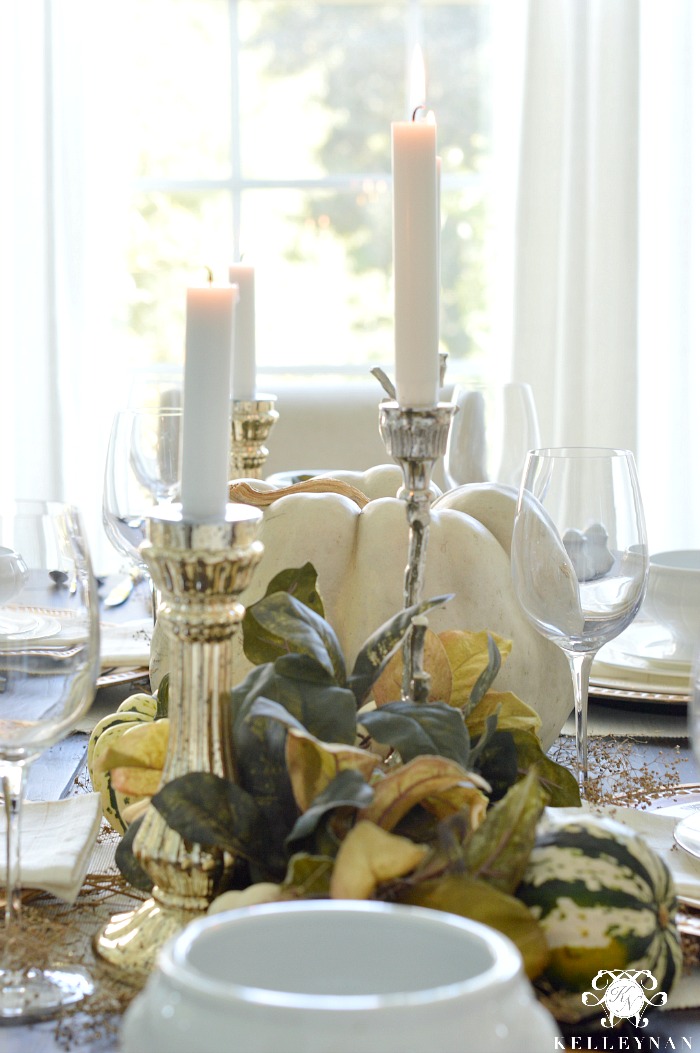 That soup I mentioned earlier? I just made a fresh batch 😉 My husband requests this more than any other meal I cook.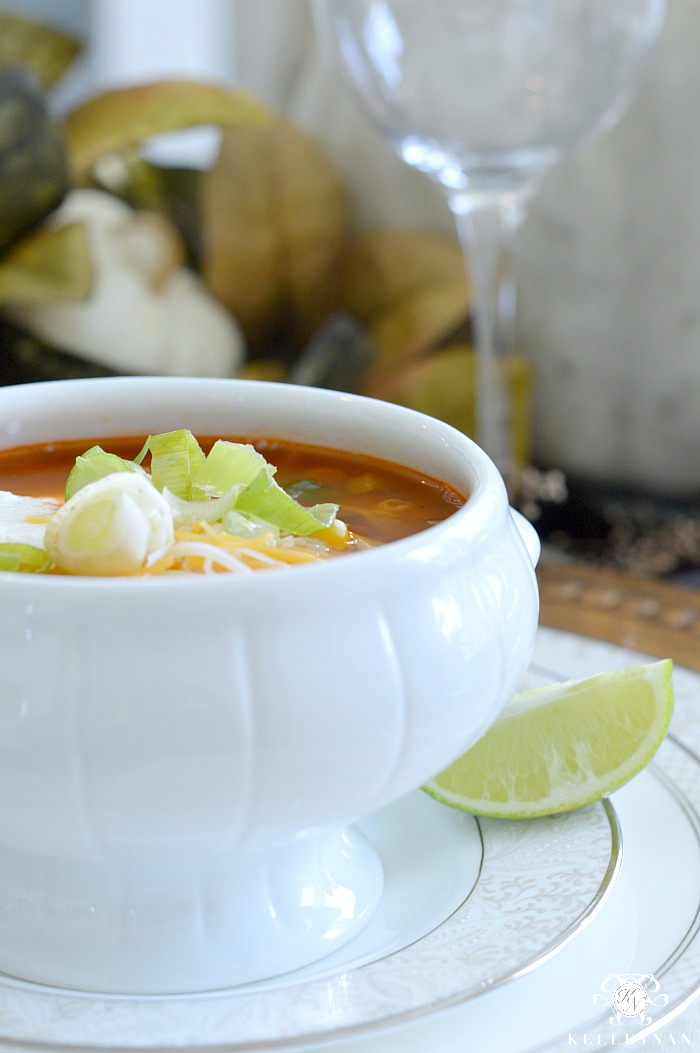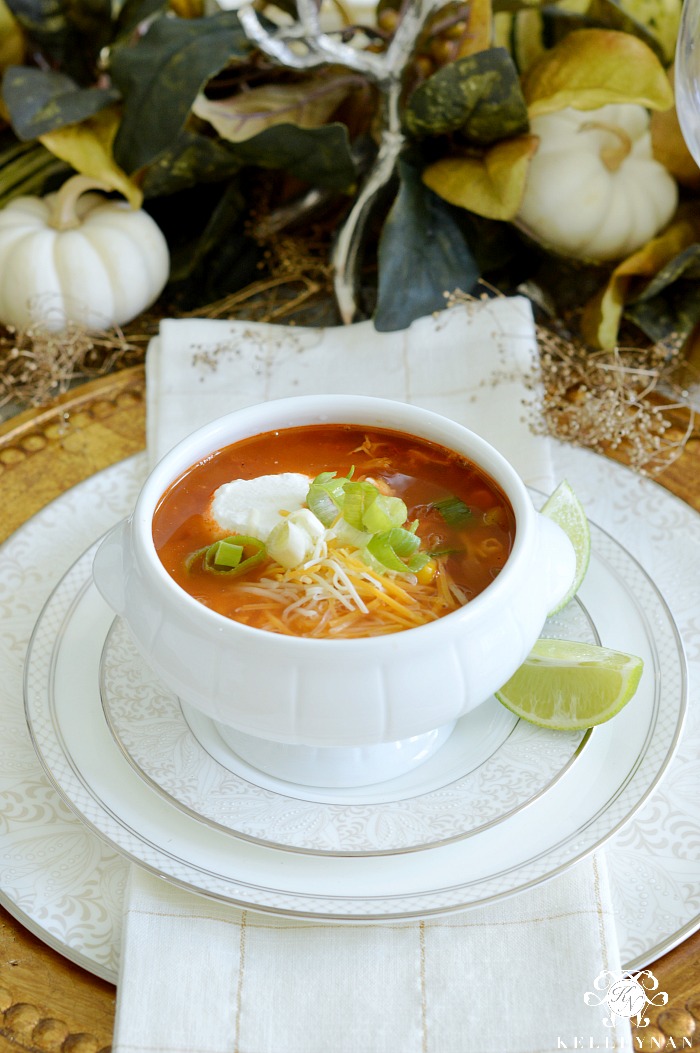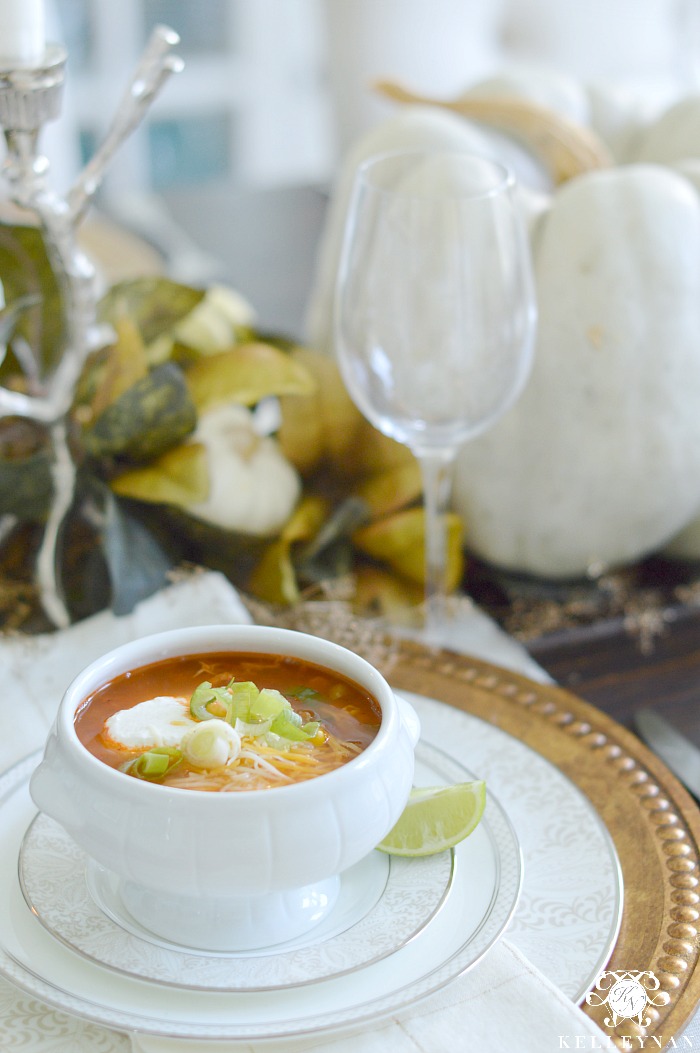 *Note: I do not remember where this recipe originated but I have tweaked it over the last few years. On the first night, I make the chicken mixture and serve chicken tacos/taco salads, etc. The following night, I use the remaining chicken mixture for the chicken tortilla soup. This recipe will feed your family for MANY meals; have containers for the freezer ready. As always, you can cut the recipe in half or adjust as needed. Regardless, I still stick to the same ingredient amounts for the chicken mixture.
Crock Pot Chicken Mixture 
4 Chicken Breasts

1 16 oz. jar salsa

1 packet taco seasoning

1/2 diced onion

1/2 dice bell pepper
Place chicken in the bottom of the crock pot; it can be frozen. Dump the rest of the ingredients on top and cook on low for 6 to 8 hours. Shred chicken once tender and serve.
Chicken Tortilla Soup
4 cups (or however much is remaining) chicken mixture

2 32 oz. boxes chicken broth

2 cans corn, drained

3 handfuls cilantro, chopped

4 cans Rotel

Lime juice (squeezed from two limes)

1 large yellow onion

2 cans black beans, drained

6 Tbsp tomato paste

4 tsp cumin

4 tsp garlic powder

4 tsp chili powder

*You can add Mexican rice if you have any on hand. I usually dump whatever we have left from the night before in the pot.
Add all ingredients to a large pot and simmer for 1 hour. The longer the soup simmers, the more flavorful it will be. When serving, you can add cheese, tortilla chips, green onions, a dollop of sour cream, etc.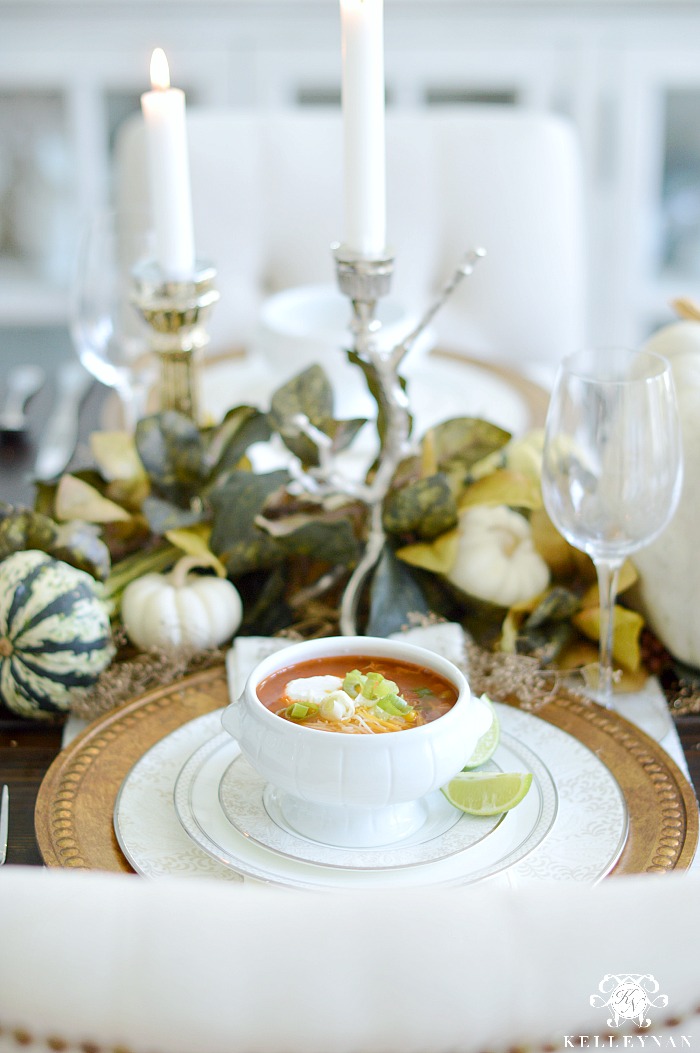 I have a Halloween table coming soon and a couple Thanksgiving tables just on the horizon, so stay tuned 😉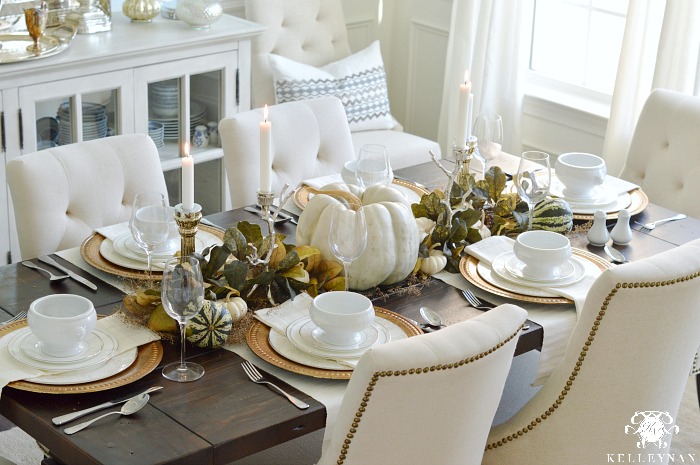 SHOP THE ROOM

For more fall ideas, you won't want to miss Janet over at Shabby Fufu where she is sharing how she decorates her fall mantel. If you love romantic/vintage/french county, you are in for a treat! Below, I've listed the other bloggers on today's hop so you won't miss any stops! 😉
THE LINEUP:
THE SOURCES
*affiliate links used*
Napkins | Chargers- (SIMILAR) | Chairs – Linen | Bar Cart | 12-Light Chandelier
 | Candle Holders | Mirror: Homegoods – (SIMILAR) | Dining Table:  (84″ in Salvaged Brown) | Buffet: (72″ in Distressed White) | Curtain Panels
: (98″ in White) | Rug: HomeGoods- Calvin Klein wool (SIMILAR) | Lamps: HomeGoods – (SIMILAR) | Silver Tea Service: Family Heirloom – (SIMILAR) | Garland- (SIMILAR) |Table Runners |  Waterford Padova China | Waterford Bassano China | Pillows: HomeGoods | Soup Bowls- (SIMILAR) | Church Painting | Water Lillies Art | Paint: Lauren's Surprise by Sherwin Williams | Flooring: Nottaway Hickory in Weathered Saddle