To me, updating bathrooms (only trumped by kitchens) sounds daunting. I think because of all the hard surfaces, plumbing, and semi-permanent fixtures, our inclination is to think "full renovation" instead of "cosmetic updates". But, it doesn't have to be. And, there's plenty of "easy" changes that can be made over time, in stages, as time and financial resources allow. I love a full remodel but the time, stress, planning, ROI, investment, etc. etc. etc. don't always make sense. Maybe you're skilled and confident with your hands, but I'm not. And when you start hiring someone(s) for demo, removal, installation, etc., the process is lengthened and costs can skyrocket. So today, we're talking about some construction-free bathroom upgrades that require no more than a quick visit from a plumber/electrician, at most! No knocking down walls or ripping things out.
*Posts on KelleyNan.com may contain affiliate links. While this post is created in partnership Wayfair, all opinions, concept, and creative are my own. Click HERE for full disclosure.*
Way Day — Take 2 On Wayfair's Biggest Sale of the Year!
I've raved before about Way Day deals and, historically with my own home projects, I love when I'm able to source fixtures during a Wayfair sale. It's a big deal when you can stretch your money when you're working on/adding to your home (especially with inflation and rising prices). There's a huge range of options, quick, free shipping, excellent customer service (experienced first hand) which all mean a lot when you're investing your resources into your greatest asset.) And over the next two days — October 26 & 27 — surprise! They're hosting a second installment of their biggest annual sale of the year — Way Day. You can check out the full sale HERE — there are deals across categories for up to 80% off.
There's lots of cost-effective and achievable solo project ideas but when it comes to bathrooms, let's chat!
1. Upgrade Your Faucet
Even if you aren't investing in a new vanity, a new faucet can make a striking difference! And if you're making cosmetic updates in your bathroom, the style of your faucet is one of the components that will most heavily state the "style" of the space. Also, a pretty faucet can make even the most builder-grade cabinets look so much more expensive! This project may require a plumber or handyman but it's a simple project for professionals. If you are hiring someone, I would suggest having more than one faucet in the house for them to install or some other project since they typically charge based off an hourly and trip rate, vs. individual project rate.
The first time I used THIS faucet (on sale!) was in our powder room. You can see the full reveal HERE. It comes in seven finishes (this one is chrome) and I was subsequently so happy with the price and quality, I've continued to add this brand (and exact faucet) in other areas of our house.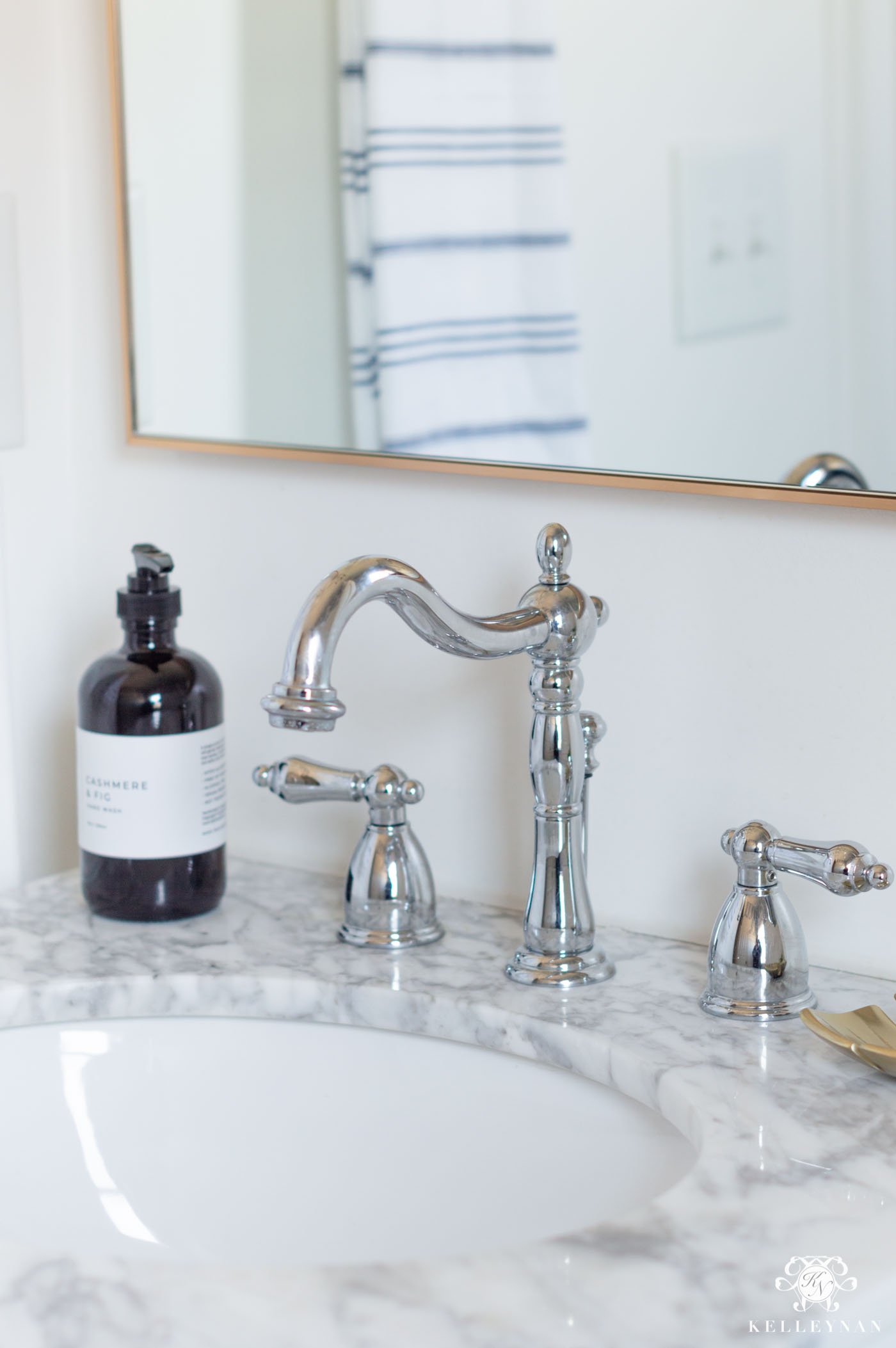 Sources: Vanity w/Marble Countertop (24″) | Faucet (polished chrome) | Turkish Hand Towel
When I had to turn my office bathroom around quickly after a subcontractor errantly ripped out our former vanity, duplicating the faucet (again in chrome) was a no-brainer. (See the reveal HERE). While both of my faucets were installed in new vanities that called for widespread faucets (three holes in the vanity top), they also make a single center-set version for a single hole. If you have an older vanity or original vanity, this may be the style you have. You can find those in all the colors HERE. I actually love the non-lever version best though for the center-set version; check out how pretty it is in gold HERE!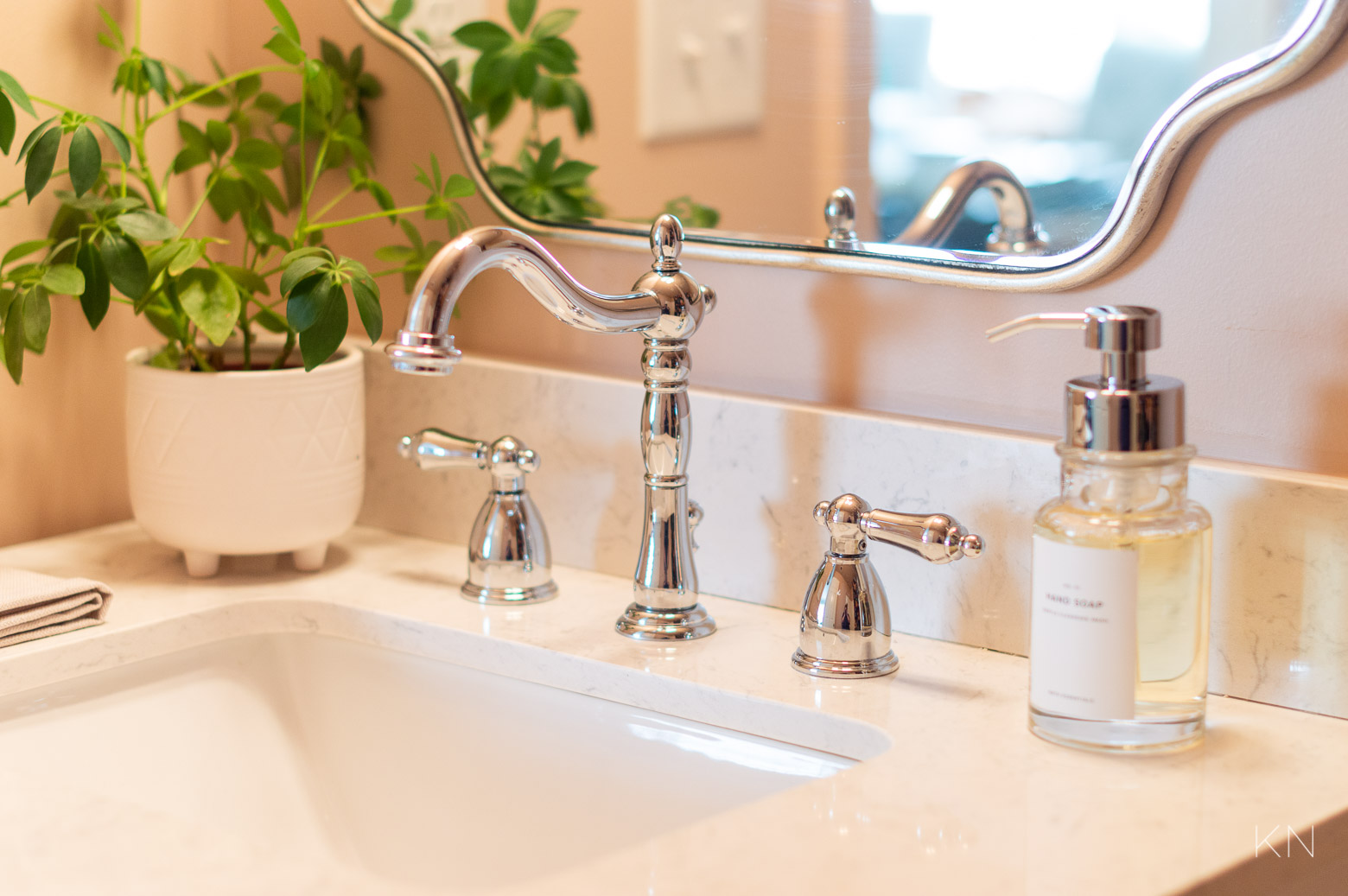 Sources: Faucet (polished chrome)
And when we took on our primary bathroom, after the flood, I went back to an almost identical model, by the same maker. (See the full primary bath reveal HERE). While other bathroom expenses amassed quickly, I knew these faucets were a more budget-friendly way for me to still get the look AND price that I loved.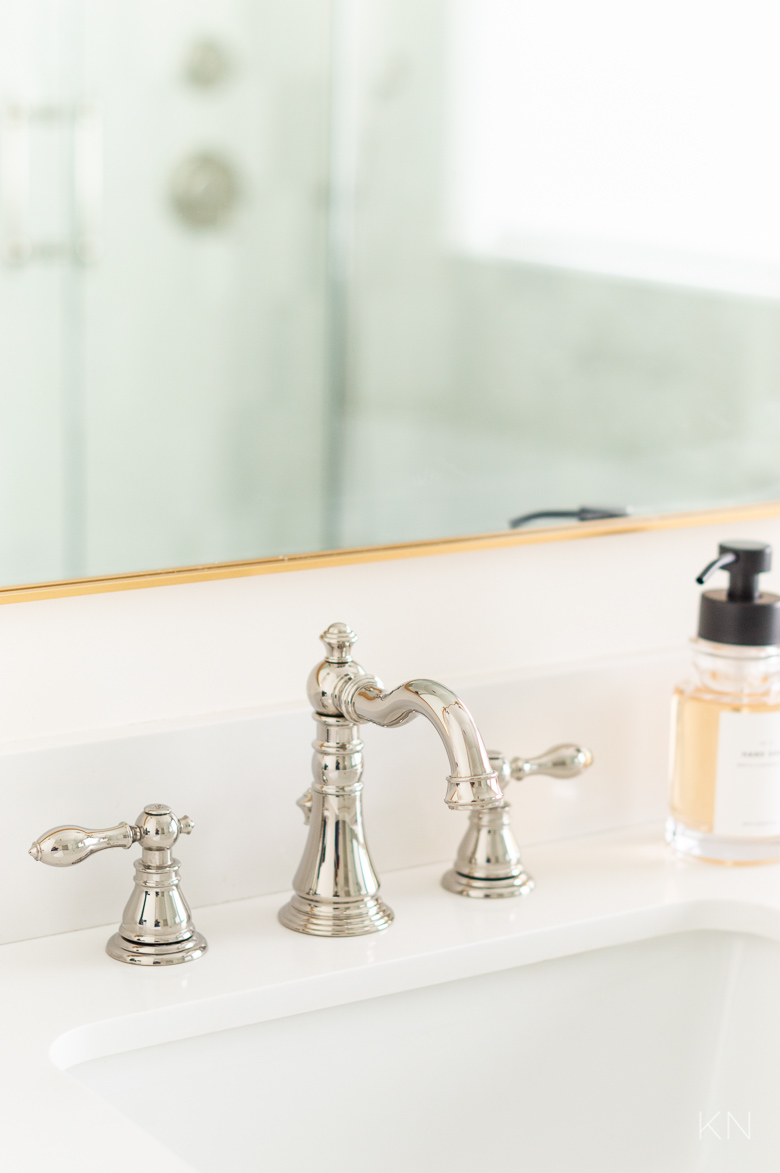 Sources: Faucet (polished nickel)
There's other ways to update your vanities without ripping them out, too. Like — updating the hardware, after the faucet it upgraded.
Scroll & Tap to Shop Widespread Faucets
(most come in several finishes)

Scroll & Tap to Shop Center & Single Hole Faucets
(most come in several finishes)


2. Switch Out Your Knobs
I switch hardware all over the place. But, knobs are just easier to change, unless you're using the exact same spread of a pull. This simple knob will be going in my kitchen (I'll be sharing the progress update soon!) on the cabinets — unlike some, this one actually has some heft! It comes in a lot of finishes (mine is the champagne bronze HERE) and is currently on sale. Sleek, current hardware can update dated cabinets…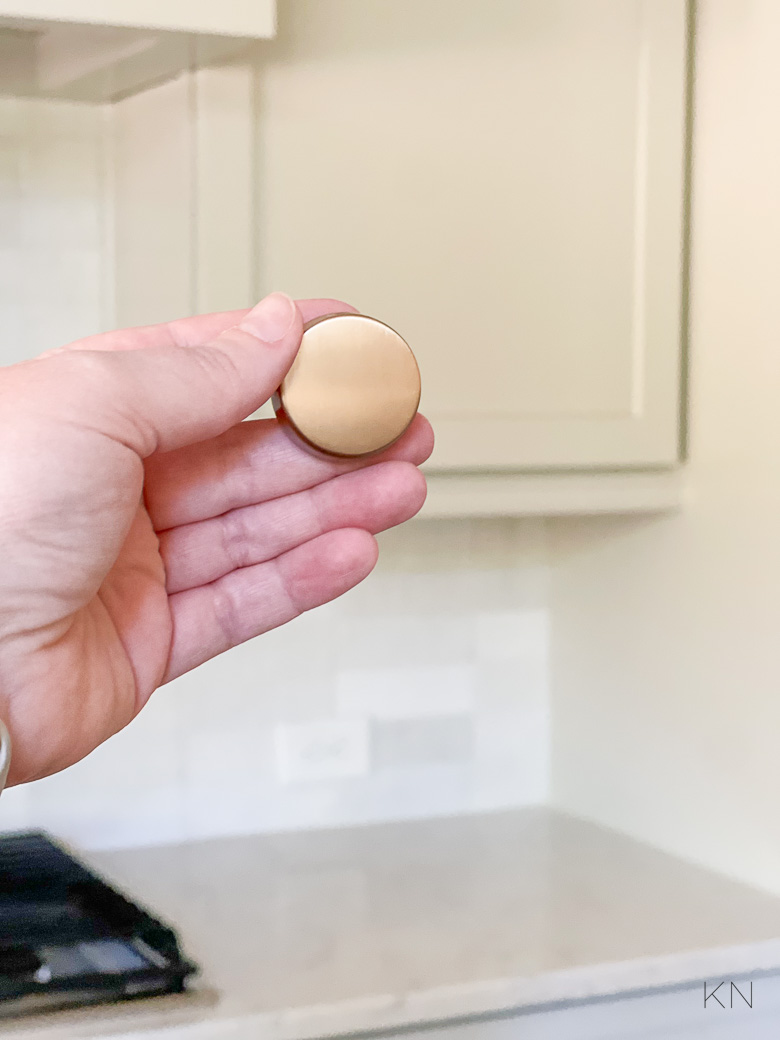 Sources: Backsplash Tile (2.5″ x 8″) | Knob (5/16″ Diameter, Champagne Bronze finish)
And hardware can even be an opportunity to give a punch of personality.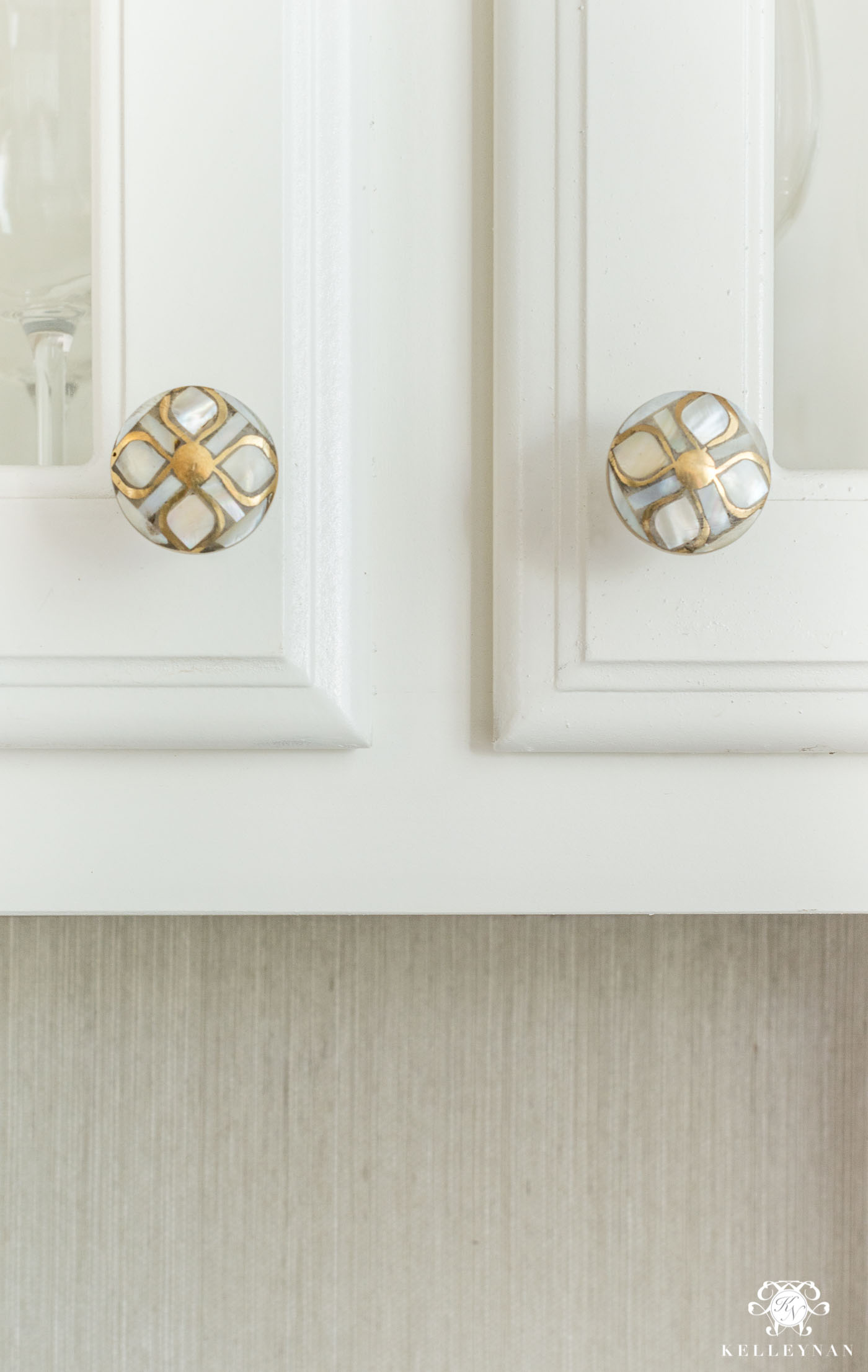 Knobs (SIMILAR)
Scroll & Tap to Shop Knobs

3. Personalize with a New Rug or Mat
Switching those fuzzy, shaggy bathroom rugs to something that could just as easily go somewhere else in the house is an easy update that requires no work. Just make sure your rug/mat is water/moisture friendly. You can definitely get away with more in a powder room since you aren't dealing with wet feet, showers, and steam, but I still prefer using a cotton rug. THIS handmade, cotton Dash & Albert rug has been phenomenal ever since I completed my powder room (full reveal HERE). It has washed perfectly and is the only rug we've used in the space. It recommends professional cleaning but I always toss it in the washing machine and air dried it, and it's always washed up beautifully.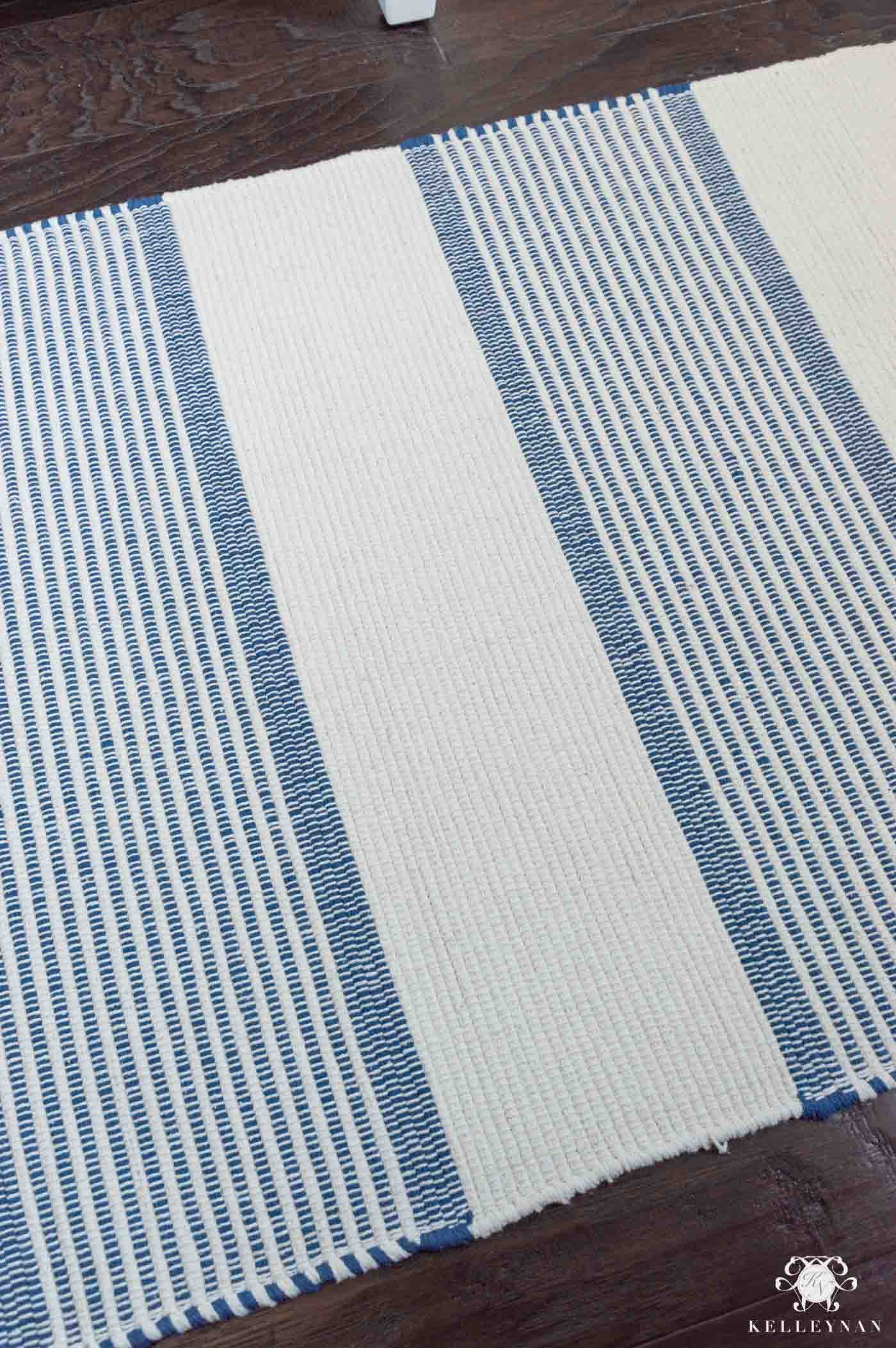 Sources: Blue & White Striped Rug
Random and speaking of rugs, here are two recent rugs I ordered from Wayfair to test in the entry. Our last entry rug had too high of a pile to clear the closet door and after it was ruined, I finally ordered two as potential replacements.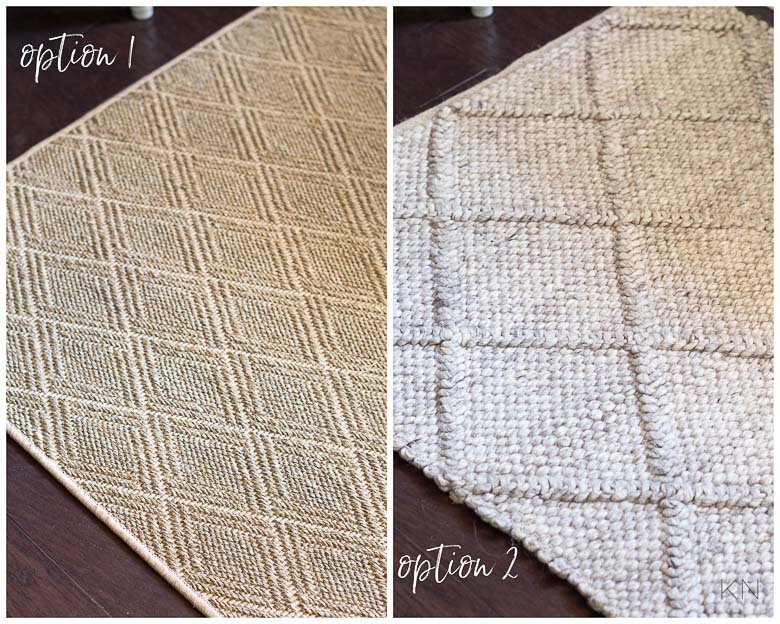 I really like them both for different reasons. The natural jute and sisal diamond rug (Option 1) — on sale — is perfectly flat and has a non-slip backing. It's thin, and I can't believe how amazing it is for a high traffic and entry area. I really like the color and plushness of the gray wool diamond rug (Option 2) — also on sale — and think the tone blends better in my entry…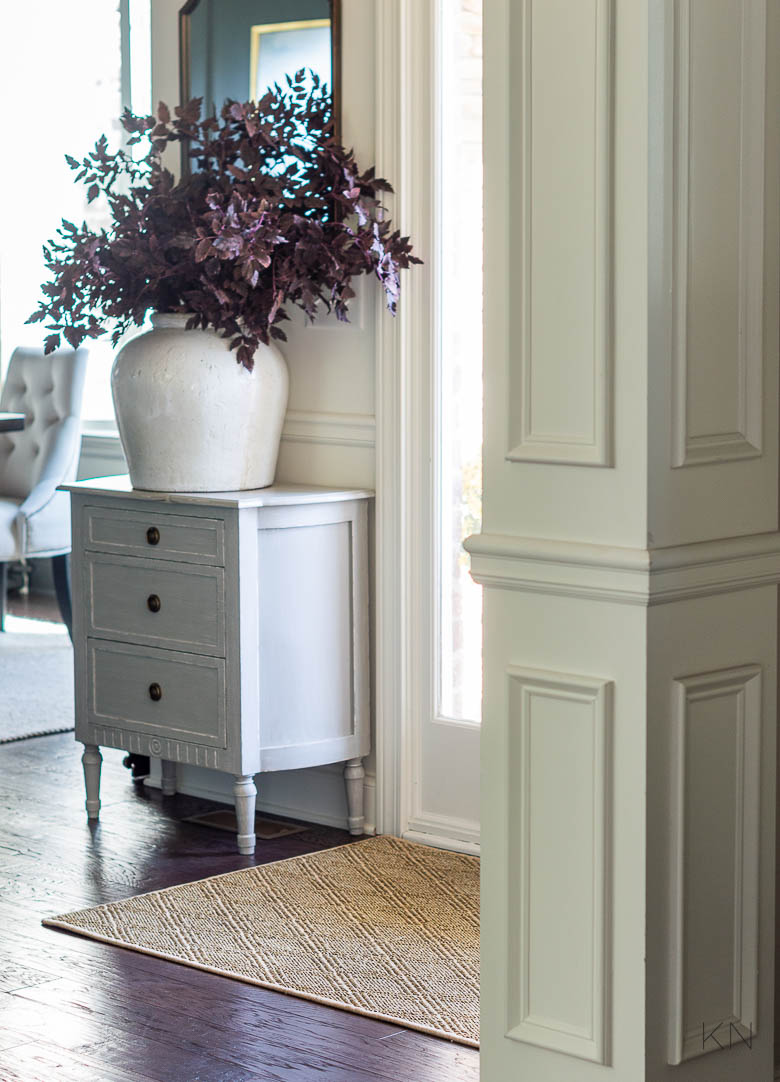 Natural Jute & Sisal Diamond Rug | Mirror | Chest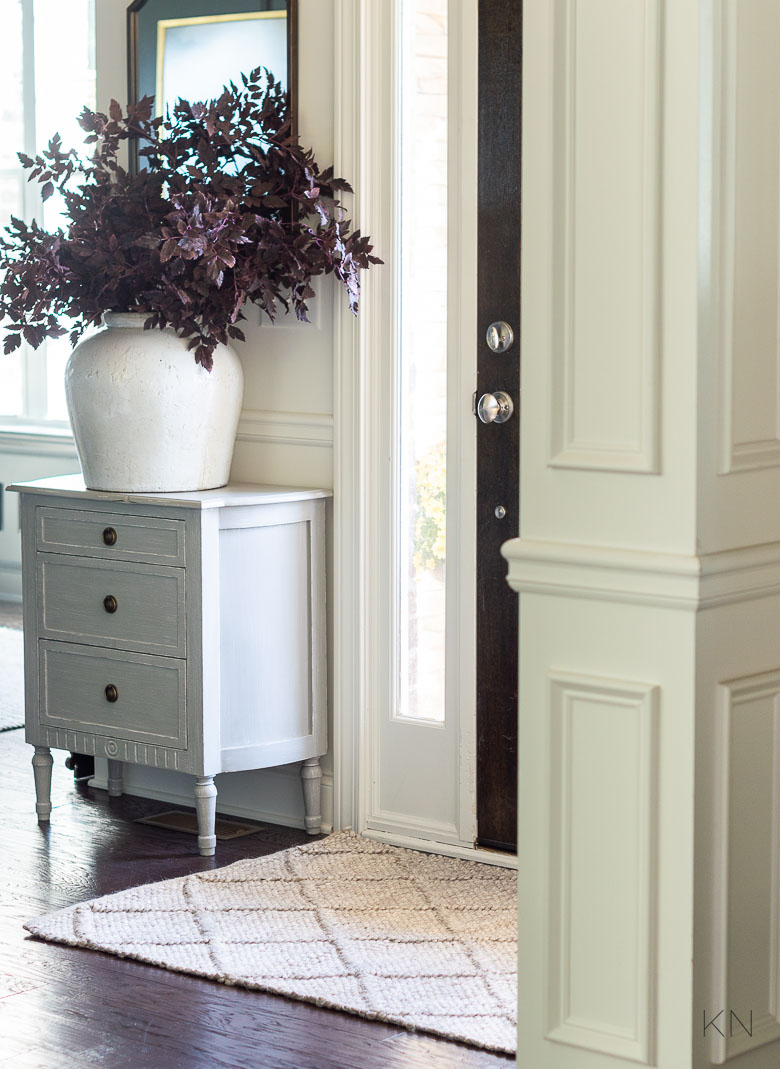 Gray Wool Diamond Rug | Mirror | Chest
Ultimately, I chose the jute and sisal rug to stay but I'm holding on to the gray wool diamond rug, too.
Scroll & Tap to Shop Bathroom Rugs
(most come in several sizes & colors)

4. Don't Overlook the Power of a Mirror
Typically, I think the most "custom" looking change you can give a bathroom is ditching the generic cut glass and opting for something else. If you have large cut glass, you may have to patch the wall a little. Also, an elongated mirror — stretching higher than expected (especially if you use/plan to use side sconces) — makes the room feel more grand with taller ceilings. I used a 48″ tall mirror with thin frame in our primary bathroom and the result is probably one of my favorite details in the bathroom. You can find it HERE, on sale, in several sizes and finishes.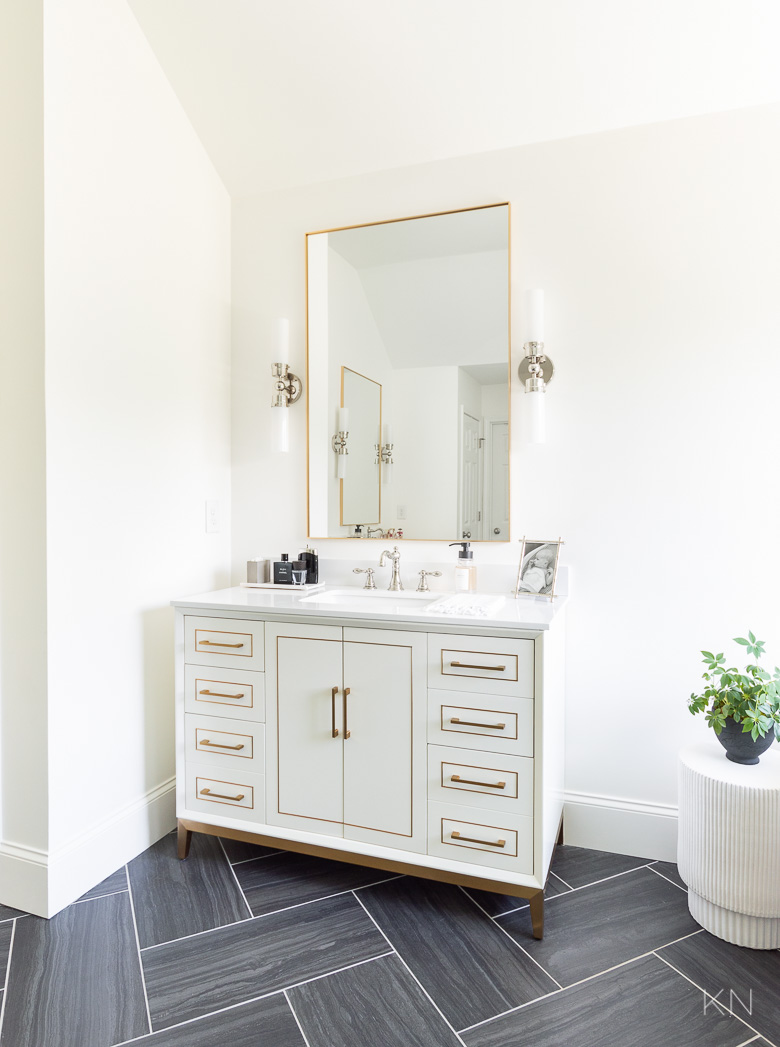 Sources: Vanity | Faucet (polished nickel) | Mirror (brushed brass; 31″x48″)
Simple is safe — especially in bathrooms that are regularly used. But, I love to get a little funky in the powder room and a mirror that's a little different — ornate, textured, shaped, etc. — is a fun way to infuse some personality.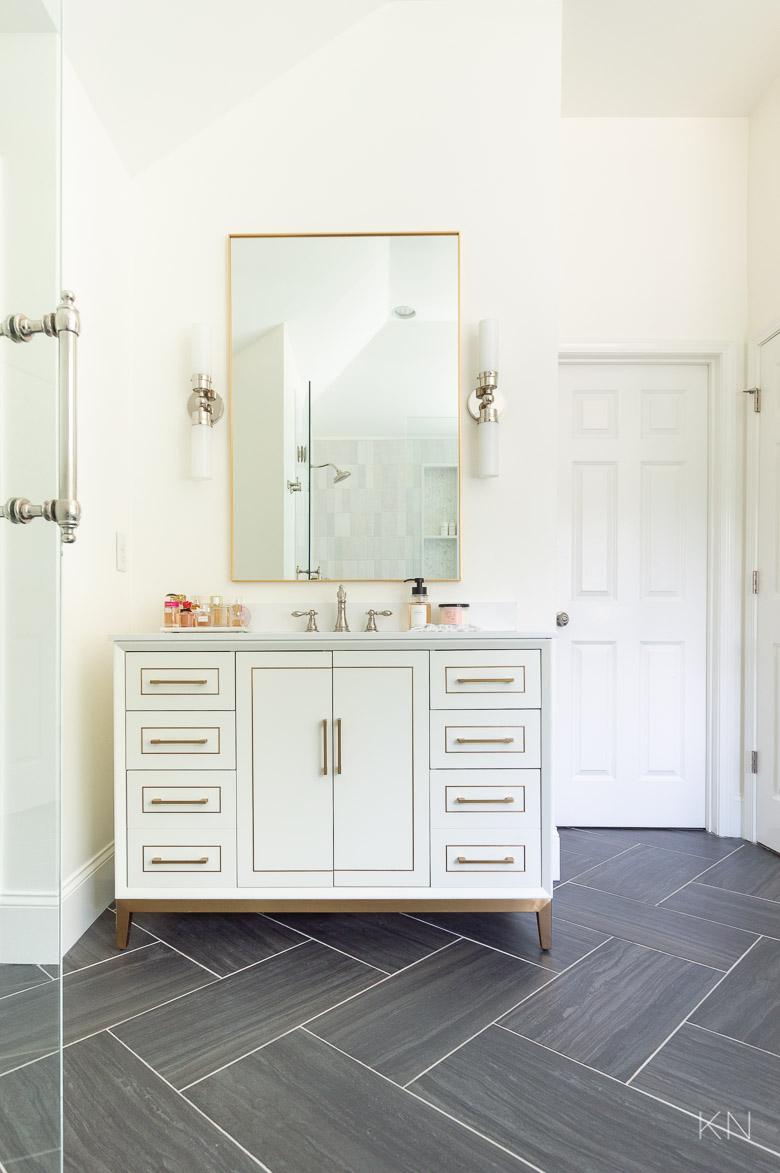 Sources: Vanity | Faucet (polished nickel) | Mirror (brushed brass; 31″x48″)
Scroll & Tap to Shop Streamlined Mirrors
(most come in several finishes & sizes)

Scroll & Tap to Shop Embellished/Decorative Mirrors
(most come in several finishes & sizes)


5. Wallpaper Doesn't Have to Be Scary (or Permanent)
Speaking of "personality", powder rooms don't tend to have a ton of space to decorate and personalize and it's really fun to take to the walls! I paid to have a professional install our wallpaper for a more long-term solution, so, that's definitely a great option to make a big impact, but even more cost effective (without the commitment) is peel & stick wallpaper. I wouldn't trust myself with regular wallpaper but I've conquered two walls with peel and stick now and both were a success! And, way easier than I could have hoped for. If you want to test/hone your skills, you can try on a straight wall in a closet/pantry first to learn what works best.
You can find the regular paste version of my wallpaper HERE and the peel and stick version HERE. It's important to purchase paper from the same dye lots so it's best to over-order if you have to and return the unused rolls, rather than go back to order more later.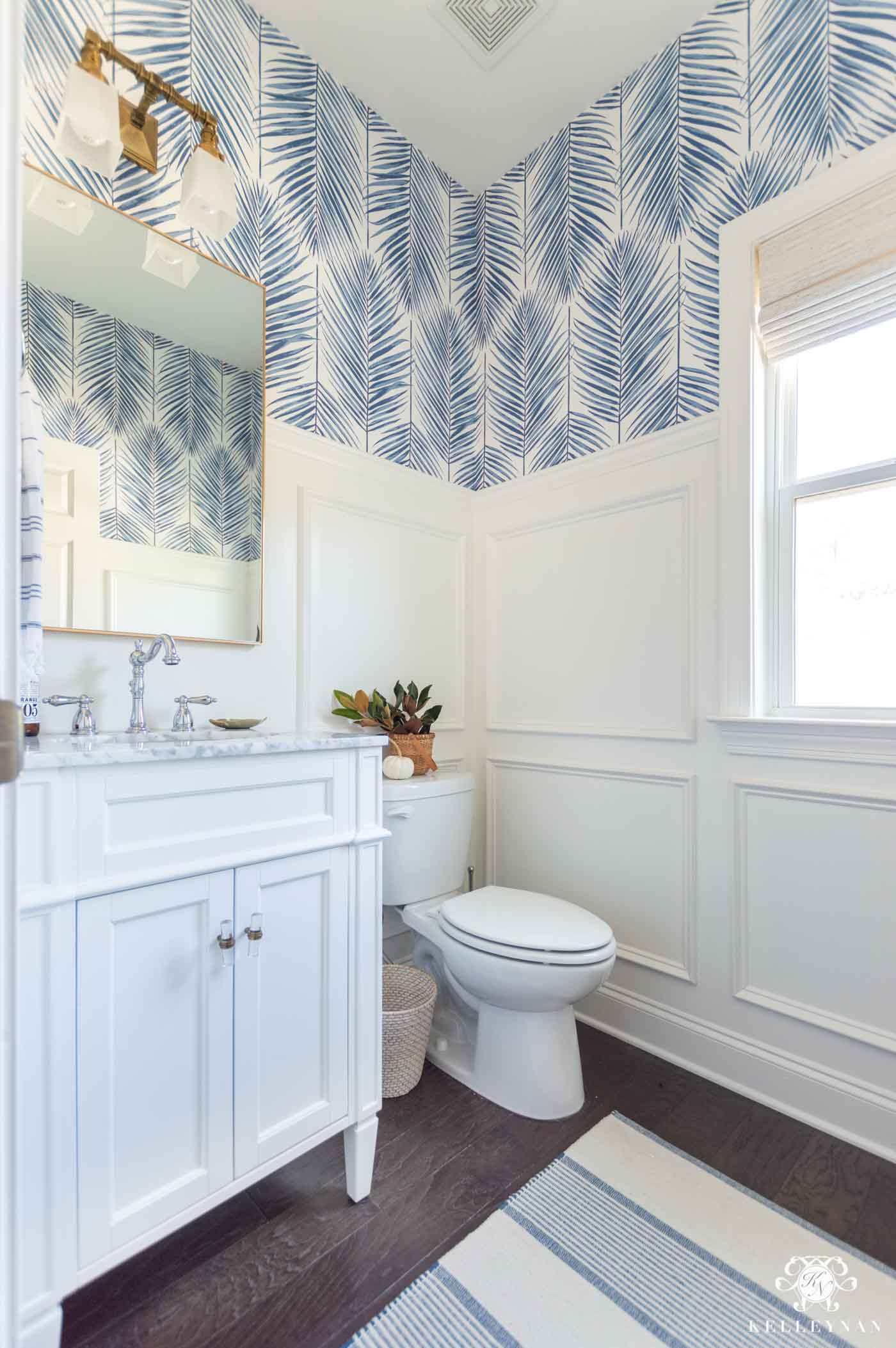 Sources: Vanity w/Marble Countertop (24″) | Faucet (polished chrome) | Blue & White Striped Rug | Wallpaper  | Turkish Hand Towel
And whether you use the paste or peel and stick version, there's always lots of possibilities for leftover remnants. Here's how I used mine 😉 I stuck to a gallery trio above the bed, but you could literally put frames across an entire wall using remnants (which would be cool!)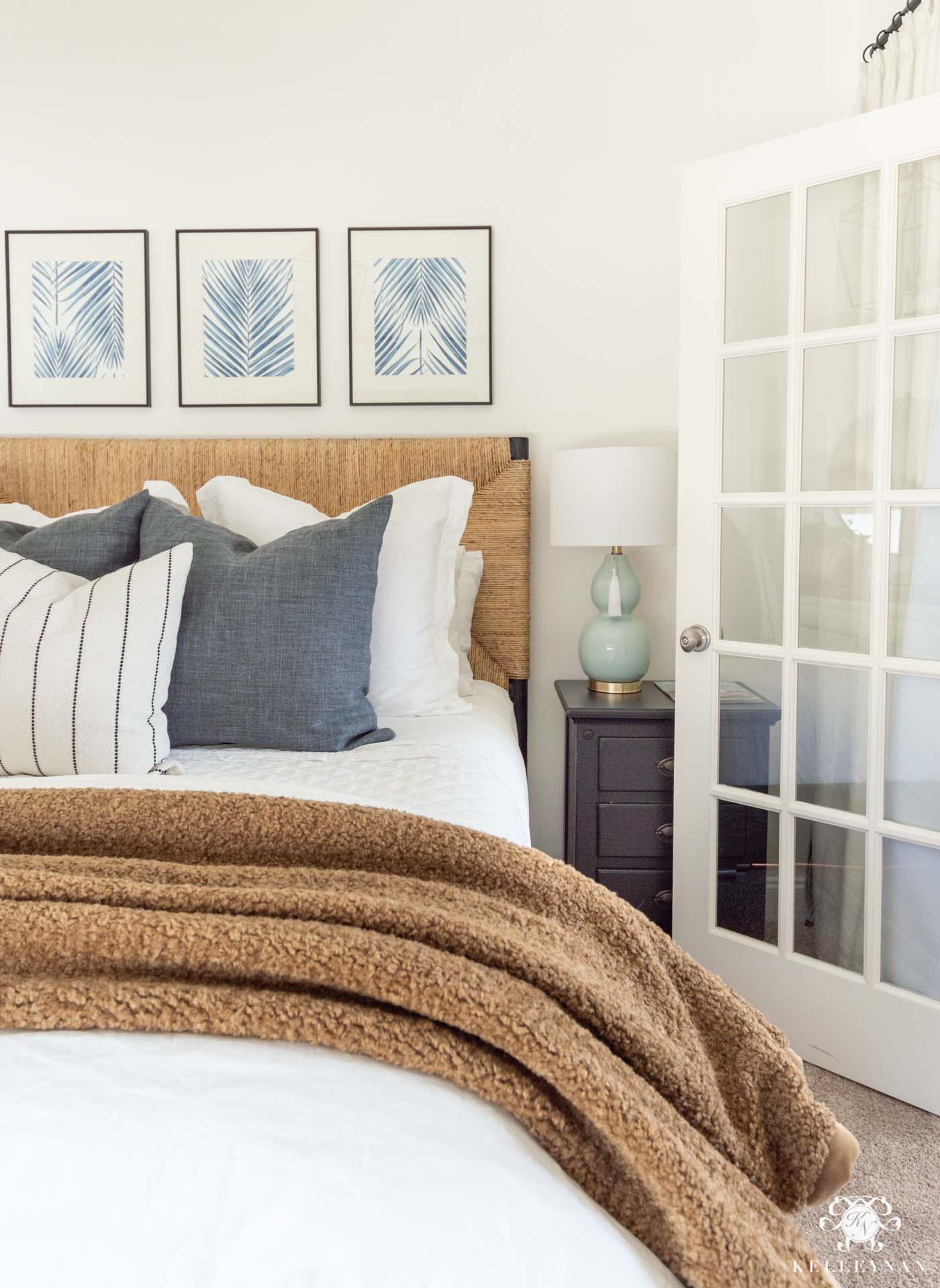 Sources: Wallpaper | Picture Frames
Scroll & Tap to Shop Peel & Stick Wallpaper


6. Consider Your Lighting 
Stock lighting can cheapen your look immediately. While more goes in to adding lights or converting lighting situations (like turning a vanity-top lighting situation to a side-sconce situation), just trading one sconce for another is simple. If there's no one in your house than can take that on comfortably (I wouldn't but Dave would), like the plumber, I would try to have a few small jobs for an electrician to take on. This past year, during the bathroom remodel, on the day the electricians came, I had three other lights in different rooms for them to hang, too. And, if they're already coming, definitely have them add a dimmer on your lights!
Scroll & Tap to Shop Embellished/Decorative Mirrors
(most come in multiple finishes)

7. Paint Will Make Everything Look Different
This one is obvious but depending on your paint and natural lighting, choosing something that blends with your tile or contrasts your tile will either brighten your space or make it moody and cozy. Decide what direction you want to go in and ask yourself if you're getting that from your current paint. If not, break out the brushes!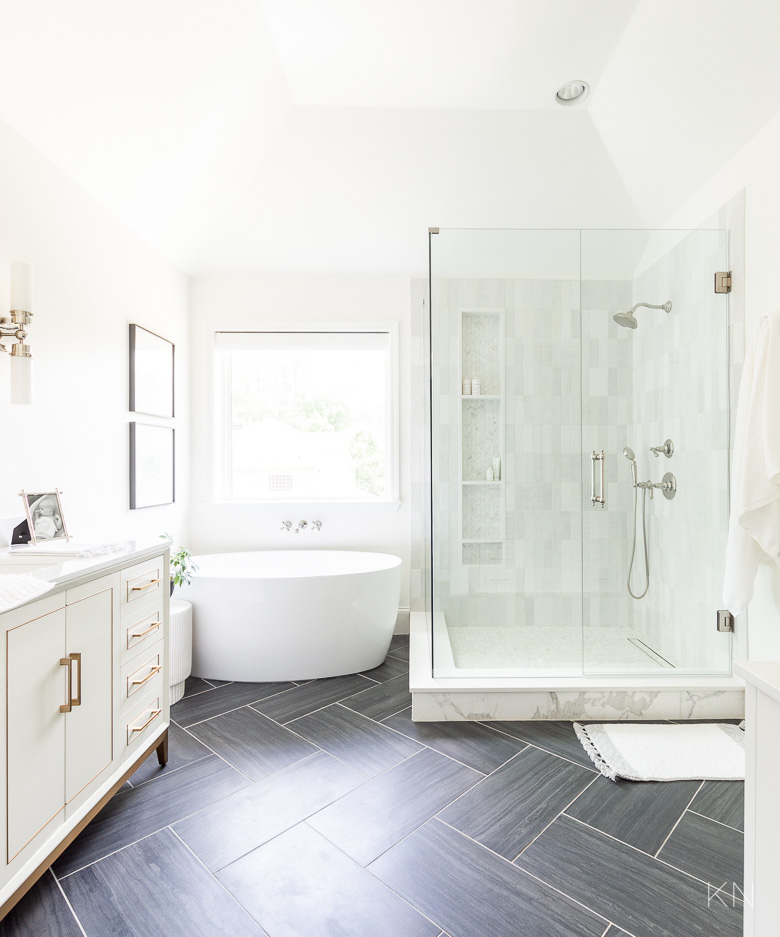 Sources: Vanity | Faucet (polished nickel) | Mirror (brushed brass; 31″x48″) | Tub | White Shower Tile | Shower Drain 
As a side note, if you are taking on more intense projects in the kitchen/bathroom, getting free shipping on tile (my tile HERE) is huge! Tile shipments and freight deliveries typically cost hundreds (I know from experience…) so be sure to check tile during the sale HERE.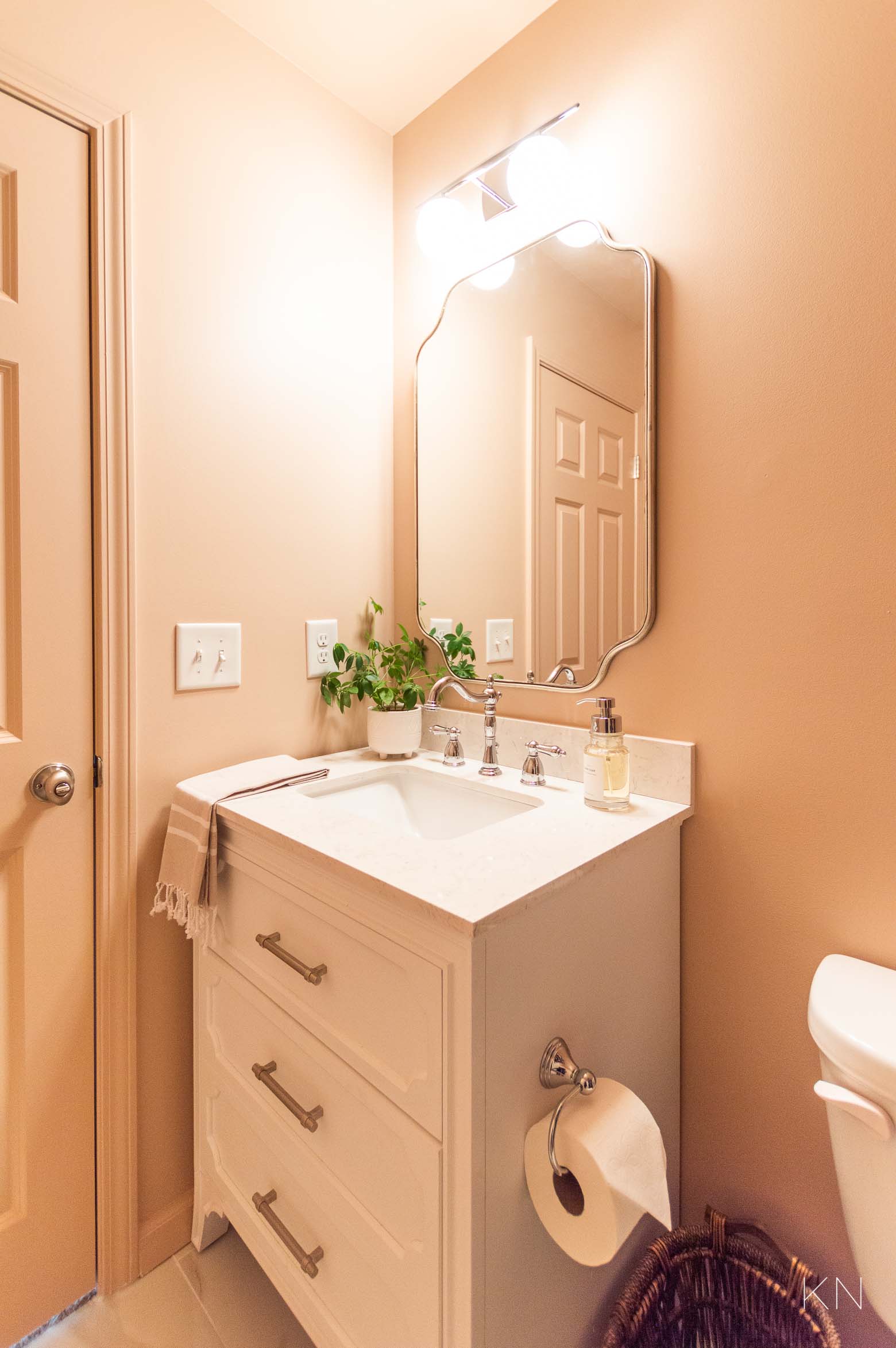 Sources: Faucet (polished chrome)
The majority of my bathrooms are made up of Wayfair finds — from the vanities to mirrors, faucets, and plumbing fixtures — and most of it's on sale right now. But, while we talked all about no-construction upgrades that are easier and and more affordable in the bathroom, there are tons of projects throughout the house — both inexpensive and more involved — where the Way Day sale can be the hero. Here are a few other faves to check out during the sale! Remember — everything ships free, even oversized items and furniture.
Way Day Deals to Watch For
Are you looking to complete any projects before the end of the year? Are you shopping for people on your Christmas list or seeking opportunities to find the best deals for yourself right now? For all the Christmas, holidays, and projects ahead, be sure to subscribe to emails at the bottom of the post.