When I was younger, I always had all my jewelry on full display in my room. I would hang it proudly from cork boards, have over the top jewelry organizers, and I always lusted after those glamorous vanities that looked like full beauty counters. As I got older, my tastes changed. While I prefer to not have my bedroom – the space that is supposed to be a relaxing haven – resembling a boutique 24/7, I do still love my pretties. And I love to see them… just not all at once. I get a lot of inspiration (and bits of "happy") from my accessories, namely, and don't want to keep them all hidden, buried in the depths of the closet so today, I wanted to share a few ways to decorate with fashion and give some ideas on how to have some of your favorite accessories on display without being overwhelming. Ok, or gaudy. Although I've definitely been described as just that before and have to say- I don't necessarily hate it! haha
*Posts on KelleyNan.com may contain affiliate links. Click HERE for full disclosure.*
IDEAS TO DECORATE AND DISPLAY

ACCESSORIES

 IN YOUR BEDROOM DECOR 
This post has been a long time comin'; I've always naturally tried to incorporate some of my favorite pretties into my rooms but more recently, I've made more of an effort of creating small "homes" outside my closet to make my most worn/daily jewelry more accessible. So how do you do that without having shelves and in-your-face wall hangings and armoires? This list of 11 display examples covers a huge variety of display options; regardless of your personal taste, there's something on here for everyone 😉 The key is to try a couple; I can promise if you try to implement every single thing, your space will end up looking like that aforementioned "boutique" haha. Moderation is key.
1. Simple & Discreet- Drape a Few Dainty Daily Pieces Over "Limby" Accessories
The most discreet way to display some of your jewelry is to work with decor accessories already on your dresser/nightstand by draping your daintiest everyday pieces. They will always be within arms' reach and easy to grab and run with each morning. Look for accessories that have some height (if they aren't tall enough, position on a book), and have some "limbs" to them.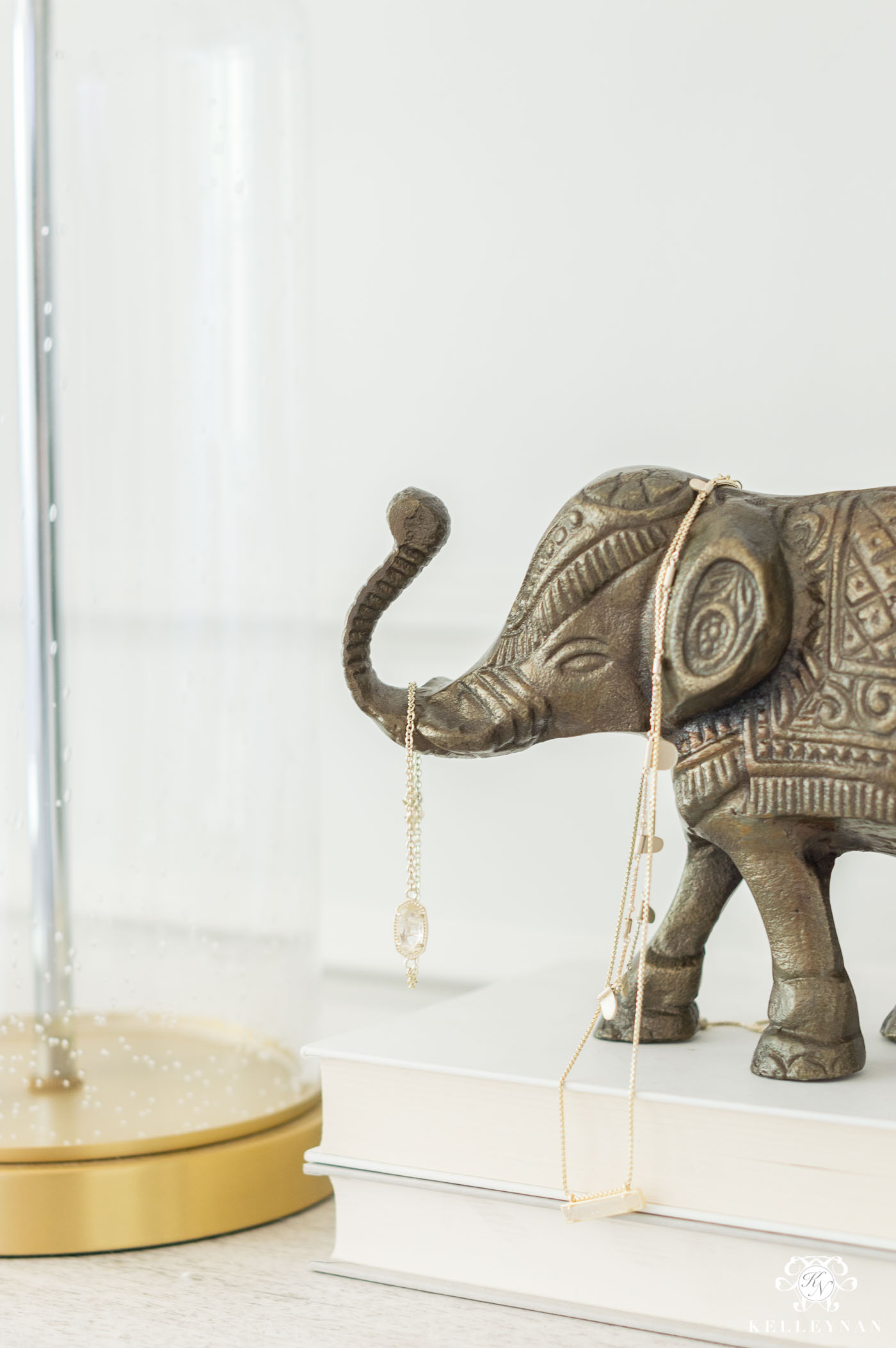 ---
Scroll & Tap to Get the Look

---
2. A Mini (but Tasteful) Display for Your Most Worn Jewels & Accessories
Most recently, I actually purchased a streamlined jewelry rack for my nightstand (HERE). While I don't keep anything on my large dresser, my new nightstands are large enough to support a few things beyond the standard lamp and photo frame. I have gotten into the habit of taking off my jewelry and throwing it on the nightstand haphazardly so I decided to implement an actual system. The only pieces I allow here are my most worn/seasonal favorites. The majority still live in the closet but this has made my most frequent baubles way more organized (and pretty to look at) 😉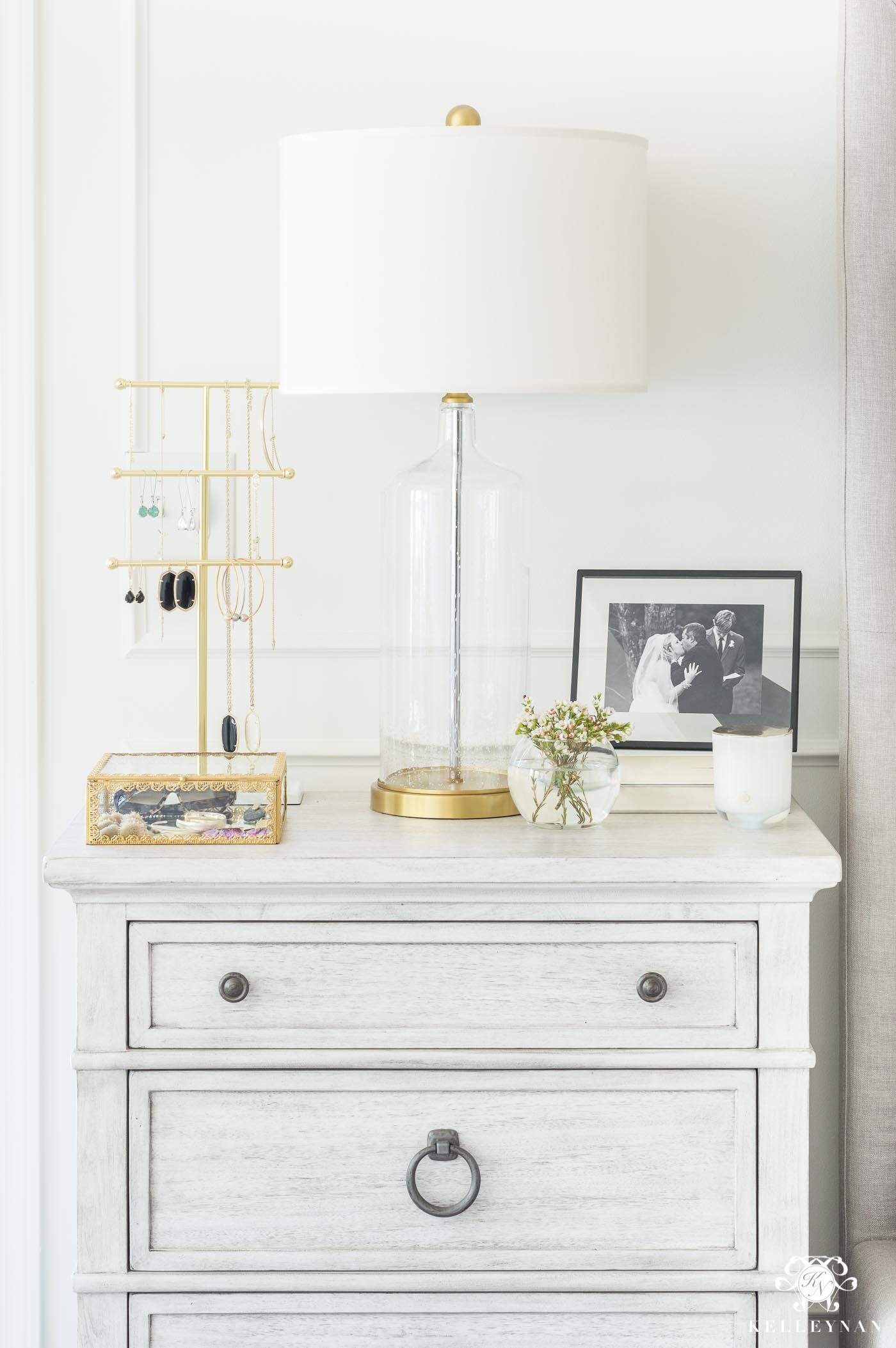 ---
Scroll & Tap to Get the Look

---
Full disclosure- even though this rack has the ability to hold a lot, if you are getting it for display purposes, fight the urge to load it down. I got a little carried away, bringing out pieces I don't wear that often and by the time I was finished, I had to edit it down and remember my "why".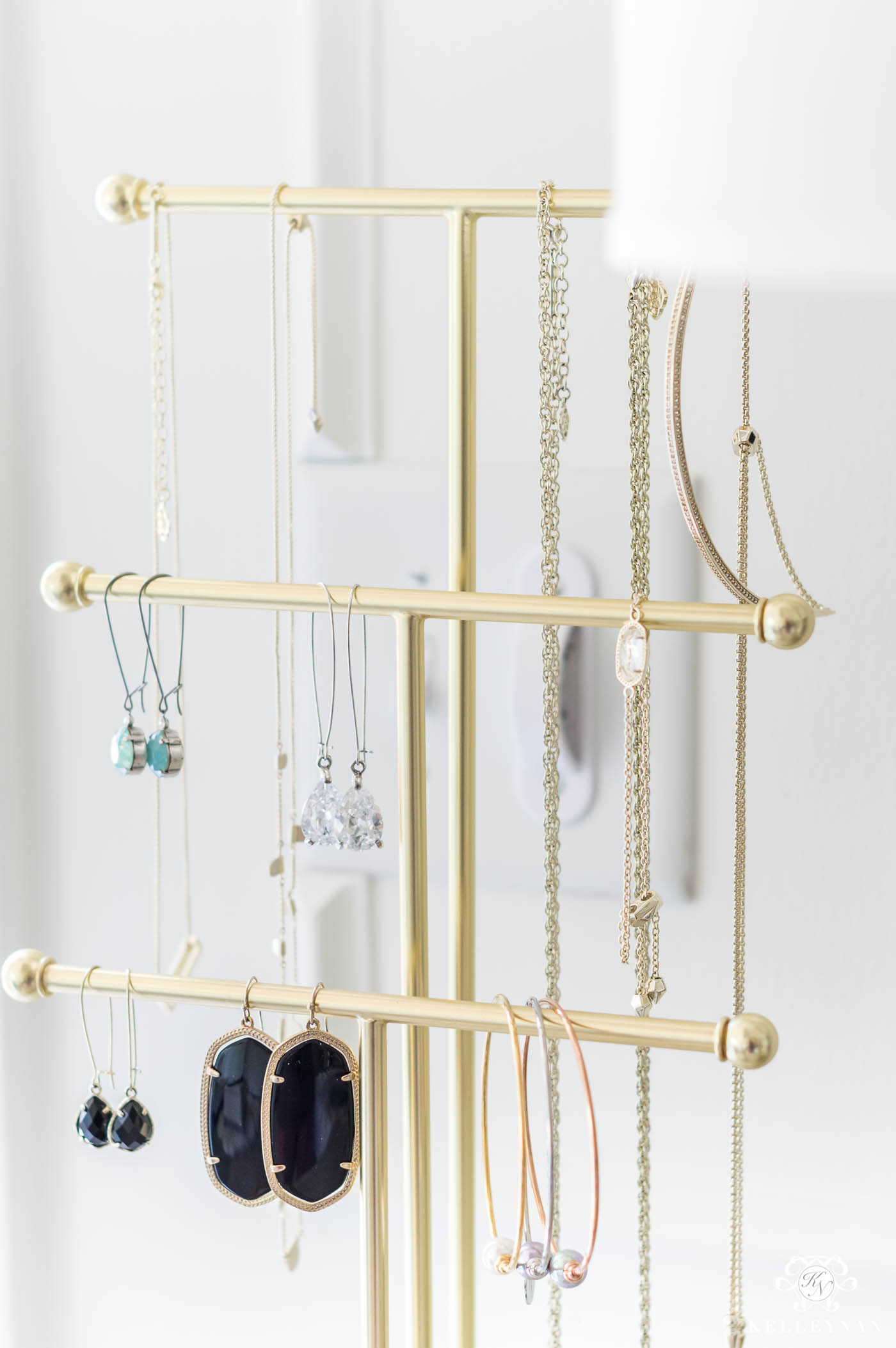 3. A Shadowbox for Favs
I also added a gold-rimmed shadow box for pretty/special/frequently worn favorites. Kendra Scott sent me a few pieces from their latest line and they were the first to be added. Even though I like calming neutrals in the bedroom, having some discreet but vibrant summer bling in this box makes me smile every time. PS: In their gift, I found my favorite set of bangles ever; you can check out the trio HERE.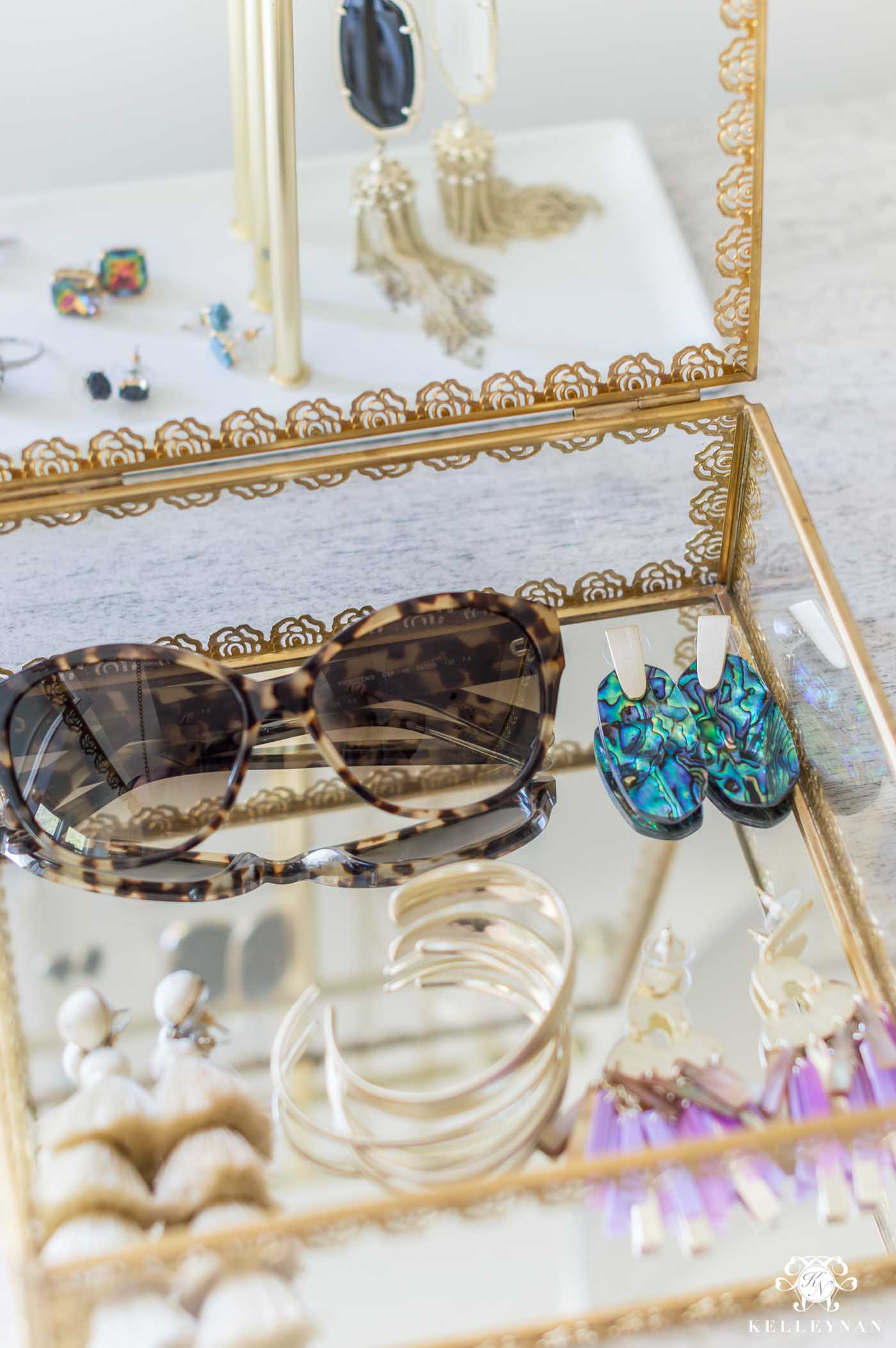 ---
Scroll & Tap to Get the Look

---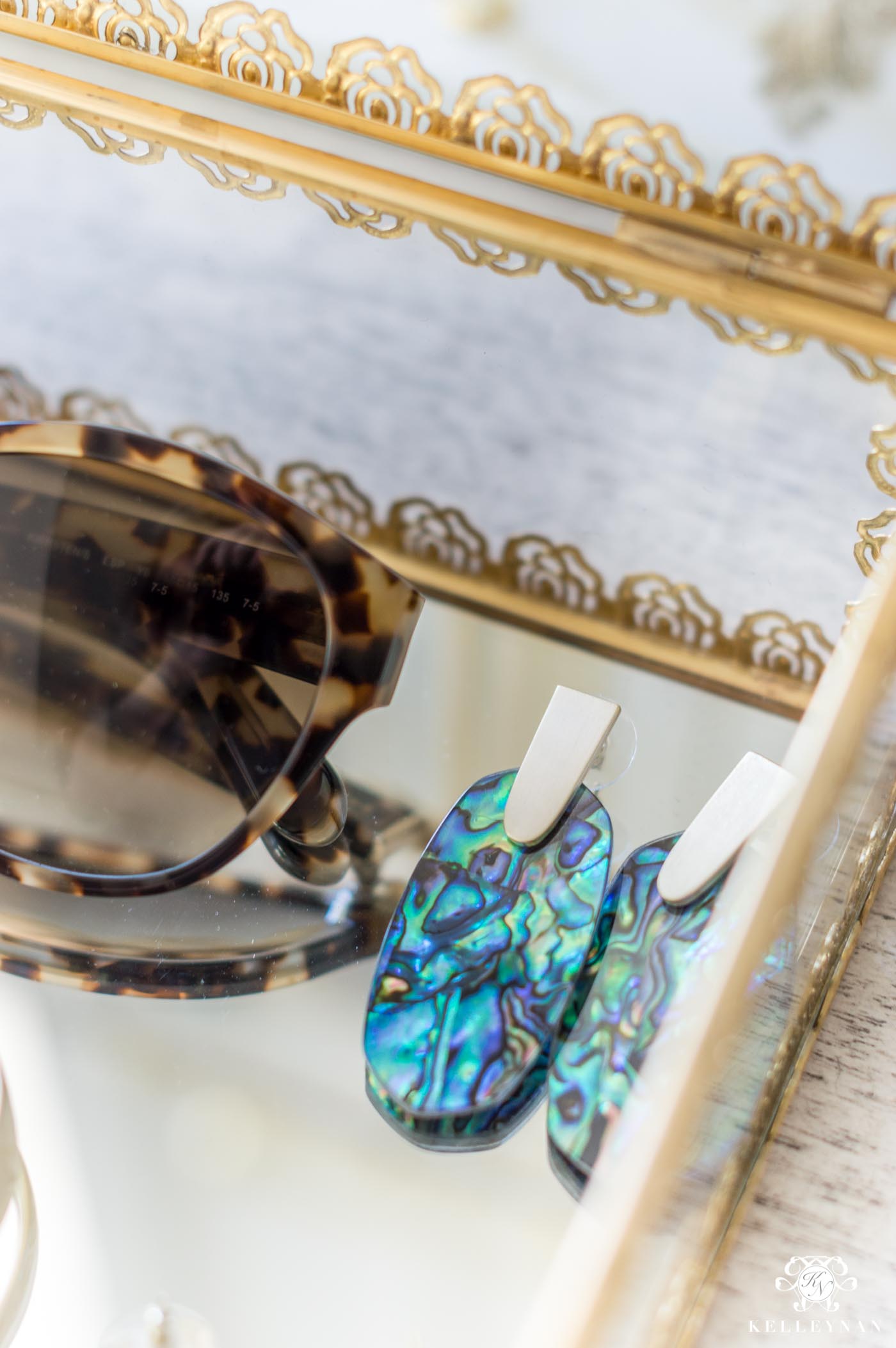 You can also find my new Kate Spade sunnies (on sale for $59.97) HERE; they come in a few different frame options. I am a terrible sunglasses owner so I've committed to not putting them in my purse unless they are first inside the hard case that they came with. (Hold me accountable, y'all!)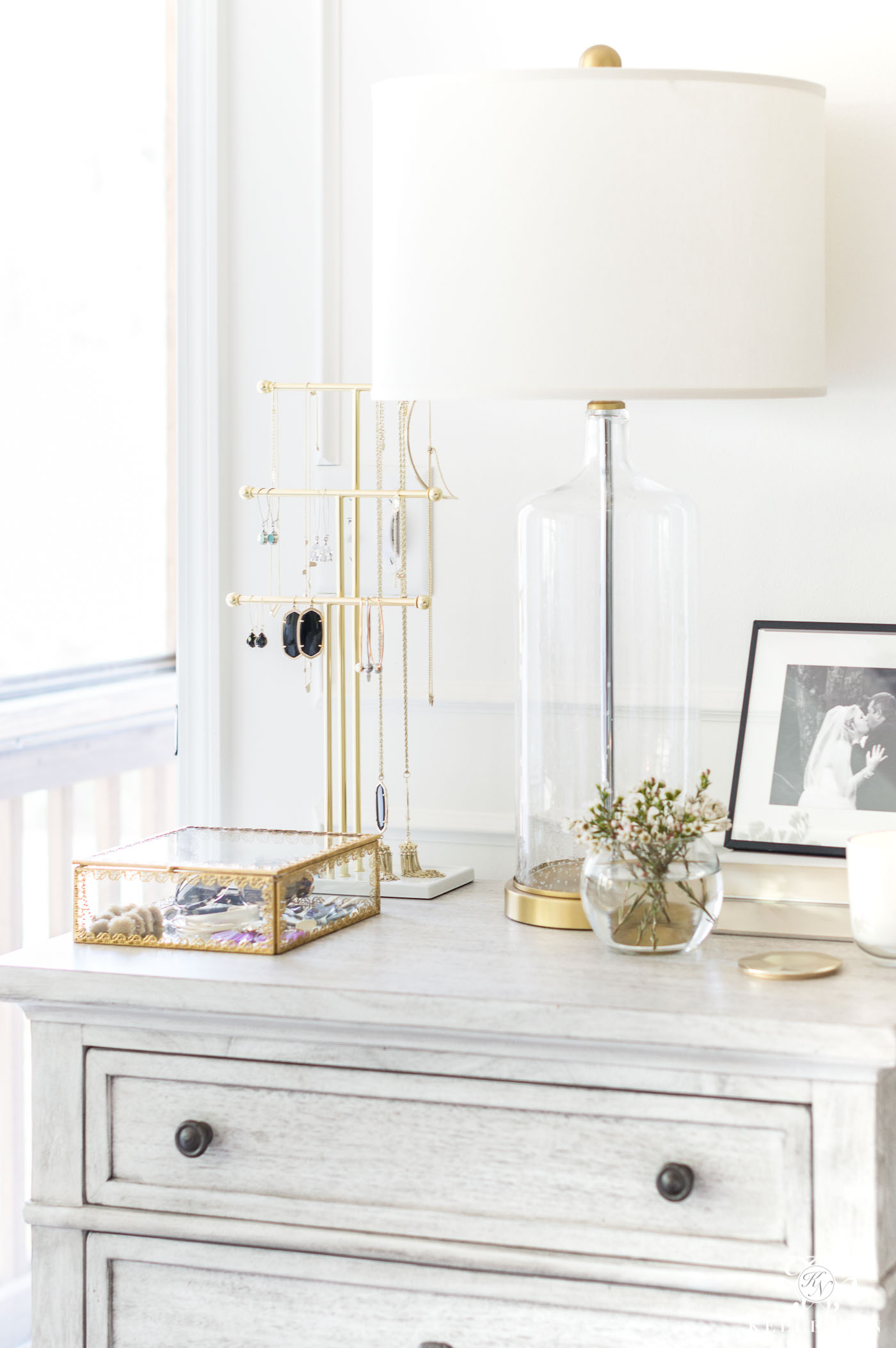 ---
Scroll & Tap to Get the Look

---
4. An Intentional Pairing
Similar to the discreet draping in number one, sometimes, I look at something sitting on a table and envision a favorite little accessory detail joining it. I can't explain it other than – it helps fuel my creativity to see my favorite lovelies paired together.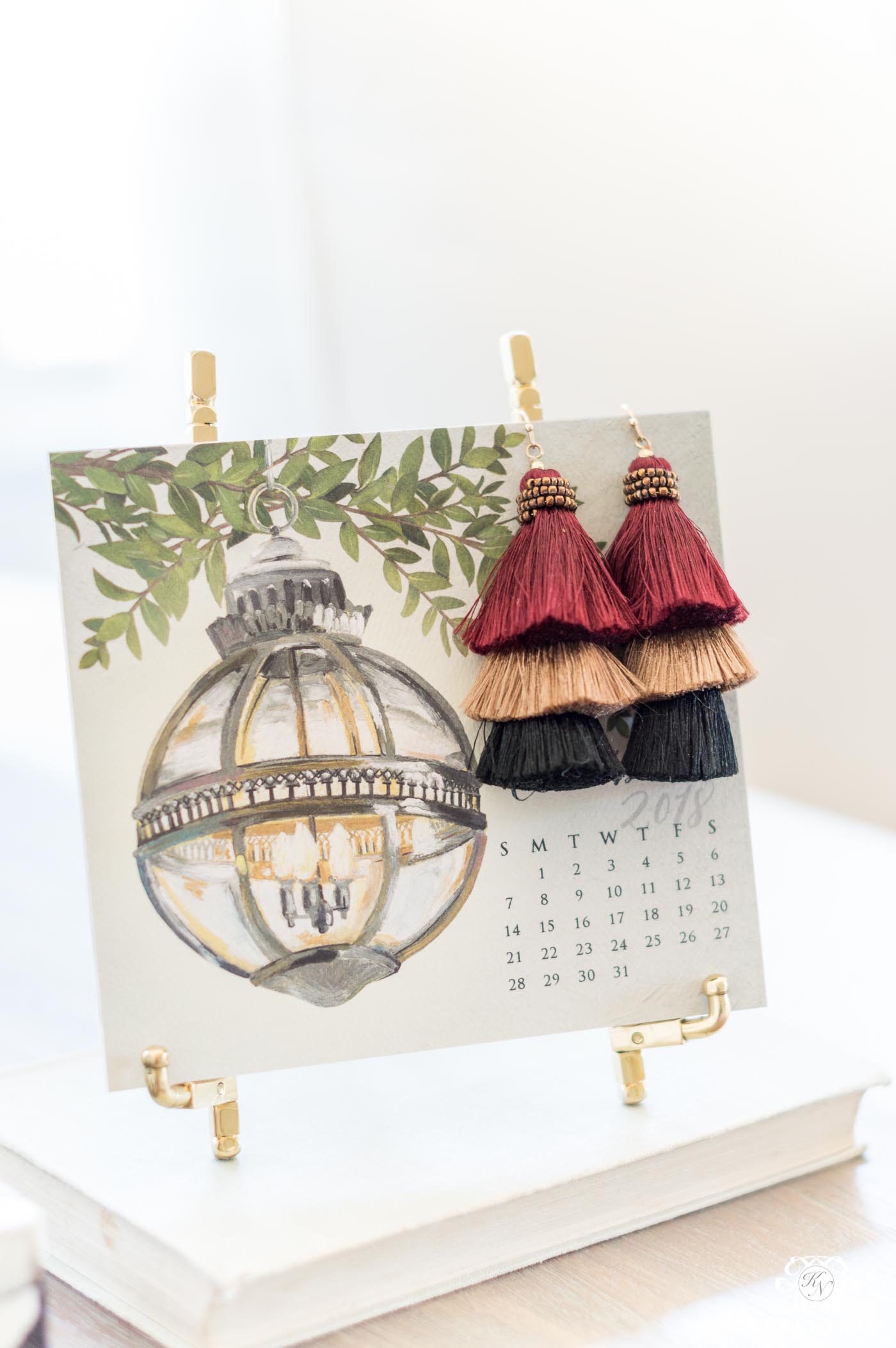 5. A Mirrored Tray to Corral Your Daintiest Pretties
Keep it classic and pick a few favorites to corral in a feminine tray. Even if it is a mish-mosh like I have here, it doesn't look cluttered because they're all rounded up together and contained. You can do this on your bedside table or dresser, but, even if brining the bling to the bedroom isn't for you, you can replicate this in the bathroom/where you get ready.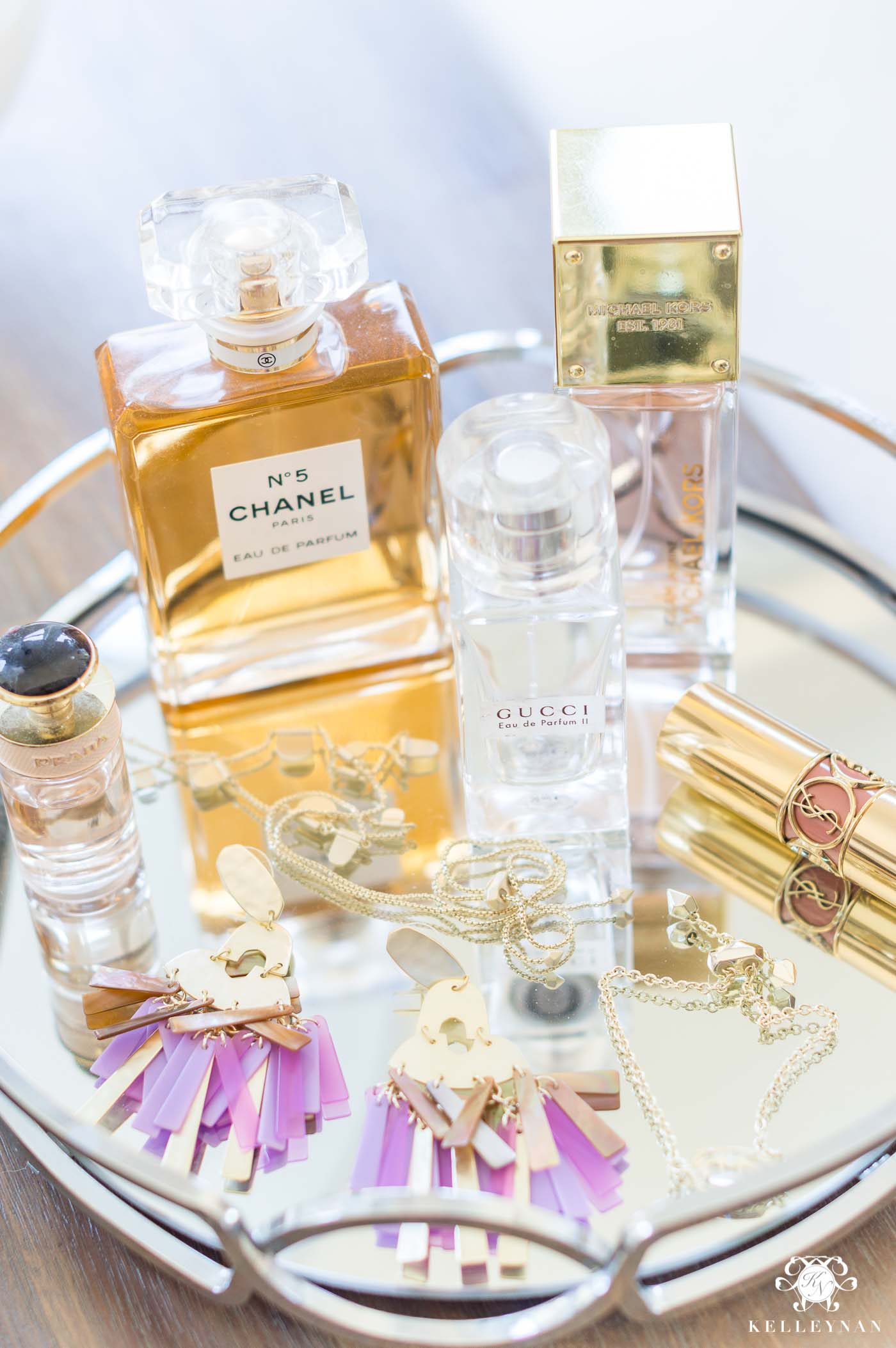 ---
Scroll & Tap to Get the Look

---
6. Tying A Scarf/Bandana/Neckerchief for Seasonal Flair/a Colorful Punch
I have way too many scarves. I just do. And while I use them for far more than just wearing around my neck (y'all know I bring them out for table layering!), they are buried and forgotten in the closet the majority of the time. I've started making an effort to make use of them seasonally in a few different ways. First, you don't have to switch your bedroom decor to give it a little warm weather flair. I tied a silk scarf to my bedside lamp to give it just a hint of delicate personality…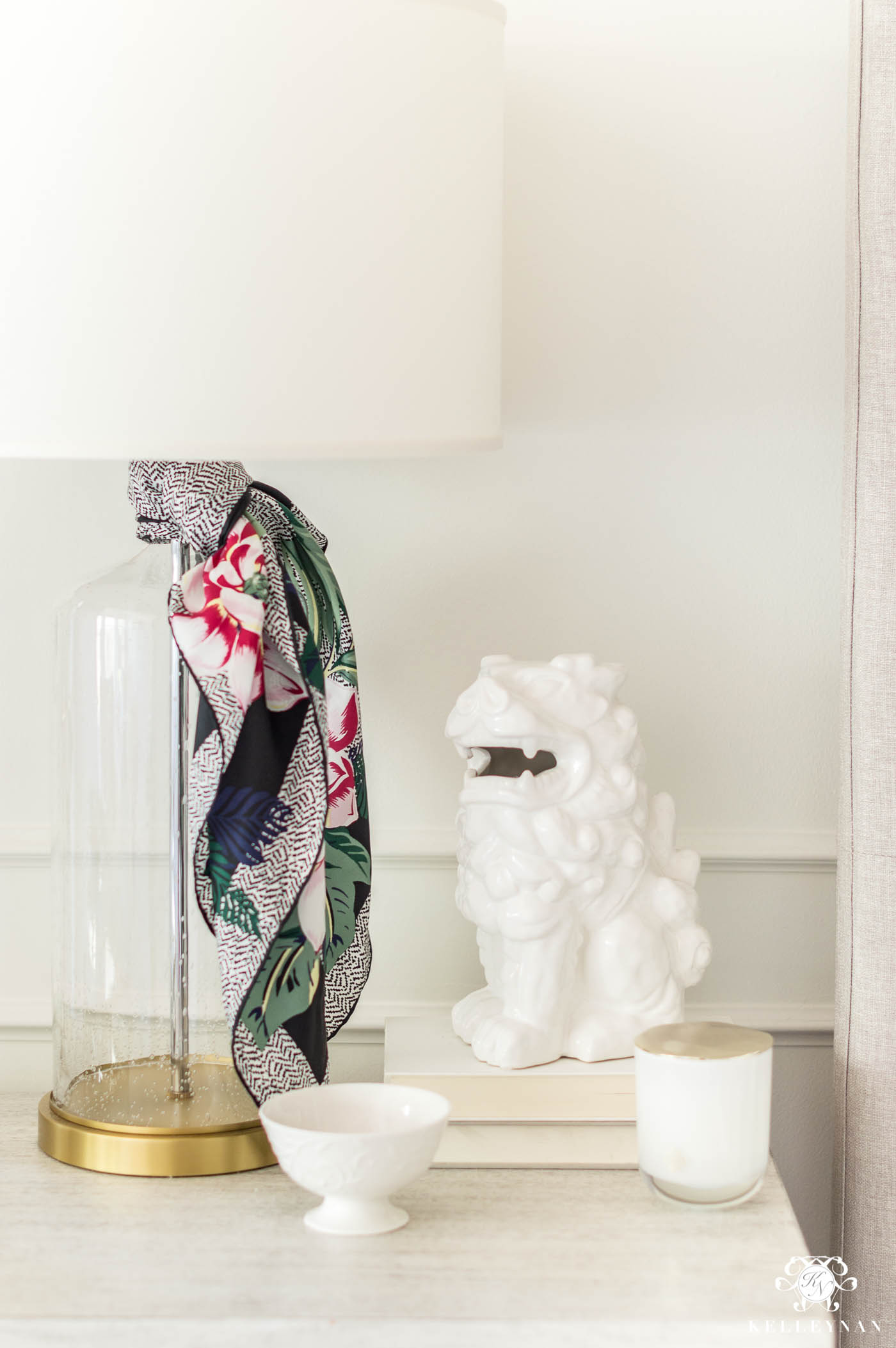 ---
Scroll & Tap to Get the Look

---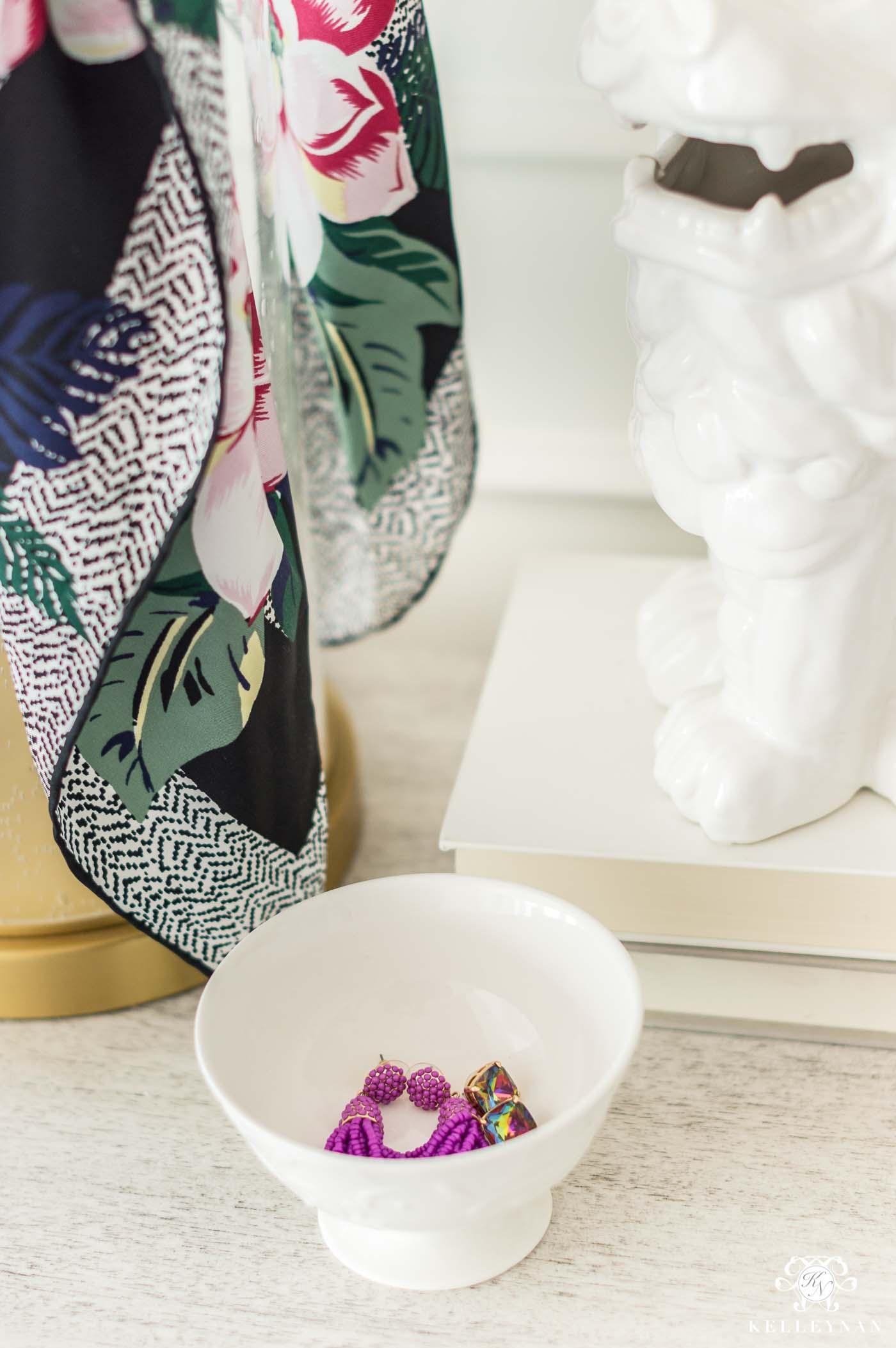 See how easy it is to switch up? This works best with thin scarves, smaller bandanas, or scarves with fun edges like all those pom pom details we're seeing right now.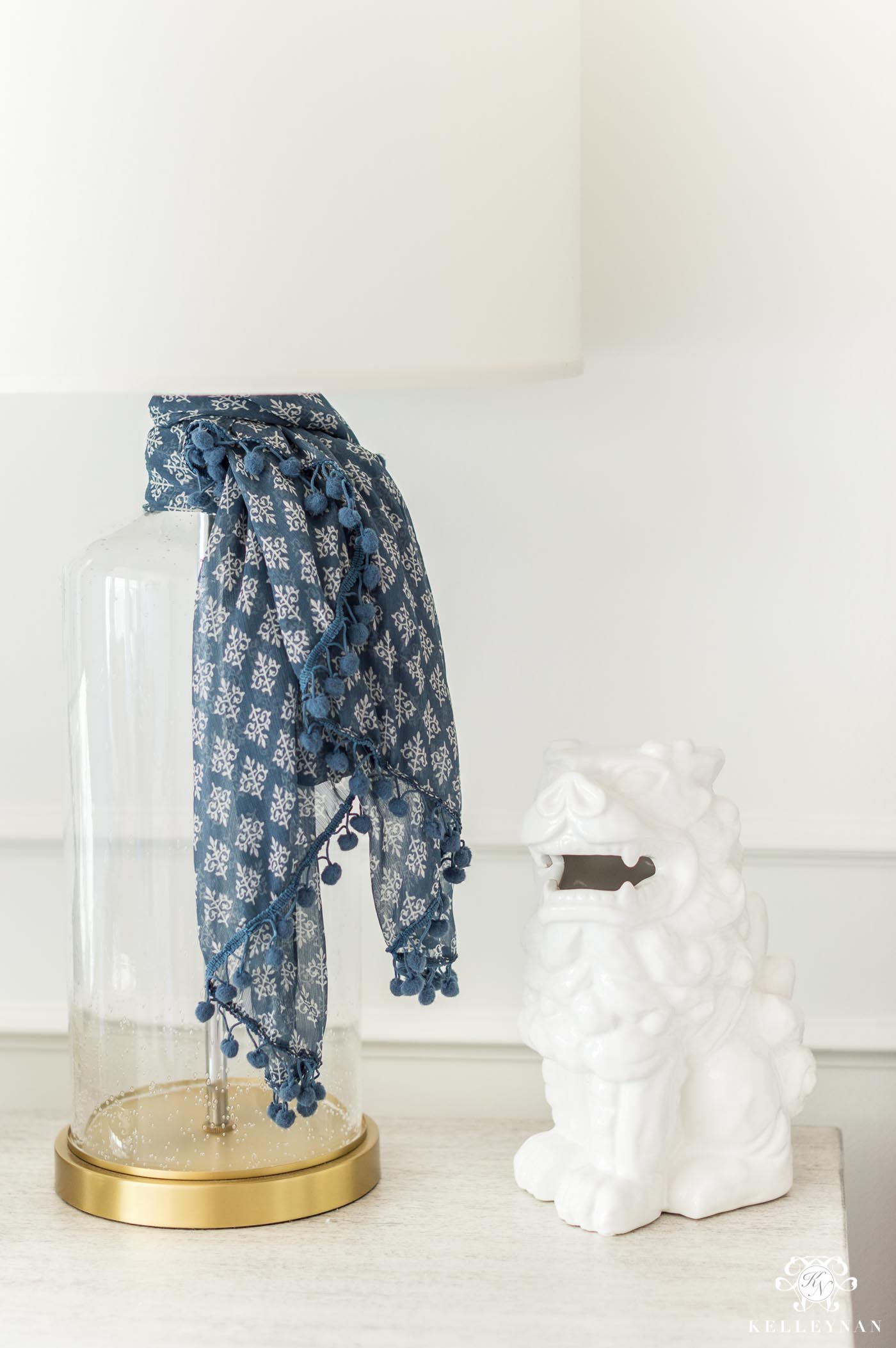 7. End of the Day China Catchall
Before I had my jewelry rack, I used this sweet little catchall dish as my sole coraller of jewelry. If you don't start dumping EVERYTHING in there, this is a perfect little tasteful option that can be paired with other solutions. Think outside the box- this is a china tea cup saucer but a teacup would be adorable, also 😉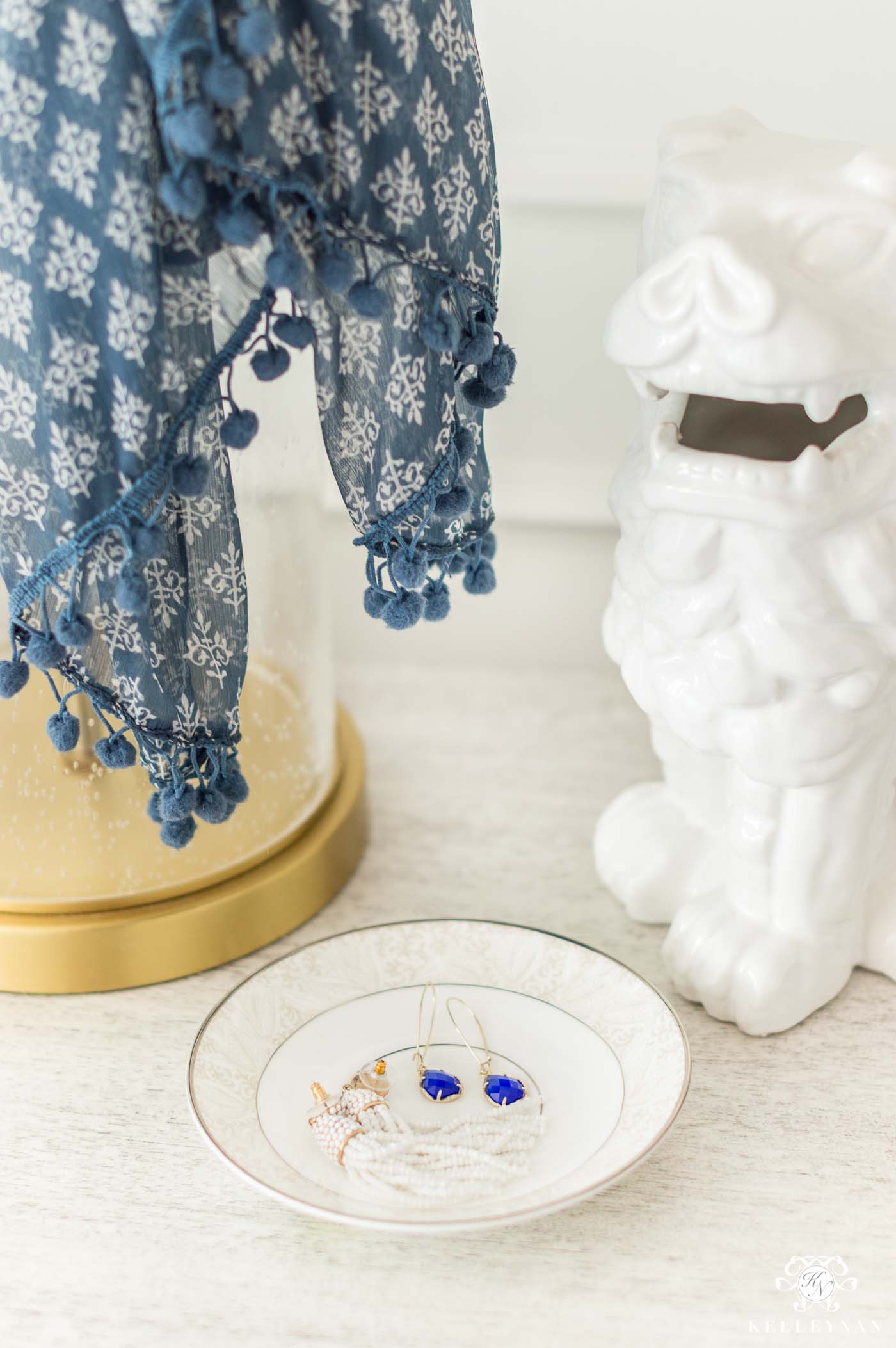 ---
Scroll & Tap to Get the Look

---
8. Turn Your Lamp Into a Bust
This is a little bolder of a move and unless you are more funky and eclectic, I probably wouldn't display other jewelry around the lamp to compete with your statement. But, I love how this looks- and what a fun way to enjoy your favorites on a rotating/seasonal basis! Our bedside lamps (HERE) have some serious girth and height and work well as a "bust".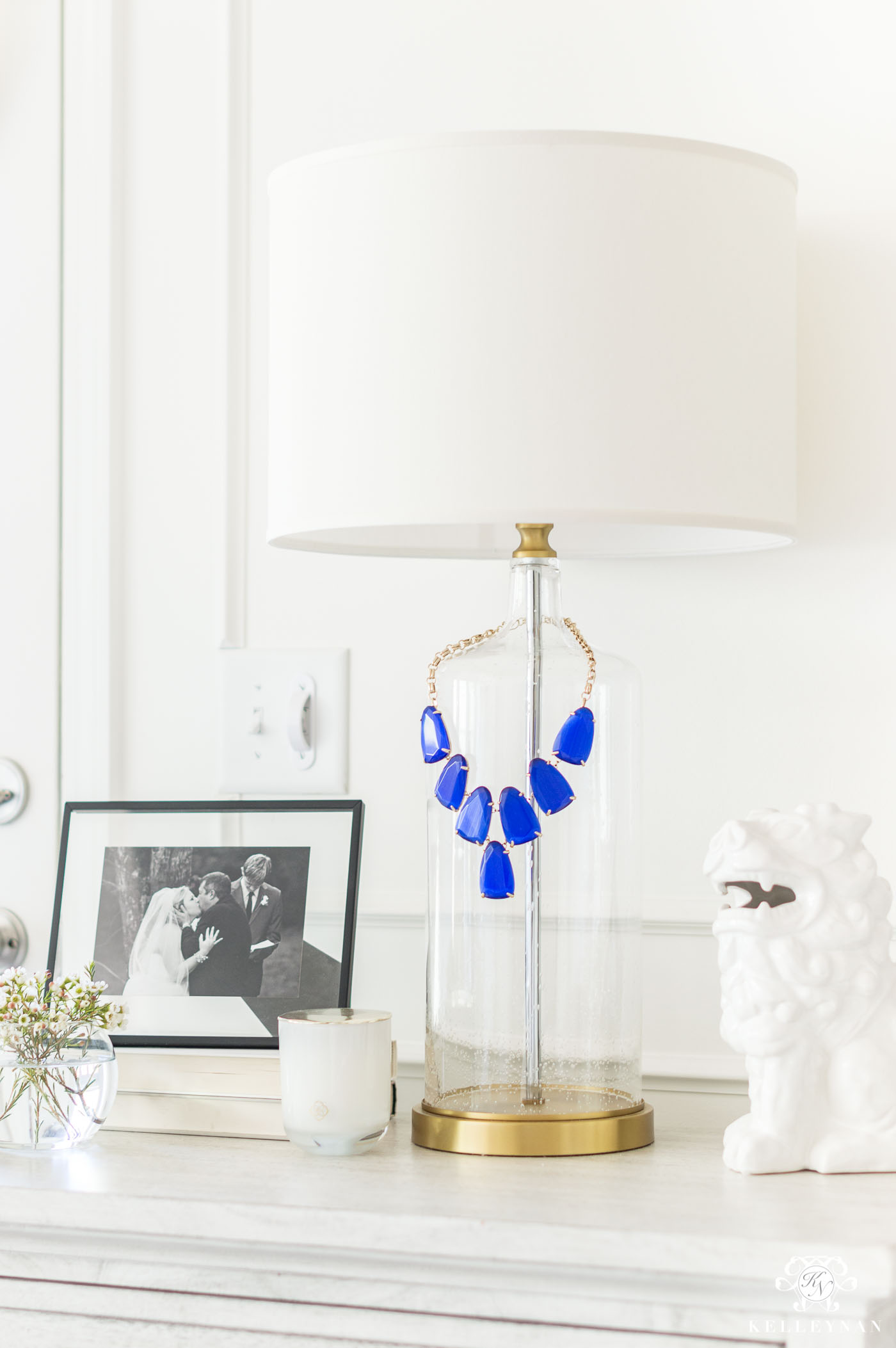 ---
Scroll & Tap to Get the Look

---
You can even go daintier with thin necklaces like in number one but as a standalone, statement pieces make a pretty fun impact.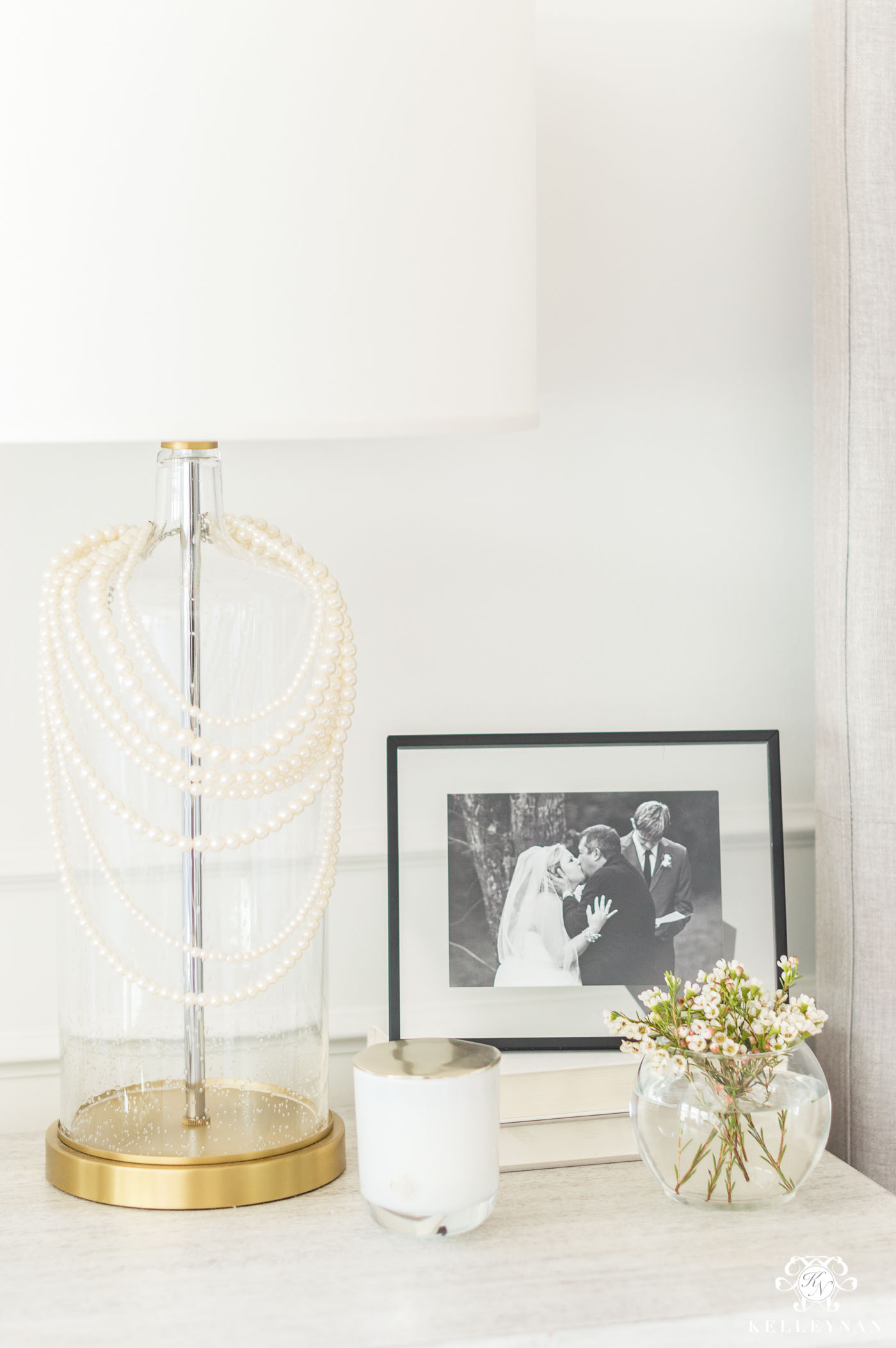 9. Prop Your Current/Favorite Handbag in "Go" Position
Do you have an actual spot for your current purse? On top of the washing machine/kitchen counter doesn't count 😉  When I invest in nice bags, I like to see them. And care for them. I'm not going to tell you where my purse is most often (I should be ashamed!) but I have been making an effort to "home" the one I am currently carrying more often. I don't have 10 bags cluttered an draped on the side of my full length mirror – just a strategic garden stool to rest this girl.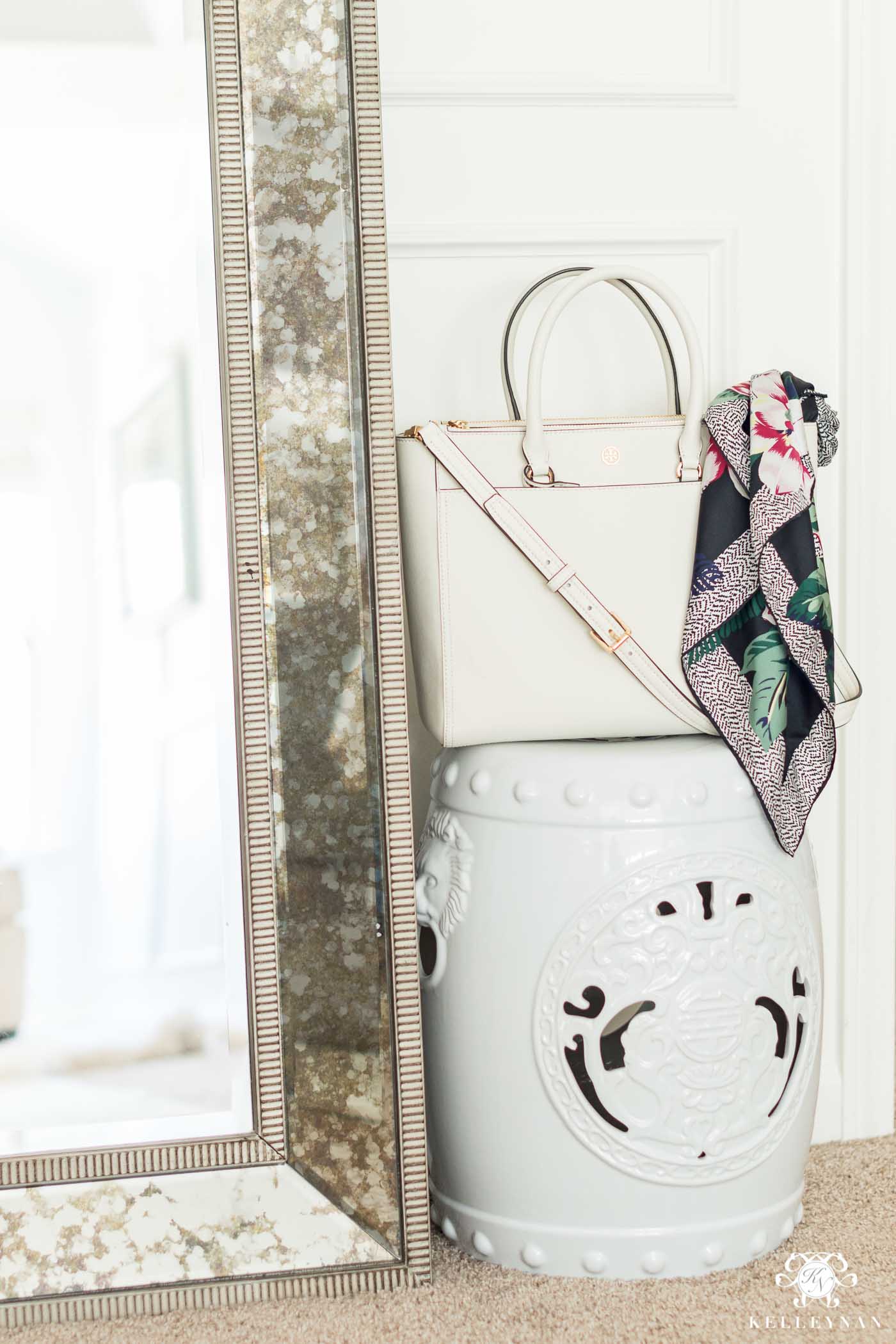 ---
Scroll & Tap to Get the Look

---
10. Use Scarves As Throws & Layers
I've already shared this idea many times before but if my winter scarves have any width to them, they typically get allocated to a basket/layered in with other blankets and throws. The Free People scarf at the foot of my bed was one of my winter all-star purchases; while this style sold out quickly, Free People has a similar (but a tad smaller version) on sale for $6.99 (HERE). Seriously. Even if you're thinking forward to bathing suits and coverups, this will be a fantastic goodie to put away til fall.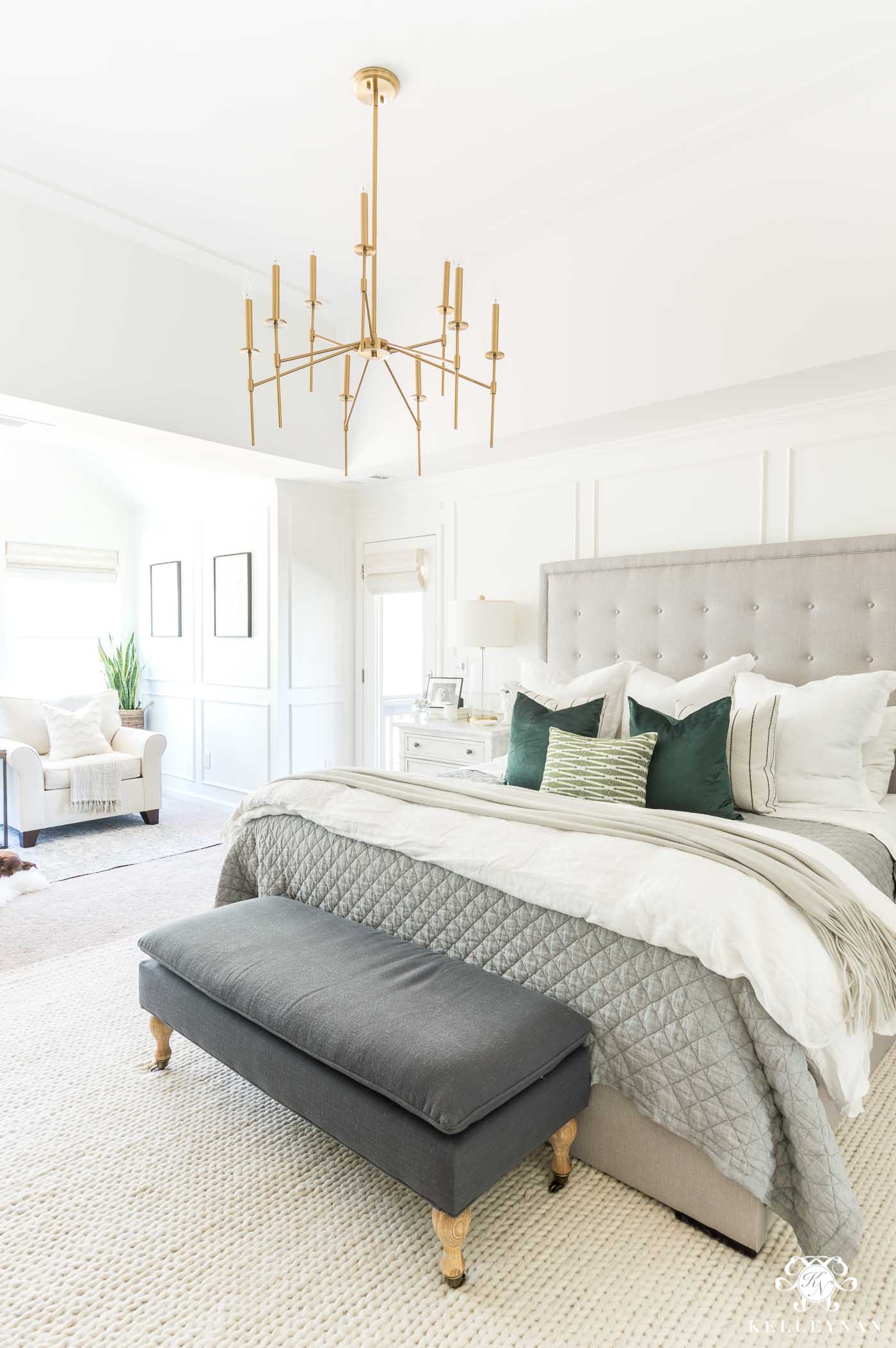 ---
Scroll & Tap to Shop

Tap Corresponding Numbers Below Pillows to Shop
---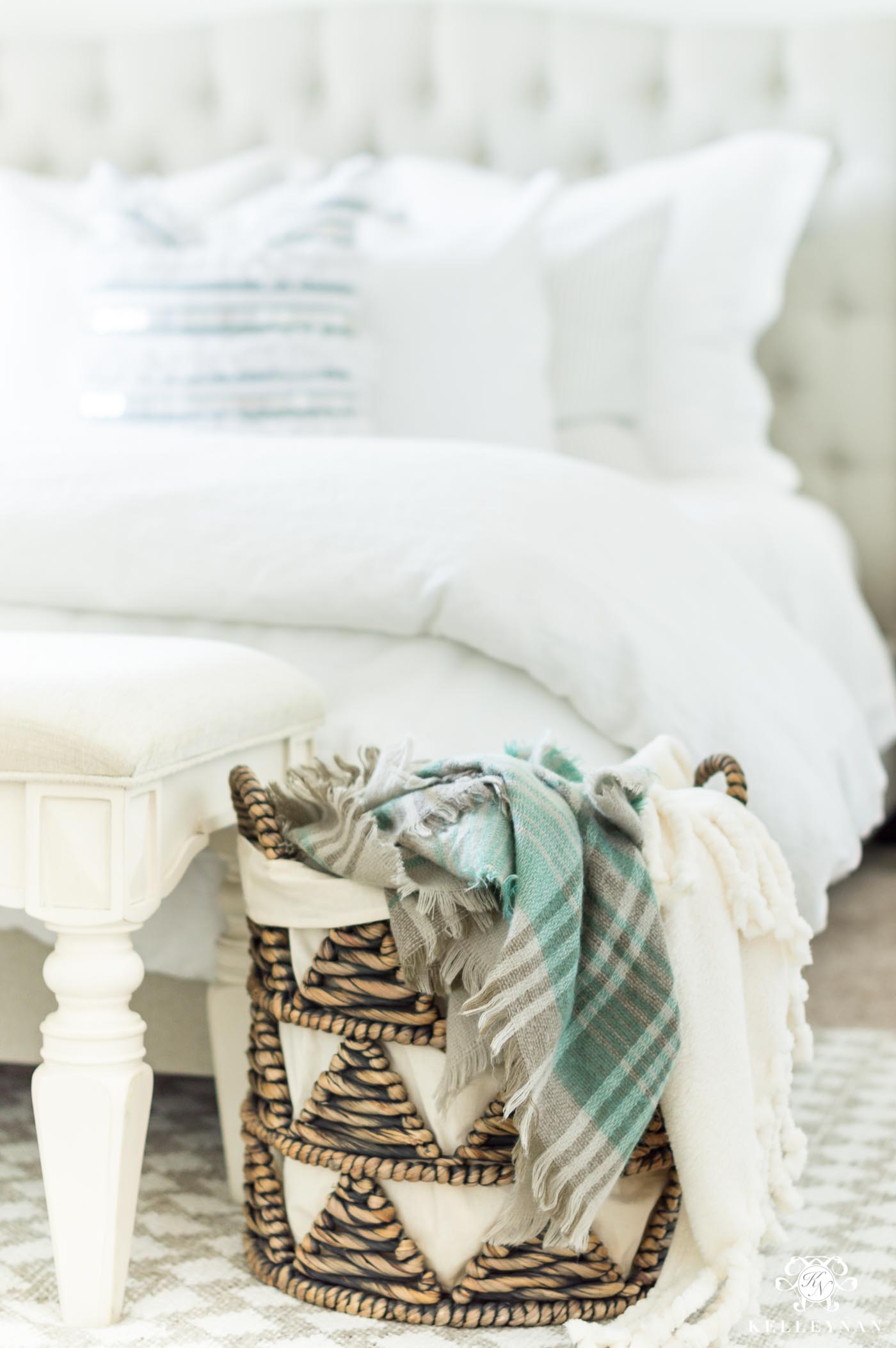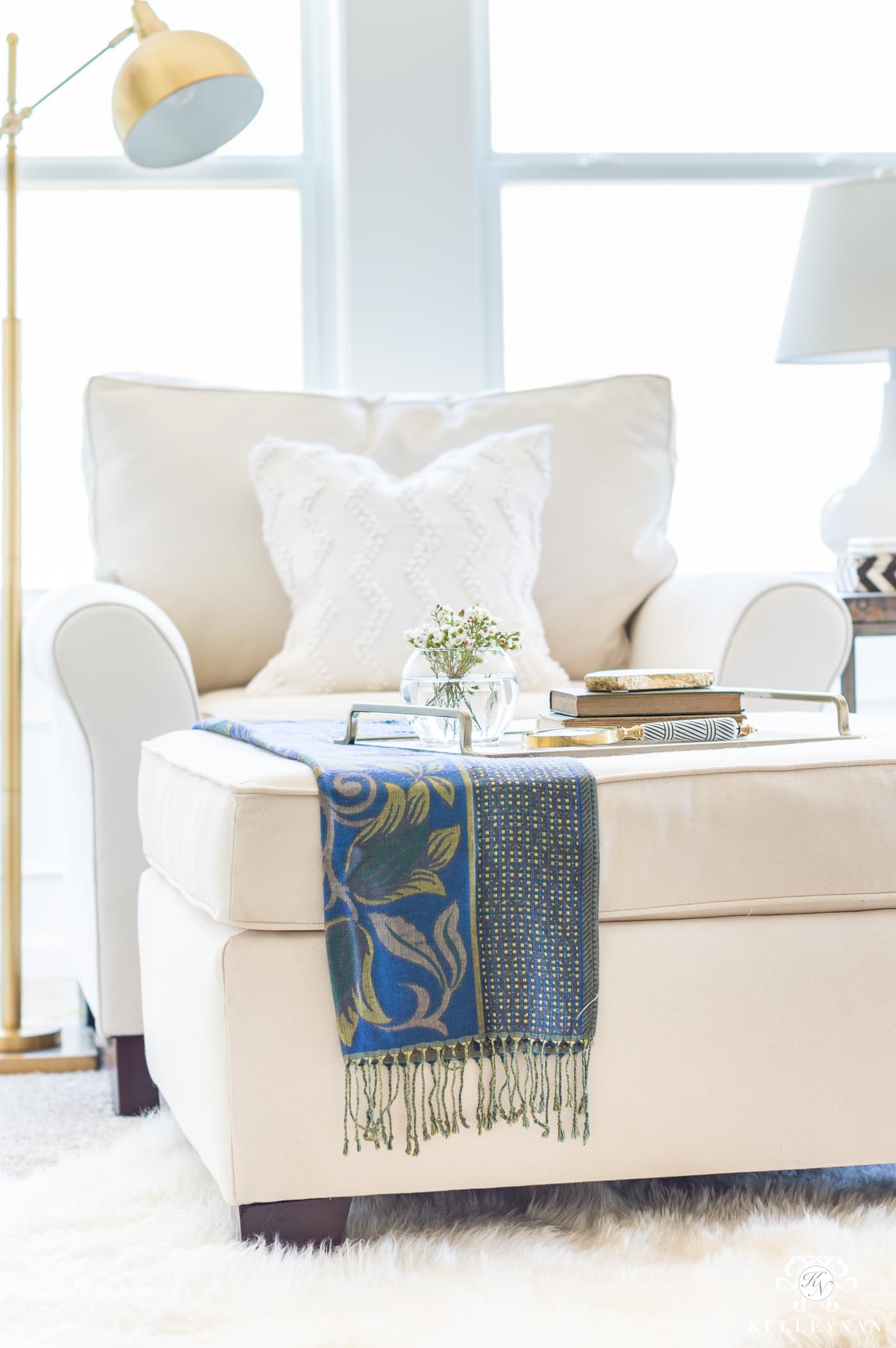 ---
Scroll & Tap to Get the Look

---
11. Flop Your Hat
Bonus points for cowboy hats 😉 If you have a hat, show it! It immediately brings a "sit and have lemonade in this cozy spot" kind of lived-in vibe. Don't have a chair? What about an ottoman? Or even two wall hooks on top of each other to use the hats as art? There's tons of potential here.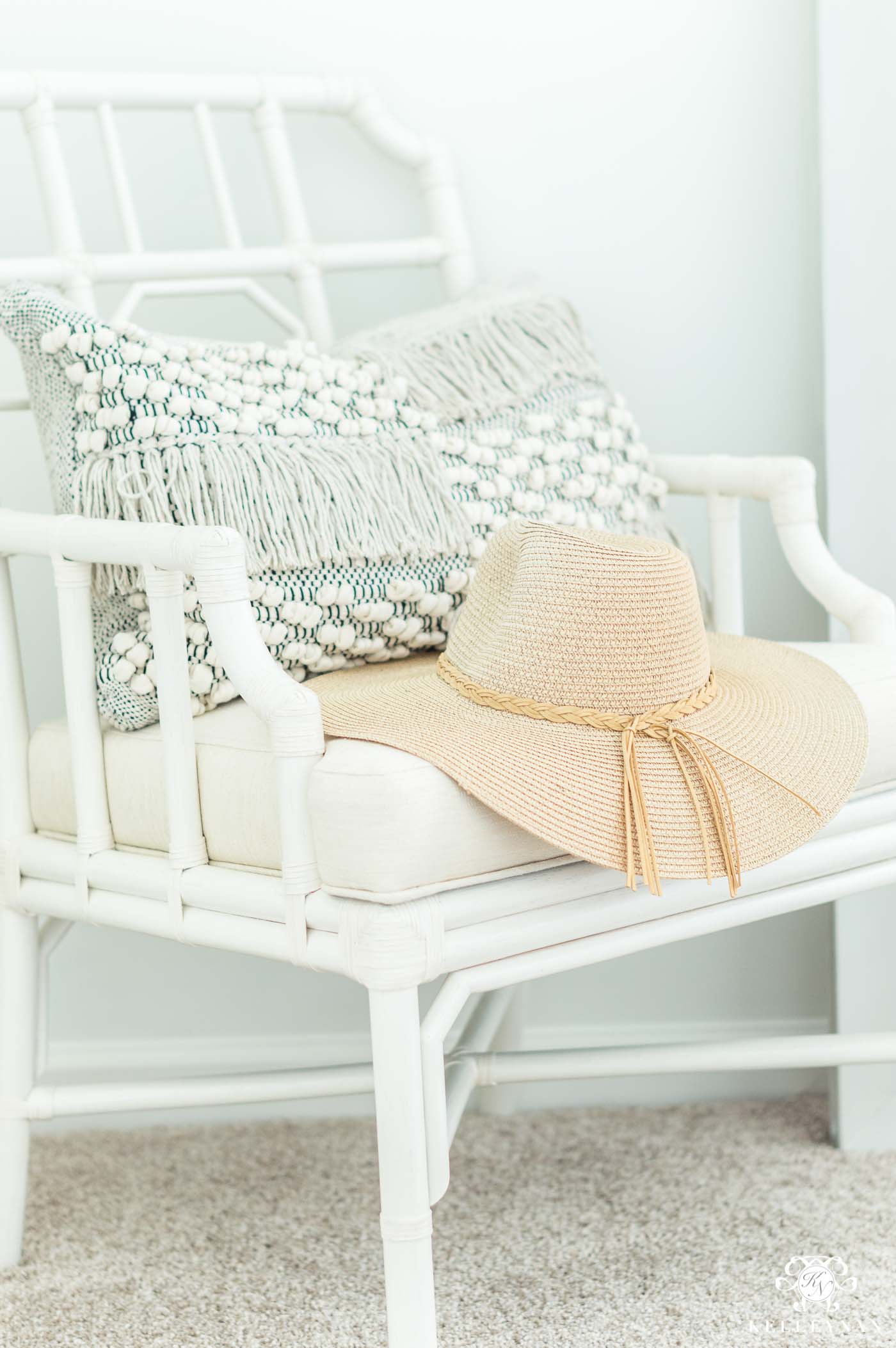 ---
Scroll & Tap to Get the Look

---
Are your wheels turning? Sometimes, it's fun to display for the pretty factor, and sometimes, convenience, but hopefully these ideas give a foundation of how you may be able to pull off both.
If you liked this post, here are some others to check out:
Be sure to subscribe to catch all ideas like these, along with lots of upcoming projects, at the bottom of the post. There were a lot of baubles featured throughout so where available, they have been linked below.
SCROLL & TAP TO SHOP THE POST
Featured Jewelry

Other Accessories

Scarves

Shadow Boxes | Trays | Stands

ONE LAST THING
Lastly, the bi-annual Sephora sale is happening THIS WEEKEND. If you aren't familiar, depending on your "level", you can get 10%-15% off everything on their site (plus free shipping). I try to keep my makeup/beauty purchases to these two weekends since they are rare and it isn't often you can get a discount; and, let's be honest – beauty is expensive! I've rounded up the favorites that I actually use below-