I have spent the last week up in the mountains for a work retreat; if you followed my stories on Instagram, you already know about some of my wildlife sightings- wild turkey racing down the road and a little too up-close-and-personal bear. My car needs a little rest from the stress of driving up and down steep, hairpin turn cliffs, and let's be honest, I (and my knuckles) do too haha. Also in my stories was the inspiration for today's post. I shared a late night, quick organization activity last Sunday where I decided to quickly file our kitchen towels in rolls, similar to t-shirts, rather than the hard-to-see stacks in the shallow drawers I had always used. Depending on how this system actually works on a day to day basis will determine if I share more detail on that but to my surprise, messages started rolling in about where I purchase my kitchen towels. While I am at it, I thought I would go ahead and share my approach to what stays and what goes and some of the prettiest kitchen accessories and counter top decor.
First, I will say I prefer my countertops to be more on the bare side. I know sometimes appliances get stuck on the counter because of storage space limitations but if possible, I would check drawers, cabinets, and the pantry for any possible room to house them when not in use. Another rule, with few exceptions, I don't tend to actually buy kitchen decor; I try to buy kitchen/entertaining items that can be displayed and double as decor. See the difference? If you have storage struggles, this is a great way to be able to display some of those items that would typically be locked away 😉 Just don't get carried away and try to show off everything at once.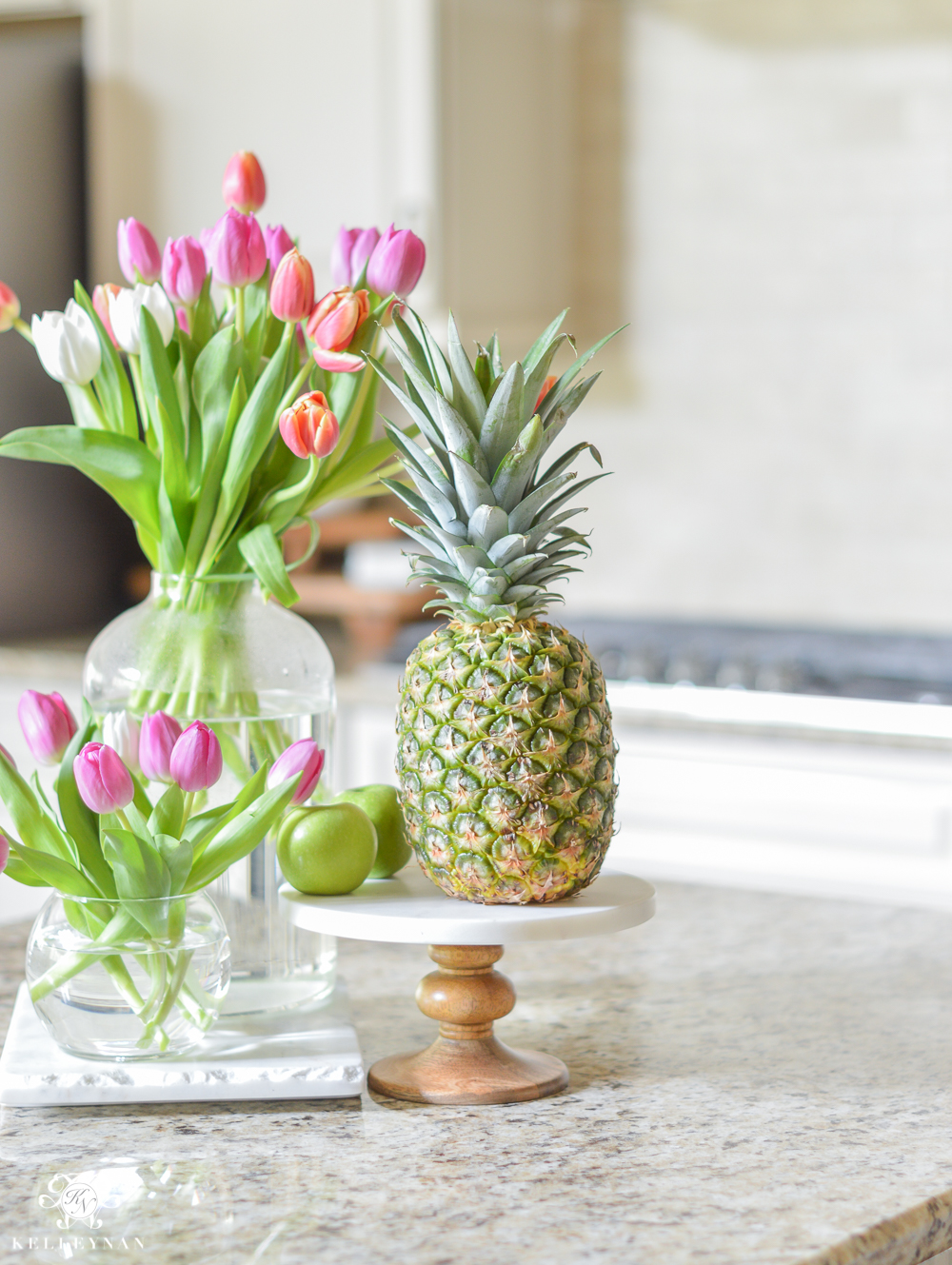 When I bring home flowers and/or produce, I hit up my cabinets in search of vessels, pedestals, cutting boards… functional items that still make sense in a pretty little vignette. I also view the kitchen towel as a place to get creative with color, or bring some personality/pattern to a seemingly boring space. Every time I go into HomeGoods, I check to see if they have any kitchen turkish hand towels in stock. They are a fantastic deal, always look great, and I love how well they "work". For pattern/fun fringe, I always go to World Market. When I have the more thin towels like theirs, I also use them for bread baskets and serving.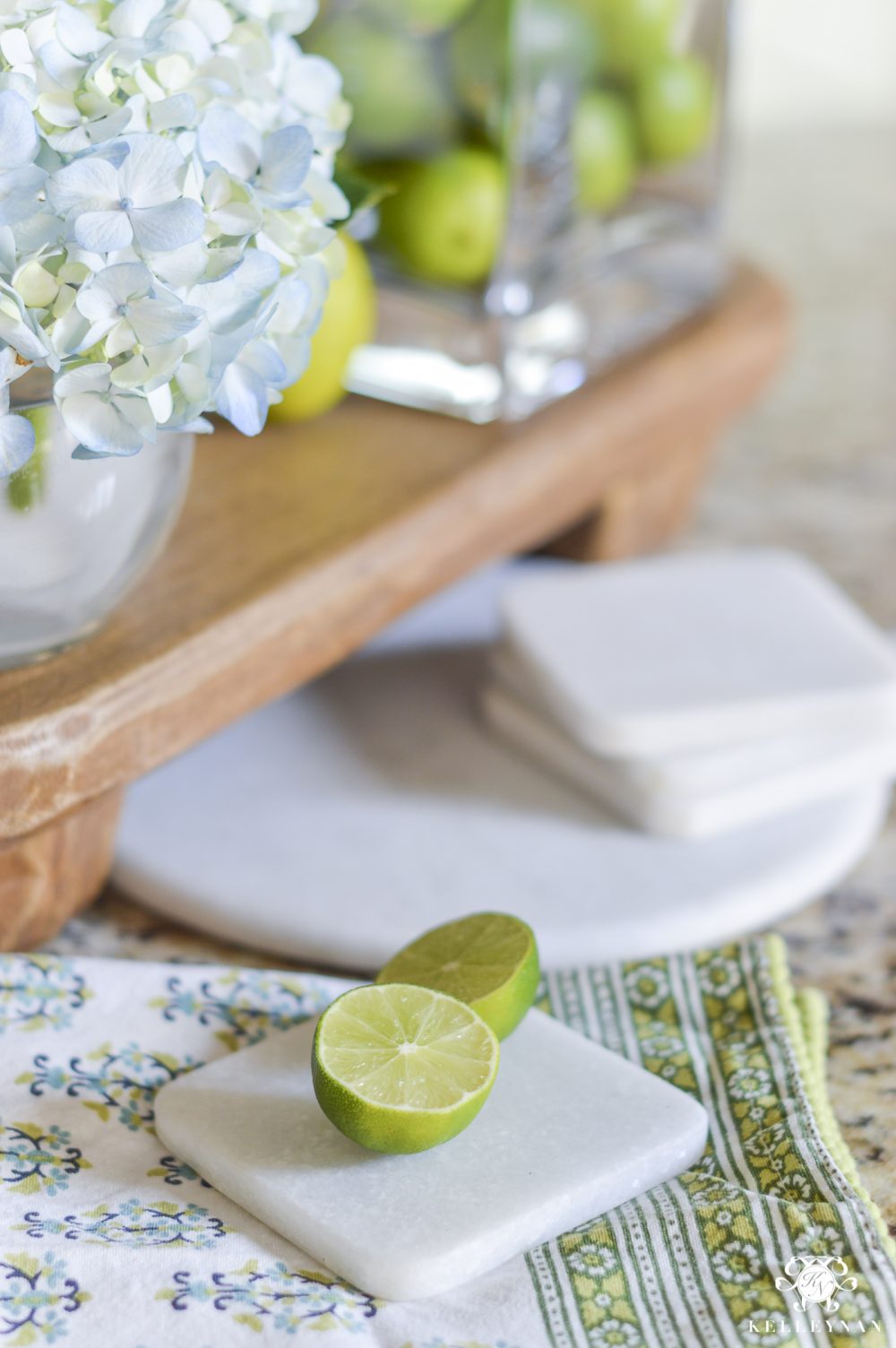 Below, I've included links to some of the prettiest kitchen accessories and counter top decor items. You can click on the links below to be taken directly to the items pictured.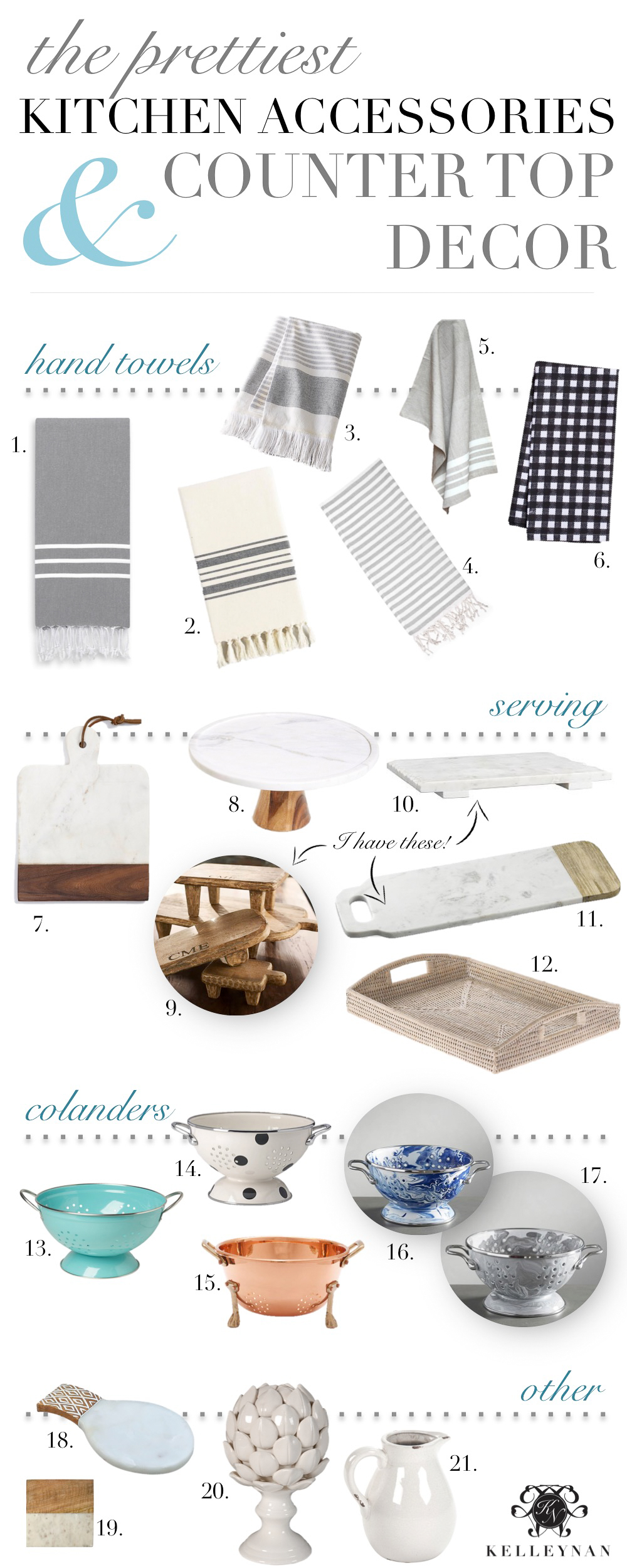 1. Gray & White Turkish Towel | 2. Black Striped Hand Towel | 3. Gray & White Fringe Hand Towel | 4. Striped Fringe Towel | 5. Gray & White Towel | 6. Checkered Towel | 7. Marble & Wood Paddle Board | 8. Marble & Wood Cake Pedestal | 9. Wooden Pedestals | 10. Raw Edge Marble Cheese Board | 11. Marble & Wood Cheese Board | 12. Serving Tray | 13. Turquoise Colander | 14. Kate Spade Colander | 15. Copper & Brass Berry Colander | 16. Marble Colander | 17. Marble Colander  | 18. Spoon Rest | 19. Marble & Wood Coasters | 20. Artichoke Statue | 21. Pitcher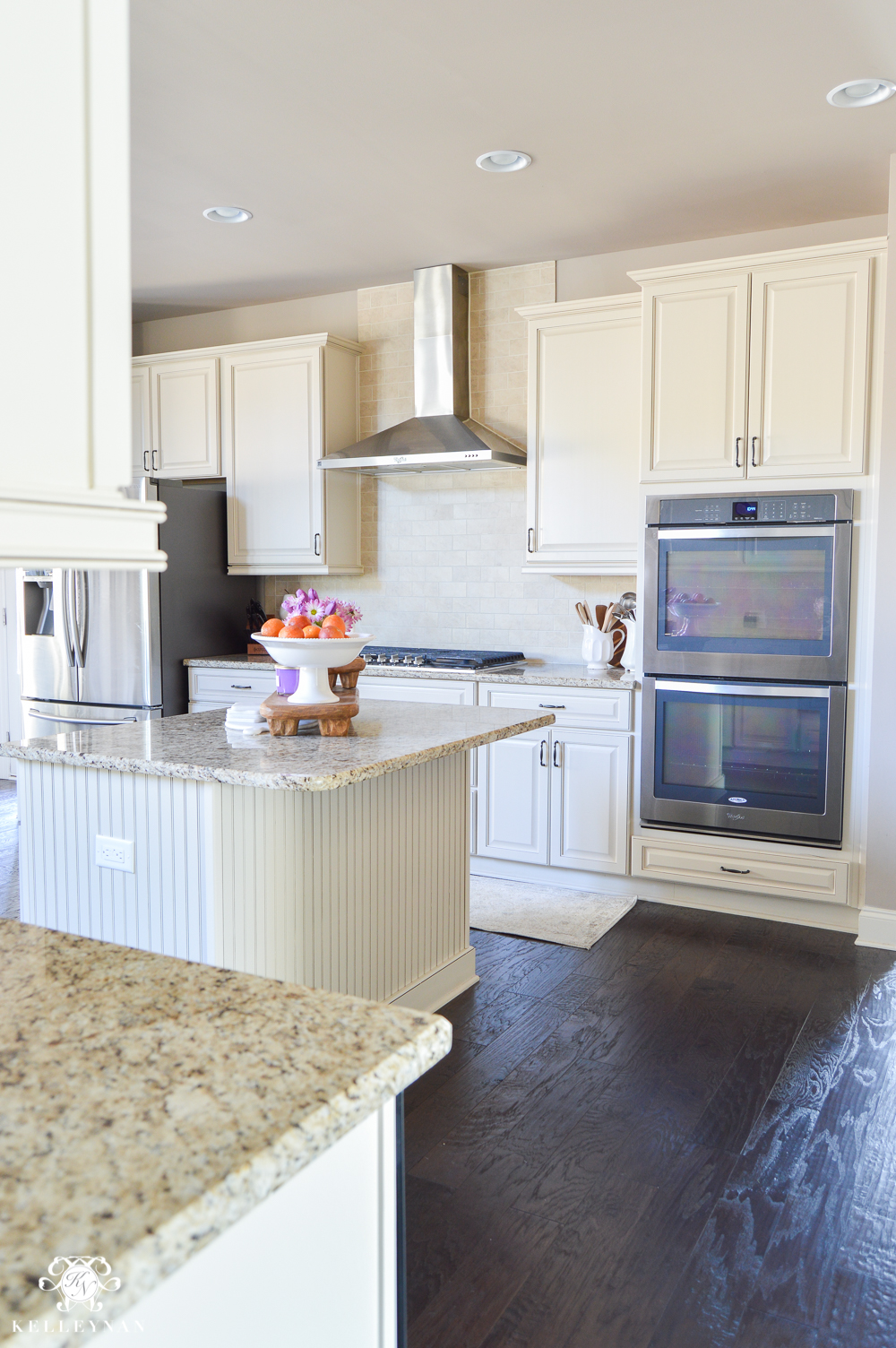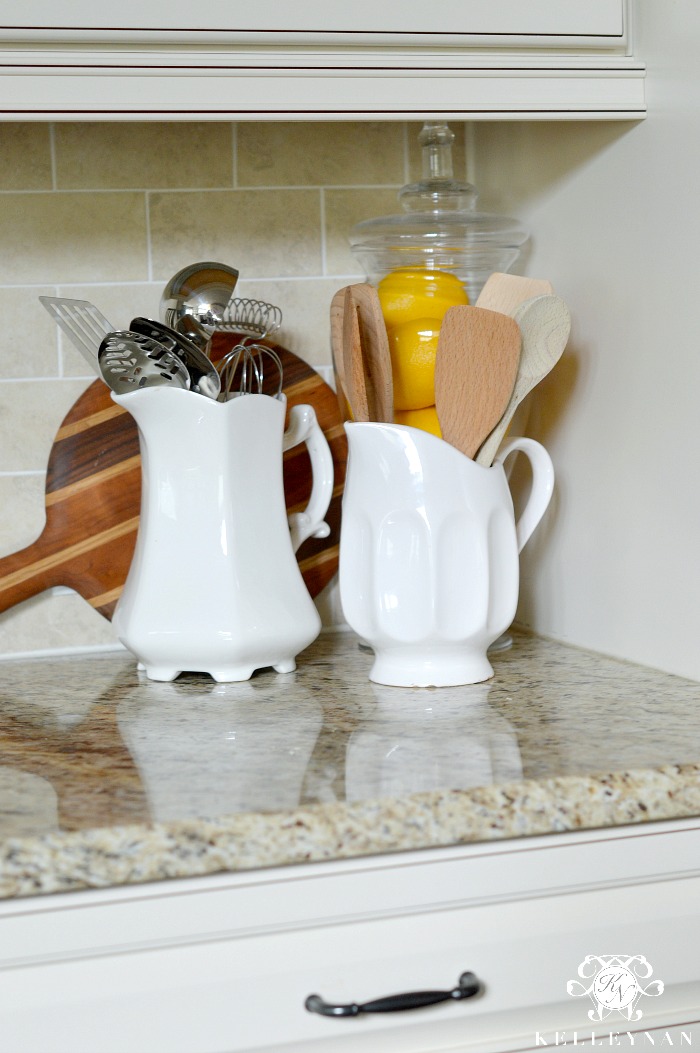 For more kitchen information and sources, you can check out my kitchen posts HERE and HERE. And, if you missed my latest summer home tour, you can head on over HERE. Enjoy your weekend and if you have been struggling with bringing a new, fresh vibe to your kitchen, take a look at what is on your counter tops. Be selective in what you display. If you have decor that is totally unusable and doesn't serve an additional purpose, consider removing it. If you come up with any smart double-duty solutions, share them with me below; I would love to hear about them!

Bar Stools | Marble Cheese Board | Wooden Paddle Board | Soap Pedestal | Round Wood Wall Decor (SIMILAR)| Coasters | Pedestal | Ceramic Artichoke (SIMILAR) | Pedestal Bowl: HomeGoods (SIMILAR) | Candle Holders | Refrigerator | Cabinet Pulls: Pewter (SIMILAR) | Gravy Boat | Faucet | Stainless Cooktop
 | Stainless Steel Canopy Pro Style Wall Mount Range Hood
 | Paint: Perfect Greige by Sherwin Williams | Cabinet Paint: Unknown | Granite: Giallo Ornamental  | Backsplash: Puebla Travertina Beige in 3×6 tiles with Snow White Grout | Flooring: Nottaway Hickory in Weathered Saddle