We are getting ready to take our first family vacation and are totally beside ourselves. Eliza is at such a fun age and seeing her experience anything new is truly our highlight of all highlights these days. We can't wait for her to experience the ocean for the first time, see her reaction to sand, scavenge for shells, swim… all the things. Plus, Dave and I haven't been on a "beach vacation" since our honeymoon — almost a decade ago! We're long overdue and we're totally pumped. Prepping for any trip is a bit of an effort; prepping for any trip with a toddler is even more of an effort… prepping for our first beach trip with a toddler is a lot (I'm sure many of you can relate). Over the past few months, I've been considering what I want out of our trip, what our activities and days may look like, and what we need. I've been order-heavy, making sure we're set, and today, I'm sharing some of my new summer vacation favorites and the things we've secured that I'm most looking forward to wearing and using.
*Posts on KelleyNan.com may contain affiliate links. Click HERE for full disclosure.
This is a shot from St. Pete beach — it was before Eliza and for a wedding and we never actually made our way to the beach, water or pool…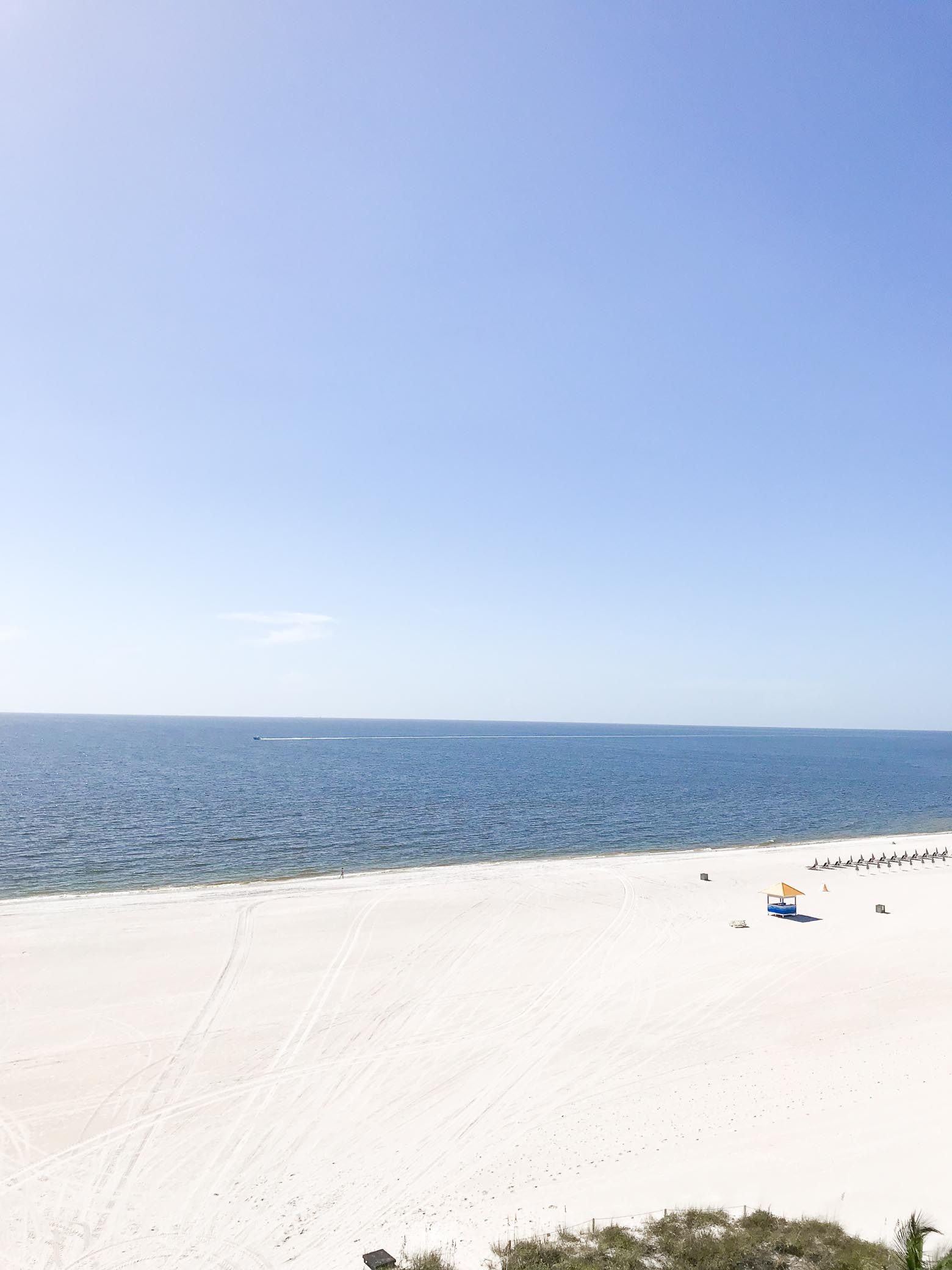 What I'm Packing…
My goals for this trip were 1. comfort; 2. coverage & support; and 3. organized and attempt to avoid over-packing. Especially with the focus being on experiences and "play" for this trip — not relaxing, laying out and taking in adult time — I want to feel good and not have to worry about mishaps (if that makes sense 😉 ). I am all about flowy dresses, kimonos, kaftans and cover-ups and love pieces that are versatile enough to serve multiple purposes.
Speaking of dresses, while it isn't in the collage, my
favorite flowy gauze maxi dress
(
HERE
) I've shared for years will be coming with me in multiple colors. It's back in stock and is generous in sizing — S/M, M/L, and now 1X/2X. It's only $29.97, comes in
22 colors
, and is one of my favorite finds of the last decade. Here are a few colors it comes in, but you can find them all in the listing
HERE
.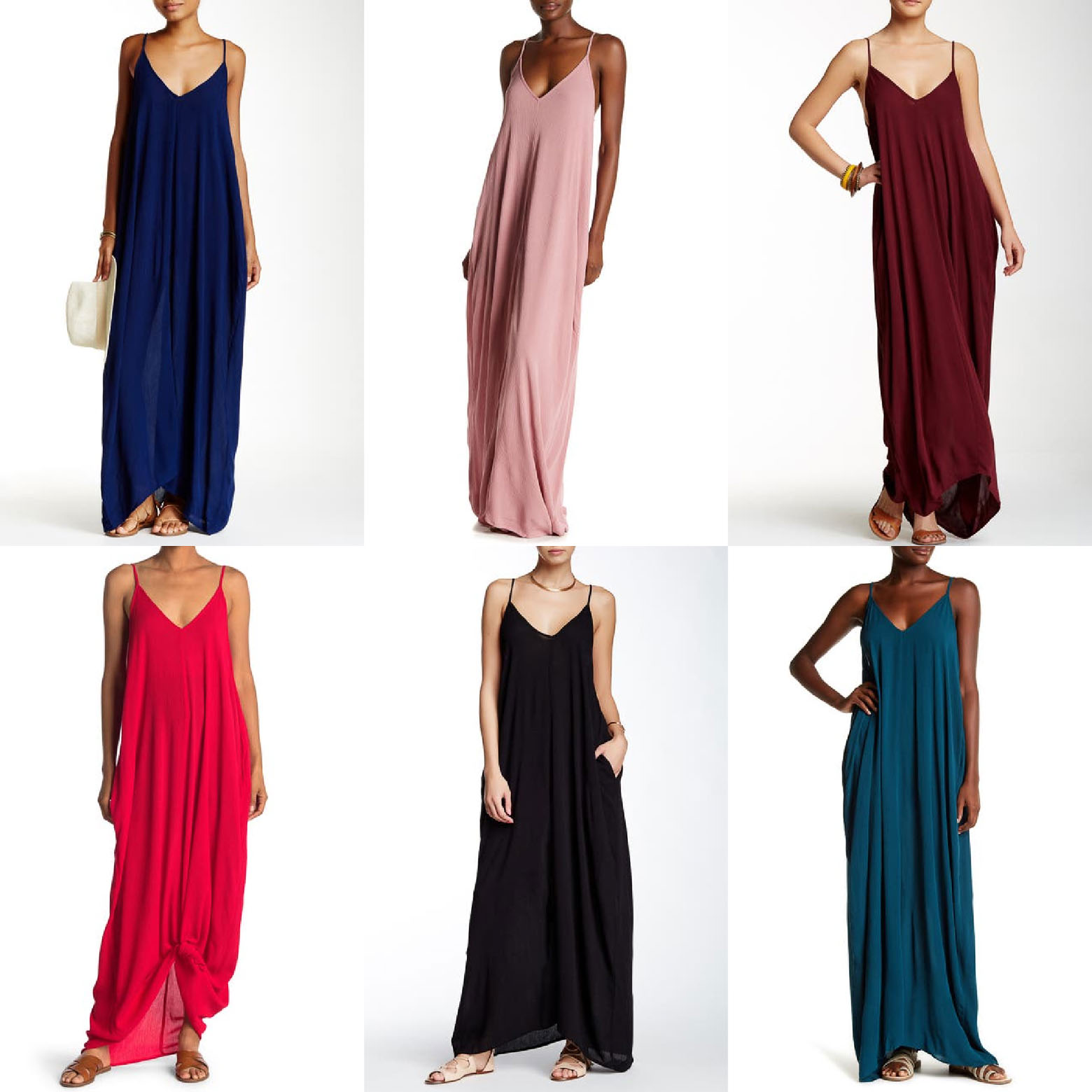 I've tried several pieces over the last few months, sent more than several back, and below are some of my new "winners" that will be key for this trip. Obviously, I'm really into black, leopard, and more simple colors haha. You can find a link to each item beneath the graphic below.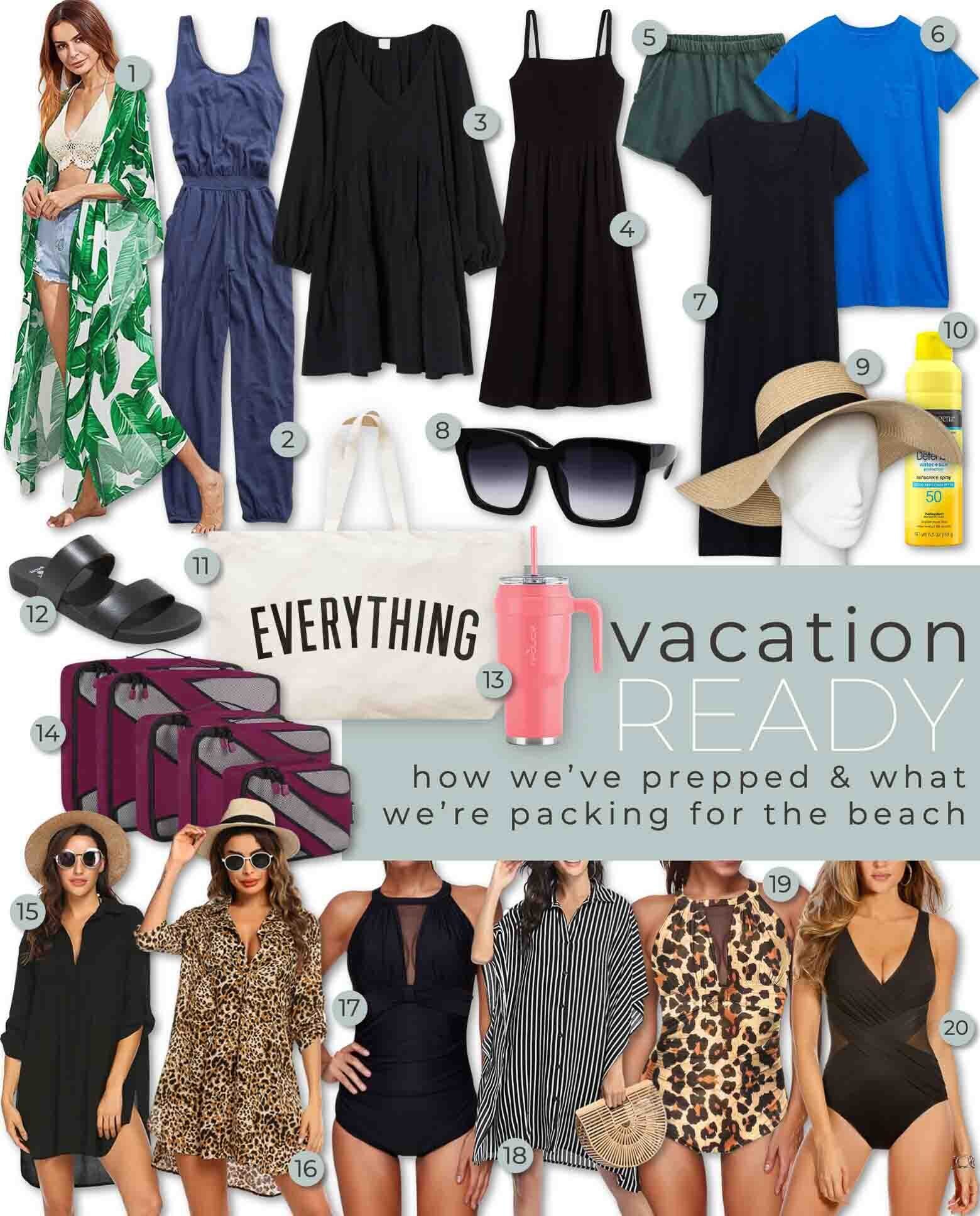 1. Long Kimono | 2. Jumpsuit | 3. A-Line Dress  | 4. Smocked Midi Dress | 5. High Waisted Lounge Shorts | 6. Short T-Shirt Dress | 7. Long T-Shirt Dress | 8. Oversized Sunglasses | 9. Floppy Straw Hat | 10. SPF 75 Spray Sunscreen | 11. 'Everything' Oversized Canvas Tote | 12. Slides | 13. 40 oz. Tumbler | 14. Packing Cubes | 15. Cover-Up (black) | 16. Cover-Up (leopard) | 17. Mesh Swimsuit (black) | 18. Cover-Up (striped) | 19. Mesh Swimsuit (leopard) | 20. Crossover Mesh Swimsuit
I love love love long kimonos and pair them with everything — especially linen pants, leggings and dresses. THIS long sheer kimono (1.) is from Amazon, ships free, and after I got the banana leaf print, I ordered it in black, too. It comes in a TON of patterns; I ordered my regular size but it is generous in sizing and I probably should have ordered down one. THIS is the latest version of my favorite, comfy jumpsuit (2.). I have it in black and it truly feels like I'm wearing pajamas. It's on sale for 30% off today (HERE) and comes in four colors — I already have the black but am ordering the blue today. While I shared it in black, I actually got THIS smocked midi dress (4.) in a green print. But, the colors and sizes are going quickly. It's flattering and fits TTS. I loved THESE t-shirt dresses (6. & 7.) so much, I got them both in multiple colors. The short version (HERE) I will wear as a cover-up and can easily be worn to lunch/breakfast/to peruse shops. The long version (HERE) is casual but cute enough for a low-key dinner! I've already shared THESE shorts (5.) in my last Snack Around the Plate but they're so comfy; I'll definitely be living in these in the hotel room. I also shared THESE oversized, XXL sunglasses (8.) in that post but I have my multiple pairs all ready to go! They're under $15 and ship free via Amazon.
I always get hats and never wear them but when I tried on THIS floppy straw hat (9.) (only $12.99!), I fell in love and know I will be wearing it all during our trip. It comes in white with a black band also, but I purchased the natural version HERE. It's from Target and just has the most perfect structure and bend. I burn so easily and I've used lots of sunscreens but I prefer a spray. I haven't yet used it but ordered a few cans of THIS sunscreen in SPF 50 (10.). With over 6,000 5-star reviews, I thought it was definitely worth the trial! It's also under $9 and ships free via Prime HERE.
My "Everything" canvas tote (11.) is huge — I can't wait to use it! I ordered it from an Etsy shop, based in the UK, but it's under $44,  ships free, and for me, shipped the same day that I ordered it. I think it's gonna be great for the beach and pool and will actually hold all our towels, sand toys, etc.
THESE sandals (12.) were a pleasant surprise — especially for $14.99. They have good arch support and cushion, come in four colors, and are crazy comfortable (I've worn them for an extended amount of time and can 100% confirm). I loved them so much, I ordered a few colors. I already have several smaller versions of THIS 40 oz. insulated mug (13.) and have shared it many times over the years. I decided to try the 40 oz. version to keep from having to refill as often — it's an awesome size, is big but not too big, and keeps my water cold brilliantly. There are several colors available and it ships free via Amazon HERE. If you've never had this insulated mug brand, one of my favorite things is their patented lid that has a flip top for coffee and a straw hole for cold beverages that can also be plugged. It's an incredibly smart lid!
We have used the same packing cubes (14.) for years — hopefully you're using packing cubes now, too — there's nothing like the organization but also space saving they provide! After our last trip and realizing each of us needs our own set, I ordered a new set for Eliza and myself. Well, despite positive reviews, they went right back to Amazon because they couldn't even kind of compare to our current set. I realized not all cubes are created equal and ordered us both new sets from THIS brand that are far superior, durable, and give a lot of flexibility when it comes to packing. You can find the five-piece options HERE, and the six piece version HERE — they rotate in and out of colors often!
The thing I was most nervous about for this trip was ordering new swimsuits to try. I ordered a TON and only kept my absolute few favorites. I was pleasantly surprised that I liked most of the ones I ordered so much, I actually sent back a few that I still liked. Coverage and support is imperative to me and I had success with both an incredibly inexpensive swimsuit, and a swimsuit on the pricier end. I love MiracleSuit for holding everything in but they're definitely a little more spendy — but, they also last. They also run promotions often and today, they have 15% off. My favorite suit of the year is THIS crossover with mesh sides (20.) I was skeptical but LOVE IT! The colors and sizes have already started selling out quickly — you can find it up to size 16 HERE and in extended sizes up to 24W HERE. If you're between sizes, I would size up. Once I secured a few pieces on the more "investment" side of swimsuits, I decided to take my chances with an inexpensive Amazon swimsuit (17. & 19.). Guys, THIS swimsuit was only $29.99 (it has an additional 5% off coupon you can apply on the listing today), plus ships free, and while I didn't think a cheap bathing suit would work for me, I LOVE IT. It comes in a ton of colors and although it isn't nearly as thick as the MiracleSuit, the ruching and fit are really flattering. It's full coverage and I love the sheer mesh between the cleavage. I actually liked this so much in black, I also ordered it in leopard. I would say this one fits TTS and ordered my regular size, but, it ships via Amazon and you can also make returns for free if you want to try a couple sizes HERE.
And with the success of the inexpensive Amazon swimsuit, I also ordered a couple of inexpensive cover-ups. THIS one (15. & 16.)is my favorite (again, I ordered it in black and leopard, but it comes in a ton of colors — like, almost 40!). I ordered my regular size and it gives a flowy fit. THIS cover-up (18.) is also darling, but just know that it is roomy. If you prefer something not quite as flowy, order down. It also has an additional 5% off coupon and ships free via Amazon HERE.
What Eliza's Packing…
I'm 100% thrilled with all I've purchased for myself for our vacation but that takes a little more work 😉 With Eliza, I have to restrain myself more because of course, I think she looks darling in everything 😉 I purchased the bulk of her summer wardrobe earlier in the year (most is no longer available :() and all of her swimsuits are from before swim lessons started a few months ago, or are from last year. While I'm not going to go into all of her individual wardrobe pieces and outfits, I do want to share some favorites and some of the newest items I've only recently collected for her for the trip and this summer.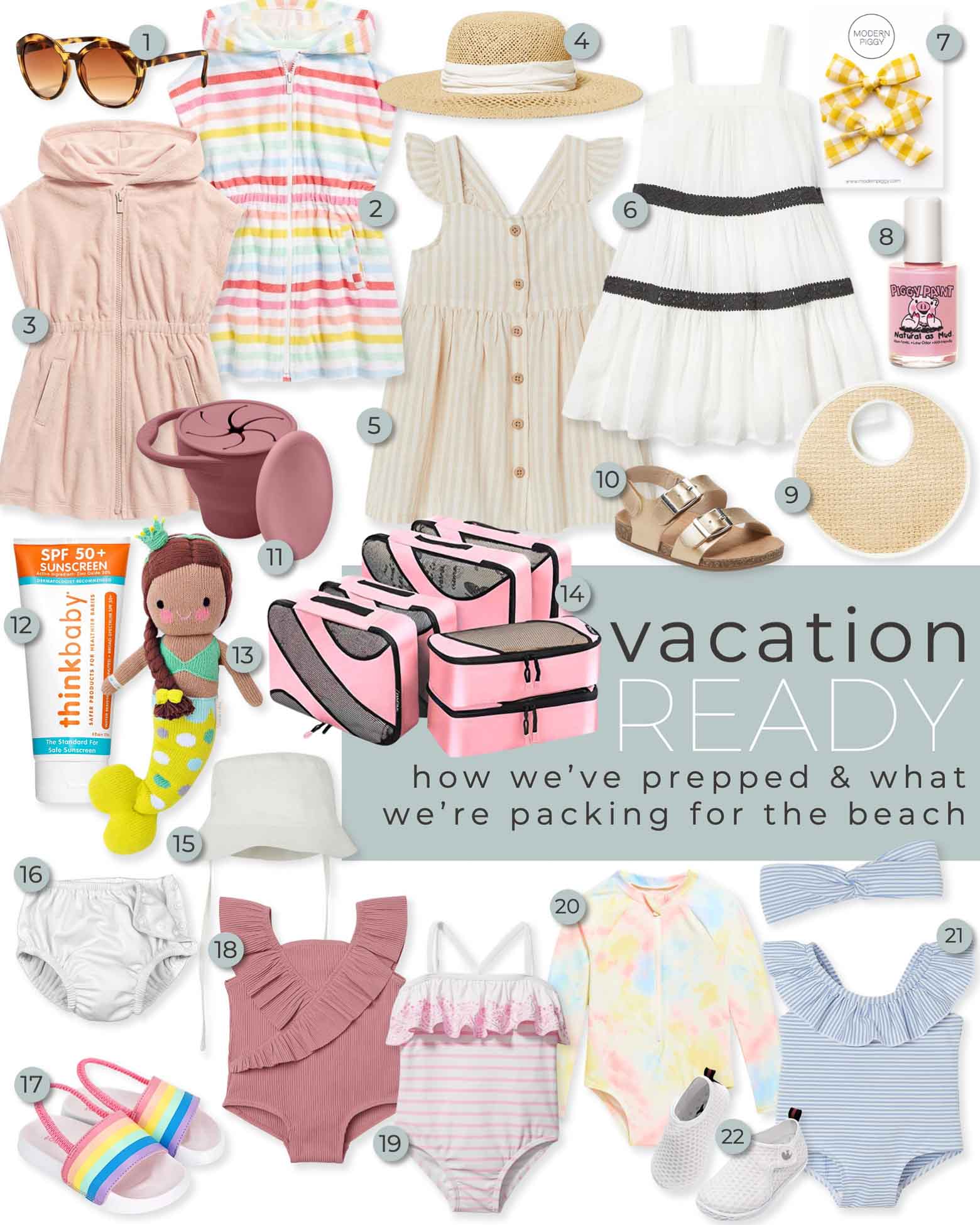 1. Sunglasses | 2. Cover-Up (striped) | 3. Cover-Up (pink) | 4. Straw Hat | 5. Striped Button Dress | 6. White Maxi Dress | 7. Pigtail Bow Set | 8. Piggy Paint Nail Polish | 9. Straw Handbag | 10. Sandals | 11. Collapsible Silicon Snack Cup | 12. ThinkBaby Sunscreen | 13. Cuddle & Kind Mermaid | 14. Packing Cubes | 15. Sun Hat | 16. Swim Diaper | 17. Rainbow Sandals | 18. Swimsuit (rose) | 19. Swimsuit (pink & white) | 20. Tie Dye Rash Guard Swimsuit | 21. Swimsuit & Head Wrap (blue & white seersucker) | 22. Water Shoes
I love love love Janie and Jack sunglasses for Eliza and THESE (1.) are the ones that will be our go-to for the trip. They're on sale right now for 20% off HERE. I had gotten her THIS hooded, zip terry cover-up (2. & 3.) during swim and liked it so much, I bought the striped version when it came out, too. It's on sale right now for $13.50 HERE! THIS straw hat (4.) is PRECIOUS but at the time of posting, it looks like it's out of stock in all sizes. They often re-stock so check back if you're interested but they also currently have THIS white straw hat that's on sale for almost 30% off HERE. THIS sweet button down dress with ruffle detail (5.) comes in a couple colors and is only $9.99 — seriously a fav! THIS white maxi dress (6.) is originally $69 but right now, is on sale for 70% off! This one has gone in and out of stock in several sizes for months.
I shared my fav bow shop last week, but as a reminder, you can use code KELLEYNAN for an additional 10% off 😉 THESE yellow gingham bows (7.) that come in a pigtail set are some of our favorites. THIS sweet circle straw bag (9.) is 55% off right now and THIS little cotton sun hat with ties (15.) is only 12.99. It comes in multiple colors HERE.
We've had THESE faux leather double buckle sandals (10.)in almost all the colors (currently in gold and white) and they're 25% off right now HERE. And speaking of shoes, Eliza has tiny feet and doesn't fit into traditional toddler sizing just yet. I wanted to find some easy "pool" sandals for her and water shoes and finally found what I was looking for on Amazon! THESE little water shoes (22.) go down to 6 months, fasten with an easy velcro closure and come in over 30 colors/prints. They have a rubber sole and stretchable fabric and I think will be perfect in the early mornings and late evenings when we're walking the beach. They ship free via Amazon HERE. And then THESE little rainbow sling backs (17.) is what she'll primarily wear during the day around the pool. They go down to a size 3, had great reviews, and she wears them well in person. These also ship free via Amazon HERE.
More on the random side, but THIS silicone snack cup (11.) is awesome. It's collapsible, has a lid, and Eliza carries it by the handle. It's is a new favorite find in our house and we'll be taking it to fill with goldfish, animal crackers, and all the snacks beach and pool-side — you can find it on Amazon HERE. And while you're on Amazon, if you're looking for a good sunscreen for kids, I LOVE THIS spf 50 sunscreen (12.). Eliza may be the only person I know who's more pale than I am. She has incredibly sensitive skin and we love this sunscreen for protection. You can also check out the almost 4500 5-star reviews HERE 😉
THESE are the swim diapers (16.) we used last year and ordered again this year. I can say from experience that they work well — I haven't even detected an accident until taking this thing off 😉
Not necessarily a beach essential but it's on theme and Eliza adores them. Gran Nan has gifted Eliza each of the four mermaids (13.) for different occasions and I often get questions about where to purchase them. While you can purchase them direct, you can actually get them for the same price but with free shipping HERE.
As I mentioned in my collection of items above, we have used the same packing cubes (14.) for years but after our last trip, we realized we each need our own set. I initially ordered a new set for Eliza and myself that went right back to Amazon because they couldn't even kind of compare to our current set. I realized not all cubes are created equal and ordered us both new sets from THIS brand that are far superior, durable, and give a lot of flexibility when it comes to packing. You can find the five-piece options HERE, and the six piece version HERE — they rotate in and out of colors often!
As I mentioned earlier, most of Eliza's swimsuits were purchased early this year but a few favorites are still available. THIS pink and white striped Janie and Jack swimsuit with ruffle and eyelet detail (19.)is possibly my favorite– I loved it so much I actually paid full price but today, it's on sale for over 50% off HERE! I bought THIS inexpensive H&M swimsuit (21.) in yellow and the back is my favorite part. It's only $17.99 and that includes the coordinating head wrap. It is still available in blue and pink HERE. We have THIS rose colored swimsuit in red (18.) and it's only $14.99 HERE. Lastly, I wanted an easy, cute long sleeve rash guard style swimsuit for on days she needs a little more coverage and ordered THIS tie dye option. (20.) I love that it has a long zipper for easier on/off access, too.
Our plan for our trip is to put the phone down and focus on connecting with each other, but I may share some captured memories and details of our vacay in a later post 😉 Do you have any fun travel on your calendar? Any much needed trips on the horizon? Share below in the comment section!
OTHER POSTS YOU MAY ENJOY
SHOP THE POST