Once upon a time, I would get the spring planting bug and run out right then to pick up some seasonal pretties. I'd typically buy whatever pot I considered as the best value buy, while I was there — typically a plastic planter of sorts, come home, and mix it in with the other plastic planters I'd collected throughout previous spring seasons. When Dave started growing peppers in planters on the deck, he'd typically do the same. A few years ago, that changed. Not only did I not want to spend the money on TONS of spring flowers, just for them to inevitably die due to neglect or sun stress, but I also didn't want to continue on the path of collecting mismatched plastic planters that I felt too guilty about retiring. I wanted a few nice planters that would last a long time, that would relieve the pressure from planting all the things and actually be more in line with designing my outdoor space. I've made progress over the past couple years — both in securing nicer planters and minimizing the volume of annual planting — and today, just in time for spring, I'm sharing 24 of the biggest, round, earthy statement outdoor planters out there. If it isn't 24″+, it didn't make the list.
*Posts on KelleyNan.com may contain affiliate links. Click HERE for full disclosure.
I love an earthy, organic planter finish that looks like it's been well loved and belongs in an old, thriving garden. So when I was designing the pool — some big stone planters with boxwoods were on my wish list. I wanted simple and durable, but some that wouldn't totally break the bank. I wanted them to have some heft and weight, but didn't want them too heavy (filled with soil) and impossible to move, if needed. So, I looked and looked and when I found what I felt most closely matched what I was looking for, my mom gifted them to me for my birthday (that's still a few months away, haha). There are so many pretty options out there, so below, I'm sharing the top 24 that I found that matched the criteria of being a large outdoor planter (24″ and greater), round shape, with some sort of organic finish — from stone and concrete to terracotta and stone fiber.
Large Outdoor Planters
Find each of the planter linked below the following graphic. *Most come in a variety of sizes and several come in multiple finish options!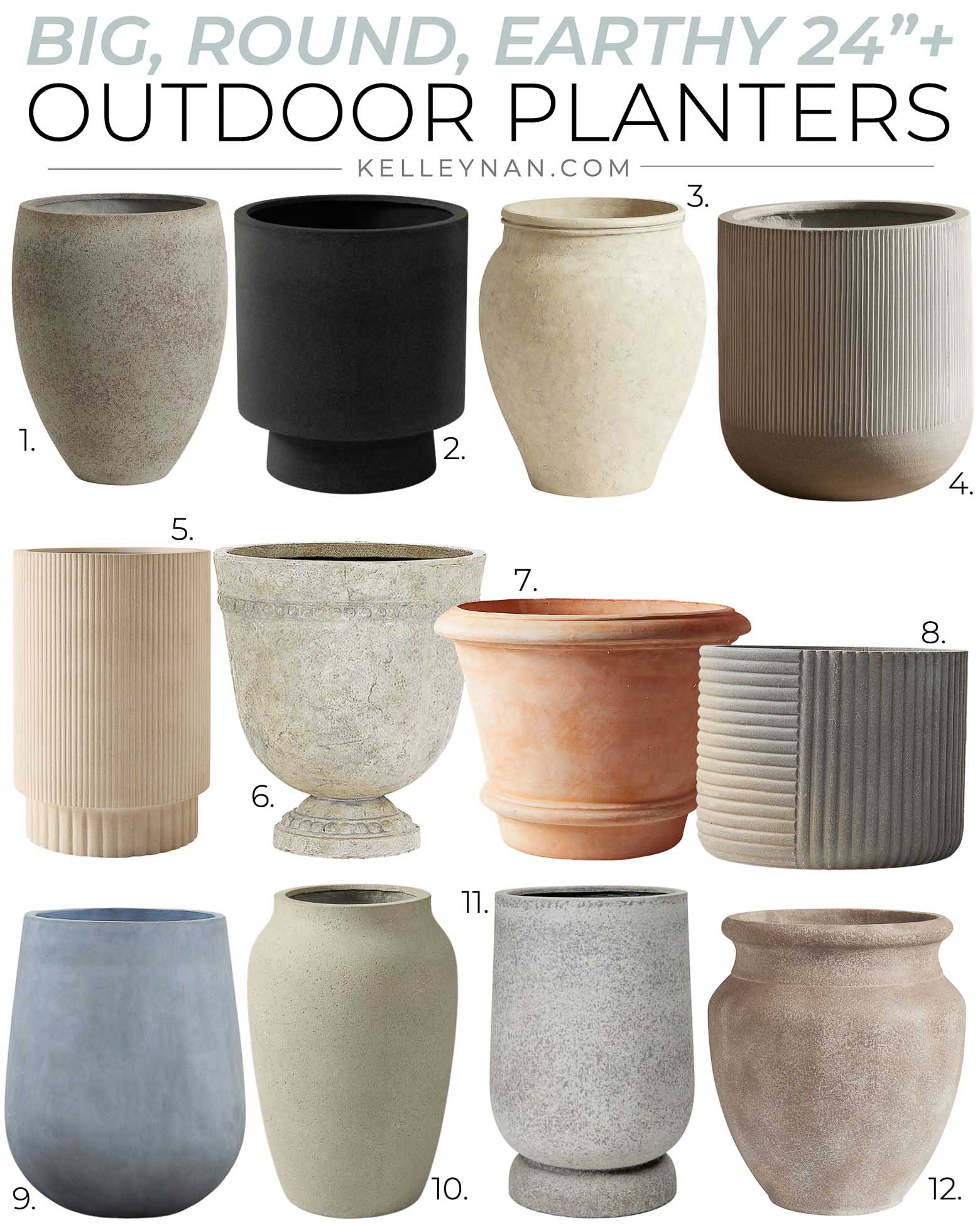 Sources: 1. | 2. | 3. | 4. | 5. | 6. | 7. | 8. | 9. | 10. | 11. | 12.
Ultimately, the planters I went for were THESE handcrafted planters (Number 1), made from ficostone, cement and fiberglass. They come in several pretty sizes (I love the shorter, wide one and the tall version) and mine is the XL version, coming in just under 30 lbs./planter. You can see each of the sizes styled HERE. They now have a boxwood in each, but here's a look at when I initially set them up.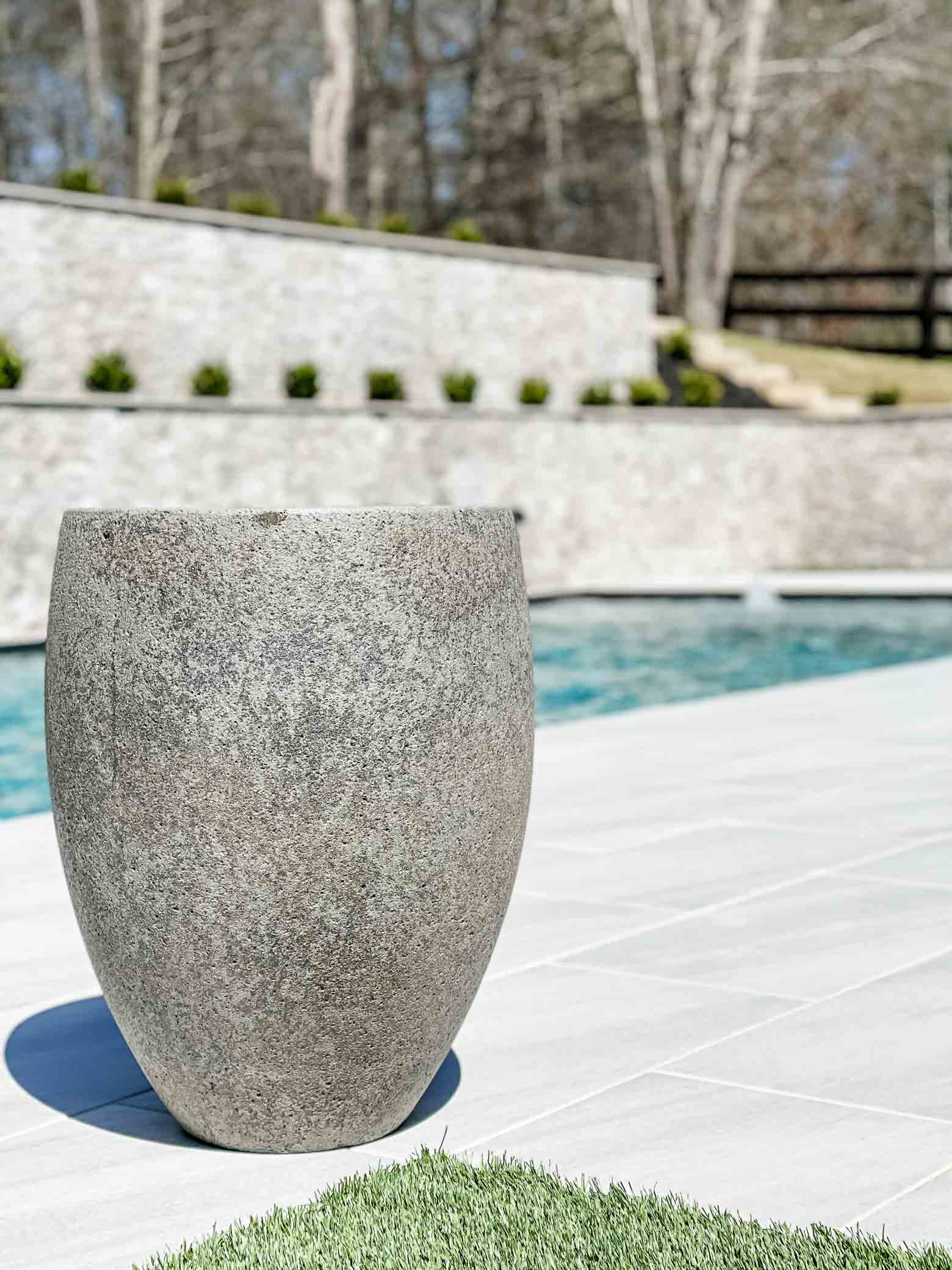 Sources: Sedona Handcrafted Stone Planter
Number 2 is beautiful, with a stunning slightly modern feel, comes in three tones and is on clearance for $120 off! I can't decide my favorite color — the gray is safe and universal but the black is striking.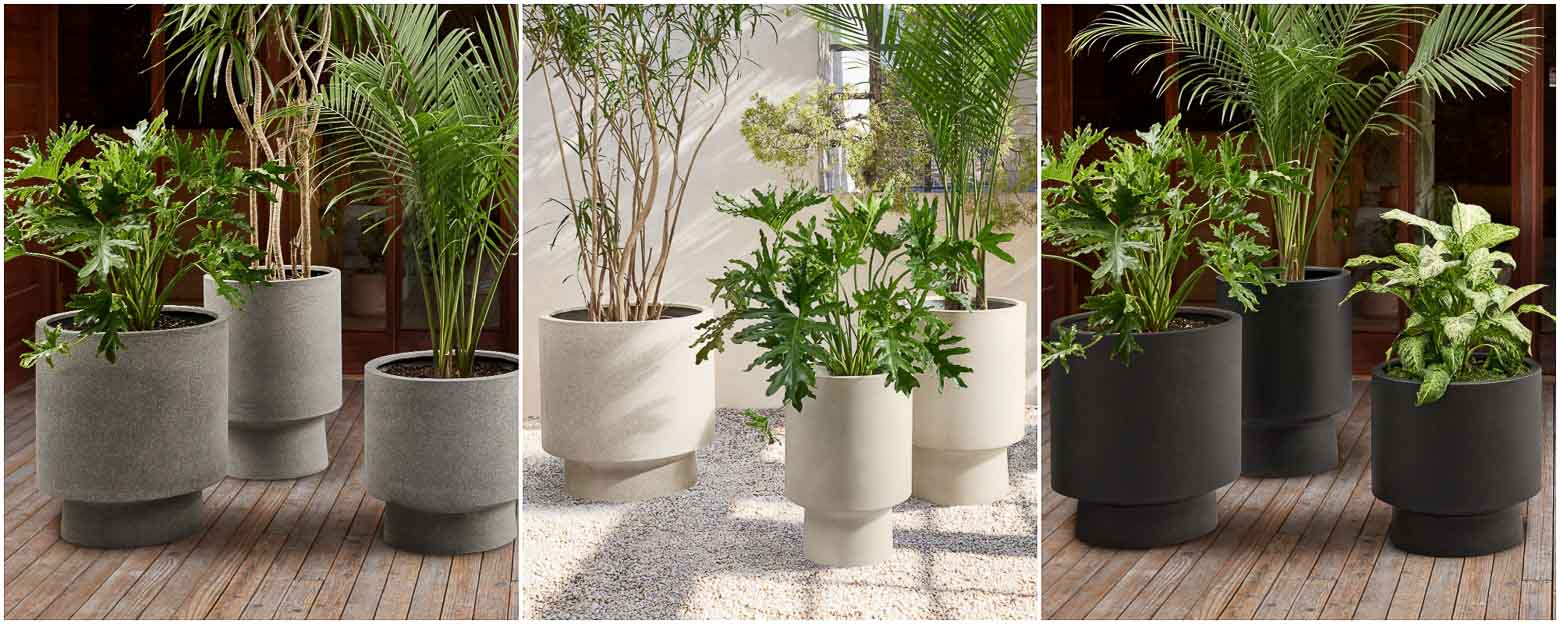 Ficonstone Outdoor Planters (images via West Elm product listing)
A similar shape but with a fluting detail is Number 5, which can be found HERE. It's not on clearance, but it is on sale and also comes in three colors and several size options.
Number 3 is a beautiful fiber stone that comes in both terracotta and ivory finishes with several size options.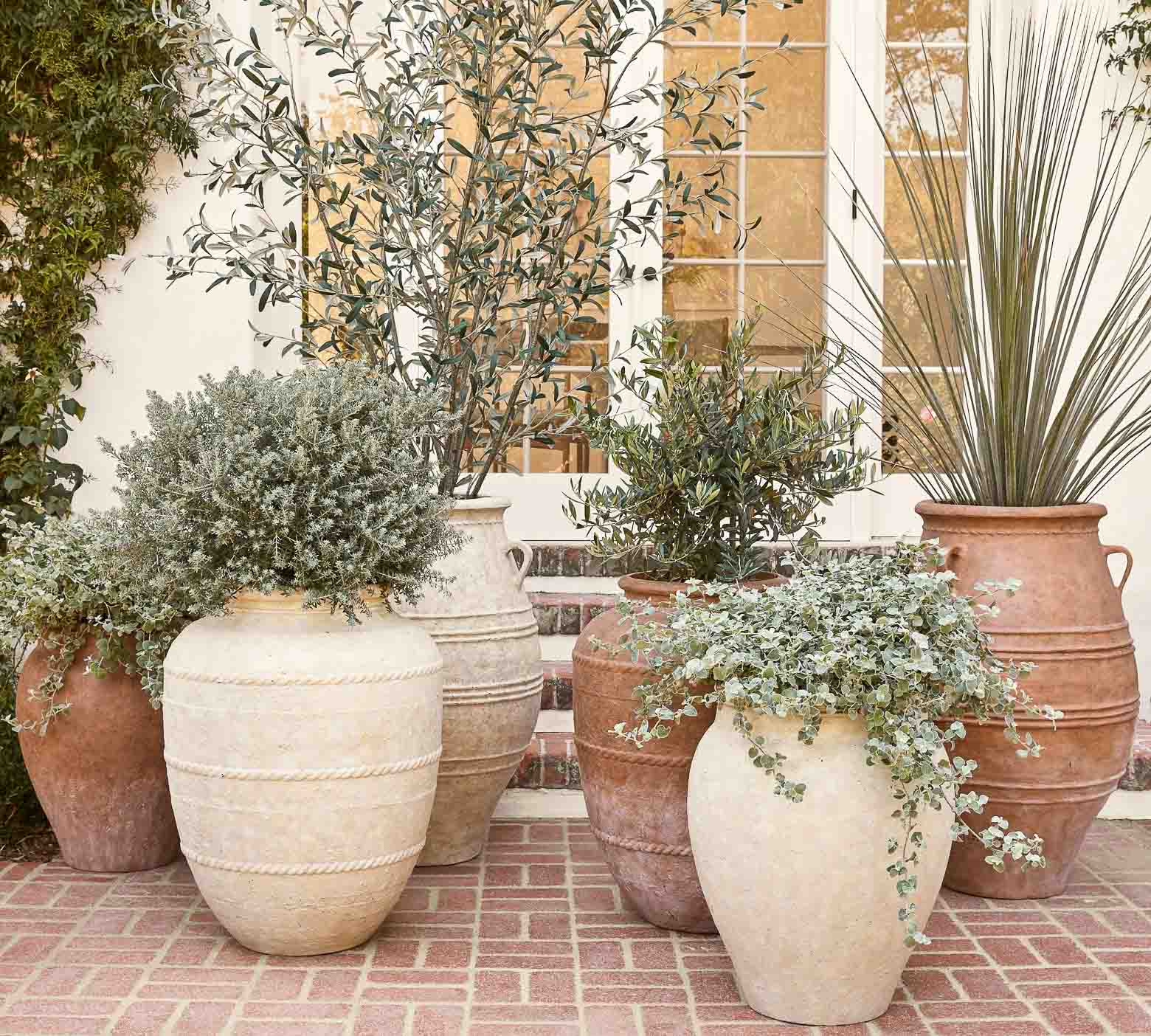 Fiber Stone Planters (Image via Pottery Barn product listing)
Made from limestone, resin and fiberglass, Number 6 is a weathered beauty that looks like natural stone in appearance, but is actually lightweight. You can view all three urn size options HERE.
Number 4 has a more contemporary textured finish, comes in several sizes, and comes in both gray and charcoal. The charcoal color is on sale HERE.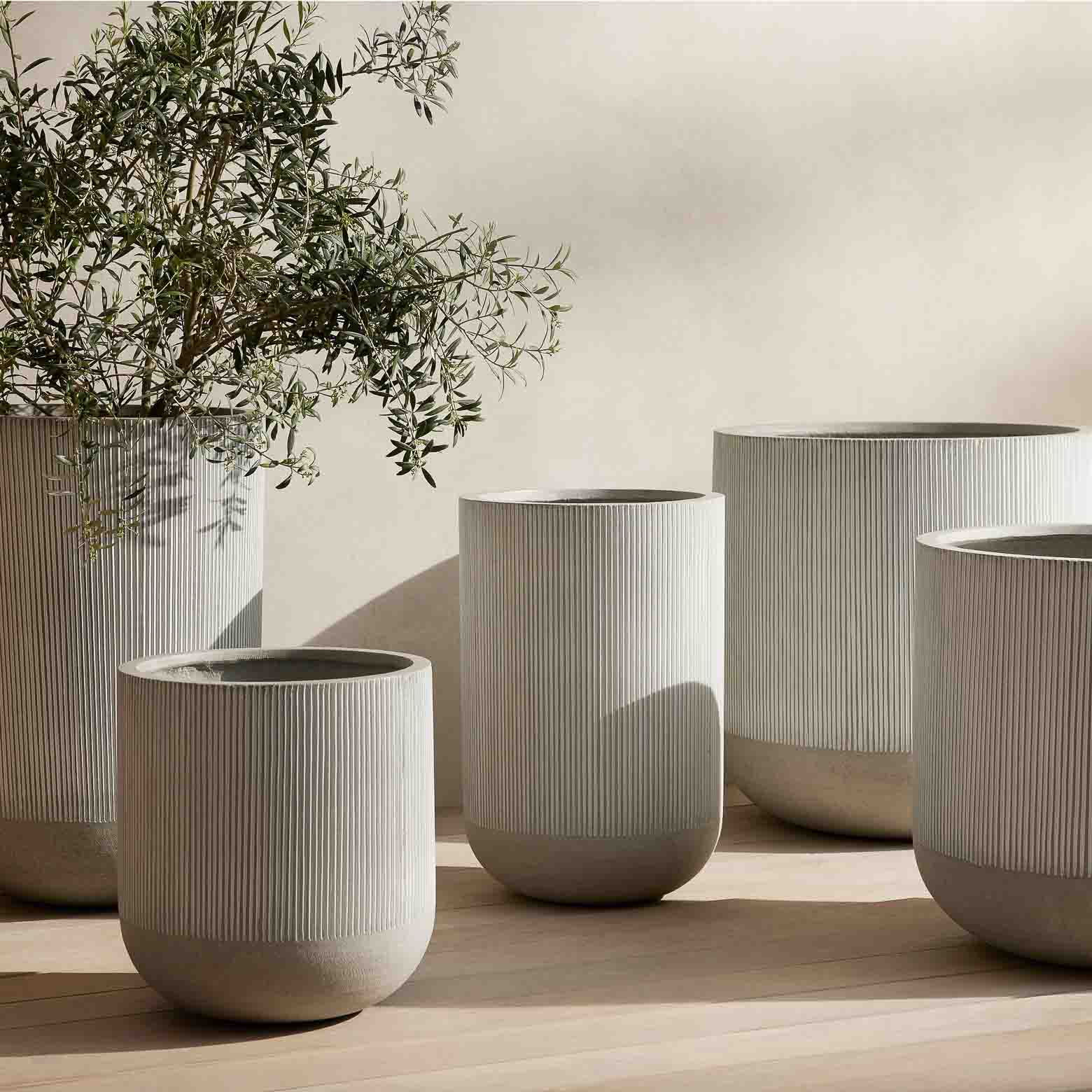 Textured Planter (Image via West Elm product listing)
Another on sale planter, Number 10 comes in two colors and a bunch of sizes. The gray color version (shown in the top graphic) is available at a discount right now HERE.
I have long loved the classic beauty of Number 12 — it's available in five sizes but that large planter is stunning! It's made from powdered stone, resin, and fiberglass and the large version weighs in at 55 lbs.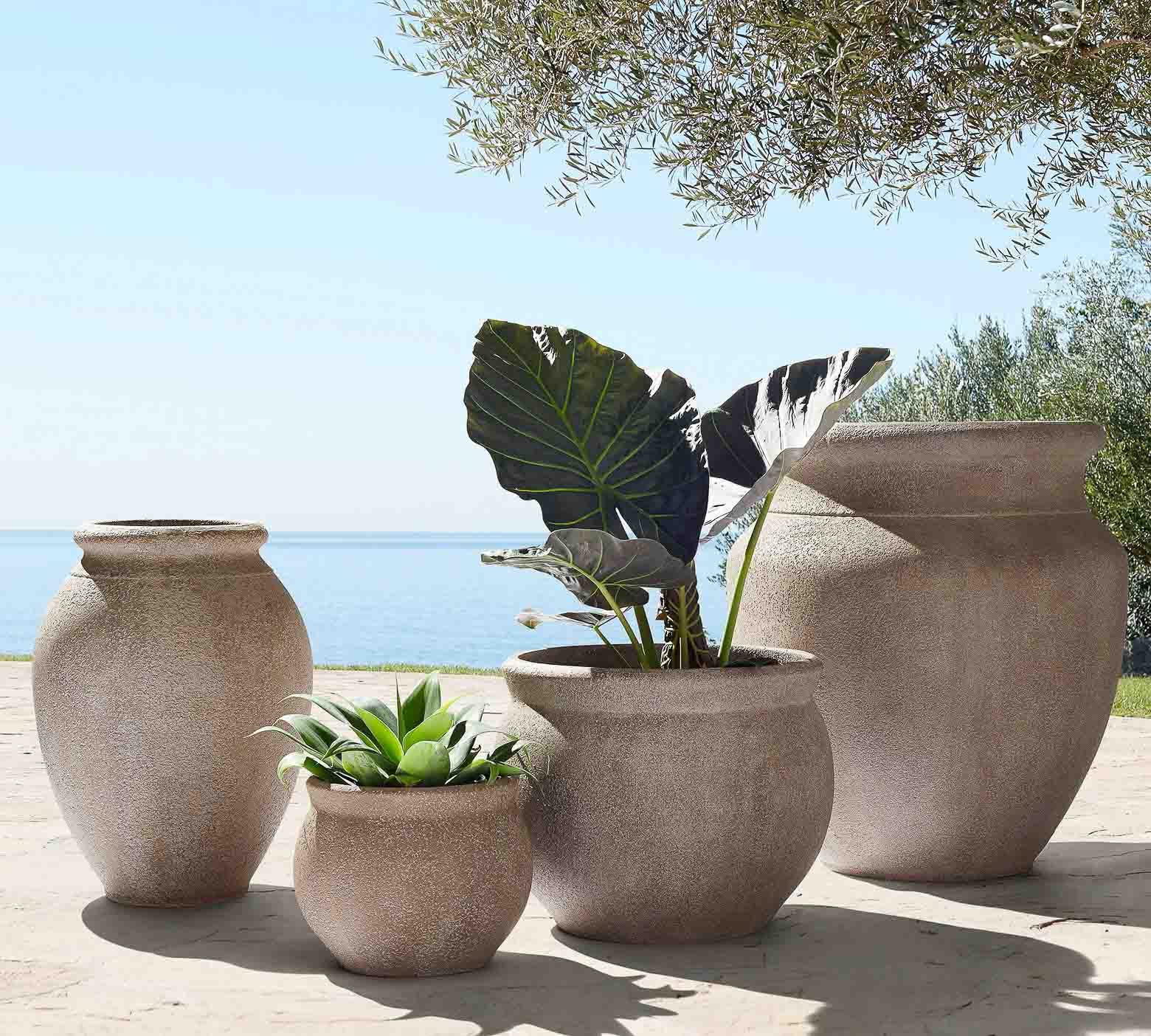 Azina Planters (Image via Pottery Barn product listing)
(More) Large Outdoor Planters
Find each of the planters linked below the following graphic. *Most come in a variety of sizes and several come in multiple finish options!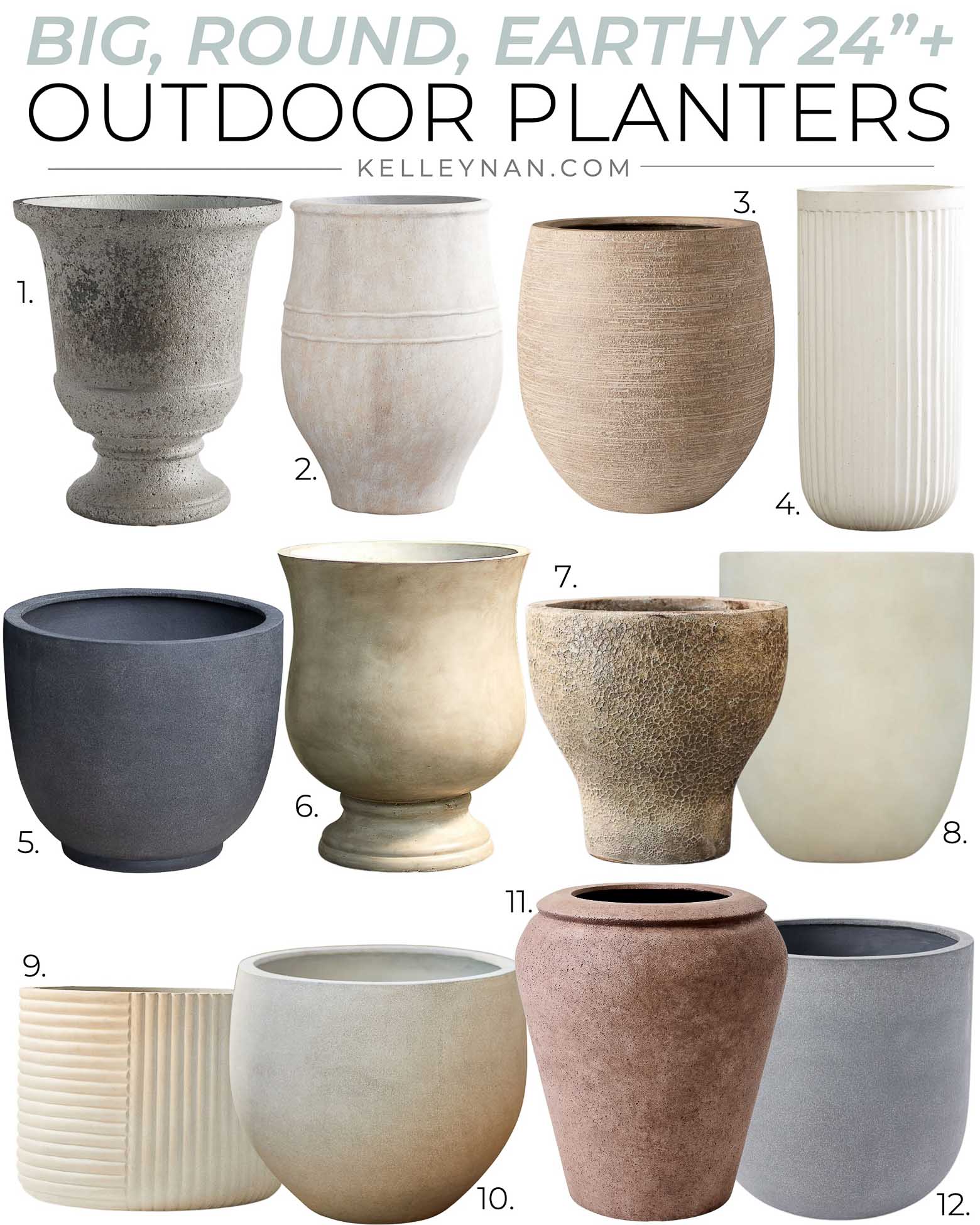 Sources: 1. | 2. | 3. | 4. | 5. | 6. | 7. | 8. | 9. | 10. | 11. | 12.
Number 1 is a beautiful, traditional weathered-style urn, composed of stone powder, cement, and fiberglass. These would be stunning as a pair, flanking the door on the front porch, or to bookend a statement in the back yard. The largest urn weighs in just over 35 lbs.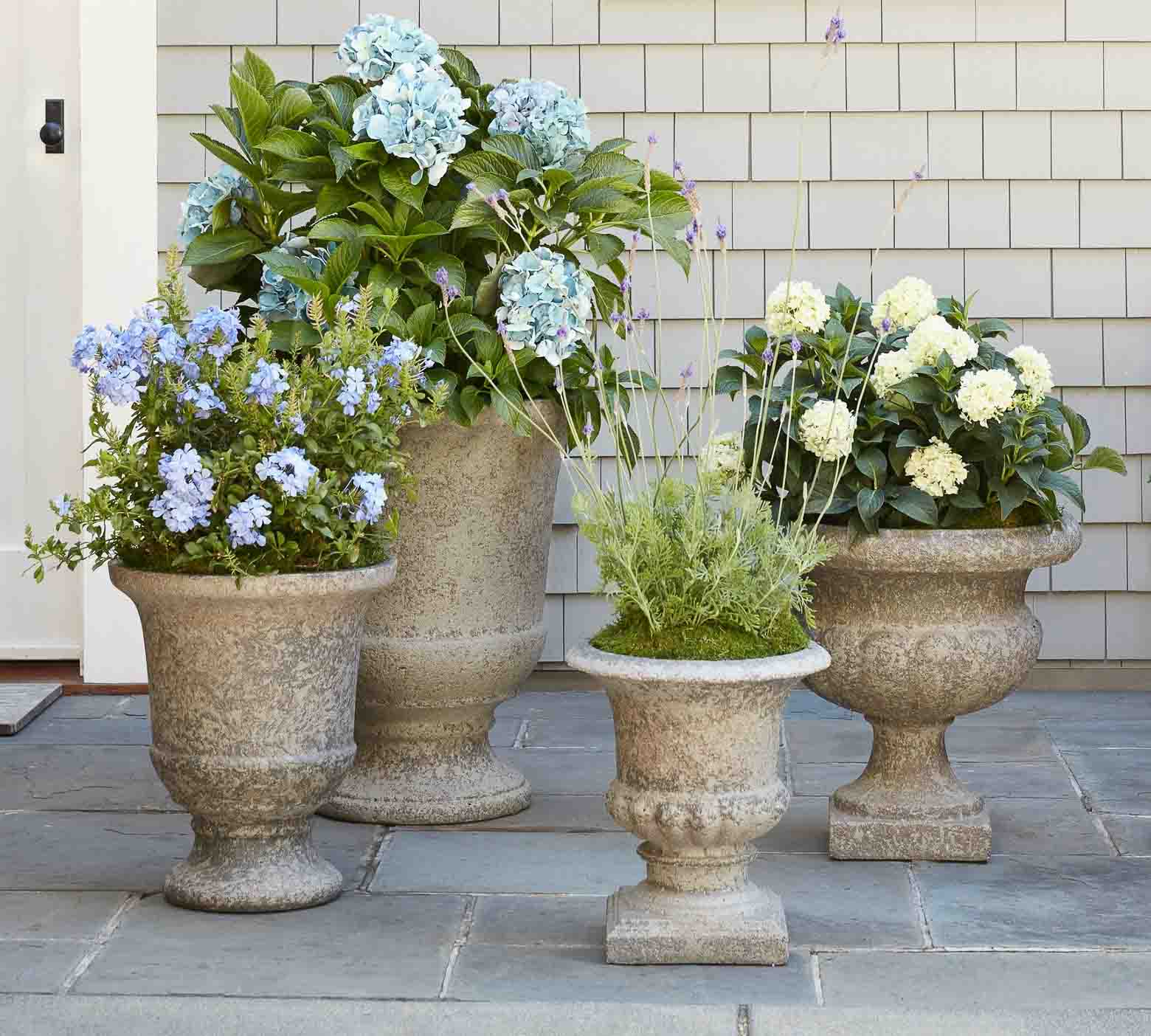 Ficonstone Urn Planters (Image via Pottery Barn listing)
Number 12 comes in a TON of sizes and three colors — gray, taupe, and black. The largest option is HUGE at 34″ wide, standing 24″ tall. It's a lightweight composite material, but the size of these makes the XL come in at just under 60 lbs. You can find all the sizes and colors HERE.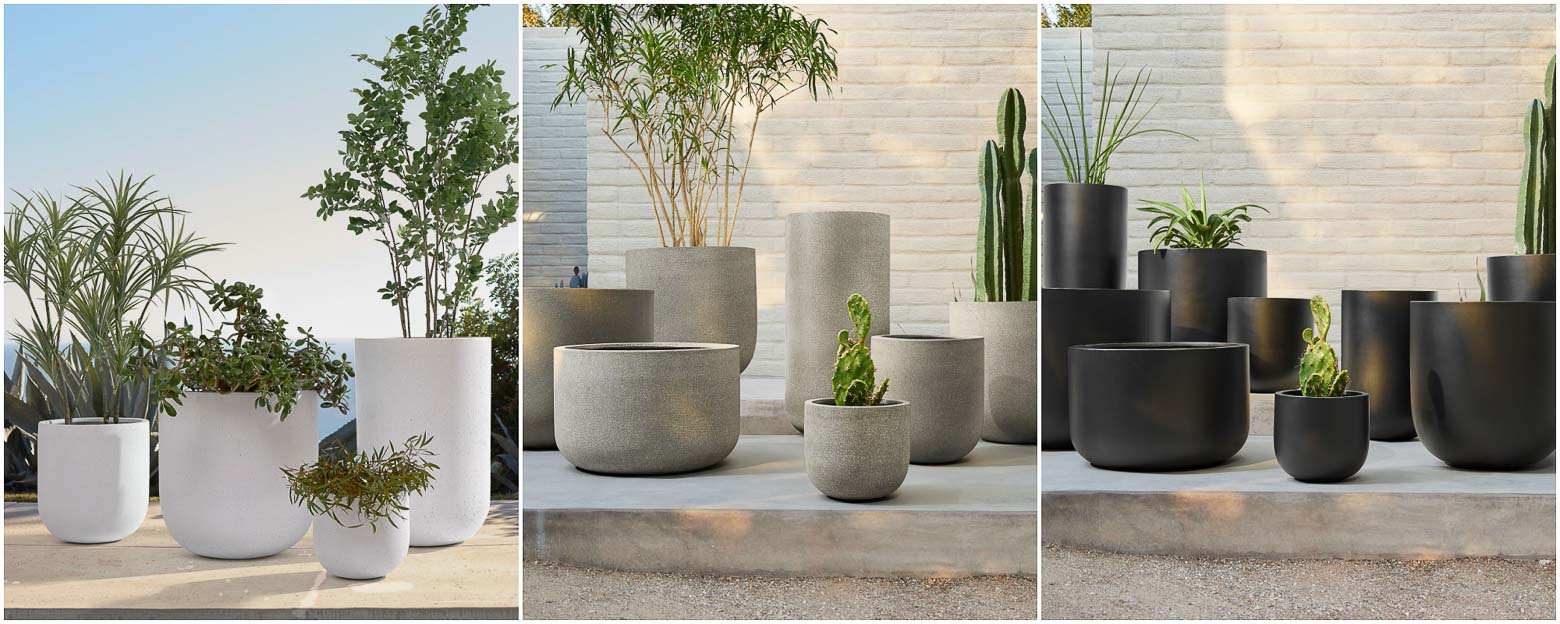 Ficonstone Planters (Images via West Elm product listing)
Similarly, I love the concrete-looking clay Number 5 — especially in the striking black color — and the largest size is BIG at 35.5″x30.5″. But, while a lot of these are on the spendier side of things, this one is expensive.
Number 10 is from Terrain but because all smaller sizes are sold out, the XL version is on sale for more than $100 off right now. It's a beautiful fiber concrete planter that has a diameter of 28″.
Number 6 (also from Terrain) is similar to Number 10, except that it's a fluted urn style.
And because I've been journeying with them for several years now, I couldn't leave out the uber-versatile PB fluted planters — Number 4 — that now come in four colors and 10 sizes and shapes.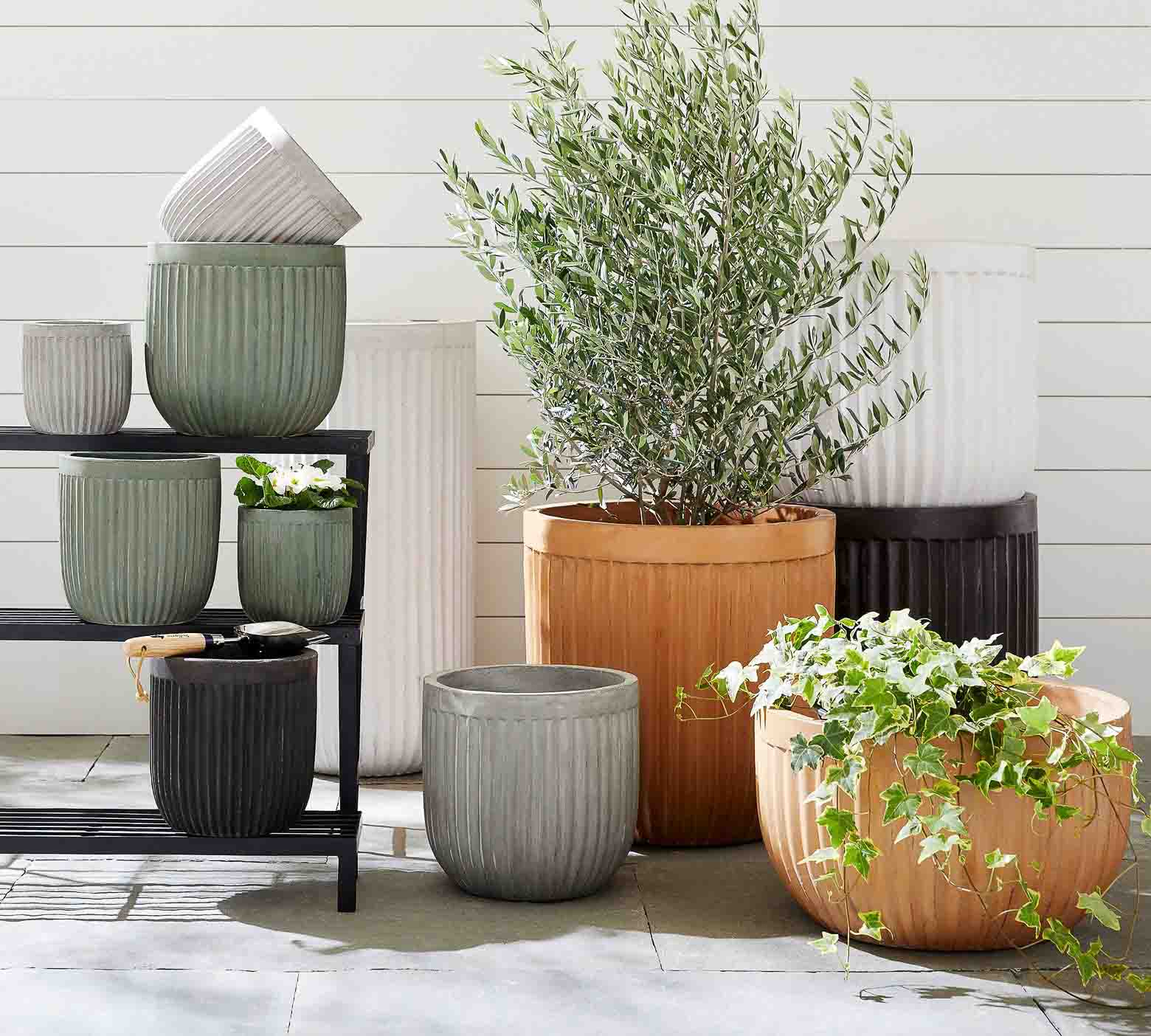 Fluted Planters (image via Pottery Barn product listing)
I love love love this style and a few years ago, I ended up finding a super similar look-alike on Terrain, which I ordered instead. These aren't huge but they're a nice modest size for the space I have them. A few years later, they're still sitting in the same spot. They aren't available anymore but the black version of the fluted PB planter is a near dead-ringer.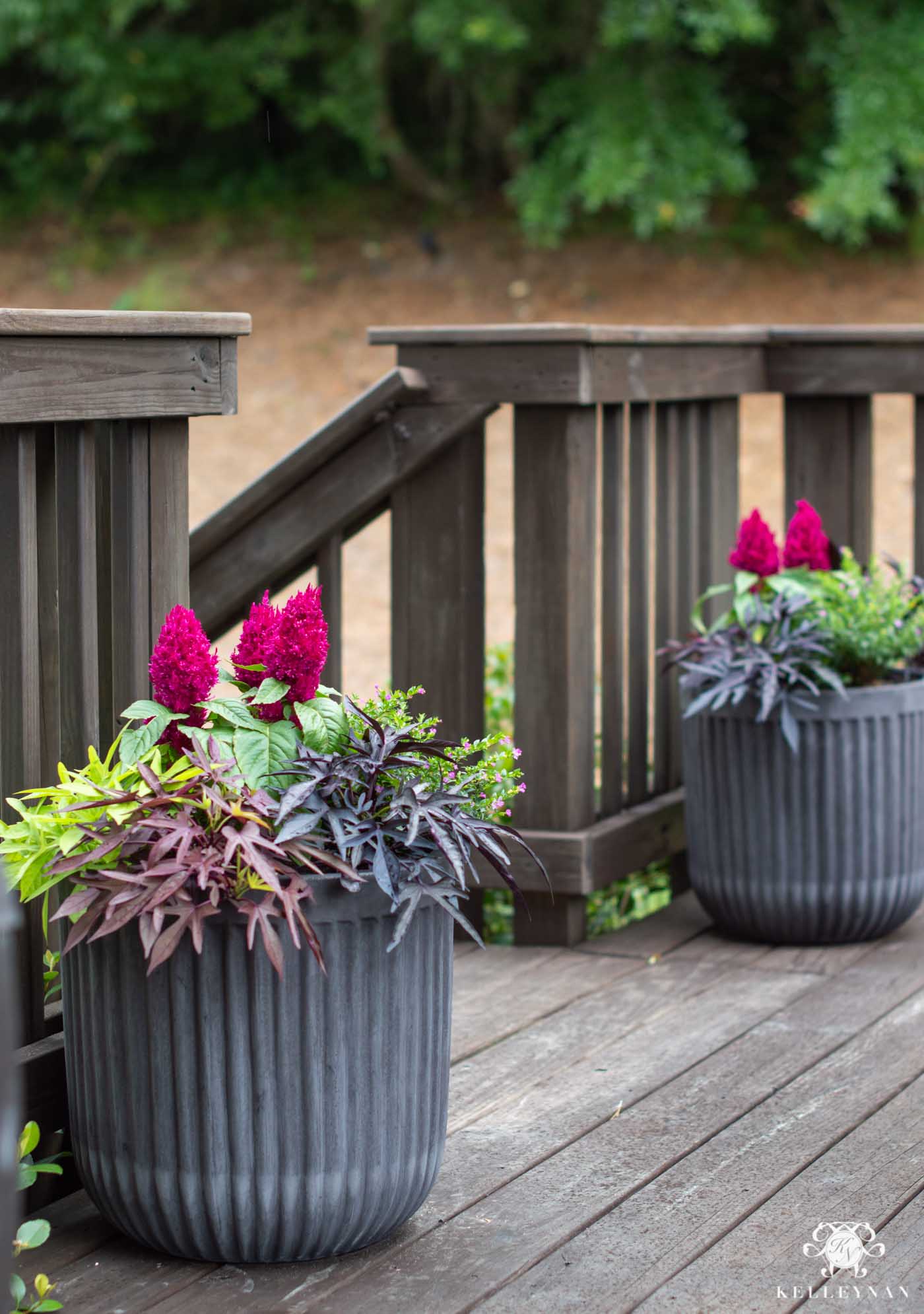 Sources: Fluted Concrete Pot (similar)
**Speaking of similar planters, if you like the look but not the price, Walmart now carries a white fluted resin pot for $25 HERE. It looks SO similar to a smaller PB fluted planter in the chalk color (but for a fraction of a fraction of the price). I saw them in store a few months ago and was tempted to get one, but literally had nowhere I could think of to use it since my planter situation is at its max (and #minimalism ;)) You can leave it as it is, paint it, weather it… whatever. It's a great looking planter, especially for the value.
Anyway, because I loved them so much, I did end up getting some of the PB fluted planters (in one of the bowl styles) to serve as housing for our expandable hose last year.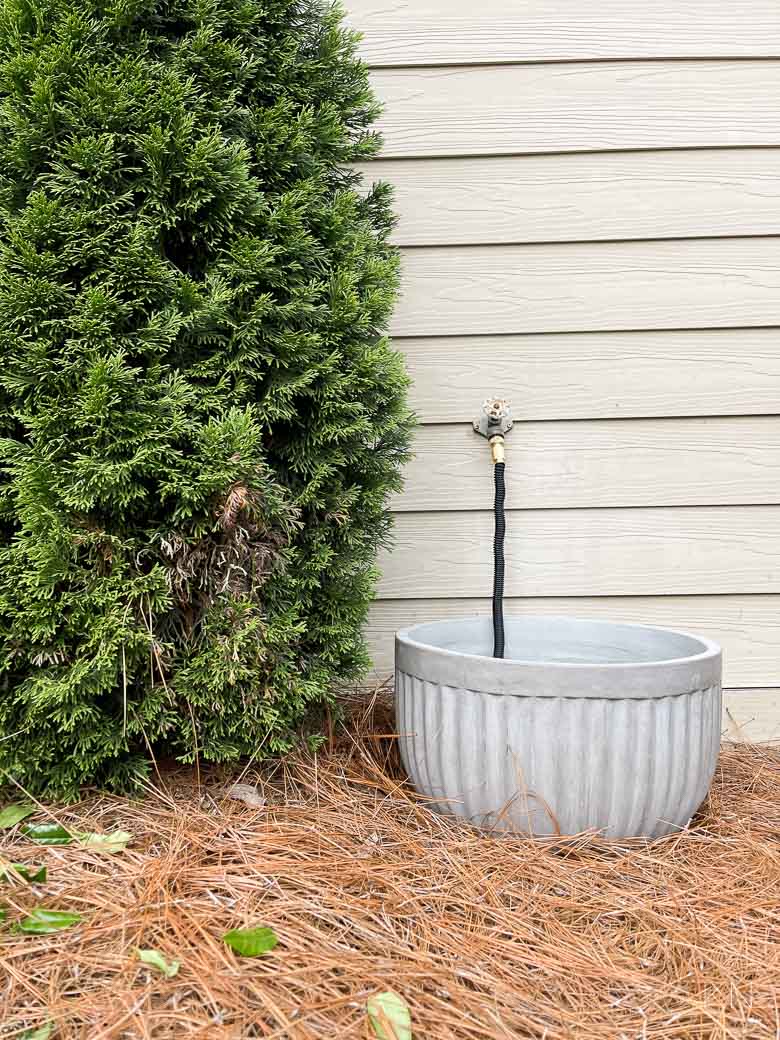 Sources: Fluted Concrete Pot
Speaking of my expandable hose, it's been a long-time fave of mine and readers, and they've been out of stock for a while. I investigated and it looks like they've changed the design to THIS "improved" lightweight, flexible stainless steel version. It still comes in a length up to 100′. I'll be interested to try them! We used our two, connected together, to fill our pool over the course of the week and even with nonstop, highest pressure water flow, they're still in awesome condition (and we've had them a few years now).
And, I guess some retailers have caught on because this is the first year I've seen this. They now have an outdoor planter, specifically made for water hose storage, with a hole in the bottom for the hose (HERE). Coincidentally, it is in the same line as THIS planter (Number 12) I mentioned above!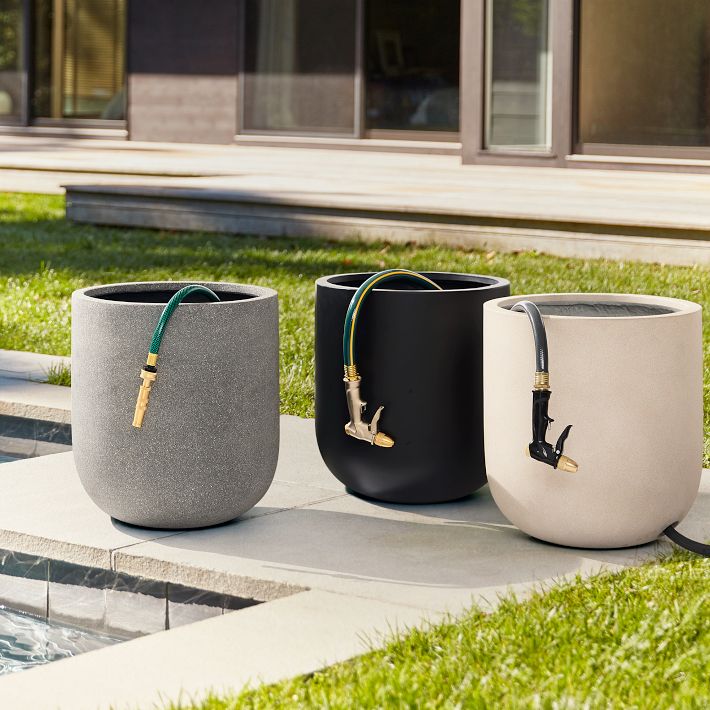 Sources: Radius Hose Storage Pot (photo credit: West Elm)
So tell me — do you add to your planters? Depend on replacing them every so often? Have a few substantial ones that have lasted years? Do you increase your planting each year or scale back? I'm looking forward to sharing more of our outdoors as we focus on those this year, more than ever! Be sure to subscribe to emails at the bottom of the post to stay in the loop for it all.
Other Posts You May Be Interested In
Big, Round, Earthy Outdoor Planters