It was just over a month ago when I shared that we were in the process of building a pool (see that post HERE). It's crazy with the amount of work they've had to do, but they're actually not too far from being finished. And not just with the pool, but finished with all the additional projects with major progress on landscaping. So, I thought today would be a good time to show a mid-way-ish progress report and share what things are looking like now!
*Posts on KelleyNan.com may contain affiliate links. Click HERE for full disclosure.
Since these photos a few days ago, there's actually been a few more updates.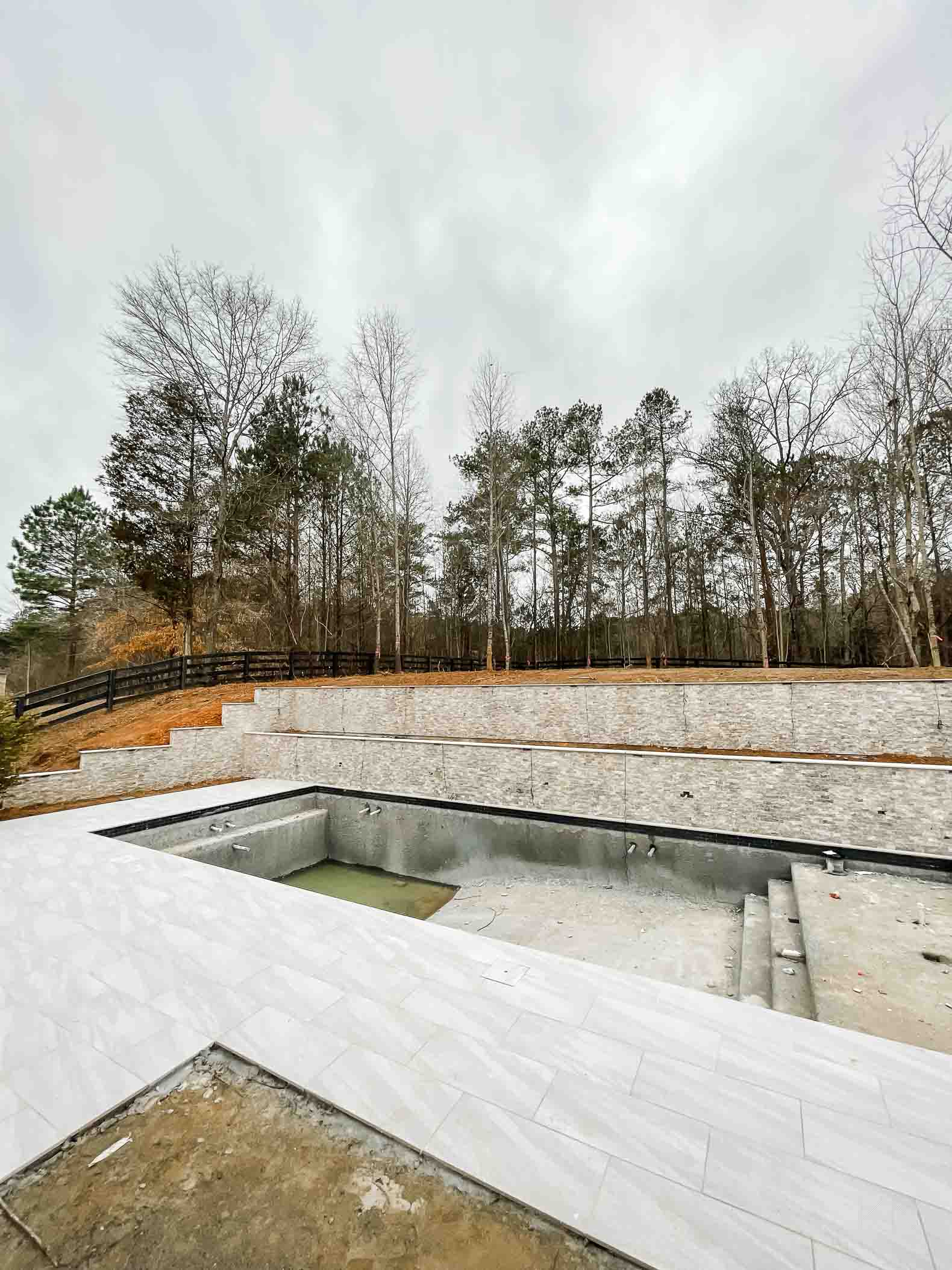 The scuppers (spout-like copper water features) on the lower retaining wall are mostly installed, an addition after these were taken…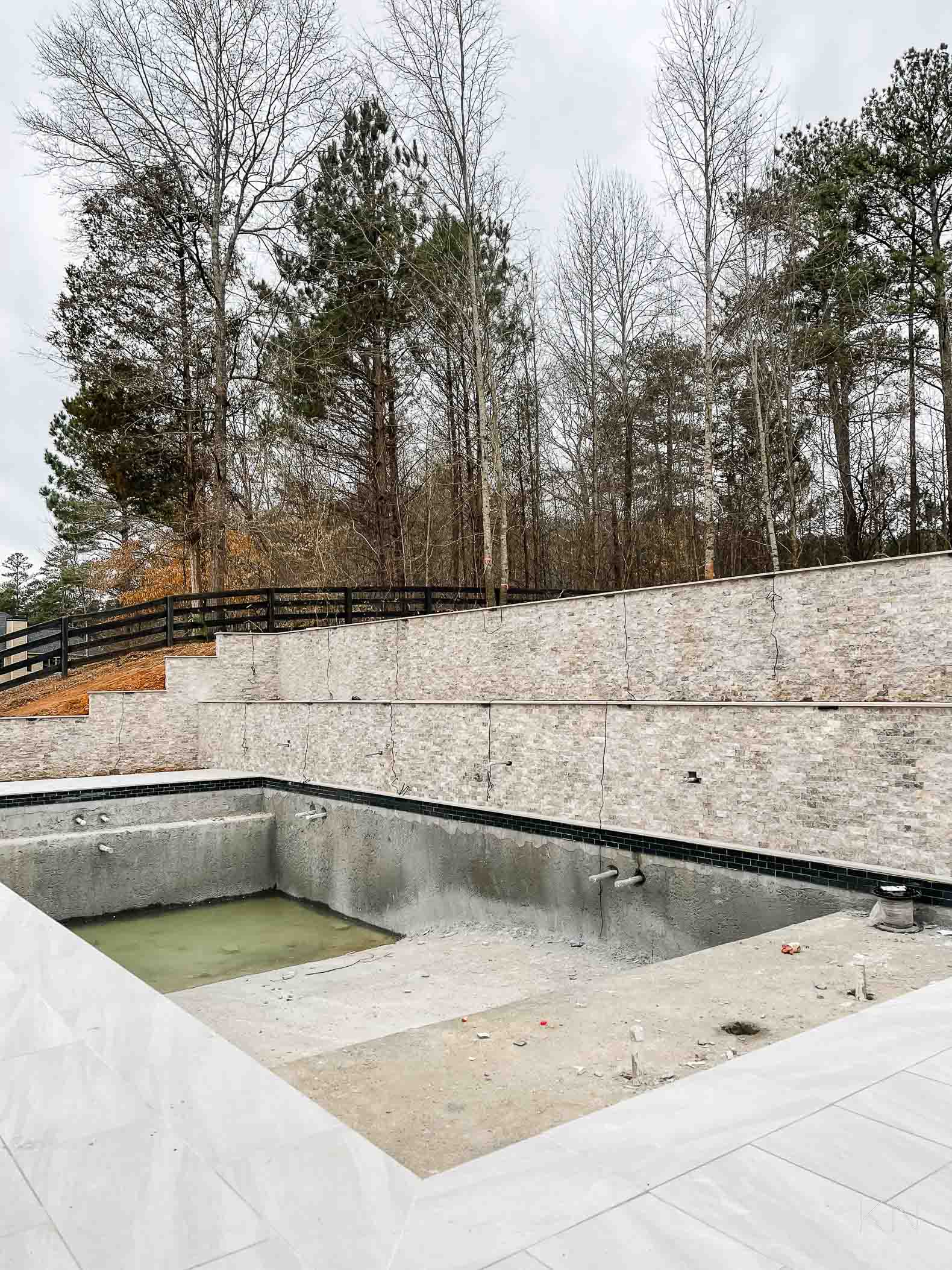 And we also added a few more Green Giant Arborvitae for privacy, to the upper and lower areas of where we first planted our larger ones eight years ago. Again, they aren't shown below but they've since been added to the far left.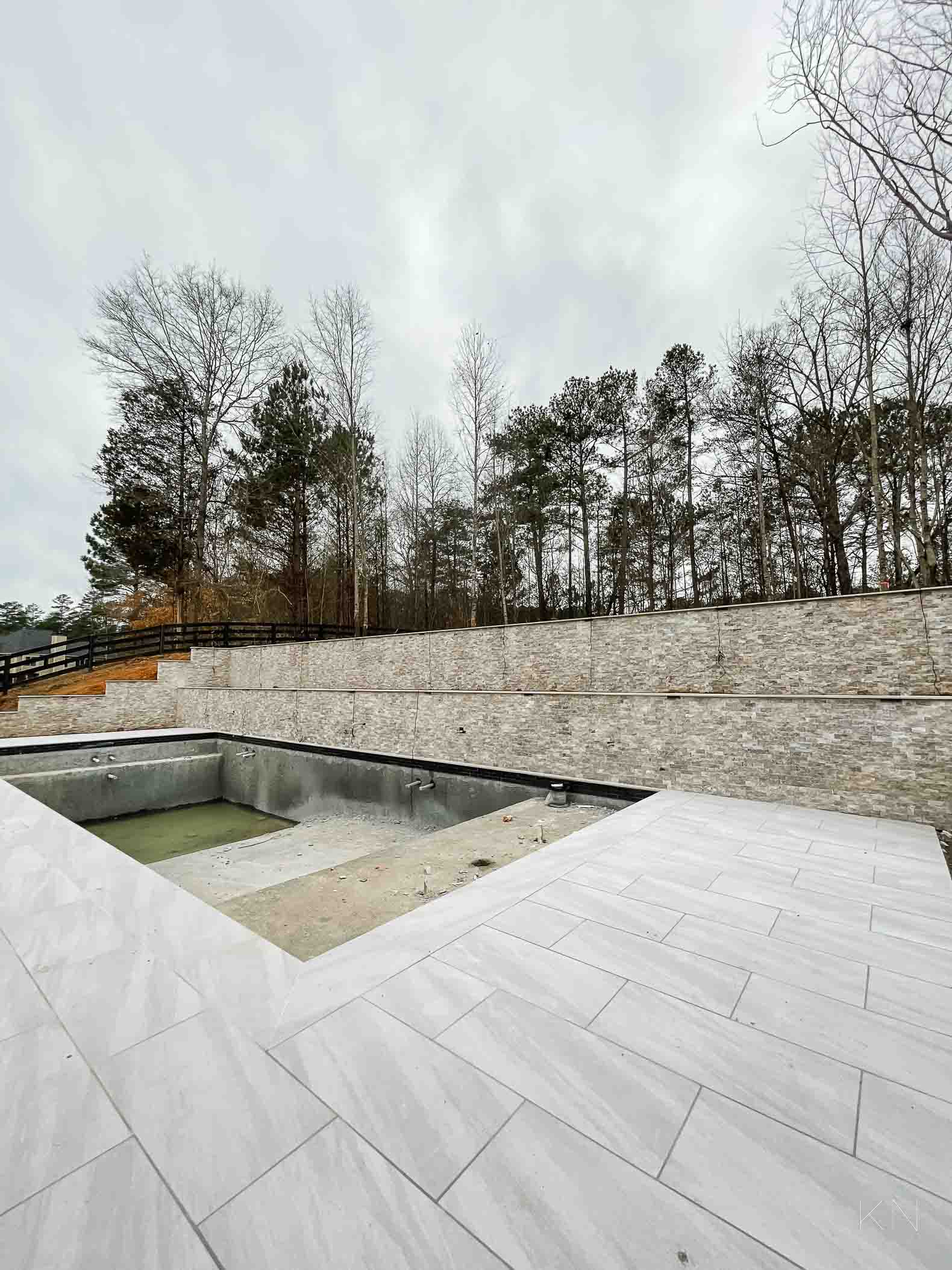 Our recent days have been mostly gray but even with the absence of the sun, you can kind of see the blue tones and the shimmer of the black glass waterline tile.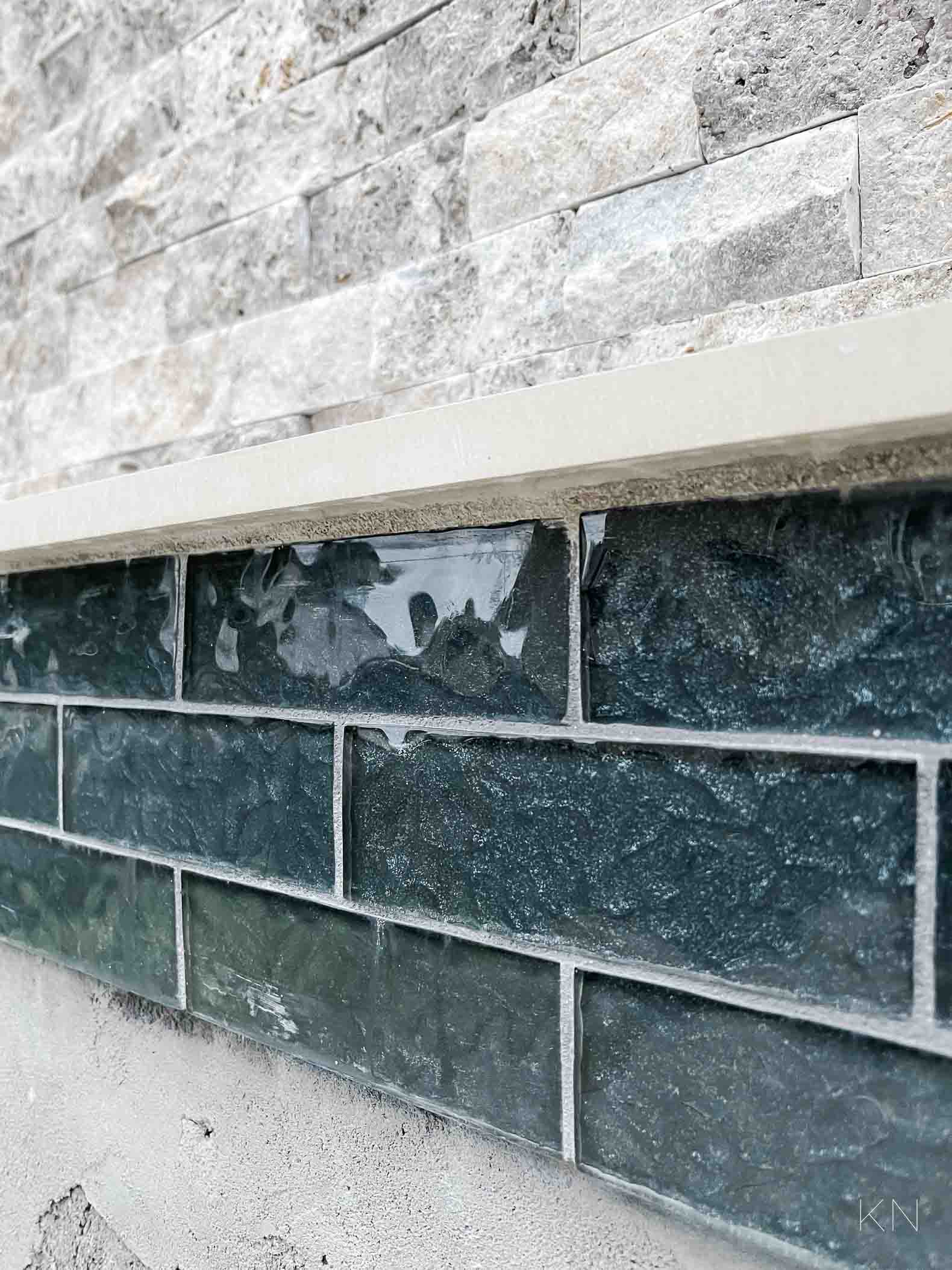 I love how the double retaining walls turned out — the primary architectural feature of our pool and yard — and you can see where the discreet lighting has been partially installed to illuminate the walls at night. We are also planting a row of evergreen boxwood at the top of each wall, hoping each row will eventually hedge together.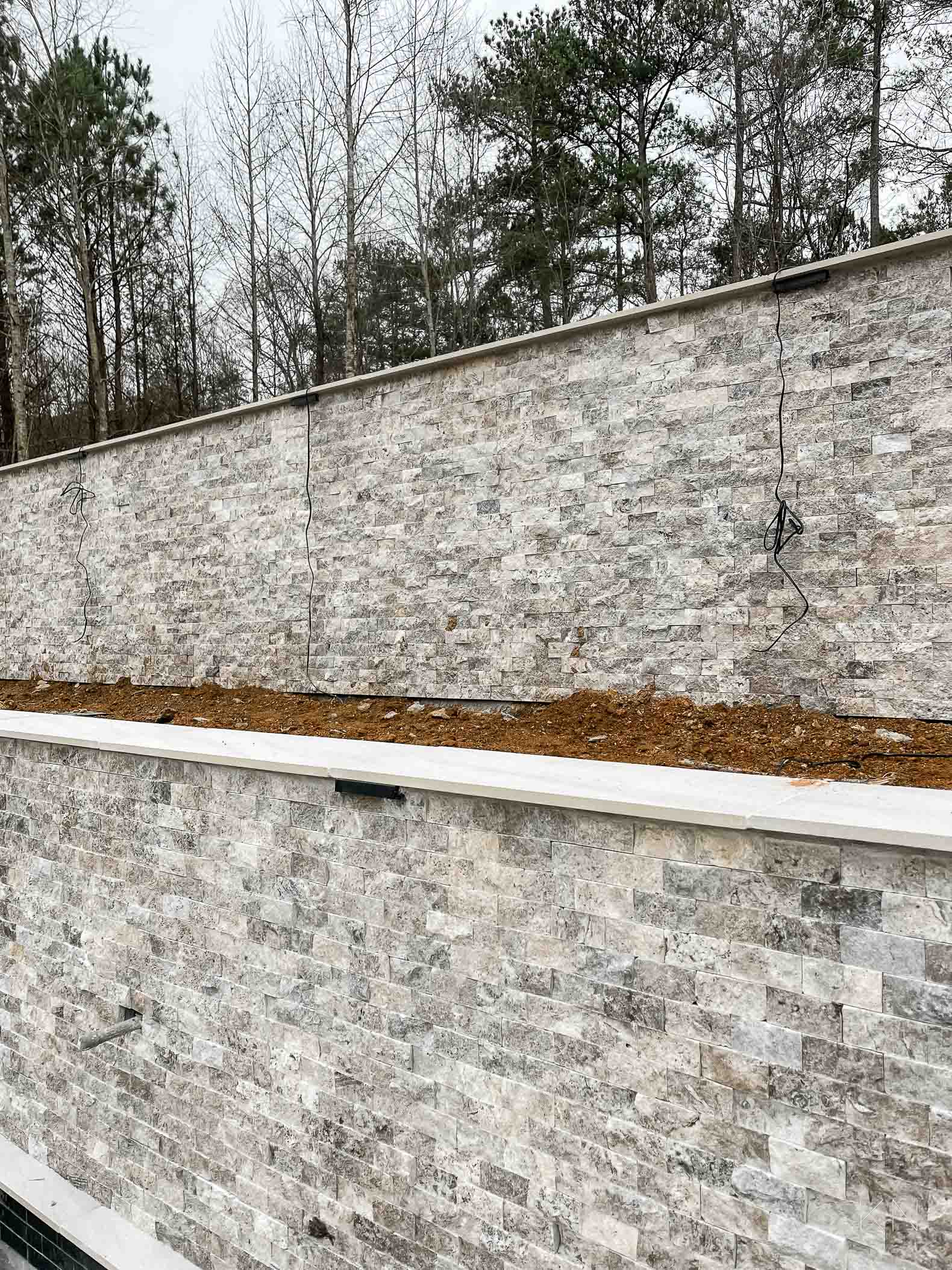 One of the most exciting parts of our pool project doesn't even involve the pool. We fenced in our property, literally on day 2 of living in our house, almost a decade ago, but the majority of it was woods and overgrowth that sat unused.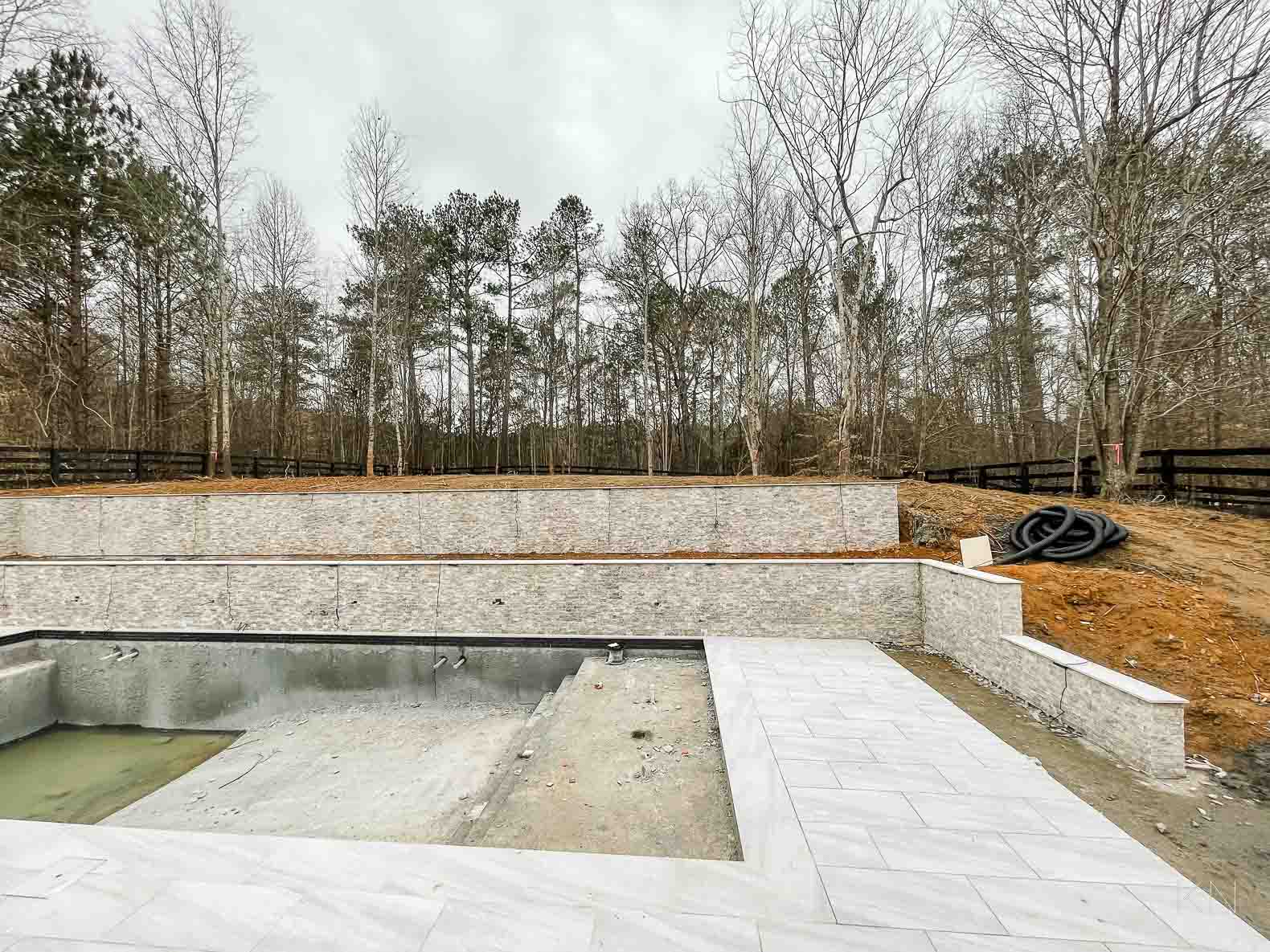 The back portion of our property was flat, but inaccessible. Plus, there was so much overgrowth, it just felt like it would be asking for a snake bite if I were to go stomping around. By cutting into our steep bank and installing two retaining walls, it created a distinguished lower yard (the pool) and upper area. Dave went through and tagged trees over a certain circumference to keep, excluding pines, and we had the rest cleared out. We are totally and completely dumbfounded by the potential and all the extra usable outdoor space we have now. I think Dave is more excited about a big yard even more than the pool!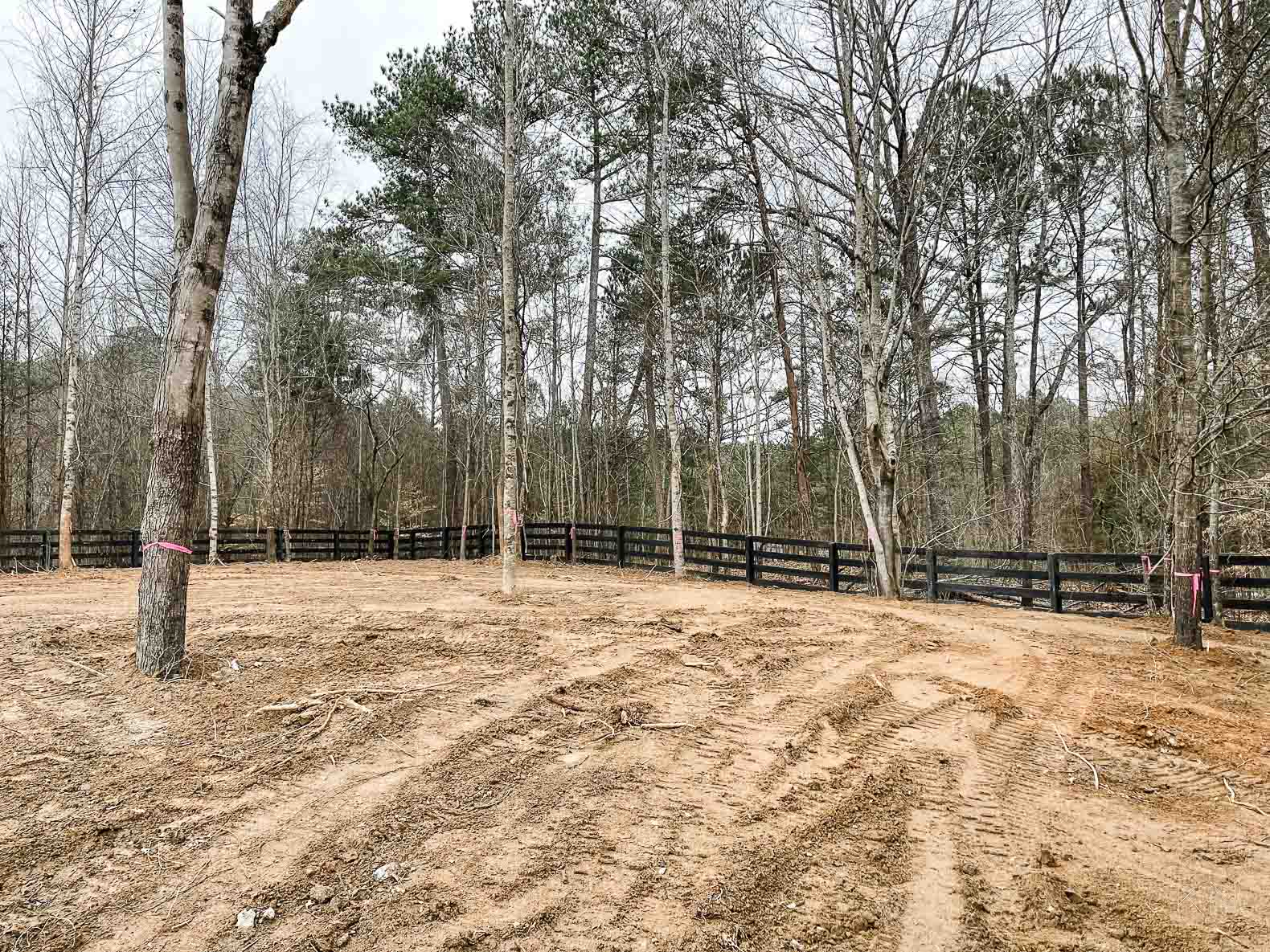 We had sod included in our initial quote, but not THAT much sod. We'll be adding an additional 10 pallets to our 4 for the upper yard to see how far that gets us. For now, we plan to use this space for play — ball, badminton, etc. — but eventually, we'd like to put in a fire pit area. We're hopeful that having lots of the brush cleared out will help deter some of the snakes, too. The biggest snake danger in our area are copperheads — we've never seen one in our yard but there have been plenty throughout our neighborhood. Our neighbor across the street from us has a pool and posted a photo last year of a copperhead crawling out of the hole in her skimmer top. Yikes. If you have a pool, please tell me about all the things you haven't found but I do not want to hear about the terrifying things that have been uncovered 😉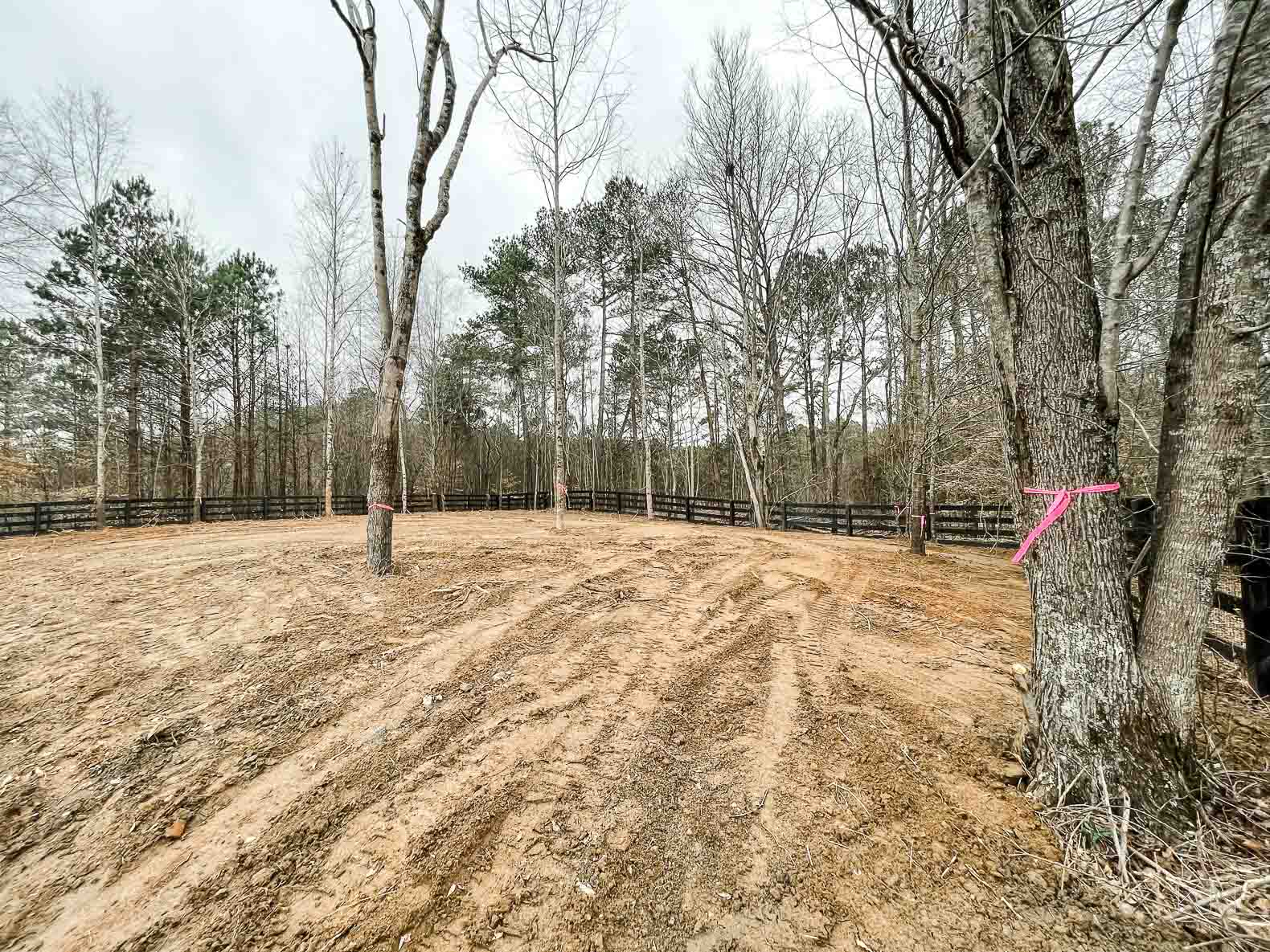 We're installing steps from the bottom yard to the top level and will leave a sodded, grassy bank for lawn equipment, too. The lower yard area around the pool will be faux turf. I'm excited to have something clean and low maintenance, but am nervous since we've never had anything like that before. There will be a learning curve with everything. The major factor that contributed to that decision was all the stepping stone pavers and wanting clean lines with low upkeep (and as little yard work around the pool as possible). We've also had poor luck with our grass dying in the lower yard and I don't want our pool area to be brown — so, faux it is.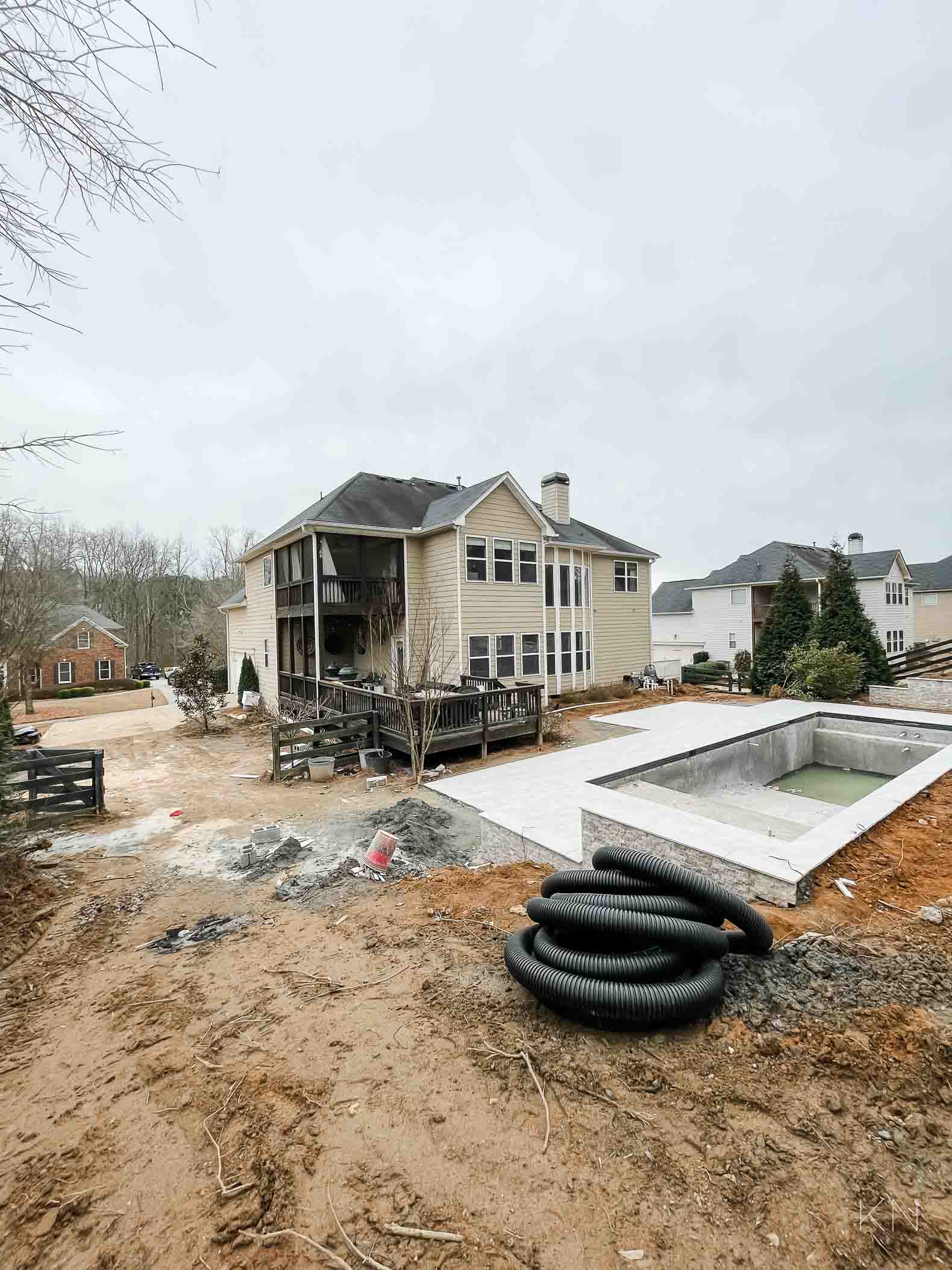 We're also due to have our house painted this year. I knew it was coming but with a fresh outdoor space that I know we'll be spending so much time, it's the extra motivation to go ahead and tackle a fresh coat of house paint, likely in late spring, after the yellow pollen. Since our home has no siding on the front — all brick and stone — but the sides and back are all siding, I can't decide whether I want to go white(ish) or charcoal(ish). I'm thinking the latter but I'll keep you updated here as we test and decide.
Along the back of the house, we're digging up all the shrubs. I wanted an enclosure for the pump and heater (along with the electrical box that will have to be mounted to the wall) but to meet code and pass inspection, it has to come out pretty far. We're just doing a wooden stall and will ultimately paint it the same color as we end up painting our house. We're adding a raised planter around the center windows with the same split-face as the retaining walls — that may have actually just been finished yesterday. On the left side, butting up to the wooden deck, we'll be adding two storage boxes for pool play and upkeep.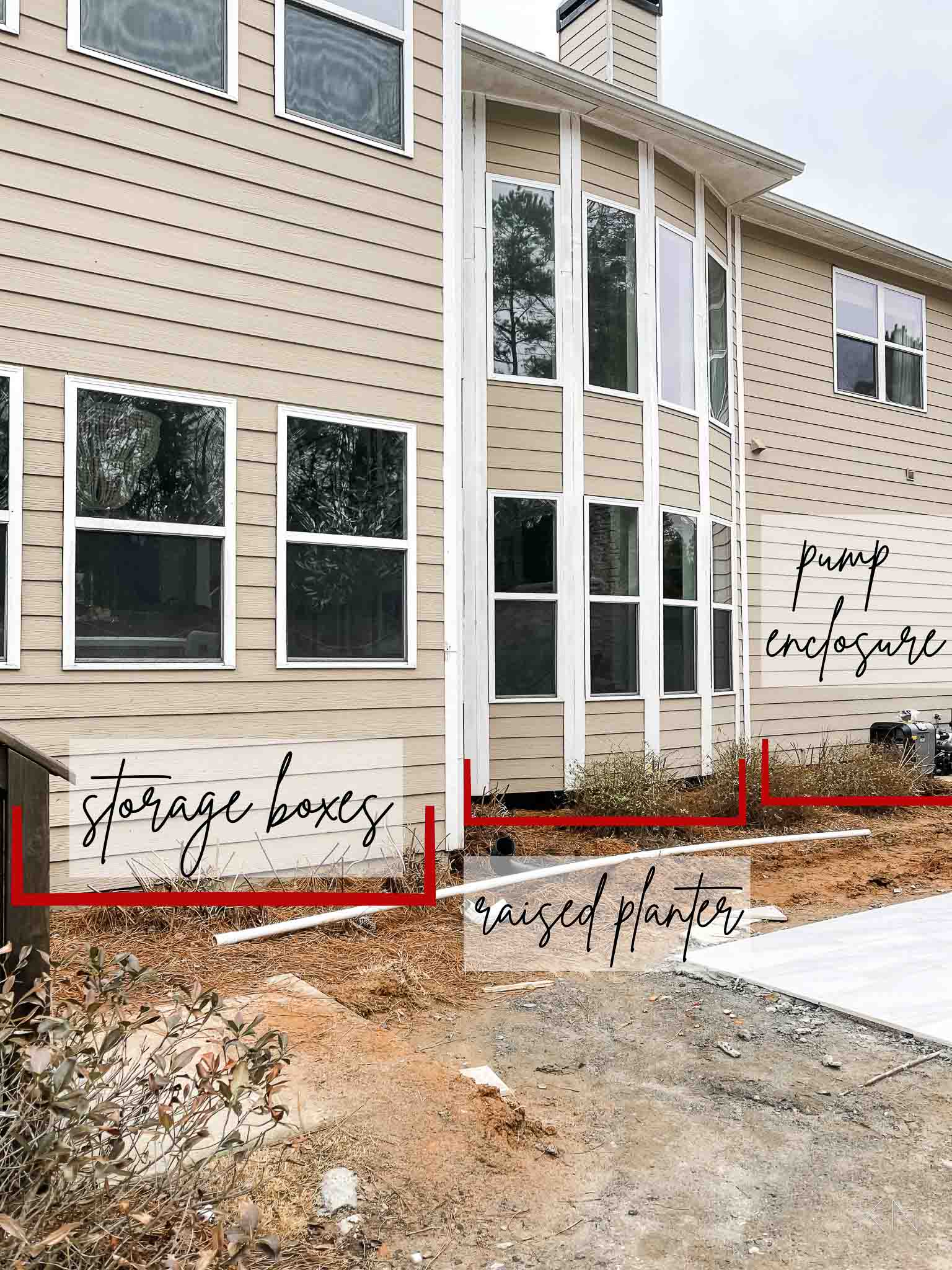 Not pictured — the concrete pad was removed and the 24″ stepping stone pavers (that match the pool pavers, just in different dimensions) have been added. Our back yard water spigot is also having to be moved since it is currently positioned right behind the pool pump. I'm pretty proud of myself in how I've been able to stay pretty calm and fluid throughout the process.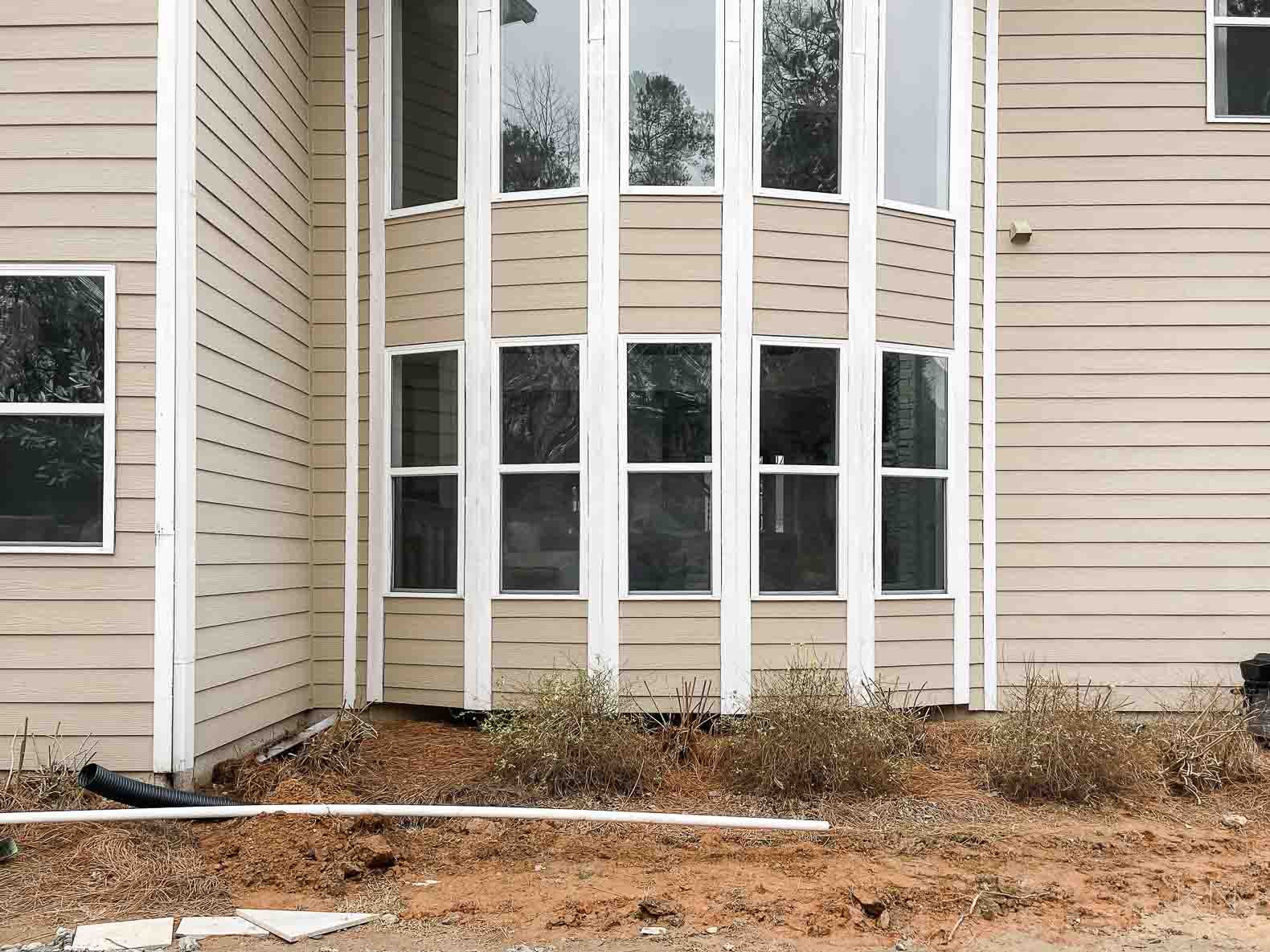 All this shrubbery is being removed and the concrete pad has already been removed. Storage boxes will be to the right and there are now stepping stones going from the porch to around the back of the lounger area, all the way to the pool pump stall. Everything is a mess so I'm anxious to see it all cleaned up!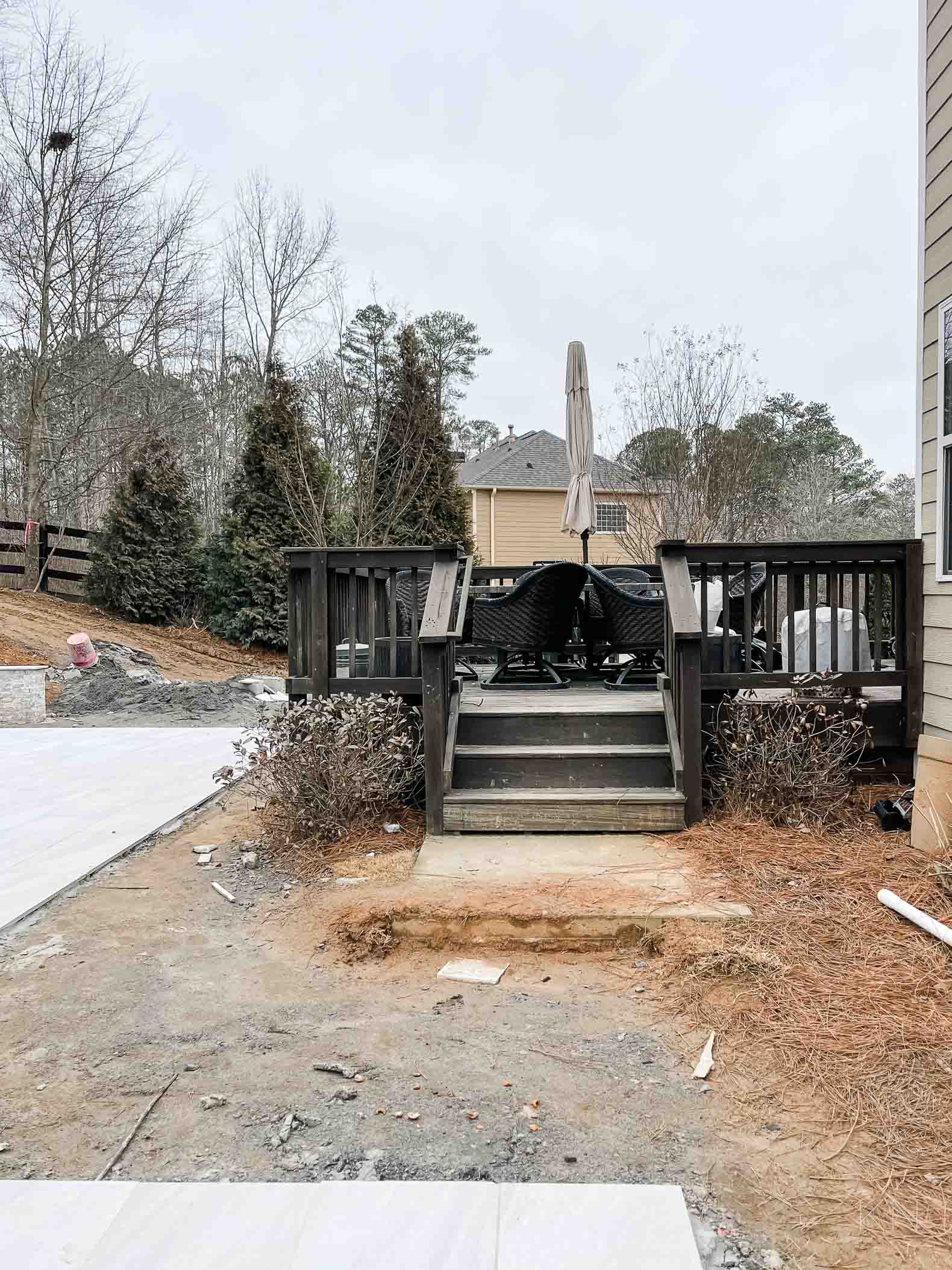 Since we are having this area covered in faux turf, I wasn't sure how we would transition the turf to the under-the-porch area. They are adding horizontal boards to enclose that area and make it cleaner. There's lots of spray from concrete and mud, obviously, that is making the deck area look rough but we'll be re-staining the porch when we paint the house.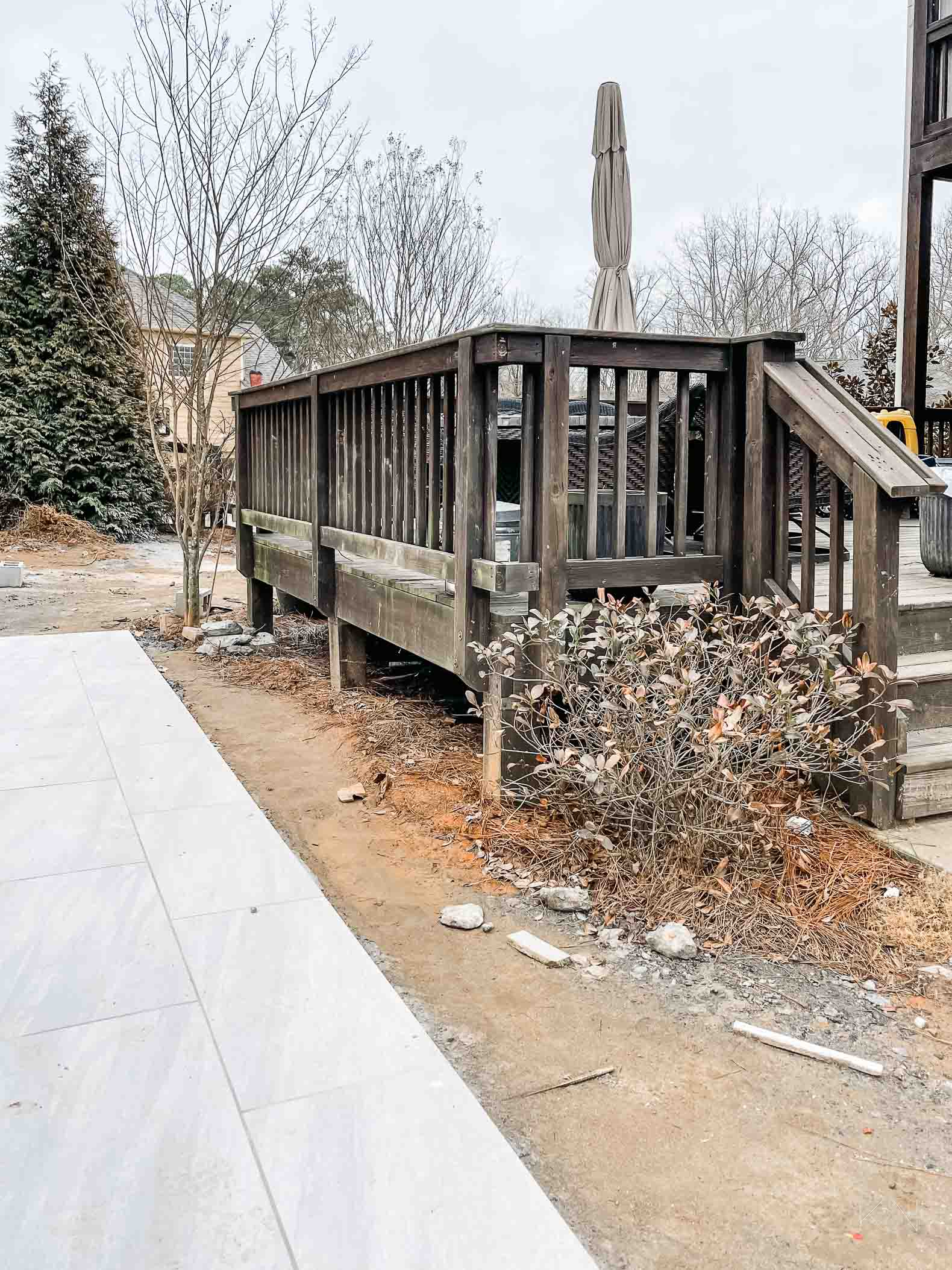 I didn't want the pool area to look like a concrete jungle with those massive retaining walls, which is why it was important to me to make sure green turf would frame the porcelain paver decking in, along with the evergreen shrubs added to both levels.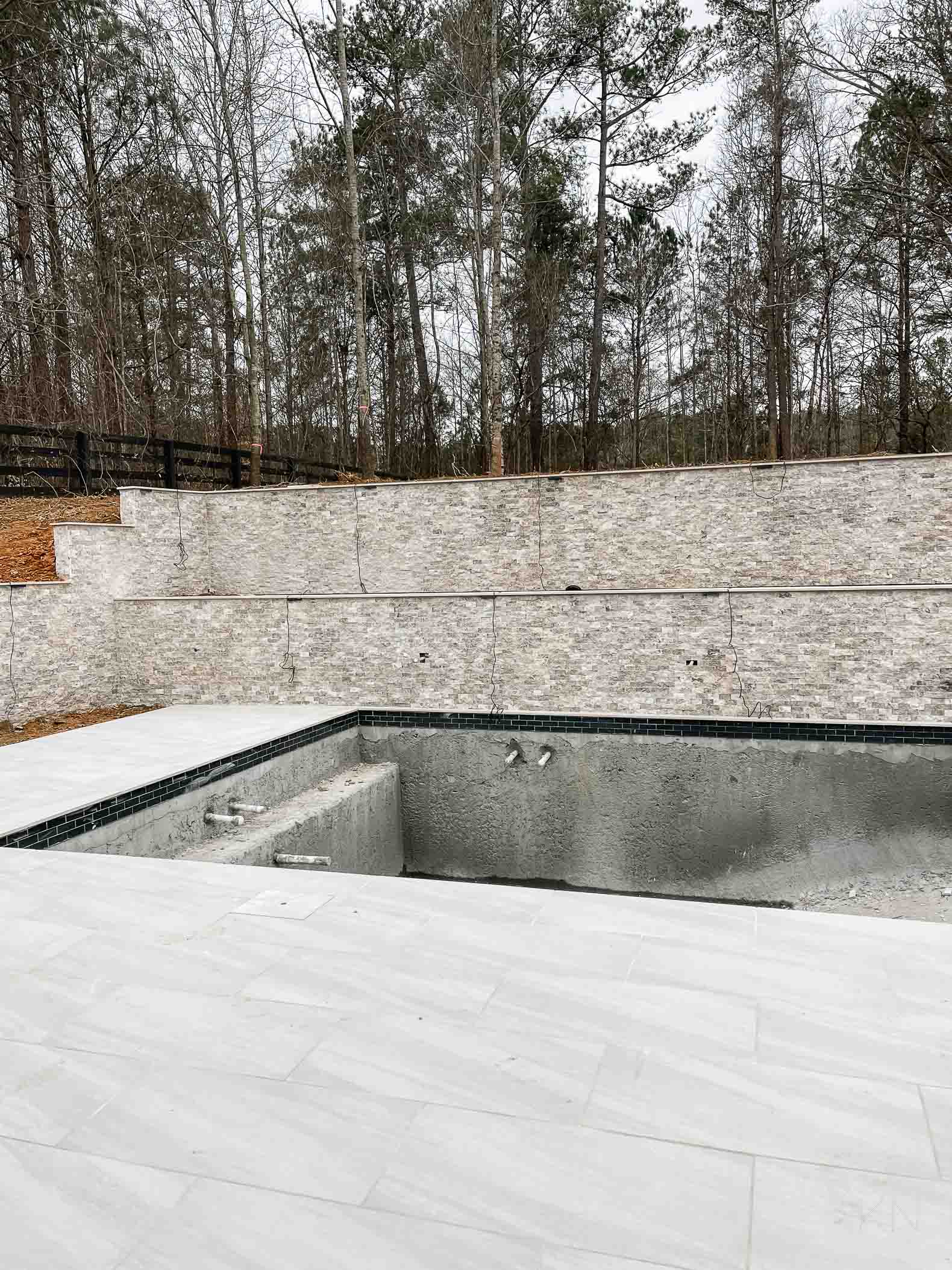 This is the area where the loungers will be. I ordered four of THESE loungers (they come as a set of two) already since they were showing they were back-ordered… but I already got an email and they're scheduled to be delivered a week from today. We're gonna have to figure out a place to store them until we're ready. I like that they can stack, are wide, and don't have cushions. I love the look (and feel) of luxe lounger cushions — especially on wooden frames — but I didn't want to take care of them in our more harsh outdoor elements (pollen, sun, heat). I'm hopeful the type I ordered will be better for longevity.
I also ordered two of THESE pretty umbrellas (I'm so in love with the edge detail!) in the sand with black trim option. They're on sale and pricey, but still way less than the umbrellas I was initially looking at (THESE black and white pagoda style umbrellas). They also have a perfect 5* rating, are made of Sunbrella acrylic, and arrived within a few days.
I added THESE umbrella stands in black, along with the add-on additional 30 lb. weights for the base. That brings the base weight to 80 lbs which should withstand strong winds. I haven't decided on small table/stools yet as I think I'm going to wait until after the chairs and umbrellas are set up to see what I prefer.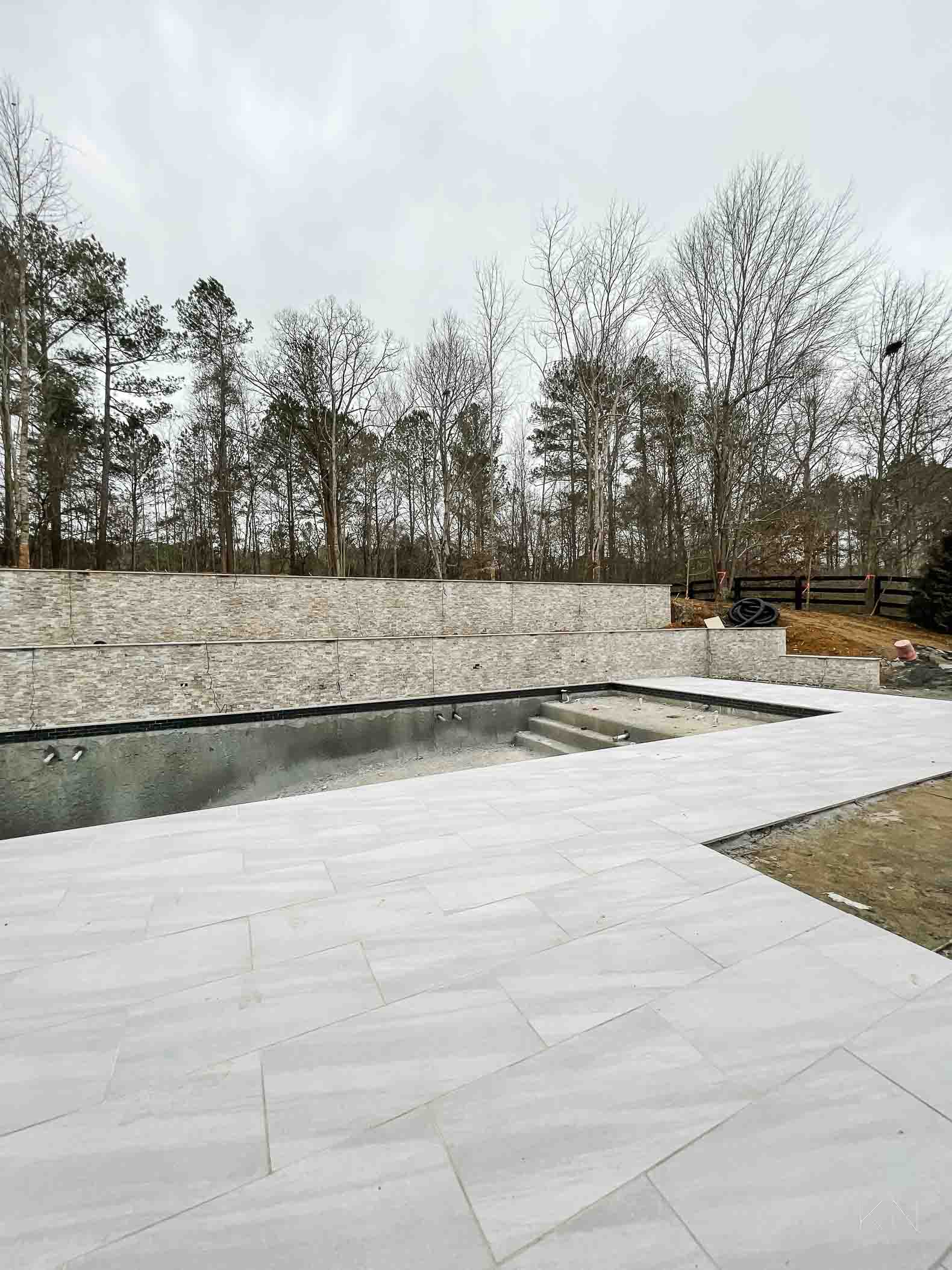 I am planning on a pair of in-pool loungers for the tanning ledge, but will wait until the pool is finished to order those. I'm glad I continued to research as I think I'm going with a different brand than I initially thought.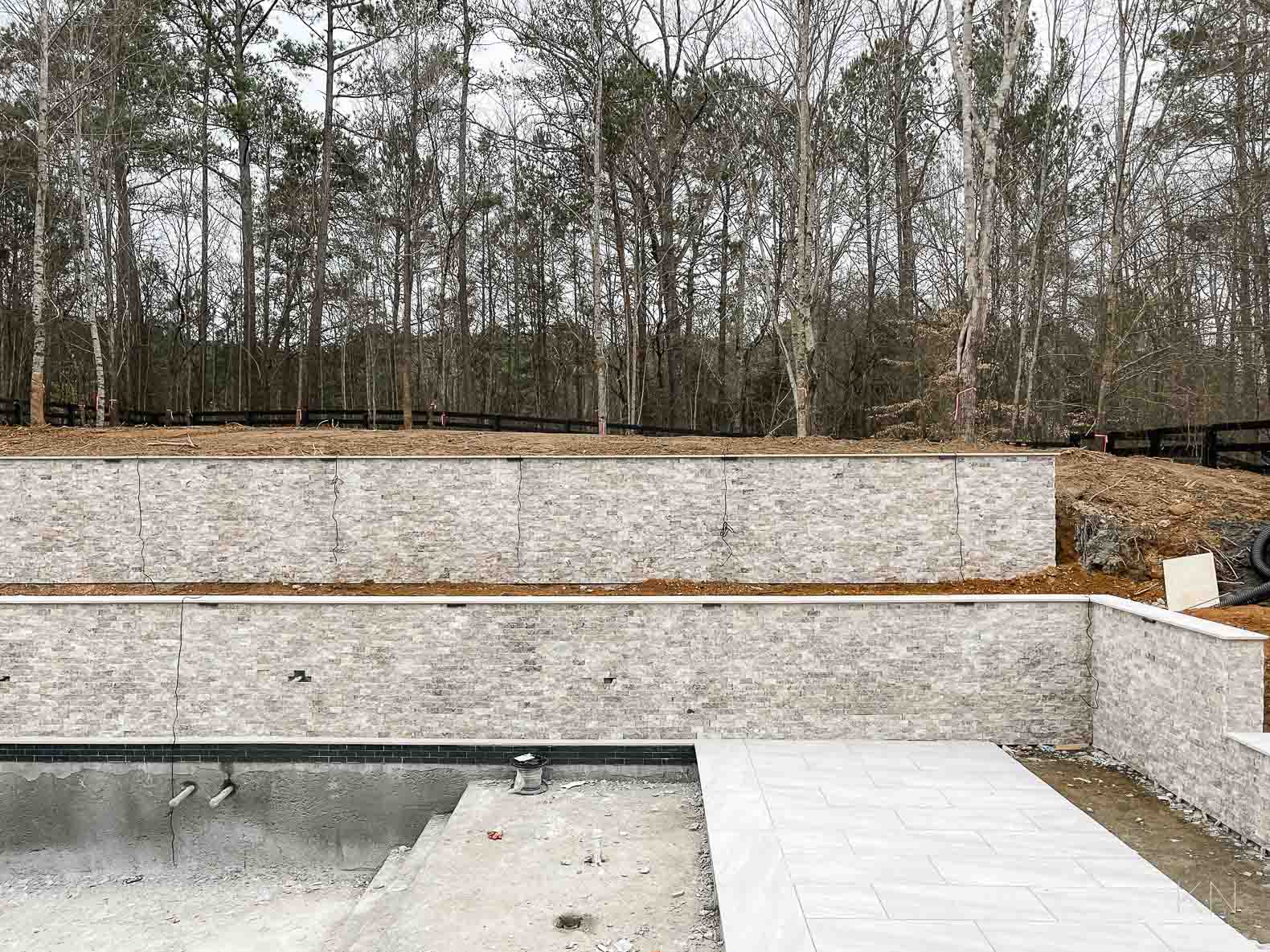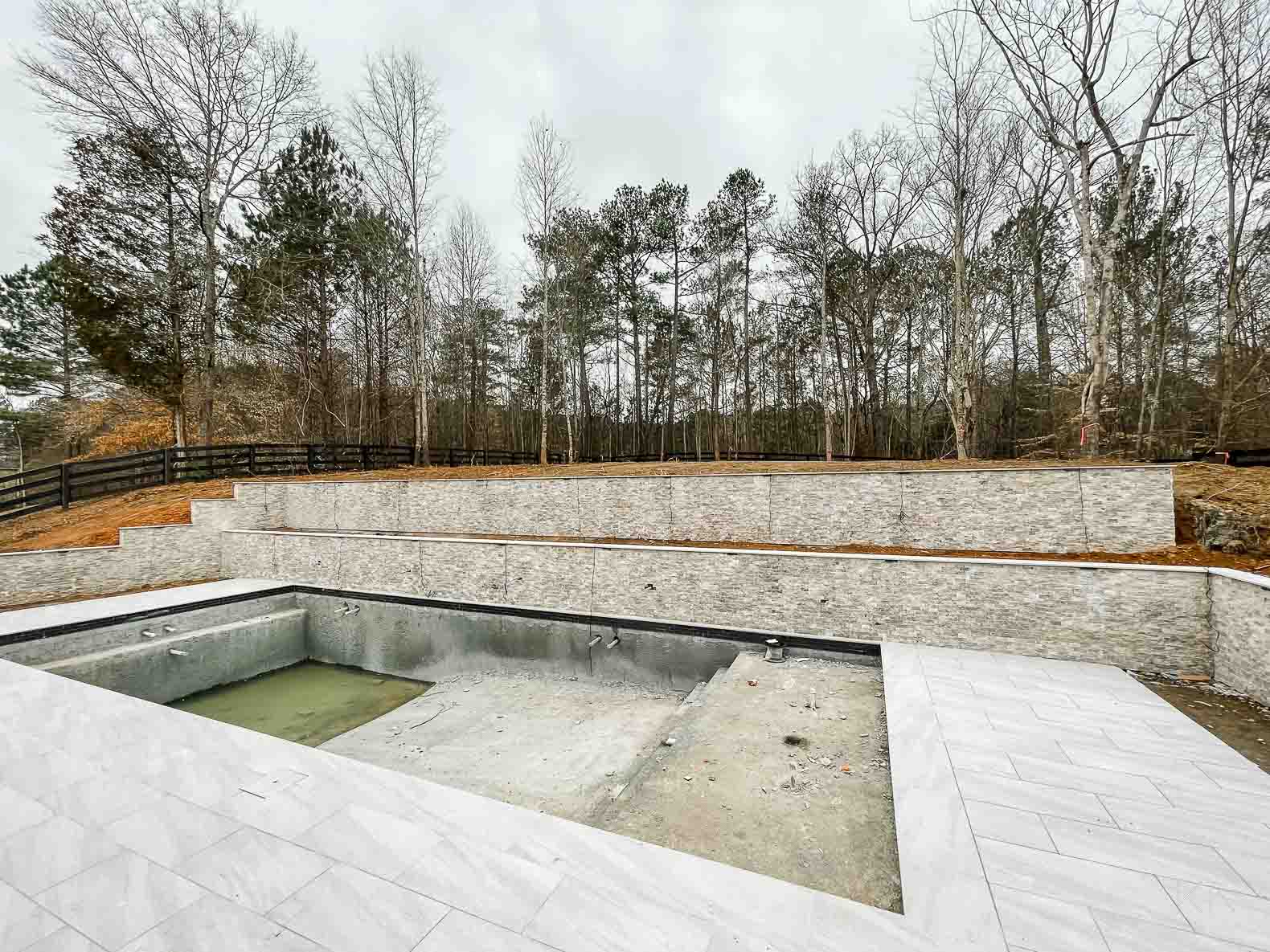 Again, there are now two more evergreens on the left side, just above the large arborvitae show in the photo. I'll be looking forward to having them continue to grow but they already give a lot more privacy. My dream would to have a yard, fully encases by evergreens, but that just isn't feasible 😉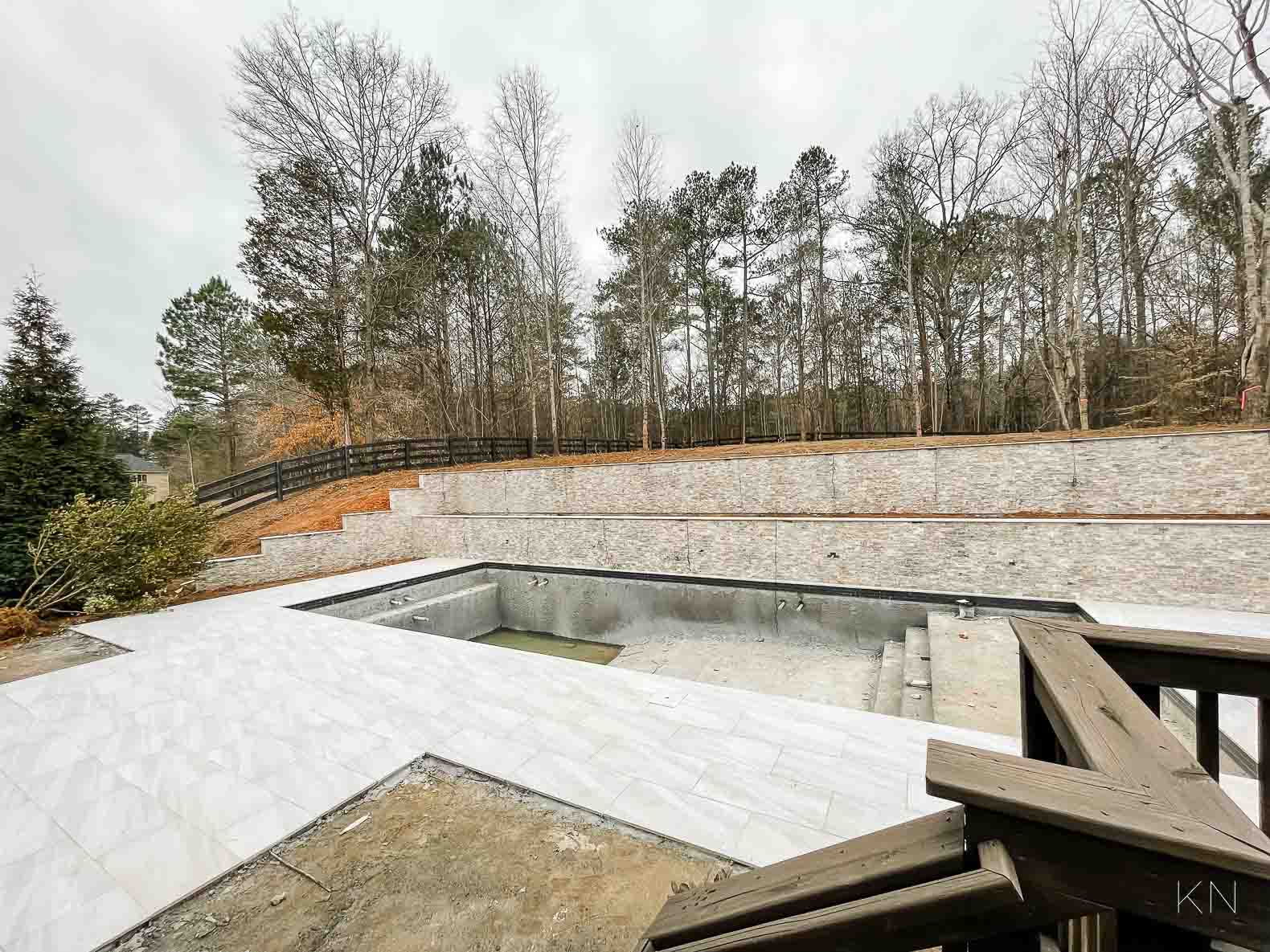 A few things that still have to be done…
pool itself finished, cleaned, and pebble added (we're doing NPT French Gray mini pebble with abalone shell)
old shrubs cleared out
faux turf installed
sod installed in upper yard
boards added under the deck
fence and gate repaired
stairs installed to second level
lighting finished
pump enclosure built
electrical finished
spigot moved
boxwood added above the walls
ground covering (mulch/pine straw) added to landscaping
find details items
water added and balanced
I'm not sure that I'll be back with another progress post — I'll likely wait until it's completely finished before coming back to share since we are so close and you can really see the area starting to take shape. For any details I didn't include today, you can go back to see some specifics on materials and the plan in my announcement post HERE.
Just before I'm posting, I grabbed a quick shot of the square pavers…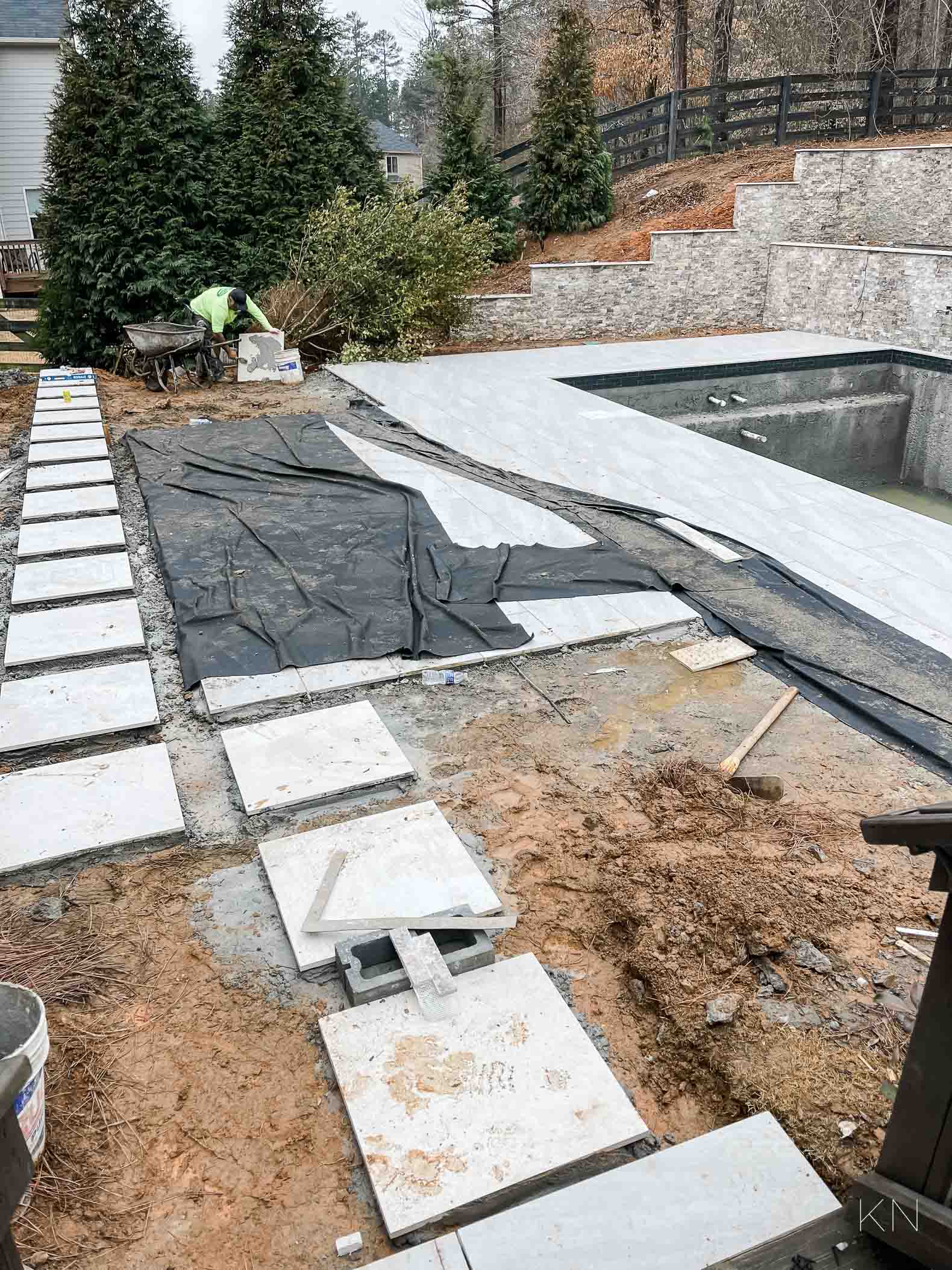 I'll be looking forward to coming back to share the end result in the next couple months and our whole family is so ready to enjoy this area soon.
I already purchased our loungers and umbrellas for the pool area, and I'm not in a rush, but I will be watching President's Day weekend sales for deals on some other outdoor things — like storage boxes, outdoor dining, etc. Since we've just finished some long-standing, ongoing projects (like Eliza's bedroom, the breakfast nook, and the kitchen), everything else is on pause since the pool and our outdoors are priority for the foreseeable future. If you're on the hunt for specific things this weekend for upcoming projects, I've included weekend sales below.
I wasn't planning on it, but I did permit myself a summer purchase. I found THIS linen-style button down cover-up last year and loved it so much, I wore it more than most anything else during the warm weather months. I got a few colors but they were popular and sold out quickly. They're back this year and I guess they did so well last year, they added more colors. Since my others proved their worth this past year, and I know we'll be spending so much time outside, I ordered both of the blue colors HERE — one almost a chambray and the other reminiscent of a dark denim — since they're on sale this weekend for 30% off.
President's Day Weekend Sales
Pottery Barn — Up to 50% off furniture, bedding, decor and more
Anthropologie — Up to 30% off 100s of items
J Crew — 40% off purchase with code: WEEKEND
American Eagle — Everything is on sale up to 60% off. My fave Aerie pool cover-up is back in a lot of colors and is 30% off this weekend
Madewell — 20% off Springy Styles with code: YESPLEASE
Pottery Barn Kids — Up to 60% off and free shipping on 100's of items
Pottery Barn Teen — Up to 70% off and free shipping on orders over $99 with code: COZY
Mark & Graham — Up to 70% off site-wide and free shipping on $100+ with code: SHIPFREE
Rejuvenation — Up to 60% off lighting, furniture, hardware and more
West Elm — Up to 50% off furniture, bedding, decor and more
Williams Sonoma — Up to 70% off cookware, cutlery and more
Ballard Designs — Up to 30% off sitewide — Clearance is up to 70% off
Frontgate — Up to 50% off sitewide, including extra savings on clearance
Grandin Road — Up to 25% off interiors
McGee & Company — Up to 25% off sitewide
Serena & Lily — Up to 30% off all outdoor
Scout & Nimble — Up to 20% off sitewide
Lamp Plus — Lighting Fixture sale up to 50% off
Wayfair — Up to 70% off
Terrain — 25% off all outdoor living, including furniture, fire pits, fireside accessories and door mats
The Company Store — 40% off specials — Up to 30% off everything else
Rifle Paper Company — Extra 30% off all sale items with code: EXTRA30
Urban Outfitters — Extra 40% off sale items
Janie & Jack — Extra 20% off sale styles; Free Shipping; Use code SPRING for extra 20% off your order!