We are putting in a pool. It's totally surreal and today, I'm going to spend a little bit of time with how we got "here", where we are in the process, the pool plan, and a few other details you may be wondering. This decision is one that has been weighed and considered for years and in early 2022, we decided we were going to go for it. So… here we are… building a pool.
*Posts on KelleyNan.com may contain affiliate links. Click HERE for full disclosure.
Why We're Building a Pool
I grew up with a pool. It was a modest sized, dish-shaped pool with vinyl liner and we loved it. We spent so many summers entertaining, having friends over… In the late eighties and early nineties, they weren't quite as common as I think they are today. My best memories were summers spent around our pool, getting together with family friends. It holds such a place in my memories, there aren't many other memories as visceral as the taste of that salsa that was a regular staple from the market down the street, or the radio playlist. Back then, it was a lot of manual effort to keep it clean, keep chemicals balanced, close it for the season… and those were just the details I was familiar with as a kid. I remember testing the water, brushing it, manually vacuuming it… it was a lot. And while pools today still require care, technology and options have come a long way.
The older Eliza's gotten, the more seriously we considered a pool. Our general thought was that when we ultimately built our potential forever home, we would build a pool. But until that day, we didn't want to put that much more money into our current house. And then 2020 happened. And real estate and property went nuts. And materials soared. And the price for just about everything seemed to grow and grow. We decided that we most likely would be staying put for a while — a long while — enjoy our increased home value, and recognize how fortunate we are to live in a great neighborhood in a home we've poured so much into. Dave still commutes to Atlanta for work and I love the idea of Eliza growing up in a neighborhood. We also decided that if we were going to stay put, we were going to start doing the projects we didn't think we would ever address in this home, just because it may not be our "forever" house. Early 2022 punctuated the reality that tomorrow isn't promised. At the same time, we started experiencing some drainage issue issues in the backyard and had a landscape design company out to evaluate. If we were going to fix the backyard and have to re-sod, we wanted to go ahead and look at some larger items to make our outdoor space more usable. With the quote and cost of adding drains (but also adding in backyard wish list projects like multiple retaining walls), it was a perfect storm that aligned with all we'd been thinking. It would be a waste to spend tens of thousands of dollars on landscaping — if we were going to build a pool, it was now or never. So… we nixed the lesser investment in landscape and decided to go all in with a pool now.
See the final result of our pool project HERE.
A Few Pool Cost Factors
Here's the thing. There is a huge cost difference in pools — not just with materials and features but based on the geographic location you're in. In states like Florida, where pools are more common than not, there are tons of pool companies to serve the demand and costs tend to be significantly lower. I'm sure a lot of other geographic considerations and variables are responsible for the difference in pricing, too. We live in north Georgia where we get hot summers, but we aren't in year-round pool weather. It's easy to find pool companies but there aren't a ton.
Also, when Covid hit, pool demand went through the roof. In combination with rising material costs, it's almost nauseating how much more the same pool would cost to be built in early 2020 vs. 2022 — just two years later. Pool companies have to stay staffed, account for rising building costs, and they've adjusted their pricing way up to due to demand. While it stings a little that we didn't commit earlier, I also recognize that unless something crazy happens, the cost of building a pool isn't going back down. Once companies are accustomed to receiving a rate that people are willing to pay, they aren't going to lower it again. Again, if we are gonna to do it, we're gonna do it now.
There are a few typical types of pool constructions — vinyl liner pools, fiberglass pools, and concrete pools. Each have their own benefits (and disadvantages) but we ultimately went with a concrete pool for customization, longevity, and durability.
One of the largest cost factors for us though wasn't even the pool itself. It was the landscaping and hardscaping that would 1. have to take place to make the pool a reality, and, 2. we'd want to go ahead and invest in if we could so we wouldn't have to later. There are plenty of ongoing landscape improvements we'd like to make over the next few years as a "journey", but there is so much demolition, mess, and disruption, that some of the larger projects are more worth it to take care of now. I'll get to the specifics further down.
There are so many cost factors but these were probably the four biggest for us.
How We Chose Our Pool Company
Early last year, I started researching local companies and getting referrals from neighbors and community groups. I started with about five. Waiting lists can be long and requirements to have someone even come out to take a look at your property differ from company to company. The company we ultimately chose was able to set a consult in the first two months and was receptive to my vision and their ability to make it happen. The owner was knowledgeable and while the cost structure is high, they all are and each component seemed reasonable. One of the biggest reasons for choosing to go with them though was that they don't subcontract any work. Each job is performed by crews that work for the pool company. This is huge for me because I've had awful experiences with contractors where I end up being the contractor and point person, sub contractors do things out of order, blame subpar work on other subcontractors, etc. I loved the idea that one company would be responsible for everything and be in charge of their own communication. I know next to nothing about pools so I really wanted to trust this part. I will share the name of the pool company we are using if we ultimately have a positive experience 😉
What's the Timeline for Building the Pool?
Well… now! I went back and forth with design revisions for a few months, permitting was done, HOA approval was granted, and I asked the pool company the latest I could get started while honoring the rates they provided in the estimate. With finalizing other house projects and the holidays, I was incredibly overwhelmed and was hoping to stall just a little bit. They said "December 27" and continued to prepare behind the scenes. On December 27, we broke ground. Even though that was just a couple weeks ago and they even took off for New Year's, there has been a full crew here every day and they're actually pouring the concrete as I type! We should have a finished project by March!
What Will Our Pool Be Like?
The basic details are…
18'x38′ concrete rectangular shaped pool
heated
salt water
6′ tanning ledge with steps all the way across
7′ deep end
bench all the way across the deep end
five scupper water features
two retaining walls with one retaining wall serving as the wall of the far side of the pool
What Our Backyard Looked Like Before…
Real smart move, we had all this time and I realized I never actually took a proper "before" photo of our yard. I went through old videos and grabbed a couple of screenshots to give an idea. Our current backyard had a more shallow grassy area and then sloped into a bank with pine-straw — it's way steeper than it appears to be below. We've always had pine-straw added and refreshed back here at least once per year. Then, our property has kind of a second level where it's relatively flat, with more of an overgrown forest that we've never thinned out. Our entire backyard is fenced in, further than we can see through the trees.This is looking more at the side of the back yard.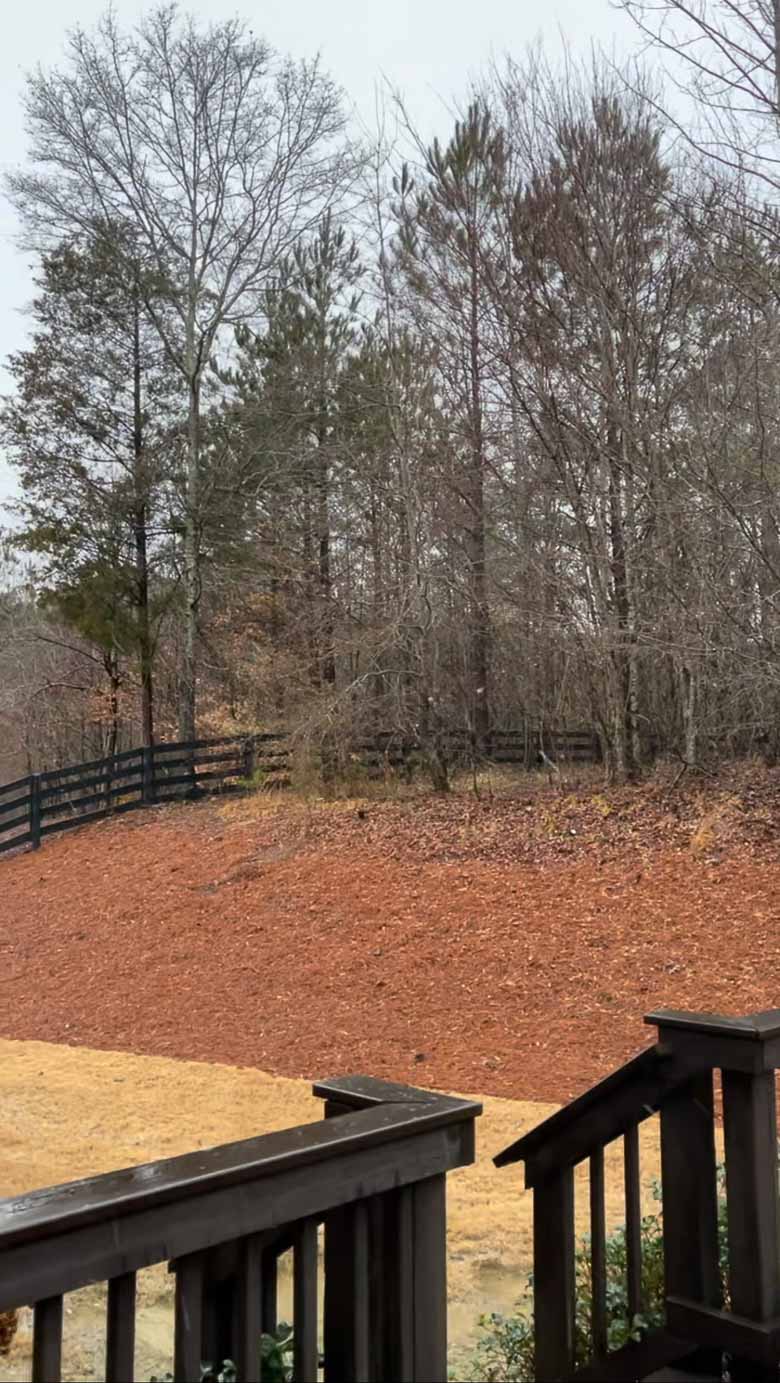 And here's the same view, with Eliza in her inflatable splash pad last summer — this is our side fence.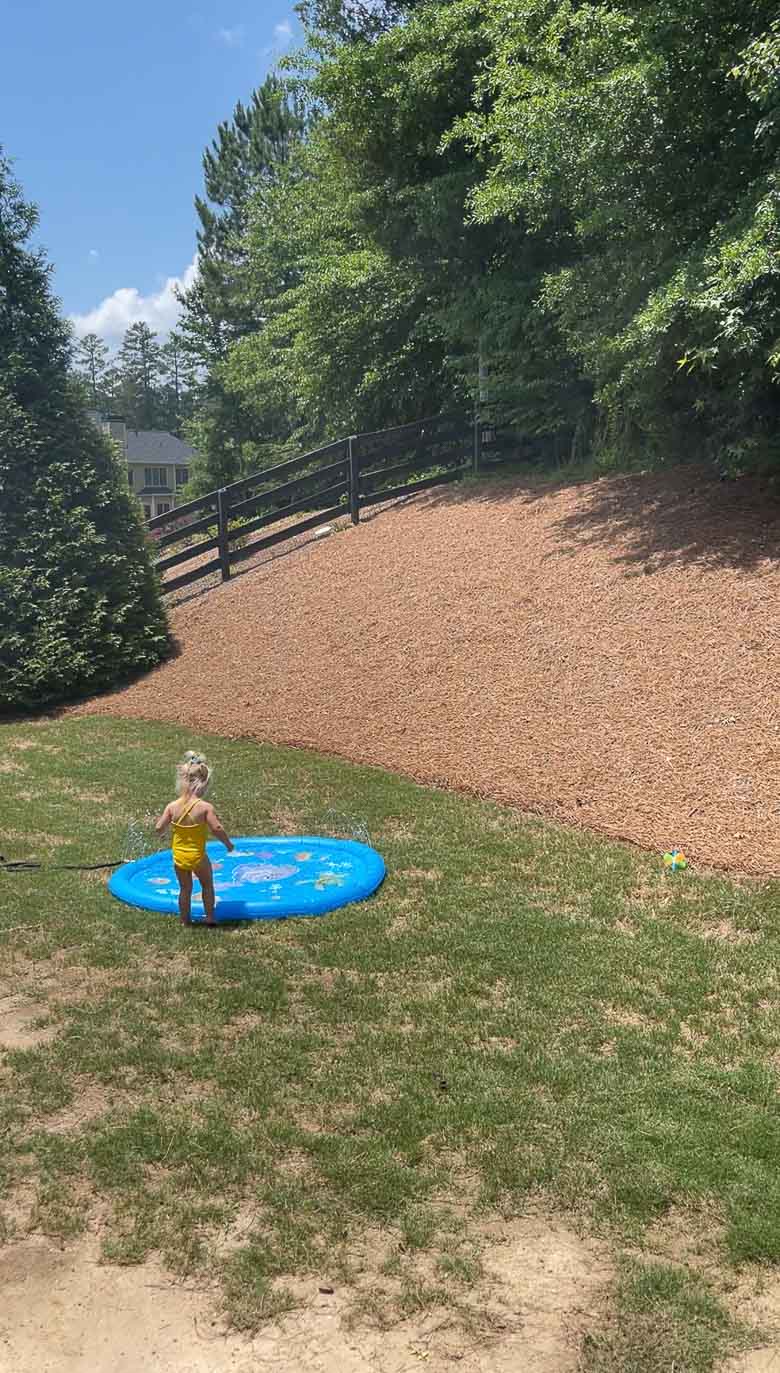 There were lots of dead areas from our Penny girl who passed away in 2020.
Just as the pool guys were showing up on the first day, I snapped a quick shot out the window of our backyard. You can't see it all but this may be the best visual.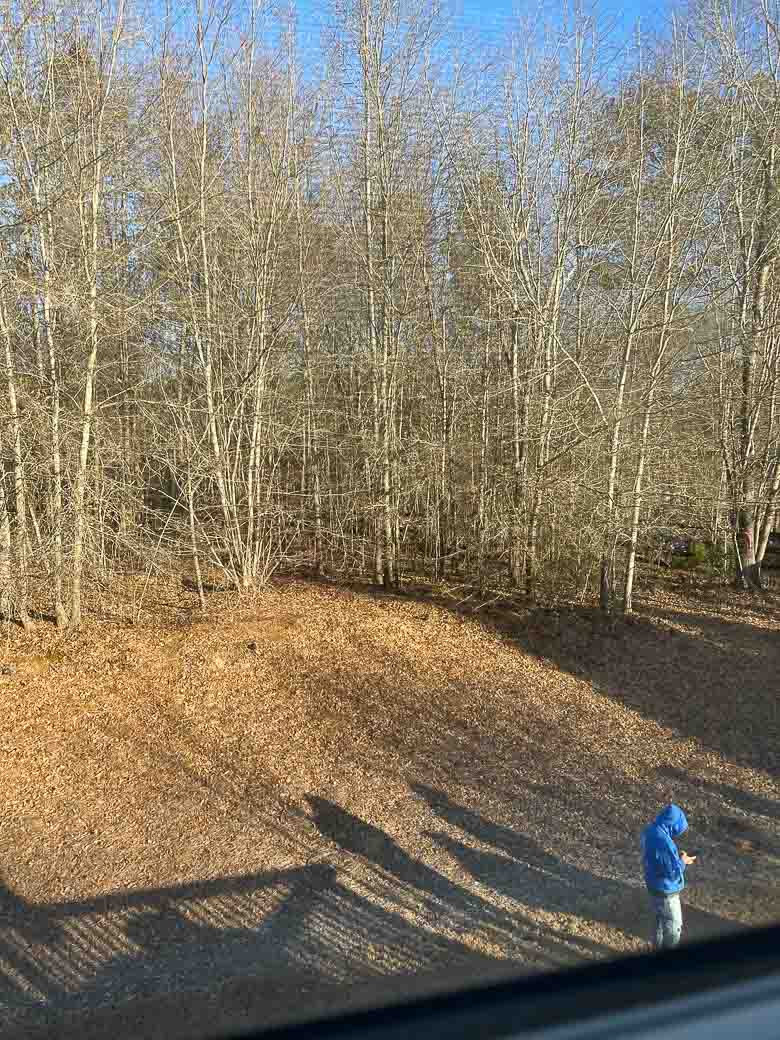 In addition to the pool, the biggest improvements will be that we are having two retaining walls put in (the bank essentially to be dug out), and the bulk of overgrowth and trees cleared in the upper (back) part of the property. Dave went through and marked trees to keep and we'll be putting grass in to make it more usable yard space. Privacy is huge for us and while we have evergreen arborvitaes lining the first half of our yard on the sides, we're having another one added. Depending on what it looks like when the back part of the property is cleared, we may be adding them to the back fence, too, but that will likely be later.
Pool Plan
This is probably why most of you are here — the pool plan and the visuals, haha. I'm going to share the renderings we received and while the plan is pretty dang close, there's a few things to keep in mind. 1. The colors aren't accurate — they're standard with the program they used. 2. The renderings show fire bowls that should be omitted. 3. The deep end will have a bench all the way across — the visuals only show a short bench. As we work our way through the process, we may alter landscape/hardscape plans slightly.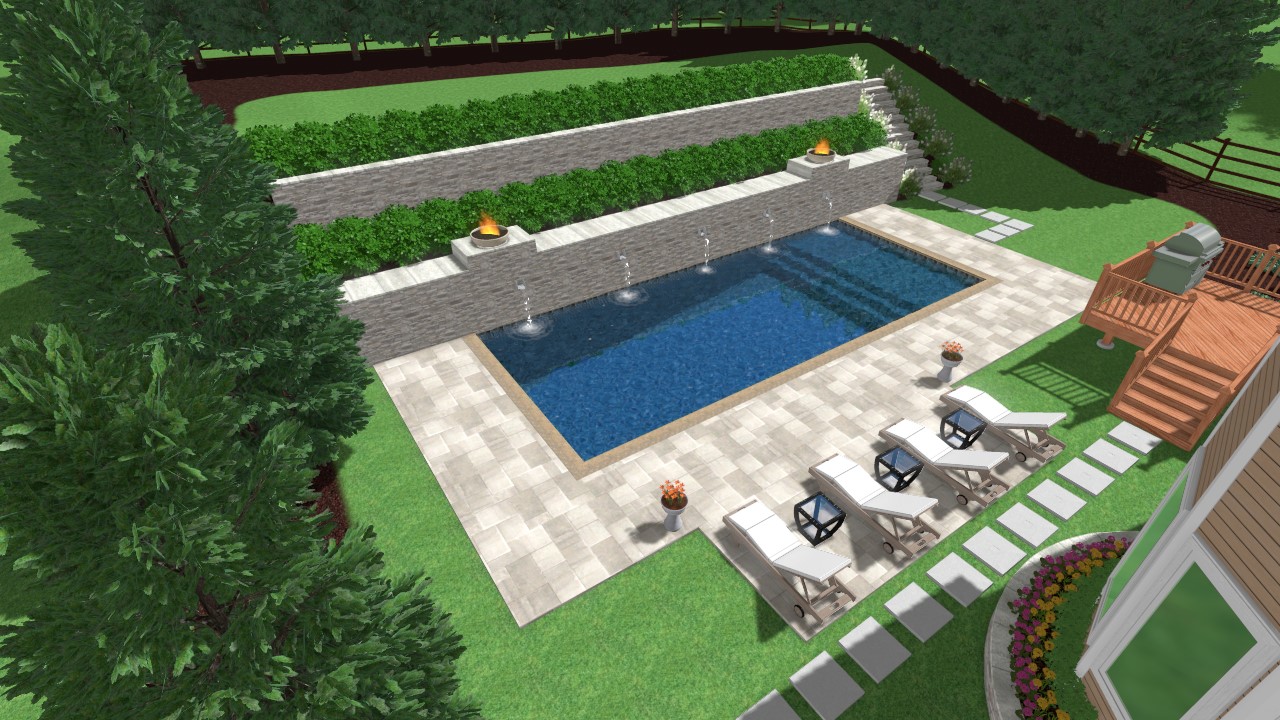 It was important to me to keep a lot of green and I want more of a garden vibe than a tropical vibe. We'll be planting evergreen shrubs between the retaining walls and because we already have a deck and covered deck, we're not doing a TON of pavers for pool decking.
For the five water features coming off the lower retaining wall, I'm considering scuppers something like THIS style and THIS style.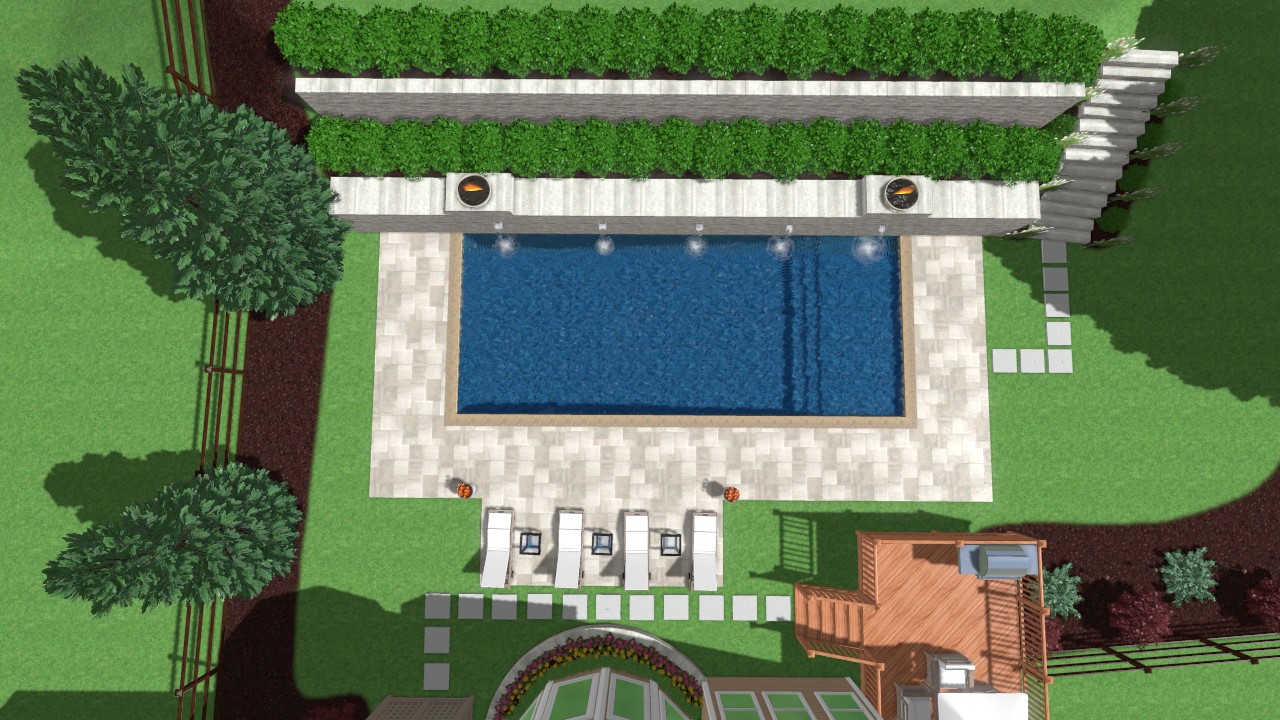 I also wanted a bump-out to accommodate a lounge area with umbrellas. Speaking of which — I'd love to hear if any of you have THESE outdoor lounge chairs. I love that they aren't wooden, stack, and seem pretty weather resistant. We'll also have bubblers and ledge loungers on the sun shelf/tanning ledge.
I need to do some serious research (umbrellas are expensive!!) but I like the idea of THESE striped umbrellas (hefty price tag but on MAJOR sale), but love the idea of THESE black and white umbrellas! I will probably be trying to create some semblance of a budget once I see how "all in" we are on the pool once we near the finish line to see how much we can justify spending right now. I'd love to go for my dream furnishings, but we'll just have to see if the resources are there to support it 😉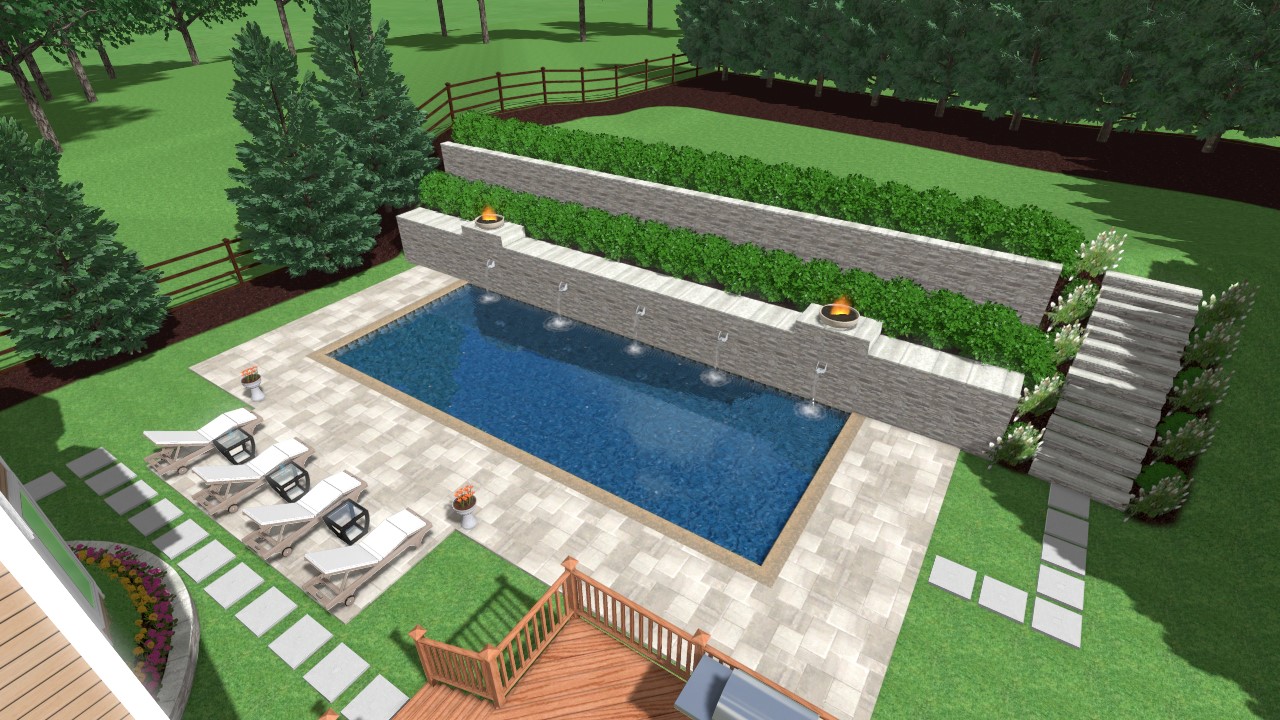 The plan is to have stone steps to the next level of the yard but depending on the severity of the slope, that may change if it's more gradual. We are also planning to use turf on the lower yard for easier maintenance and mess — I've also read that with the grid stepping stones, it's tough to keep those looking nice with real grass.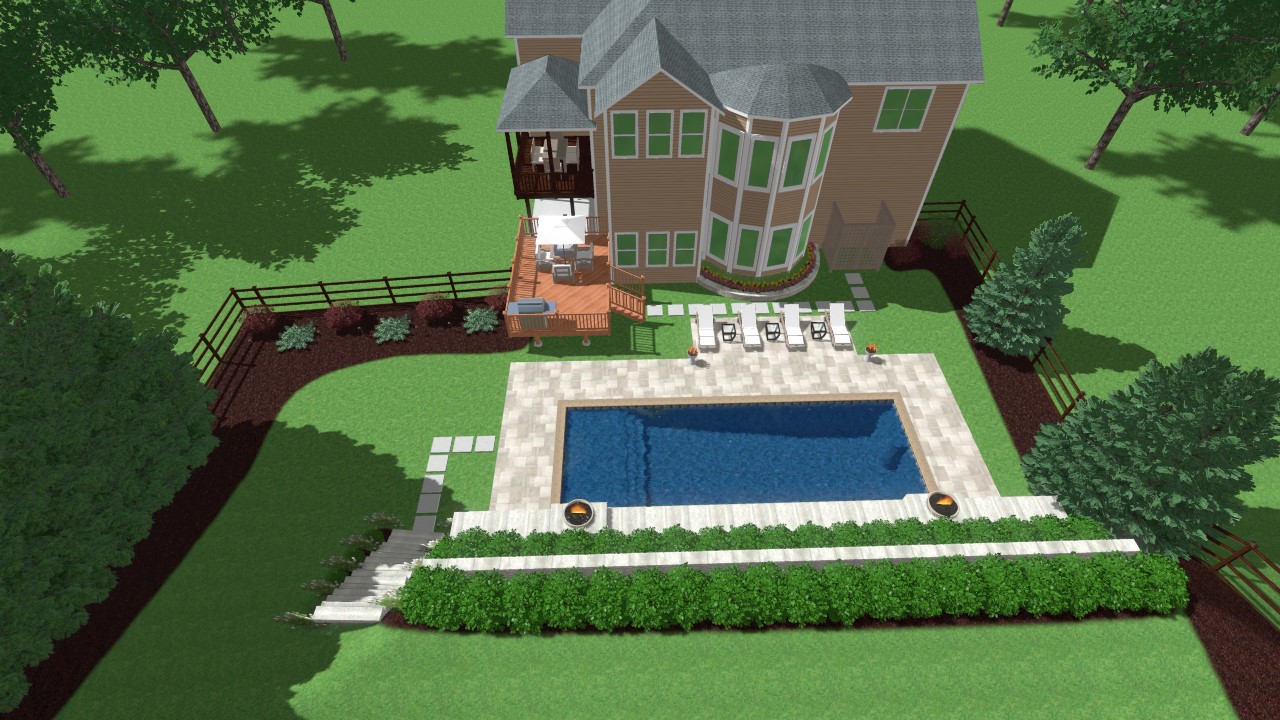 We aren't doing a pool house or anything but to disguise the equipment, we're planning to build a privacy stall.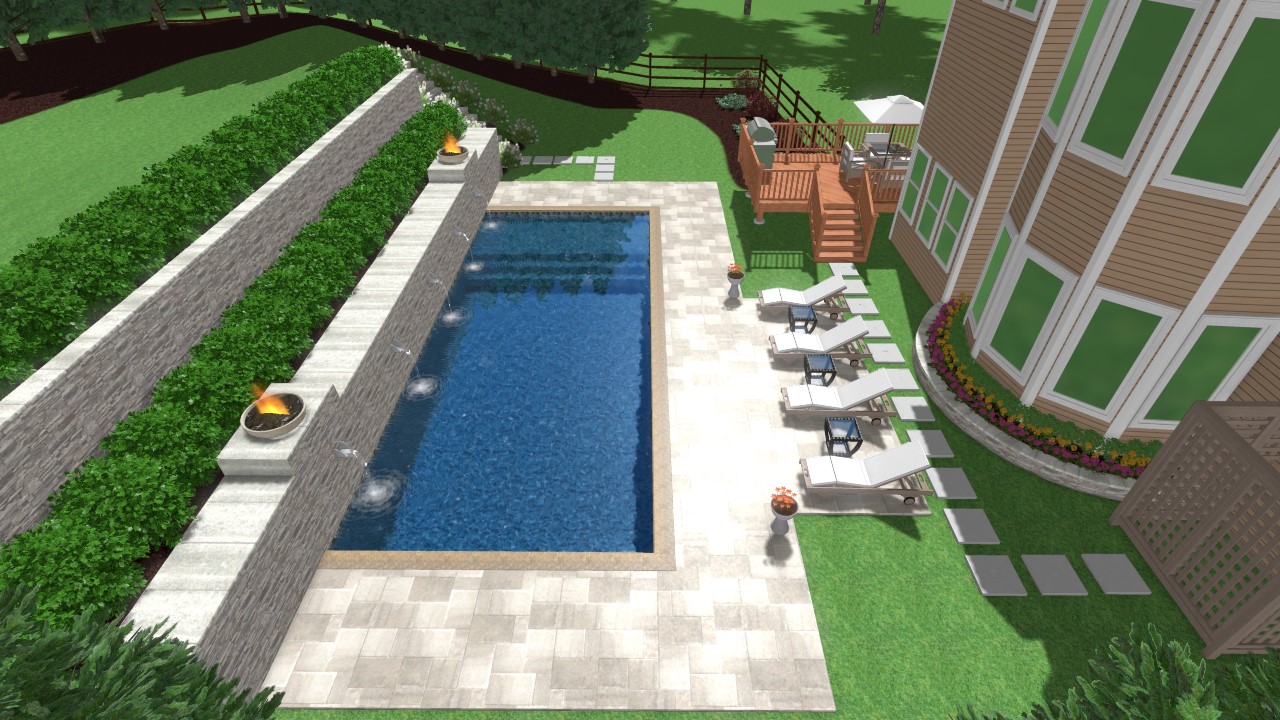 We'll be integrating some landscape lighting, which will likely come after the pool is complete, along with phase two of the landscaping.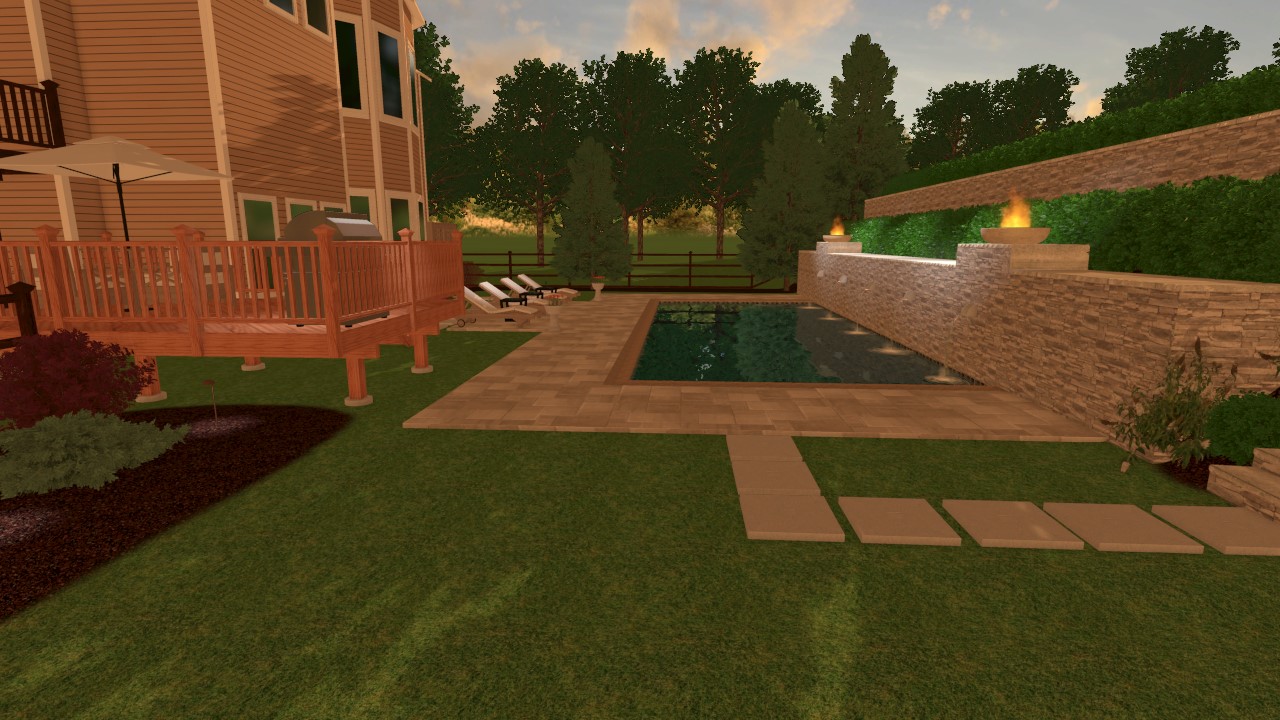 I'm not a professional and outdoors aren't my strong suit but the entire backyard vision was my own. The renderings were developed based off what I have in mind, with the company confirming the ideas were possible, and the company's graphic designer making it a reality with the visual. (The biggest feature I was uncompromising on was having retaining walls as the focal point). But, when it comes to measurements, how much, how far, practicality, etc. — I didn't have a clue. That was all them.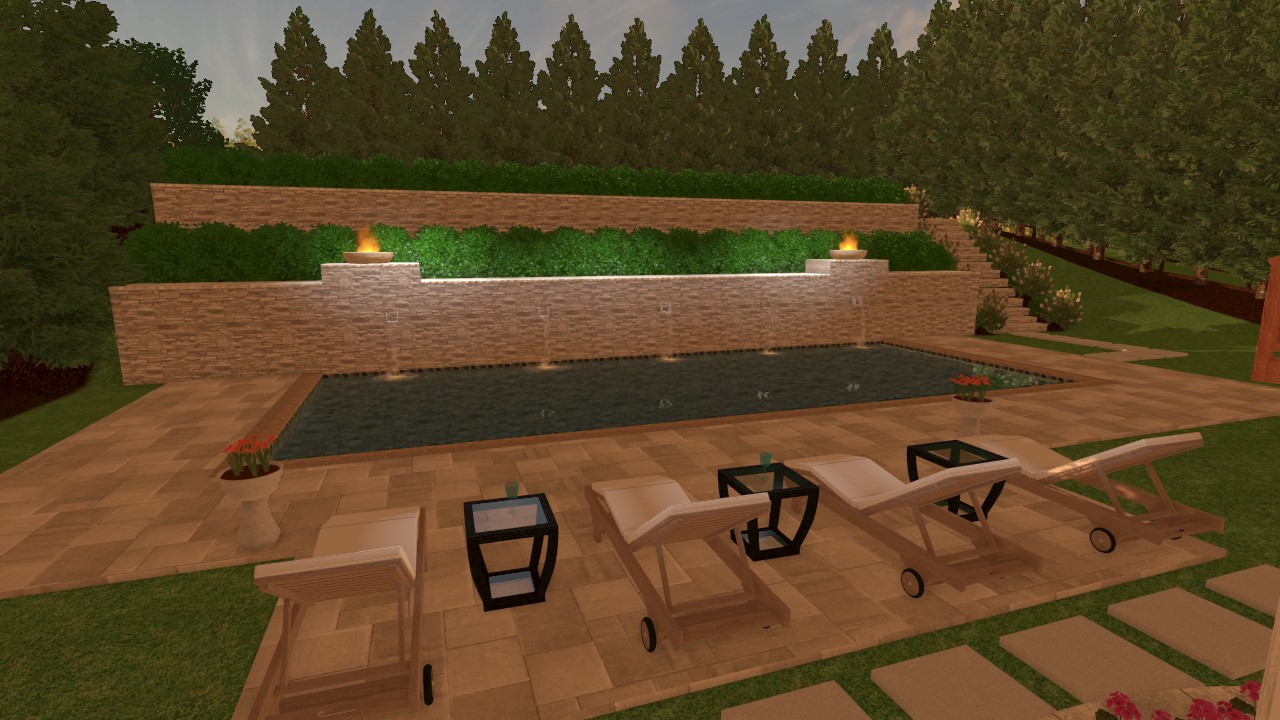 We have a side/back wooden deck that is partially covered and partially opened that I would have loved to have integrated into the overall design but that isn't in the budget. I don't even know how much altering it would be but it doesn't matter. Whatever it is is out of the budget haha.
It's scary and it's a major investment but we are so so excited. Eliza loves to swim and loves the water — she started ISR swim lessons before she was 2, took a refresher course last year, and we'll be continuing lessons this year. Of course, safety is top priority and we'll be taking precautions.
Material Selections
This part is hard. Without reaching analysis paralysis, we went and chose finishes, using our best judgement, and are calling it "good". Apparently, there are lots of factors when determining materials but also colors. The pool water looks totally different in different depths, lighting, times of day, based on its surroundings, etc. We ultimately decided on the mini pebble StoneScapes finish in French Gray. It's crazy that all these slightly varied pebble finishes change the appearance of a pools water — from blue to green hues and vibrancy. While I like a lot of the French Gray water pictures, I saw the pool appearances — all in French Gray — look all over the place in terms of color in different pools. I originally wanted a deeper teal color and one of the main factors that changed my mind on a color I was leaning towards was how much I hated the color at the depth of the tanning ledge.
We're going with a soft gray porcelain paver for the pool decking, and the same material for the eased edge (straight) coping. Our retaining walls will be faced with silver split face travertine. I almost opted for a different split-face but couldn't justify the price difference. The waterline tile will be a black glass that has a shimmer — almost a deep blue in the sunlight. Here it all is, laying outside on an overcast day.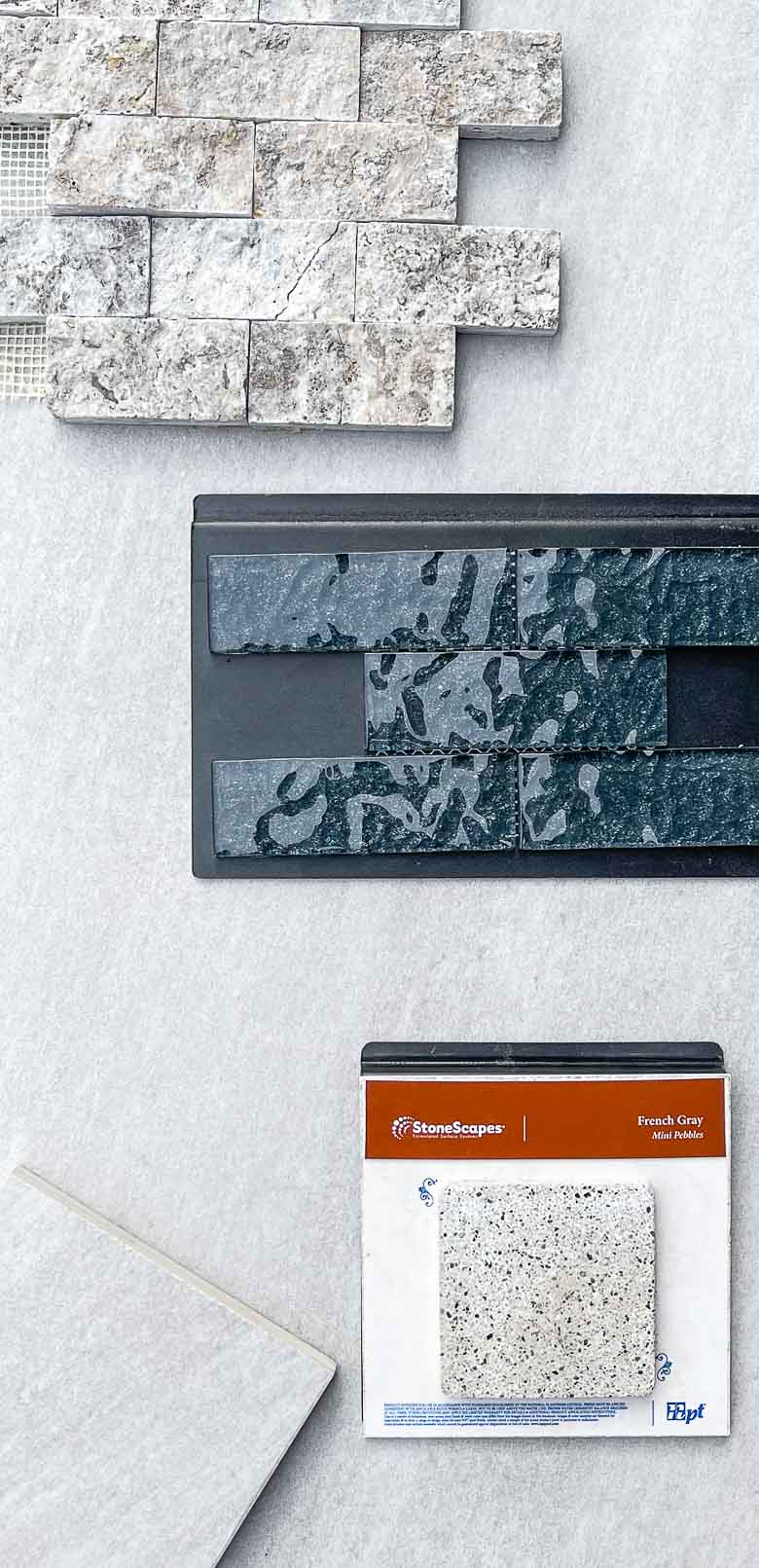 I've seen other people stew over every detail, every bit of research, and every choice along the way, but I just didn't want to get so in my head that I was second guessing.
Progress
I've been taking daily pictures but each day, the previous days photos seem outdated because of the speed at which they're working. I snapped these late last week — the first is through my upstairs window…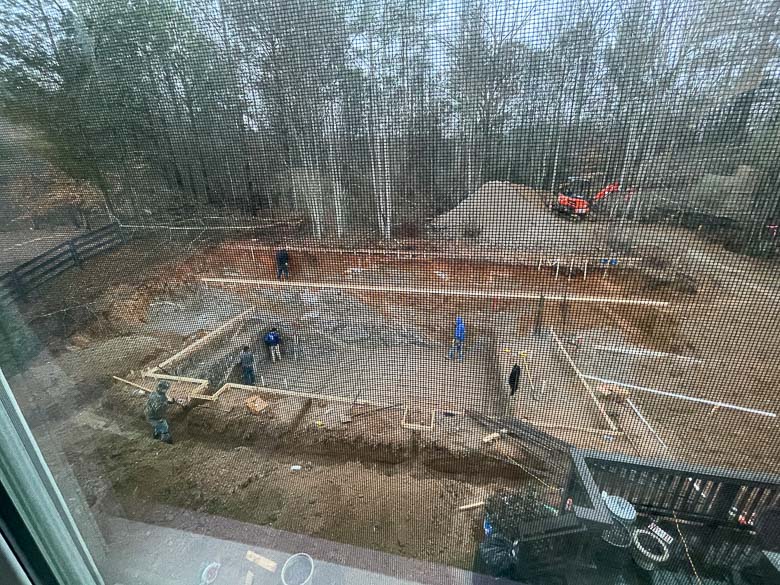 And here's from our lower deck.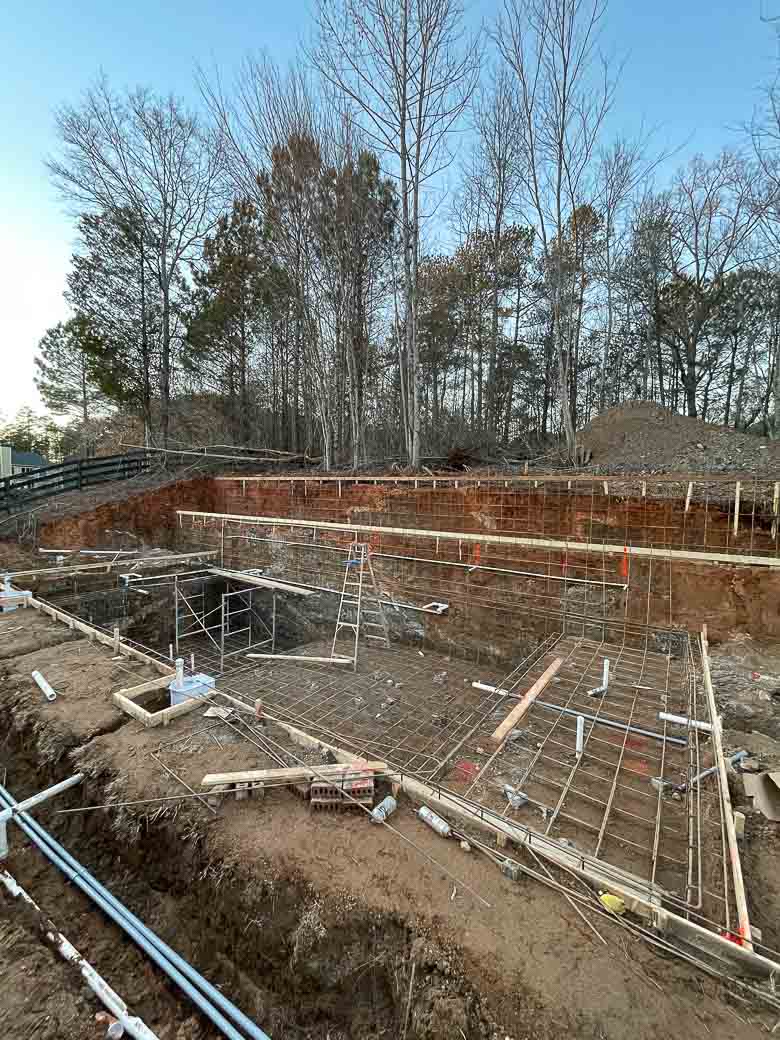 But like I said, they're here right now with plumbing complete, inspections happening, and concrete being poured so it already doesn't look like this.
Update though — I ran back here in the evening to post where we are now since the concrete has been freshly poured!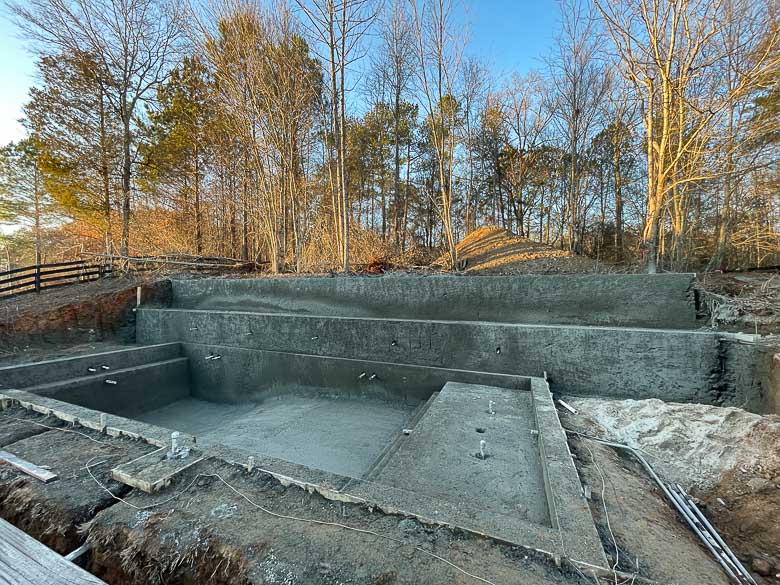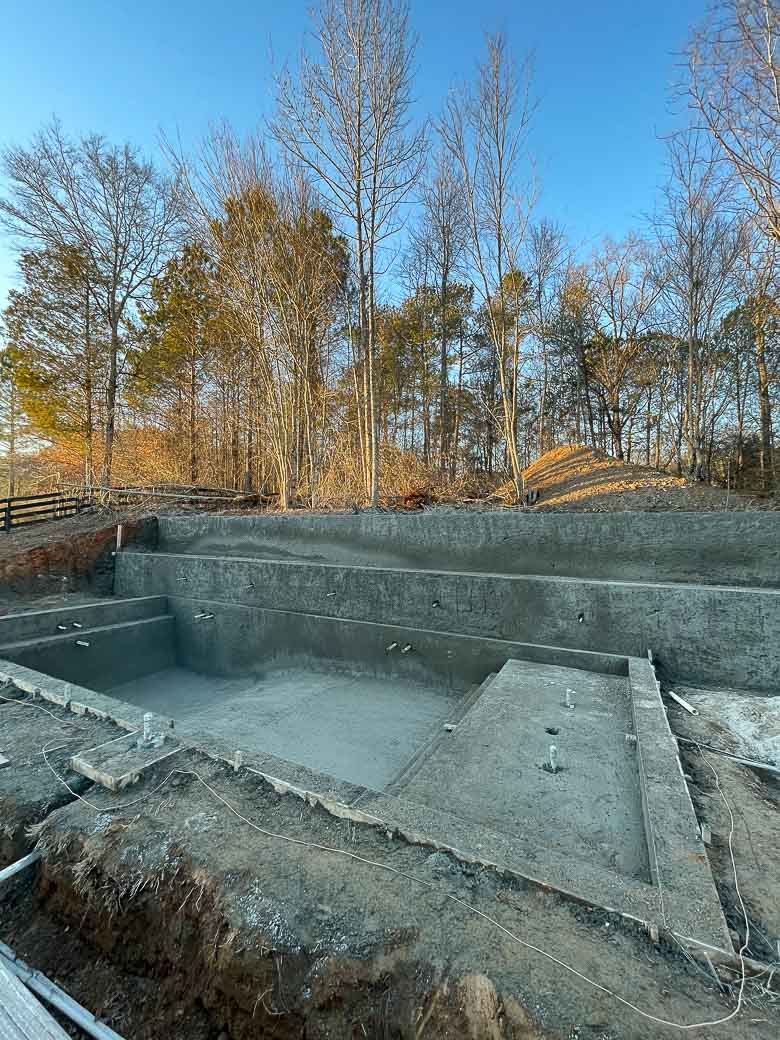 Something I wasn't anticipating was the mess. I mean — I know there is going to be a big mess, but our side yard (outside the fence, next to the driveway) is destroyed. I was really naive there. The dogs are adjusting — they were used to running out the back door no less than 9847579 times each day and now, they have to wait for walks. But, they're acclimating 😉
I can't wait to reach the finish line and I can't wait to see the end product. I especially can't wait to share it — I'm sure, with a lot of learned lessons 😉 Maybe I'll know a lot by then, chances are… I won't haha.
So, this pool — this is where our major project focus is for the year. If you have questions, chances are, we've considered them. Spa vs. no spa (we ultimately decided no spa), pool shape, etc. And, there's plenty that will keep us busy, making this space as close to our dream as we can. As I said, once we get the bulk of it completed, we'll have to work on it in phases as resources allow. Any pool decisions you've made and you're so glad you did? I'd love to hear from you!
See the final result of our pool project HERE.