We haven't had a Snack Around the Plate since summer, so I thought we were past due! As always, below, you'll find all the randomness — if you want to get randomness on a weekly basis (with more personal notes than what you'll find on KN), you can drop your email HERE to get on that list! Now, let's get to it!
What is a "Snack Around the Plate"? Growing up, this was the phrase my mom called meals she would assemble with random favorites when scouring the pantry and fridge. And, while each item didn't totally go together, assembled as one collective, I loved them! Basically, "Snack Around the Plate" posts are just a smorgasbord of randomness — "a little of this and a little of that" from all things lifestyle. It's a mish-mosh highlight reel from a favorite recipes to favorite finds.
*Posts on KelleyNan.com may contain affiliate links. Click HERE for full disclosure.
1. J. Crew Clearance Sale
The prices on these items are truly nuts. I wasn't even planning to post yet but when I saw these deals, I had to expedite the entire post, just in case items sell out or their sale changes. Right now, they're offering and EXTRA 50% off one, 60% off two, or 70% off included sale items (HERE). Like, $3.60 for totes and $250 coats for $50 kind of deals. Nuts. I've included some of my faves below, with summer items that follow — be sure to make note of the original vs. sale prices below each graphic!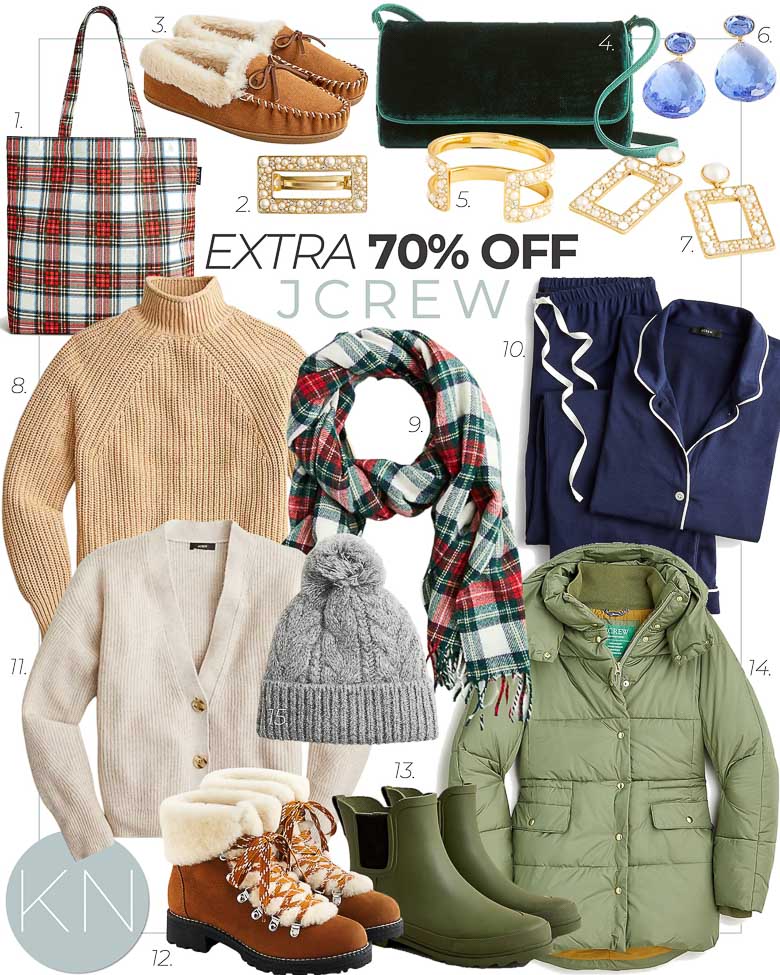 1. Tartan Tote | was $19.50; now $3.60
2. Hair Clip | was $29.50; now $7.20
3. Slippers | was $79.50; now $34.50
4. Convertible Velvet Clutch | was $118; now $15.60
5. Cuff Bracelet | was $68; now $16.20
6. Faceted Teardrop Earrings | was $69.50; now $16.80
7. Pearl & Crystal Earrings | was $58; now $13.80
8. Relaxed Roll Neck Sweater | was $98; now $69.50
9. Tartan Scarf | was $69.50; now $16.80
10. Pajama Set | was $98; now $59.50
11. Ribbed Cardigan | was $128; now $30
12. Nordic Boots | was $228; now $60
13. Short Lug Sole Rain Boots | was $85; now $21
14. Puffer Coat | was $248; now $59.40
15. Cable Knit Pom Pom Hat | was $59.50; now $14.40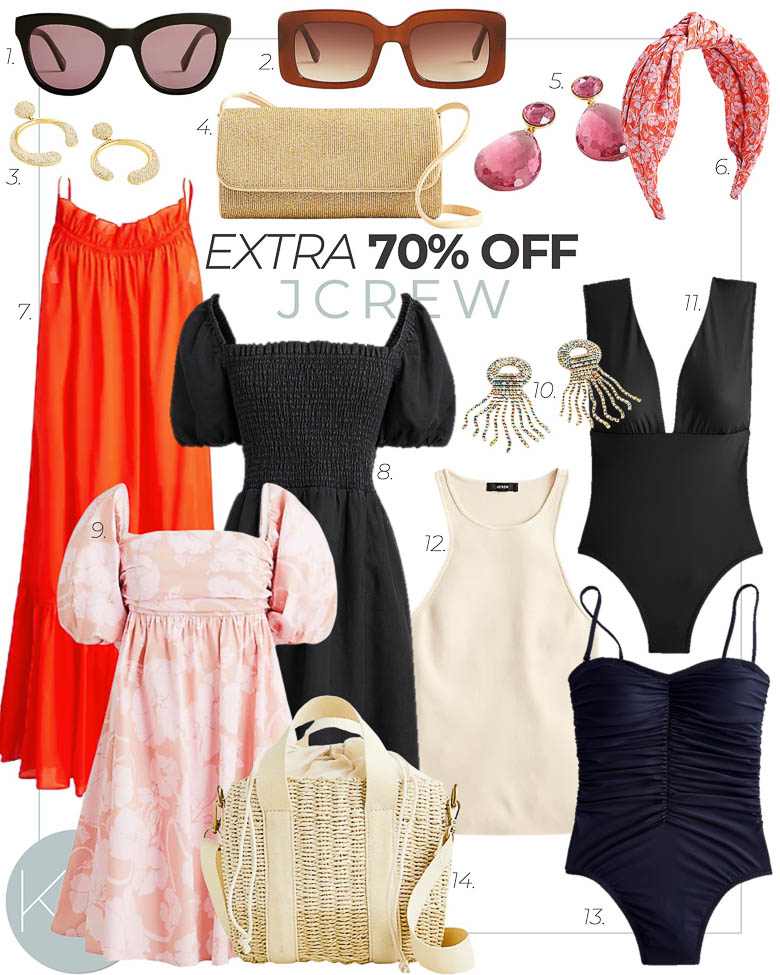 1. Cabana Oversized Sunglasses | was $79.50; now $34.50
2. Oversized Rectangular Sunglasses | was $69.50; now $16.80
3. Pave Crystal Earrings | was $58; now $13.80
4. Beaded Convertible Clutch | was $138; now $64.50
5. Faceted Teardrop Earrings | was $69.50; now $16.80
6. Headband | was $29.50; now $7.20
7. Cotton Ruffle Beach Dress | was $89.50; now $14.40
8. Puff Sleeve Smocked Linen Dress | was $128; now $24
9. Puff Sleeve Mini Dress | was $228; now $54.60
10. Crystal Fringe Earrings | was $68; now $9.30
11. V-Neck Swimsuit | was $98; now $13.20
12. Racer Tank | was $79.50; now $18
13. Ruched Sweetheart Neck Swimsuit | was $118; now $12.90
14. Montauk Straw Tote Bag | was $118; now $26.40
2. Non-Material Christmas Gifts
If you feel like you're shopped out, think things are starting to feel impersonal, or are trying to come up with something for the person who seemingly has everything, here are a few non-material Christmas gift ideas!
House Cleaning Service
Gutter Cleaning
Tune Up (HVAC, Fireplace, Dryer Vent, Vehicle)
Car Wash/Detail
Tickets (Concert, Play, Musical, Winery/Brewery Tastings, Museum, Zoo, Aquarium, etc.)
Staycation (one night at a local hotel)
Class/lessons (fitness, cooking, bartending, art, music, etc.)
Physical Membership (gym, garden, national park, etc.)
Date night (gift cards to cover dinner, movie, drinks, etc.)
3. DIY Gift Wrap Bow Hack
When my mom and I had a wrapping day earlier in the season, she started trying to get creative with a way to use up those inevitable wrapping paper scraps. Ultimately, she came up with a way to create the most darling, easy curly bows and I love the result! It's also a great way to mix and match and tie gifts together, thematically.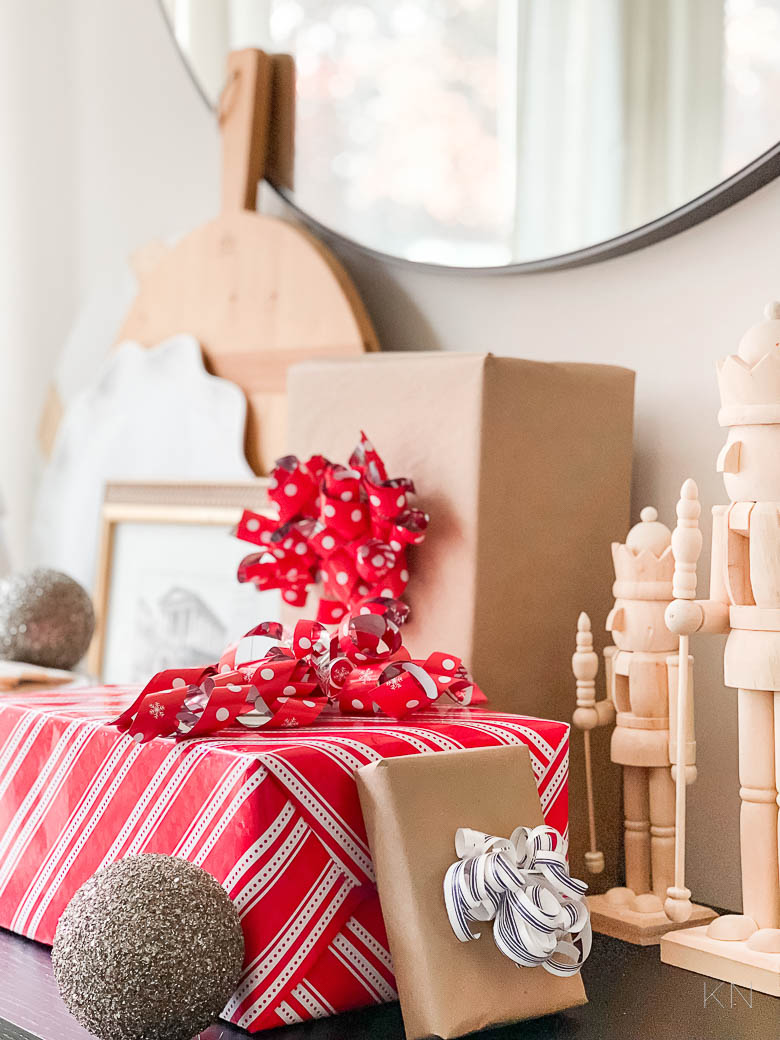 If you haven't seen it yet, you can check out the step by step tutorial here…
View this post on Instagram
4. Amazon Delivery "Thank You"
Well that went quickly. This past week, Amazon announced that when you receive an Amazon package, you can tell your Echo "…thank my driver" and Amazon would give them a $5 tip at no additional cost to the customer. This promotion was set to end after 1 million "thank you's" and it reached that point within the first 48 hours. However, with that kind of response, I wouldn't be surprised if they do this kind of employee program again. And, they indicated that you can still say "Alexa, thank my driver" and they will continue to share customer gratitude. So, I plan to continue that habit as much/often as I can. It costs customer nothing but could make a difference to those drivers.

(screenshot via Amazon)
5. Date Night Idea
I shared these in (maybe more than one?!) of my collections of gift ideas but I actually ordered the Table Topics Couples version for Dave and me. I can't wait to plan a no-tech-allowed evening, fixing a drink, turning on some music, and sitting down to see where some of these topics go. Several of the themes are out of stock, but as of publishing, the couples version is still available HERE. Here's a preview of some of the cards…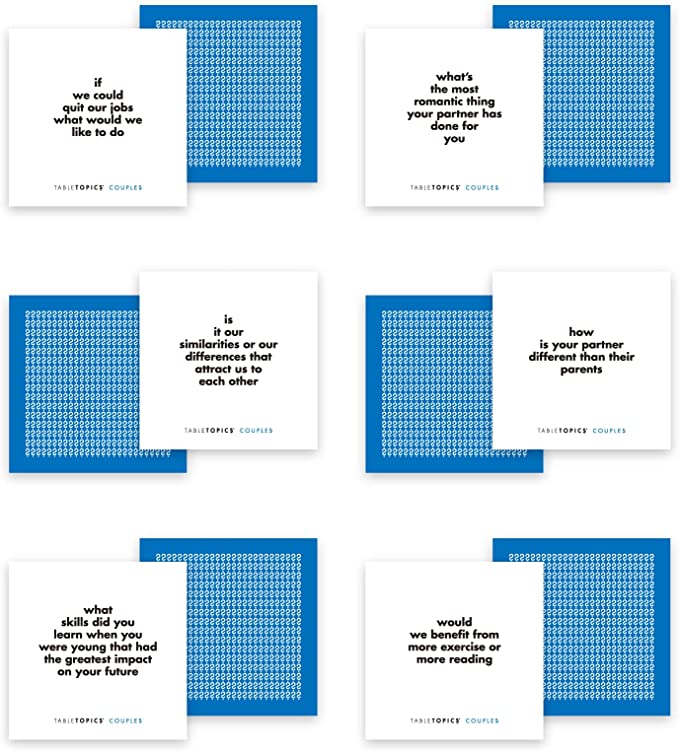 if you have a hard time sitting down with uninterrupted time, or want to use them in other ways, you can also…
take them along in the car for some different convos
use them as dinner conversation topics
commit to reading/discussing one card each evening, or, one per week
We just got ours and I can't wait to get started!
If you like the occasional SAPs and you aren't already a subscriber, I changed my newsletter format a few months ago and send one out each week — I share what we've been up to, reader faves, tips, and so much randomness. You can subscribe to those emails to get all kinds of exclusive things you won't find on KN by signing up for emails at the bottom of the post.
I hope you are all having a great holiday season — I'll be back with just a couple more things before 2022 wraps up 😉