If you are looking for the perfect side dish for your holiday or Sunday dinner, this creamed onion recipe is for you. I was first introduced to creamed onions by my grandmother, Bebe, as it was always served as an annual staple at Thanksgiving. Thanksgiving was always my family's favorite holiday and part of its tradition was serving the same meal menu every year at my grandparents' home. Even though they lived in the south, some of the dishes were more northern states' based, as my grandfather was born and raised in Illinois. So, some of the dishes that have become a staple of our Thanksgiving menu, like green bean casserole, sweet potato souffle and cornbread dressing, never made an appearance on my grandparents' Thanksgiving table, but have become some of my family's favorites through the years.
*Posts on KelleyNan.com may contain affiliate links. Click HERE for full disclosure.
Even though I've never adopted one of my grandfather's favorites, mashed rutabagas, we've continued their tradition of serving creamed onions as one of my favorite side dishes. This recipe has a cream sauce base, and the pearl onions provide the perfect "tang" to complement some of the heavier side dishes you may serve at Thanksgiving, Christmas or for other hearty, special family dinners. We missed out last year as the jarred pearl onions were nowhere to be found, even though we started our search early. Evidently, there was a glass jar shortage, so we substituted this spinach casserole instead. We weren't going to miss out this year and snagged the jarred onions early!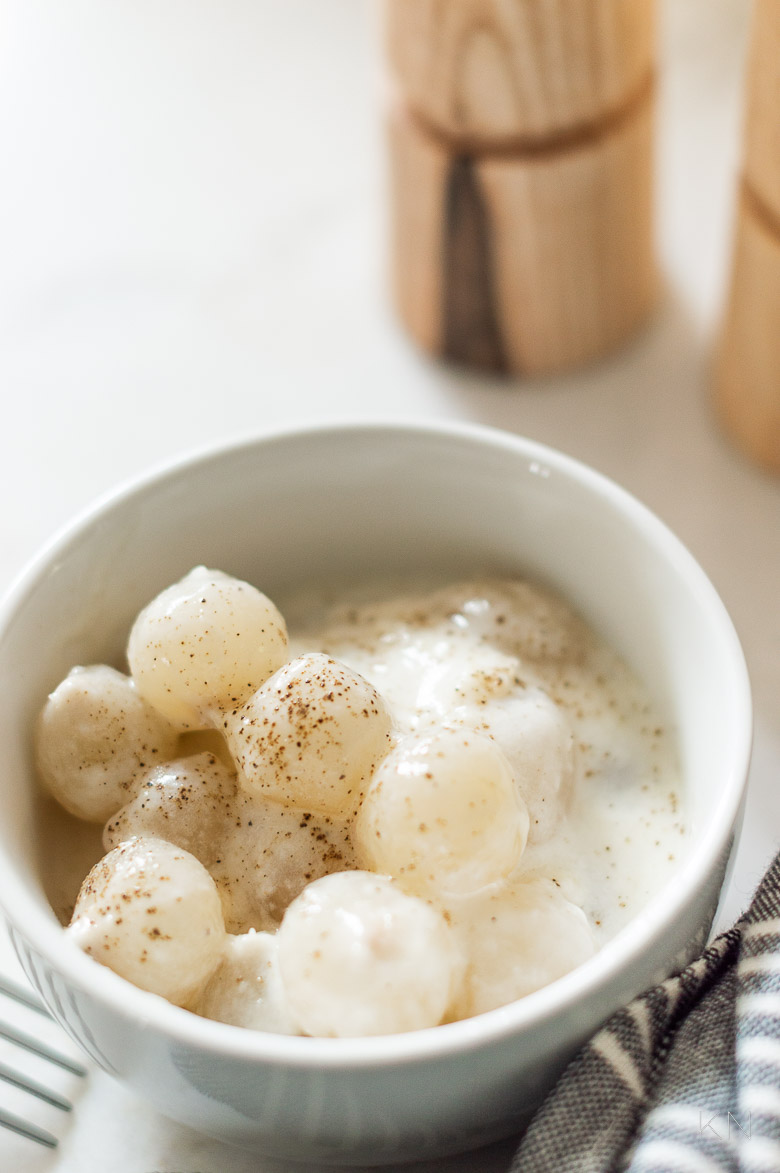 What ingredients are in Creamed Onions?
Aside from the onions, the ingredients are basic and you'll likely already have them on hand. The ingredients include…
Butter
All purpose flour
Milk
Jarred pearl onions (Aunt Nellies whole holland-style)
Salt
Pepper
What kitchen tools are needed to make Creamed Onions?
How to Make Creamed Onions
Creamed Onions
The cream sauce makes this side dish recipe extra special. Te tang of the onions pairs well with heavier sides and any type of protein.
Ingredients
Cream Sauce
3

Tbsp

Butter

3

Tbsp

Flour

All Purpose

2

Cups

Milk

I use 2%

Salt

To Taste

Pepper

To Taste
Instructions
Cream Sauce
Melt butter in medium size sauce pan on medium heat.

Add flour to melted butter and stir to make a roux.

Once the roux has been developed, slowly add in one cup of milk and stir constantly.

When the mixture has thickened, slowly add in the second cup of milk and continue to stir.

Sprinkle in salt and pepper to taste.

Drain liquid from jarred onions.

Once the cream sauce has thickened to the consistency needed, add the drained onions to the cream sauce.
Recipe Notes
When serving creamed onions as part of a menu with numerous items, I prepare the dish several hours before mealtime, remove from the heat and then reheat prior to serving.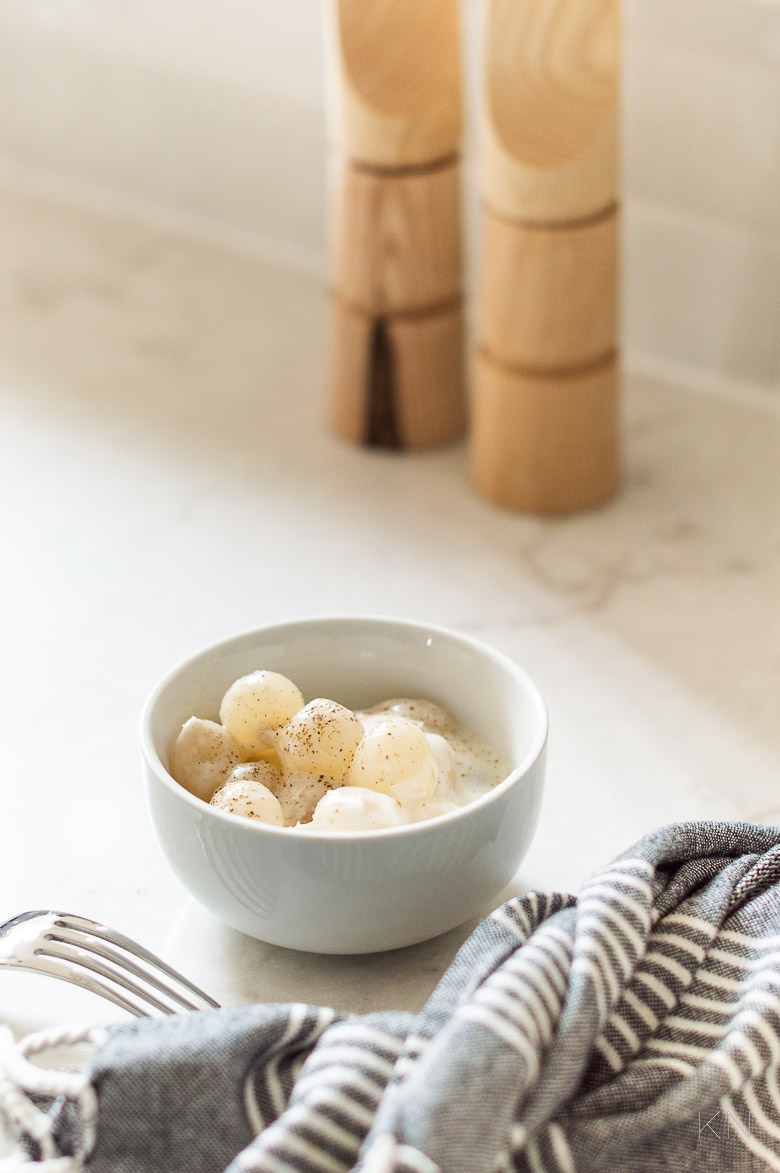 What goes well with Creamed Onions?
This recipe is the perfect complement to our Thanksgiving Day dinner, which typically includes turkey, dressing, mashed potatoes, green bean casserole and sweet potato souffle. This creamed onion side dish also pairs well with:
Roast Beef
Roast Chicken
Grilled Chicken
Pork Chops
Ham
Baked Fish
Grilled Fish
All Veggie Meal
Can Creamed Onions be varied to serve to more or fewer people?
Because of the precise measurements of the cream sauce components, this creamed onion recipe can easily be increased or decreased depending on the number of servings you need. If you are using two jars of onions, decrease the cream sauce components by one third. If you are using four jars of onions, increase the cream sauce components by one third.
As a note, the leftovers are great! And, my Thanksgiving leftovers mashed potato bowls aren't complete without them 😉
Serving tip for Creamed Onions…
I like to provide small bowls (like these or these) or ramekins (like these) to my guests, since some folks don't like the cream sauce to blend in with other items on their plates. This is just another way this creamed onion recipe is special and unique, since smaller dishes make a meal a little more fancy.
Other posts you may be interested in…
Save for Now | Pin for Later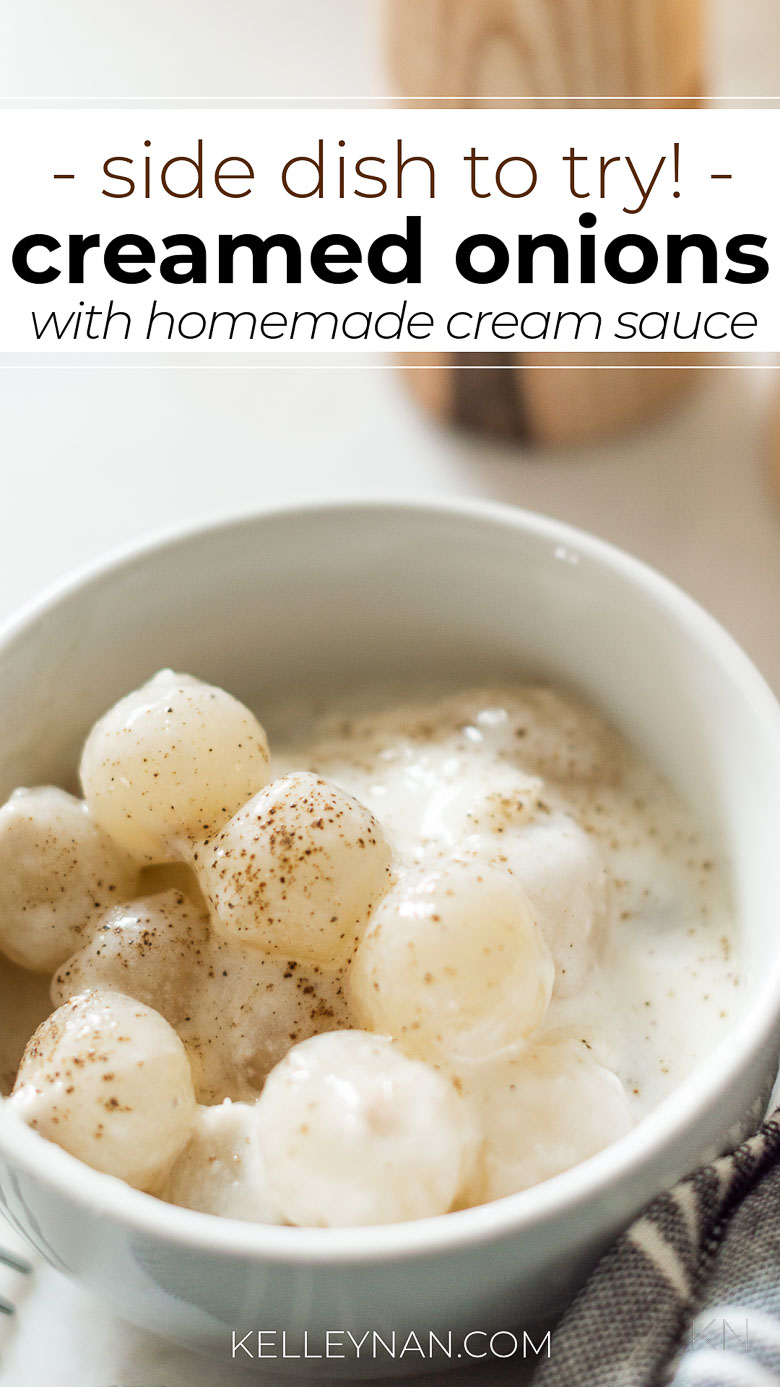 Shop Kitchen & Cooking Favorites