It's been over a year since I made over my home office and most of the questions I receive on the room are centered around my desk – where I got it, do I still like it… The truth is, my desk isn't actually a desk; it's a dining room table. Would I do it again? In a heartbeat. When I was looking for desks, I wanted something big – something that I could "create" and "task" on, spread out on, and have more surface area than that of a simple computer/writer's desk. Most executive desks I liked came with a high price tag and few still seemed to have all the room I really wanted. If you have yet to find a "desk", switching focus to a dining table may just be what you need. Today, from traditional to modern, from budget to investment, I'm rounding up dining tables that can double as desks.
*Posts on KelleyNan.com may contain affiliate links. Click HERE for full disclosure.*
DINING TABLES AS DESKS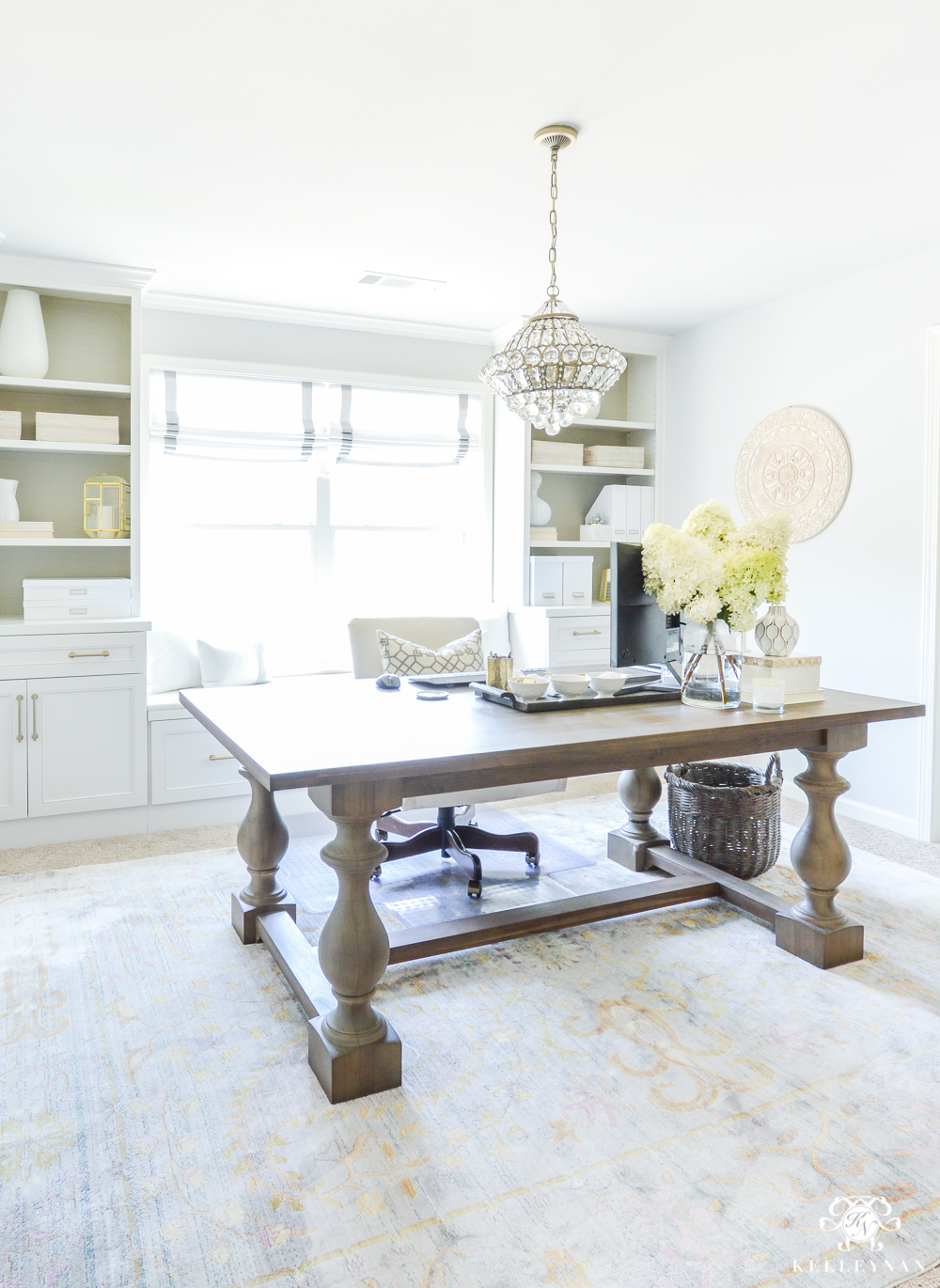 I've had readers who've asked if it bothers me not having drawers actually built into my desk. The answer- not at all. I have plenty of surface space to keep my most used implements accessible and within arm's reach and have more than enough storage space with my built-ins and closet. (See my office makeover reveal in its entirety HERE).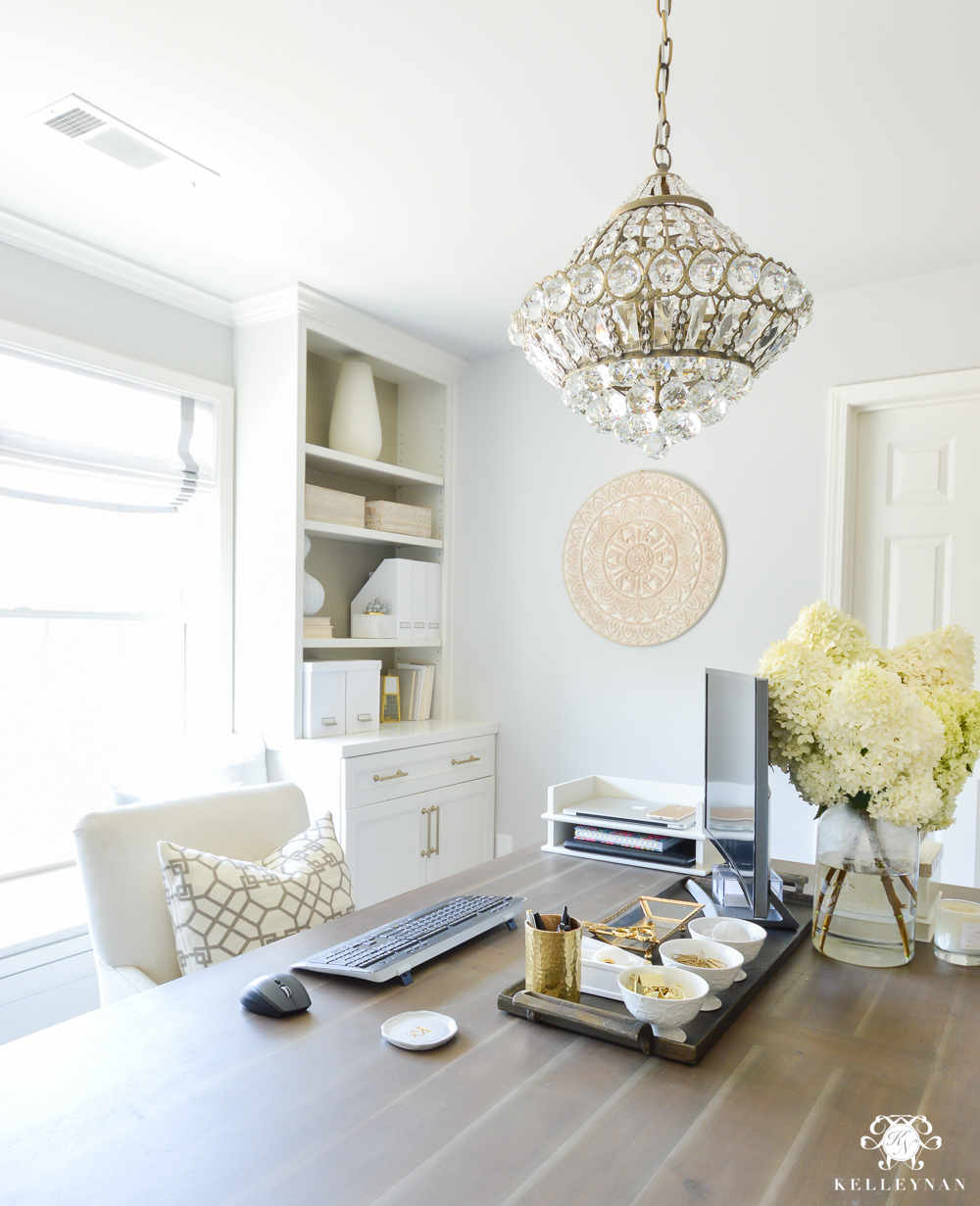 What about the cords? Well, I actually posted on that very topic- you can find the details on how I hide the cords with my desk being in the center of the room HERE. The standard height for desks and dining tables usually fall within the same range – 28″ to 30″; but key is finding the right chair. If you go this route, you will likely need an adjustable chair intended for a desk as most dining chairs will likely be too short. Pay attention to the table heights; the taller you are, the taller the table/desk you can probably get away with. For those shorties out there, as an FYI, I'm just over 5'2″ and am totally comfortable in my setup.
Be sure to pay attention to the length and the width when you are choosing your new desk. Before I committed to mine, we taped off the measurements on the floor using painter's tape. I wanted to make sure there was ample room on either side, plenty of room to roll my chair back and forth, and it helped me determine the proper size area rug.
Another benefit of broadening your search to dining tables that can double as desks is you can potentially save a lot. You will "feel it" more with poorly constructed desks because of the drawer functionality. They can fall apart. Tables have more flexibility; if it isn't the MOST top-of-the-line construction, it's ok. You are using it for its surface, not for the functionality of moving parts like drawers and cabinets. While executive desks can set you back thousands, the most expensive table in this roundup is around $1,300, with many falling under $300, and most in the $500 to $700 range. Several also come in different sizes, finishes, and colors, so if you are curious about a style, be sure to visit the source for additional options. You can click/tap on the corresponding numbers below the graphic to head straight to each individual table.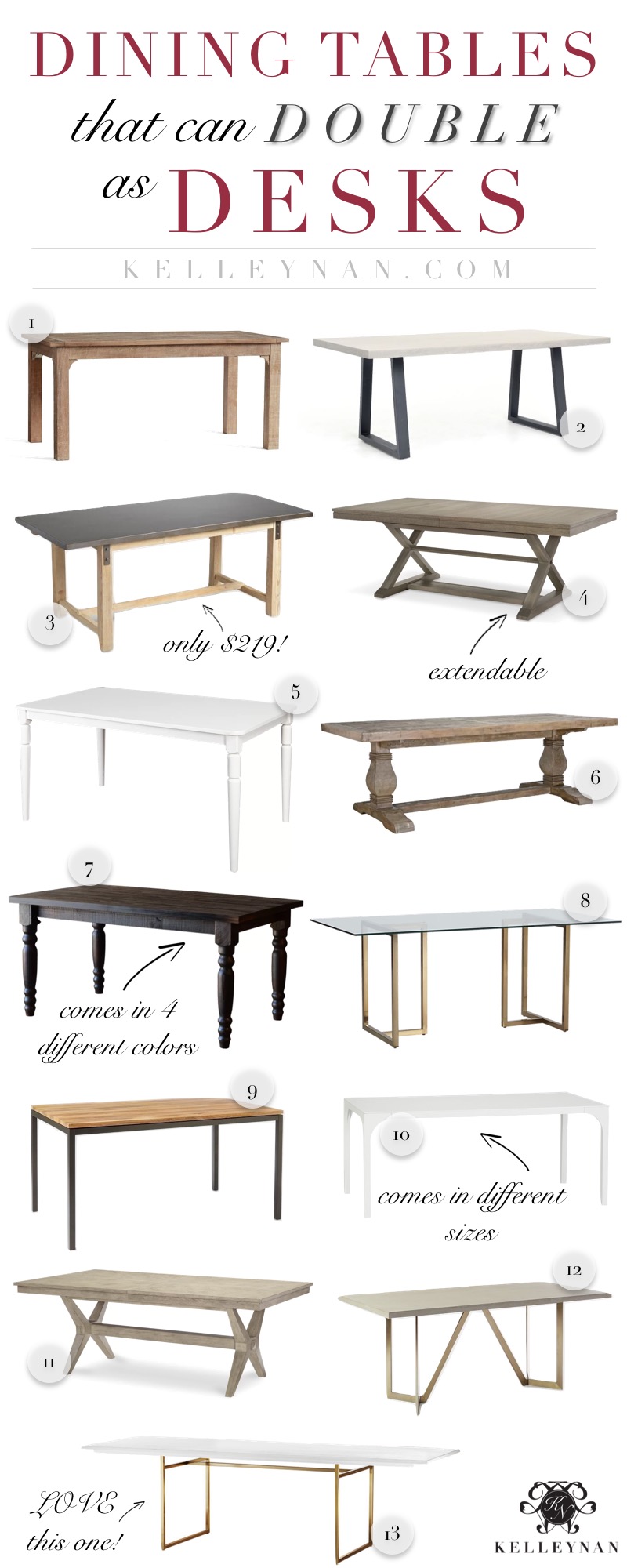 1 | 2 | 3 | 4 | 5 | 6 | 7 | 8 | 9 | 10 | 11 | 12 | 13
---
Scroll & Tap to Shop the Tables

---
FAVORITE OVERSIZED TRAYS
With such a large desk space, I also opted for a large tray to corral all of my desk goodies and essentials. Here are a few large-scale trays that will make a statement and keep you organized.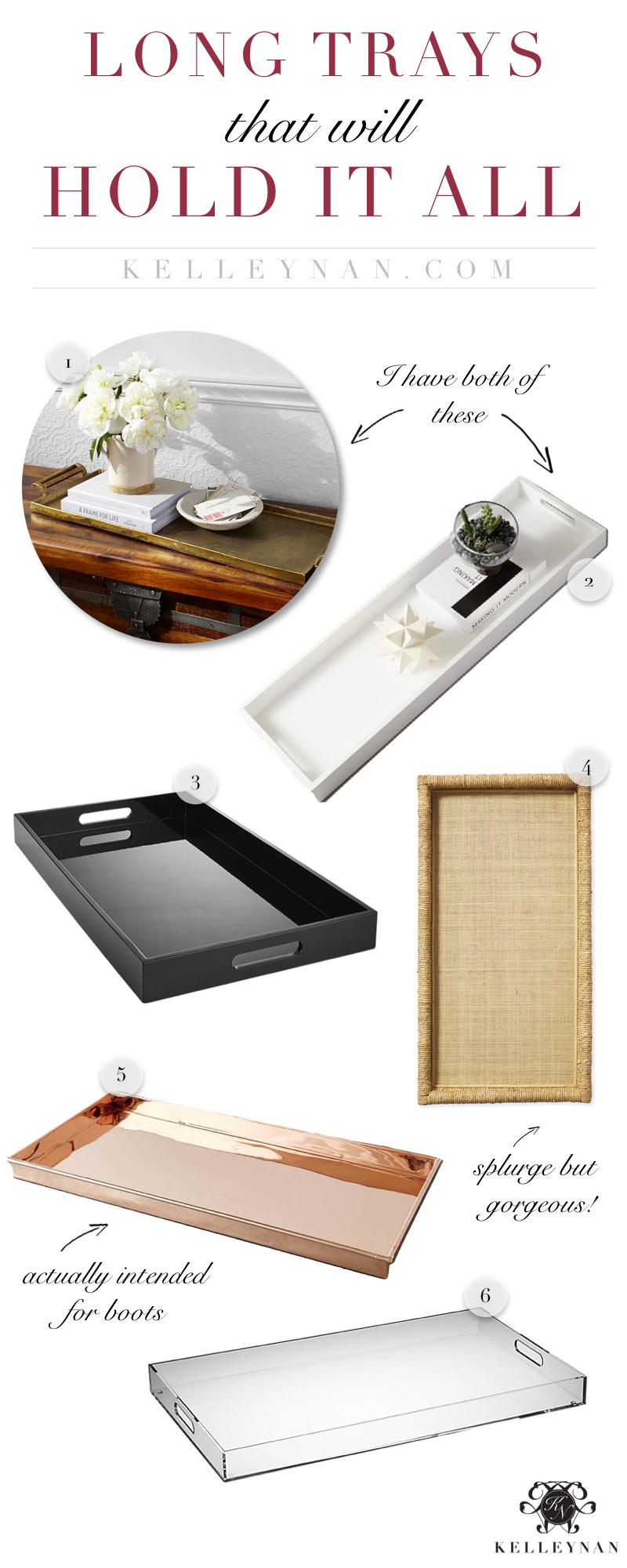 ---
Scroll & Tap to Shop the Trays

---
Admittedly, my office has turned into somewhat of a "don't look in here!" space since the holiday season but it's "on the list!" 😉 AND, remember that closet? I'll be revealing that soon, too.
Subscribe to my emails below to be the first in exclusive news and content, and to get the latest in projects delivered straight to your inbox!

Carpentry – Bobby Barton of Heartwood Renovations, and Darryl Ponquinette of Ponquinette Fine Woodworks | Paint: Sherwin Williams On the Rocks