Probably at the top of my list for entertaining occasions, I think the Fourth of July has always been such a special holiday to personally celebrate because of how revered it was in my childhood. Between the fireworks and our town's annual steam engine parade, I remember thinking that our little spot in north Georgia just had to be the most uniquely celebrated and patriotic place of anywhere else 😉 We annually hosted friends at our pool and it was always such a treat to have a day where all my favorite summer flavors came together — the lavash wraps and salsa from the local meat market, my mom's brownies, frozen mocktails (namely those peach daiquiris I forgot about until just now)… And now that Eliza's a little older, I'm excited for her to start making some of her own core memories with the Fourth. Nobody loves a grazing board more than Eliza Nan (she loves topping her own crackers and making combinations to share with others, too) and so this year, a 4th of July charcuterie board will definitely be on the menu. I created one a few years ago (which you may recognize) and this year, I concepted something a little different — lighter on the savory elements and filled with fruit, cheese, and crackers. If you're planning some upcoming festivities for the holiday, you can find a pretty, statement-making, easy-to-pull-together 4th of July charcuterie board below!
*Posts on KelleyNan.com may contain affiliate links. Click HERE for full disclosure.
Red, White, & Blue American Flag 4th of July Charcuterie Board
This year, I wanted to create a take on American Flag with a blue area with white stars, and red and white stripes. While you could use a rectangular board to be more literal about the flag, I wanted to take a round board approach. The patriotic red, white, and blue board mainly features fruits, cheeses, crackers and some spreads, to elevate the flavors of the components. For a true charcuterie board, you could add red-hued cured meats, like pepperoni, prosciutto, salami, etc. But, as you know if you've been a reader for a while, I typically don't include these because I don't personally care for most meat 😉 You could also use some turkey rolls for a white section.
This is a great grazing board to serve alongside your other Fourth of July cookout and barbecue menu items — alongside everything else, but especially as an appetizer for guests to grab from leading up to lunch/dinner. And as a note, the fresh strawberries, raspberries, blue berries, black berries and cherries I've included are all currently in season and at their peak! Here's how this year's 4th of July charcuterie board turned out…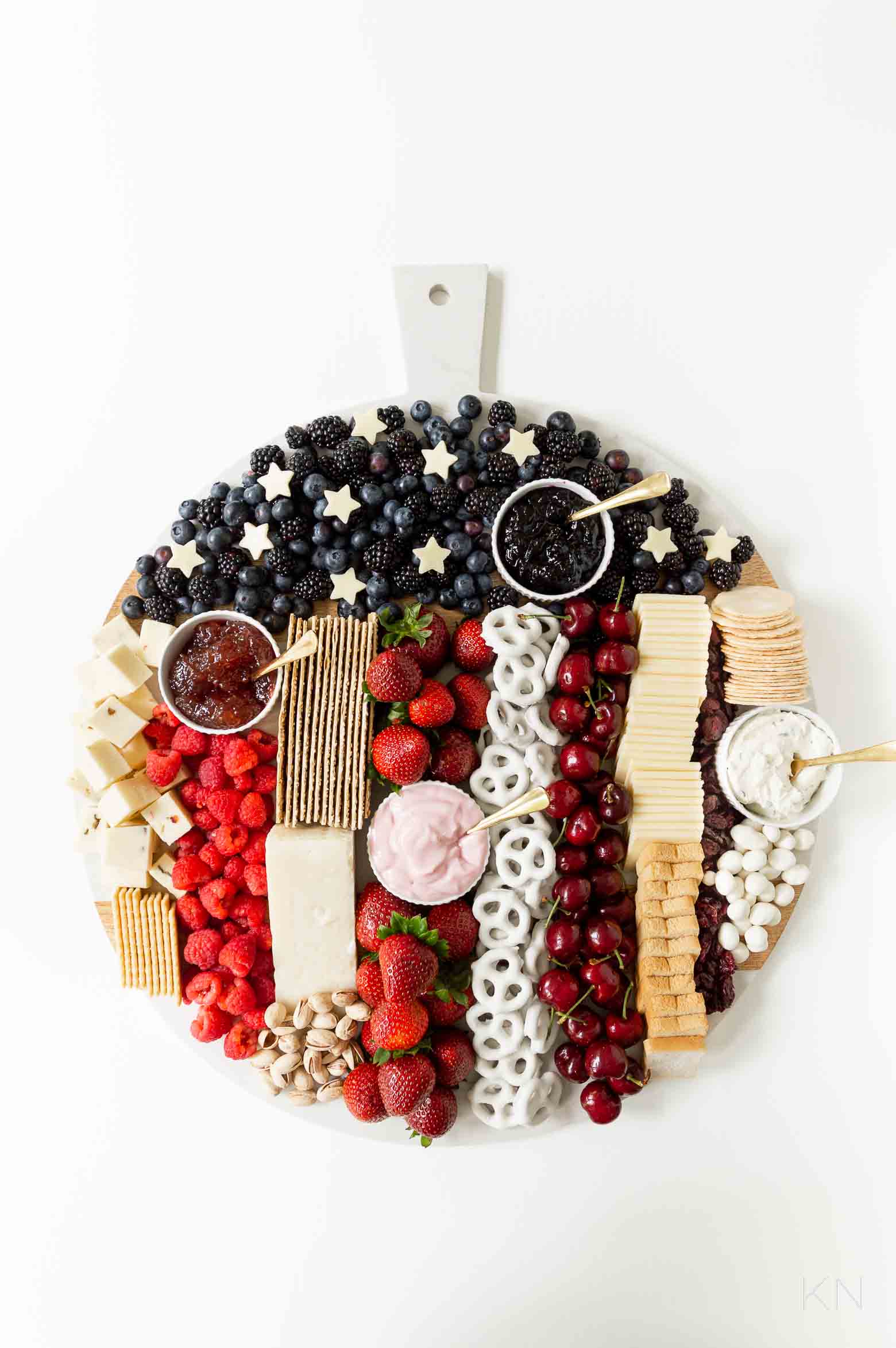 Sources: Round White Marble Board | Ramekins (similar) | Mini Gold Spoons
You can catch the full video, building this 4th of July charcuterie board from start to finish, on Instagram HERE!
And as for that 4th of July board I made a few years ago, referenced at the beginning of the post, here's a quick look back for another take on a patriotic, red, white, and blue grazing board. There are some shared components, just imagined in a different way…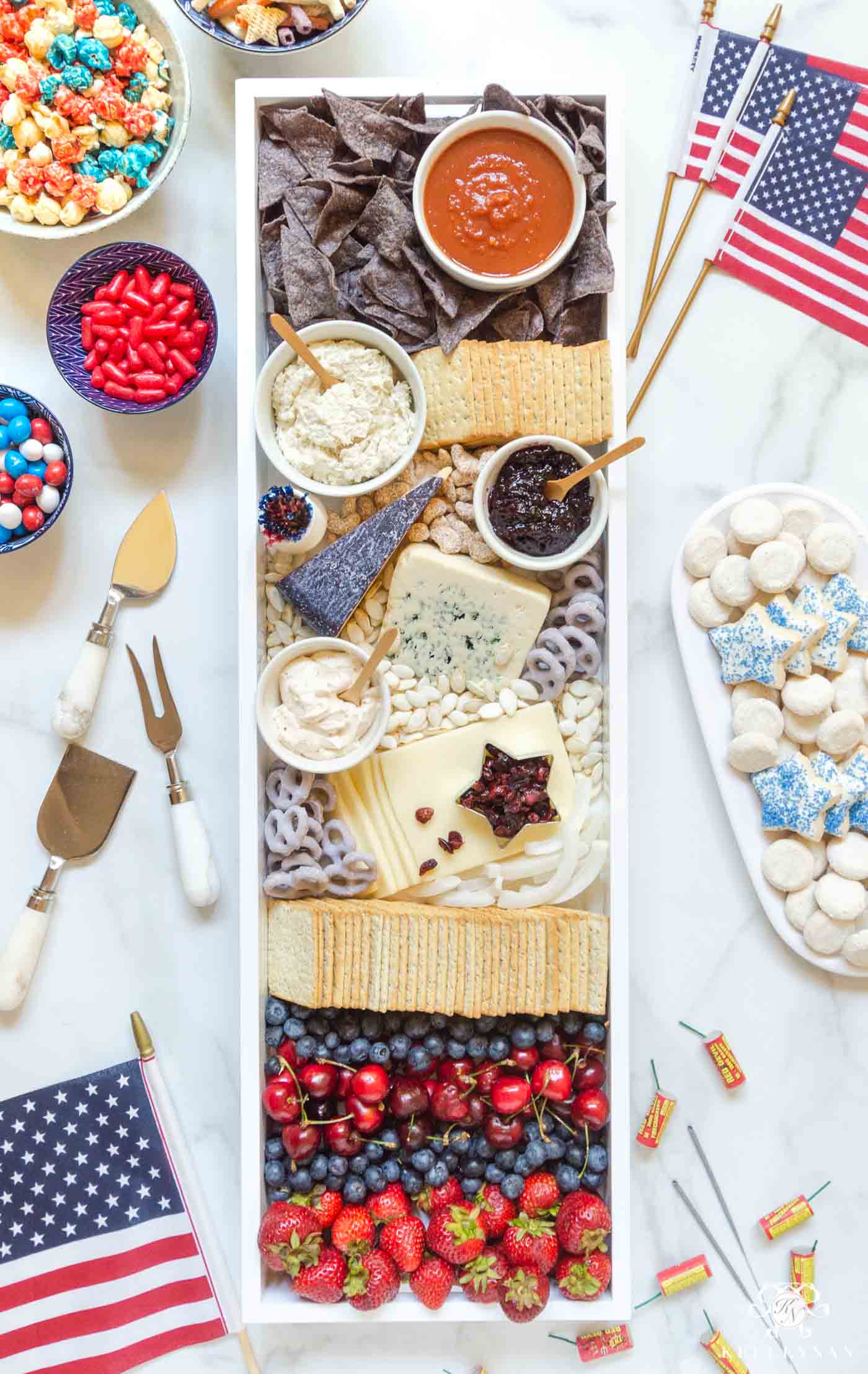 Sources: White Rectangular Tray | White Marble Cheese Knives (set of 4) | Blue and White Bowls (SIMILAR) | White Serving Platter |  Ramekins (SIMILAR) | Mini White Bowls | Mini Wooden Spoons | Star Cookie Cutter
I love the simplicity of the ingredients of this year's red, white, and blue American flag charcuterie board, though. And the visual with the stars and stripes is so fun. I used the miniature star shape cutter from my 9-piece set (HERE) to cut slices of white American to top the berries at the top of the board. Such a fun, easy detail and if you don't have some already, I use my little food cutters way more than I thought I would!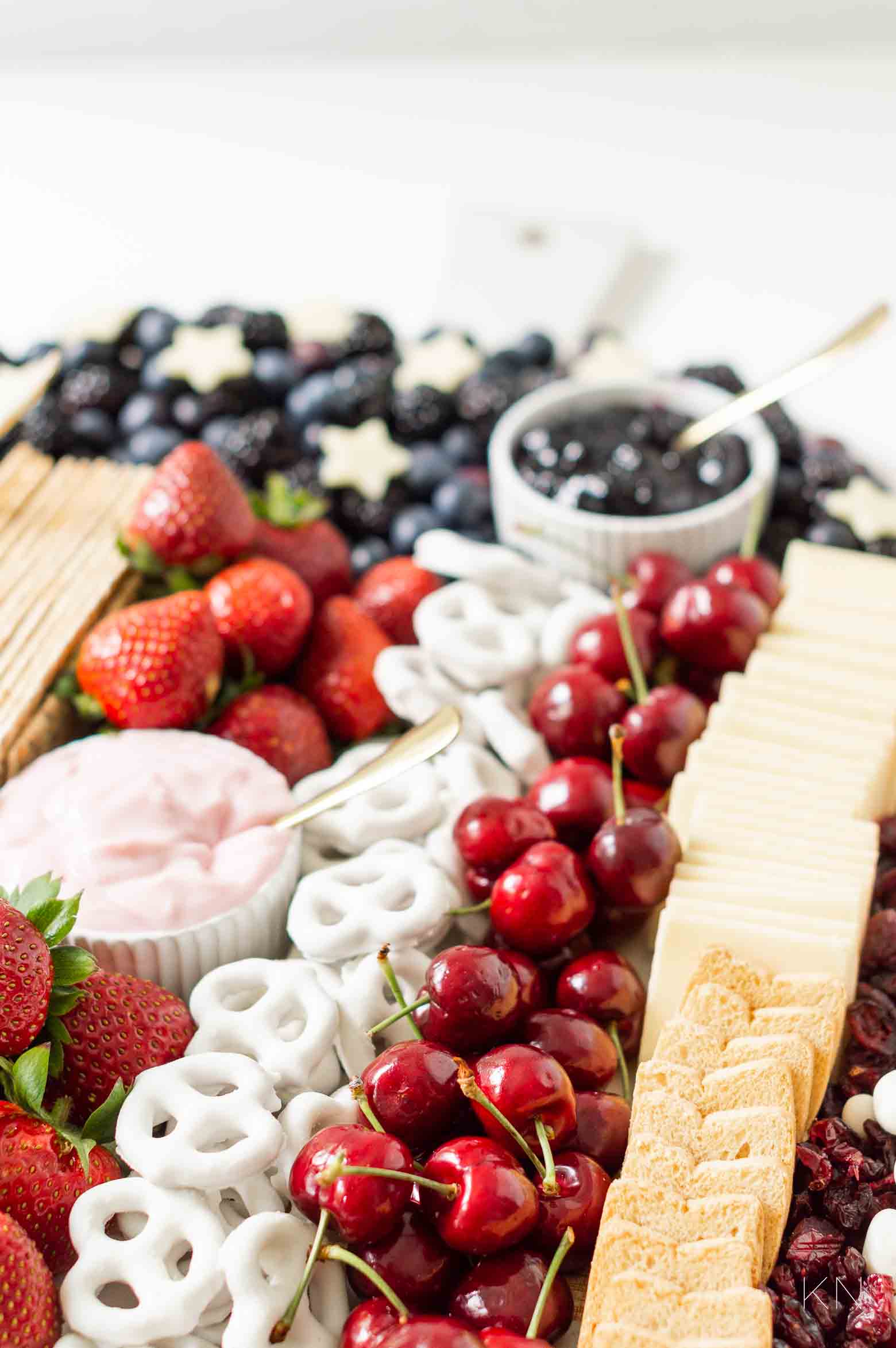 While I didn't use this approach with this board, cutting star shapes out of baby bel wax would be adorable on a 4th of July grazing board. You can see the Christmas board I created with these HERE. PS: That post has a lot of yummy app recipes!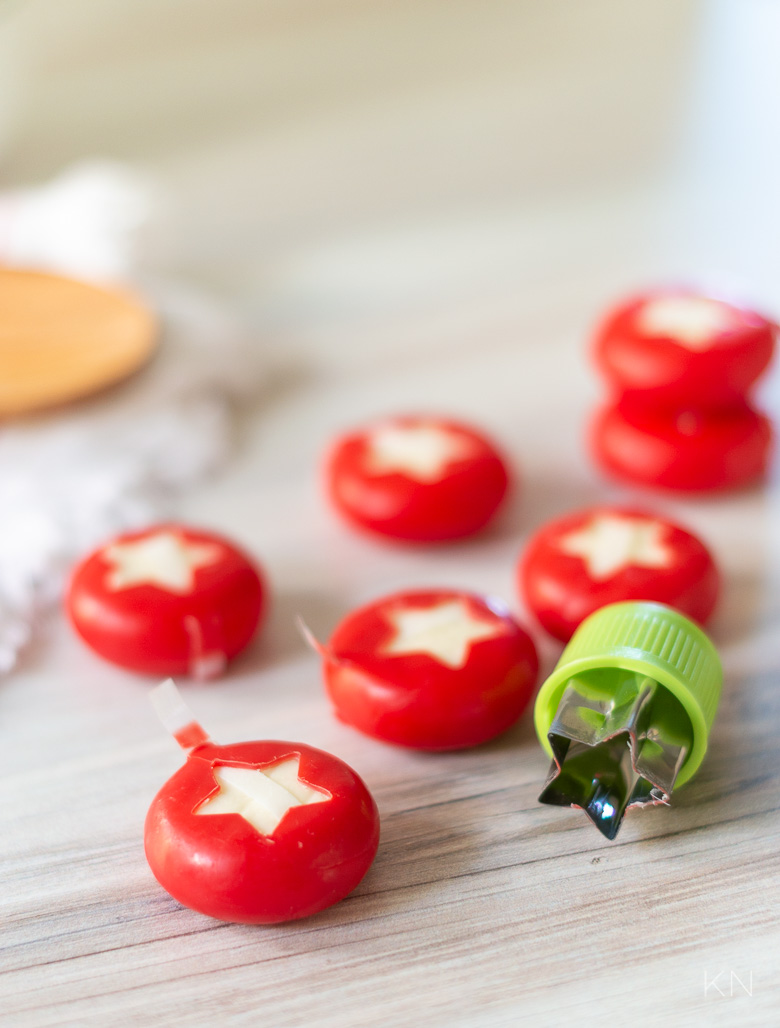 Sources: Star Cutter (part of 9-pc set)
How I Concept a Grazing Board
If you've been following along here for awhile, you know how much I love to create themed (or not) charcuterie boards, grazing boards, and platters. They make such a great statement when you're entertaining and it's an awesome outlet for me to get my creative juices flowing.
I go through an entire process when I'm creating a new charcuterie/grazing board.
I develop the concept/theme.
I determine the board I will use as the base. THIS round white marble board and THIS large rectangular wooden board seem to get the most work. And sometimes I don't even use a board! I used THIS White Rectangular Tray  on my former Red, White and Blue Board and THIS rattan tray on my popular (most-pinned) Easter treat board. Note: if you're using a surface/tray that you don't want food directly on, you can use wax paper to line the surface, first.
I brainstorm and list the possible items to include. For a lot of boards, I make a shopping list/pantry list and wing it. For this 4th of July charcuterie board, I actually sketched it ahead of time with ideas of what to include, where.
And then, I shop!
When shopping, I literally peruse (almost) every grocery store aisle to grab things I have on my list and to find inspiration for additional items. The produce, cheese and cracker aisles are obviously great places for my selections. But don't discount the power of the baking, dairy, pickle, candy and bread aisles. Truly, I've found items in virtually every grocery store section, with the exception of cleaning supplies, pet foods and baby products. (Although, baby puff snacks could be a possible grazing board addition!)
As a Special Note:
Trader Joe's is a FANTASTIC place to get board inspiration and items! Their produce section includes mini and multi-colored varieties of fruits and vegetables. You can't beat the price of their nuts, seeds and dried fruits. And the snack section always includes creative possibilities, including one of my favorites, blue tortilla chips. They also usually have specialty food items and snacks in special shapes, colors, and flavors leading up to holidays.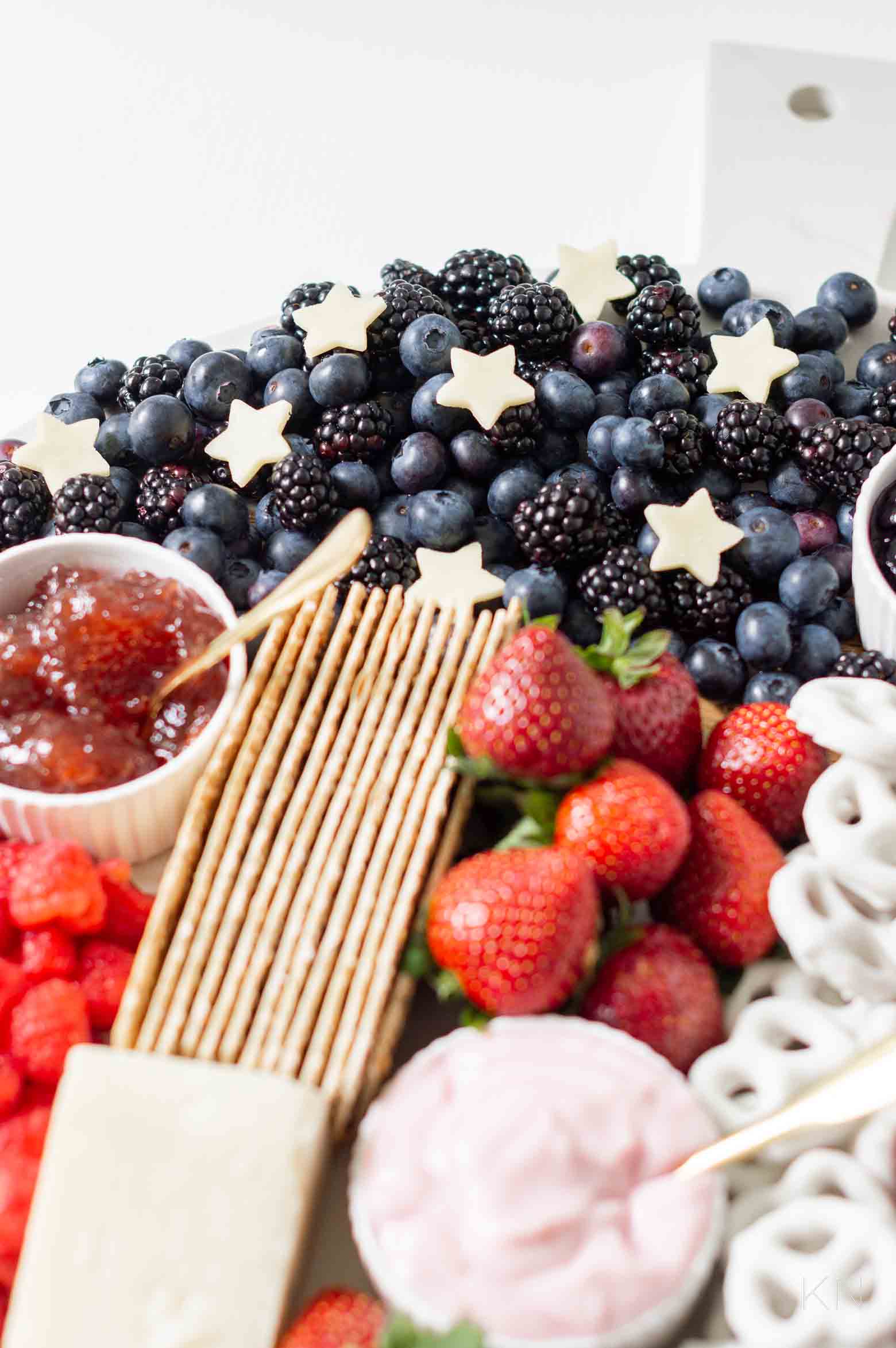 A couple of disclaimers are in order:
I only use items that "make sense". That is, this Fourth of July Board mainly features fruit, cheeses, crackers and dips. I did not grab and include an item just because it was red, white or blue.
I only include items that me and my family will eat. For example, I think the salami rosettes we've all seen are so creative and beautiful! But since I'm not a fan of salami or related meat products, I don't include them on my boards. But that doesn't mean you can't include them on yours!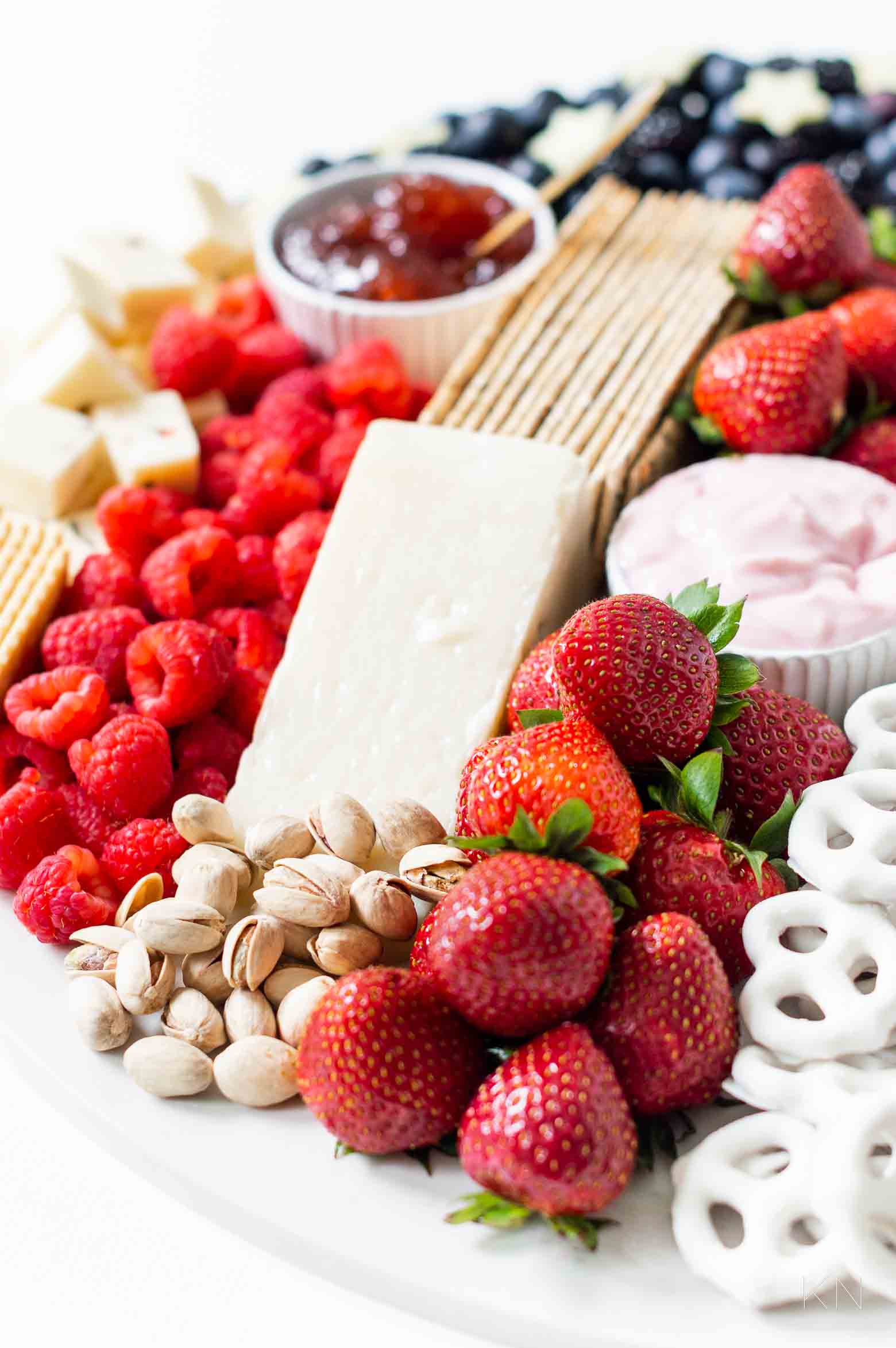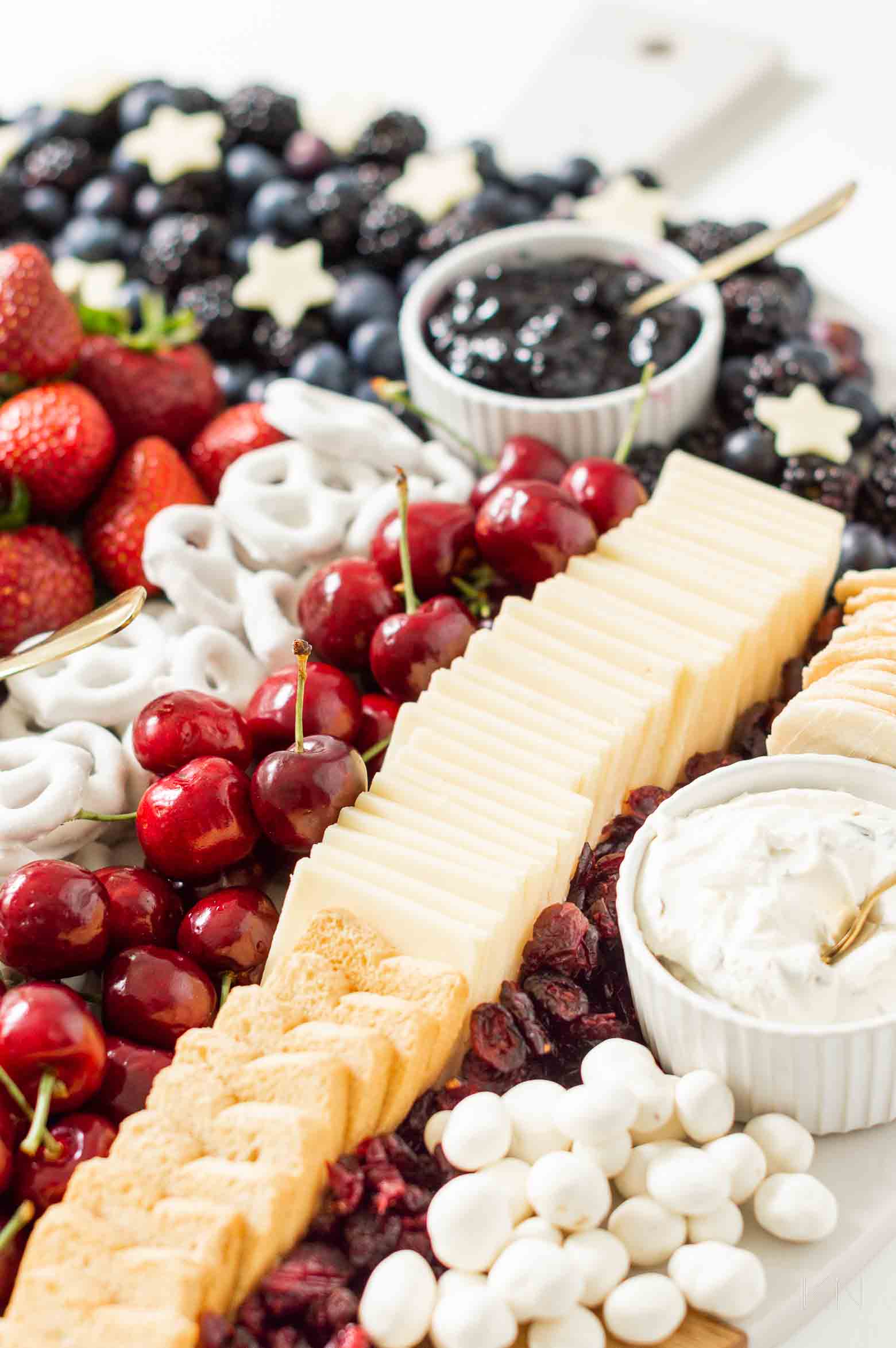 Sources: Round White Marble Board | Ramekins (similar) | Mini Gold Spoons
What to Put On a 4th of July Charcuterie Board
Items I Included…
Blackberries
Blueberries
Strawberries
Raspberries
Cherries
Dried Cranberries
Pepper Jack Cheese Cubes
Wedge of Parmesan Cheese
Sharp White Cheddar Cheese Cracker Stackers
White Cheddar Cheese (for the stars I cut with this Star Cutter (part of 9-pc set).)
Flat Bread Crackers
Rice Crisps
Butter Crackers
Mini Toasts
White Chocolate Pretzels
Pistachio Nuts
White Chocolate Covered Raisins
Blueberry Preserves
Strawberry Preserves
Strawberry Fruit Dip
Herb Cream Cheese Spread
Other Ideas of Items to Include on a 4th of July Charcuterie Board…
Depending on the theme of your Red, White and Blue Fourth of July Board, some of these items may not make sense, but may provide fodder for what you decide to do, whether your Fourth of July Board is sweet or savory, or a combo of the two. And by all means please feel free to include the salami rosettes, if that meets with your personal tastes!
Red Items
Cherry or Grape Tomatoes
Tomato Wedges
Radishes
Red Bell Pepper Strips
Red Pickled Peppers
Roasted Red Peppers
Pimentos
Sun Dried Tomatoes
Watermelon
Dried Cherries
Maraschino Cherries
Pepperoni
Strawberry Cream Cheese Spread
Raspberry Jam
Twizzlers
Red Jelly Beans
Red Hots
Sour Cherry Candies
Swedish Fish
Apple Jacks
Strawberry Sugar Wafer Cookies
White Items
Cauliflower
Jicama
Pearl Onions
Pear Slices
Feta Cheese
Swiss Cheese
Mozzarella Cheese Balls or String Cheese (even on skewers w/ tomato)
Oyster Crackers
Mini Saltine Crackers
Plain Goldfish Crackers
Bread Sticks
Naan Dippers
Pirate's Booty
Wedding Cookies
Vanilla Sugar Wafer Cookies
Popcorn
Slivered Almonds
Coconut Flakes
Marshmallows
White Chocolate Chips
Rock Candy Crystals
Marshmallow Fluff
Blue Items
Purple Cauliflower
Purple New Potatoes
Purple Carrots
Concord Grapes
Figs
Dried Blue Berries
Blue Jordan Almonds
Blue Foil-Wrapped Kisses or Dove Chocolates
Gummy Sharks
Blue Raspberry Gummies
Blackberry Preserves
Blueberry Cream Cheese Spread
You can pile them, line them up, serve them in a bowl, or serve them on skewers!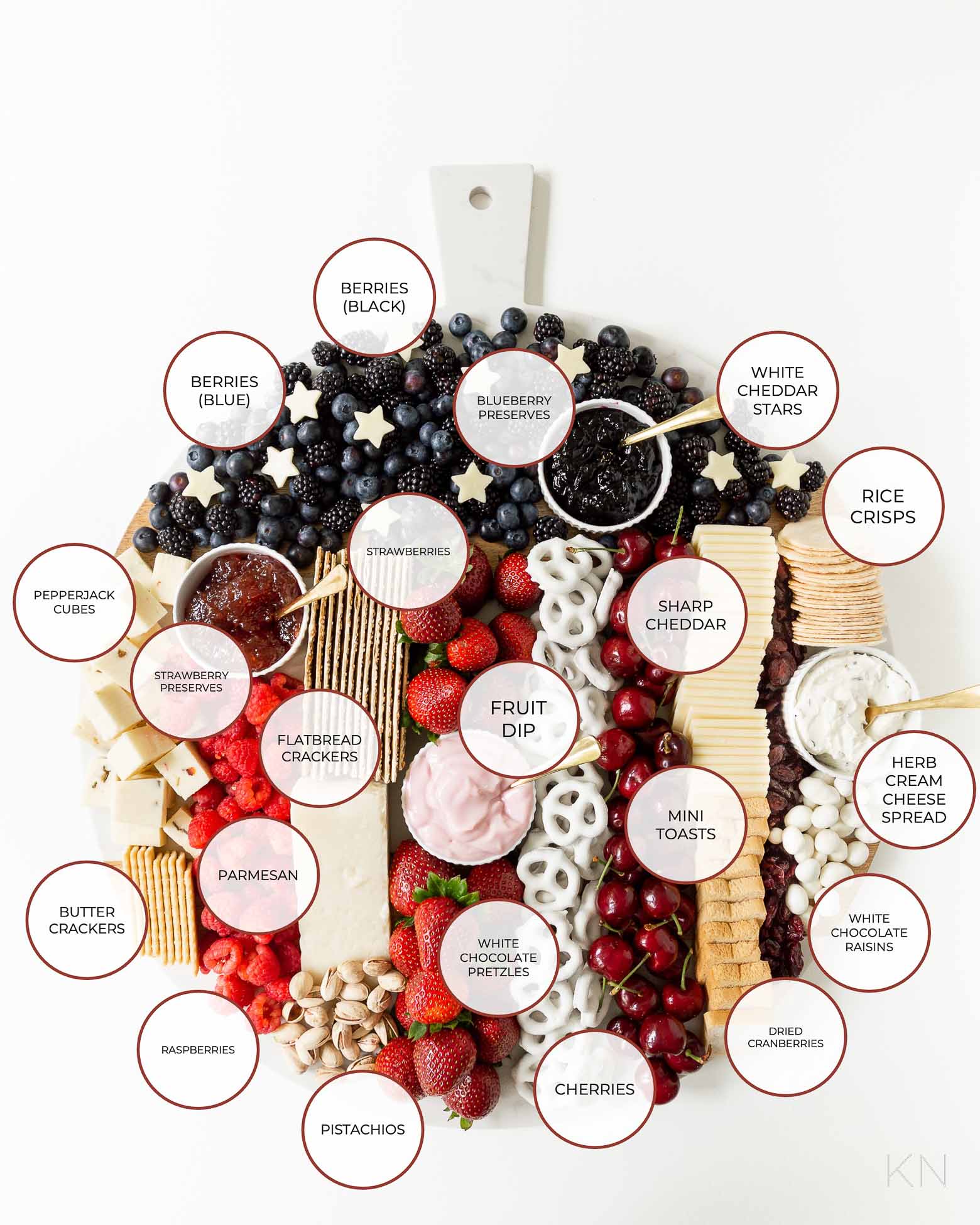 4th of July Charcuterie Board Layout Ideas
I always concept the layout of my boards differently, and I've shared two random red, white, and blue Fourth of July grazing board ideas today. And patriotic colors — even in a random pattern — make a statement, but I had such fun with my reimagined flag layout, I thought I'd share a few more grazing board layout concepts to consider, too…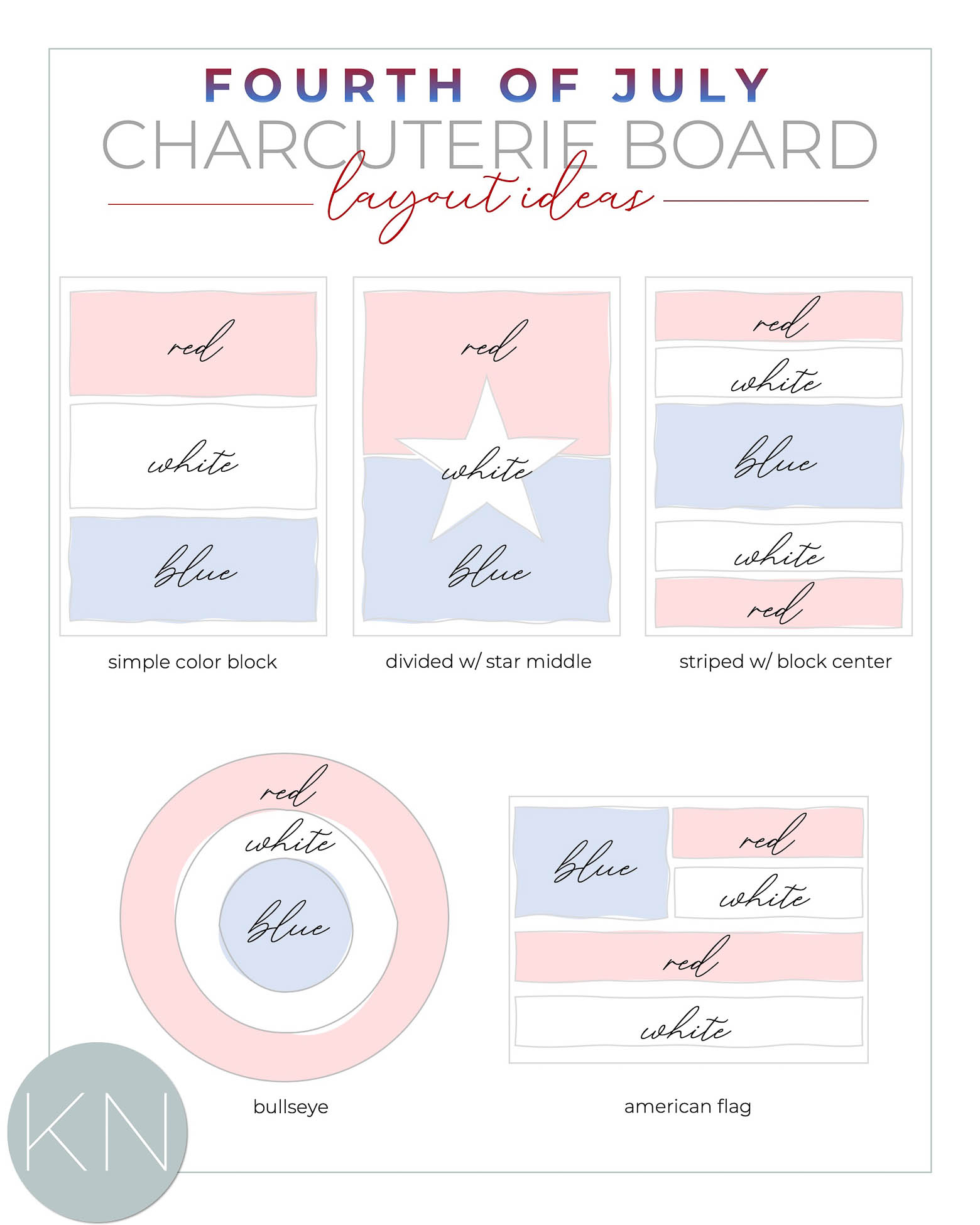 For more grazing board ideas, you can visit my full gallery HERE. I have a few more patriotic posts launching soon so if you aren't already, be sure to subscribe to emails at the bottom of the post to be alerted when they go live!
Other Posts To Check Out
Big Grazing Boards I Love…