These days, pasta salads seem to get fancier and fancier with lots of different ingredients. One of my favorites is this easy to make Greek Pasta Salad that only requires six different ingredients (RECIPE HERE) and TBH, I am all for coming up with on-the-fly pasta salads, based on whatever I have on hand/need to use in the fridge. But sometimes even the simplest salad is perfect, with its few ingredients and distinct flavor profile, all on its own. Enter…the Classic Macaroni Salad.
*Posts on KelleyNan.com may contain affiliate links. Click HERE for full disclosure.
We grill year-round but as we enter the warm weather months, there is nothing better than the regular summer classics that bring nostalgia and tradition… like hamburgers from the grill with all of the fixin's, coupled with baked beans and of course, the long-loved southern staple, macaroni salad. It's an easy-to-make meal that requires only a little bit of prep time, which is especially important when we want to spend as much time outside and out of the kitchen.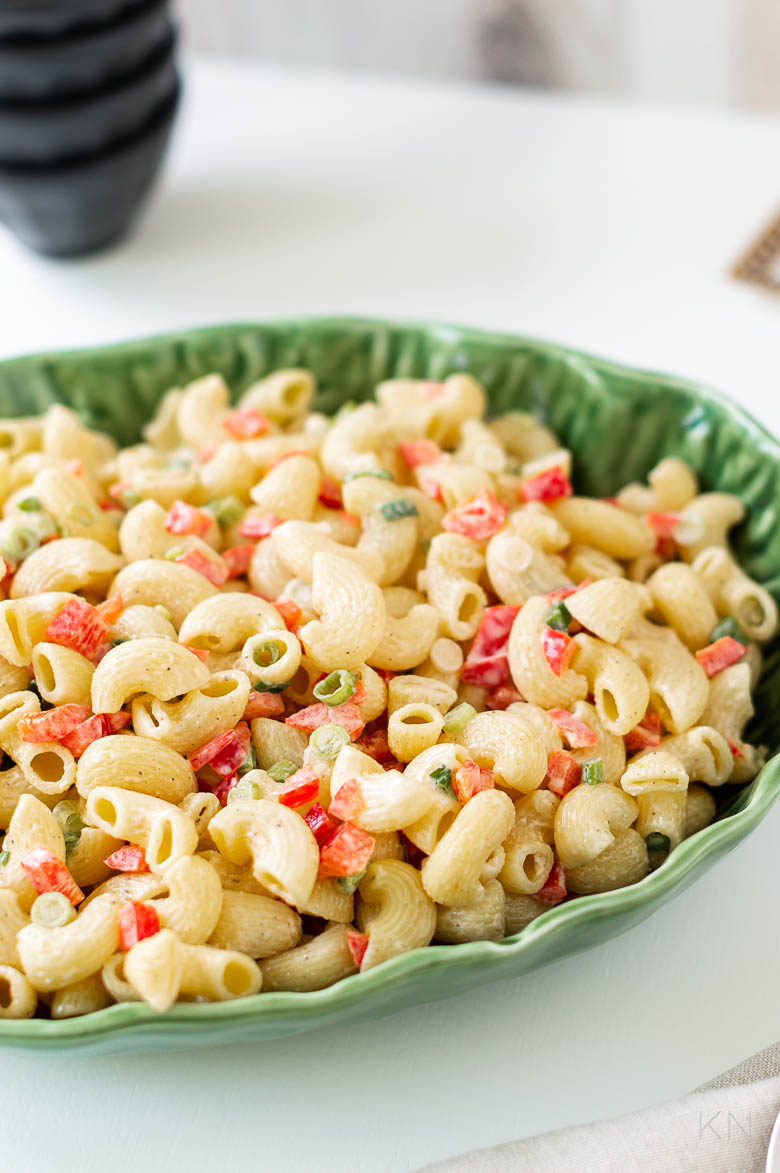 What Ingredients Are Used to Make This Classic Macaroni Salad?
My Classic Macaroni Salad recipe only calls for four ingredients and the only seasonings used are salt and pepper. But, depending on your specific tastes, additional ingredients can certainly be added, depending on the ingredients that you have on hand. These are the ingredients I faithfully (and almost exclusively) use:
Elbow Macaroni
Green Onions
Red Bell Pepper
Mayonnaise
Salt and Pepper to Taste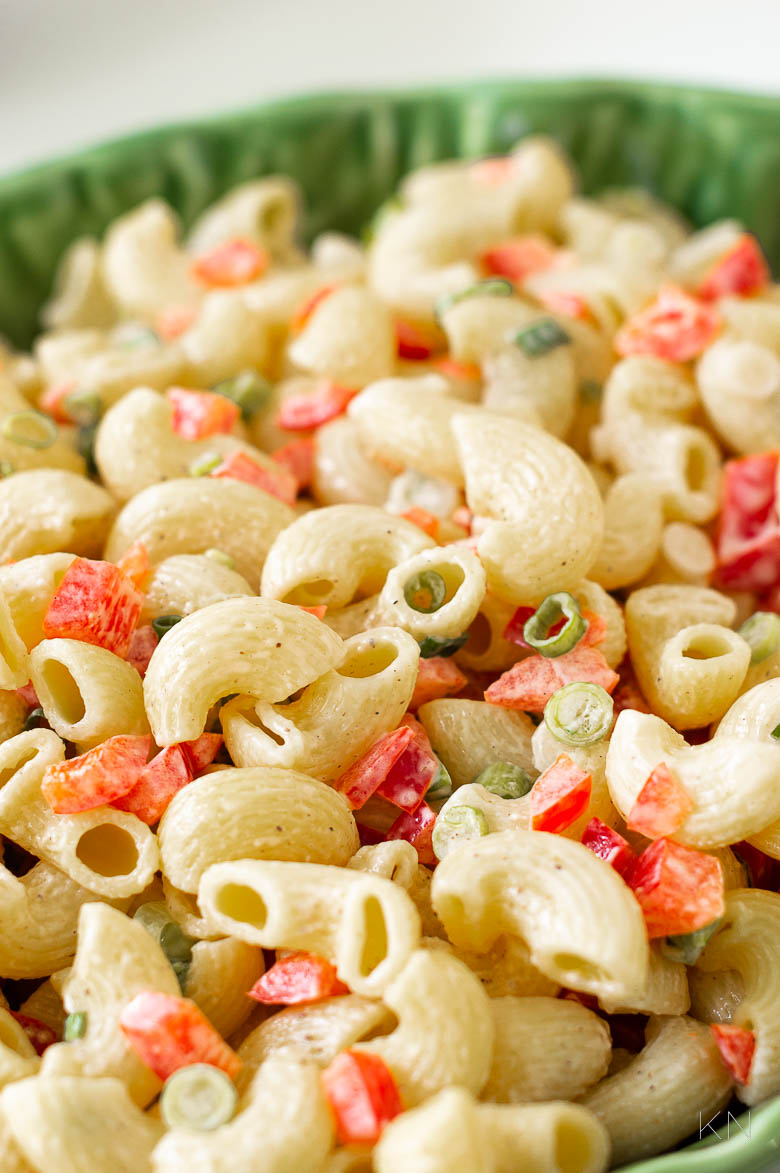 What Kitchen Tools Are Needed to Make This Classic Macaroni Salad?
No fancy kitchen gadgets are needed to make this Classic Macaroni Salad recipe and minimal prep time is needed. You simply need to have these items on hand: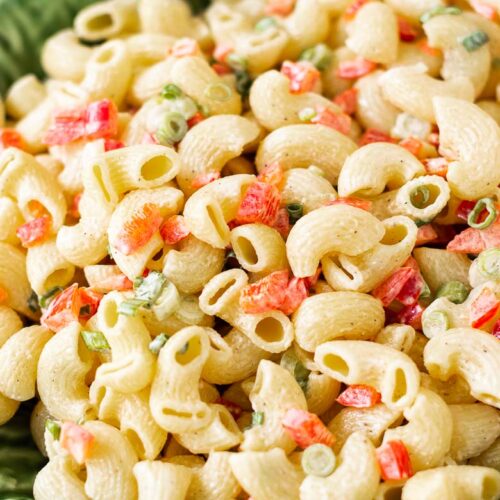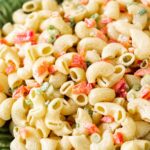 Classic Macaroni Salad
This easy to make macaroni salad only requires four ingredients and is a great side dish to serve at barbecues, pot lucks and picnics.
Ingredients
1

lb.

Pasta

I prefer elbow-shaped for this dish, but other pasta shapes may also be used.

1

Red Bell Pepper

5

Green Onions

5

Tbsp.

Mayonnaise

Salt and Pepper to Taste
Instructions
Fill large pot with water, add salt and heat on stove until water comes to a boi.

Add pasta and boil for approximately ten minutes, stirring occasionally.

While pasta is cooking, chop the red bell pepper and green onions.

When pasta is cooked, dump into a colander or strain the water from the pot.

Rinse the pasta with cool water and allow it to drain.

Dump the pasta into a large mixing bowl.

Add the mayonnaise, salt and pepper, and stir gently to incorporate. (You may want to start with three Tbsp. of mayo and then add more to your taste.)

Add the chopped bell pepper and green onions to the mixture. I like to add more salt and pepper at this point. Stir gently to incorporate.

Refrigerate until ready to serve.
Recipe Notes
It's easy to change up this recipe by adding additional ingredients, Other colors of bell peppers may also be used.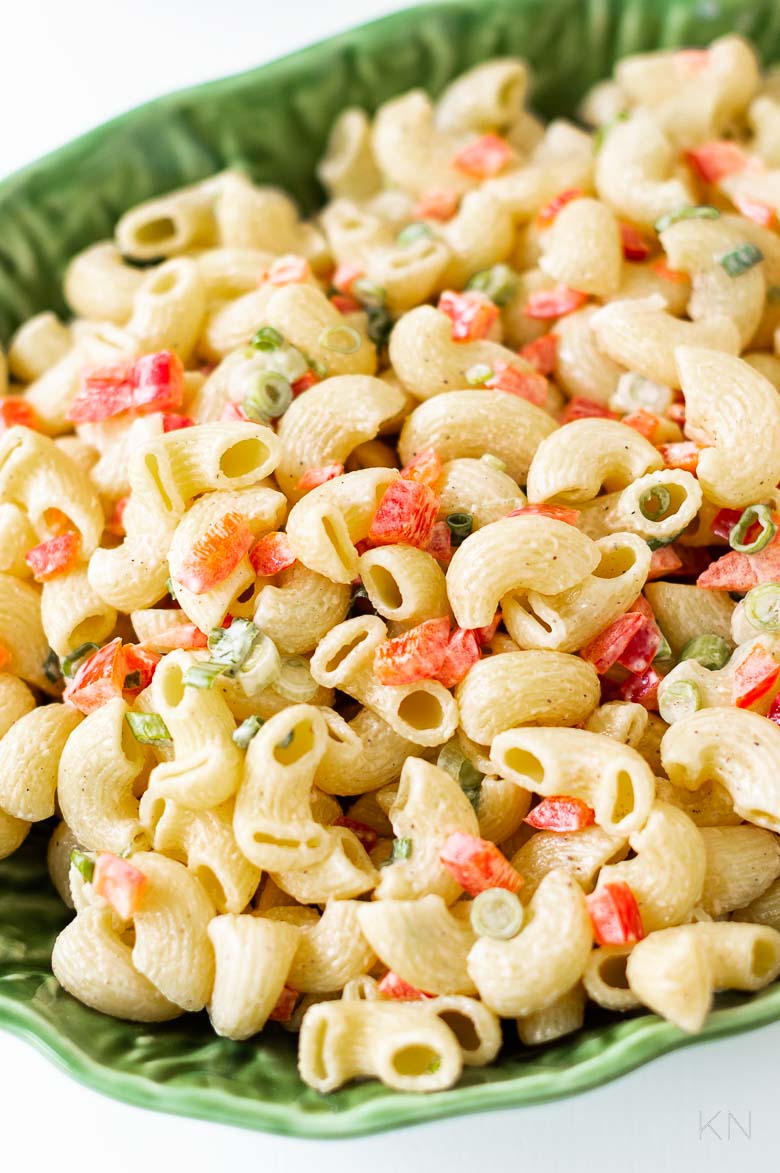 What Type of Macaroni Do I Use for this Classic Macaroni Salad?
As an avid Trader Joe's fan, I also love their pasta. While any brand will do just fine, my favorite for this recipe is the Trader Joe's Italian Macaroni. It's elbow-shaped and also includes small grooves that help capture the other flavoring ingredients. It's a hearty shape and a bit larger than the standard pasta you find at other grocery stores. And at 99 cents for a one-pound package, it's a great value. I also love to have the Trader Joe's penne pasta and fusilli pasta on hand for other dishes. Rotini is also a great contender for pasta salads in general, because of all it will hold.
Why Use a Red Bell Pepper for this Recipe?
I like to use a red bell pepper in this salad for two reasons — 1. red bell peppers are sweeter and 2. the white macaroni and mayo and the pale green onion bits call for an additional color pop to the serving bowl. If you add a tomato to your macaroni salad, I would probably try to go with a yellow pepper, instead.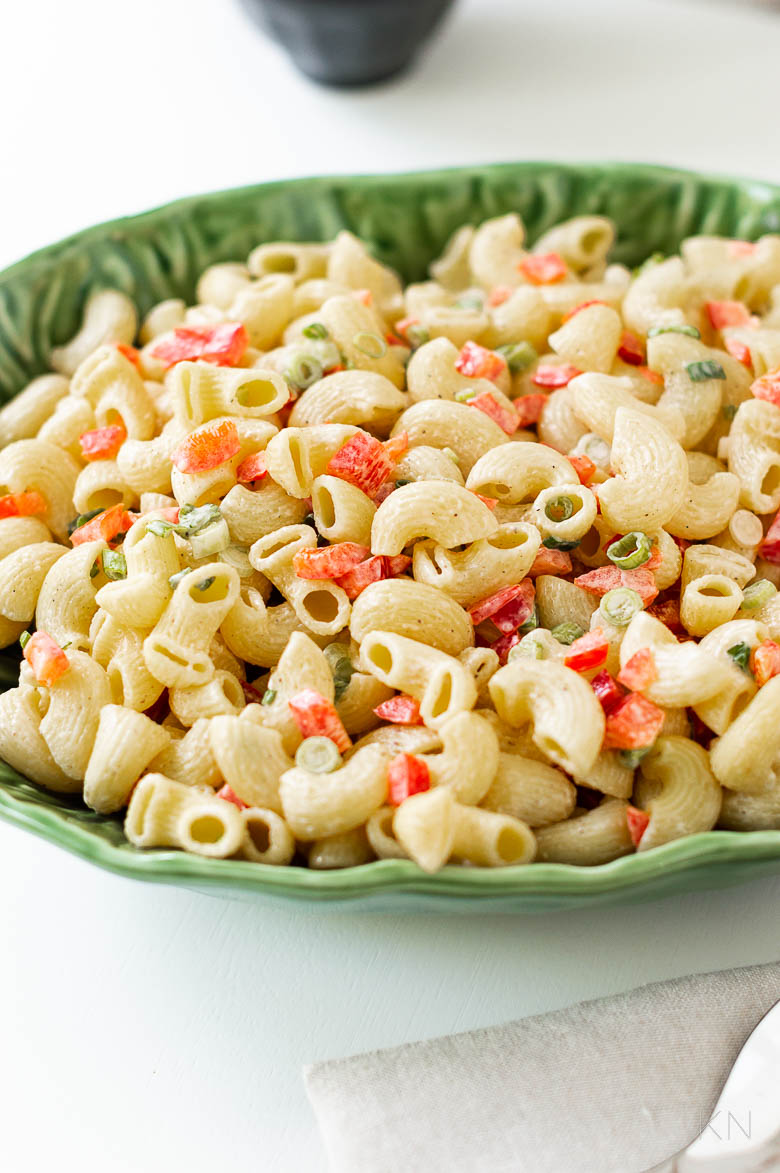 What Other Items Can Be Added to this Recipe?
I like to keep this Classic Macaroni Salad easy and simple with the four classic ingredients. But, other items can easily be added, depending on your individual tastes and preferences. Some good additions include:
Finely diced, fresh tomato (As mentioned in the prior section, if adding diced tomato to the salad, it would be good to use a yellow or orange bell pepper, rather than red, to add additional color.)
Shredded or cubed cheddar cheese
Sliced celery
Shredded carrots
Chopped cucumber
Finely chopped broccoli florets
Crumbled bacon
What Can Be Served with Classic Macaroni Salad?
The simple flavors of Classic Macaroni Salad pair especially well with other dishes and proteins that have lots of flavor and spice. We love it with barbecue, but some other pairings include:
Hamburgers
Hot Dogs
Grilled Chicken
Chicken Wings
Pork Chops
Ham
Steak
Barbecue of any type, including beef, chicken and pork
Other warm weather salads, like my four-bean salad (recipe HERE.)
Can I Make this Recipe in Advance?
This Classic Macaroni Salad can certainly be made a day in advance or hours before it is served. As a matter of fact, it is better to make the salad in advance so that the flavors have the opportunity to marry and the salad has an opportunity to chill.  I like to taste before serving in case additional salt and pepper needs to be added, as the macaroni tends to soak up the seasonings. The recipe makes a lot, so if you are lucky enough to have leftovers, it's a great dish to serve the next day.
When Is the Best Time to Serve Macaroni Salad?
I especially like to serve Classic Macaroni Salad during the warm weather months, when grilling and picnic-ing is top of mind. It's also a great salad to add to a potluck, luncheon, shower or other celebration.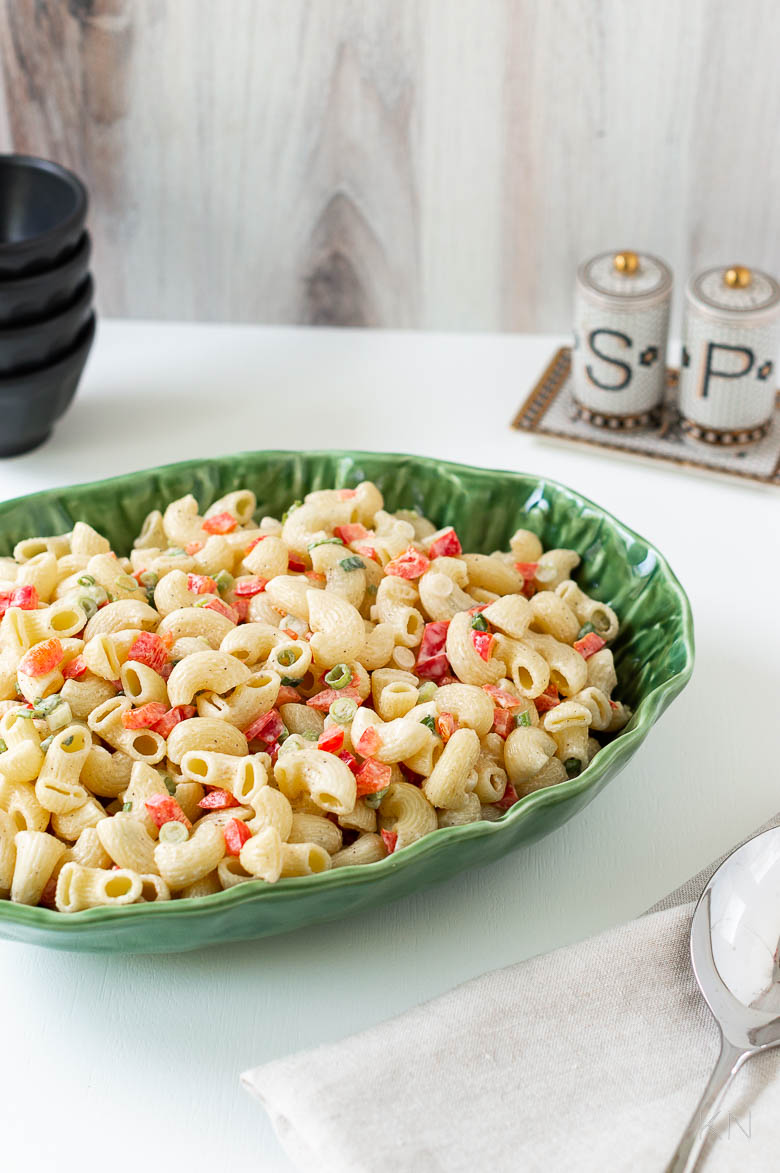 Sources: Cabbage Leaf Serving Bowl (similar) | Salt & Pepper Shaker Set | Mini Black Bowls | Linen Napkin
Did you grow up on this salad or a similar version? If you get stuck rounding out your cook-out meals, you'll definitely need to add this to your arsenal!
Other Posts You May Like:
Pin for Later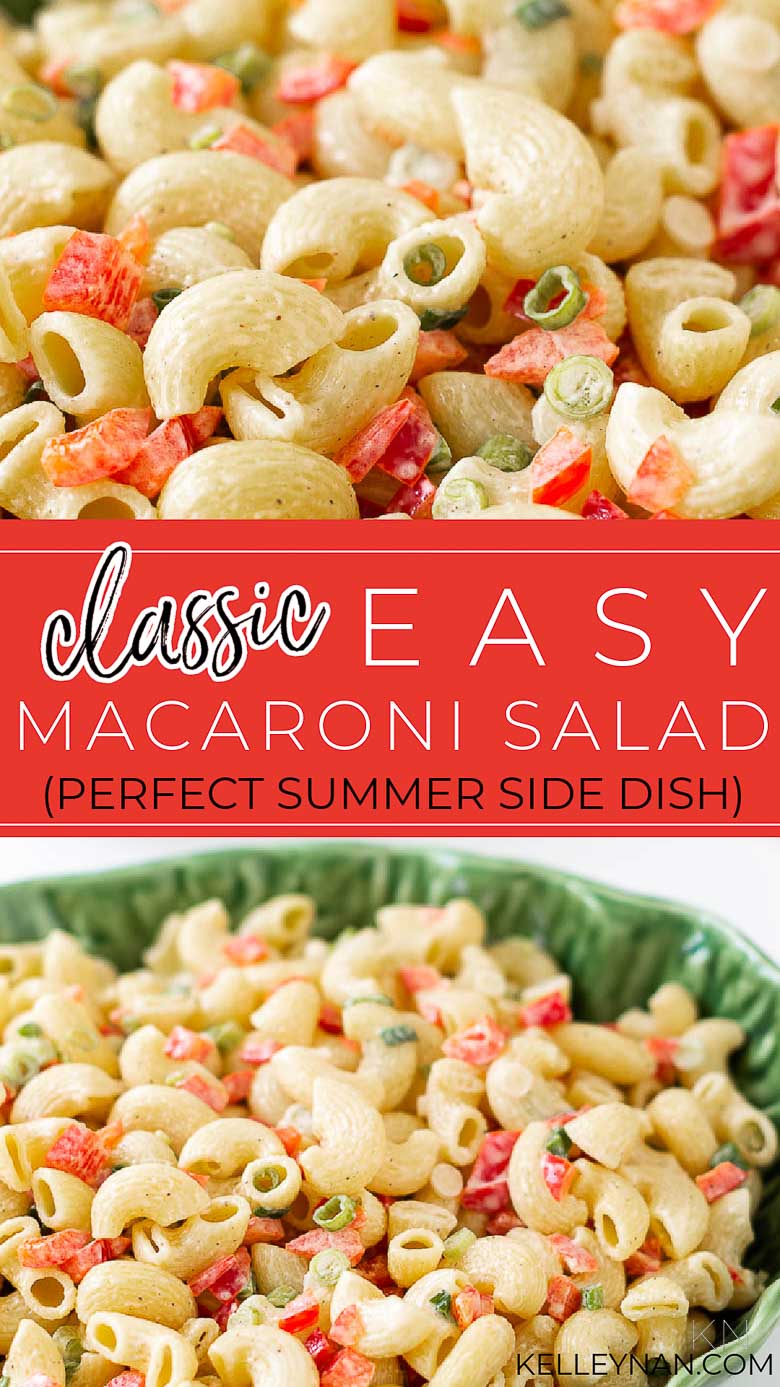 Shop My Kitchen Faves