When it comes to summertime, there's one thing I'm certain of —  there's never a reason to not entertain. Between typical summer festivities and graduations, Memorial Day, Father's Day, bridal showers and the Fourth of July, occasions and opportunities are plentiful. Eliza, Dave, and I even share summer birthdays — all within 13 days of each other. But, summer is also the time we celebrate "just because"… because it's Saturday or because it's a day with great weather. Because we want to share a new toy or try a new drink recipe. Bring on the family, bring on the friends, bring on the neighbors! With all the get-together possibilities over the coming months, I thought it would be fun to gather my top summer-perfect boards — they can be mixed and matched, depending on the occasion (or lack thereof 😉 ). From specific holidays to general occasions, check out the post below for lots of summer grazing board ideas.
*Posts on KelleyNan.com may contain affiliate links. Click HERE for full disclosure.
Summer Grazing Board Idea #1: Make Your Own Nachos Bar (Board)
When To Serve It: Cinco de Mayo; Anytime Margaritas Are Served
When it comes to making your own nachos, I say…the more toppings, the better! This festive Make Your Own Nachos Bar (Board) is a fun way to celebrate Cinco De Mayo or to serve alongside margaritas in the summertime. Mine features nineteen different sauces and toppings, but can easily be pared down, depending on your own preferences. If you are serving this as the main meal, you can easily add a shredded spicy chicken mixture, taco ground beef or shredded beef as additional options, served nearby in a crockpot. With our new pool this year, I'm loving the idea of doing this bowl-style with girlfriends.

Sources: Round White Marble Board | Olive Wood Board (similar) | Gold Flatware | Small White Bowls | Smaller White Bowl  
Summer Grazing Board Idea #2: Bagel Board
When To Serve It: Graduation; Sunday Brunch
If you are honoring a graduate this year, this bagel board is great to put together. Many of you have guests that are visiting from out of town to attend the event, so this board features both sweet and savory options to fit any taste. And, since usually the moments leading up to the graduation can be hectic for the family, this board's bonus is it's so easy to put together with store-bought bagels, spreads and preserves. As people are getting ready at different paces, this is a continental breakfast, with lots of options, that doesn't have to be hot to be yummy — people can grab as they're able throughout the morning. The board may be left unattended, so an easy "breakfast" may be quickly assembled to grab it and go!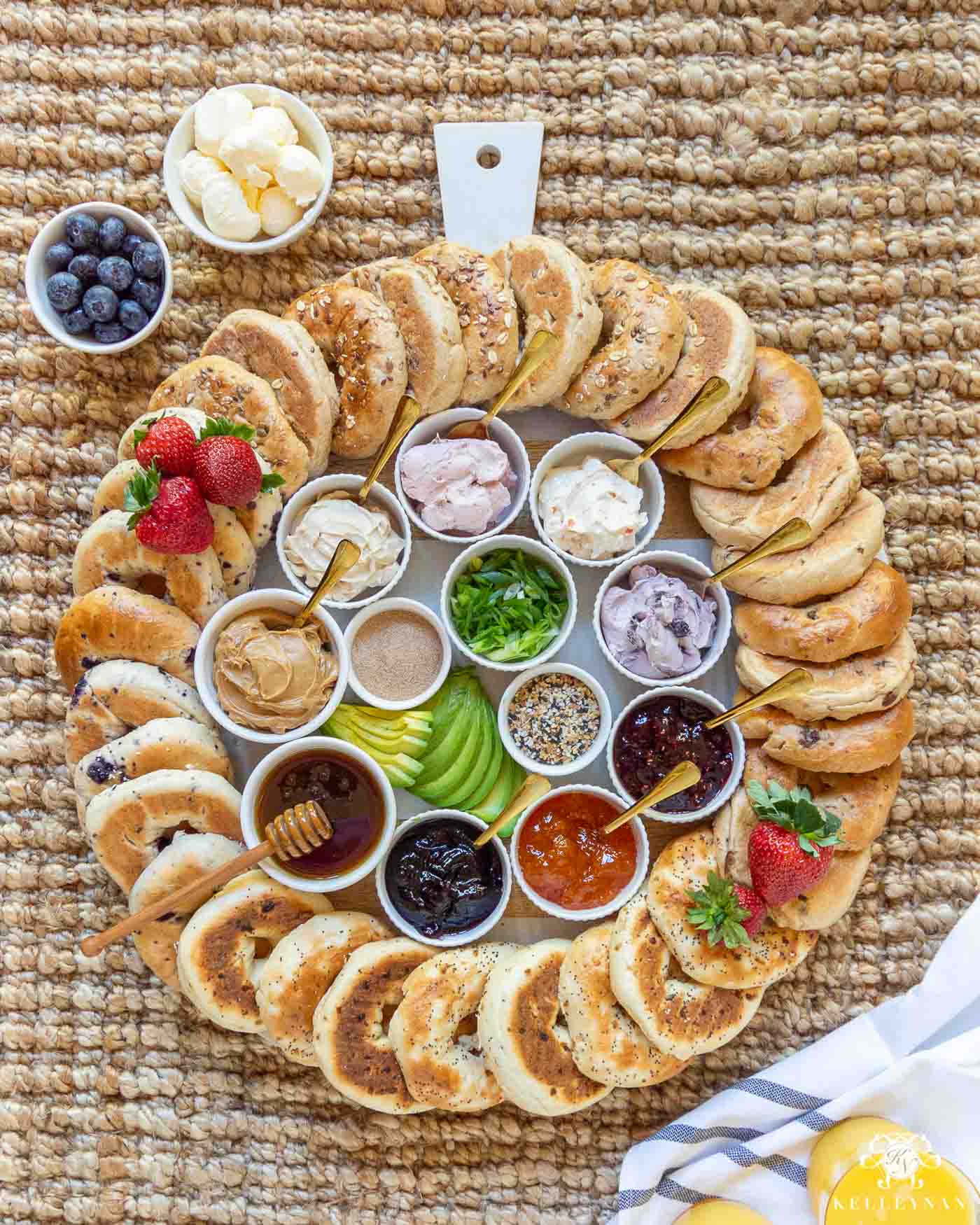 Sources: Round White Marble Board | Honey Dipper | Mini Gold Teaspoons | Ramekins (SIMILAR) | Juice Glass (SIMILAR) | Turkish Towel | Jute Rug
Summer Grazing Board Idea #3: Slider Board
When To Serve It: Memorial Day; Last Day of School Celebration
What's a better way to welcome the beginning of summer than with this mini burger and dog slider board?! It's a great spin on grilled burgers and hot dogs, and the bonus here is all of the accompaniments and toppings are consolidated on one serving piece, which = more time to have fun and less time is needed for clean up! My slider burgers were grilled and then served, but you could easily grill them ahead of time, if you have other details to handle during the day. My dog spin is my ol' favorite stand in — pigs in the blankets. Dave and Eliza LOVE them and could probably polish off the entire batch in one sitting.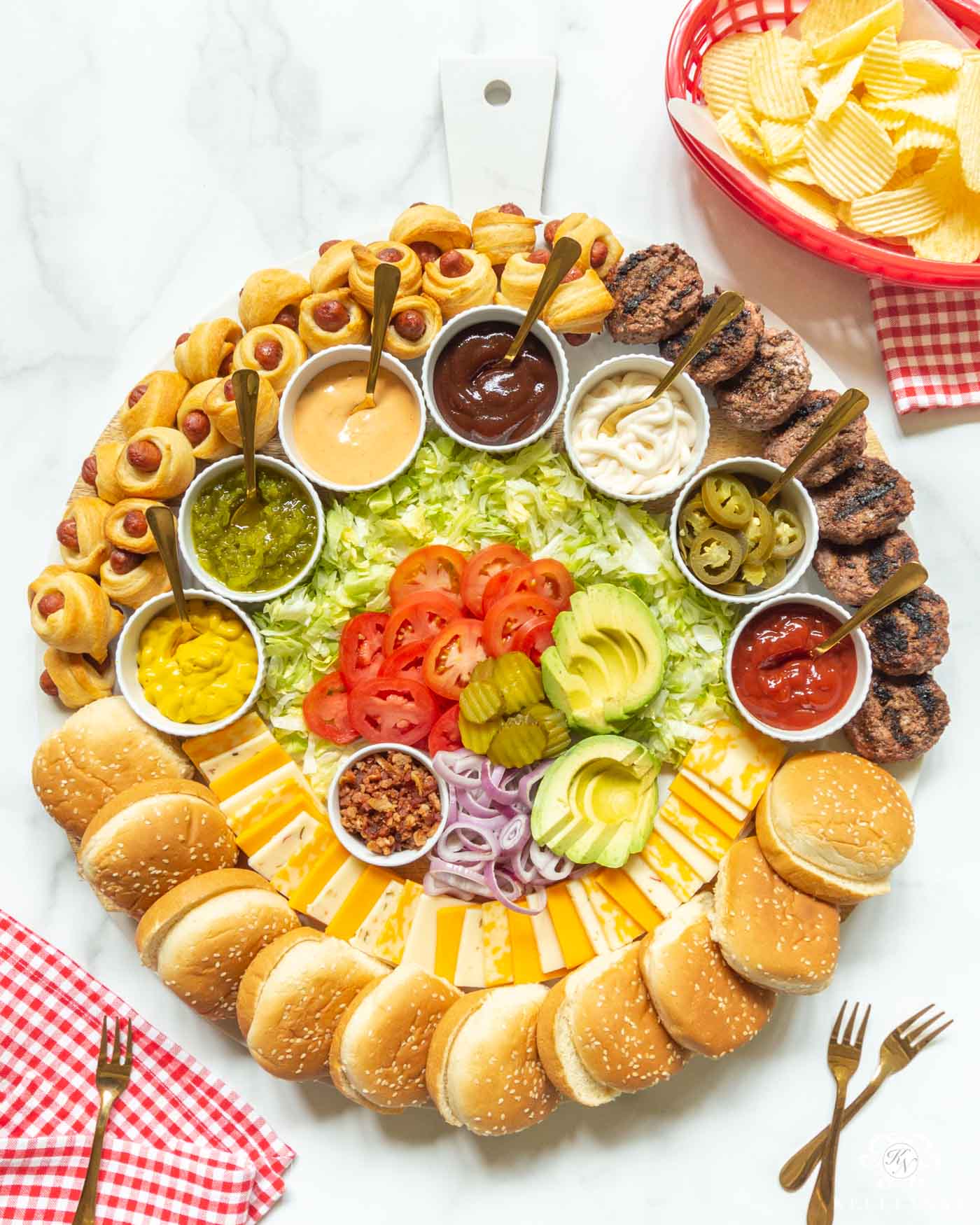 Sources: Round White Marble Board | Gingham Napkins | Red Food Basket | Ramekins (SIMILAR) | Gold Appetizer Forks | Mini Gold Teaspoons 
Summer Grazing Board Idea #4: Wing Board
When To Serve It: Father's Day; Pool Party
A great way to celebrate Dad on Father's Day is with their favorite foods…and who doesn't love wings? One of Dave's pleasures in life is to cook, and to especially grill, and he's mastered the art of cooking wings. He loves to cook them on the Egg (both grilled and in a rotisserie basket), but we recently discovered our new favorite wing cook method is in the air fryer. While many dads want the day for themselves and to NOT cook, an easy plan for the wing board is to pick up a batch of "naked" wings from your favorite wing take out restaurant and spin them yourself in your favorite (or several favorite) sauces. By serving a variety of wing types, you can have something for everyone, from the hottest and spiciest (Dave's favorite) to a sweeter and milder version.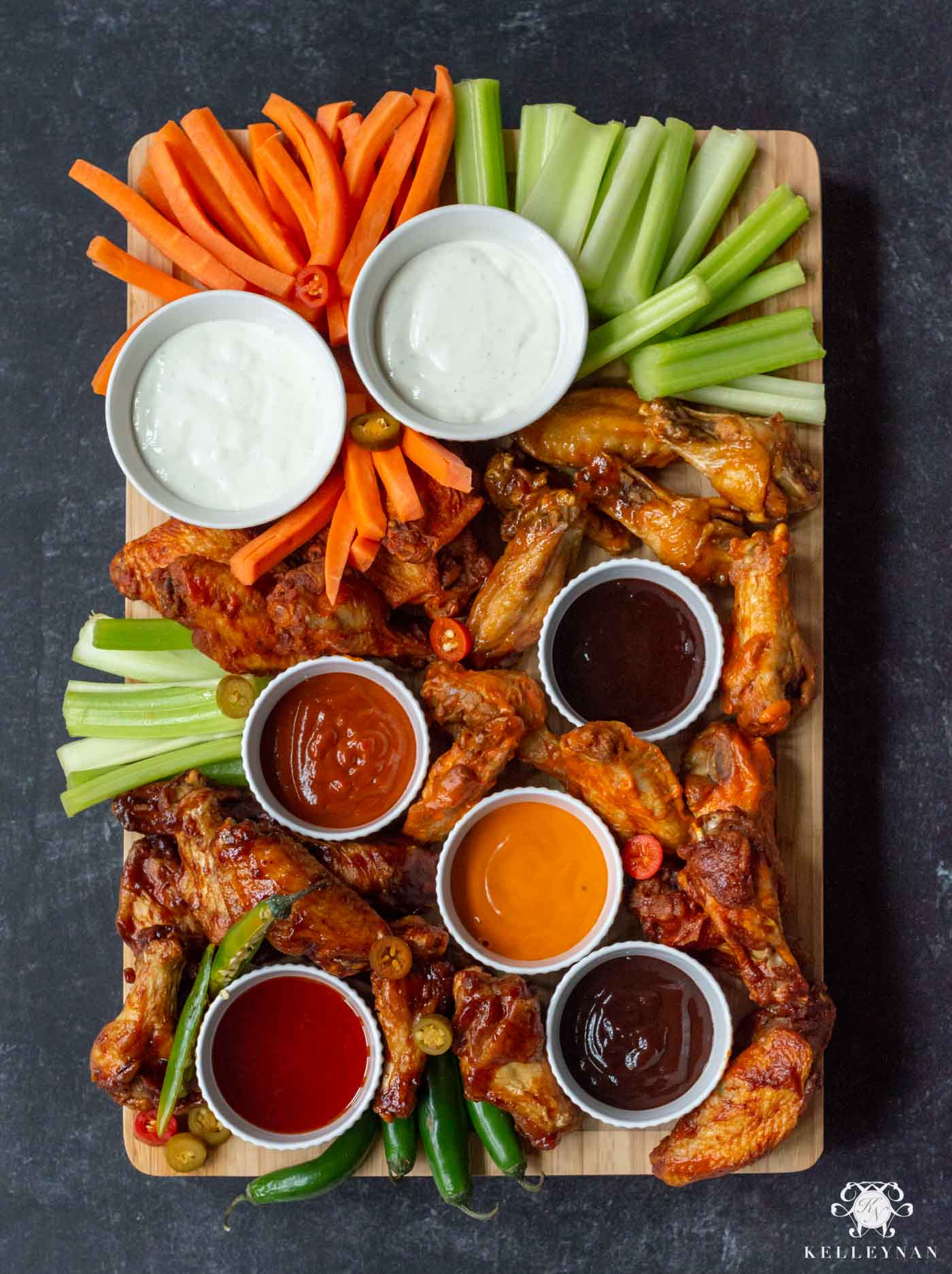 Summer Grazing Board Idea #5: Crudités Board
When To Serve It: Bridal Shower; Baby Shower; Girls' Night
Planning a bridal shower and prepping the food can be a real challenge. This is a celebration where you want everything to be as PRETTY as it can possibly be, just like the special wedding day. That includes the food, which you typically want to look as fresh and be as light as possible. This veggie board checks all of those boxes. This time of year, fresh produce is at its best and I love featuring "mini" versions of as many veggies as possible, like these mini zucchinis and mini carrots. I also like to find rainbow varieties of veggies to add color and interest, like these radishes, heirloom cherry tomatoes, and again, the carrots. The different colors and shapes make for a pleasing display, along with crackers, sprinkling items and dips. And I couldn't resist the opportunity to use a hollowed out bell pepper as a dip bowl. This veggie board is a perfect go along to your "typical" shower fare like chicken salad sandwiches and cold salads.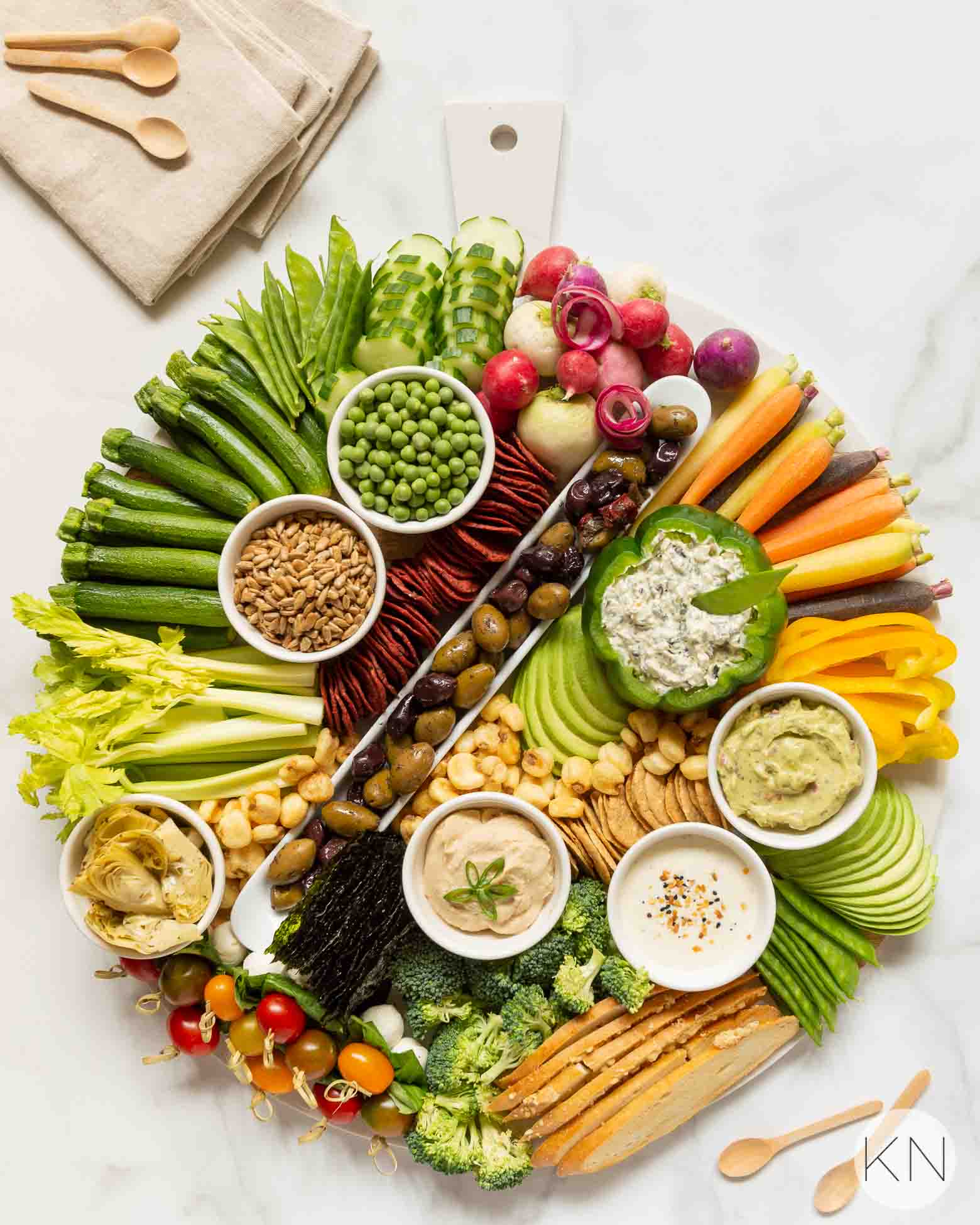 Sources: Round Board | Olive Boat | Dip Bowls | Wooden Spoons (similar) | Bamboo Skewers | Linen Napkins
Summer Grazing Board Idea #6: Barbecue Slider Board
When To Serve It: Fourth of July; End of Summer Celebration
At our house, it's simply not the Fourth, unless we are grilling something for the day. At the same time, our other July 4th traditions include our home town steam engine parade, water play and some type of fireworks watching, whether it's in the neighborhood or in town. That being said, we don't want to devote this day to slaving in the kitchen to cook a bunch of elaborate dishes. This slider board is the hero of the day for the Fourth or any other summer celebration. We actually used this approach for Easter dinner this year too, and it was fantastic! Dave smokes a mean beef brisket, but pork or chicken could easily be substituted for the protein. The barbecue sliders are the star of the show and the small size allows one to combine toppings and sauces in different ways to experiment a variety of flavor profiles. Your sides may be as easy or as complicated as you'd like. THIS four bean salad is a perfect side salad to serve with barbecue and is best if it's made the day before.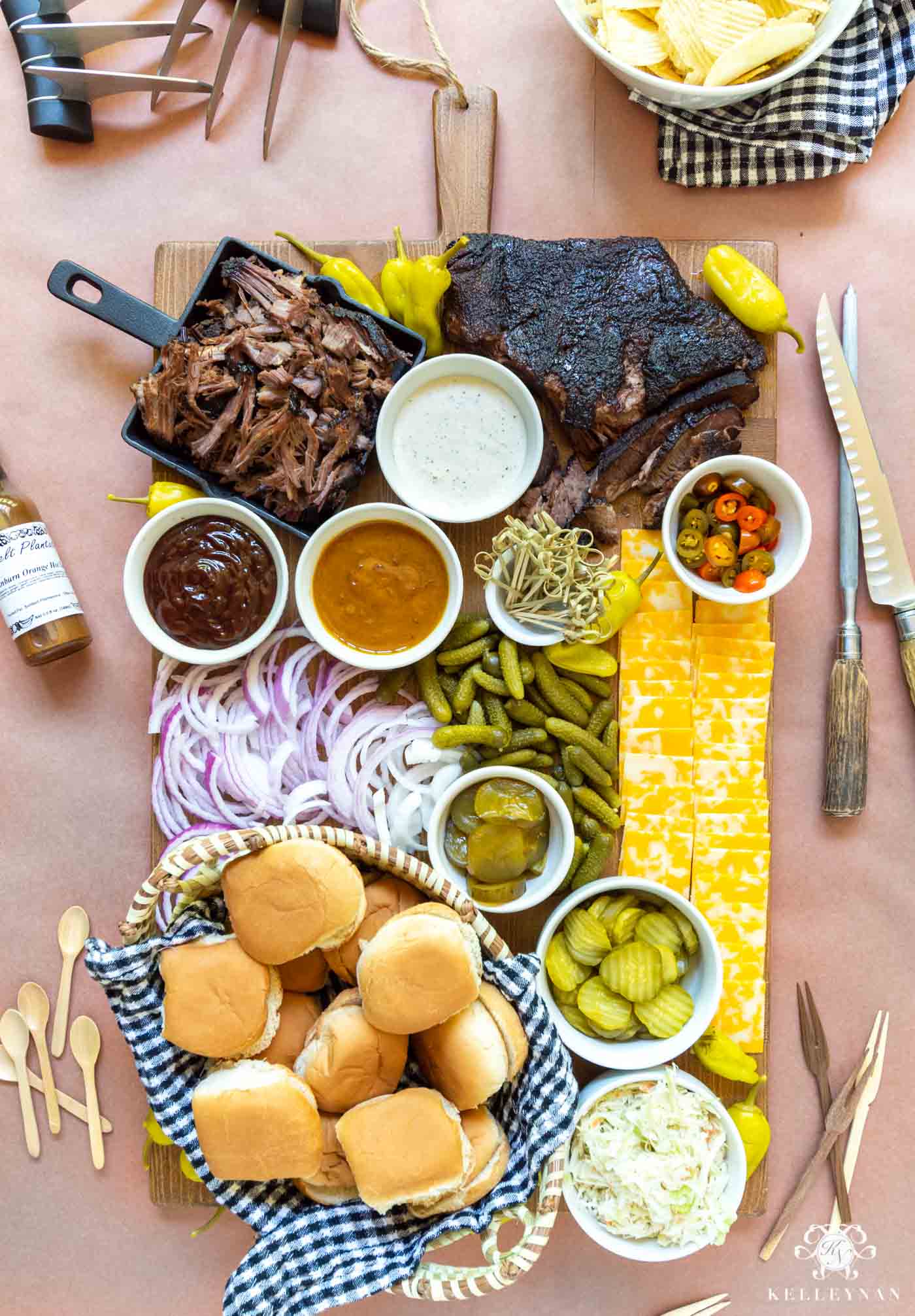 Sources: Rectangular Board | Cast Iron Skillet | Ramekins (SIMILAR) | Mini White Bowls | Mini Wooden Spoons | Wooden Forks | Bamboo Cocktail Picks | Meat Shredder Claws (SIMILAR) | Butcher Paper
Summer Grazing Board Idea #7: Red, White and Blue Cheese Board
When To Serve It: Memorial Day; Fourth of July; Labor Day
This festive board features things that are salty, sweet, creamy and crunchy — all in shades of red, white and blue! The Red, White and Blue Cheese Board makes the perfect patriotic statement for all of the summer holidays and can easily be paired with another of the more substantial boards to create the perfect meal for summer gatherings and parties.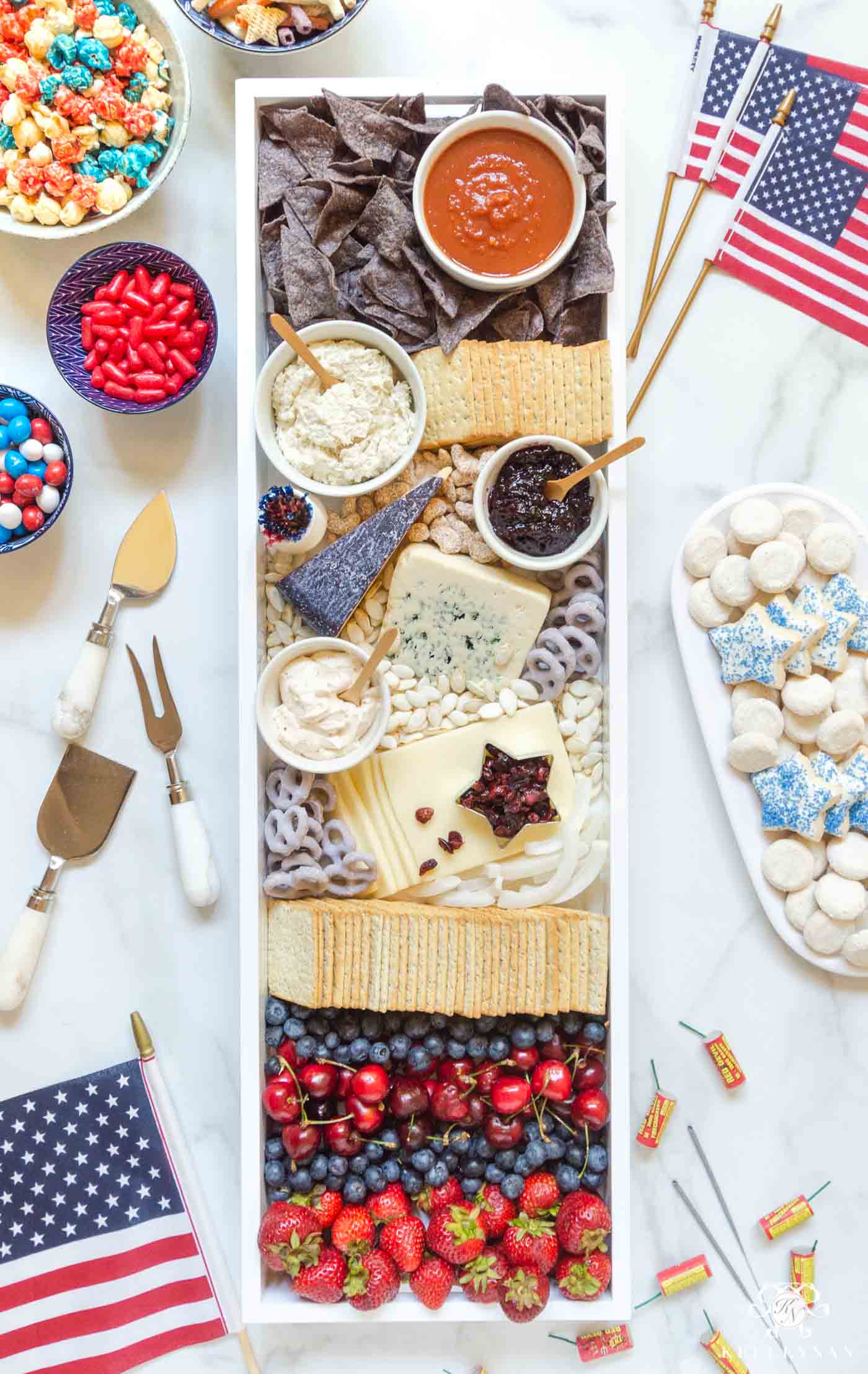 Sources: White Rectangular Tray | White Marble Cheese Knives (set of 4) | Blue and White Bowls (SIMILAR) | White Serving Platter |  Ramekins (SIMILAR) | Mini White Bowls | Mini Wooden Spoons | Star Cookie Cutter
Summer Grazing Board Idea #8: Shrimp Cocktail Board
When To Serve It: Dining Al Fresco; At Home Date Night
When it's warm outside, we love to dine al fresco on the deck. This shrimp cocktail board is the perfect start to a meal or for lighter fare, it IS the meal. We love to "dip" and having several choices of sauces — cocktail, tartar and remoulade — is bound to meet anyone's tastes. I buy the already prepared shrimp from Costco. It's not only a time saver, but it's some of the best boiled shrimp I've ever had. The shrimp cocktail board is light enough and pretty enough to serve alongside other board options, especially the bridal shower!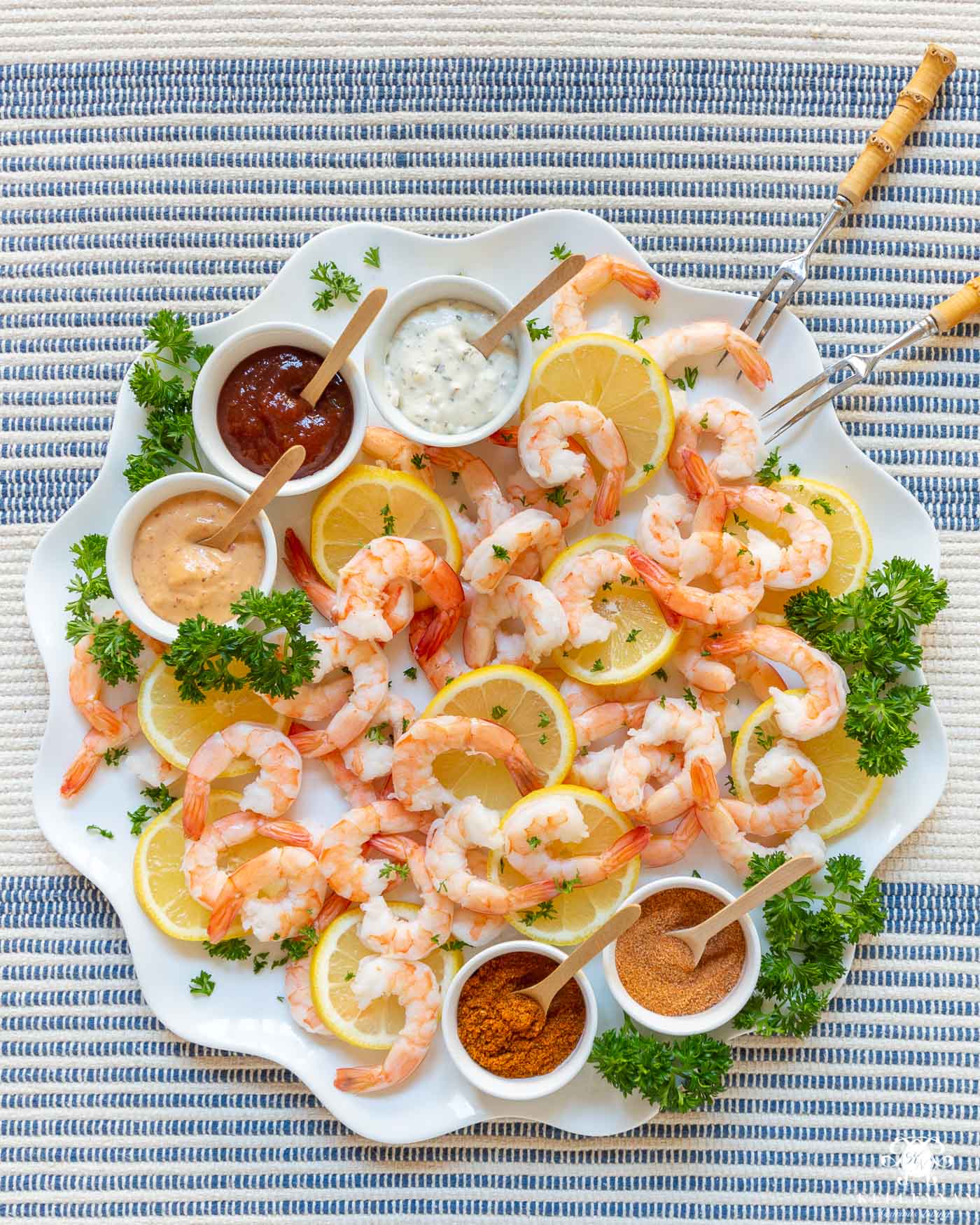 Sources: Mini Wooden Spoons (SIMILAR) | Platter – no longer available (SIMILAR 1) (SIMILAR 2) | Ramekins (SIMILAR) | Bamboo Handle Seafood Forks – vintage (SIMILAR)
Other Posts You May Be Interested In:
Pin for Later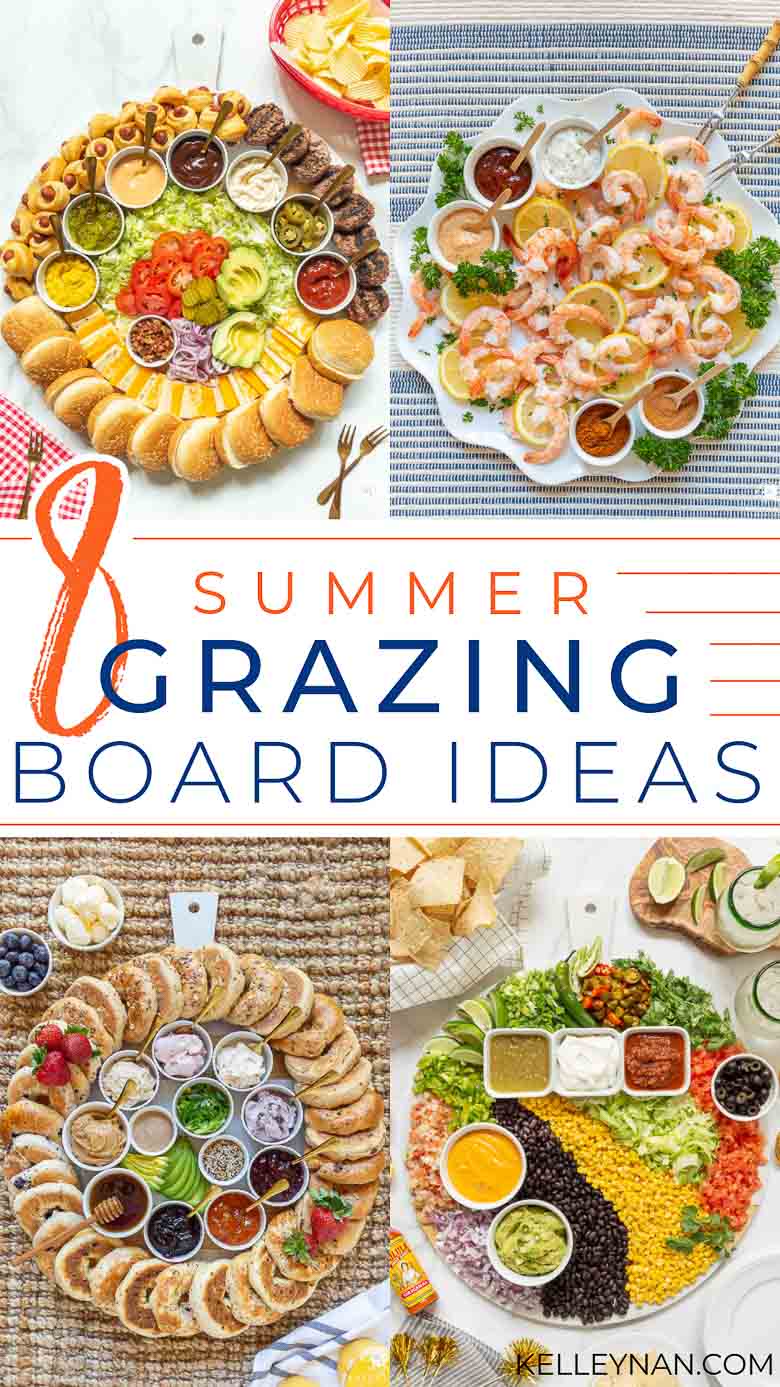 Favorite Big Boards That Hold All The Things