Since we installed our pool, it's become increasingly more evident each time we're outside what we actually use (and use often), and what we thought we would use (that doesn't get used as often as we'd assumed.) Many of my poolside faves have been shared in one way or another, either on KN or on social, this year or in years past. But now that we're actually active in the backyard regularly, I finally have a reason to compile my proven pool essentials… those things I reach for each and every time we get in the pool. This isn't a beach list (though I do consider many of what I've included in today's post to be "musts" for the beach, too) — these are specific to enjoying pool days.
Posts on KelleyNan.com may contain affiliate links. Click HERE for full disclosure.
*Note: 4th of July Deals & Sales can be found at the bottom of today's post!
13 Proven Pool Essentials
Below, you'll find my favorite personal items with everything from lounge and leisure to protection and hydration (and why I hold them in such high regard). Most everything featured comes in several prints/patterns and if you're planning a pool day over the holiday celebration days ahead, several items are linked via Amazon and are available for quick delivery.
*All links can be found below the following graphic.*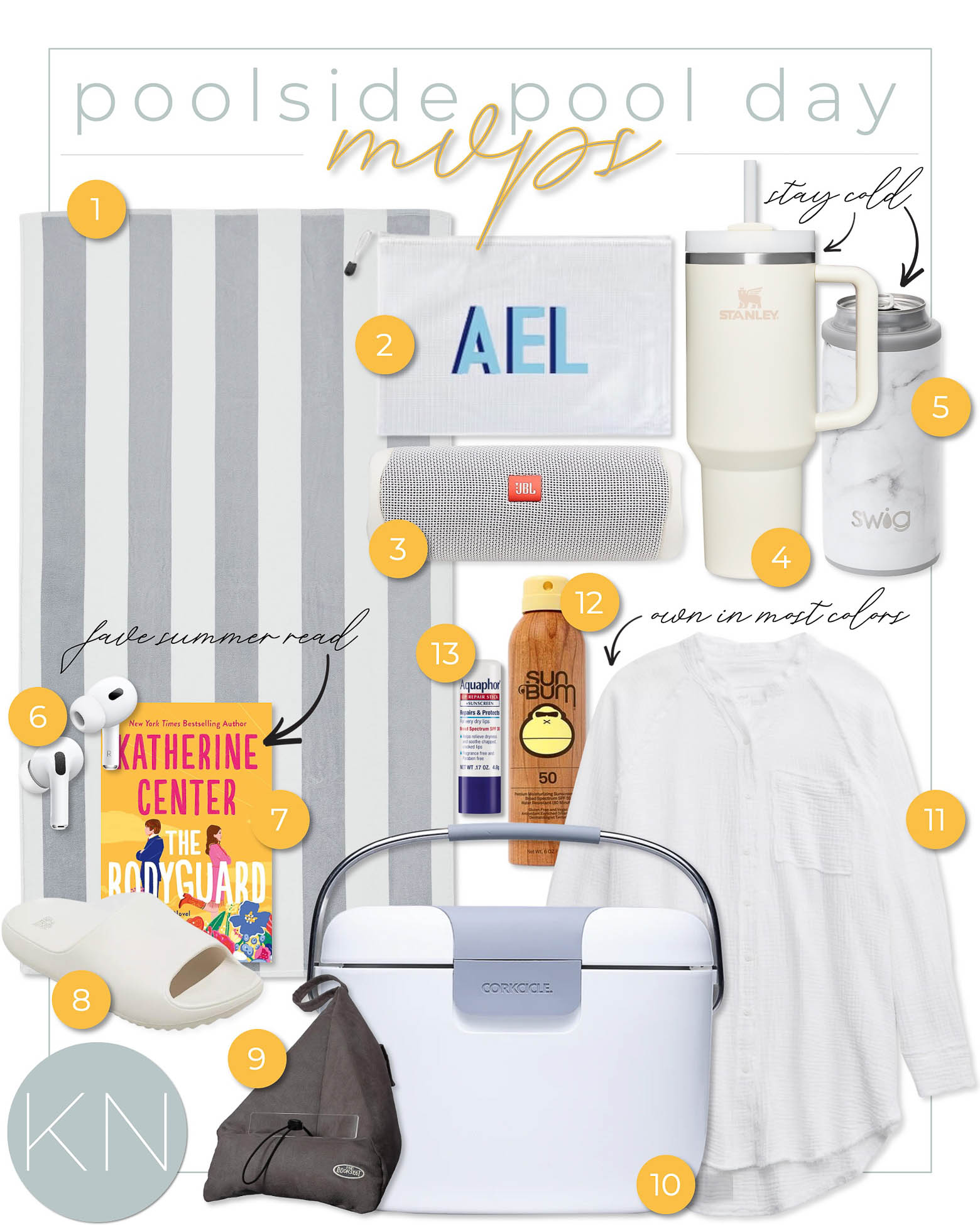 Sources: 1. Striped Beach Towel (currently on sale!) | 2. Waterproof Pouch | 3. Waterproof Portable Blue Tooth Speaker | 4. Stanley Quencher Tumbler | 5. Swig Life Skinny Can Cooler | 6. Air Pods |  7.  "The Bodyguard" Paperback Book | 8. Slide Sandals | 9. Book Seat Book Rest | 10. Corkcicle Chillpod | 11. Pool to Party Cover Up | 12. Sun Bum Sun Screen  | 13. Aquaphor Lip Repair Stick w/Sun Screen
Our favorite striped towels (Number 1) come in multiple sizes (3 sizes, actually — I prefer the largest for lounging), multiple colors (currently 9!), and are currently on sale HERE. We had purchased them when they were way more limited in color options and were reversible. They now come in a BUNCH of colors and are the same stripe color on both sides (which I prefer). I love the heft and absorbency, quality, and my favorite little feature is that they feature a loop for easy hanging. You can seem them hanging on our new poolside hooks (installed by moi 😉 ) below.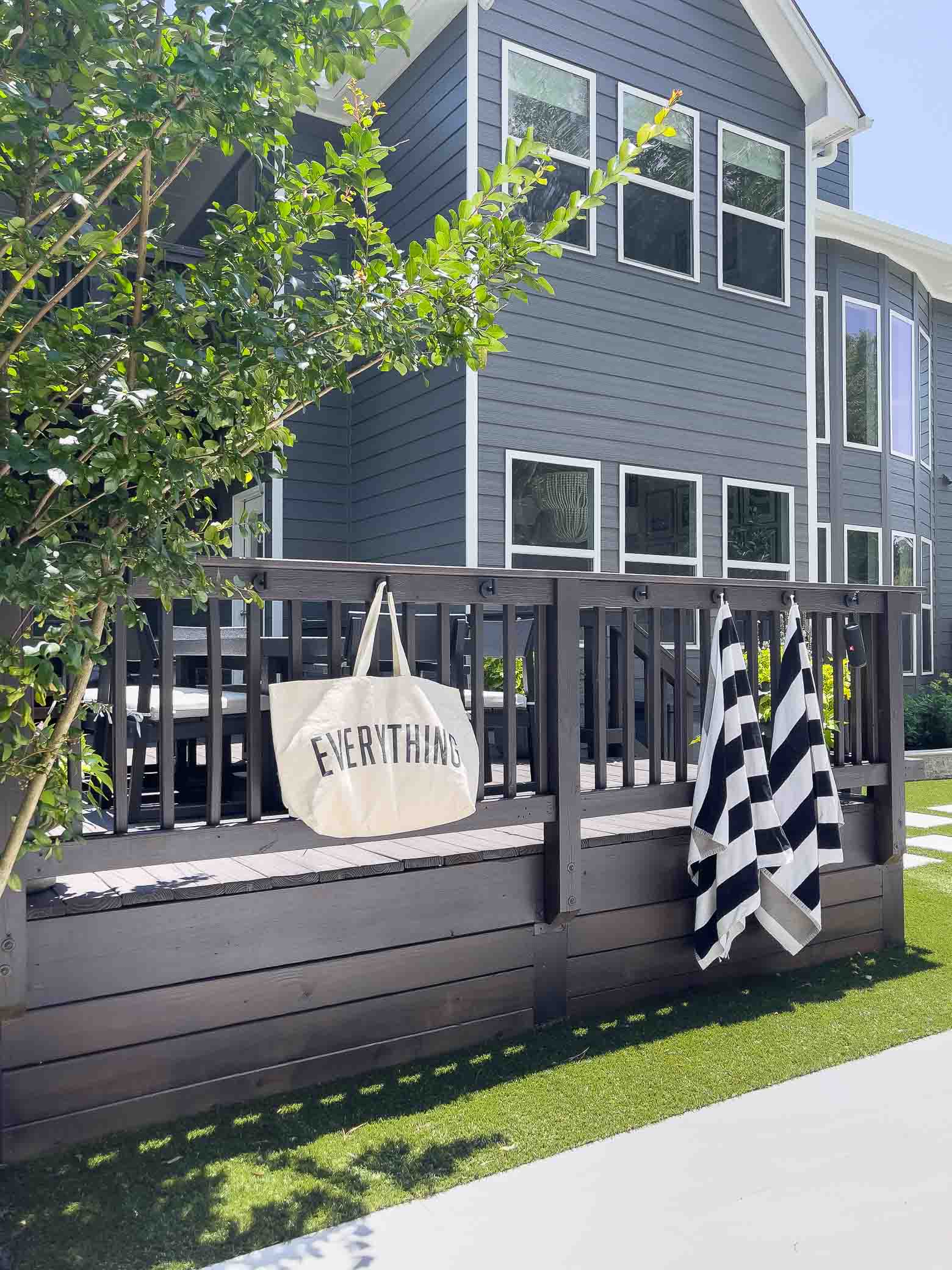 Sources: Towel Hooks (8 pc set) | Everything Canvas Bag | Striped Beach Towels (currently on sale!) | Waterproof Portable Blue Tooth Speaker
By the way, if you want to see them getting installed in real time, you can catch my Instagram reel HERE.
We don't have a pool house, outdoor closet, or really any dedicated space for housing our outdoor/pool things so I've tried to get creative with simple solutions for storage and organization. You can expect a post on that specific topic soon! 😉
Along with towels and totes and cover-ups, you may spy my favorite small bluetooth outdoor speaker (Number 3) hanging from a hook, too. Despite its small size, it gets loud, sounds great, and lasts for hours. It's also waterproof and goes with us on any beach trip, picnic, or outdoor event. It's so great, I feel no need to have some sort of speakers installed outside. Dave has a block rocker but due to its size, it's used infrequently — THIS ONE is what I grab for daily and until I find a permanent solution for our pool gear, it sits on a shelf above the desk in our kitchen.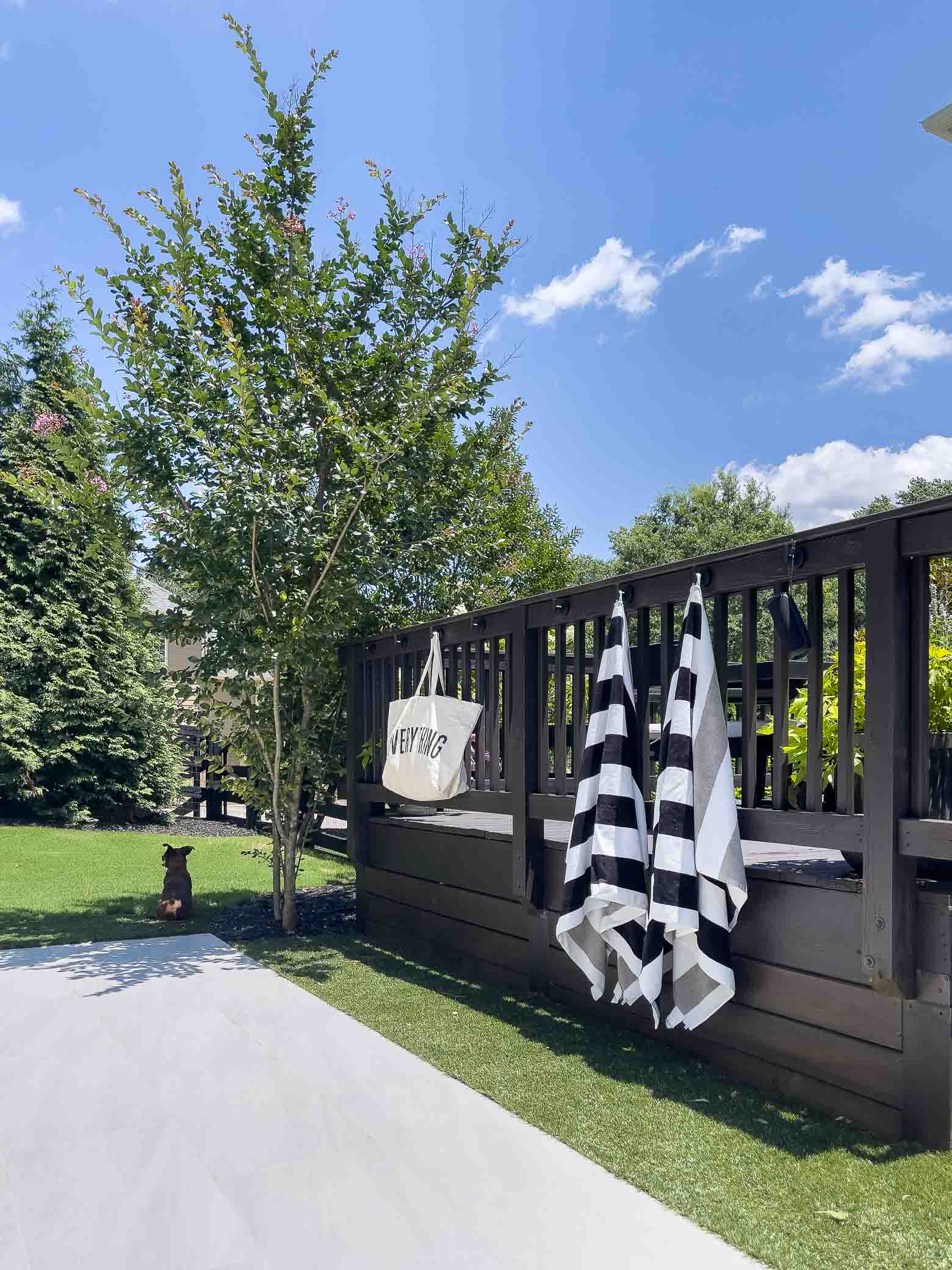 Sources: Towel Hooks (8 pc set) | Everything Canvas Bag | Striped Beach Towels (currently on sale!) | Waterproof Portable Blue Tooth Speaker
Inexpensive and adorable, I am obsessed with
THESE waterproof zip pouches
(
Number 2
). You can totally customize your pouch color and monogram/initials color and the pouches are available in multiple sizes (I prefer the large one that's 13″ to easily fit things like sunscreen and speakers). Along with being the perfect poolside (and beach) pouch,
these
would be great if you are planning favors for a friend getaway, need a hostess gift, or are hosting yourself. They're also great "dry" bags for backpacks. Check out all the options and color combos
HERE
.
We primarily make daytime our pool time and during the day, seltzers are our go-to. Naturally, I needed a koozie of sorts to fit the skinny cans but it wasn't until I ordered and tried THIS ONE (Number 5) that I decided it was a major deal. And subsequently ordered one for Dave. Followed by ordering one for my mom. And ultimately ordering one as a spare for guests. This thing keeps cans cold for hours — even in the direct hot sun — even when you're barely sipping. For. Hours. You can find them HERE on Amazon in more than 40 patterns — each pattern varies in price but there's currently a coupon promo attached to the listing for 20% off. I can't decide on a favorite pattern but I love "Party Animal" — if I wasn't practicing being minimal-ish, I'd order it to add to our collection 😉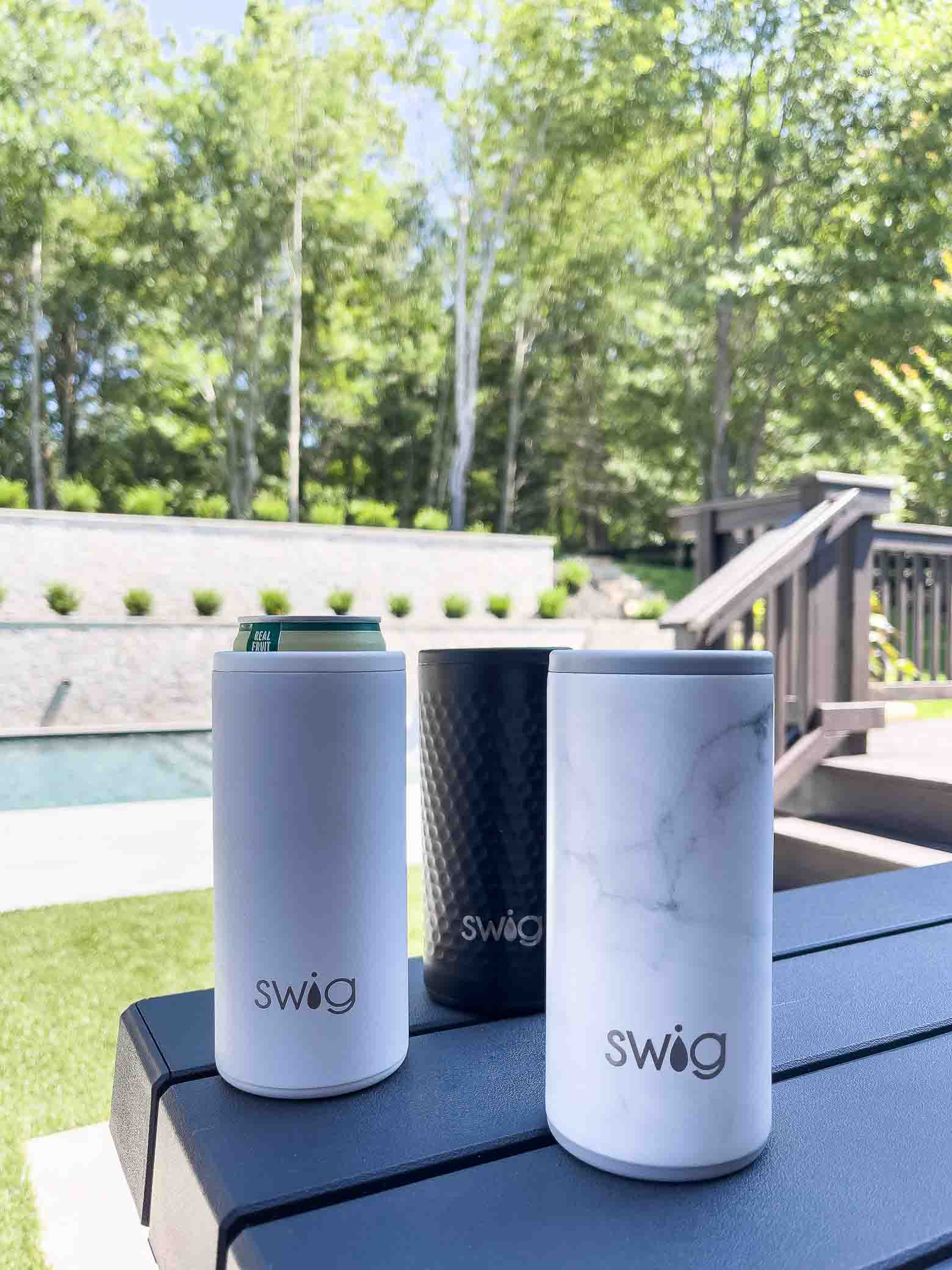 Sources: Swig Life Skinny Can Cooler (44 colors available!)
And, along with my seltzers, I always, always, always am carrying my 40 oz. Stanley (Number 4). Here's the thing. Some people don't get the big deal about these big insulated mugs. I say these people must not be serious water drinkers, haha. Because I carry mine around all day, every day, and fill it at a minimum, four times. It sits on my nightstand overnight and is the first thing I resume when I open my eyes in the morning. I have two that I switch between (so when one is dirty, I can use the other). I have "practical" black and white colors, but yesterday, I actually ordered the new lavender color they just released HERE. The 2.0 version IS better than the original and in general the tumbler is superior to my old Reduce mugs. They stay cold and I never go anywhere without one — especially to hang in the pool.
Number 8 — one piece slide sandals that feel like walking on clouds. Fantastic arch support and so comfortable, if I'm not wearing my sneakers or house slippers, I'm wearing these. I've worn this casual slide almost exclusively this summer and despite my efforts to move away from "if you love something enough, buy it in every color", I have failed here. I started with two colors but have gone back individually to purchase two additional colors. The last time, my mom also found out why I was so hyped on them and also purchased two pairs. If in-between sizes, size DOWN. TBH, I wear them everywhere but they're poolside MVPs because they dry so quickly and are so cushy on the otherwise hard pool decking.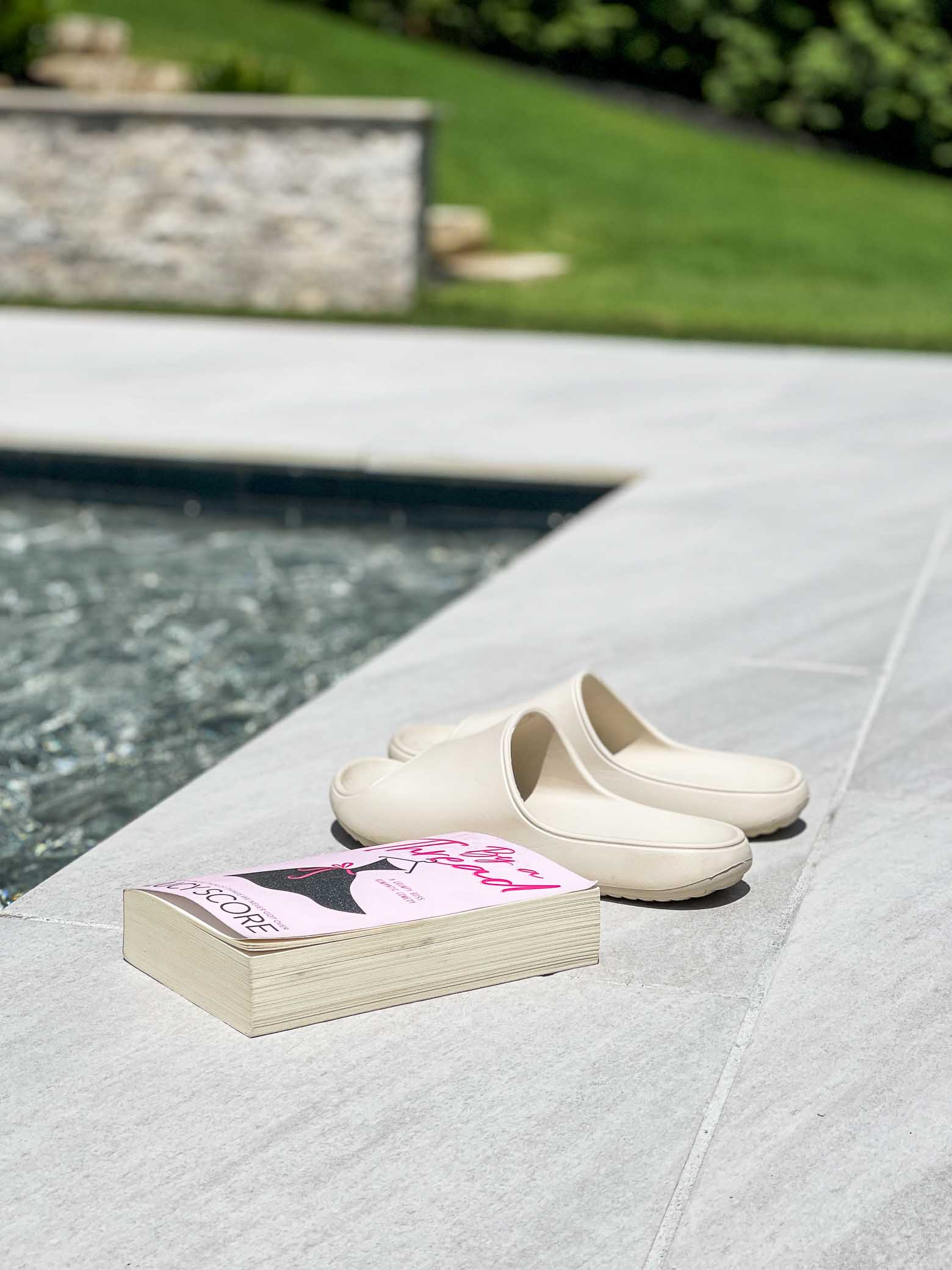 Sources: Slide Sandals (7 colors available) | "By A Thread" Paperback Book
If I'm by myself and want to lay back and close my eyes, I make sure to have my AirPods (Number 6) on hand for audiobooks (the noise-cancellation is KEY, to me, in all activities from lounging for peace, to when I'm doing chores to mute all the water and noise, to when I'm walking to cut out the sound of the treadmill.)
But, more often than not, I'm bringing a paperback to the pool. I'm reading all the books this summer (did you catch THIS post?) and I love standing on the side of the pool, elbows propped on a towel on the side, while getting lost in an easy, happy FUN book. while The Bodyguard by Katherine Center (Number 7) is at the tippy top of my list for "easy, quick, fun, happy, and humor" so far this summer, here are a few other faves that fit that specific criteria for maximum enjoyment…
There are plenty of other favorites in this genre (I adore Abby Jimenez and Christina Lauren for this genre) but the above are pretty drama free and I love all the humor.
And also speaking of books — and you would have seen this already if you read THIS post — but if I'm lounging on my loungers, I found that THIS clever book seat (Number 9) not only is an awesome aid for inside, but it's perfect to relax with outside. It's a lightweight beanbag type of material and filling and easily stays put on your lap/thighs (or if you're inside, on a table/bed/pillow) and it holds your pages in place perfectly so your hands don't get tired. There's a bungee cord that secures the acrylic bar to the book and it's become one of my fave gadgets. It also has a velcro pouch on the back for your book light (see my three-light one HERE)/bookmarks (see my magnetic ones HERE). You can find it on Amazon in a bunch of colors HERE.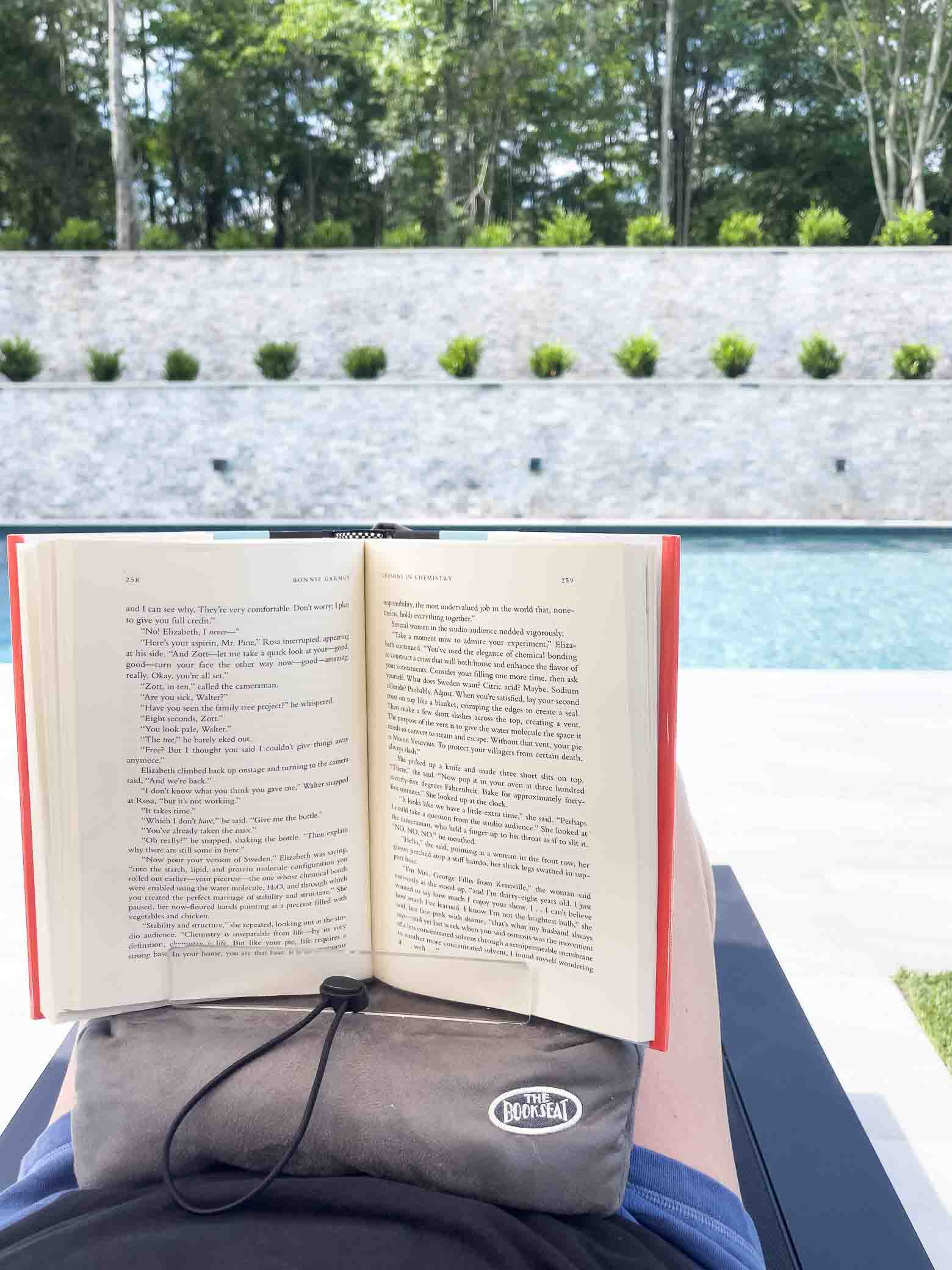 Sources: Book Seat Book Rest
THIS cooler (Number 10) is adorable but it's also efficient, holds ice well, has several cool features, and is what we use to keep our drinks poolside. I first put this on my Christmas wishlist (and then Dave bought it for me in pink as a gift) this past Christmas. It actually has a cutting board inside (with integrated bottle opener) that separates the cooler into two compartments. You can use both for beverages, one for ice and one for dry, and even use it to better organize a picnic. Bonus — the pink, white, and purple colors are currently $54 off right now HERE!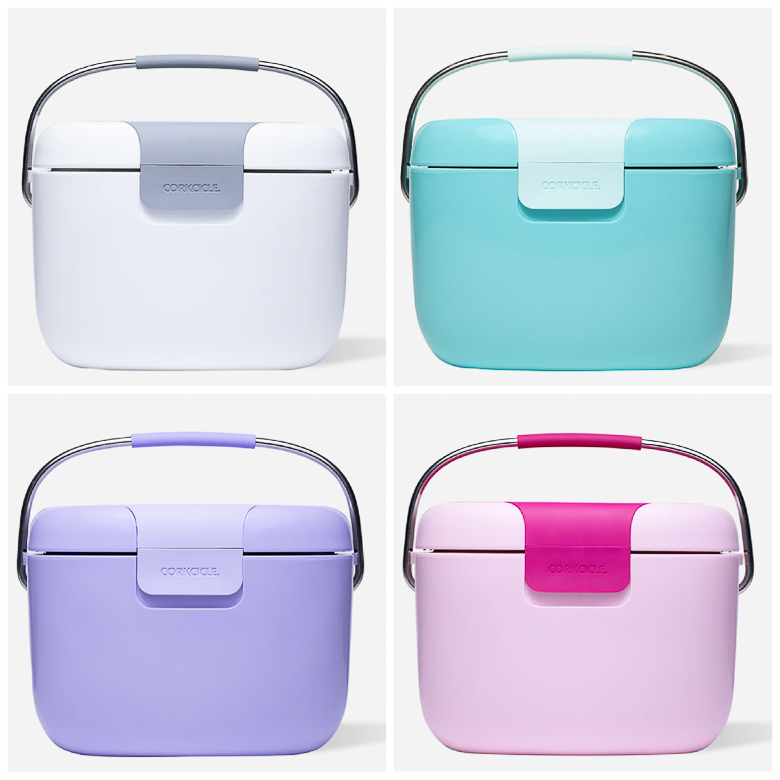 Sources: Corkcicle Chillpod (currently on sale!)
Yep, I'm still talking about THIS cover-up (Number 11). Which this year, became a casual breezy shirt, also, and my exclusive pool-side and backyard uniform. They're 36% off right now (HERE) and as such many of the colors are gone, but there are still a few staples available. This is another one that I got my mom onto, also. I stuck with my regular size for an oversized, cover-up fit.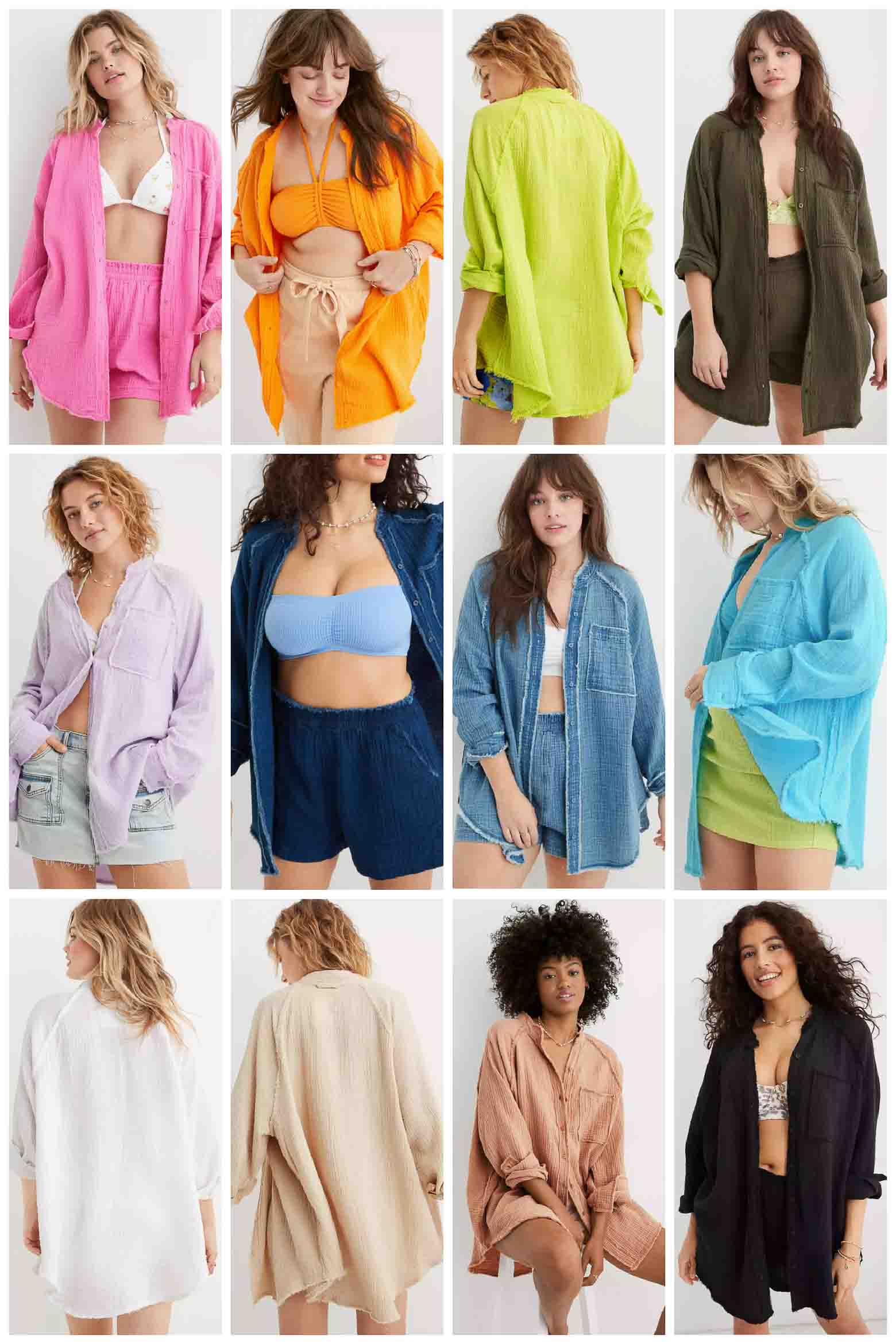 Sources: Pool to Party Cover Up (currently on sale!)
When it comes to skin protection, THIS sunscreen (Number 12) (available in a few different SPFs, up to 70) in SPF 50 is my go to for our whole fam. In my personal experience, it's the best I've found in terms of affordability meets quality. And, since we go through a TON, both factors are important. I use it on body, face, me, Eliza… When my friend came over, she raved about how evenly it went on, even though it's a spray. I will continue to purchase it on repeat, as needed.
And a fave for more than a decade, I keep THIS lip balm with sunscreen (Number 13) stashed everywhere — including my pool zip pouch. As much as I love it in the winter for dry and wind chapped lips, I probably love it in the summer sun even more.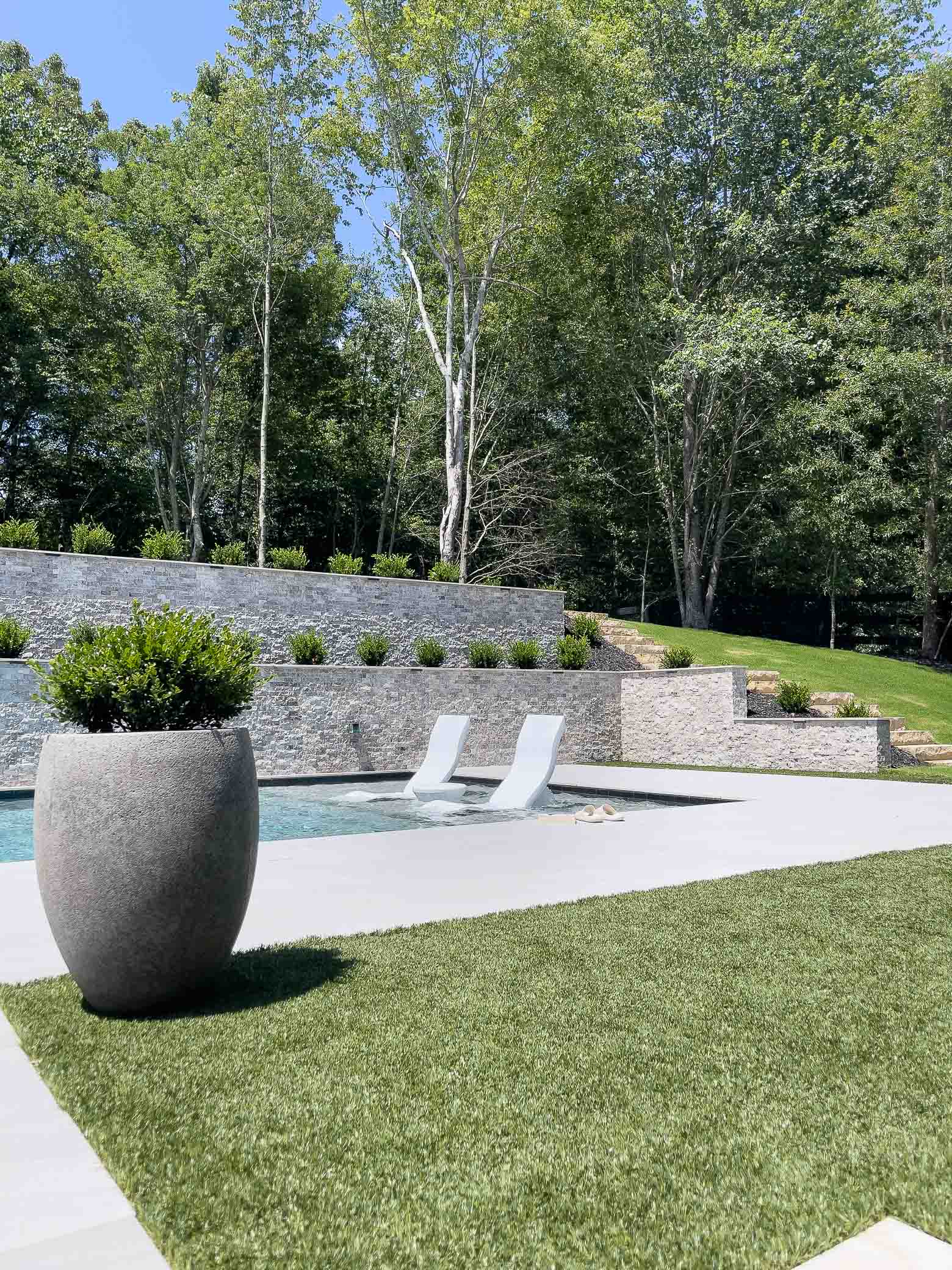 Sources: Stone Planter (XL)
If you missed the pool reveal with all the details, you can check that out HERE. We feel so fortunate to be spending our summer in a backyard we now love — it feels like the first actual summer I can remember and we are relishing in it.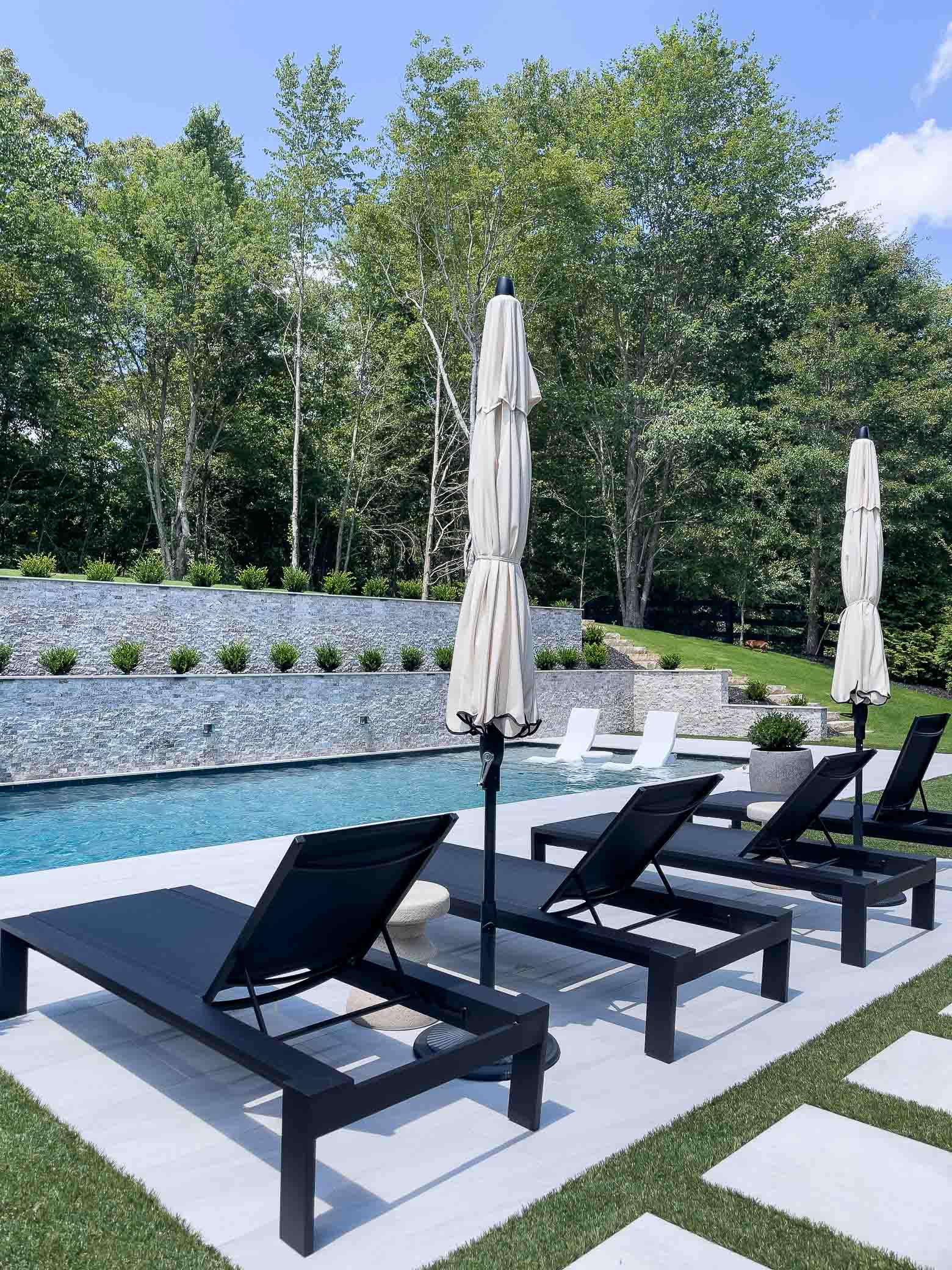 Sources: Chaise Lounges (set of 2) | Umbrella (black pole/canvas sand w/black trim) |  Umbrella Stand & Weight (currently on sale!) | Outdoor Side Table | Stone Planter (XL) | Striped Pillow Covers (24 x 24, set of 2) | Pillow Inserts (26 x 26, set of 2) 
For more summer updates, recipes, projects, and more, be sure to subscribe to emails at the bottom of the post!
More Posts to Check Out
---
4th of July Weekend Sales & Deals
Check out some of the noteworthy deals and sales happening this weekend!
Tap on the retailer below…
Serena & Lily — up to 40% off everything (some of the best deals they've had this year)
---
Anthropologie — Extra 40% off sale
---
Pottery Barn — Up to 50% off; free shipping on 1000s of items
---
Pottery Barn Kids — Up to 70% off; free shipping on 1000s of items
---
Pottery Barn Teen — Up to 70% off
---
West Elm — Up to 60% off; free shipping on 1000s of items
These marble trays that we have on our vanities are 20 – 30% off, depending on the size. It's also perfect to corral items by your kitchen sink!
---
American Eagle — 30% off everything!
---
Aerie — End of Season Sale (40%-70% off sitewide!)
My favorite summer uniform (cover-up/top) HERE is finally on sale for the first time!
My favorite hoodie of the year is now 40% off HERE!
---
Williams Sonoma — Up to 50% off cookware, cutlery, electrics & more
Several Le Creuset Dutch oven colors (HERE) are on clearance (in lots of sizes) and have an ADDITIONAL 20% off with code EXTRA!
---
Mark & Graham — Up to 70% off; plus free shipping on $200+ with code: SUMMER
My luggage is discounted this weekend HERE — we have this in several pieces and a few colors.
---
Rejuvenation — Up to 60% off
My catwalk flush mount lights are discounted this weekend HERE
---
McGee & Company — Summer Tent Sale (up to 70% off)
Check out the sale items HERE
---
Ballard Designs — 20% – 40% off sitewide; free shipping on 100s of summer items
---
H&M — 15% off sitewide; plus up to 70% off sale
---
Lulu and Georgia — 20% off everything, including markdowns
---
J Crew — extra 60% off sale; use code: FOURTH
I recently purchased THESE raffia earrings in blue (on sale for $8 w/ code FOURTH); the natural color are just over $5 right now HERE!
---
J Crew Factory — 20% off purchases $100+; 25% off purchases $125+ w/ code CELEBRATE (plus, 40%-70% off sitewide)
---
Visual Comfort — 20%-50% off sitewide and free shipping
---
The Company Store — 30% off $500+; 25% off 300+; 15% off $150+ w/ code JULY4
---
Rifle Paper Co. — 30% off sale items with code: SALE30
---
Bedrosians Tile and Stone — 25% off tile, vinyl and select slabs with code: LIBERTY23
---
Corksicle — 20% off sitewide with code: MDAY20; free shipping on $49+
My cute pink ChillPod I got as a Christmas gift is now 20% off! This thing is so nifty and I'll be using it poolside all summer!
---
Wayfair — Fourth of July Clearance, Up to 70% Off, plus free shipping
---
Arhaus — Fourth of July Event
The glass front cabinet that is similar to mine is more than 30% off. My mom has it in the Earl Grey color.
---
etuHome — 20% off sitewide with code: 20JULY
My favorite maker of wooden grazing boards, one good one is all you need! Find them HERE.
---
Janie & Jack — extra 20% off sale, plus free shipping, up to 70% off sitewide
So excited THIS swimsuit has dropped so low! My FAVORITE style for Eliza!!
---
Kendra Scott — 20% off fashion jewelry; 2 styles for $80
---
Frontgate — Up to 70% off sitewide; extra 30% off of clearance