We've been working to simplify, minimize, save, relish, live intentionally, and celebrate the "little things". So far, this summer has been my favorite ever. At least my favorite summer of adulthood. It's the first summer that I can remember that has felt like summer and we've worked to be more thoughtful with our time and resources. Saving money, in general, has become fun for me and when I stopped to reflect all the things that have given me joy over the past few months, I realized a lot of them were really inexpensive and many didn't cost a dime. Today, I'm sharing a little more personal look at what we've been doing and enjoying behind the scenes, with 10 free things that have recently made us happy, brought us joy, and/or enriched our lives.
*Posts on KelleyNan.com may contain affiliate links. Click HERE for full disclosure.
1. Rediscovering the Library
I could write an entire post on officially being the library's #1 fan. Actually, becoming recently obsessed with our local library is what gave me the idea for this entire post. Before I can explain my newfound love as adult, I need to give a little backstory and take you on a brief journey…
I was a "library kid" growing up — my mom took me often, she checked out books, I rented books and VHS (do you remember Fairy Tale Theater with Shelly Duvall?!)… I liked reading as a kid. I think as with most, I've gone through phases in life of reading a little and then not reading for a long time (because time, habits, life, priorities…) A few years ago, after getting into podcasts, I segued into audiobooks. I liked audiobooks because I could read without actually making time for visual reading. It was my reward while I did chores, walked, and ran errands. It gave me something to look forward to and sometimes, was even the motivation I needed to keep me going.
Eliza loves books and I love getting her books. She reads them and re-reads them but along with my minimization journey, I have a hard time getting rid of more books than we bring in. I decided this was going to be Eliza's inaugural library summer, and by association, it would be my library reintroduction. And that's where things started getting a little extreme.
When I took Eliza into the library for the first time (our county now has four), a kind librarian set me up with a new library card, talked about some programs, and I noticed how clean, pleasant, and just overall fantastic our neighborhood library seemed to be. It's where we go to vote so it wasn't a total stranger to me, but I'd never taken the time to appreciate it before. I was also shocked by how far technology had come since my childhood of checking out books. Eliza had an absolute hay day in her section — she was grabbing books faster than I could bag them. And then, we went to my section (adult fiction) and I sat her at a table so she could preview her new stack while I browsed. I pulled out my Audible wishlist and started locating physical books on the shelves — I didn't know if I would have time to read them, but since summer was approaching and we have a pool and I wanted to take time to truly relax (not just multi-task), I thought I'd get a book. I grabbed a couple and we checked out at a kiosk. "That was cool" I thought and I was confident we would be back soon.
(I put a basket next to Eliza's bed to keep her library books separate from the books she owns and it's worked well.)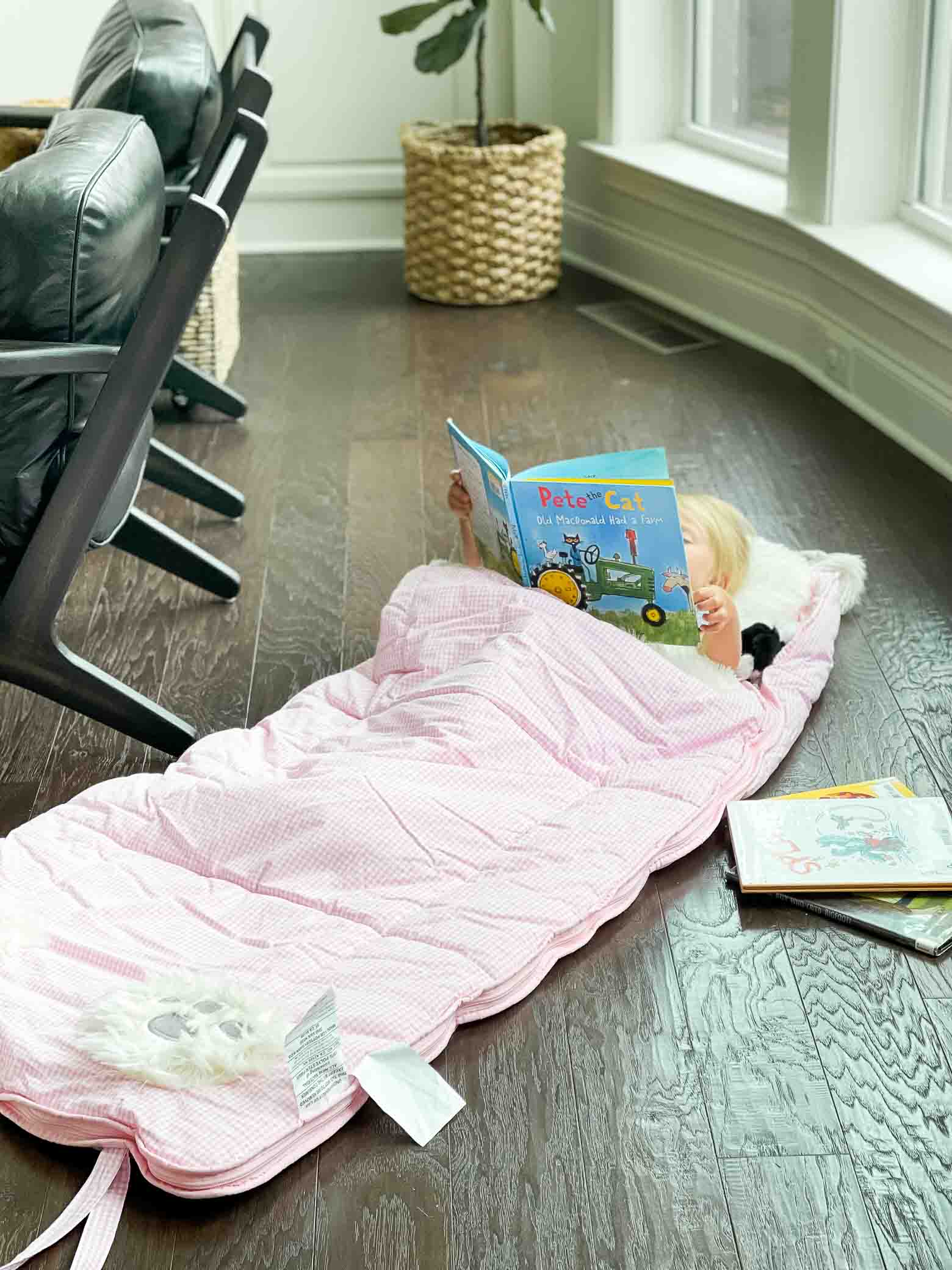 Well, I immediately started reading and didn't realize how much I had craved a true escape (sans phone scrolling and mind wandering). And then, I remembered the librarian mentioning this "Libby" app that you have access to with your library card. I'm sure this is old hat to many of you — especially those of you who have been long time dedicated library goers — but once I signed in and understood what "Libby" was, it was all over. The Libby app is a digital library of audiobooks and ebooks and has a lot (in both formats) that the physical library doesn't. I guess the library system purchases a certain number of licenses so if it's a super popular book, you get on a waitlist (they tell you what order you are in line, estimated wait time, and the ratio of people waiting/book.) I immediately started going through my wishlist and requesting to be added to the waitlist in both audio and ebook formats (to see which would come available first) and started crafting a wishlist within the app once I maxed out at the 15-wait limit. The audiobook plays within the app and the ebooks are delivered straight to your Kindle app. You can renew your books within the app and it's so easy to manage.
I also logged in to my county's library portal online and saw I was able to browse/request physical books within their website. I set my local branch as my pick-up spot and when I search for a book, if it isn't at my local branch, it will identify it at one of the other branches and they courier it over to my pick-up branch of choice (their courier service is daily so it's a quick turnaround.) And, since I have access to all libraries within our county, if a book has a waitlist (which it shows you online), it takes all branches into consideration and ships the book to your local branch once you're up. It shows how many copies of each book is where, how many people are ahead of you…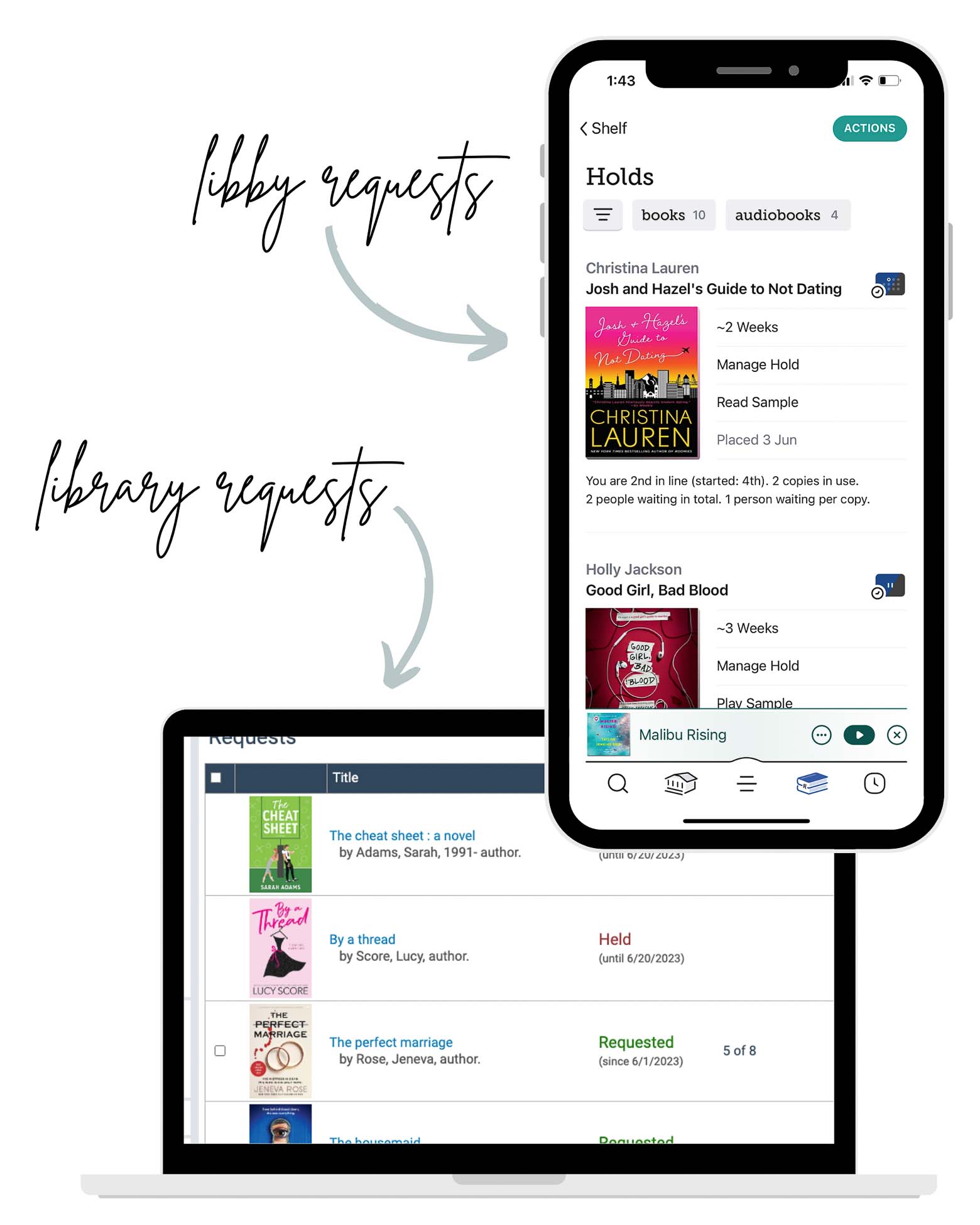 With an over-ambitious and too-excited queue between the physical library and the Libby app, I've been going hard. And I haven't been able to stop. I've been so excited about using all our tax dollar resources (haha) I can't believe I haven't been taking advantage of this service. I paused my Audible membership because I can't keep up with the books I'm checking out, requesting, reading, and listening to in all formats. It's amazing. And that's how I became our county library's self professed Number One Fan.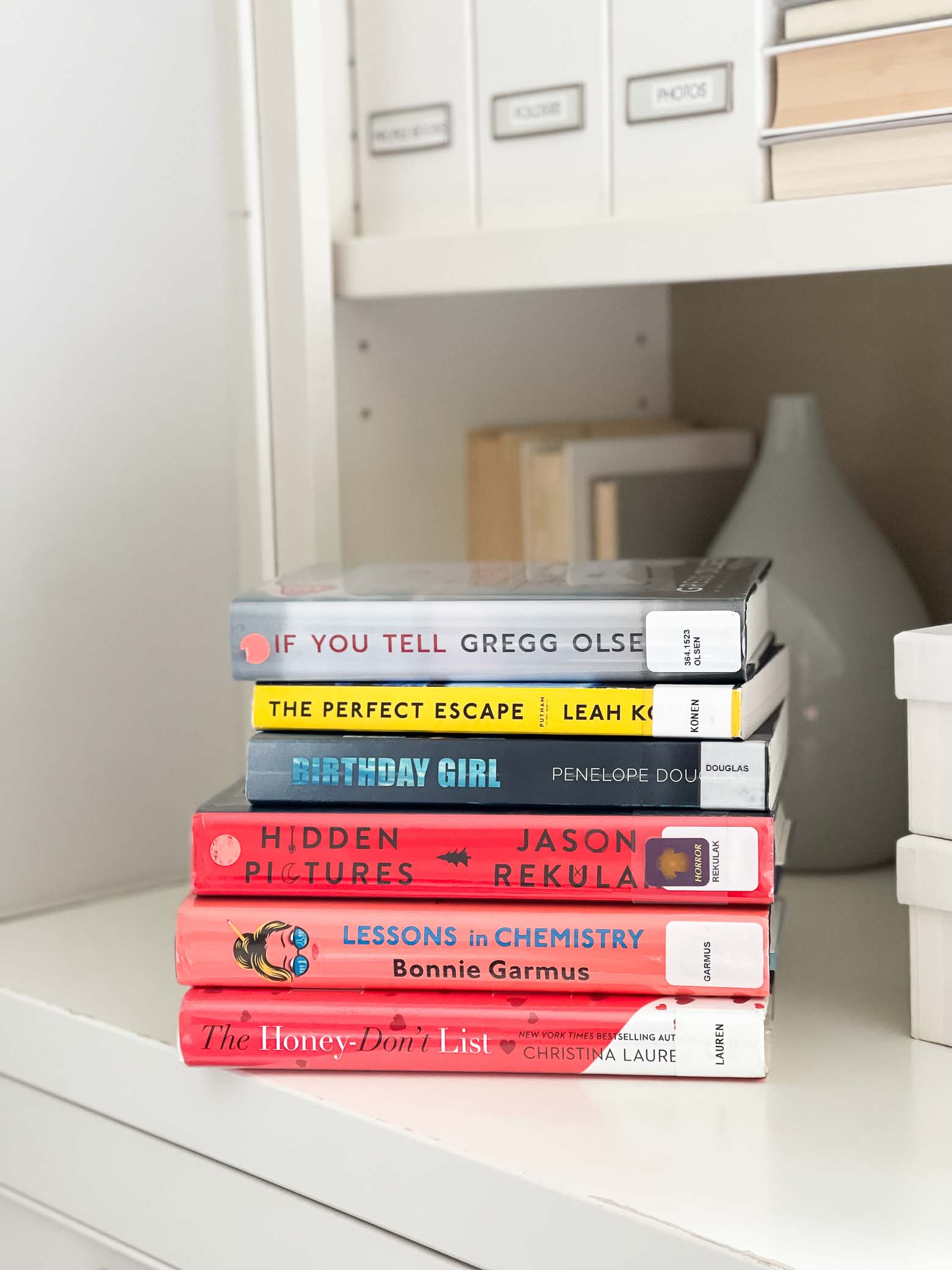 It's the library. I get it. It's not groundbreaking. It's an OLD institution. But as an adult who values saving money and has been craving it all more than I realized, I can't get over it.
So, if you're a library goer, props to you. And if you aren't, this is your sign — you're missing out! And, if you have a library membership but have never checked the Libby app, enter your credentials — your system likely has access to it.
The more I started to read physical books, the more clear it was what kind of aids I wanted. I set out in search of a book easel of sorts for when my hands got tired at night and I stumbled upon THIS book rest on Amazon (HERE). It is awesome. Along with using it in bed, I quickly discovered that it's perfect to set on my desk while I'm eating lunch, and ever take outside while I'm lounging.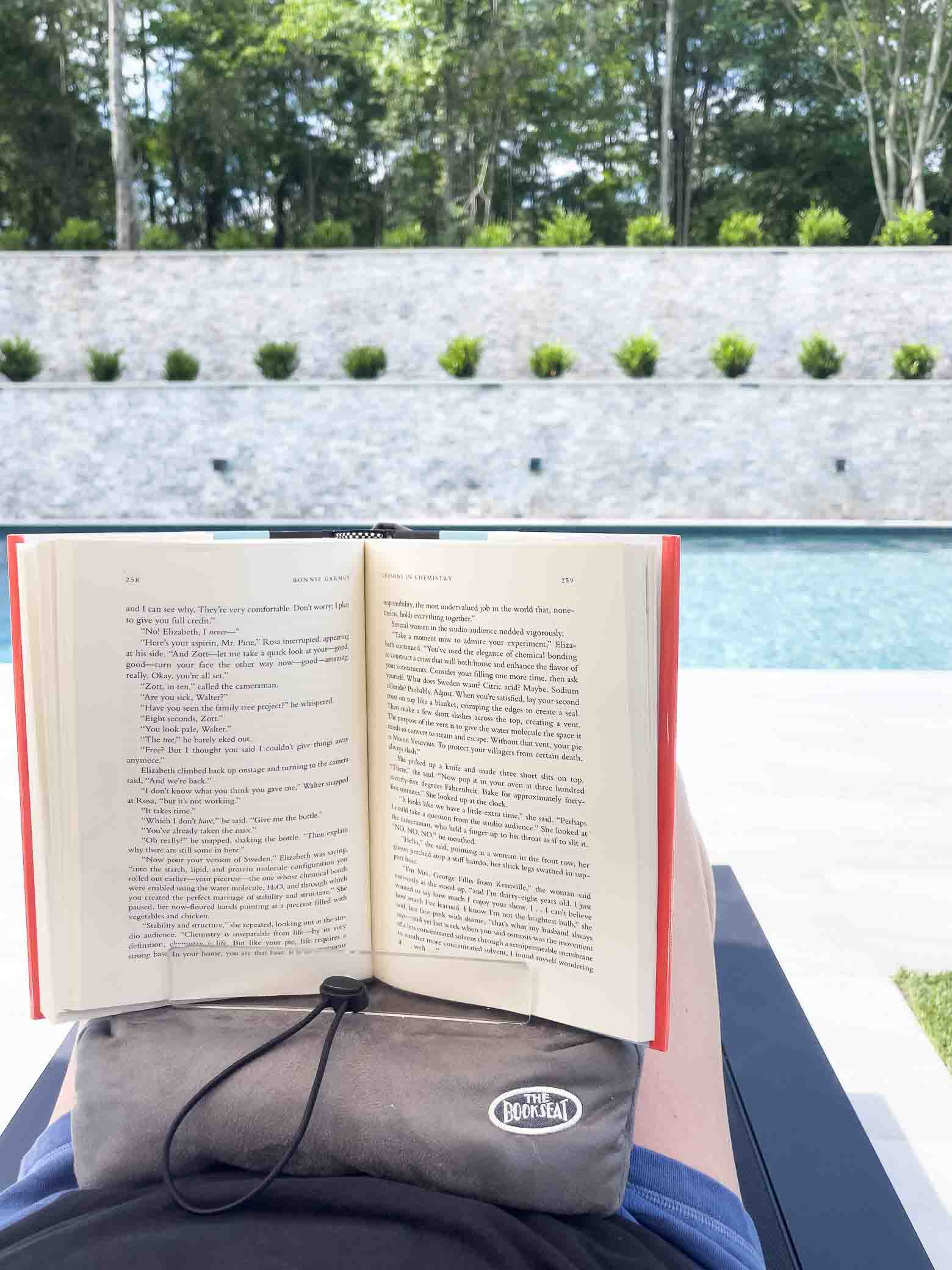 It comes in a bunch of colors, is lightweight and has almost a beanbag composition, and has an acrylic page holder with bungee cord for adjusting. It has a small back pocked I can easily fold my book light into, along with a spare bookmark. Speaking of bookmarks, I love THESE these magnetic ones — you can get a set of 12 right now on Amazon for under $5 HERE. I love that they don't fall out and don't easily ruin by accidental folding or water.
My book light has three different light tones and also dims. It is sturdy and folds up as small as you need it to.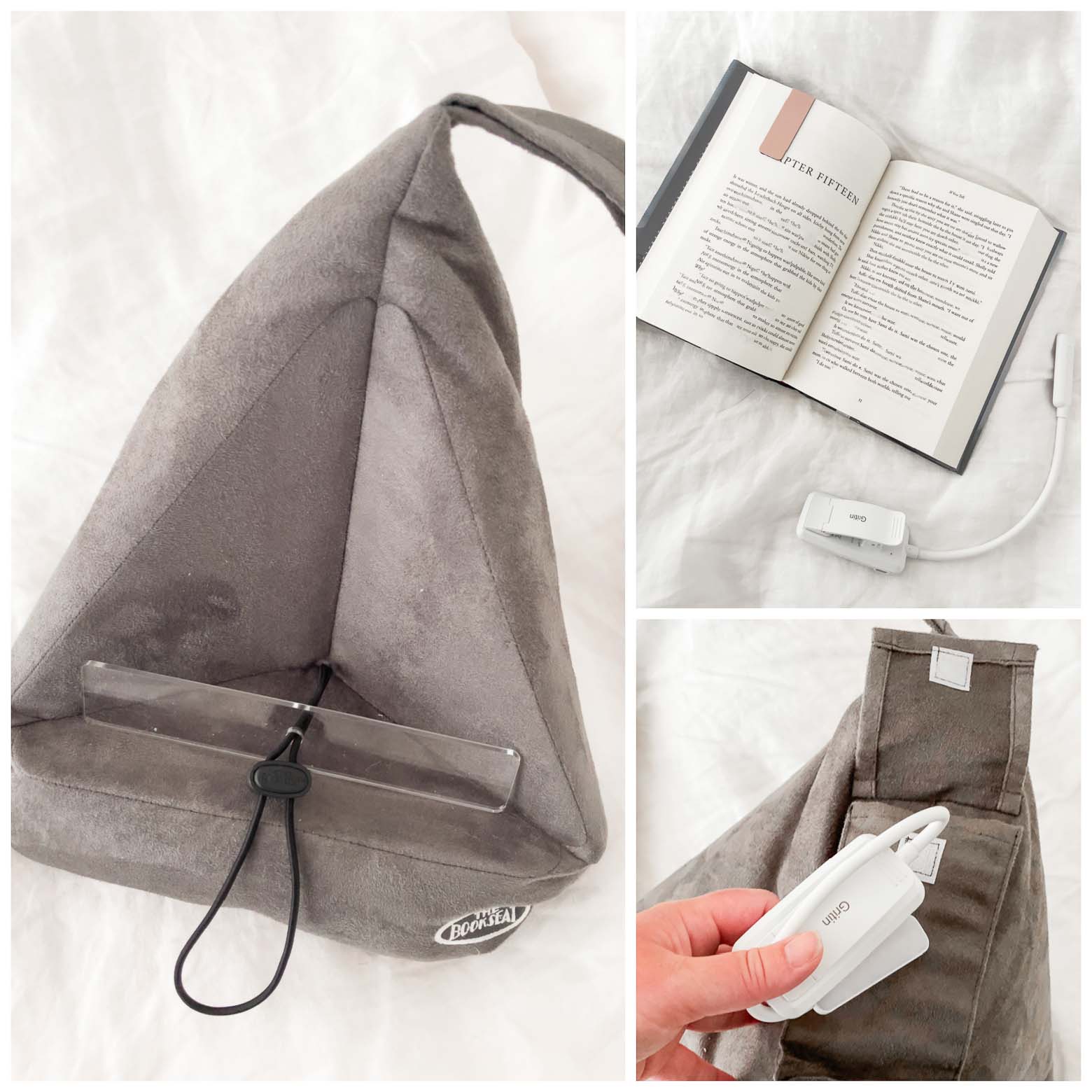 Book Seat | Reading Light | Set of Magnetic Bookmarks
As always, I've been keeping my list updated of books that I'd give 4+ stars to HERE.
One more note — I love Audible and Kindle Unlimited has a ton of awesome included titles (I'm just enjoying not paying extra money right now while I have so much library reading to do 😉 ). This is probably old news to some of you too, but there are also free books (for rental, with no due date) included in your Prime membership that don't require a Kindle Unlimited subscription. I already found two that were on my list and saved them to my Kindle app — Never Lie by Freida McFadden and The Perfect Marriage by Jeneva Rose.
So, now that my (what turned out to be) unexpected love letter to the public library has concluded (for now), let's run through the other things that have been making me happy this summer.
2. Taking Everything Outdoors
I'm been carving out bits of time throughout the week when I'm doing certain computer work, to relocate on the loungers outside. With the water features as my white noise and surrounded by fresh air, it has been such a treat. And, once Eliza had her first lunch picnic on the back deck, she started requesting regular al fresco meals outside. It's been nice to intentionally identify and do things that we can't do year-round for a change of pace, change of setting, and to make the most of the season. As a bonus, I've been spending so much time outdoors, I actually have a tan for the first time in years!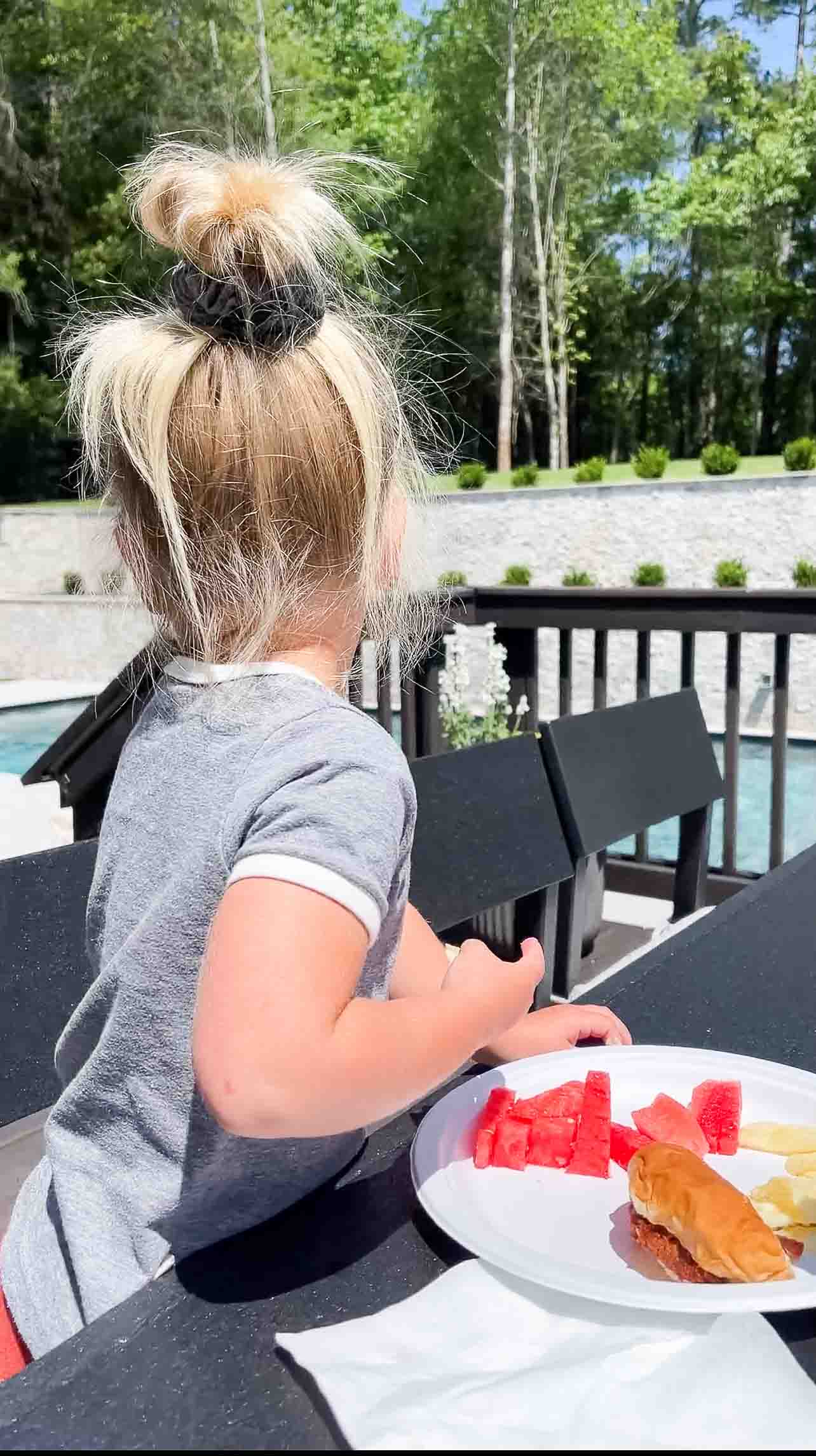 Polywood Outdoor Dining Set (8 chair version)
3. Serving Fruit for Dinner
When we got in the habit of being more strict with "what needs to be used in the fridge and how can we make sure it does get used?", I started serving cut fruit on the side of most dinners. While a lot of berries are fresh and in season (and therefore, yummier and cheaper!), there's no better time to have them. We also aren't wasting any produce, I can convince Eliza it's her "sweet treat" most nights, and it makes every meal feel a little more summery and elevated. I typically purchase only a couple each week (we don't mind repeating and don't want to waste) and choose based on what's on sale that week. You can check out my latest grocery and pantry minimization approach in THIS post.
4. Prioritizing Minimizing our Collections of Excess
When I had reached my tipping point of wanting to throw away everything inside our home (haha), I was super strict and donated/trashed a lot of excess that we would seemingly never get to. But, other areas of excess (where we had a lot but I knew we would eventually get there), well, I just put them on "high alert" and made it a priority to use them. My approach to the pantry and freezer has saved us a ton of money this year (again, you can reference that fully dedicated post HERE), and I used my "Eliza stash" to basically build a Valentine gift, Easter basket, and even the bulk of her birthday. My filled-to-the-brim drawers containing my candle collection has been intentionally whittled down to less than half, all without making new candle purchases, and I've used a lot of paper products from our entertaining collection for more casual occasions. It is so satisfying seeing the fruit of so much progress being made — using what we have without investing more.
5. Baking Birthday Treats
We went back to "birthday experiences" in lieu of a party for Eliza this year (props to Jurassic World: The Exhibition!) and even when we've done that in the past, I've always ordered her cakes. This year though — we were already bringing donuts to her class for a school celebration, I knew she would be having a birthday treat(s) out at dinner, and just when I was getting ready to order Eliza a birthday cake, I thought "why not make it?" When I asked her what she wanted, she said "pink and white strawberry cupcakes" — it isn't like she asked for the Eiffel Tower with Bluey standing on top. Simple enough. And instead of it being transactional (which by the way, I'm still totally for when time and resources are at a premium!), I actually enjoyed baking them and topping them with simple decorations. I think we sometimes try to overcomplicate things — this was a back-to-the-basics type of effort that made me happy.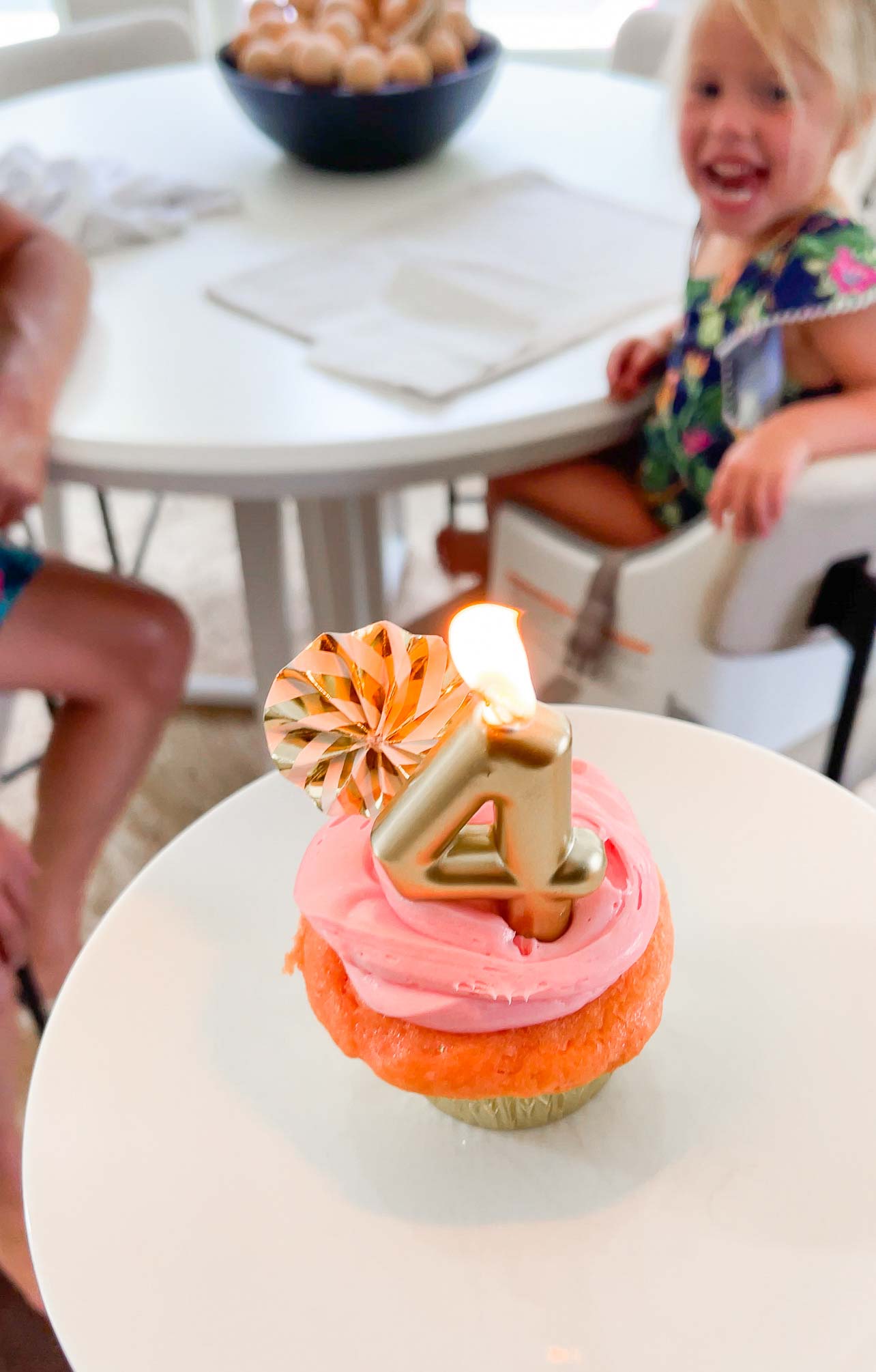 6. Cashing In On Free Birthday Offers
Dave, Eliza, and I all have birthdays within two weeks of each other. We're also all Geminis ;). And, while I'm sure we could have gone crazy doing all the free birthday things that a lot of retailers offer, we partook in only a few. I took myself out of the house and made a special trip to Starbucks for my free birthday drink, Dave took Eliza by Crumbl on her birthday for a free cookie, and of course, we got a few free desserts between our lunch and dinners out.
I accepted free Sephora points instead of shopping, but I did spend my birthday discount at Aerie. I stayed away from the 50% off Kendra Scott birthday deal this year — they offer 50% off a piece of jewelry during your birthday month and in the past, Dave and I have both gone in to get two pieces at 50% off.  So, I count that as a win that I didn't turn my birthday into a big shopping opportunity and remained frugal 😉 Since I've gone to Starbucks so infrequently this year, that free birthday drink really was a treat!
7. Enjoying Progress on Personal Goals
Simplifying and minimizing isn't the only journey I've been on. For a while now, I've been working on other personal initiatives and I've been committed to/maintained/progressed enough to be able to reflect and be proud of the strides I've made. Here are a few changes I've made that I've stuck to, that help me daily and/or overall…
Cut out soda — I was a Diet Dr. Pepper fanatic and because Dave drinks it in the morning in lieu of coffee, it's hard having access to it all the time. But, when I noticed I was going from one to two to sometimes more each day, I wanted to cut it out. I do still usually have one on Friday nights, but without it, I feel less bloat, spend less money, and crave fewer sweets. (That's a big one I REALLY noticed — not having soda makes me crave sweets less!) I'm sure there are lots of other internal benefits but it feels good to pretty much drink water (and morning coffee) exclusively. I also used to get a Sprite every time I went out for Mexican (I'm not sure why that has always been my winning combo?!) which I've also transitioned to water. We haven't had fast food in a long time and I'm sure when we do, I'll absolutely go for a DDP or DC, but I'm happy to have given it up on the regular and for the most part, be a non-soda drinker.
I'm almost exactly halfway through reading the Bible all the way through, at once — I talked before about the daily reading plan I've been following this year, and I'm proud to say, I've stuck to it and it's part of my regular morning routine… the reading followed by the summary and discussion on The Bible Recap podcast.
Walking at least 5x/week — Whether it's through the neighborhood or on the treadmill, this is something I started back in 2020 that I've stuck to for a while. Last year when things got crazy, I wasn't walking or paying attention to myself as much as I had been so it feels great to be committed again. I've been sticking to my morning walks at least 5x/week for the past 6+ months and I feel so much better starting the day with them. It's a firm habit now on weekday mornings and I also love that I get to listen to my audiobooks/podcasts while I'm at it.
Intentional spending — Through minimization and simplification, we've been saving a lot of money. While inflation is up, things like our food and grocery costs are still down substantially and it feels good to not be spending more than we have to. It also helps since we took on such major projects this year (i.e.: the pool and painting our house).
Getting started on any new initiatives and working towards goals can be tough because it can take a while to see results. Now that I'm in the working-while-seeing-progress portion, it's motivating and feels good!
8. "Cooking" with Eliza
My mom got Eliza a Highlights (High Five) subscription for her birthday. So fun, right?! Also, I don't remember the Highlights of my day even being in color, but it's come a long way, haha. She loves getting mail and she feels so important to have something of her own. PS: confirmed great gift idea if you're looking for something unique and something that isn't toy-related!
Eliza also asks to "cook" with me regularly. Even if I'm just pouring a bowl of cereal. So, when she got her magazine and started seeing photographs of food (and some actual "recipes"), she asked if we could "cook her recipes together". There isn't much that has made me happier than seeing her joy and how proud she was to take ownership of the kitchen and following her recipes.
Here she is with her latest issue where she asked if we could replicate the robot and make apple nachos — between me and Gran Nan, we didn't even have to shop to find exact/similar ingredients.  Then, she gets to enjoy her creations for dinner.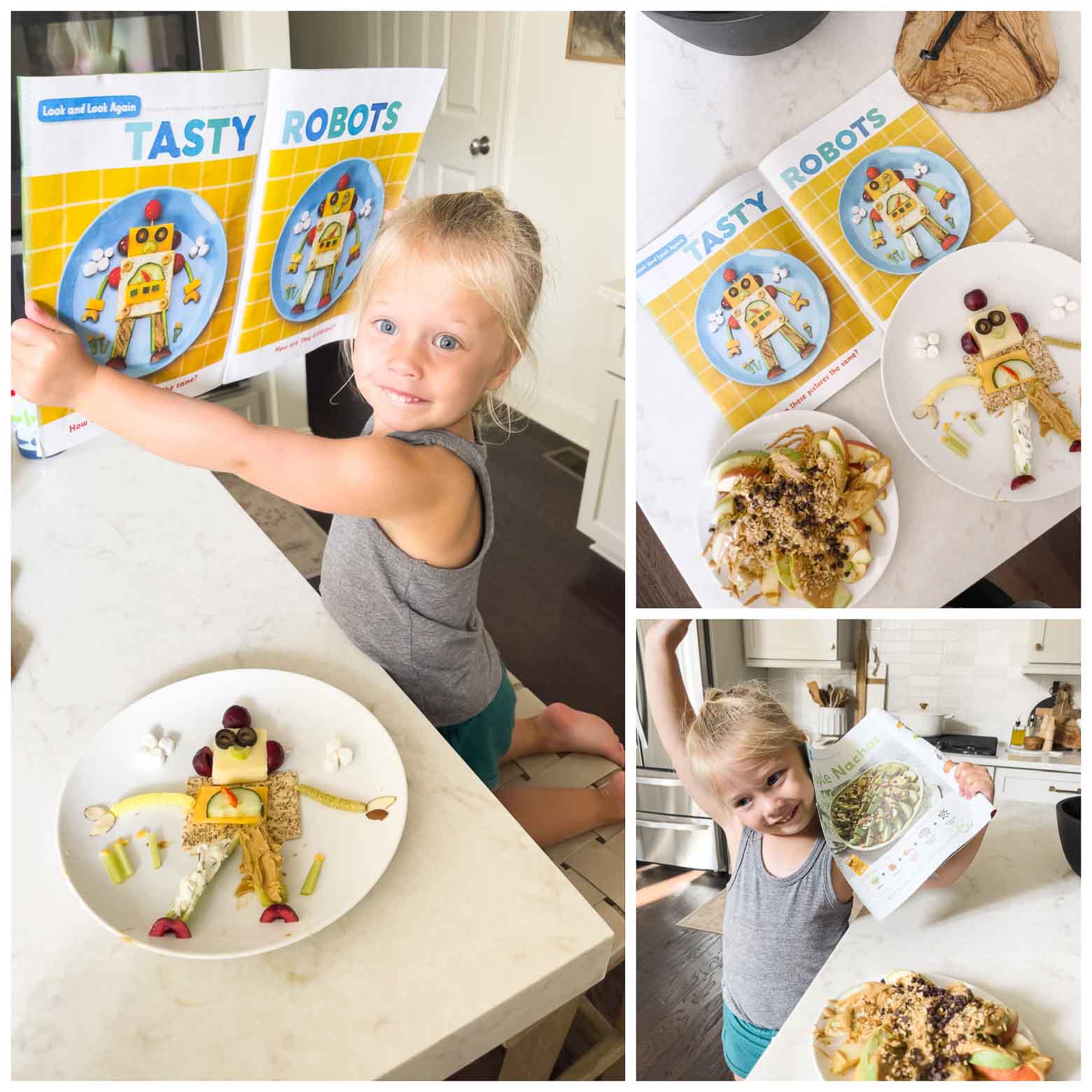 9. Using Gift Cards for Dates
My mom started gifting Dave and I experiences and dates instead of physical gifts which has been awesome. While we still have to make the time to do them, it has been motivating to set the date since we already have a gift card/certificate in hand (which encourages more frequent dates), and I love that we aren't having to spend money, too. When she gifts them, she's very specific too — not just "use this money and go somewhere special." She takes the work and guessing away and already has a place/experience lined up.
We actually have a few more generic gift cards we've had forever and what I'm going to challenge myself to do (and I'd recommend you do the same!) is to go through them all and calendar out dates for the actual restaurants.
10. Playing More Family Games
Eliza is a game girl and it's one of our favorite ways to spend time as a family. She is a phenom at Memory Match (none of us can come close to beating her) and it's one of those things where we have just as much fun playing as she does. She just turned four and it's so fun (and shocking) to see how smart she is and how much she is growing up (and also how much she can comprehend).
Here are a few of our favorites for her current age…
If you have some inexpensive/free ways you've been enjoying summer or have found joy in simple things lately, I'd love to hear about them!
Other Posts You May Be Interested In