This easy-to-make Broccoli Dip (AKA Frog Dip) contains only has five ingredients, requires no measuring, and is best served warm. To get to the point, it's simple and DELICIOUS! It's perfect for parties, showers and just about any other gathering… as a bonus, it's such a unique dip, chances are low that anyone else will be bringing it to the pot luck. As a bonus bonus, most people have probably never even had broccoli dip! It's vegetarian crowd pleaser that can be served with a variety of dippers, but is also awesome as a topping for pasta or baked potatoes for an easy supper. It's rich, and thick and you'll be wanting to eat it by the spoonful… guaranteed 😉
*Posts on KelleyNan.com may contain affiliate links. Click HERE for full disclosure.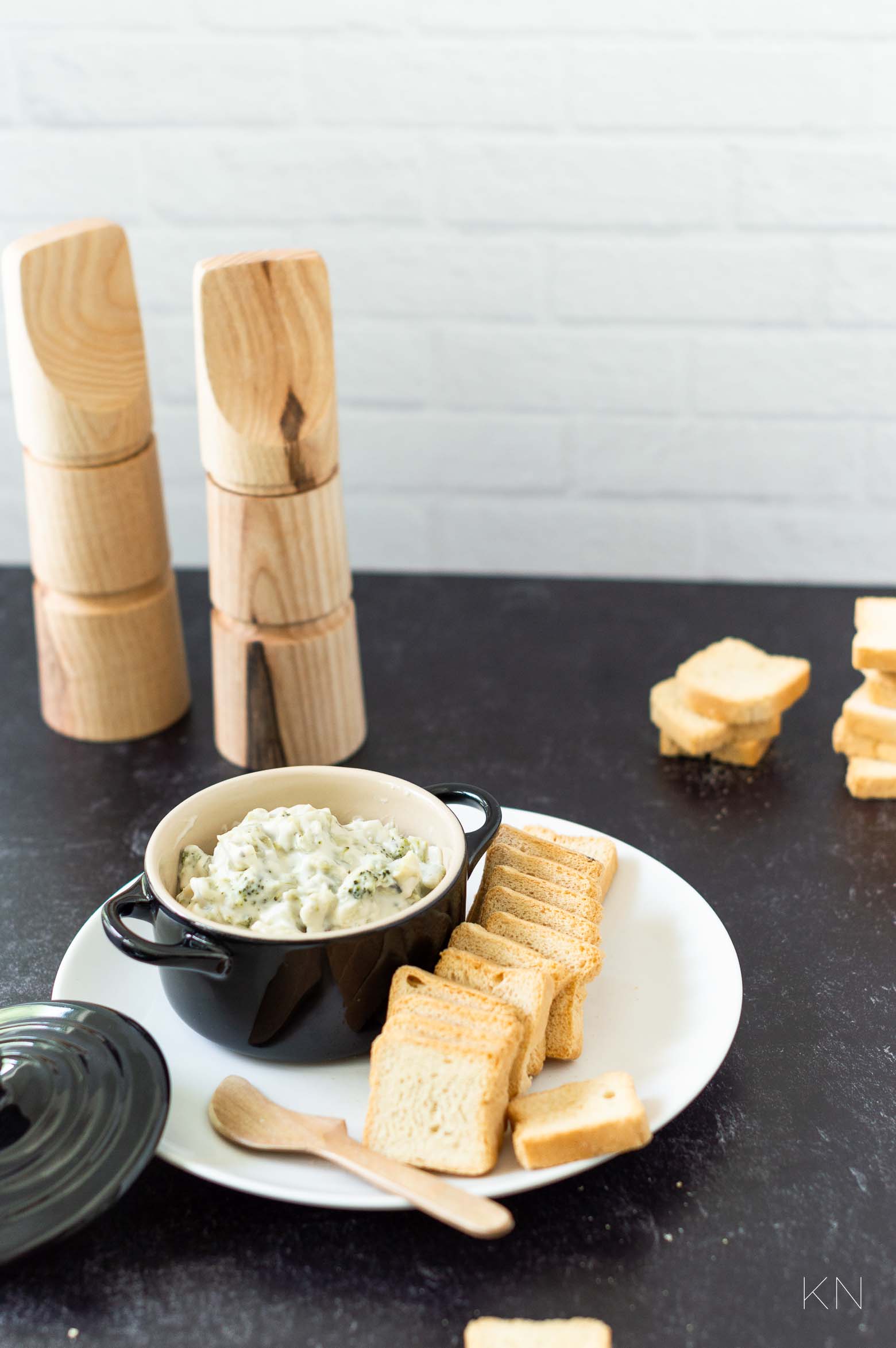 Sources: Salad Plate | Mini Cocotte 
What ingredients are needed to make Broccoli Dip?
Containing five basic ingredients (most of which I typically already have on hand in my pantry and fridge), the contents for broccoli dip include…
Frozen Chopped Broccoli
Cream of Mushroom Soup
Onion
Soft Garlic Cheese (I use Boursin)
Butter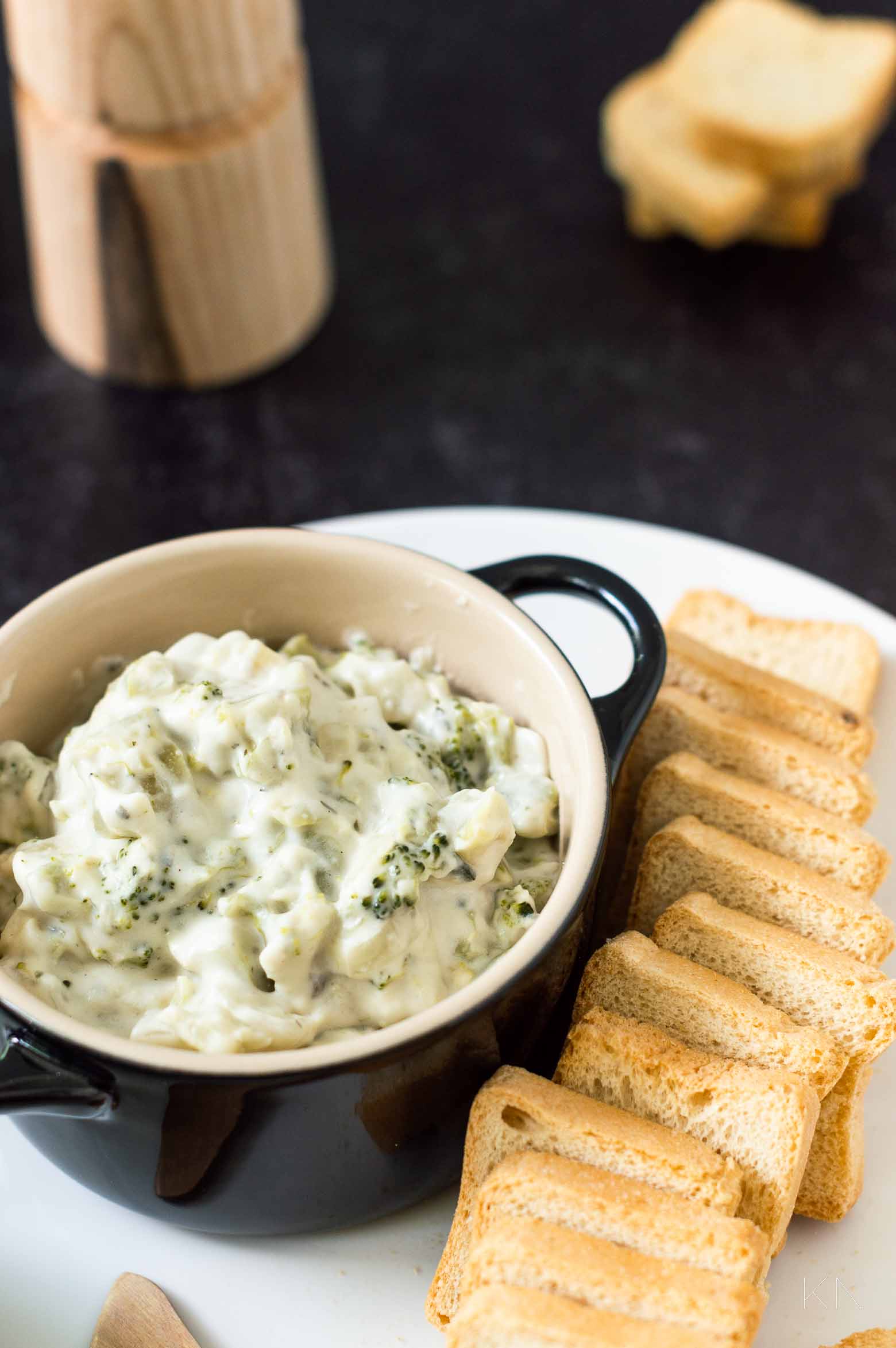 Sources: Salad Plate | Mini Cocotte 
What cooking tools are needed?
Amazingly enough, this recipe does not require any measuring spoons or cups! The basic cooking tools needed can be found in even the most basic of kitchens and include:
What other ingredients can be added to Broccoli Dip?
I prefer to keep the ingredients simple and as listed in the recipe. But, other ingredients can be added, according to taste and preference. Other ingredients you could add include:
Sautéed Mushrooms
Canned Mushrooms
Chopped Spinach
Crumbled Bacon
What dippers are served with Broccoli Dip?
As this is a thicker dip, the dippers need to be more substantial than thin potato or tortilla chips. Dippers I like to use include:
Miniature Toasts
Butter Crackers
Tortilla Scoops
Melba Toast Rounds
Carrot Sticks
Celery Sticks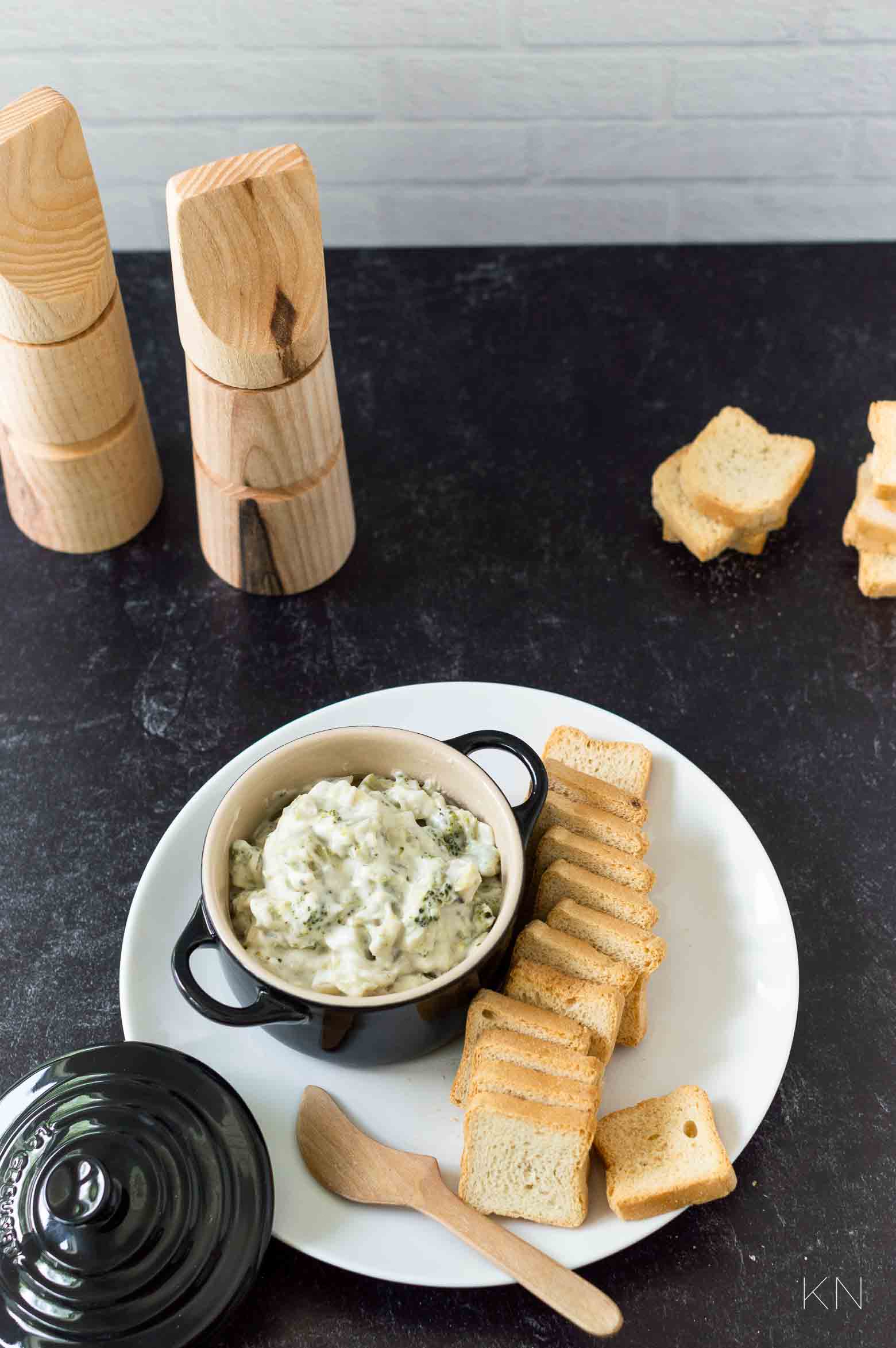 Sources: Salad Plate | Mini Cocotte 
Other Ways to Use Broccoli Dip
As I was making the Broccoli Dip, I realized it included components used to make a nice pasta sauce, topping, spread or even soup! Other ways to use it, especially when you have party leftovers, include:
Pasta Sauce (thin with a bit of milk before adding to pasta)
Baked Potato Topping
Broccoli & Cheese Soup Base (add chicken broth and/or milk until the desired consistency)
Grilled Broccoli Cheese Sandwich
Grilled or Baked Chicken Topping
Can Broccoli Dip Be Made Ahead of Time?
Absolutely! Broccoli Dip can be made a day ahead of time and refrigerated until it needs to be reheated and served in a crockpot or chafing dish.
How to Make Broccoli Dip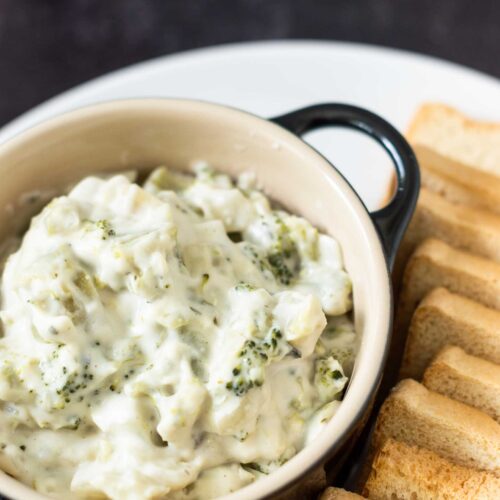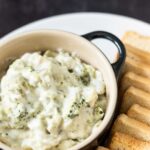 Broccoli Dip
This easy to make Broccoli Dip only requires five ingredients and no measuring is required. It's best served warm and a crockpot or chafing dish is the perfect serving vessel for it!
Ingredients
2

Boxes

Frozen Chopped Broccoli

1

Large Onion, Chopped

1

Can

Cream of Mushroom Soup

2

Rolls

Garlic Cheese

(like Boursin)

4

Tbsp

Butter
Instructions
Drain thawed chopped broccoli in a colander.

Melt butter in a large pot or saute pan.

Add onion and saute until it's golden.

Add chopped broccoli and saute for five minutes.

Add Cream of Mushroom Soup and stir.

Cut the Garlic Cheese rolls into large pieces and add to the pot/pan.

Stir mixture until cheese is melted and the mixture is well incorporated.

Move the mixture to a crockpot or chafing dish for serving.
Recipe Notes
Additional ingredients may be added to this Broccoli Dip, according to taste. Sauteed or canned mushrooms are a good addition!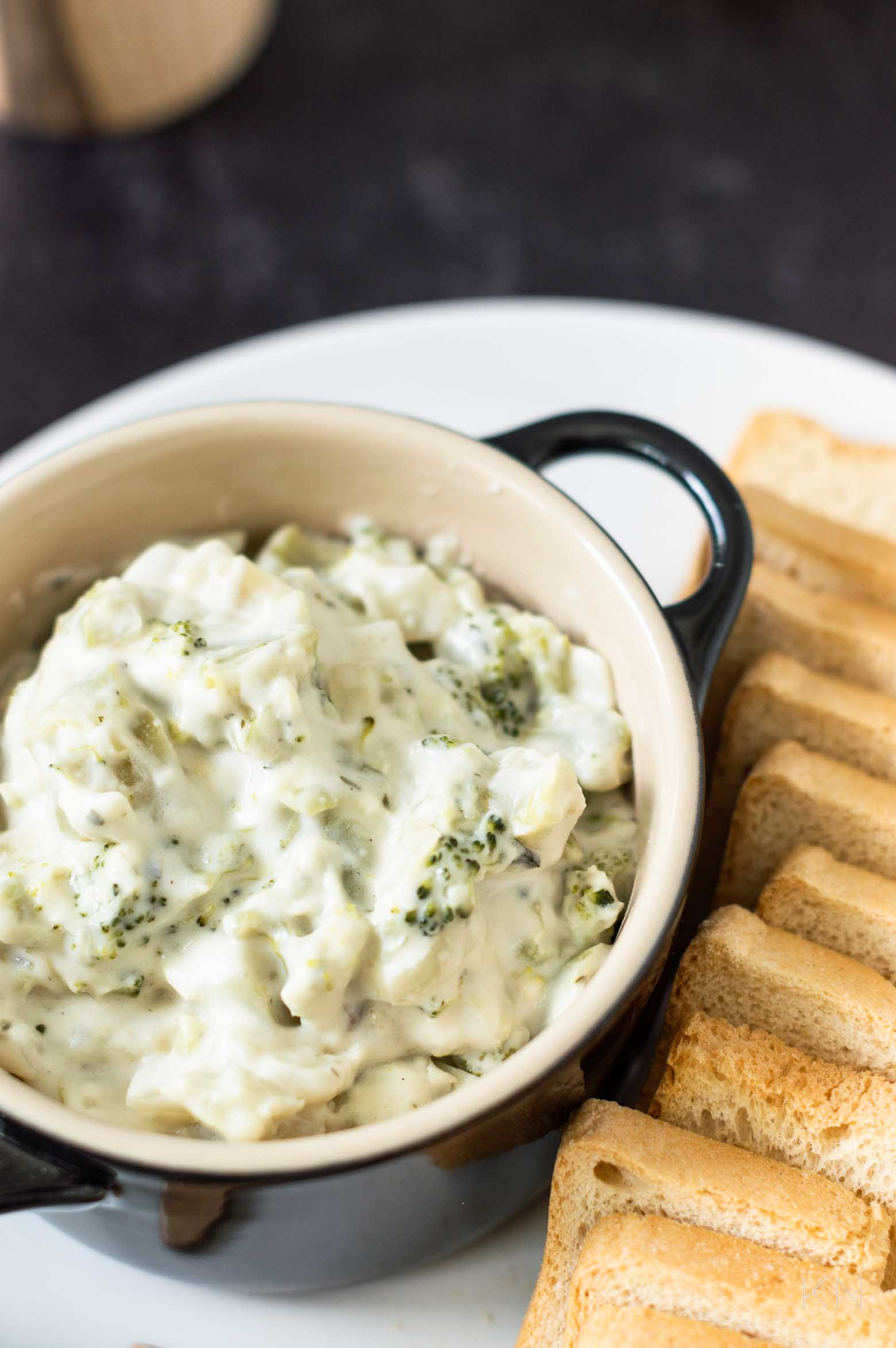 Sources: Salad Plate | Mini Cocotte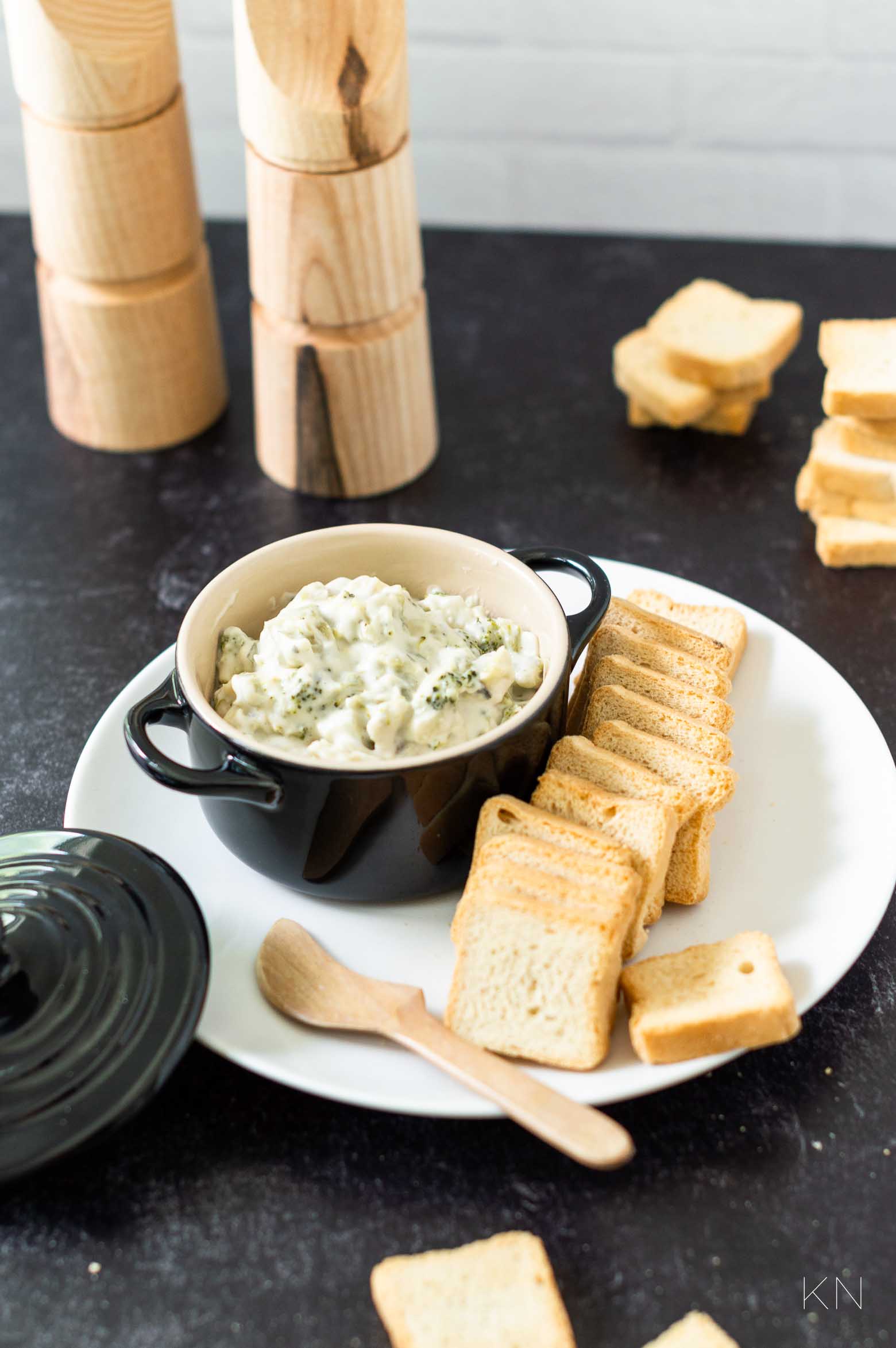 Sources: Salad Plate | Mini Cocotte 
Why Is This Dip Also Called Frog Dip?
One of my mom's dear friends (who is very witty!) also makes this dish. She has always loved to make things fun by renaming foods or creating little songs about normal items. She dubbed this dip "Frog Dip" because of its light green color with "spots" of broccoli and the name has stuck!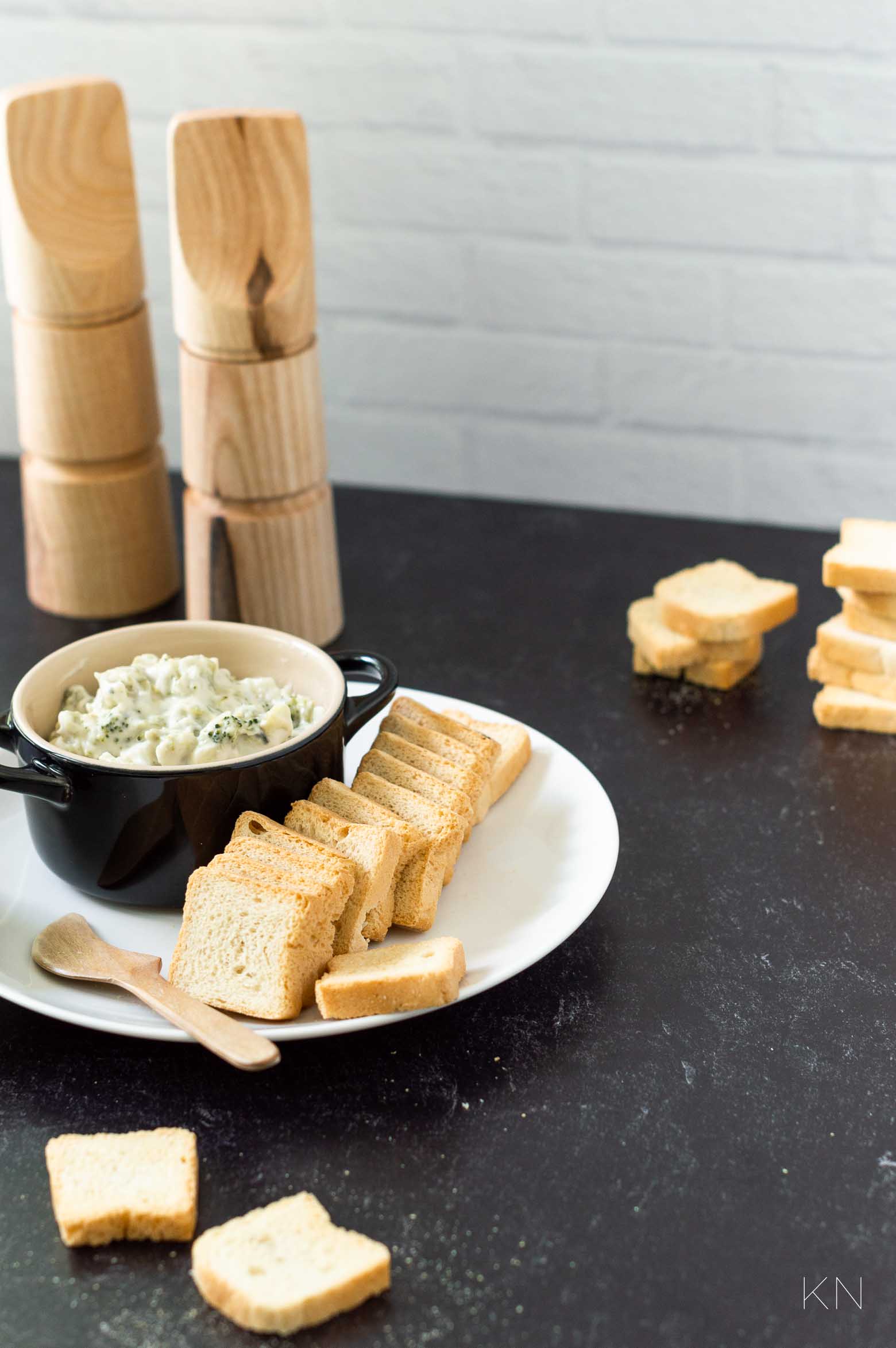 Sources: Salad Plate | Mini Cocotte 
As always, if you make this recipe, please be sure to report back!
Other Posts You May Like:
Pin for Later!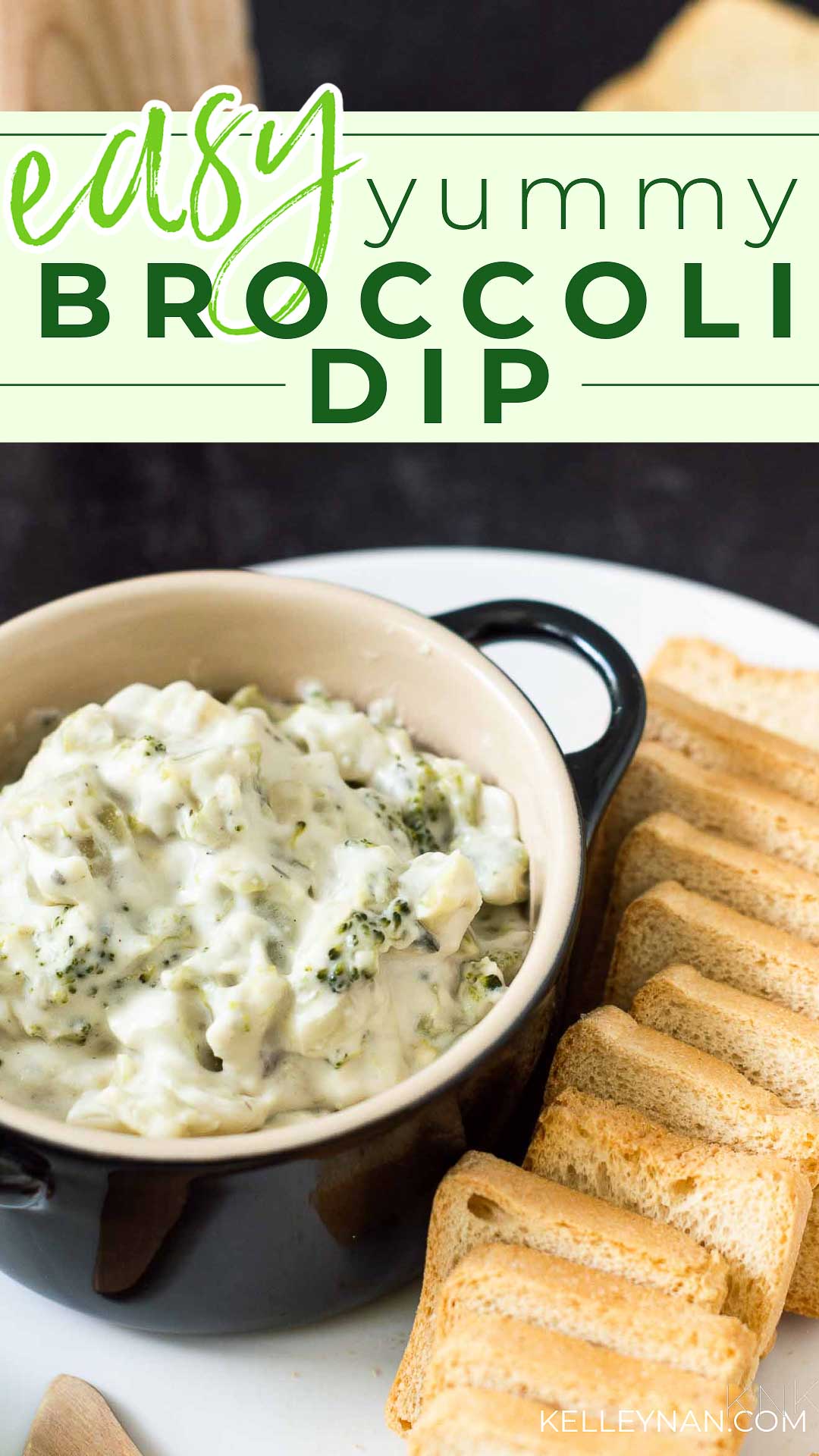 Shop My Kitchen Faves