After having started almost a year and a half ago, Eliza's playroom is finally finished! It will be coming to KN next week and in anticipation of sharing the reveal, today I'm sharing playroom wallpaper murals, along with a sneak preview of Eliza's playroom accent wall. Until I started searching for a very specific theme, I didn't realize just how many options were out there — not just in print but in technique, application, customization options, etc. I searched and sourced for a long time, purchased Eliza's playroom wallpaper almost a year ago, applied it this past December, and three months later, finally pulled the rest of the room together. In my hunt, I saved a ton of playroom murals and wallpaper options and today, I'm sharing my favorites in the following inspired themes: 1. forest; 2. botanical/floral; and 3. whimsical
You can see the final reveal of Eliza's Playroom HERE.
*Posts on KelleyNan.com may contain affiliate links. Click HERE for full disclosure.
The Inspiration Behind Eliza's Playroom Wallpaper Mural
Each year, I change the theme of Eliza's bedroom Christmas tree and coming up with something fun and whimsical has become an annual tradition. I'll never forget her second Christmas when she could really understand what was going on, though. She asked for the tree lights every morning when I would wake her up and the running joke was "what is this poor girl going to do after Christmas is over?!" (You can see her tree themes in past Christmas home tours here: 2021; 2020; 2019)
It was then that I decided a way to incorporate a year-round tree would be to have it incorporated into her playroom… I actually have multiple pencil trees that could almost form a small "forest" in her playroom. And, I thought about how easy it would be to incorporate other fun "camp" and nature-like elements that would naturally be in a playroom for her to enjoy already, like a tent. When I decided that a forest was a good, uncomplicated starting point, I immediately started searching for playroom wallpaper murals that could anchor the theme — a forest where her lit trees could almost become part of the scene. And… I found it. Here's a peek after I first installed the playroom wallpaper mural…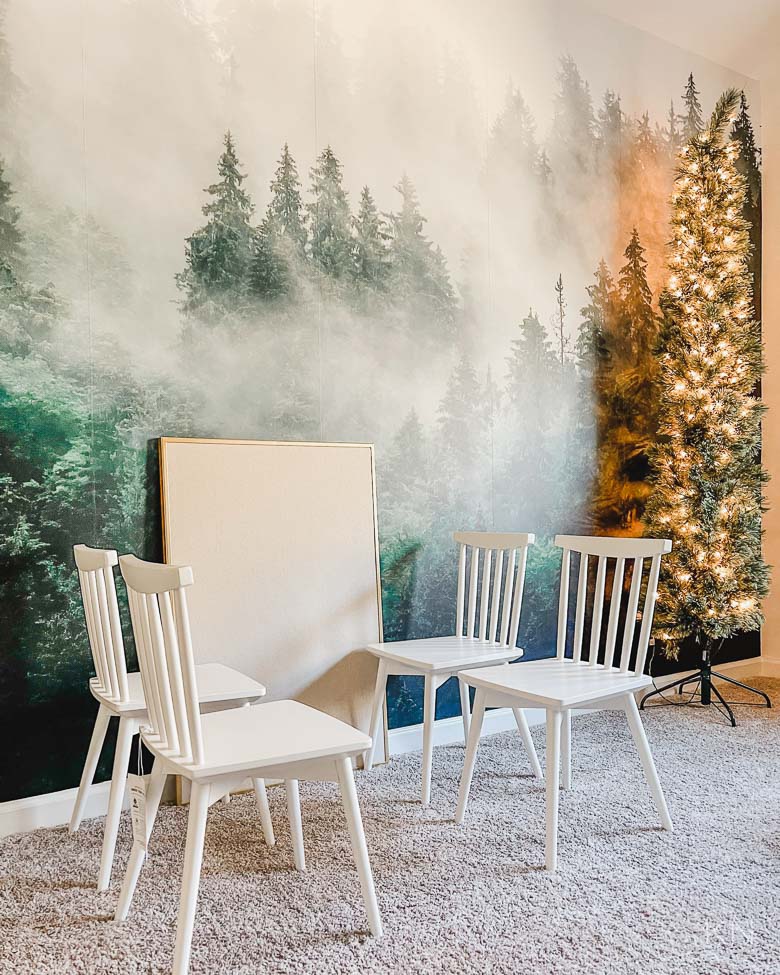 Sources: Wallpaper Mural | Pin Board | Chairs
Stay tuned for the finished space, all pulled together, next week!
You can see the final reveal of Eliza's Playroom HERE.
What Kind of Playroom Wallpaper Did I Decide On? And… Why?
The space for Eliza's playroom was formerly a guest bedroom. The walls were already painted white — in Sherwin Williams Alabaster — a few years ago and I wanted to keep creative wall treatment costs at bay. I like the idea of white walls for playrooms since there's already so much natural color with toys and I think white walls help keep appearances "clean" in a sea of primary hues. But, I also love the idea of something fun that likely wouldn't appear elsewhere in the house. Sure, you can wallpaper an entire room but one feature wall may be all you need. For me, my concept was born from a mural so a single wall was all I ever planned.
But, as I mentioned, I wanted to keep costs down. I also didn't want to commit to something more permanent that would only be appropriate for a short season of life. I'm not skilled at wallpapering and wouldn't have attempted traditional wallpaper on my own. Wallpaper and skilled wallpaper installation can be expensive. But, I did have experience several years ago in wallpapering the toilet room portion of our master bathroom with peel and stick temporary wallpaper. It held up beautifully (until we had to remove it after the flood) and I love that it's low commitment. If I changed my mind, I could easily take it down and go back to all white walls. I knew if I could do that, surely I could take on a simple rectangular wall on my own. Here's how the toilet room turned out…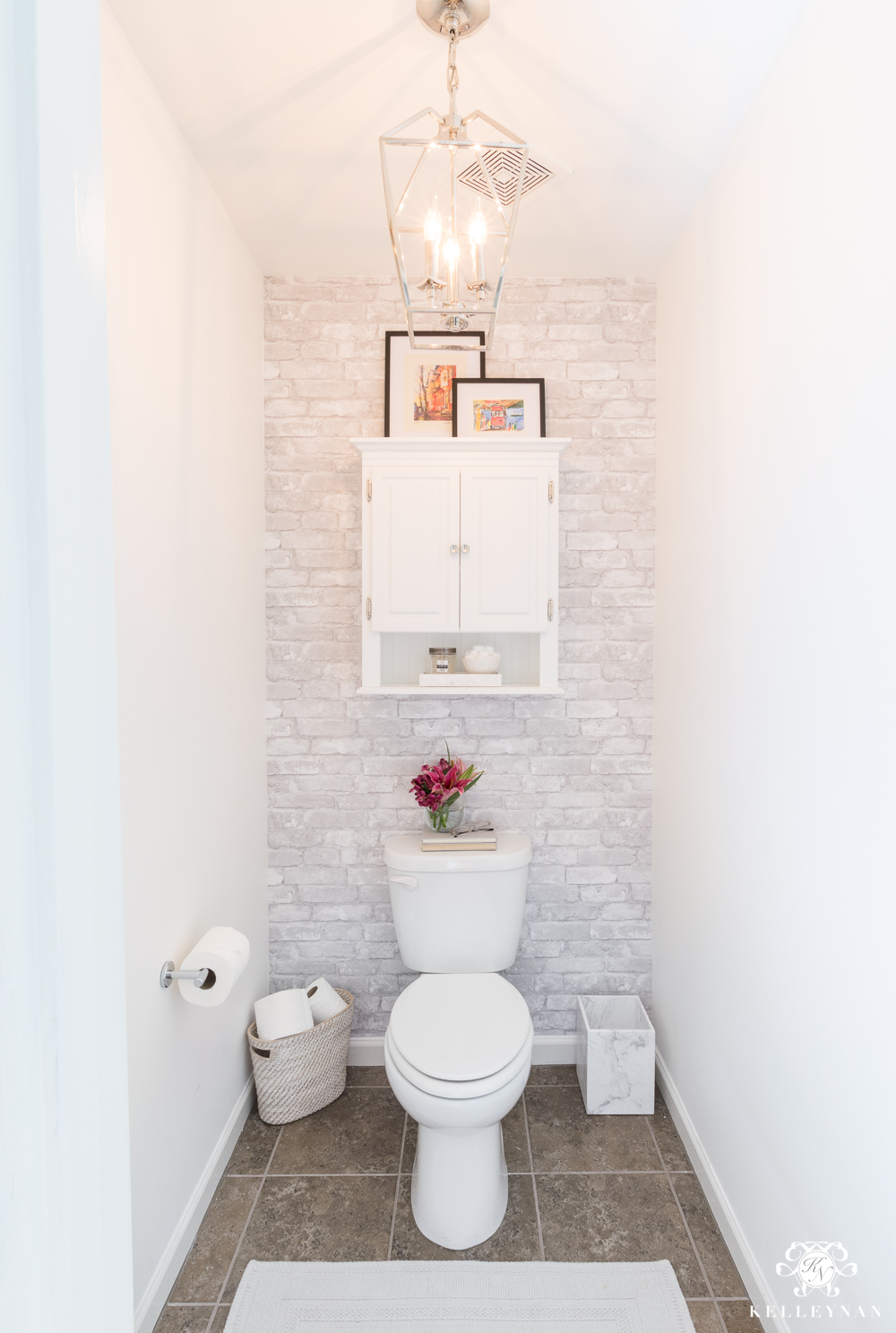 Sources: Temporary White Brick Wallpaper | Cabinet | Marble Waste Basket | Rattan Toilet Paper Basket | Rug | Lantern Pendant
THIS faux brick peel and stick wallpaper is incredibly affordable, coming in at just $33/roll currently on Amazon (free shipping; free returns). As its name suggests, it's peel and stick; you peel off a portion of the backing, stick it to the wall, and work your way down. If you mess up, you can easily pull it off the wall and reposition the strip. It's vinyl based and easy to work with since it's generous in terms of accidents.
Wallpaper Mural vs. Wallpaper — What's the Difference?
Aside from a few technicalities and verbiage preferences, not a whole lot. Wallpaper is an adhesive paper that goes on the wall. Traditional wallpaper prints repeat so you purchase multiple rolls and just keep working your way through the rolls, lining up the paper where appropriate, until you run out of wall space. Down, then over.Wallpaper murals typically consist of one scene, made up of individually printed drops. I believe Eliza's mural had seven separate drops. You have to be a little more careful with murals because if a piece gets damaged, you can't just cut it off and start somewhere else in the roll. Each piece of the mural is necessary to the complete scene. But again, they're vinyl based and easy to un-stick and reposition if needed. I've included both traditional prints and wallpaper murals in today's finds.
Something cool about Eliza's playroom wallpaper mural specifically was that the shop owner can actually create wallpaper murals to the specifications of your wall. I submitted my measurements to her and she gave a couple inches leeway with each drop, just in case the walls weren't even. It was so easy to work with and my mom and I cranked out the entire space within a couple hours. With each drop, it gets easier and easier as you get your application process down. You can browse all the options (almost 1500), from the shop I ordered Eliza's mural, that can be totally customized to the dimensions you need HERE.
What Tools Do You Need to Install Playroom Wallpaper?
While you might be able to go this project alone, having a second set of hands made the process easier. Aside from the wallpaper, keep a pair of scissors on hand to cut the wallpaper backing as you work your way down the wall, as well as…
Playroom Wallpaper Murals
Find the links to each wallpaper mural below the following three graphics.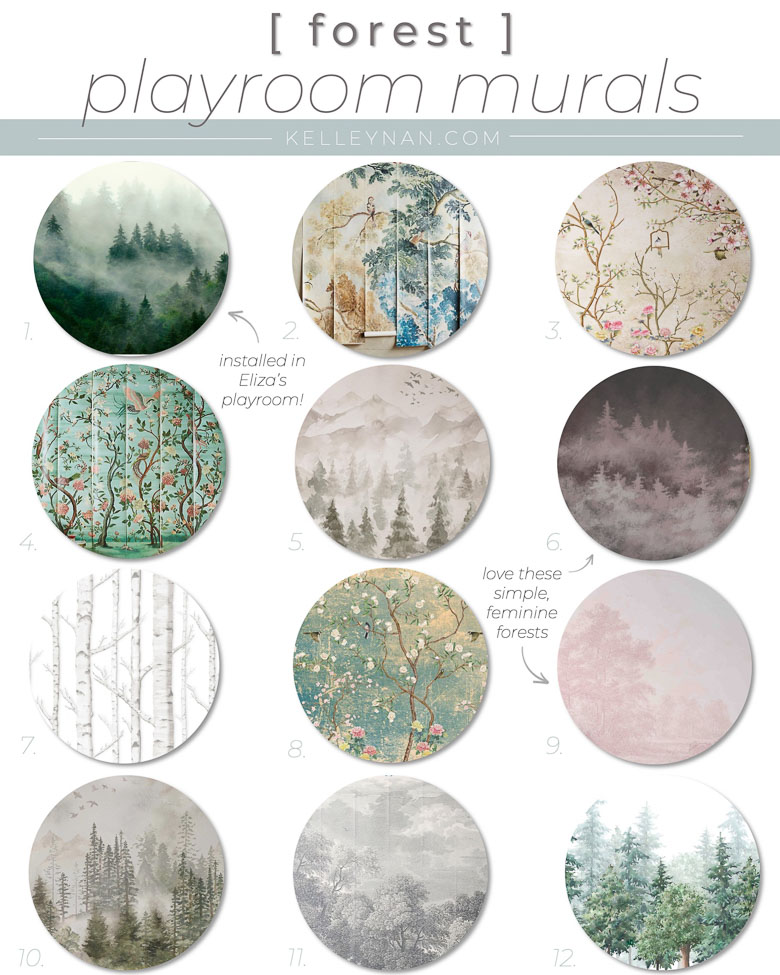 Sources: 1 | 2 | 3 | 4 | 5 | 6 | 7 | 8 | 9 | 10 | 11 | 12
THIS mural (1) is the peel and stick wallpaper I used for Eliza's playroom. I would order from this shop again and again — there are tips and support offered after you purchase, too!
Number 10 would have been a beautiful, more muted option, that would have achieved a similar result — that shop has almost 25k sales with a 5* rating and three options of long term vs. short term peel and stick backing.
While forests are gender neutral, if you want something more feminine, Number 6 and Number 9 both lend pink and purple tones for the girliest girls.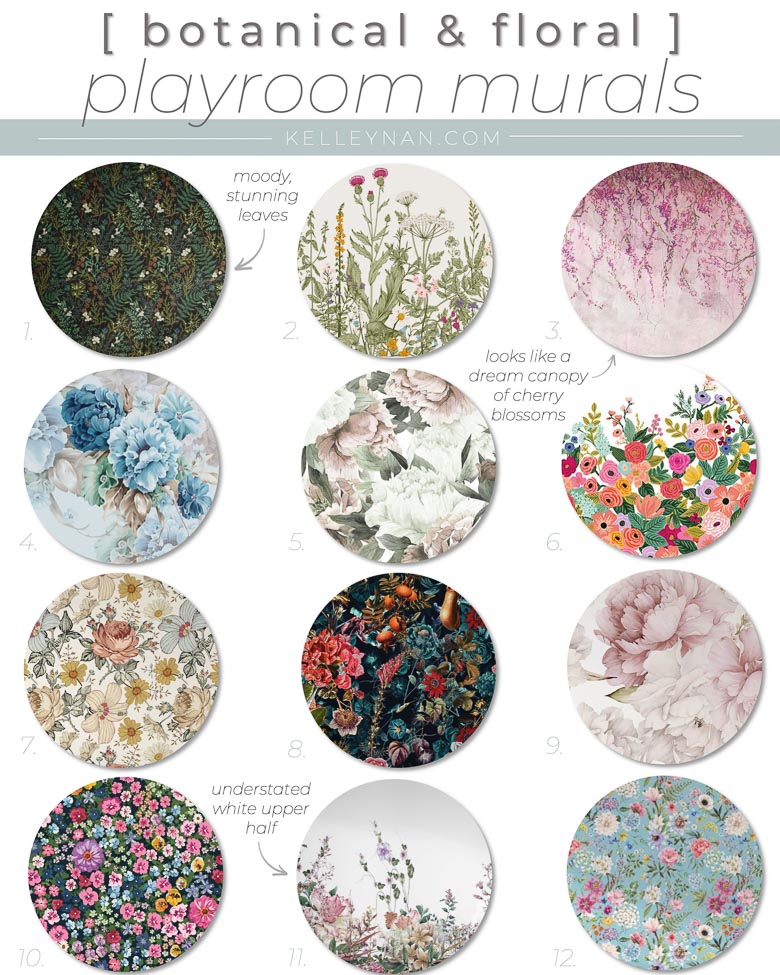 Sources: 1 | 2 | 3 | 4 | 5 | 6 | 7 | 8 | 9 | 10 | 11 | 12
If you aren't totally on board with a bold wallpaper, Number 2 and Number 11 are great options to "tiptoe" in. With white upper portions, if your walls are painted white, it can look like only the bottom portion of the wall has pattern.
I'm head over heels for Number 3 — a gorgeous, drapey pink wonderland of a mural. I think if I wasn't working with Eliza's Christmas trees, I would have gone with this one! It's also from the same shop I ordered Eliza's mural and will be able to be created in custom dimensions. See it shown on full walls HERE.
Number 7 has a classic/mid-century feel to it and would look awesome if your child's toys are more Montessori in nature with lots of wood.
Another wallpaper that would be simple to apply with the smaller print is the vibrant Number 10 — I adore that cute small-scale floral! You have to see this on a full wall HERE.
If you're into moody vibes, the fern print of Number 1 and the deep jewel tones of Number 8 are both fabulous.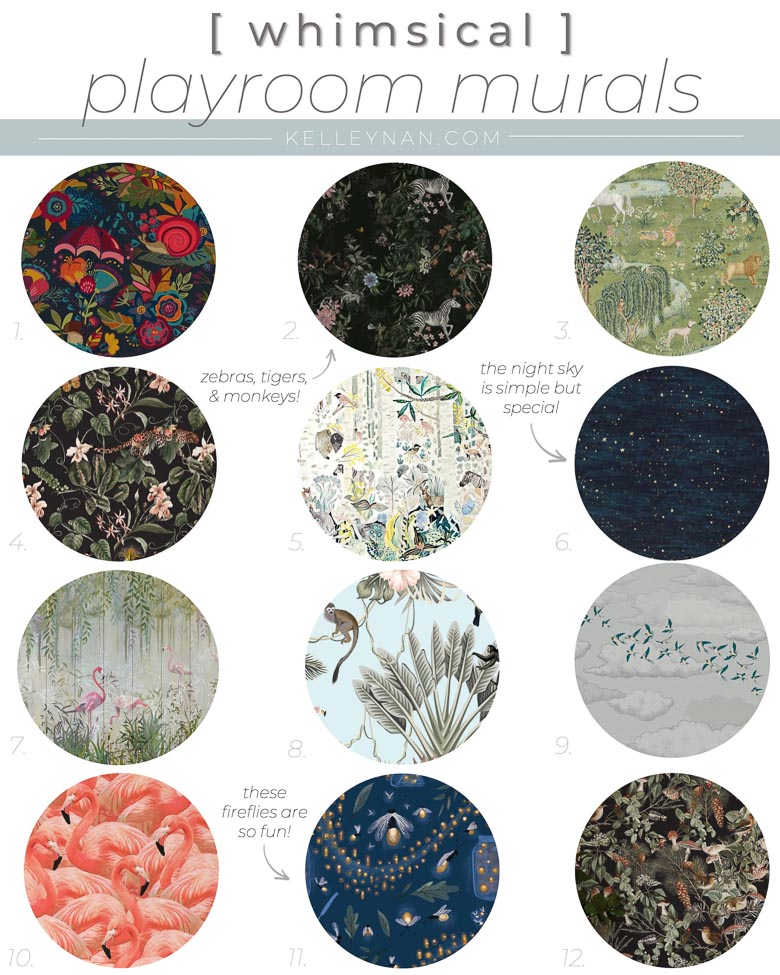 Sources: 1 | 2 | 3 | 4 | 5 | 6 | 7 | 8 | 9 | 10 | 11 | 12
Also perfect for an outdoor "camp" scene — faux trees optional, are the night sky of Number 6 and the firefly swarm of Number 11. I also love the idea of installing Number 6 in our playroom closet — which currently just has greige paint. I will also be sharing Eliza's playroom storage in a separate post, following the playroom reveal 😉
THIS fairytale forest wallpaper (12) is full of birds and mushrooms and would also be darling for a powder room or breakfast nook!
And, if you like the idea of animals, be sure to check out Number 2 and Number 4!
If you aren't already, you can subscribe to emails at the bottom of the post to be the first to be alerted when I post the playroom reveal next week!
Other Posts You May Be Interested In
Shop These & More Playroom Wallpaper Options