I'm back today with Dining by the Numbers: Three's Company, where we're talkin' tables, menus, Galentine's, spring, and organization, all wrapped into one perfectly timed luncheon. No worries if you aren't into Galentine's or if you're gathering with more than a couple of girlfriends; these ideas will totally work for any girl's day/night. This Galentine's luncheon (menu and activities) is especially fitting if you don't have an entire night to binge movies, bake cookies, play board games, etc.
With Valentine's Day just around the corner, it's the perfect reason to call one of your upcoming girlfriend dates a "Galentine's" celebration. Better yet, use it as an excuse to host a couple of your girls. I'm all about nights that go on and on but sometimes, a short-er-ish lunch is just more practical. If you still need some incentive to play hooky, blame it on productivity's sake. You'll see why in just a few 😉
*Posts on KelleyNan.com may contain affiliate links. Full disclosure can be found HERE*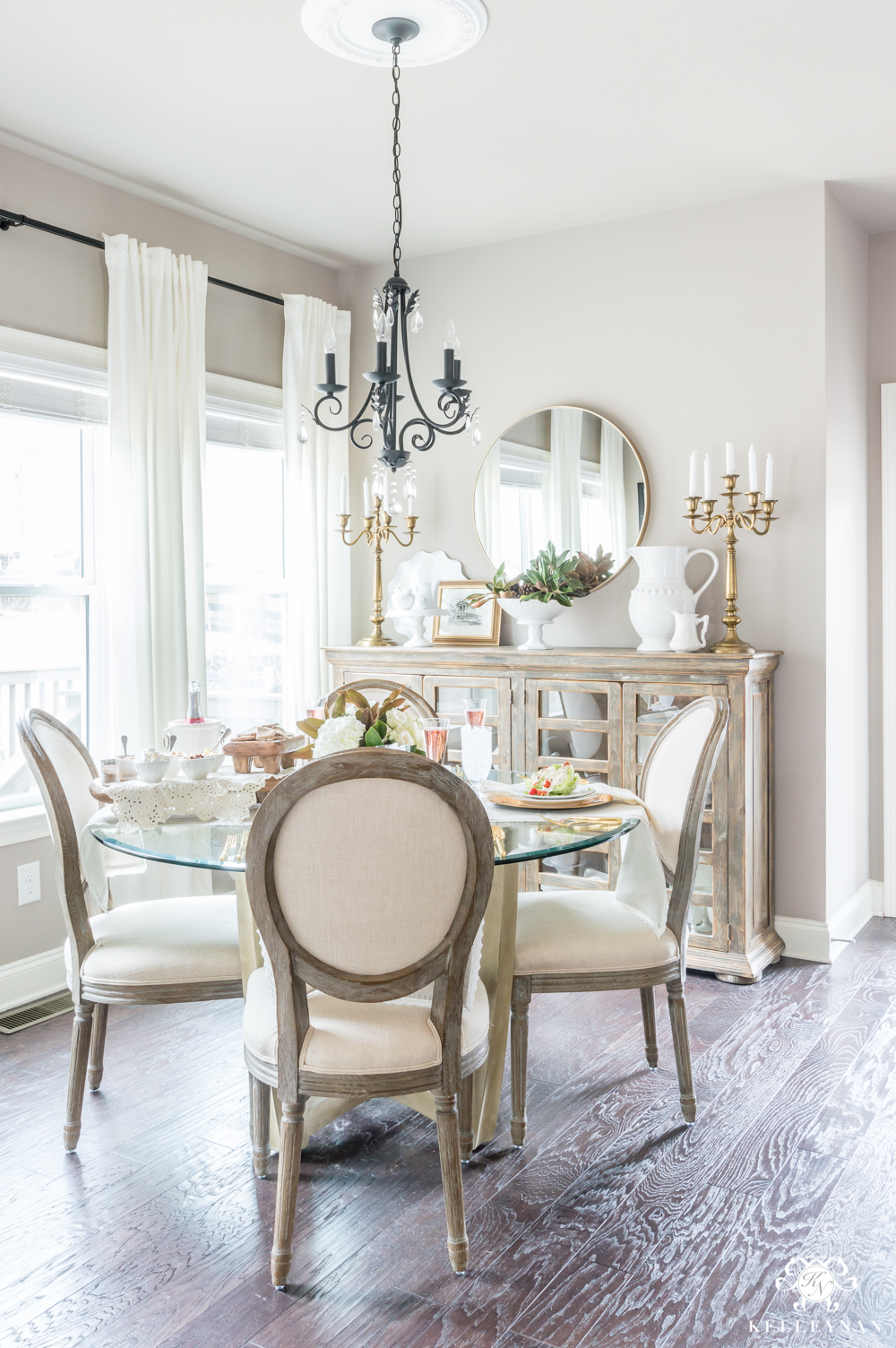 ---
Scroll & Tap to Get the Look

---
THE TABLE
The best part of this Galentine's luncheon, is that it was created for a busy hostess, to host busy guests. It's no-fuss, the menu is super simple, but it still has a feeling of "effort" and "special-ness". I put together a little centerpiece arrangement in a small ice bucket (HERE) – two hydrangea stems, a small bunch of spray roses, and magnolia leaves as filler. Yes, those magnolia stems were cut from another vase in my house (they are still going!) You can even head out to your yard and see what you can come up with.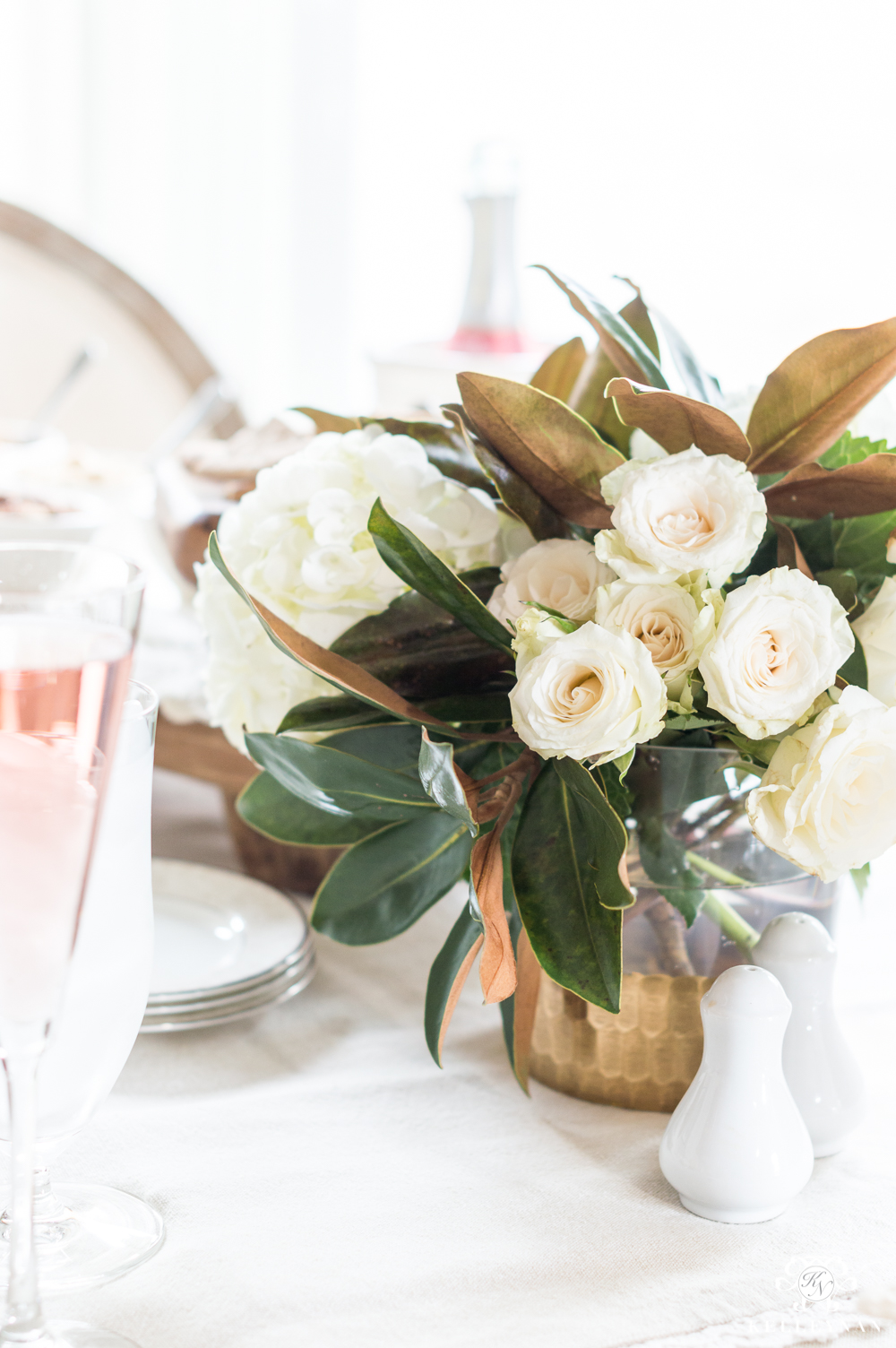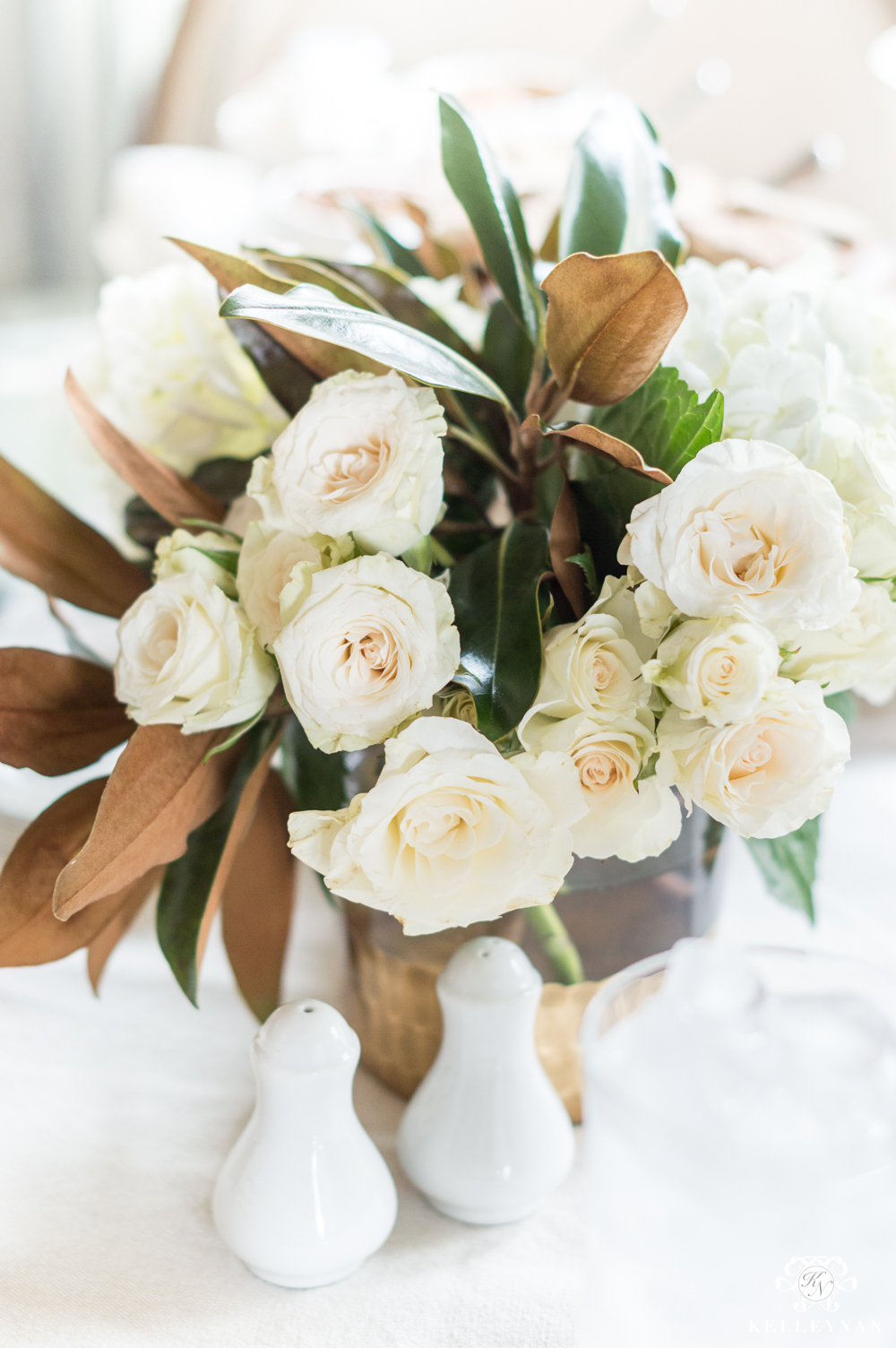 I used two table runners and crossed them; if they are too long for a short/round table, you can pinch them in and fold at the center. Each place setting has everyday beaded dinnerware (HERE); simple scalloped napkins; an inexpensive, gold beaded charger; and a set of gold flatware (HERE). My goal was a more simple, sweet "feminine" than an elaborate "Valentine's" setup.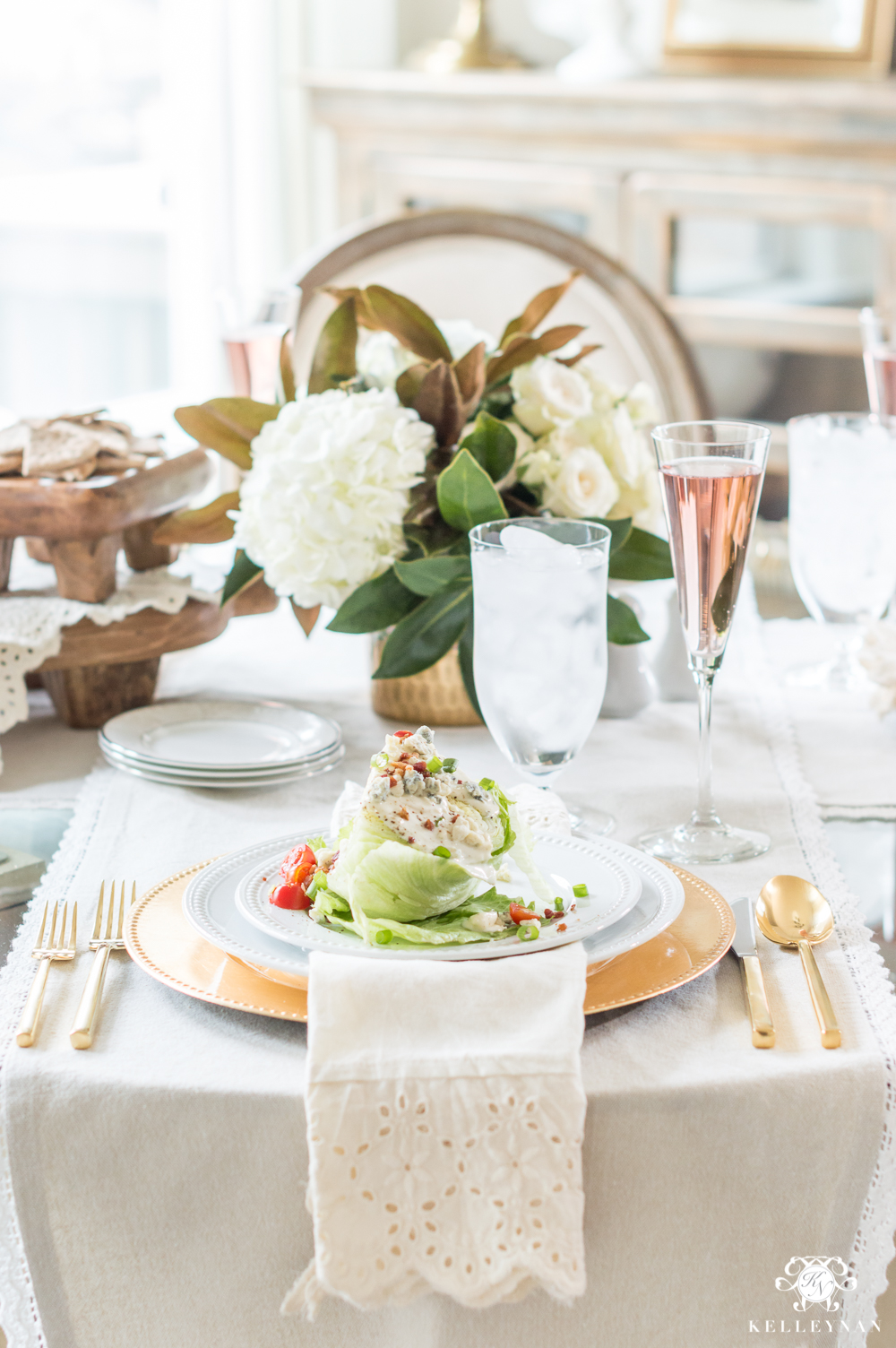 ---
Scroll & Tap to Get the Look

---
THE SALAD
I can't explain why but anytime I see a "wedge salad" on the menu at a restaurant, I have to have it. It's the most perfect, simple little thing ever but it somehow just feels way better than a regular tossed salad. Isn't that silly? Well, they are also super simple to whip up at home.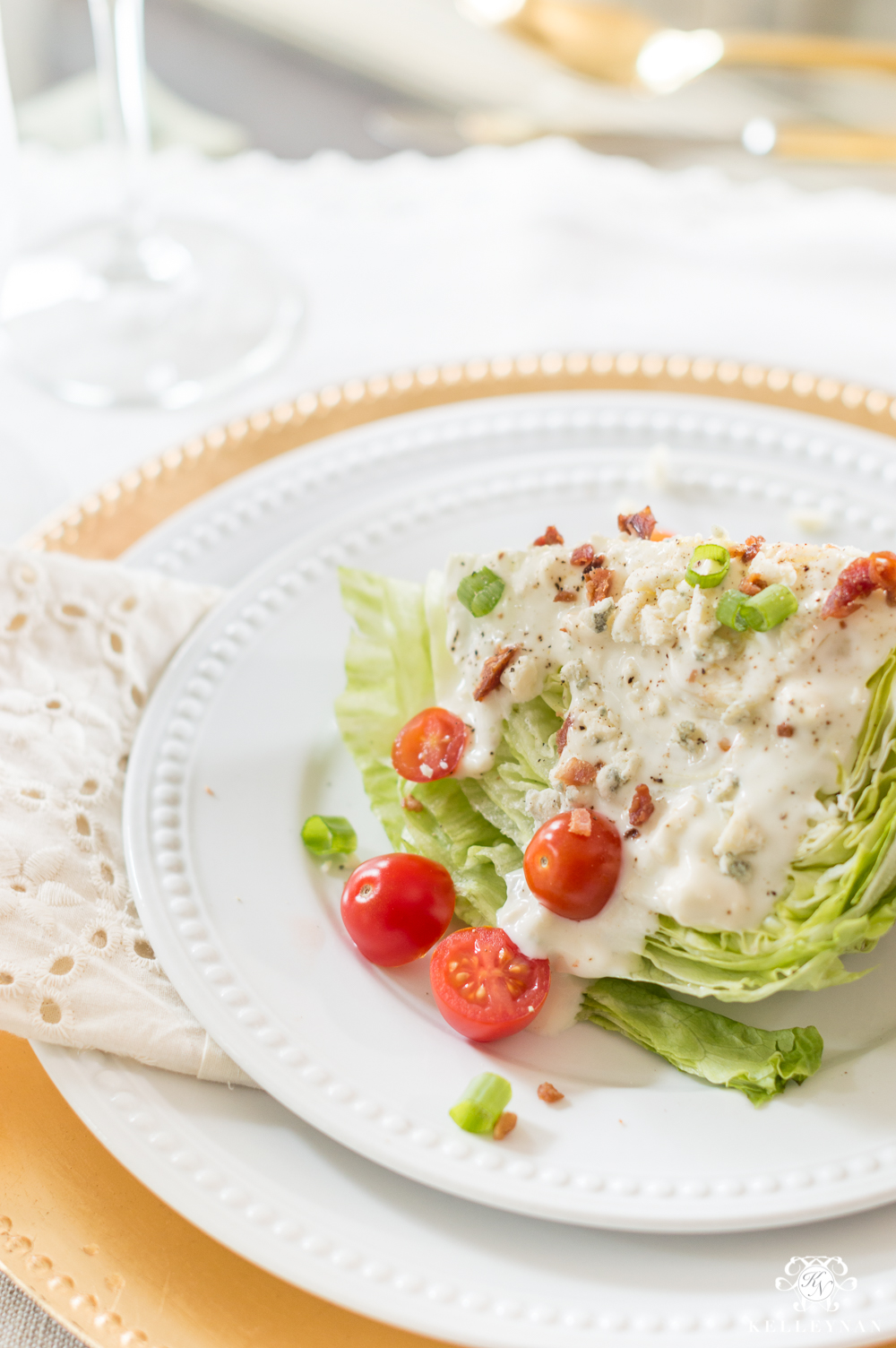 I wash the head of lettuce, remove the outermost lettuce leaf, chop the stem end off, and cut into quarters. I dress mine the same every time – a few grape tomatoes (cut in half), bacon pieces, blue cheese crumbles, diced green onion, blue cheese dressing, and a dash of salt and pepper.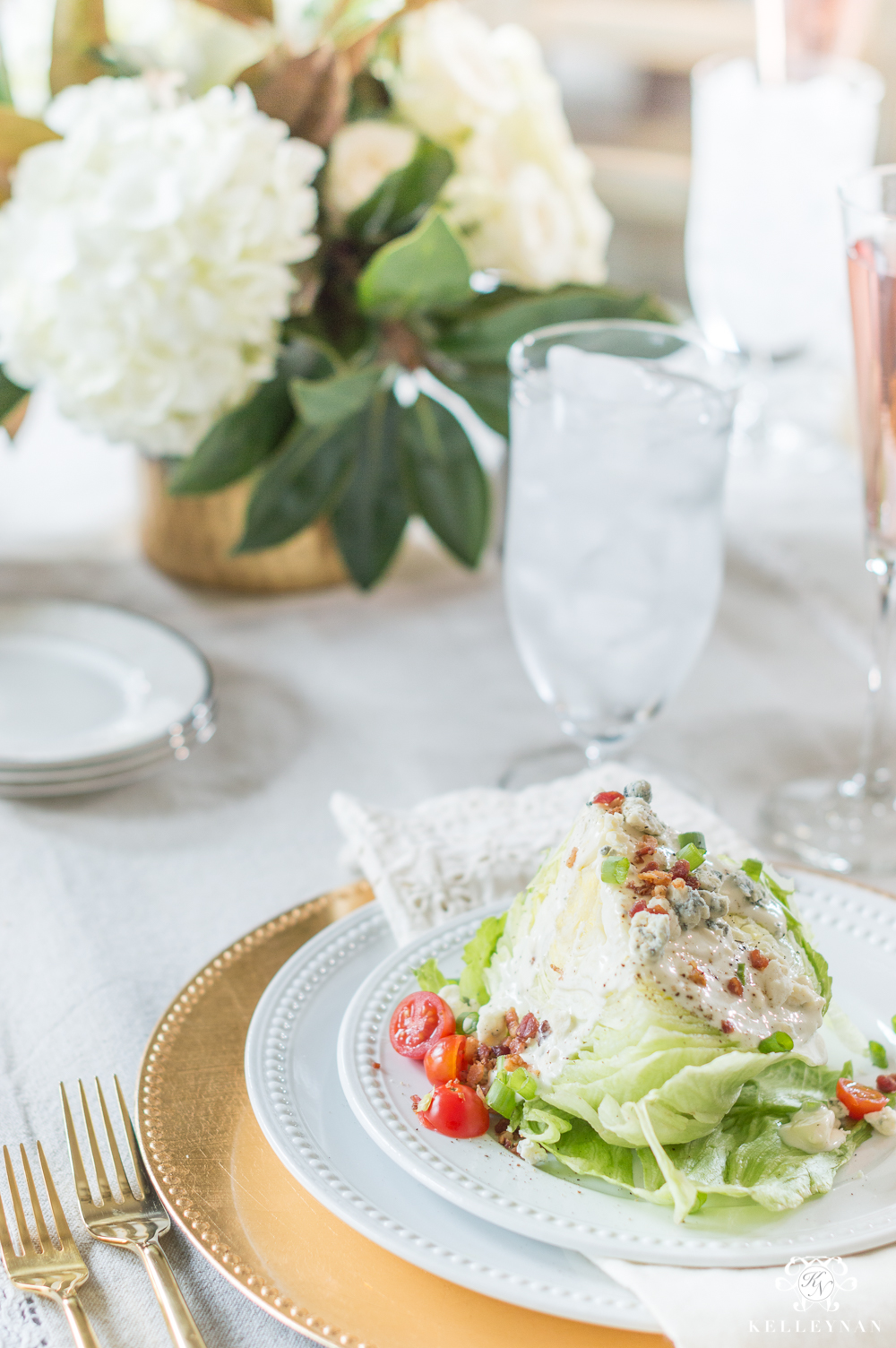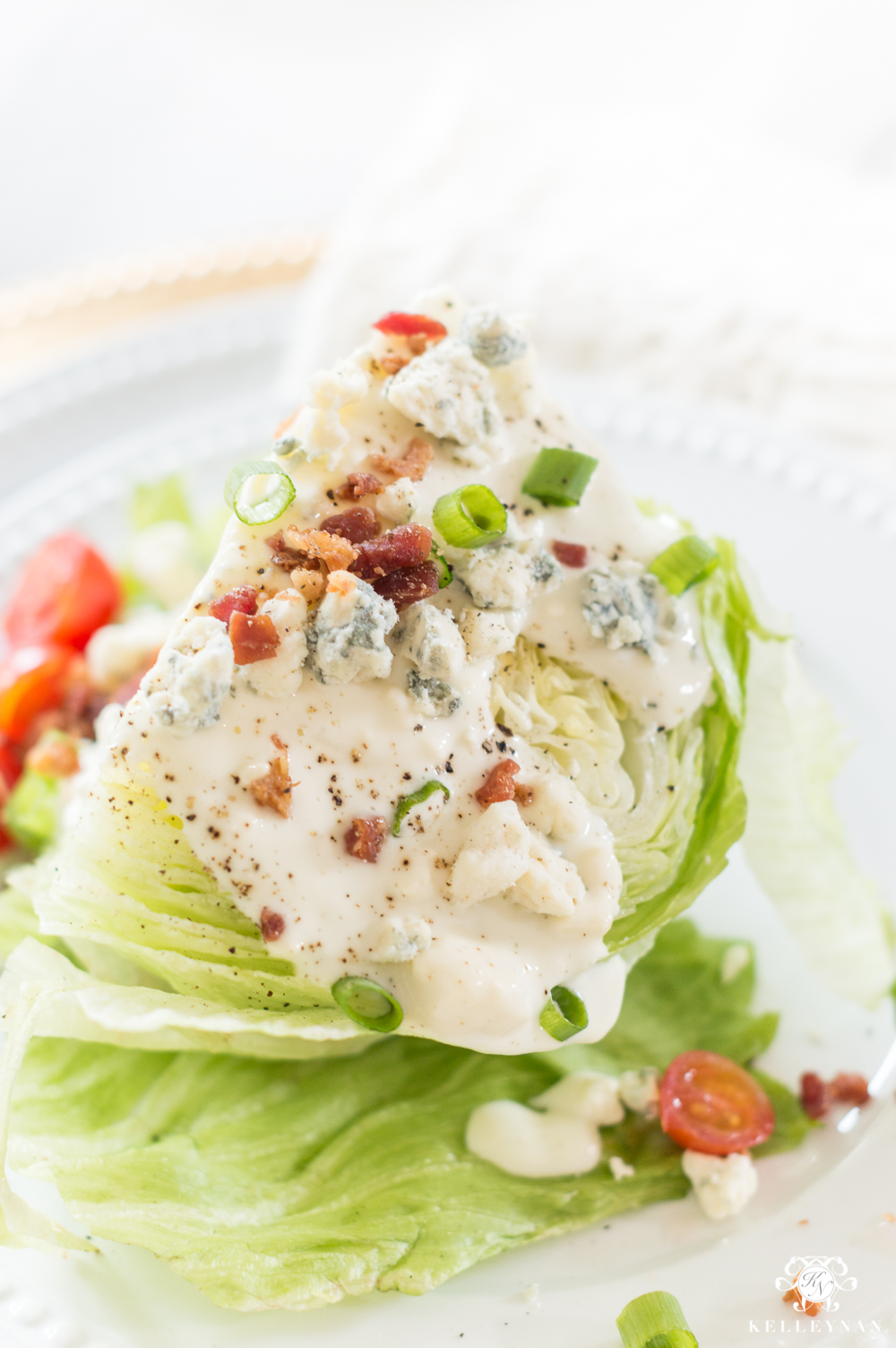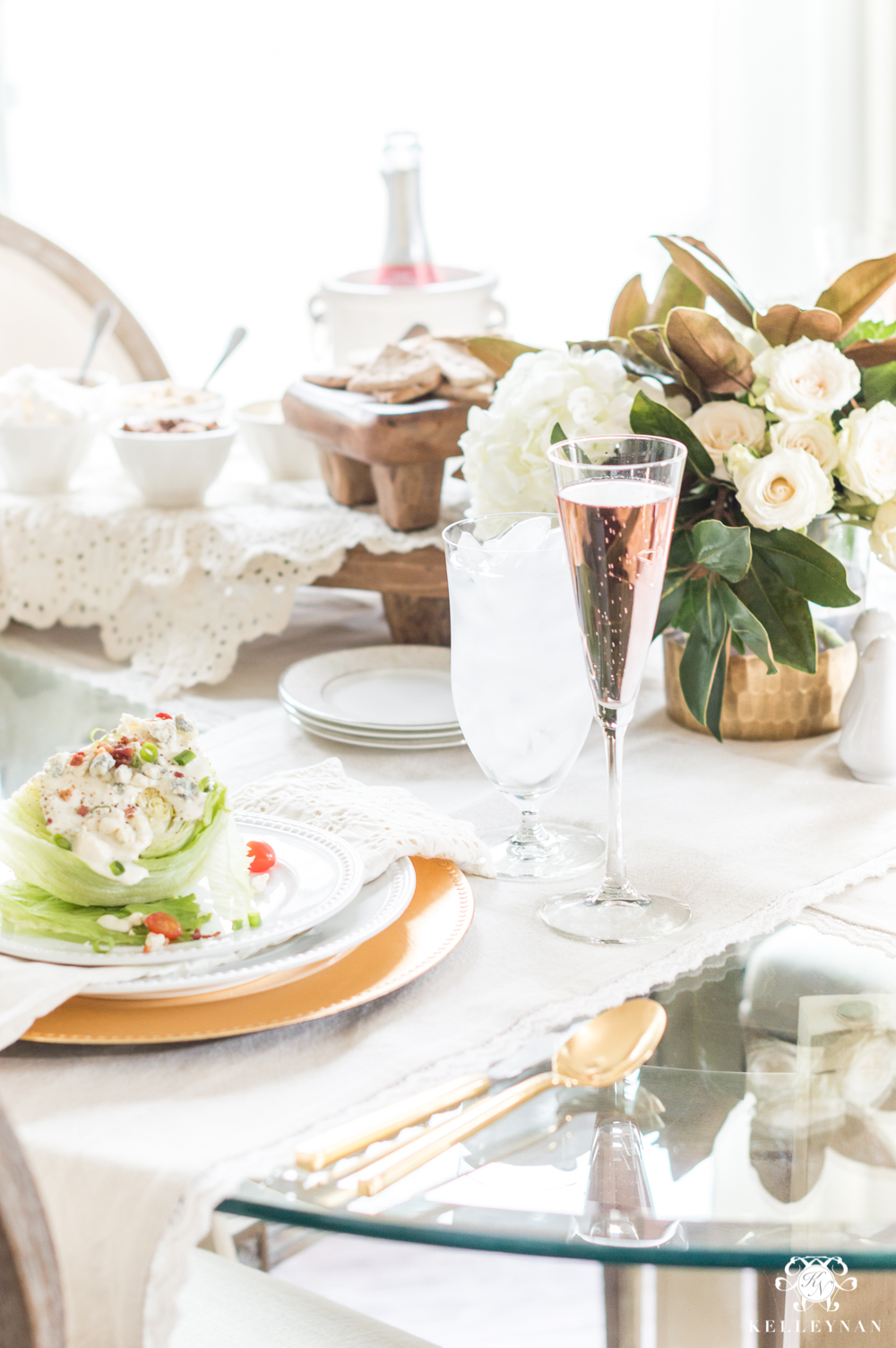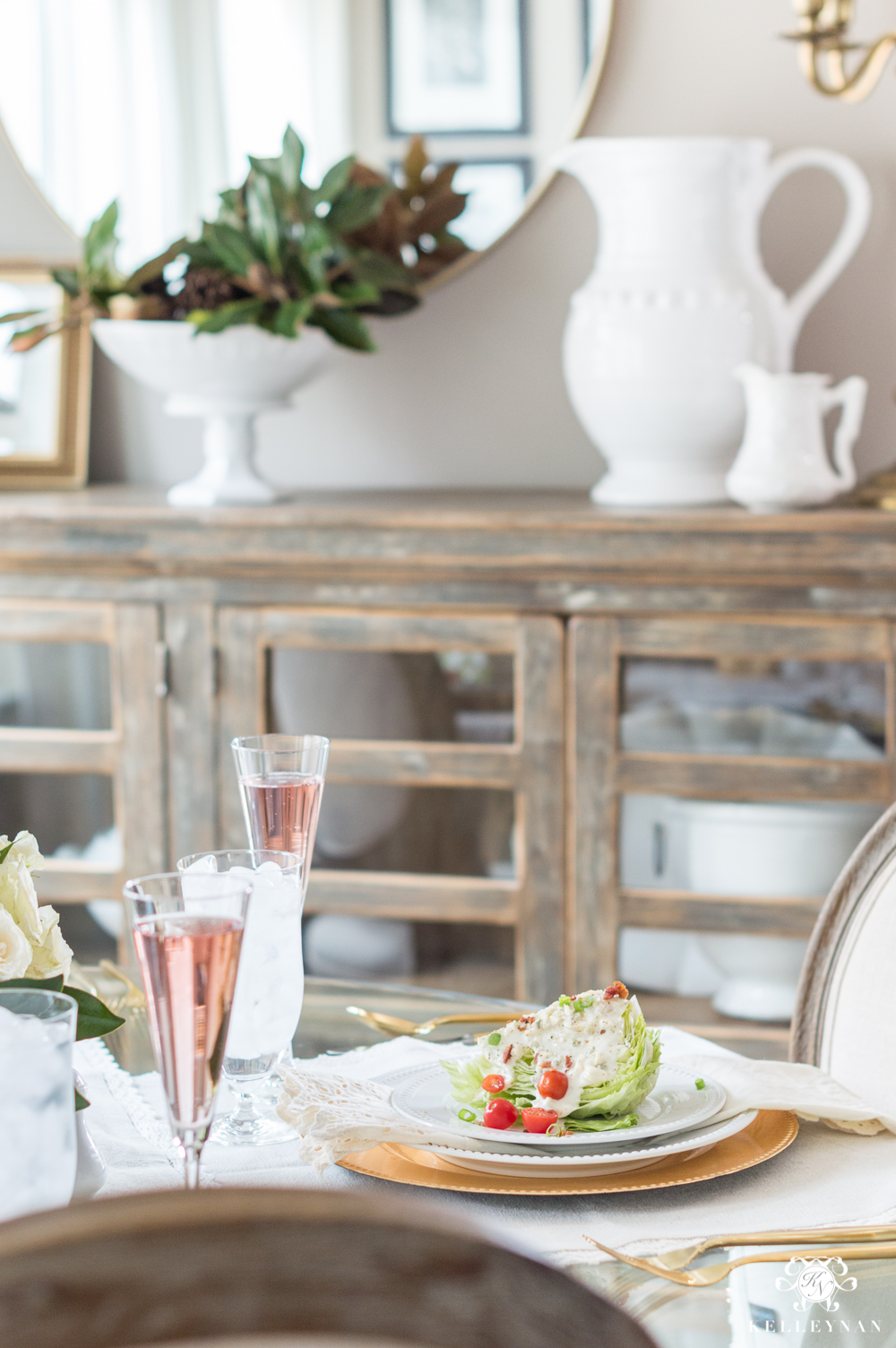 If you're going simple, no need for a full bar set-up or a special punch cocktail. Pink champagne is easy and perfect.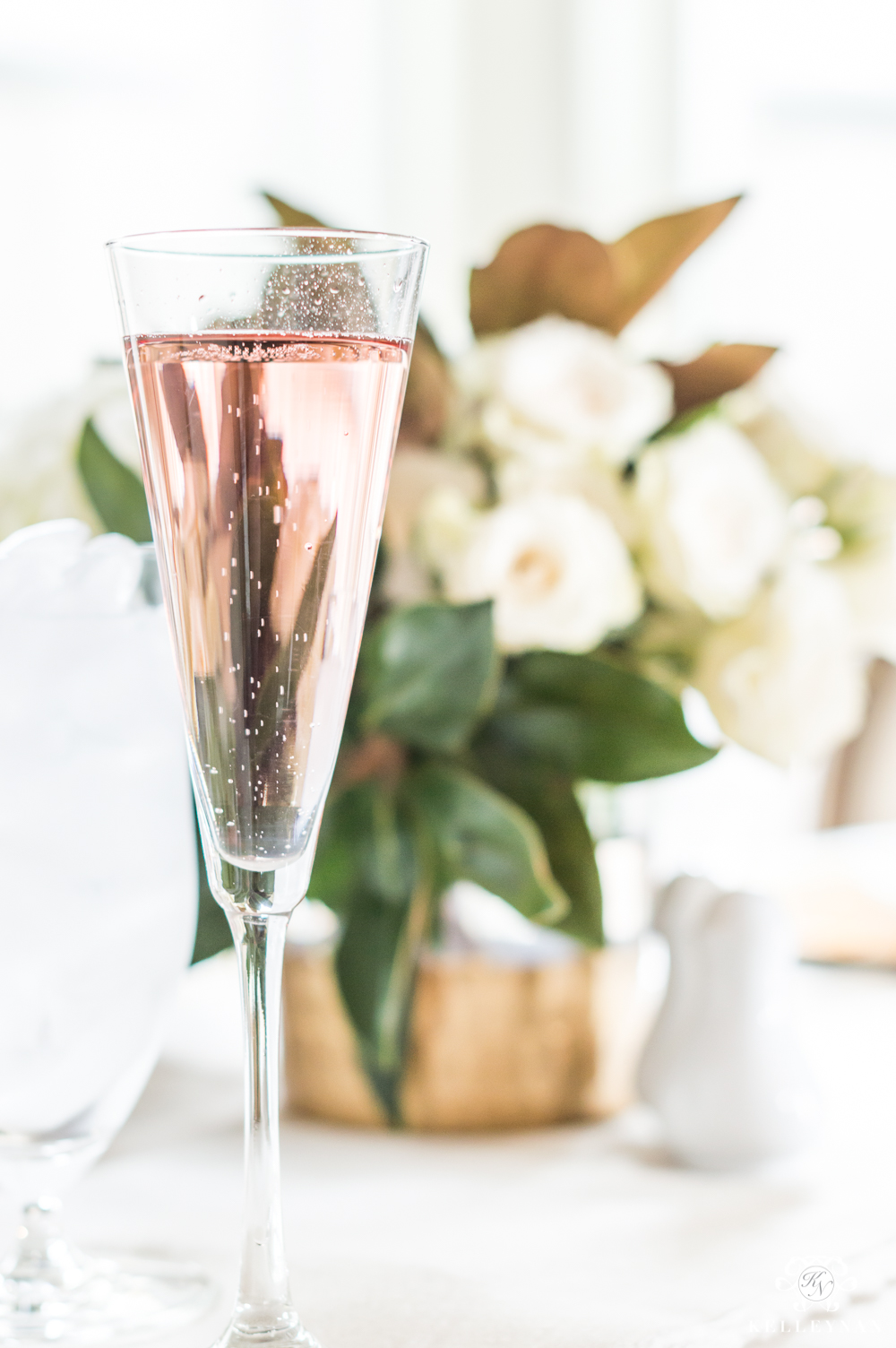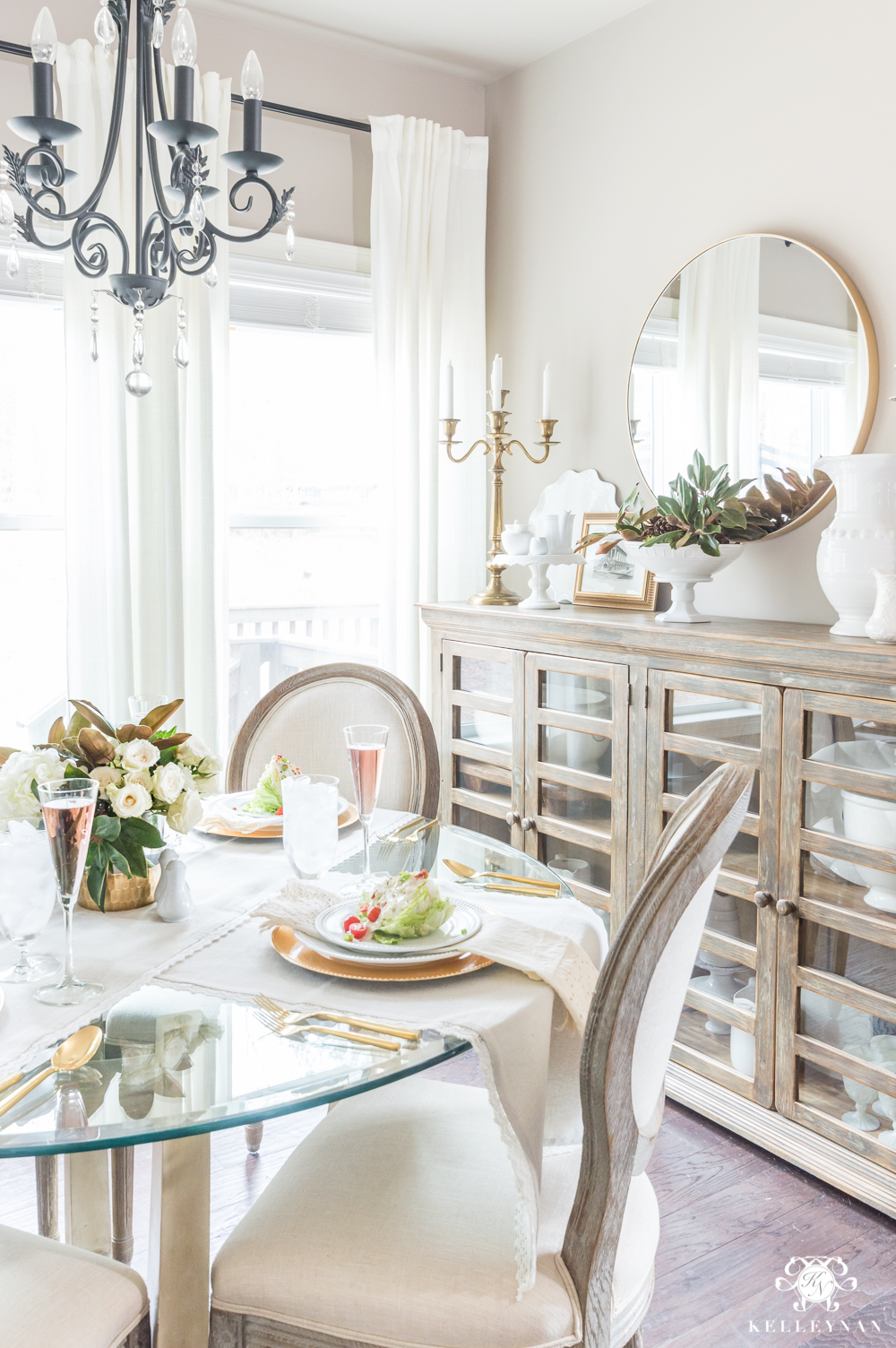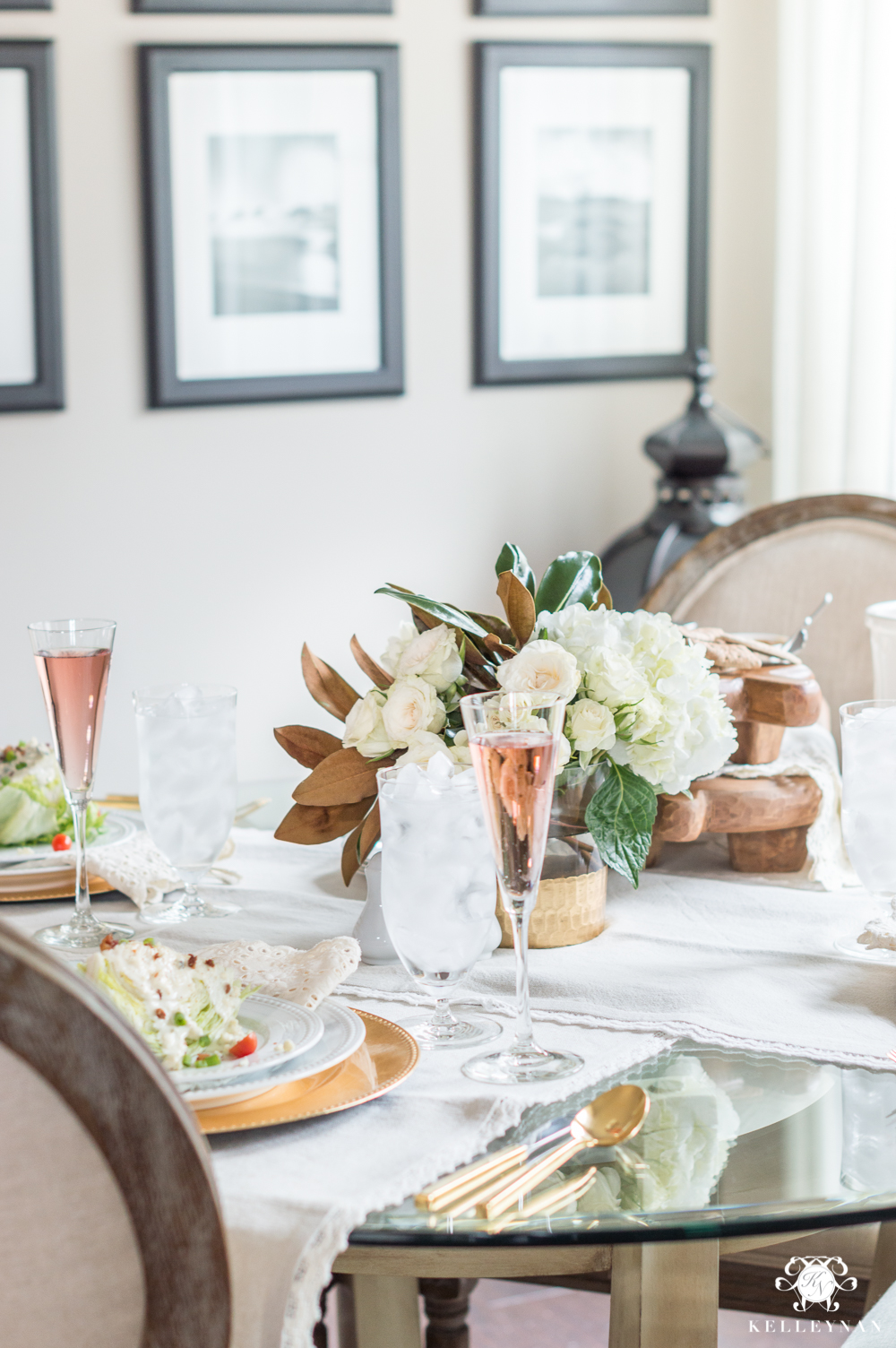 THE MAIN COURSE
Ok, so here's my favorite part of the lunch. What's set up over there in the spare seat? A sweet potato bar! If you aren't into sweet potatoes, you can totally do a regular baked potato bar but it's likely that dressing sweet potatoes will be more of a unique guest experience for your galentines 😉 For more potato bar ideas, see my mashed potato bar post HERE.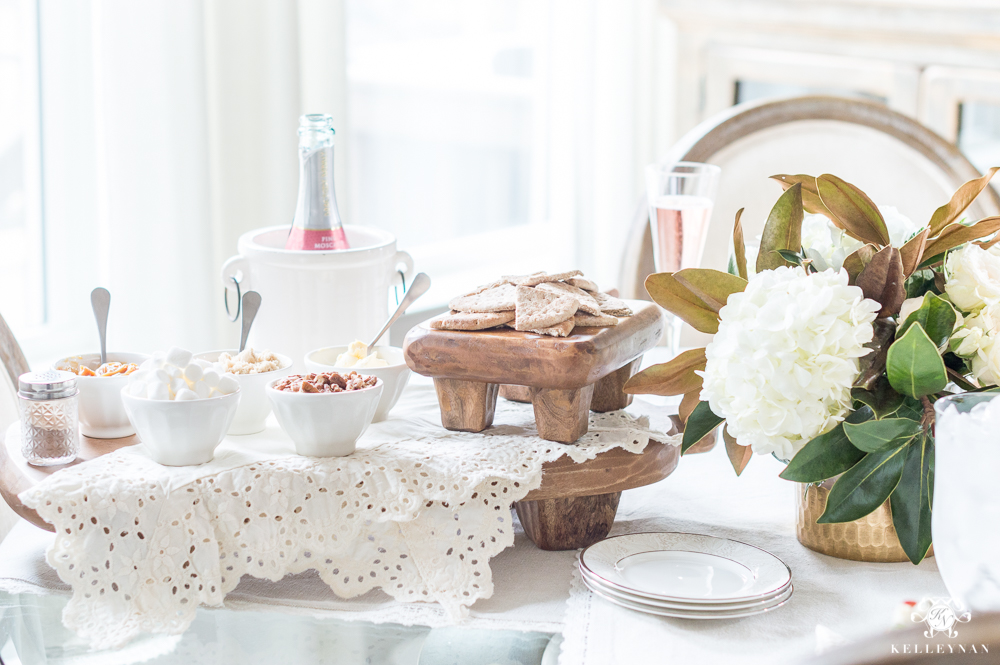 You can start baking the sweet potatoes prior to your guests' arrival and prepare the toppings in small bowls. There are tons of options but I stuck to a sweet set of accompaniments with brown sugar, butter, caramel, marshmallows, cinnamon, and pecans. I positioned them on my medium wooden pedestal board (HERE), and stacked the mini board (HERE) on top with bread thins.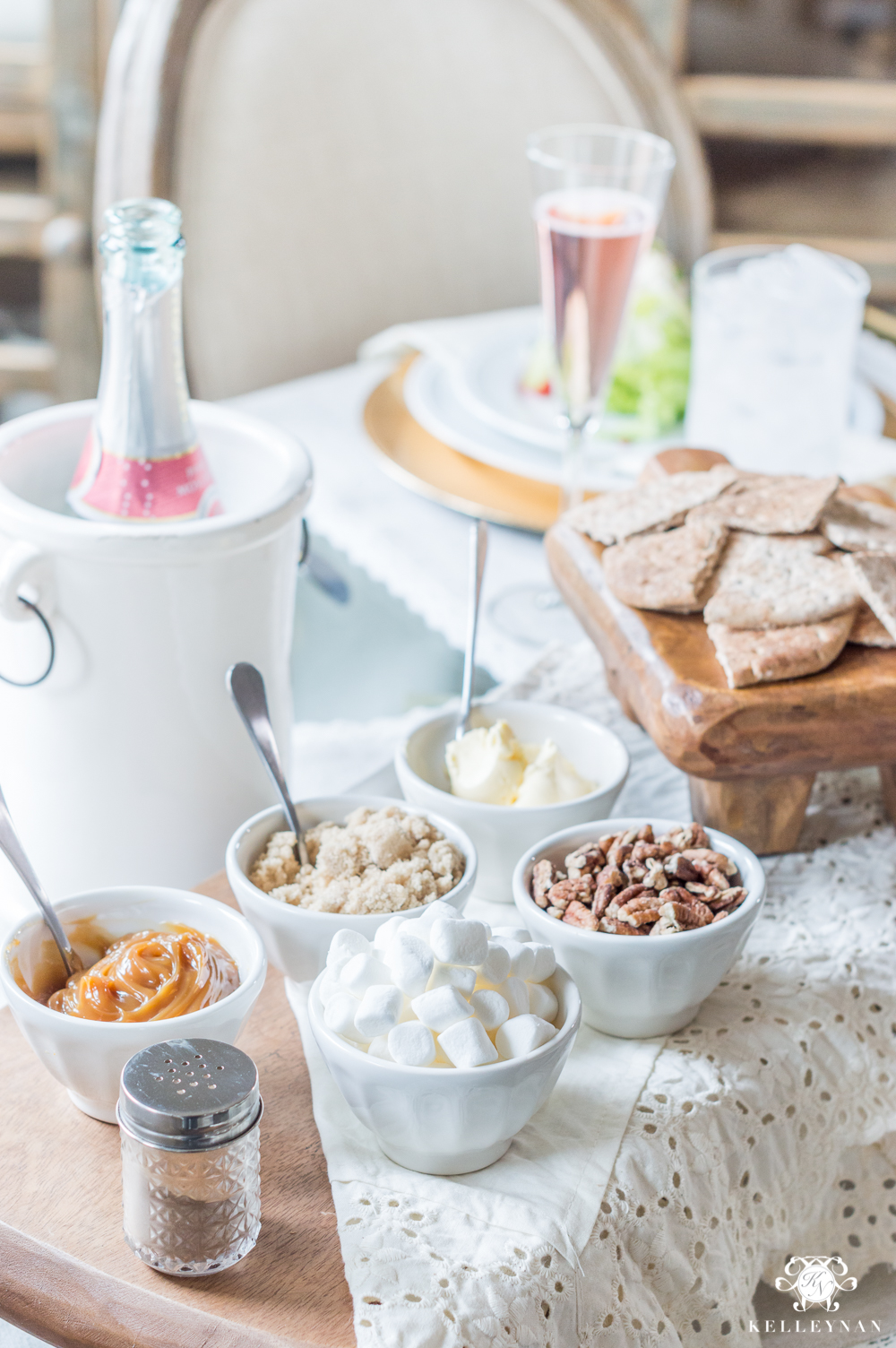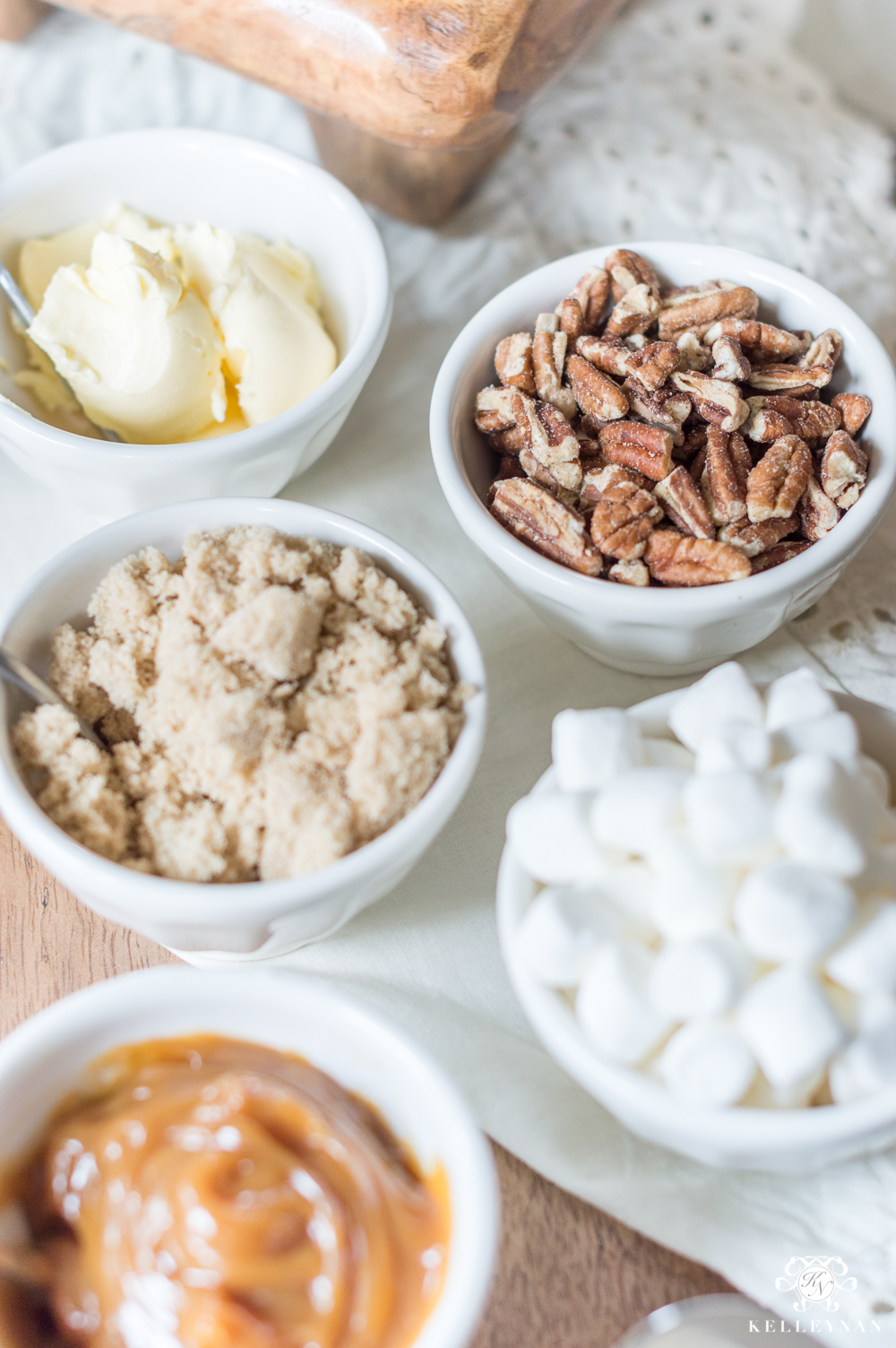 You can broil the potatoes with marshmallows in just a few minutes' time. It's a seriously Galentine's-worthy lunch you can pull off by cutting a head of lettuce into quarters and throwing some potatoes in the oven. I am all about that 😉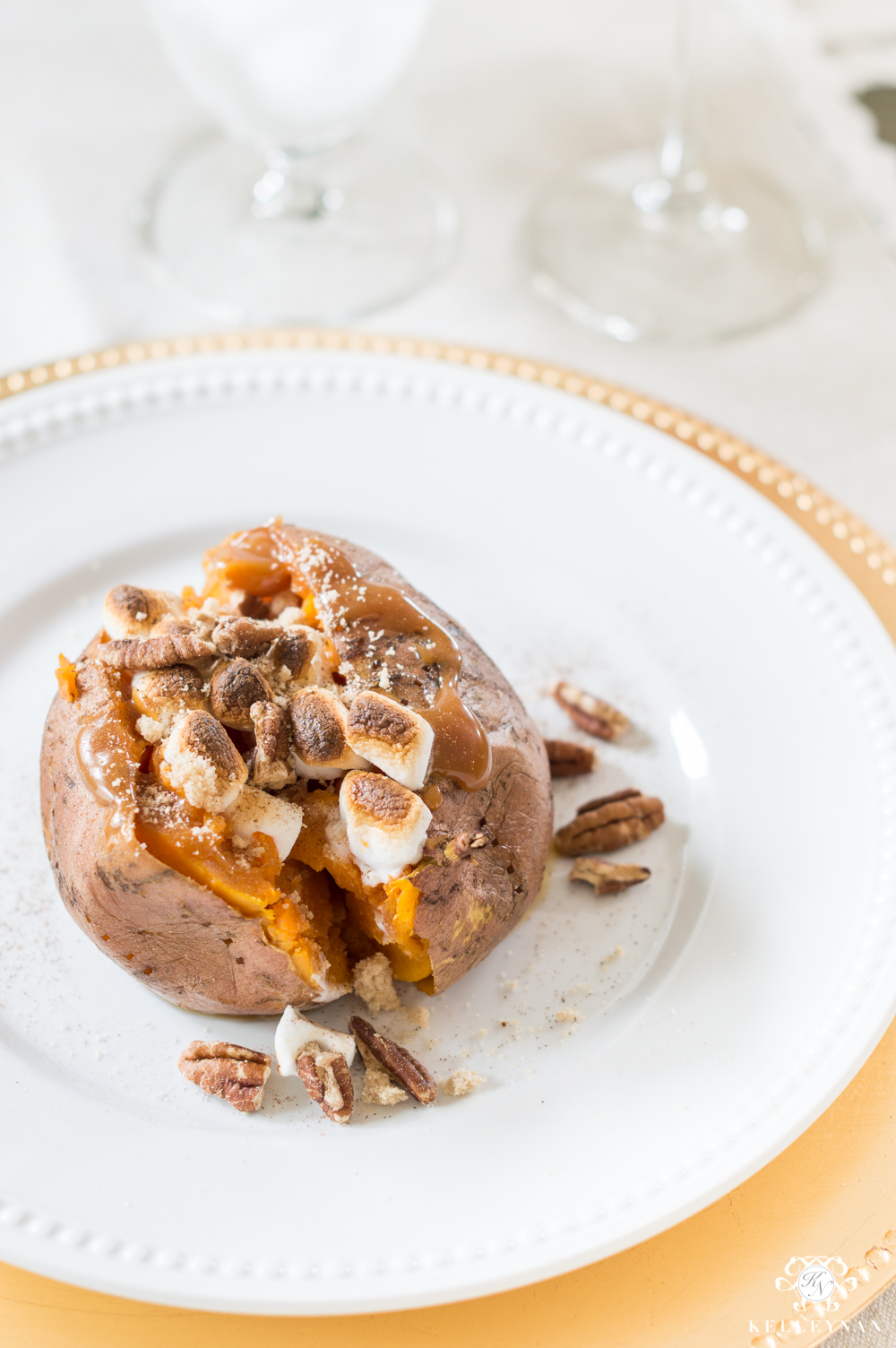 THE ACTIVITY
Ok, so what next? Of course you can craft or bake but if you are like me, doing something productive 1. makes me feel accomplished, and 2. is so much better when you are doing it alongside friends. I know a lot of us are still in the newness of sticking to resolutions and organizing everything in our life (or working towards it haha), so picking an activity to work toward something comes at the perfect time. I'm not talking about having everyone bring their kitchen drawers – keep it simple and plan to de-clutter and organize your purses. Instruct your guests to bring their handbags (as-is), plus, a new purse for the upcoming spring season. (Many, MANY years ago, I used to switch my purse each day with every outfit. Now, I only switch seasonally unless a special occasion calls for a clutch 😉 ). If they aren't ready to switch just yet or want to bring one they already have, of course, that's totally ok! There's just something about organizing and switching purses for the season that makes you feel like the *double high five emoji*. Everyone will leave your house with a task accomplished and a weight off their shoulders. I went ahead and treated myself to a new purse for the season and I absolutely love her. The Tory Burch Robinson double-zip tote is the perfect size and shape for me; it can hold my planner and iPad in two separate pockets which I love. (It also comes in several colors and a few sizes).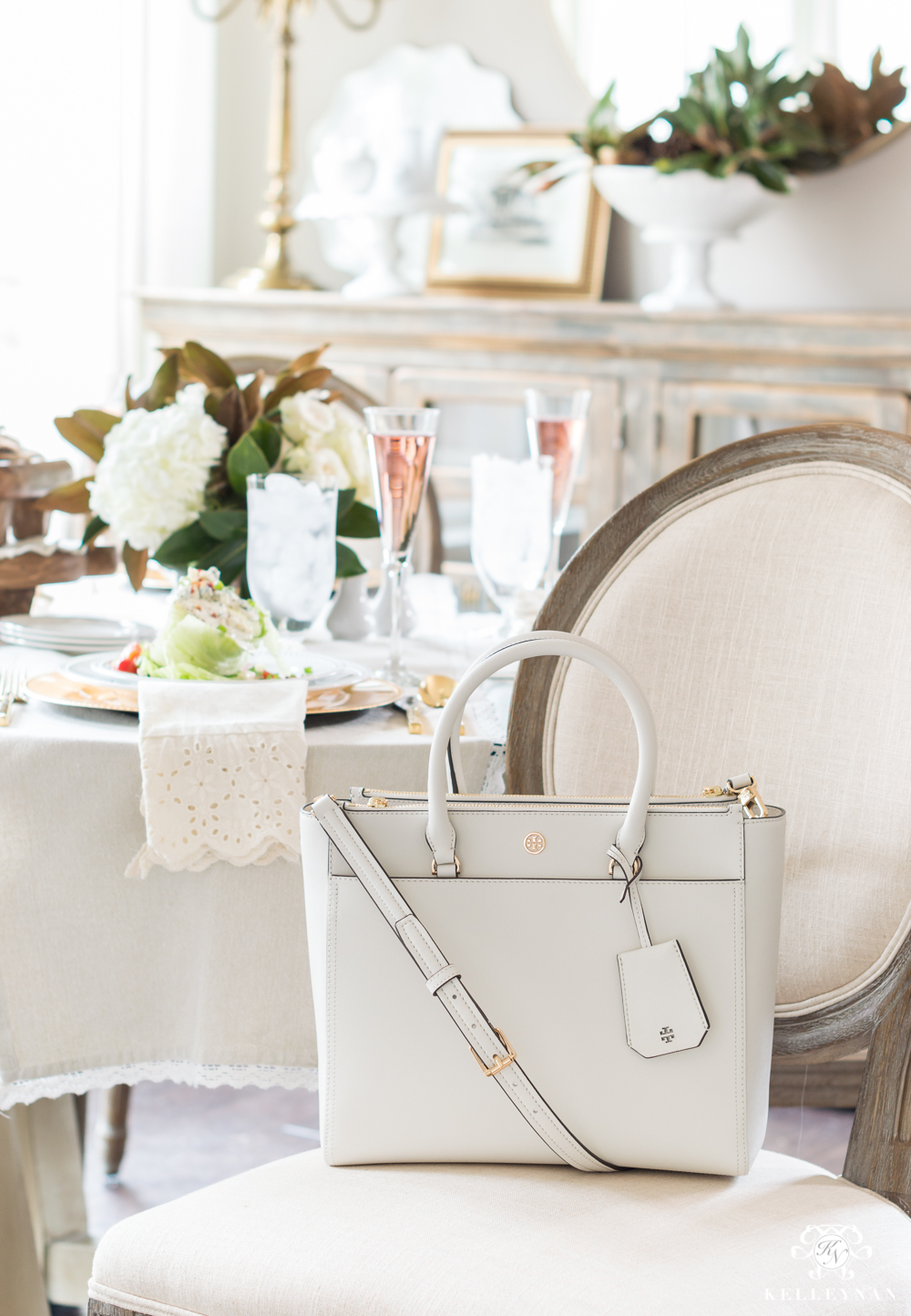 ---
Scroll & Tap to Shop the Prettiest Purses for Spring

---
Ok, so here's how to make it fun… I've seen shower games with purse checklists- whoever has the most items on the list "wins". I came up with my own (you can copy this one, have an impartial party come up with the list, or purchase a template off Etsy (HERE).) As you and your guests clean out, switch, and organize your purses, follow the checklist like a scavenger hunt. Whoever discovers the most items in their purse "wins". You can have a prize for the winner to go along with her bag – a compact mirror, change purse, lip balm, etc. Keep a few trash bags on hand so your guests can really empty their purses. You could even have a few folders for stray papers and a few jumbo zip-lock baggies for items that shouldn't return to the cleaned out purses.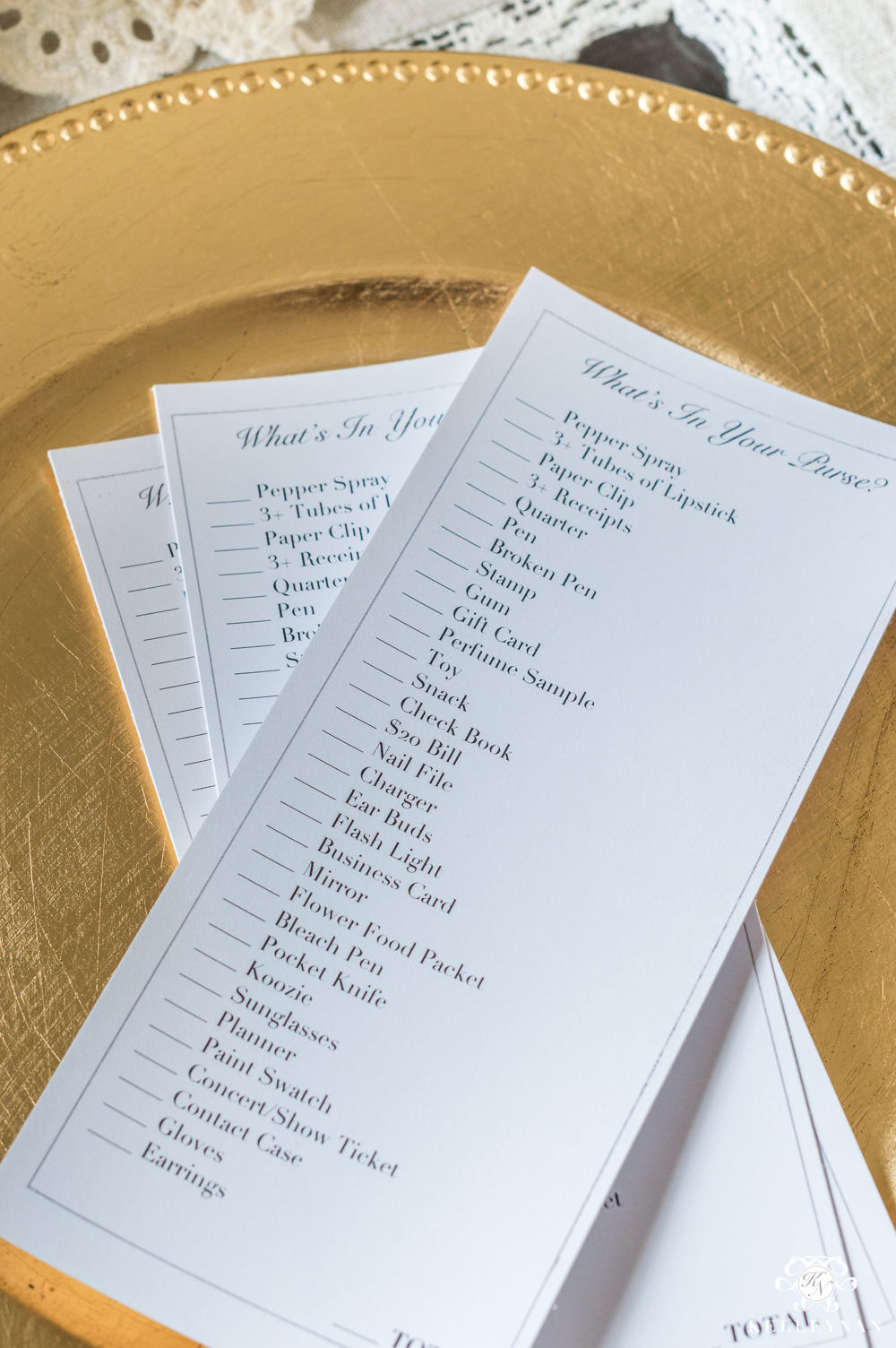 I can't share the full embarrassment that was tucked inside my purse, but just know, it was awful haha. Going through all those receipts and expired coupons while sippin' champagne makes it so much better; you can even have a gift card exchange (you know your girls likely have several they aren't inclined to use!)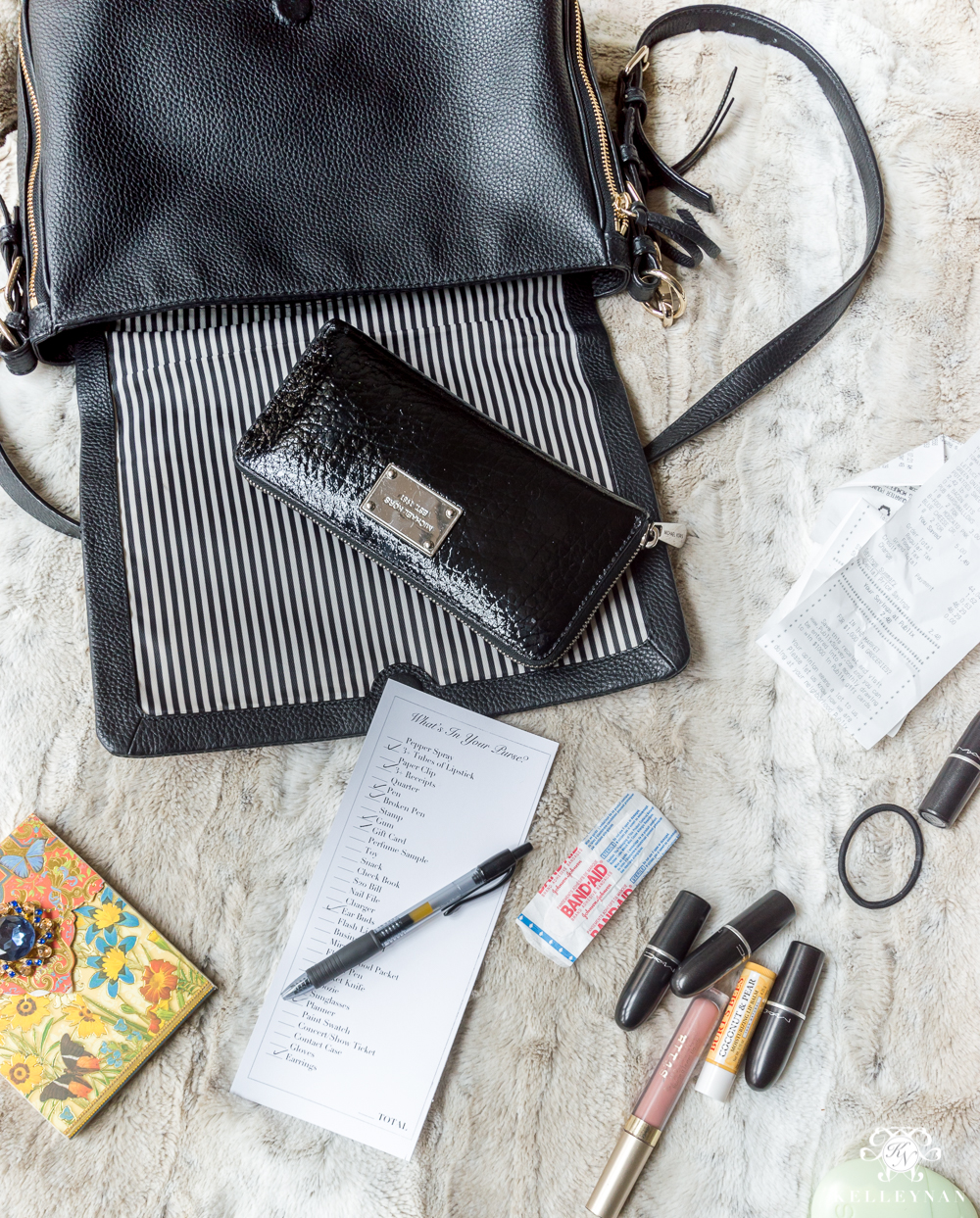 Have other ideas for a productive activity over a Galentine's lunch? Let me know in the comment section below. Subscribe to receive emails at the bottom of the post, and never miss party, entertaining, organization, or project ideas.