UPDATE 5/1/2018: Save the Date for the 2018 annual Nordstrom Anniversary Sales! It's set to launch this year on July 20 through August 5. 
Christmas shopping already?! What?? Yes. I am committed to having everything done by December 1 this year. But, I know if that is going to happen, I have to start now (and, I have 😉 ). I'm going to be sharing other things and ways to start prepping for the holidays in the next week or so but first, wanted to share how to take advantage of early Christmas shopping during the Nordstrom Anniversary Sale. I first concentrated on clothes primarily because those seem to be the first to sell out (you can catch my try-on session and see what I'm keeping HERE). Note: if you are coveting something that has sold out, I have had a lot of luck keeping the product tab open in my browser and refreshing every so often. They are continuing to re-stock items (at a minimal level- returns?) but they still sell out again quickly.
Since then, I have switched focus to gifts, my husband, and seeing what else I can score early at a great price so I am set for the holidays. There is a lot to get through in the sale so I rounded up some ideas (and how to gift them) to point you in the right direction for several people on your list.
*post contains affiliate links*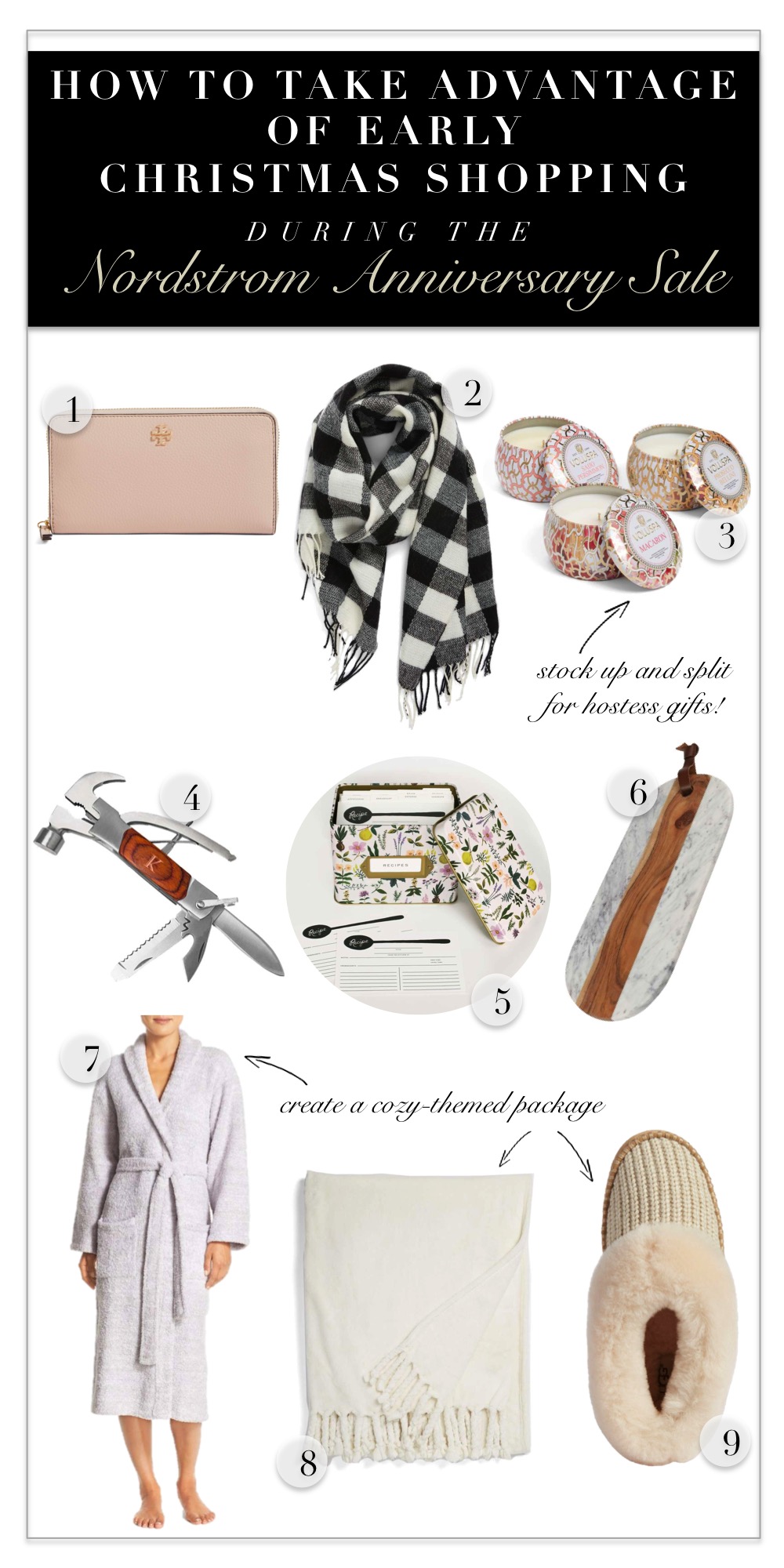 1 | 2 | 3 | 4 | 5 | 6 | 7 | 8 | 9

1. Tory Burch Wallet– Sale: $129.90 | Regular: $198.00
A super special gift at a fantastic price, you mom/daughter/wife/girlfriend will remember this Tory Burch wallet. Up the ante by nestling a gift card (or a few) inside. If it's for your daughter who is away at school or a young, struggling professional, include gift cards to staples where she can get groceries, a gas station, and dinner. If it's for your wife/girlfriend, include cards to pamper herself (mani/pedi, favorite stores, etc.)
2. Black and White Buffalo Check Scarf– Check Back Often for Re-Stock!
This versatile scarf is classic and a perfect fit for just about anyone. Your girlfriends and sisters will love it but it's still appropriate for those who you may not know quite as well. Is your brother bringing home a girlfriend for the holidays you've never met? Have a possible last minute person joining for a holiday dinner? This is an awesome price point for a gorgeous piece!
3. Maison Blanc Mini Candle Set Trio– Sale: $15.90 | Regular: $24.00
These are hostess gift staples! Split these babies up (at $5/ea.) and keep them on hand for holiday parties, neighbor gifts, or just a little something to keep on hand for impromptu guests.
4. Multi-Tool– Sale: $29.90 | Regular: $46.00
This is a great stocking stuffer gift or even an affordable (but cool) boss' gift. It has a monogram option (if you already know the initial of the person you want to gift this to) but also a blank option if you want a couple to keep on hand.
5. Recipe Box & Cards– Sale: $21.90 | Regular: $34.00
One of my absolute favorite gifts of all time was one Christmas when my mom presented me with a recipe book where she had written out all of my favorite dishes growing up. Personalizing this will take this cute, inexpensive gift to one of the most meaningful gifts everHERE. Also, if you are hosting a shower, you can see how I recently included recipe cards with each invitation and what I did with them .
6. Marble & Wood Cheese Board/Serving Board– Sale: $32.90 | Regular: $50.00
I love themed gifts. Remember this post on hostess gift baskets? Or this one on comprehensive gift pairing ideas from last Christmas? Or even this one for Easter baskets? This marble and wood serving/cheese board is so "in" right now but is a timeless hosting piece your gift recipient will love! Pick up some of your favorite preserves, cheeses, and cheese knives for a thoughtful gift for anyone.
7. Barefoot Dreams Robe– Sale: $73.90 | Regular: $99.00
8. Plush Throw– Sale: $25.90 | Regular: $39.00
9. Ugg Slippers– Sale: $79.90 | Regular: $119.95
These can be gifted individually but if you are really looking to treat a special lady (mom/wife), present her with this cozy themed package of goodies to let her know how much she deserves to relax. The Barefoot Dreams robe (available in 3 colors) has amazing reviews and is said to be the most comfortable way to lounge around the house. The inexpensive throw (comes in MANY colors) is perfect for the foot of your bed, or even a basket in your living room.
Have you been shopping gifts during the sale? Let me know some of your fav finds and how you are gifting them in the comment section below!