UPDATE 5/1/2018: Save the Date for the 2018 annual Nordstrom Anniversary Sales! It's set to launch this year on July 20 through August 5. 
After a week long hustle for Nordstrom cardholders (hot items quickly selling out, only for a few to be re-stocked, and then sold out again), the actual Anniversary Sale starts today! If you have been window shopping over the last week, now is the time to move. Before last year, I didn't believe the hype – those who warned how quickly these annual frenzied buyers are. I was wrong. I was better prepared this year but still snoozed a little too long on a few things. Since Early Access started, I have placed several orders so I could try everything I wanted without worrying about inventory. I am still waiting on a few items but thought I would share what I've selected so far. My goal was to prepare for fall. A few staples, casuals, and key layering separates. You'll quickly see the style I'm gravitating toward 😉
I love good deals, I love clothes, but I am not a fashion blogger. Nor am I a model. So, while I hope the below mirror selfies are helpful, it was not natural haha. I have found most sizing notes on the website to be pretty accurate.
Here are some things to remember, if you missed last week's pre-sale post.
The sale items are NEW for fall – not leftovers/castoffs from last season.
Designer brands- things that don't typically go on sale are typically between 30%-40% off during this sale.
Free shipping AND free returns. If you are unsure of sizing or fit or even what something will look like in person, you can order more than one and return the other easily
Feel free to let me know if you have any questions and good luck 😉
*contains affiliate links*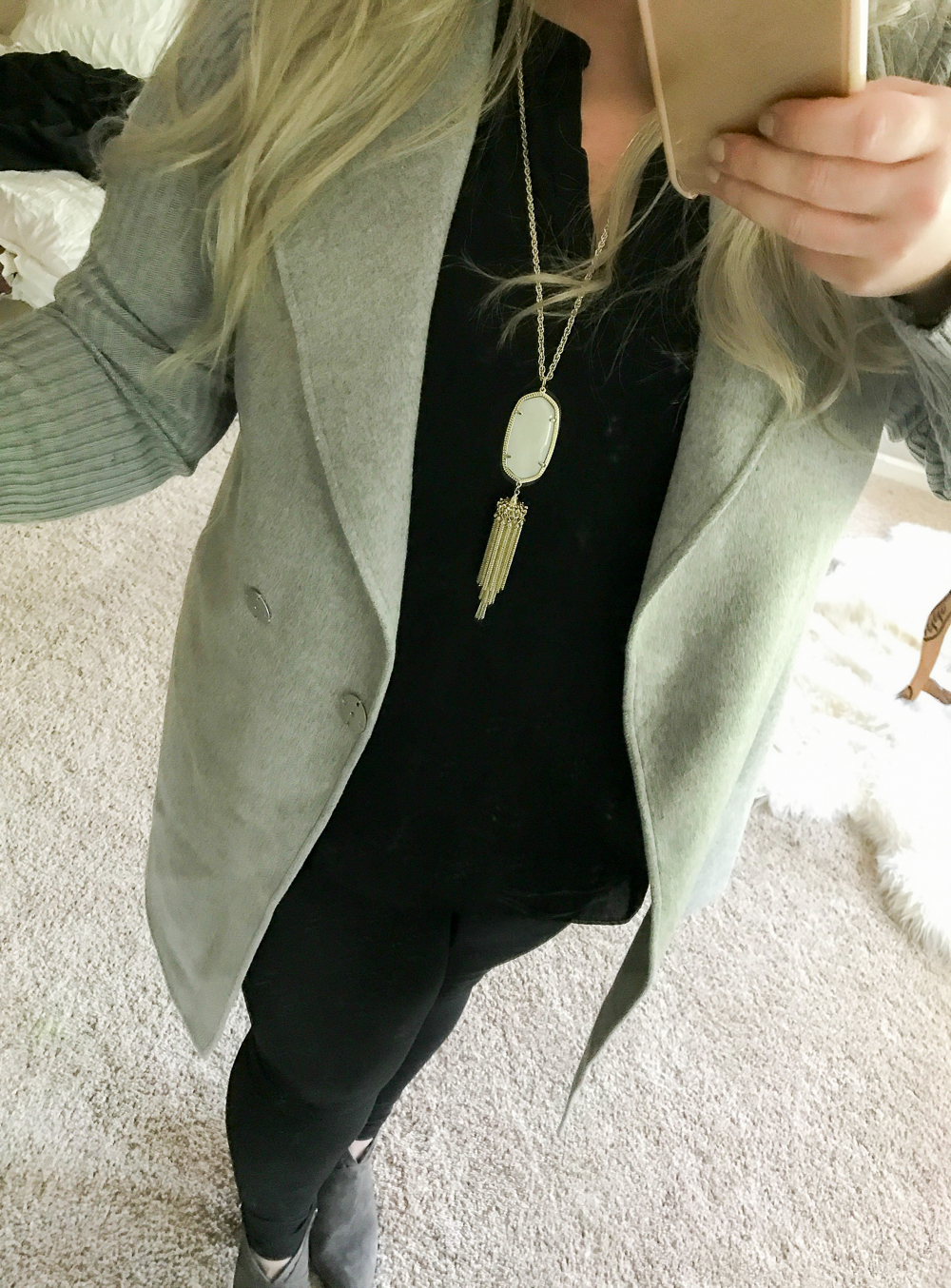 Kenneth Cole Double Face Jacket- Available in multiple colors
During the Sale: $129.90 | After the Sale: $198
I love this coat- enough said. (It comes in black, burnt orange, and gray.) I like that the sleeves are more narrow to contrast the big drape in front, but, they stretch so they could accommodate a layer.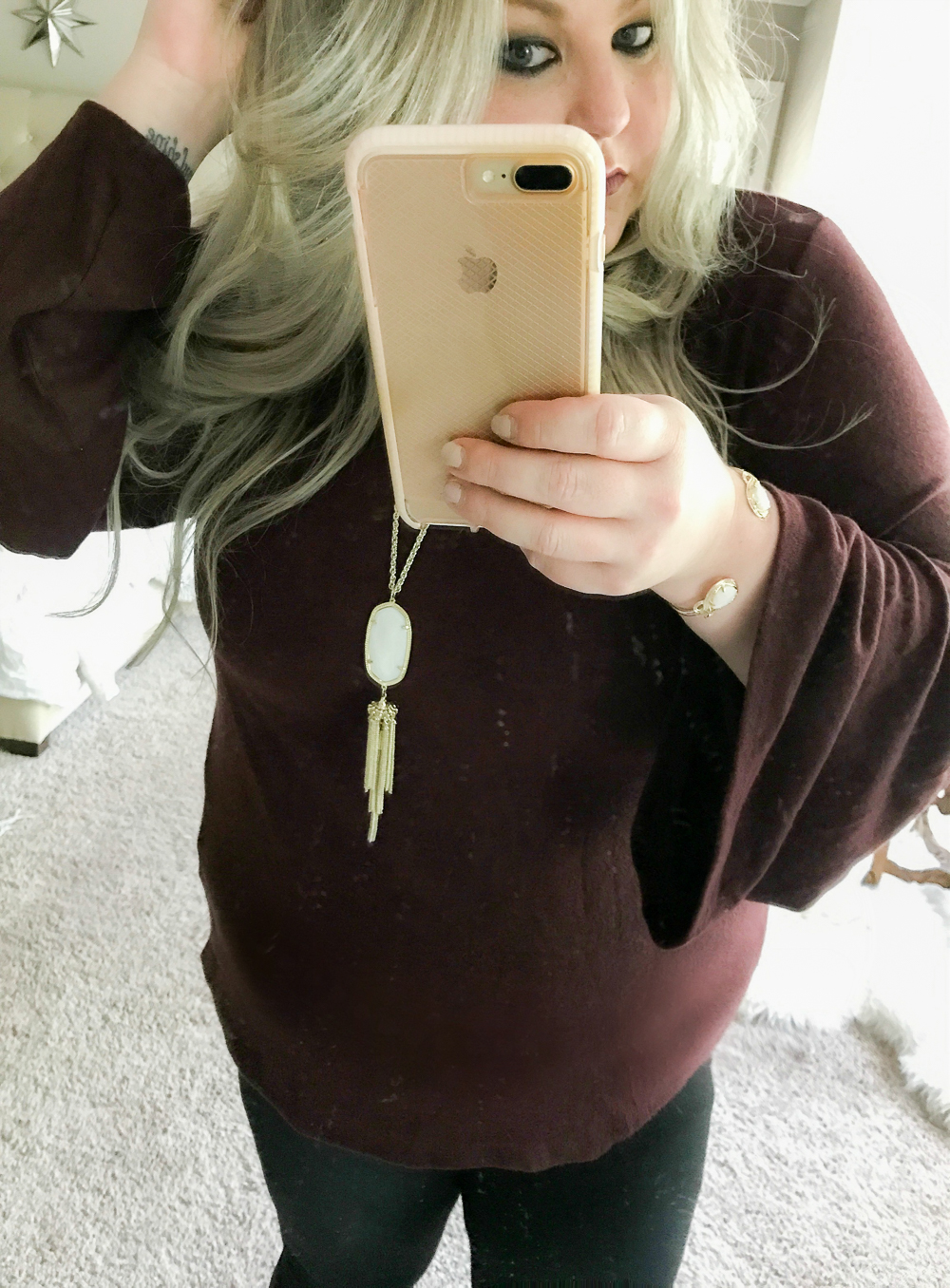 Bell Sleeve Pullover
During the Sale: $39.90 | After the Sale: $59
Disregard the pose (what is that?!) haha- I suppose I was trying to show the bell sleeves but I really like this top. I even tried it with some drapey vests I have and will love pairing it with those and some big blanket scarves when it cools down.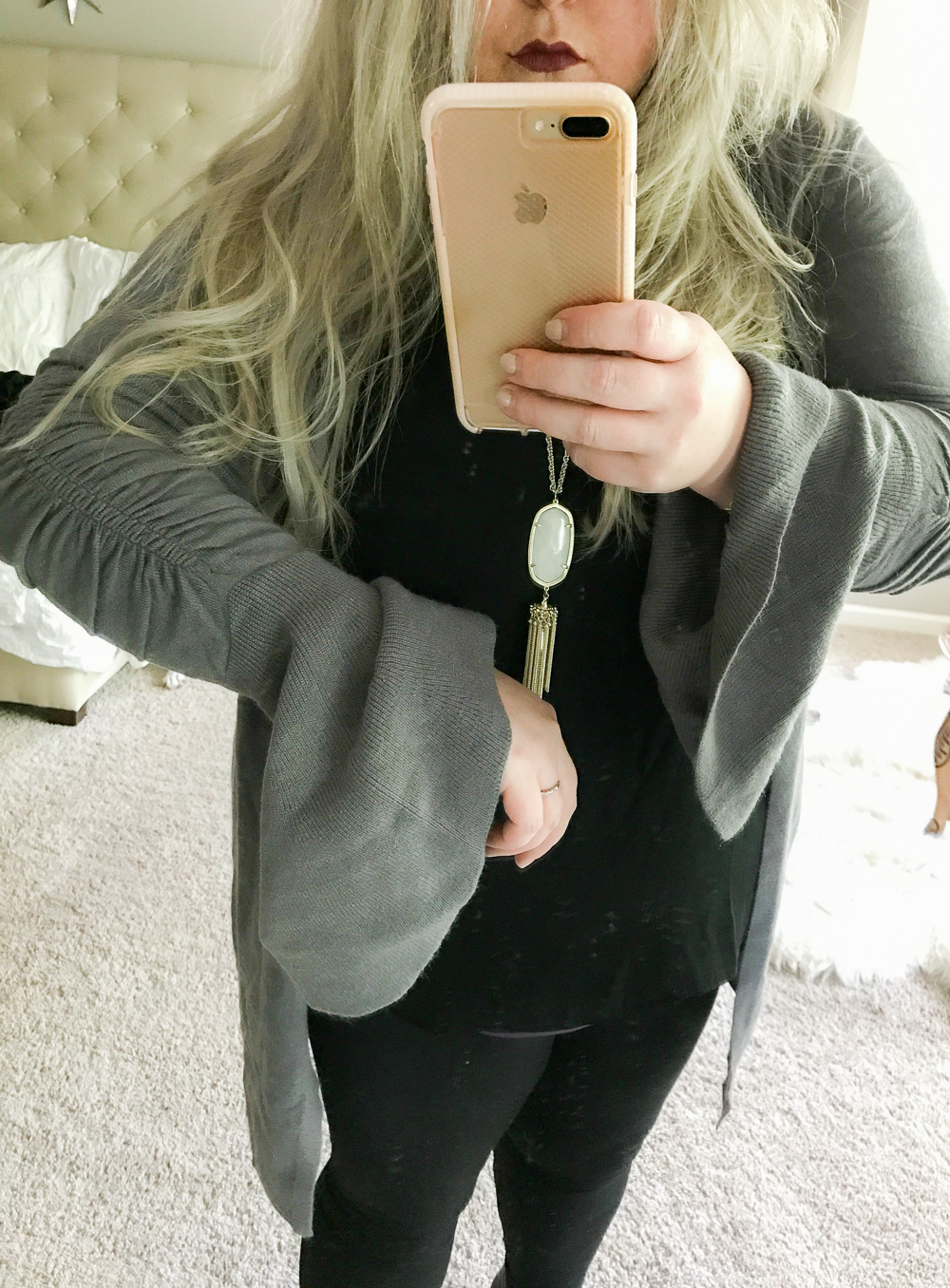 This drapey cardigan takes it up a notch with the sleeve detail. Such a good piece for layering with lots of looks this fall and winter. Also, I am LOVING the bell sleeve trend 😉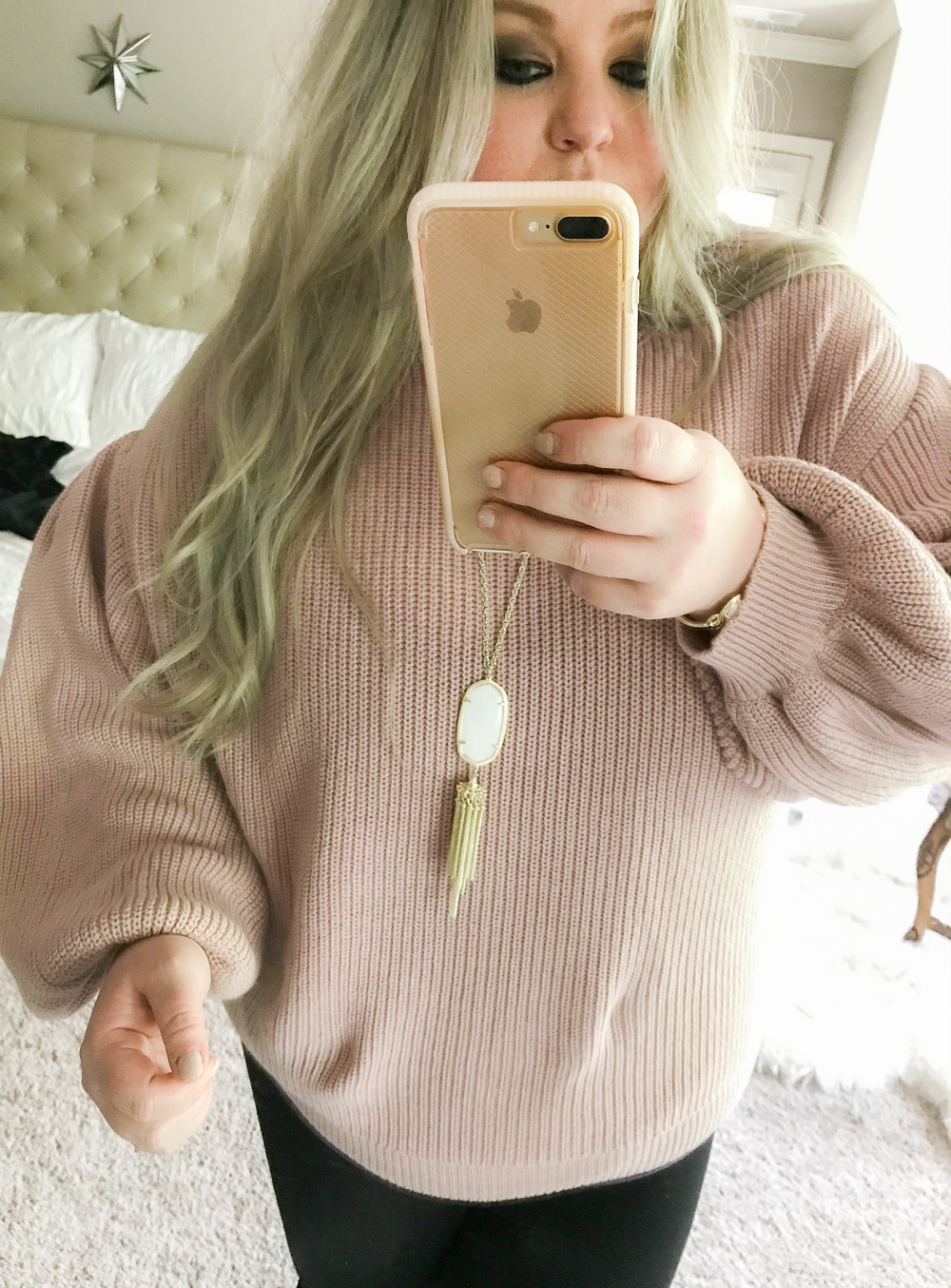 I actually am not keeping this one- the sleeves were almost too billowy for my taste and I didn't feel the length was long enough to make of for it since I am on the shorter side. It is available in a marigold-type color, also.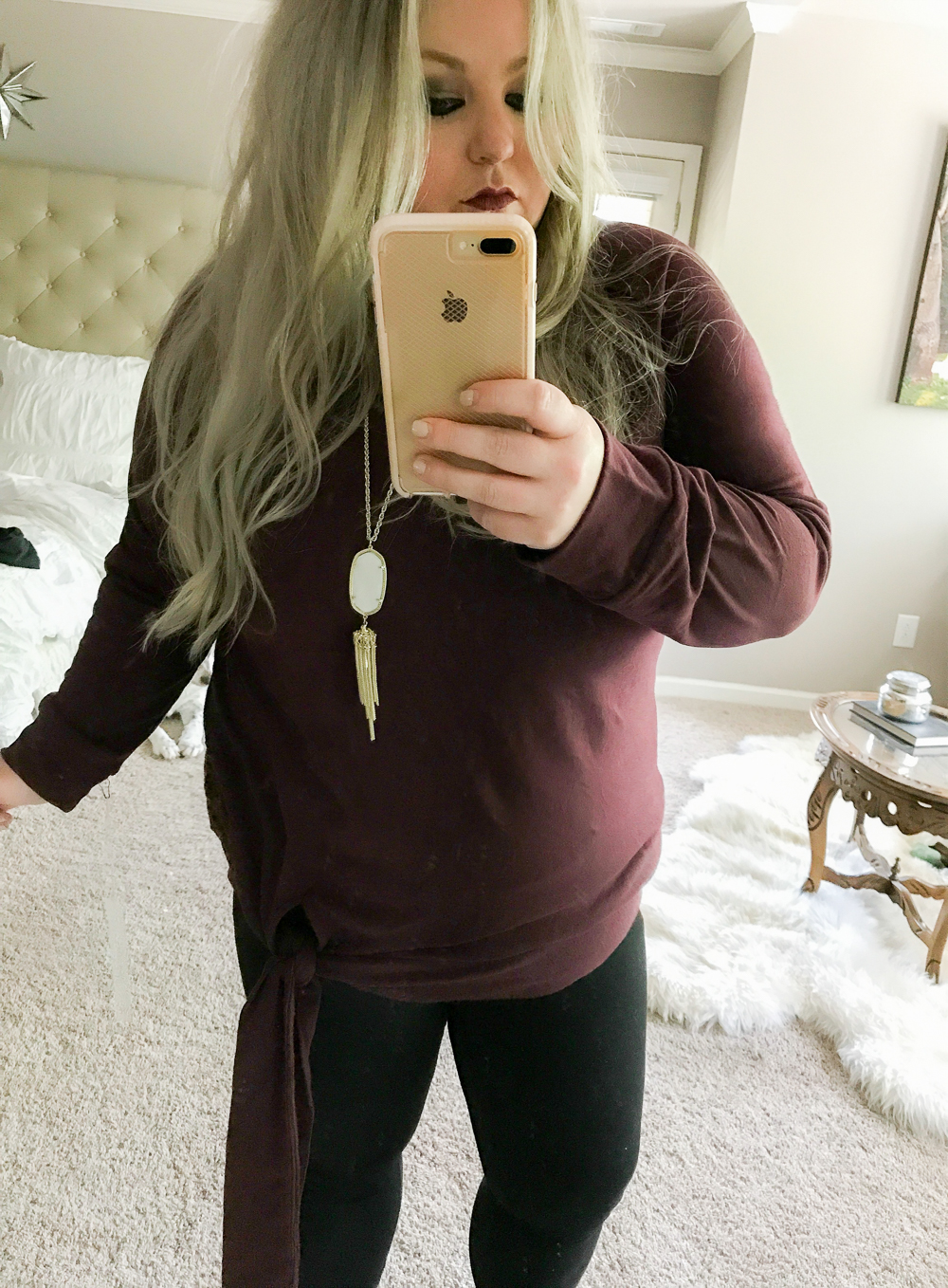 Tie Knot Sweatshirt: Available in Multiple Colors
During the Sale: $29.90 | After the Sale: $49
This tie-front sweatshirt is a fantastic deal and is comfy enough to be worn around the house and cute enough to be worn out. I was looking for more of an oversized fit and should have ordered up; this one will be going back for me.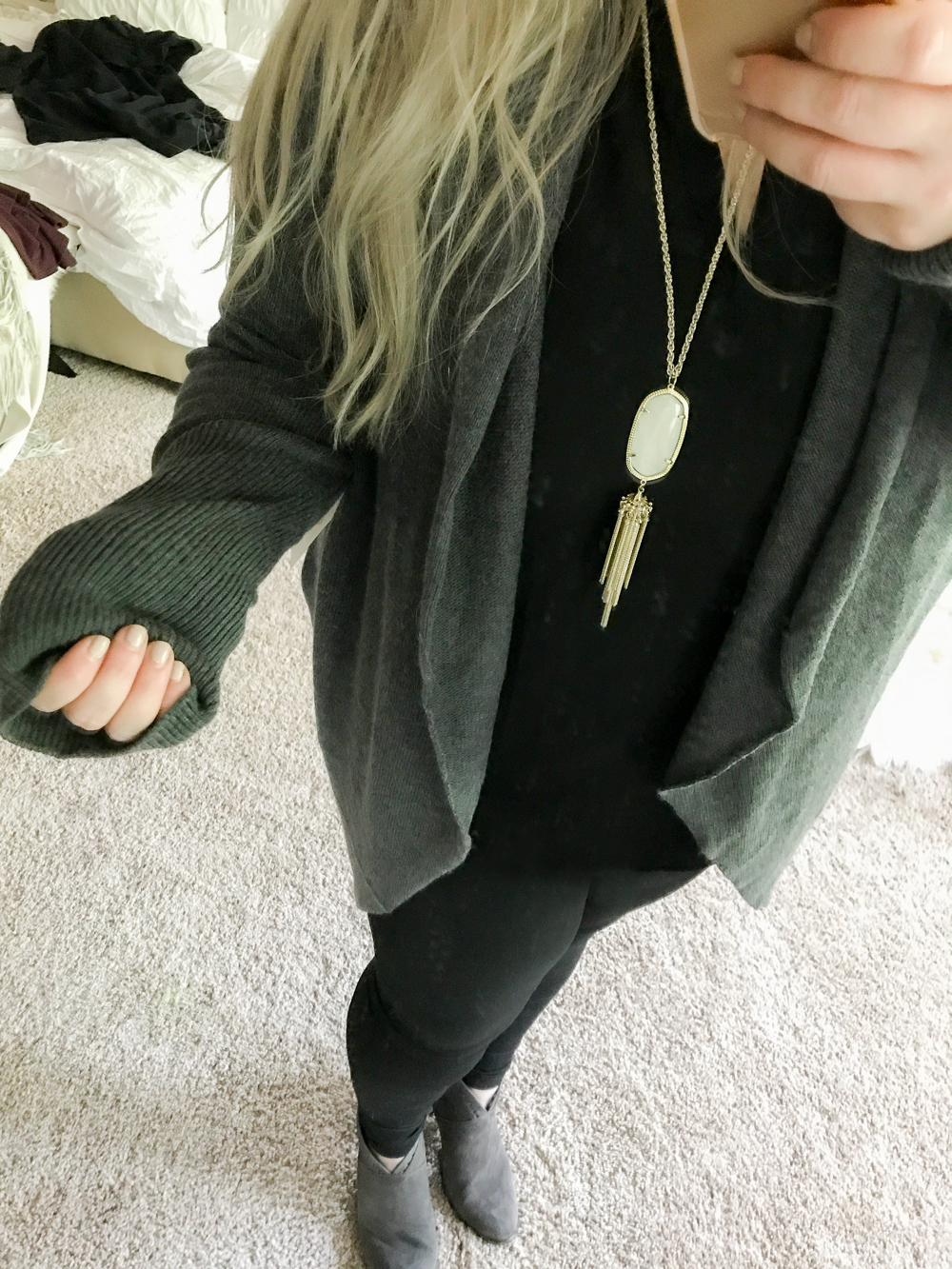 Leith Circle Cardigan (This is my FAV)
During the Sale: $49.90 | After the Sale: $75
This cardigan is maybe my fav of all purchases. Y'all, it is SO comfy- like, unbelievable. Several of the reviews mentioned a weird location for the pockets so I paid particular attention to that detail; the location was actually perfect for me. I would absolutely consider this in multiple colors.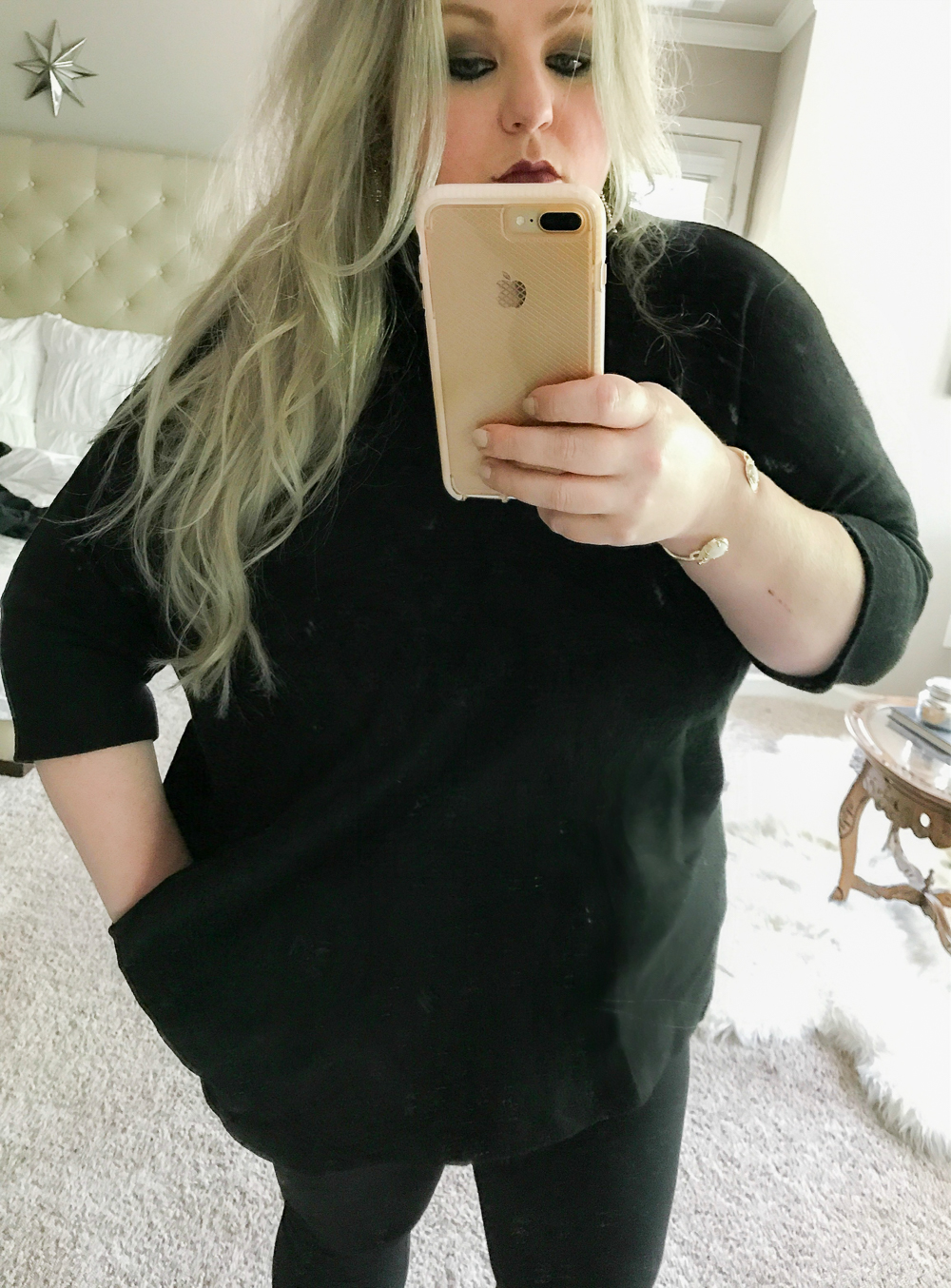 Fleece Zip-Back Pullover (This is SO cozy!) Comes in multiple colors
During the Sale: $59.90 | After the Sale: $89
This photo is a little difficult to tell, but this pullover fleece turtleneck number has a zip-back and is so cozy. I already know this is going to be my fall uniform. I want to get this in a second color.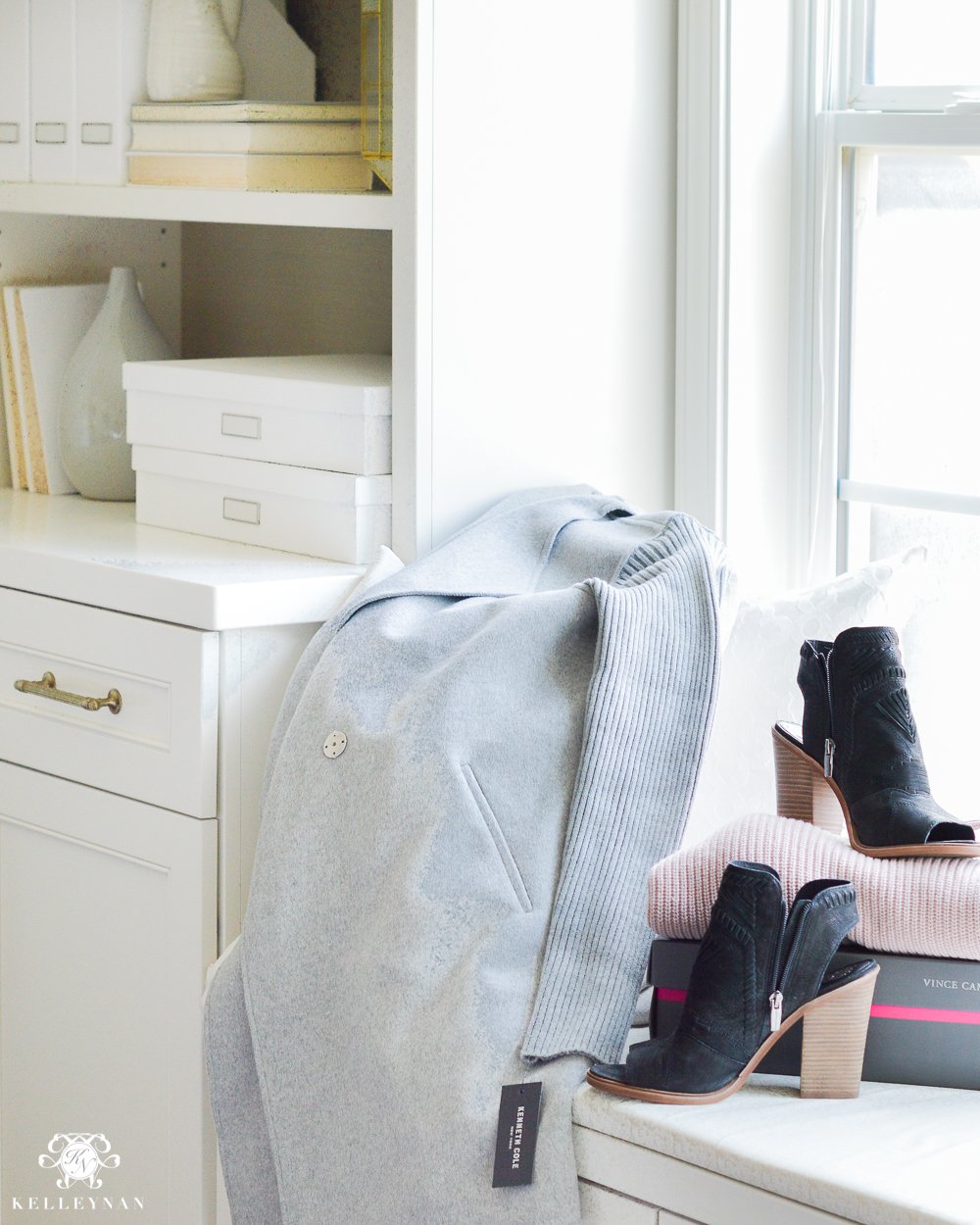 Vince Camuto Booties
During the Sale: $99.90 | After the Sale: 149.95
I am obsessed with these- they come in three colors and it was a hard decision between the black and tan. BUT, I have a wide foot and these were just too narrow for comfort. So, unfortunately, these will be going back. If you have a wide foot, they may not work for you either but if you are considering them, order now as you can always return if they don't work. Dang it.
Scroll & Tap to Shop These Featured Try-Ons

Below are other favs I am keeping or am still waiting to arrive. I am STOKED about my Zella leggings (both styles) and can't wait for the Free People oversized tunic to arrive.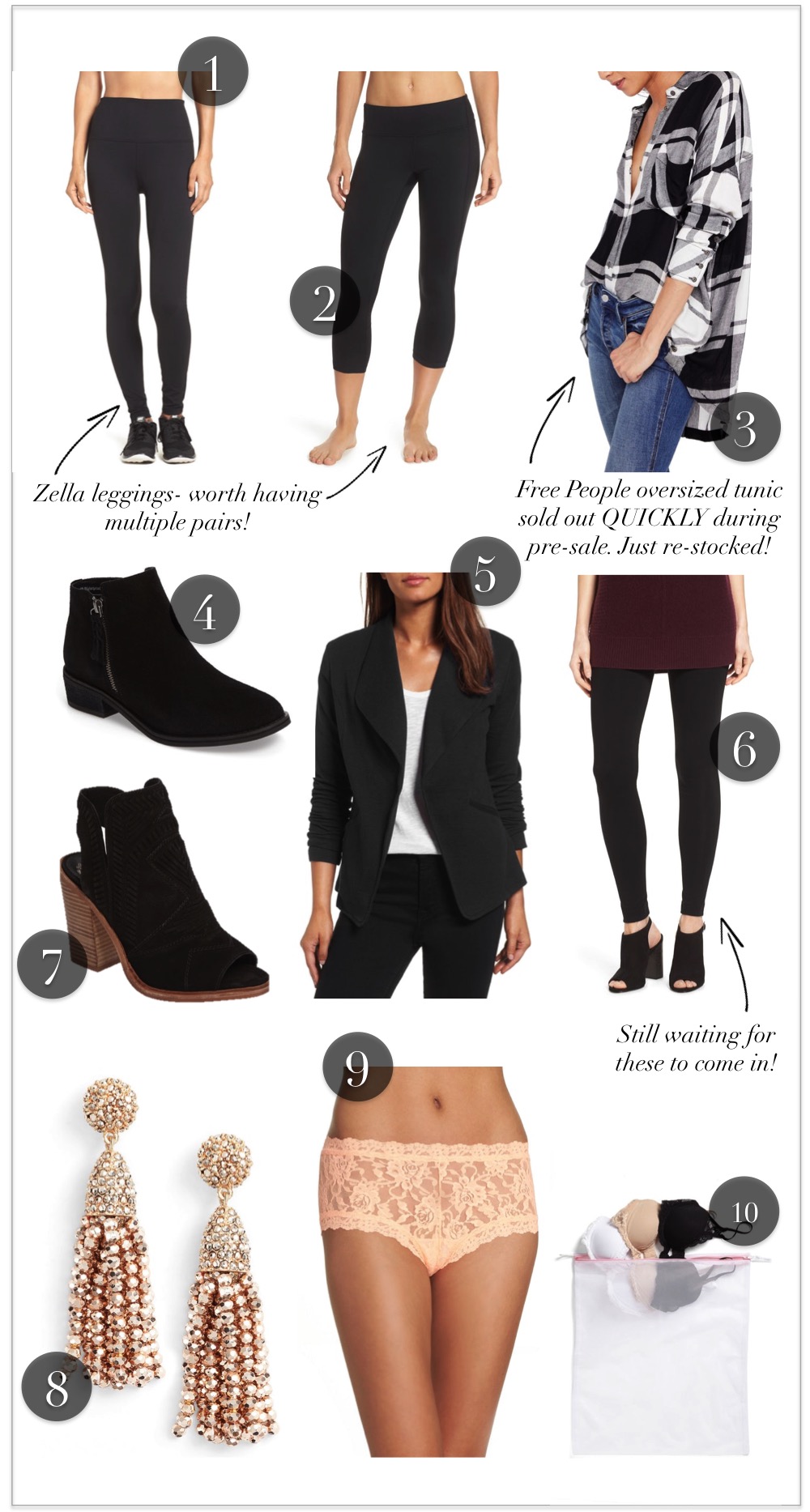 1. Zella Live In High Waist Leggings– Loved them so much, I ordered multiple pairs. Perfect for around the house or wearing out- and, these babes are QUALITY. They suck in all the right things 😉
2. Zella Cropped Leggings– I've already been wearing these!
3. Free People Oversized Tunic– Top 3 favs items I ordered during the sale; I stalked this thing out during re-stocks and ordered in two colors.
4. Blondo Waterproof Suede Booties– Waterproof and under $100, I loved these so much, I ordered in the black and mushroom. These are so comfortable and perfect when you don't want to wear a high heel. These are the official "everything" shoes.
5. Knit Blazer– lots of stretch and under $40! Keeper for sure.
6. Vince Camuto Leggings– LOVE these- perfect to wear out.
7. Vince Camuto Leather Booties– I LOVED these; unfortunately, my foot is too wide for comfort. These will be going back. They are available in multiple colors are are $50 off right now!
8. Bauble Bar Tassel Earrings– LOVE these and so pretty in person; sold out early but have re-stocked a few times.
9. Hanky Panky Undies– FAVORITE of all time; have been wearing them for years and they are a phenomenal deal right now in several different cuts
10. Lingerie Bag– one of those always-meant-to-get-one-but-never-did things.
Below is my list of ongoing favorite finds. You can click the image to be taken directly to the site.