Friends, it was a good week. Not because I tackled everything on my to-do list (I didn't), not because I'm waking up on a Saturday morning with a clean house (it is far from it)… it was just a good week. I just feel good. My mind feels clear and the past two weeks have done everything – it's crazy, I didn't know just how much making this big decision would change so many areas of my life. I'm able to prepare dinners again in the evening (and enjoy it); I'm waking up each morning, ready to tackle the day ahead; and I just feel sharper. I think Dave is probably enjoying me being less grumpy, too 😉 Next, I gotta pull the FitBit out of the drawer, put that sucker back on, and try to start being more active in my days! I did get to meet some friends one night this week in Atlanta for dinner; here's a grainy shot of Brittany of Addison's Wonderland and I waiting on Haneen from Haneen's Haven.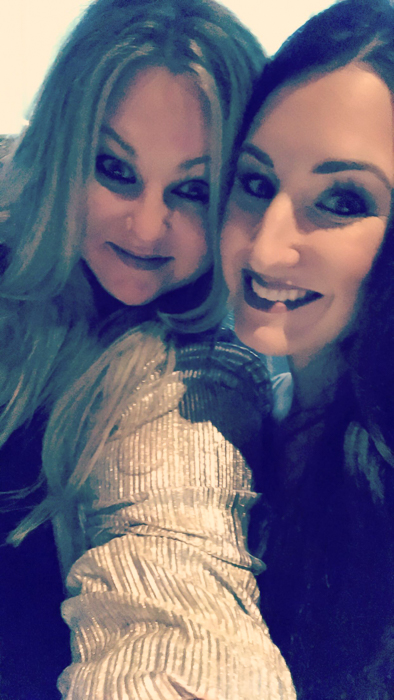 Haneen was in town for a conference and while Brit and I weren't able to swing it, the three of us will be reuniting with some of our other "tribe" in two months in NYC. More on that soon 😉 For this week's snack around the plate, I'm sharing some highlights from the week, along with some of my favs in general.
*post contains affiliate links*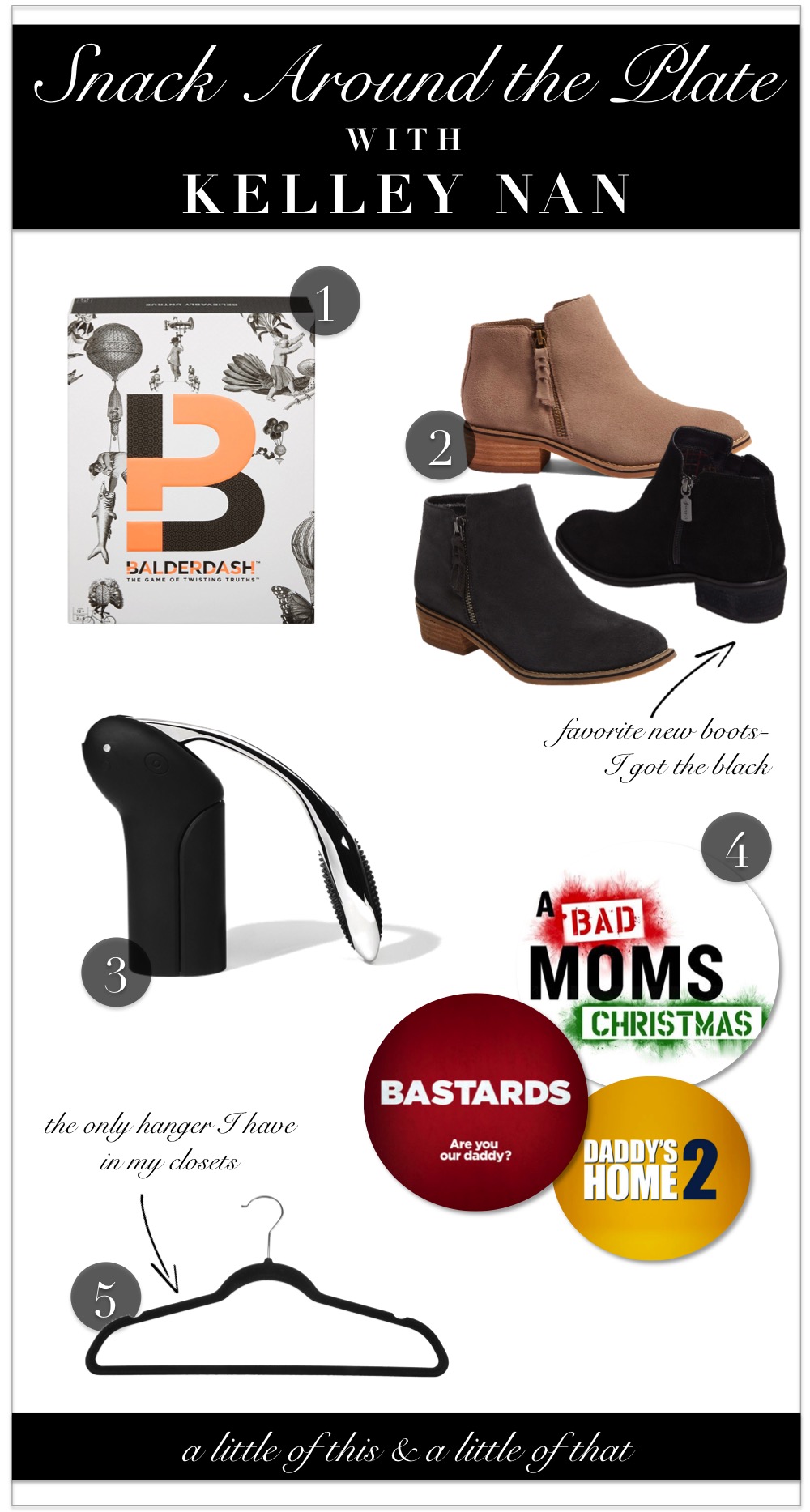 1. Balderdash: If you've never played Balderdash, it is a bluffing game and my absolute FAVORITE. We just pulled it out to play with friends the other night and now I'm itching for more. I don't know if you know this about me but I am super competitive. I actually had someone break up with me about 10 years ago after a game of Spades haha! I won't go into the full rules but basically, you can play with up to six people. The deck of cards has five categories and you roll the dice to see which category you will play for that round. Each person will write a "bluff" answer (that round's dealer will write the correct answer), and everyone will guess which is correct. There are points given for those who answer correctly, those who have their answer chosen, and to the dealer if no one guesses the correct answer. The categories (from memory) are- People (a person's name with each person writing what that person is known for), Anagrams (each person writing what the abbreviation stands for), crazy laws (part of the law is read and each person will have to write down what the rest of the law; movie plots (everyone writes a one-line synopsis after being given the title of a movie), and weird words (everyone writes the definition). It is amazing (and under $8).
2. Blondo Waterproof Booties: I just ordered these this past week and got them yesterday in black. I love them so much, I am contemplating the mushroom, also. They are waterproof, super comfortable, and can be dressed up or down. They are a part of the Nordstrom Anniversary Sale so while most sizes are in stock, some sizes are starting to sell out. (Can you believe how quickly everything is going?!) They are $50 off (under $100) during the sale. I had another pair of booties (peep toe with a heel) that were too narrow for my wide foot; these are perfect (and true to size). Another bonus- they don't have any cutouts that prevent you from wearing short socks AND they have a zipper on each side.
3. Rabbit Wine Bottle Opener: My mom sold me on this particular corkscrew years ago. I have had electric bottle openers and other hinged handle varieties but nothing compares to this design. No batteries and you can uncork a bottle in literally, two seconds. It also comes with a foil cutter 😉 Our friends always love using it when they come over.
4. Upcoming Holiday Movies: I always get so excited about previews for movies set to debut around the holidays. In recent years, I have been a little disappointed but this past week, I have seen some (what look to be) hilarious movies to hit around Thanksgiving and Christmas. Here are a few trailers from those I am looking forward to, but be warned, some are not suitable for work and children 😉 Enjoy!
5. Life-Changing Hangers: A few years ago in a closet purge, I committed to getting more organized. I also wanted to maximize space and the wire hangers and fat, plastic tubular hangers weren't helping me get there. I slowly started changing all my hangers to these slim felt hangers (I even registered for them during my wedding) and it made a huge difference. You can fit more, everything looks nicer, and they even grip tank tops and camis without having to use the Old Navy-style plastic store hangers. These are all that remain in our closets, now.
If you haven't shopped the Nordstrom Anniversary Sale yet, you can check out my comprehensive post from yesterday, where I'm sharing what I've purchased, what I'm keeping, and what I'm sending back HERE. I am honestly shocked with how quickly things have and are selling out :/
If you aren't feeling the mad rush of the annual sale, there are a few other notable events happening.
Wishing you all a wonderful, happy weekend, and if you aren't already, you can sign up for my newsletter at the bottom of this post.