Happy Saturday! Y'all, we did something a little crazy and out of the norm for us – we went to a movie on a week night. We don't even usually see movies on weekend nights. We are more believers of matinees, cheaper tickets, dealing less with crowds and sneaking in our own snacks. But this week? We sat in the first three rows at a crowded 7:10 p.m. movie and even splurged on the concession stand (that part was just poor planning 😉 ). Dave has been looking forward to Dunkirk and while it had rave reviews, honestly, I wasn't that into it. There isn't that much dialogue and if  you are expecting something of Saving Private Ryan caliber, you may be disappointed. Regardless, it was fun stepping away from our normal routine for the night and having two liters of cherry coke and popcorn for dinner.
And now, to this week's Snack Around the Plate.
*post contains affiliate links*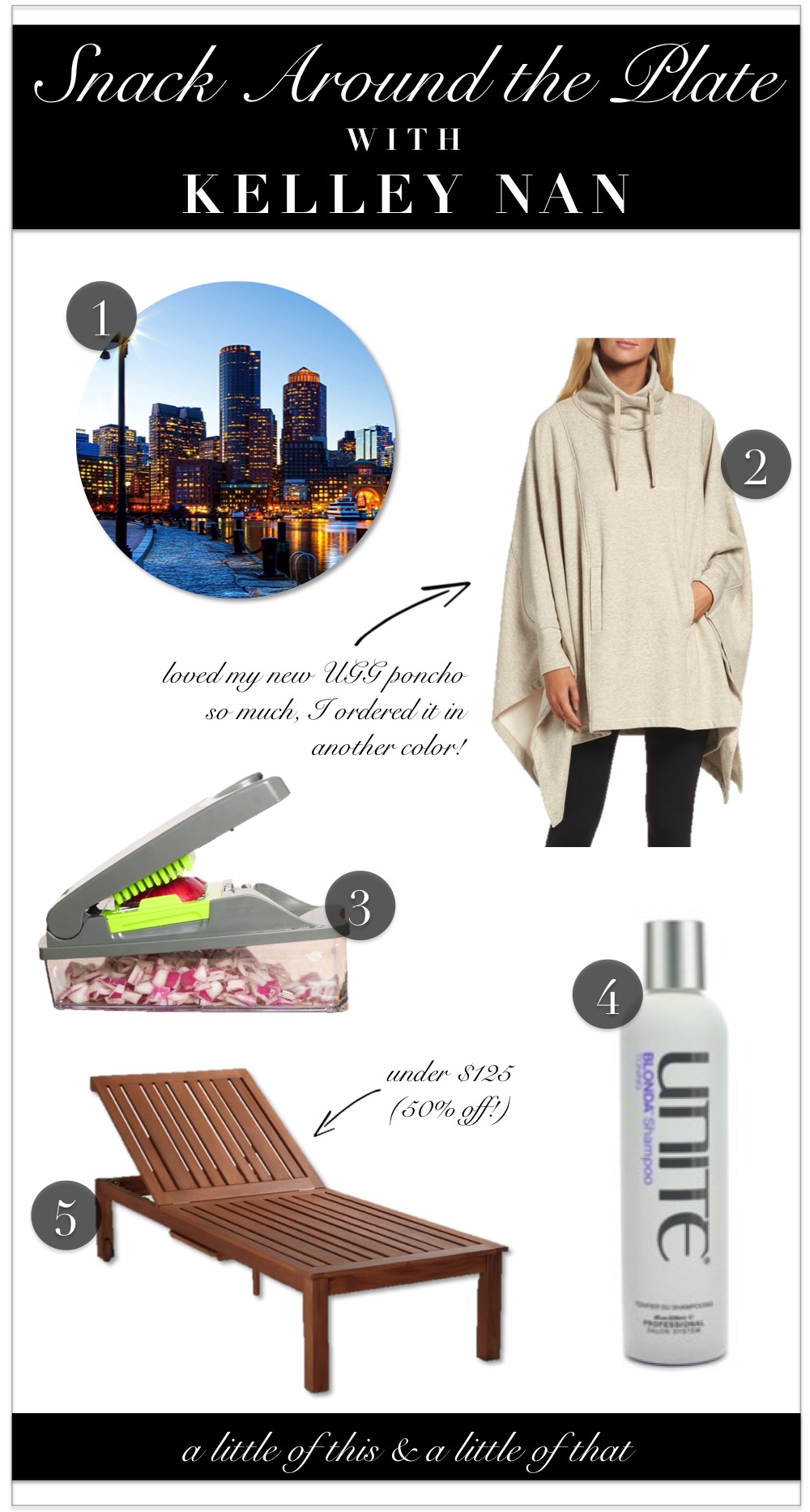 1. Planned Trip to Boston: We started planning a possible trip to New England around this time last year (we've never been). But, without being able to secure the time we needed to take the trip, it was put on the back burner. Well, it's official! As of yesterday, we are taking a trip to Boston in late fall. I scored round trip, nonstop Southwest flights for $125 each. (What?!) I've started the hotel scouting process but we have nothing solidified just yet- I have heard a lot about the Back Bay area but would LOVE your input. After we secure lodging, I will start coming up with must-see's and do's while we are there. We are staying for five nights and are planning one day trip up north to Maine, and one day trip south. I have already had stellar recommendations coming through on Instagram but any and all feedback and suggestions are so appreciated!
2. Cozy Ugg Poncho: This arrived this past week and I immediately fell in love. So much so that I ran to my computer to order a second color. This will be a staple (legit uniform status) this fall and winter and if you like cozy and oversized, you will love this. I wear old college hoodies a lot – everywhere – so this will be so much cuter to wear to football games, bonfires, and even around the house.
3. Vegetable Dicer: Santa Claus stuffed Dave's stocking with this dicer this past Christmas and ever since, it has become one of our absolute favorite kitchen gadgets. I cut an onion/tomato/etc. (maybe in quarters?), throw them in this thing and push down the lever and in an instant, have perfectly diced vegetables. It comes with two different sized dicing plates, depending on your preference. My favorite time to use this is when I am making a soup that requires a lot of chopped veggies- this saves a ton of time in prep work, I can't even tell you! It's on sale for under $20 right now 😉
4. Unite Blonda Shampoo: This year, I have been working to take my blonde hair more ashy and less golden. I love it when it is fresh from the salon but 1. my hair doesn't  hold color well, and 2. it seems to revert back to a brassier state more quickly than I would prefer. I had my hair taken way more silvery a few weeks ago and my hair dresser recommended this Unite Blonda shampoo, made specifically for that reason, to rotate between my regular shampoos. I just ordered it yesterday and it's on the way 😉 Supposedly, it is the best purple toning shampoo on the market. I'm so ready to try this one!
5. Clearance Loungers (Under $125): If you are going to be due for new outdoor furniture next year, NOW is the time to start looking! Yes, a lot of lines are already sold out while some still aren't marked down all the way, but there are some fantastic deals to be had. These loungers are currently on clearance for $125! Here is the caveat. I actually had these loungers a few summers ago. I left them in the sun, left them in the snow, and never protected them. They sat uncovered on the sunniest part of our deck, untouched. After a few years of being left in the elements, they needed some work to be revived so we gave them to a neighbor. If you take care of them, they are fantastic. The head rest is adjustable, and one of my favorite features is that they each have a little slide out table connected to the side.
If you were eyeing something that has since been sold out at the Nordstrom Anniversary Sale you may want to take a quick peek. Over the past week and even this morning, several items were restocked.
And if you have already finished (or never started in on the madness), here are some other sales happening online this weekend.
We are working to whip my office back into shape this weekend and I'm hoping to get my desk styling pulled together, along with how Dave has hidden my cords and components ready for this coming week! Have a wonderful weekend, and if you aren't already, you can sign up for my newsletter at the bottom of this post.