Despite the temps outside still hovering in the "break-a-sweat-in-under-three-minutes" range, the return of college football was all I needed to consider it fall. In Georgia, the possibility of warm weather on Thanksgiving Day isn't a new possibility, so in the south, tailgating season is actually our cue to bring on the pumpkins. Where I live, football is the conversation bridge. At a party, standing with someone you don't know well? "Can you believe this year's recruiting class?" Need to talk to a family member on the phone but have nothing to talk about? "We have Fromm for three more years!" You get it 😉 I like football but I love UGA college football – and, that's true for a lot of people around here where SEC reigns supreme. I consider folks of the south "master tailgaters" but those early morning games still slay me. Game days typically mean coolers of beer and burgers, right? But what about those early morning games? In partnership with Walmart, I'm serving up seven tips for early morning football tailgating at home.
*Posts on KelleyNan.com may contain affiliate links. Click HERE for full disclosure.*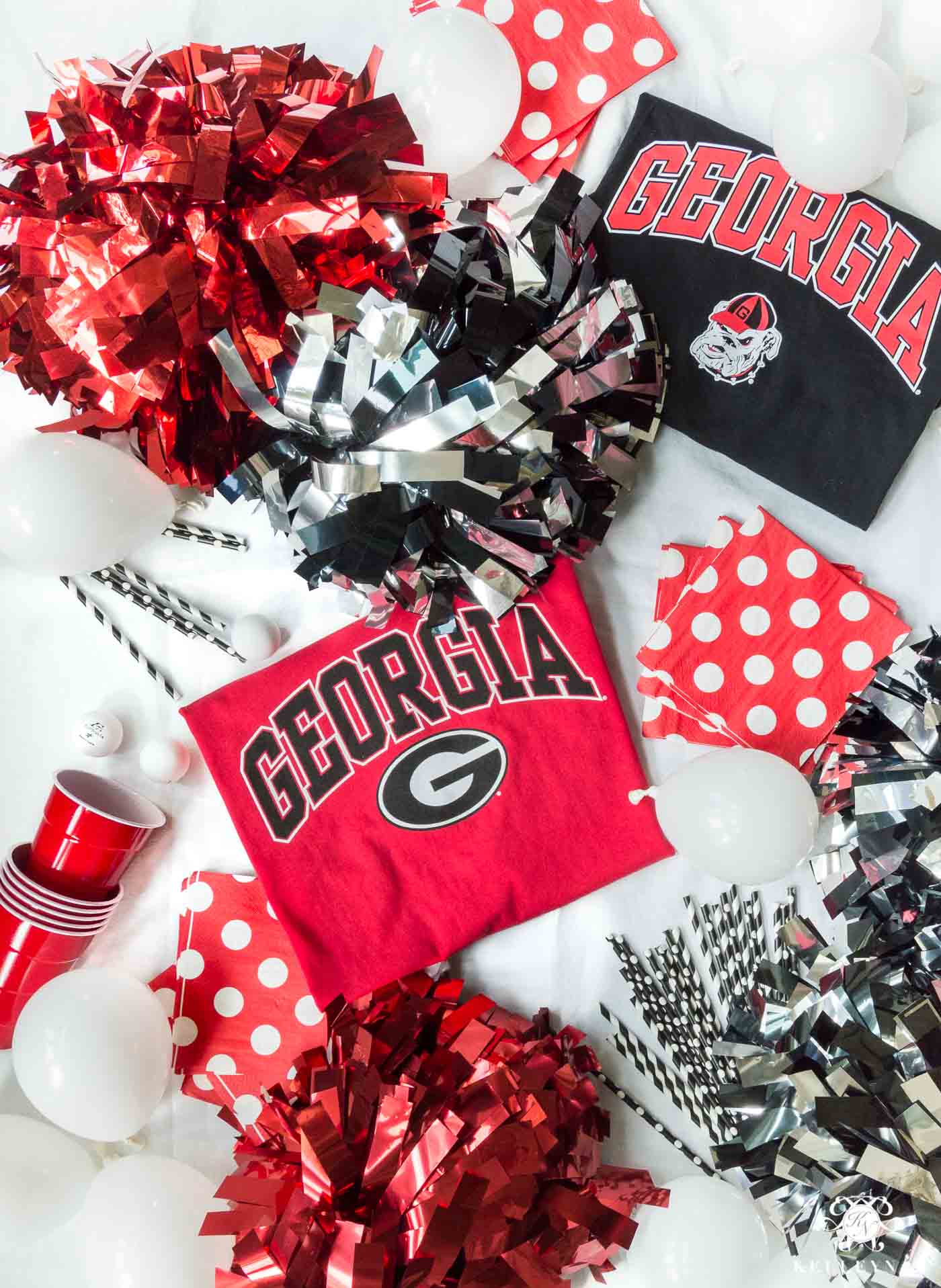 We love a fun day in Athens between the hedges as much as the next Georgia fan…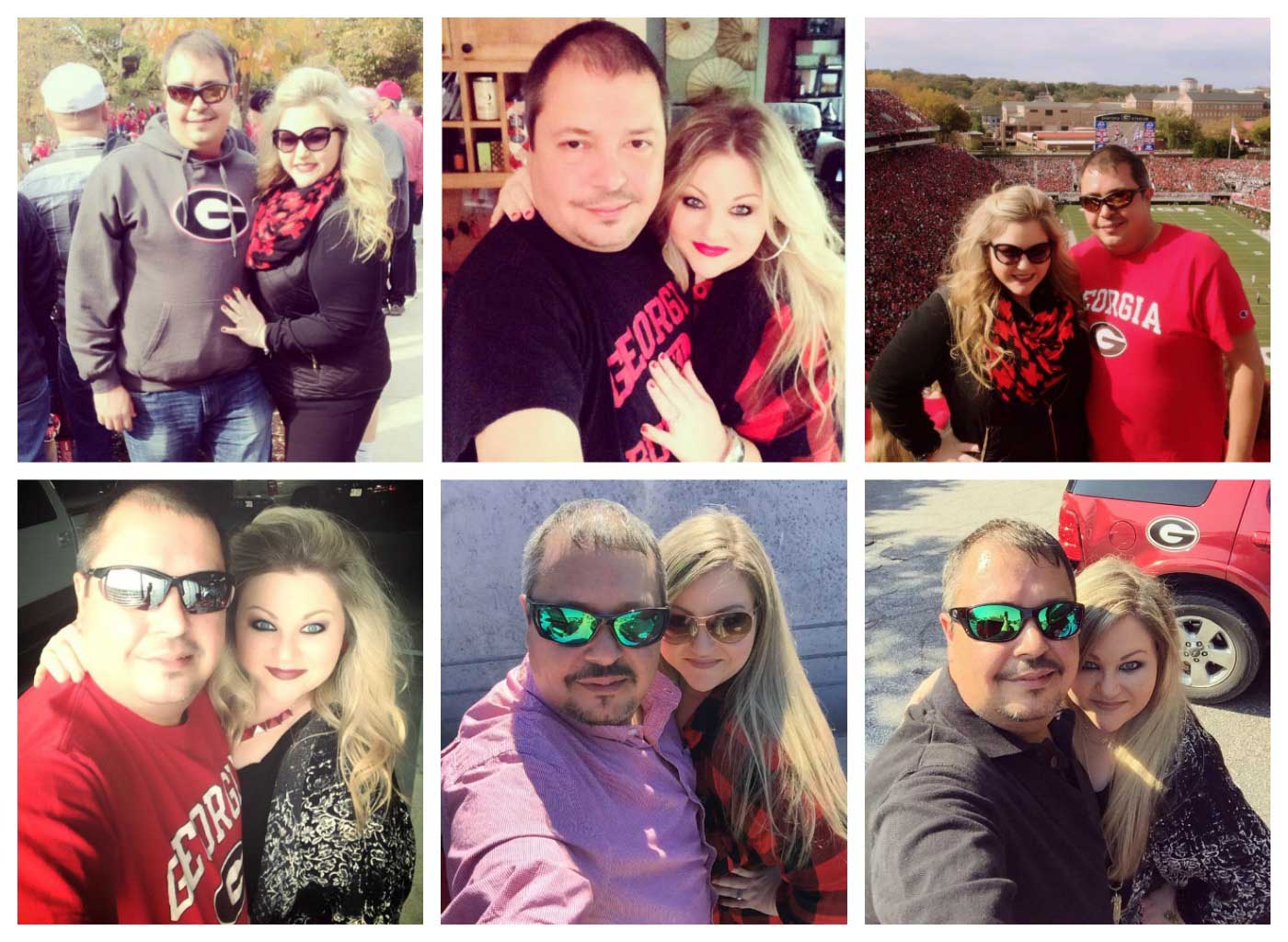 But our favorite spot to cheer on the Dawgs doesn't take us further than our own living room. The close-ups, the replays… and of course, I don't hate not having to drive, walk for miles to the stadium, and bake in the sun 😉 I like not having to scale the stands for a snack or battle seat-mates for bench space. Give me a sofa, a kitchen full of goodies, and close-up tv action, and I'm totally there for it.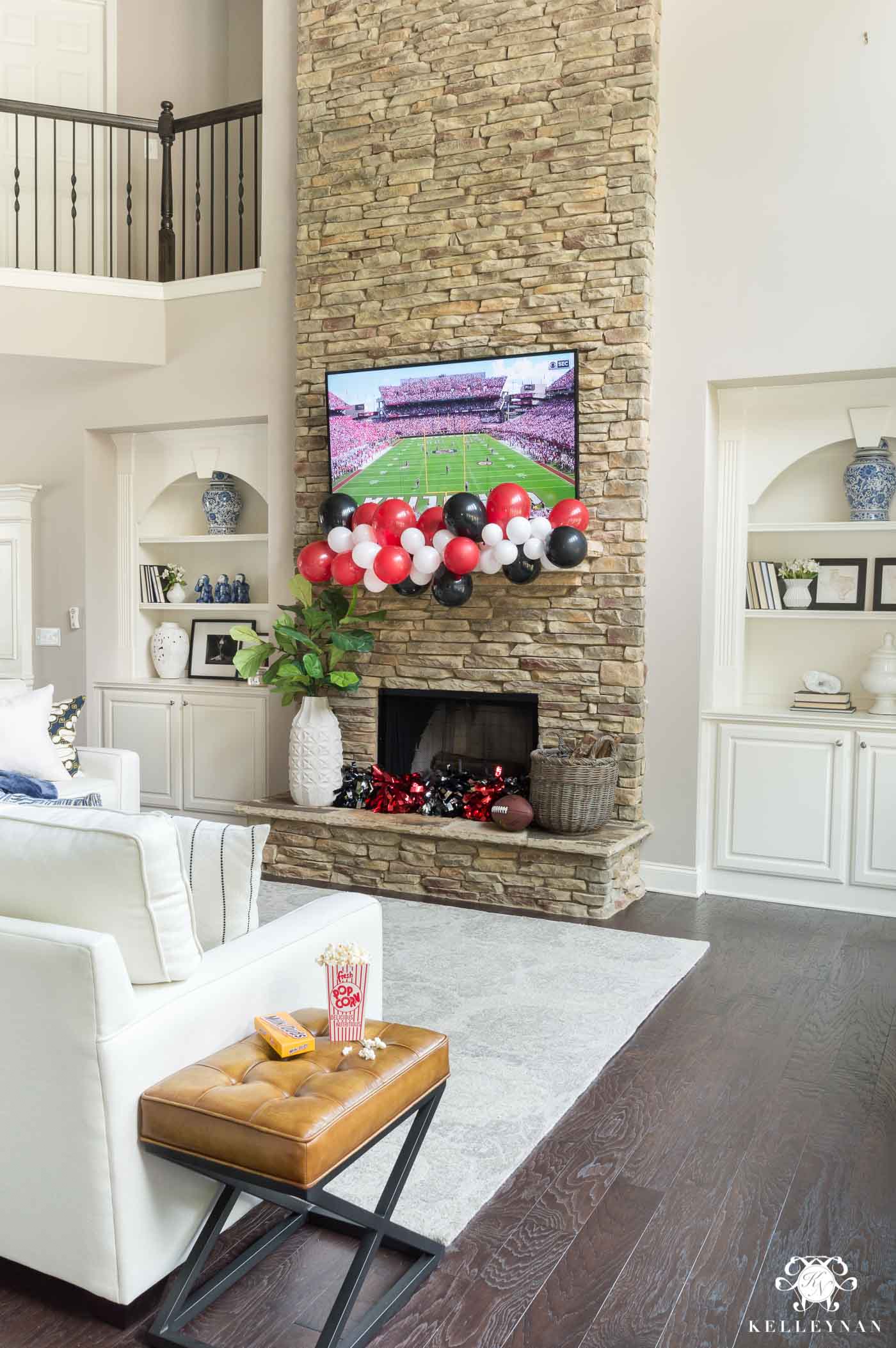 We've done the early-morning trek to the University of Georgia and it's tough. While we have every intention of packing a breakfast picnic and festive morning drinks, our schedule (read: tardiness) usually forces us into a fast-food drive-thru and cruising into the lot a little too close to game time for comfort. But even at home – do you get together with friends when game time is also breakfast time? I'll bet most of you don't and I'll also bet that if you change the way you think about game day, just a little bit, you'll be considering an early morning home tailgate before the season is finished.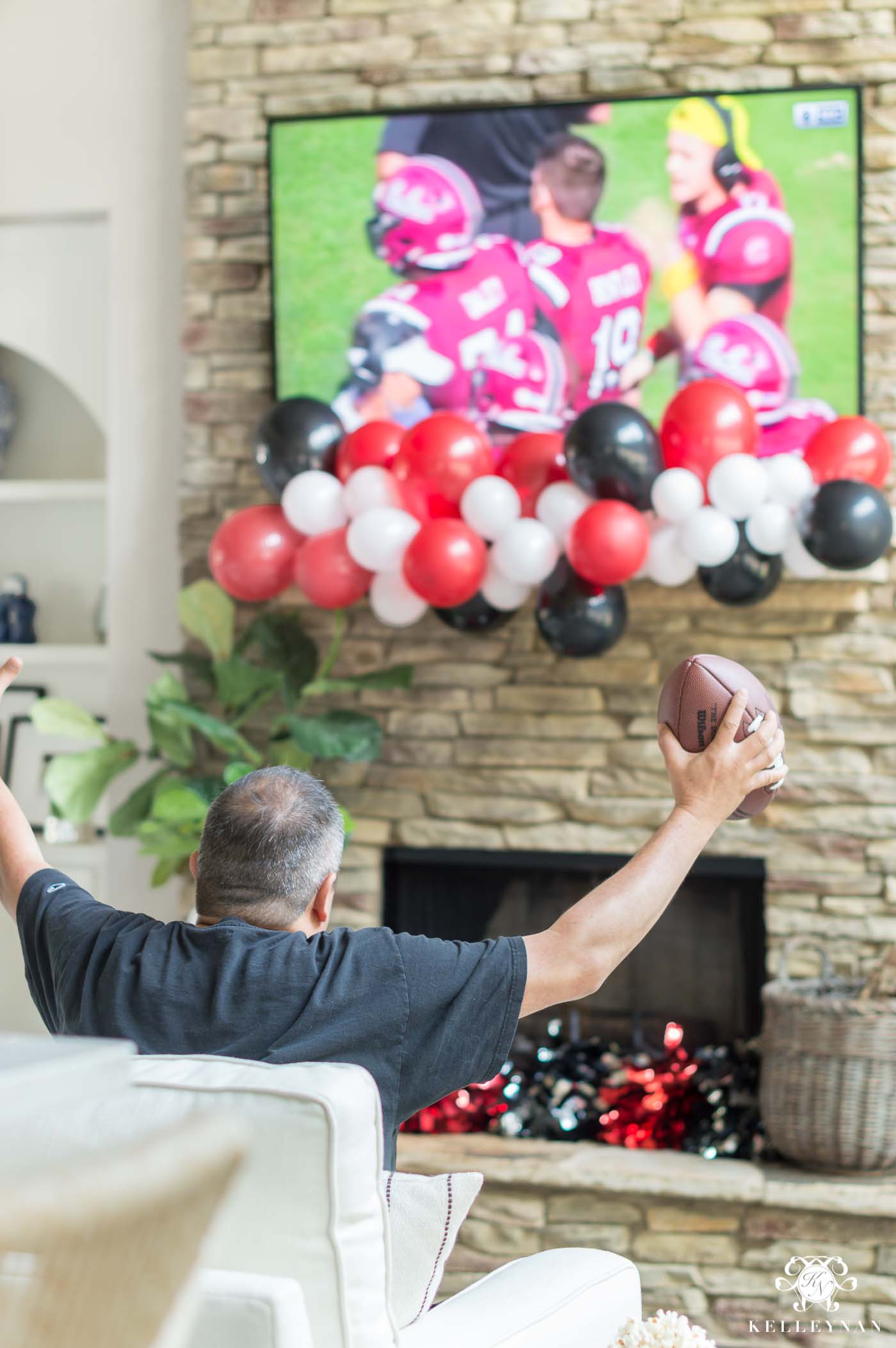 ---


---
For this easy balloon garland, see my baby shower post HERE where I've linked the video tutorial I used. After hosting that party, I'm looking for any reason I can think of haha #BalloonGarlandAddict.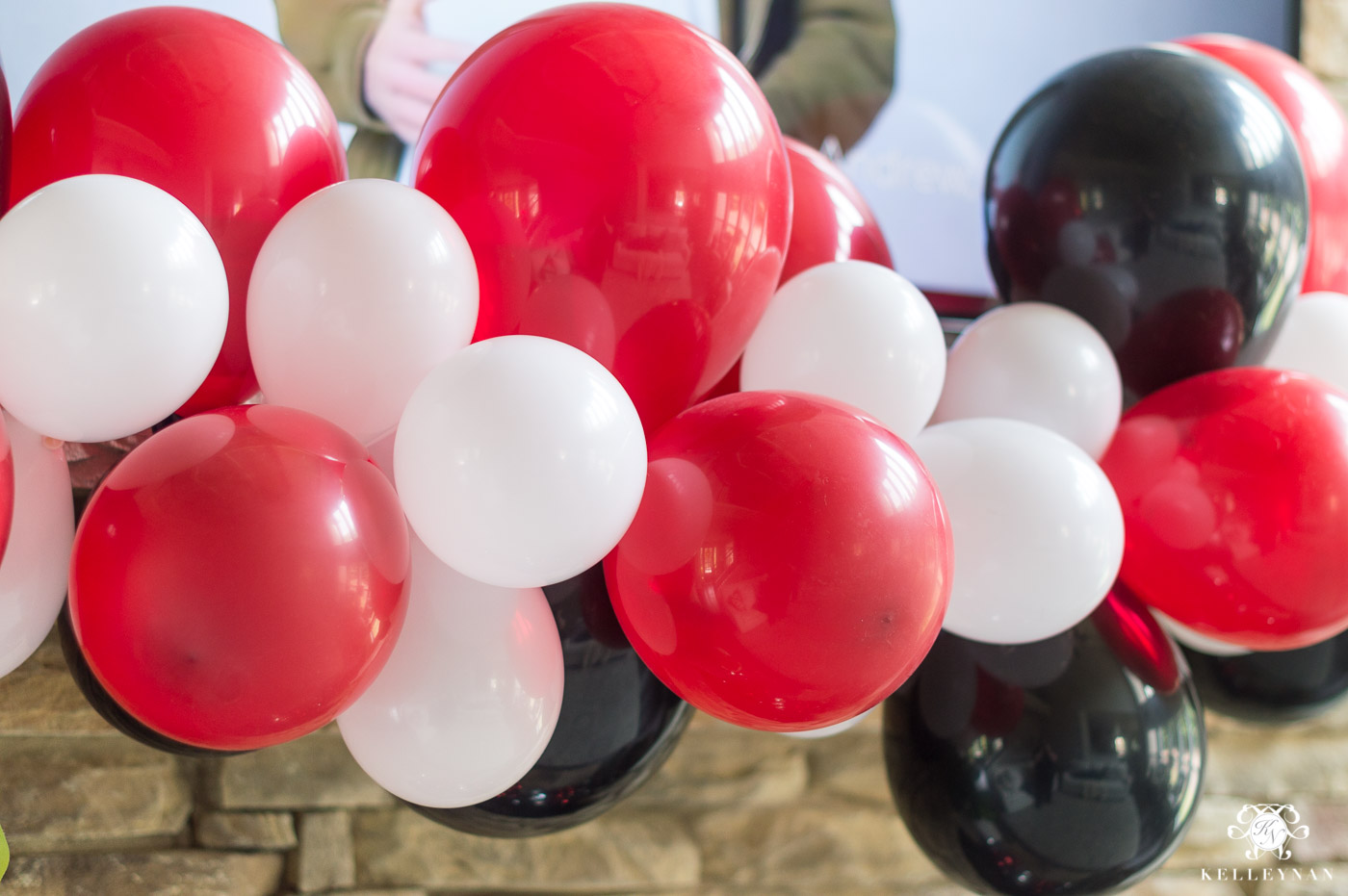 1. SET UP A MORNING BEVERAGE BAR 
Just because it's early doesn't mean you can't break out the festive libations… it just looks a little different in the AM. I've shared mimosa bar ideas throughout several posts, along with my favorite Bloody Mary recipe and ultimate Bloody Mary bar…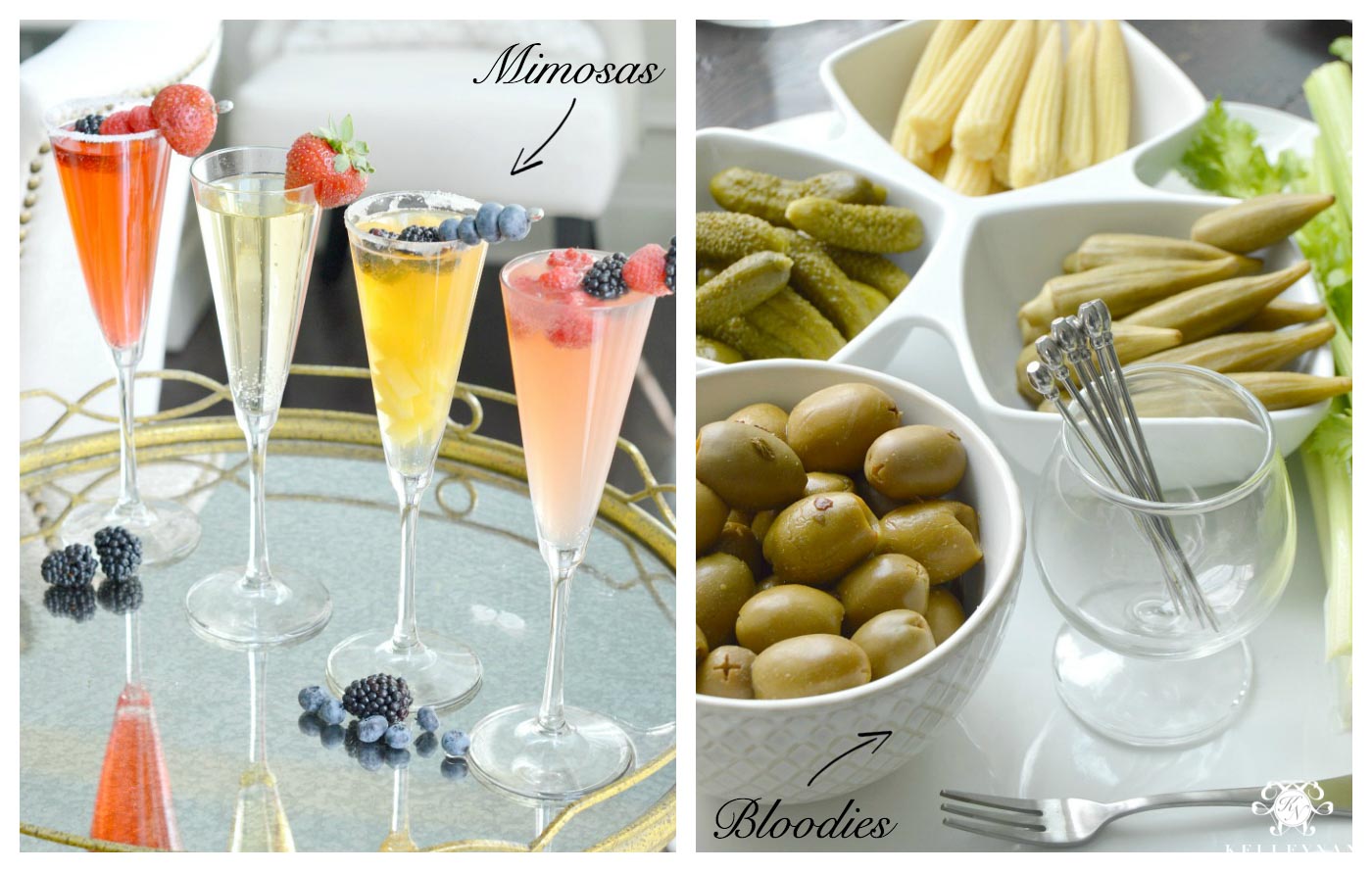 But what about a classic coffee bar? It's by far the simplest setup of the the three and with a Keurig, aside from adding water to the well occasionally, there's zero monitoring or assistance needed to keep it replenished throughout the game.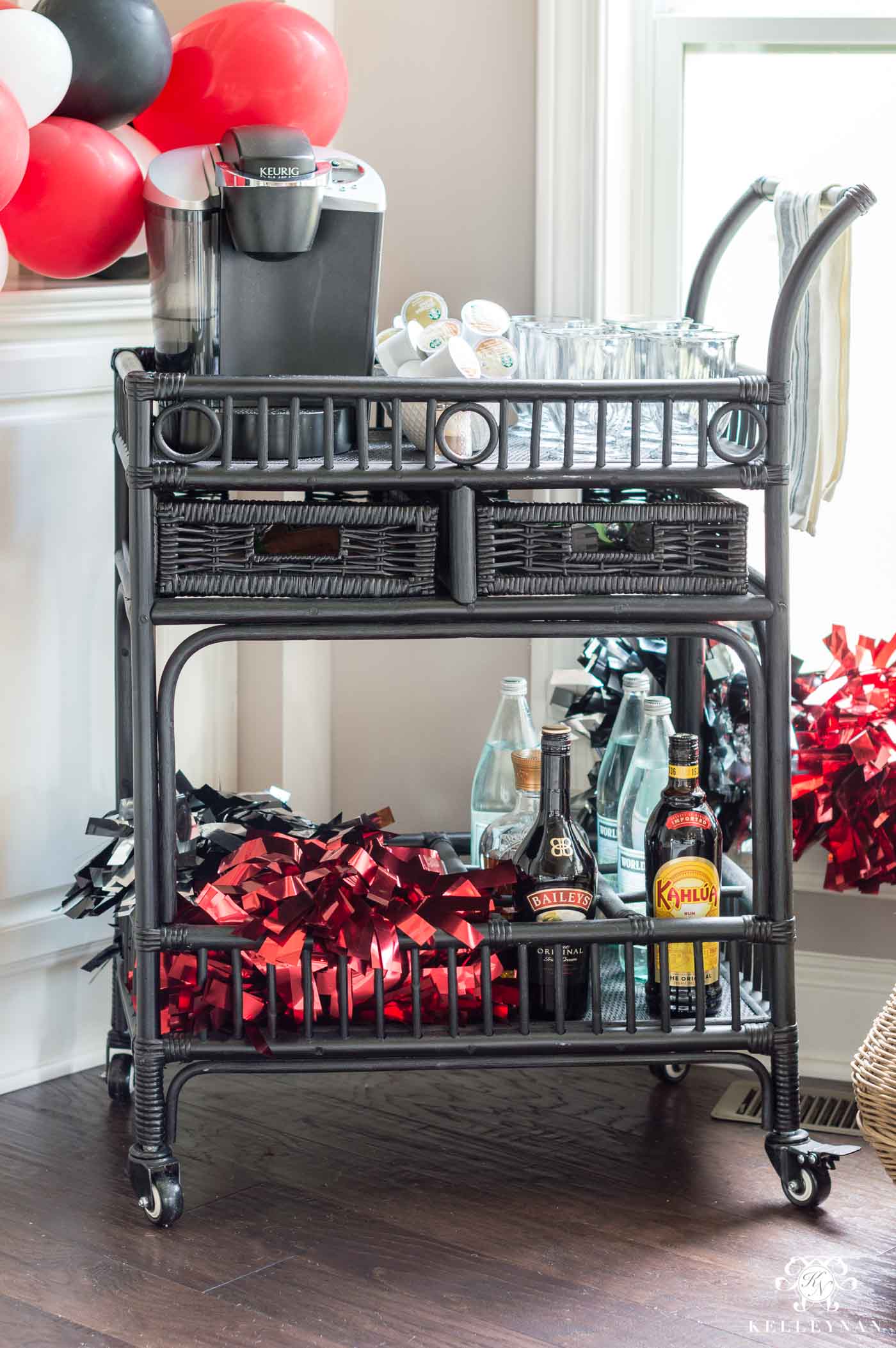 And for non-coffee drinkers? Add in some hot chocolate and apple cider k-cups (you Keurig users probably already know this but the machine self-cleans so you don't have to worry about rinsing/emptying anything between different beverage brews 😉 ).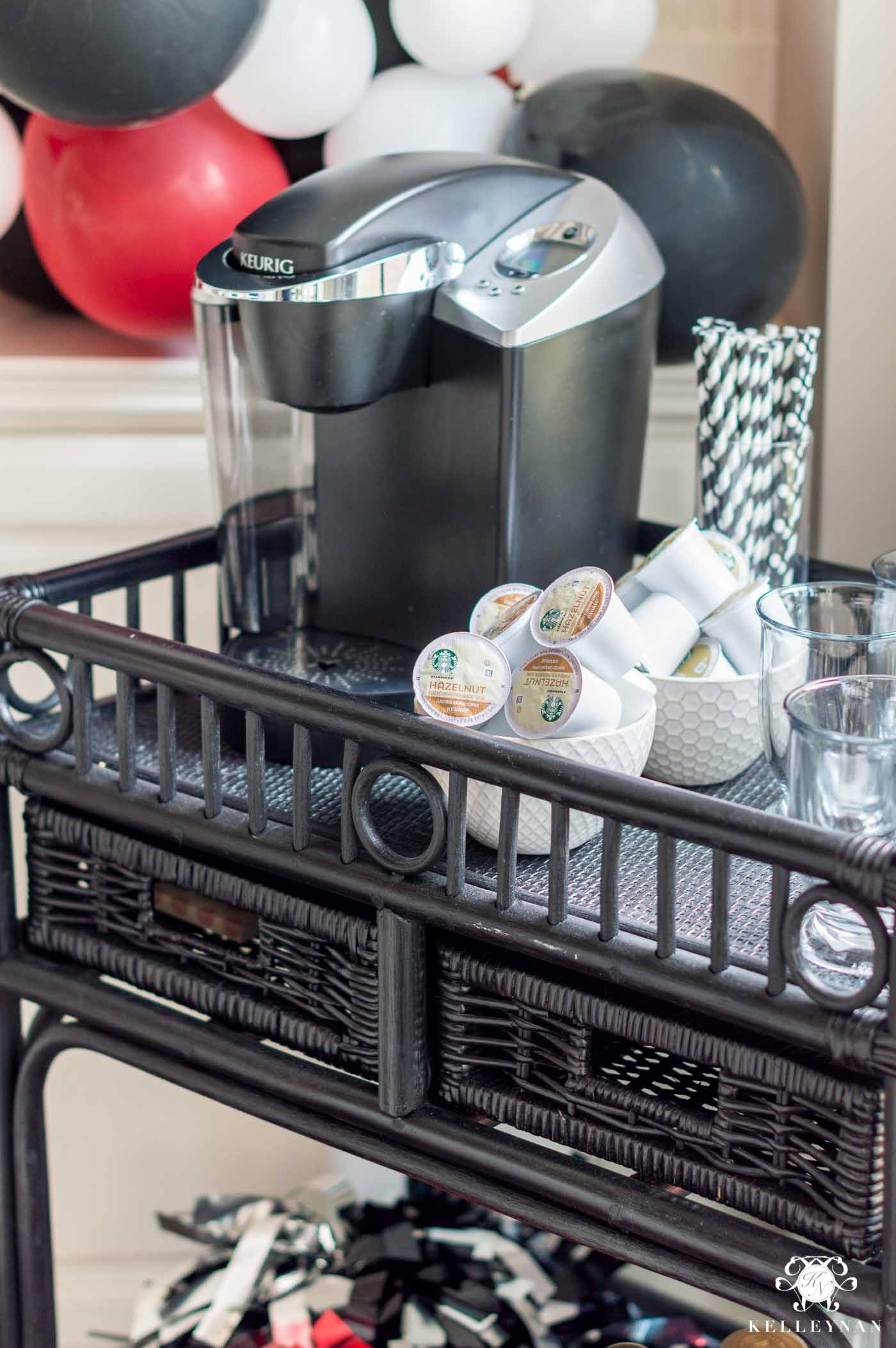 ---



---
You can add a little shaker of cinnamon, Bailey's and Kahlua, whipped cream/flavored creamer… and you're set! Instead of going full-theme on the mugs, I like these inexpensive clear glasses that I can use year-round, for any occasion 😉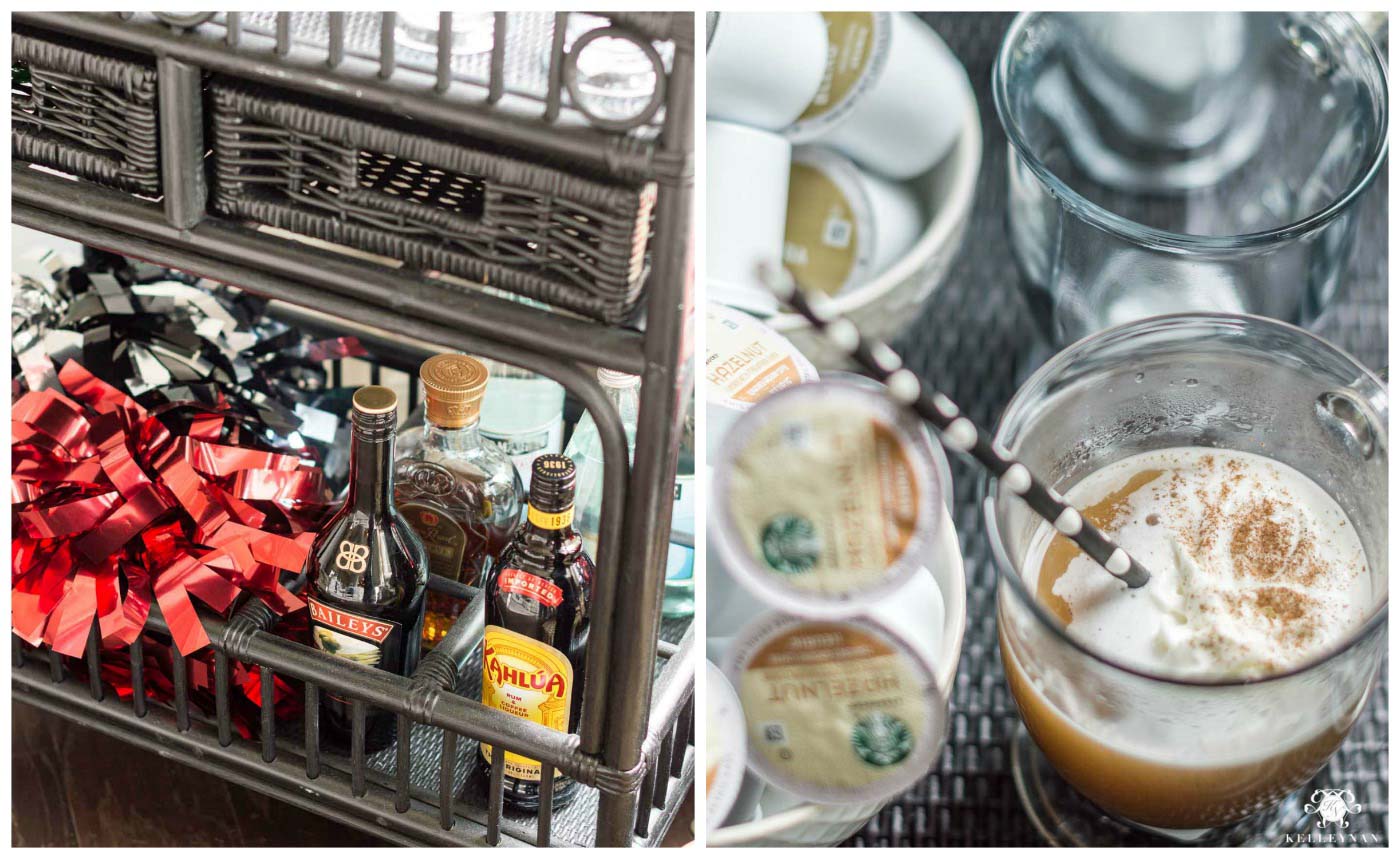 2. PLAN FOR A MAKE-AHEAD (OR BUY-AHEAD) MENU
Early morning games don't allow for all-day kitchen prep. This shouldn't be a stressful thing; it's a good thing! "Ease" is the name of the game and while I'm a firm believer in "outsourcing" for party food sometimes, there isn't a more fitting time to cut yourself a break than an early morning get-together. You can go so many directions with this, too. Have pastries you can/want to bake the day before? Great! Assign someone to a morning biscuit run (in my case, Dave haha), to pick up a variety of breakfast sammies? Even better. I would go for a breakfast that's at least "partly-continental", with fresh fruit cut the day before, and easiest of all- you can even grab some fresh containers of muffins (and of course, set them out on your own dish/in your own basket 😉 ). Have a favorite breakfast casserole that can be prepped in advance and popped in the oven when you wake up? Yes!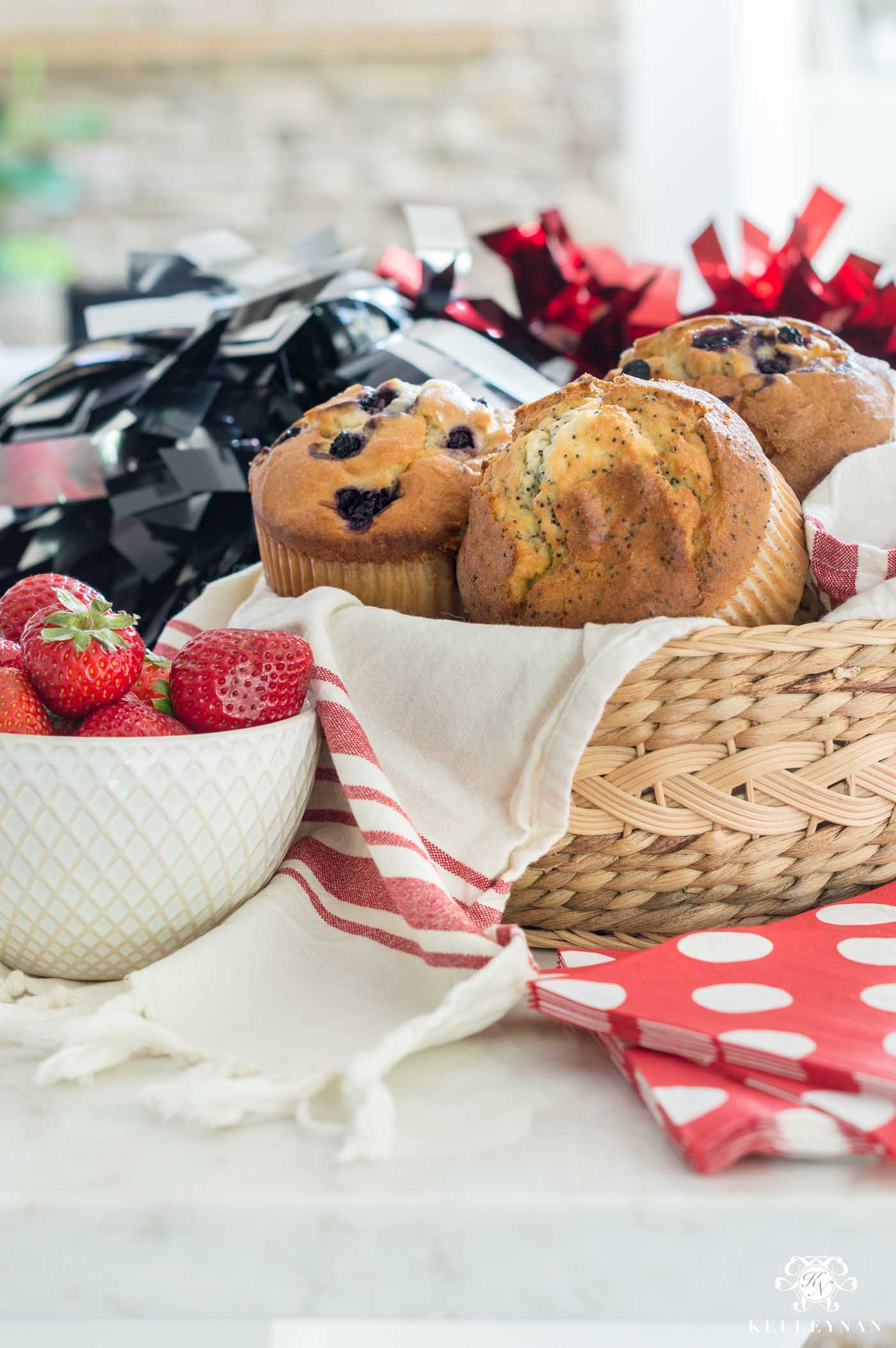 3. INSTEAD OF GRILLING OUT, GRIDDLE IN
Ok, this is like the "extra credit" of at-home morning tailgate hosting. It's still really easy, it just requires a little more "attention." If you don't mind a little supervision or manning of the grill griddle, set up a breakfast bar – a pancake station (blueberry, chocolate chip, etc.), or in this case, a make-your-own hashbrown bar.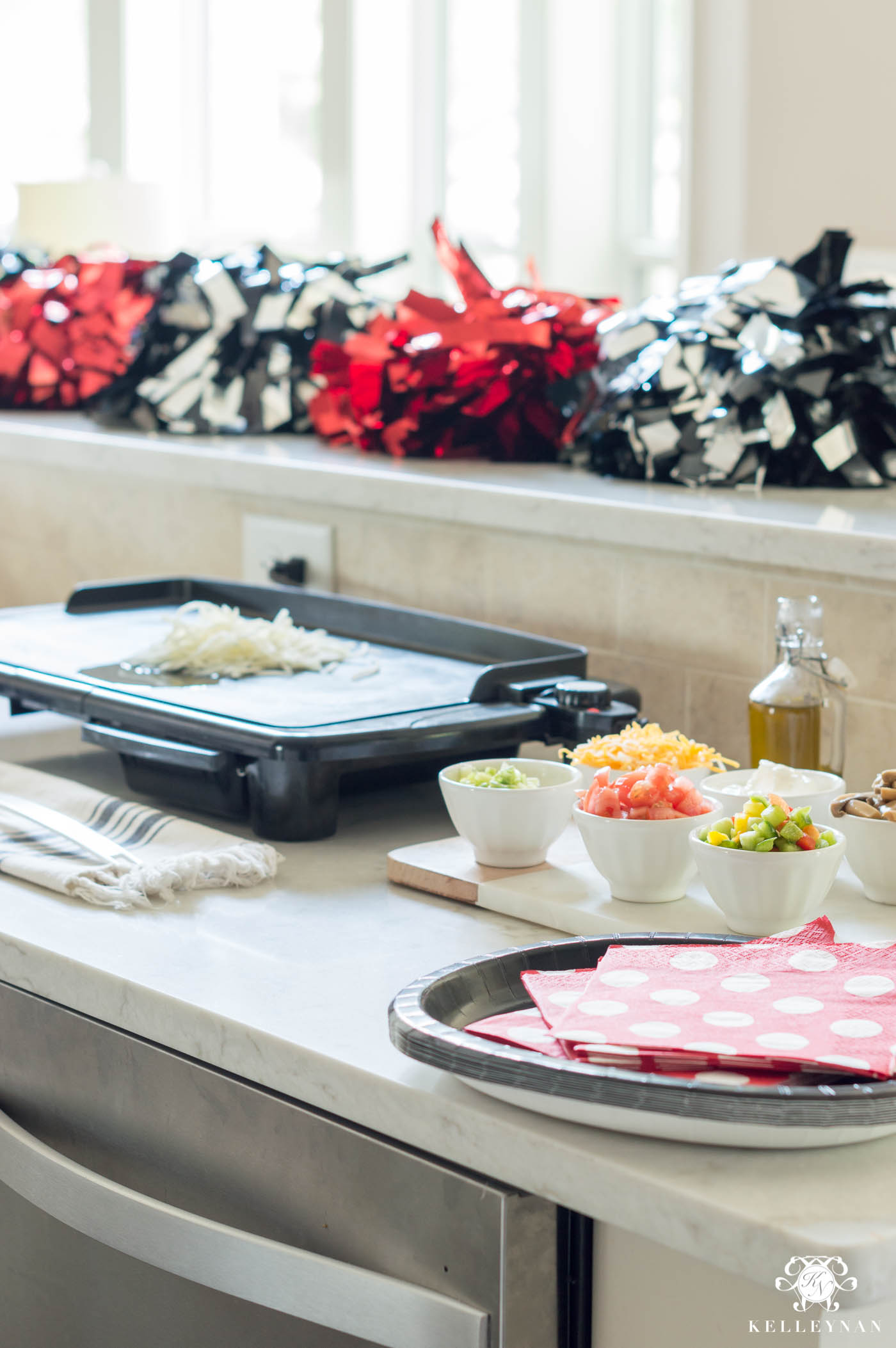 ---

---
If you go this route, it requires next to no prep time, aside from filling bowls, which you can do the night before. You can make batches of hash browns and let guests top and dress their own, or go restaurant, made-to-order-style. When you're planning your tailgate, you can order a ton of your game day goodies online, many with free two-day shipping. (Literally, everything we needed for our at-home tailgate came from Walmart). But, if you find yourself needing a last-minute, in-person Walmart run, you can scoop up all the perishables, too, without making multiple stops.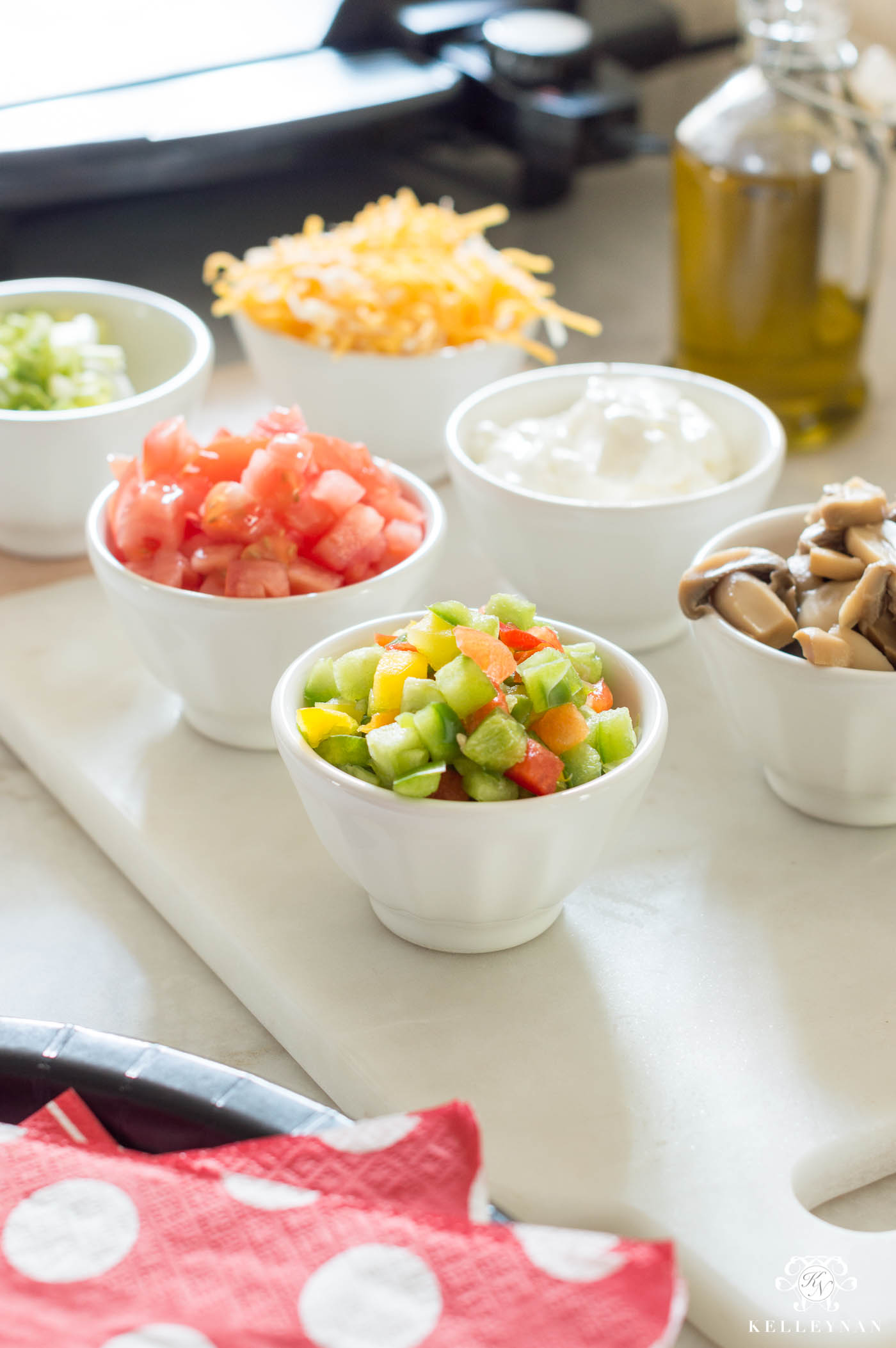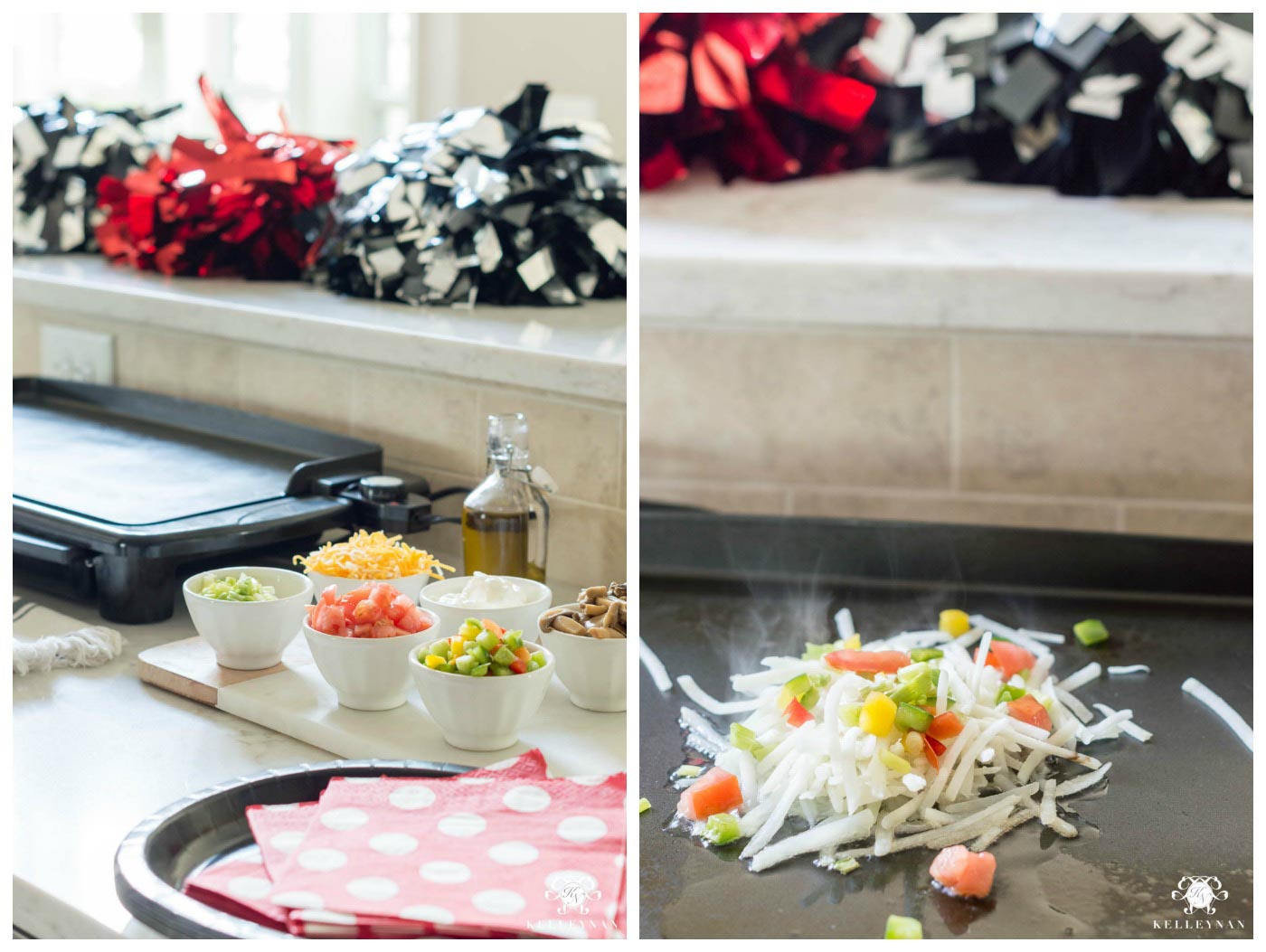 4. KEEP IT FUN TO KEEP EVERYONE ENGAGED
Let's be honest. Chances are, not everyone who comes to your tailgate will be super fans. But, introduce a game and 1. there's more reason to watch and engage, and 2. I bet your guests will want you to host ALL the at-home tailgates. You can create some easy bingo cards with common (or not-so-common) actions you may see during the game. And prizes? You can go on-theme and browse all-things-tailgating HERE.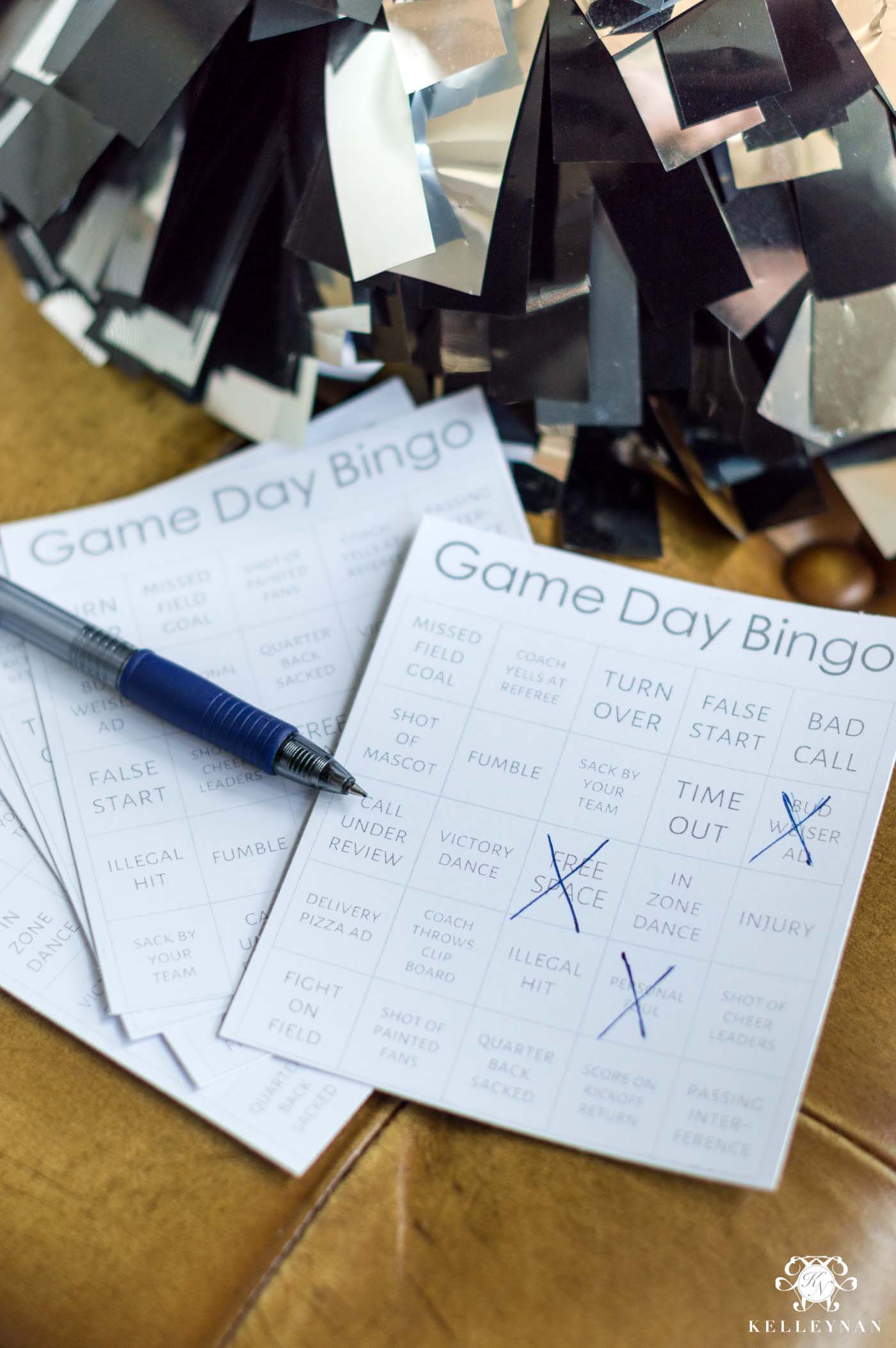 5. TAKE IT OUTDOORS
When we have people over for a game, some want to be inside, and some like to go back and forth between the deck and the living room. One of my favorite things Dave ever did was figure out how to set up a tv outside, without actually having an outdoor tv. He actually uses a monitor (we have THIS ONE), instead of a full tv; it's easy to store when we aren't using it and only requires an extension cord for a power cable.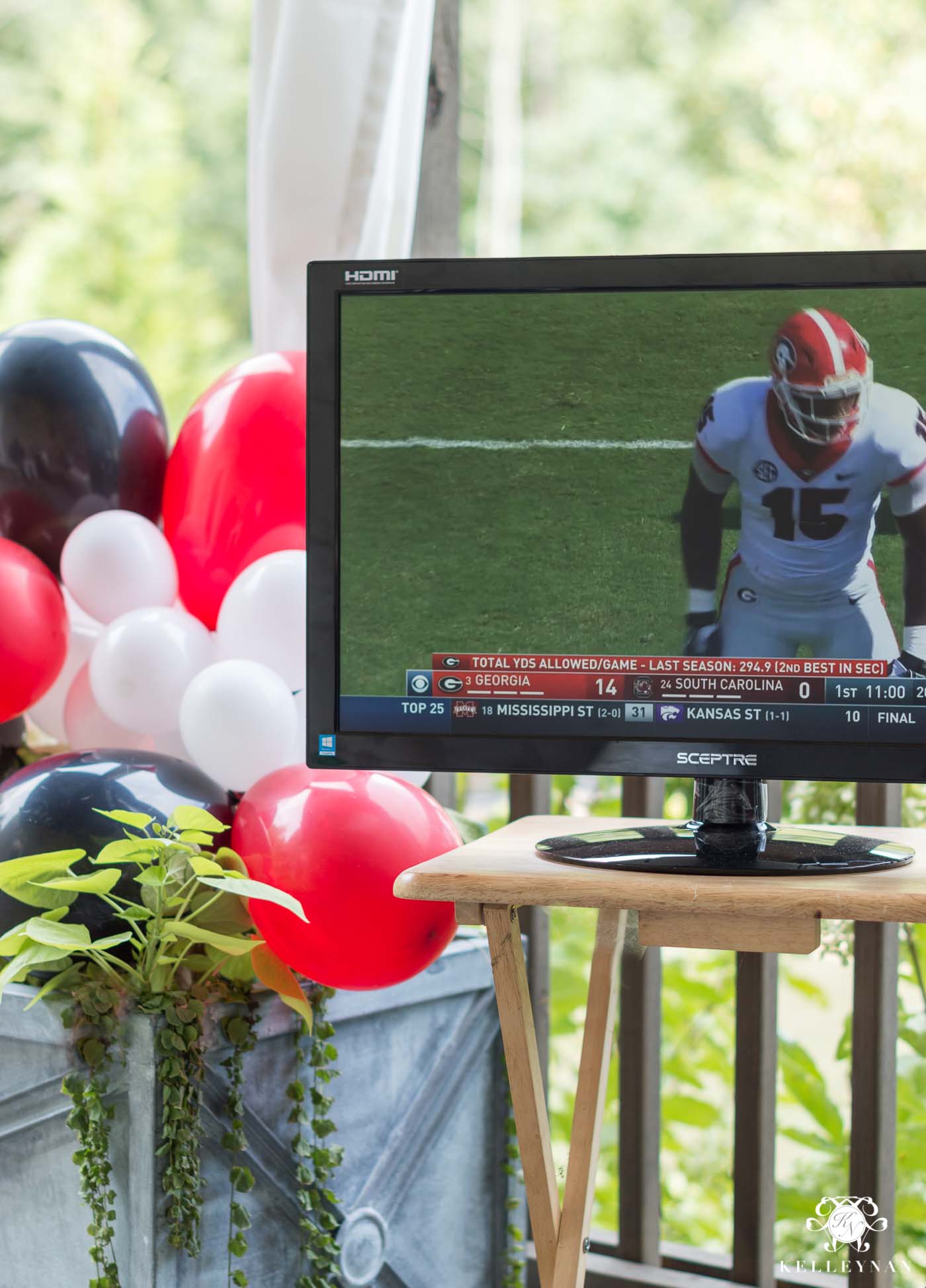 We have a Roku stick that plugs directly into the monitor; we use it with our streaming services (we cut the cable cord a few months ago!) and watch all the games in real time, for a fraction of the cost of investing in something more elaborate. Having these make for fun outdoor movie nights, too 😉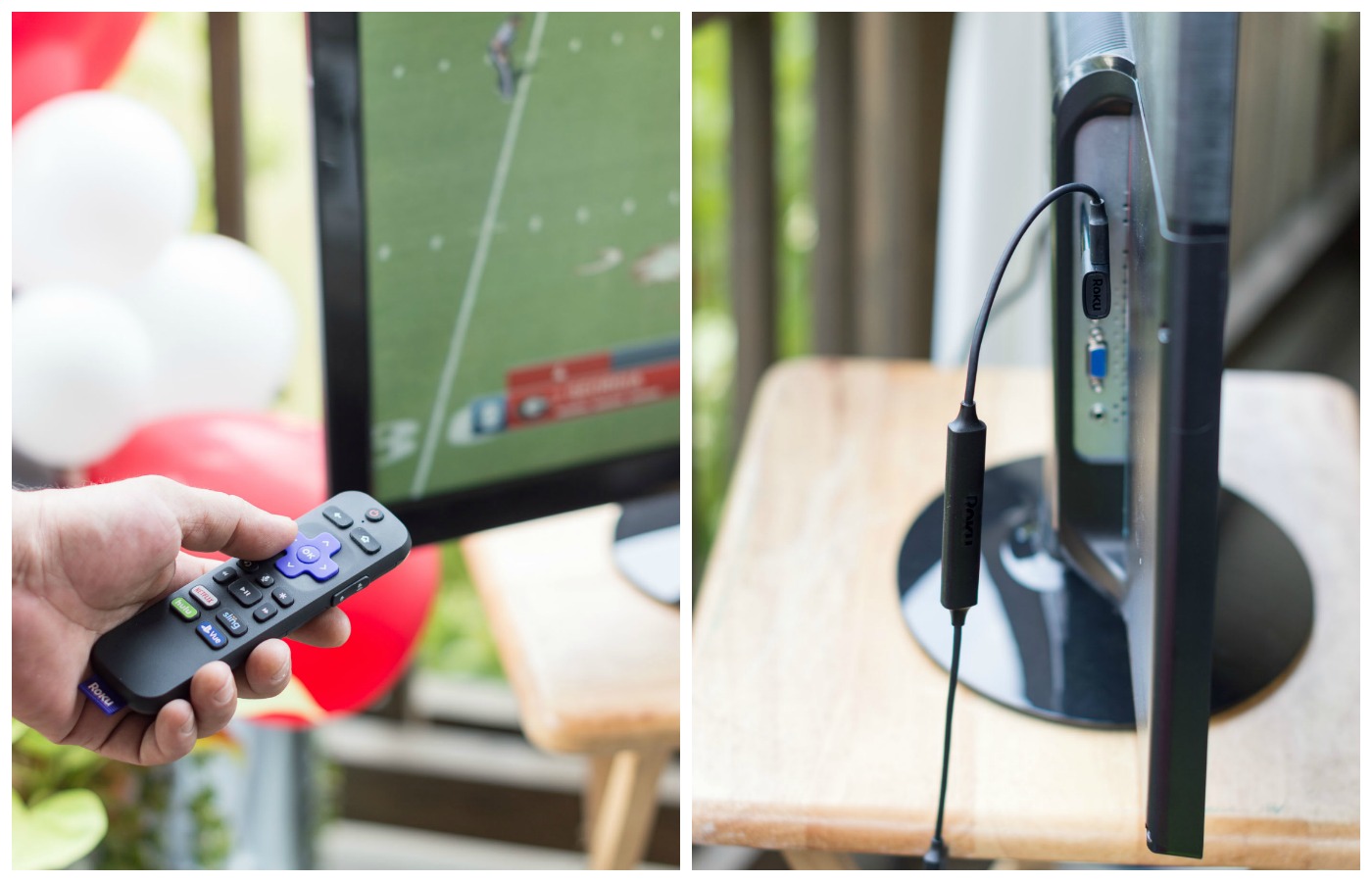 ---

---
6.  MODIFY YOUR FAVORITE GAME DAY ACTIVITIES FOR MORNING
You can't walk through a tailgate without seeing cornhole or beer pong. And if you can, you're at the wrong tailgate haha. But, again- early morning? Beer? Yes, it can be done, but ugh. Enter – Mimosa Pong. You can go light on the champagne or do zero champagne at all, but who says tailgating games have to be reserved for the afternoon?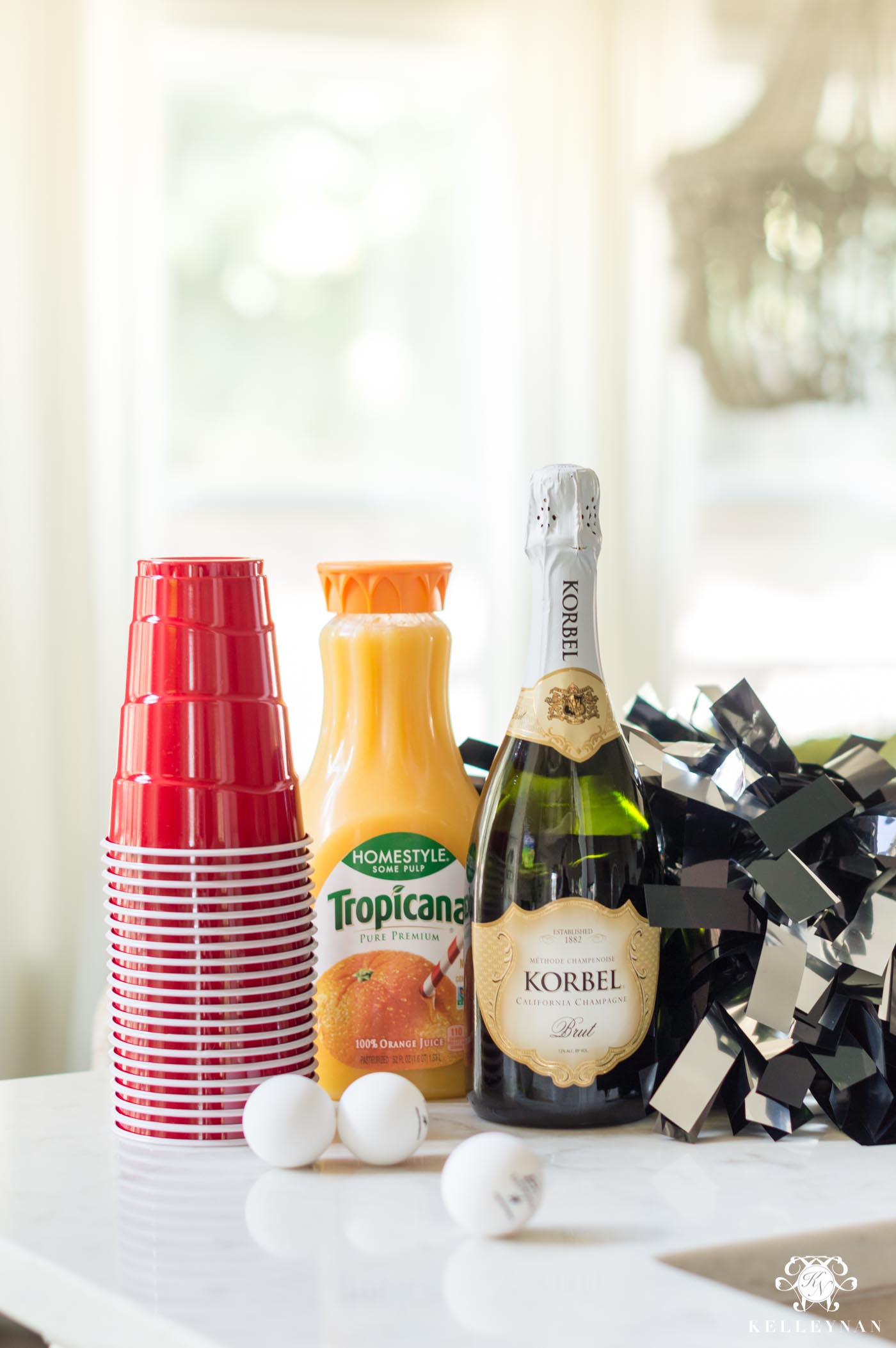 ---

---
We have bulky folding tables but when I found these portable tables that fold into a bag and are perfect for travel, I had to order them. Cup holders and everything (#AllAboutTheDetails haha). You can set up and store these way easier than long tables, plus, you can throw them in the car for games (or when you're heading to a friend's house). Ours are on the way!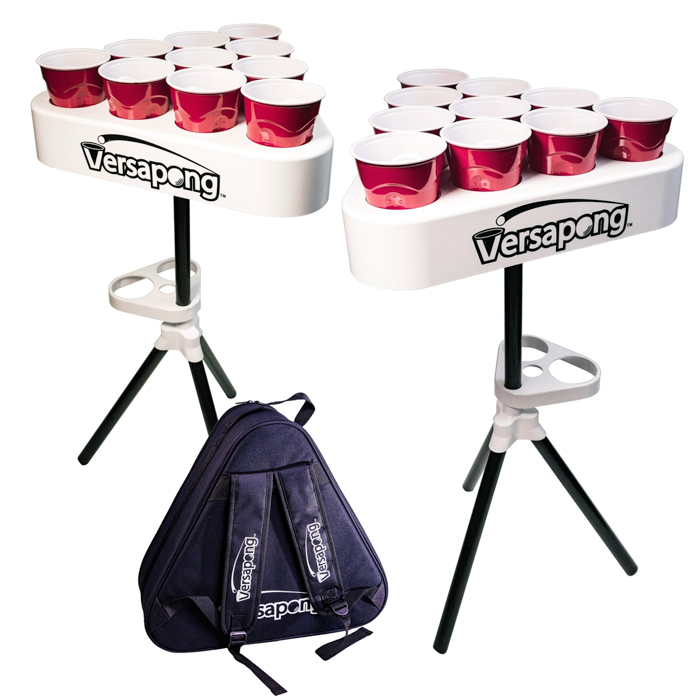 7. KEEP THE AFTERNOON EASY WITH SIMPLE SNACKS
Football games are long and by the time halftime rolls around, your tailgating guests are probably going to start getting a little hungry. Don't worry, you don't have to prepare a full second meal.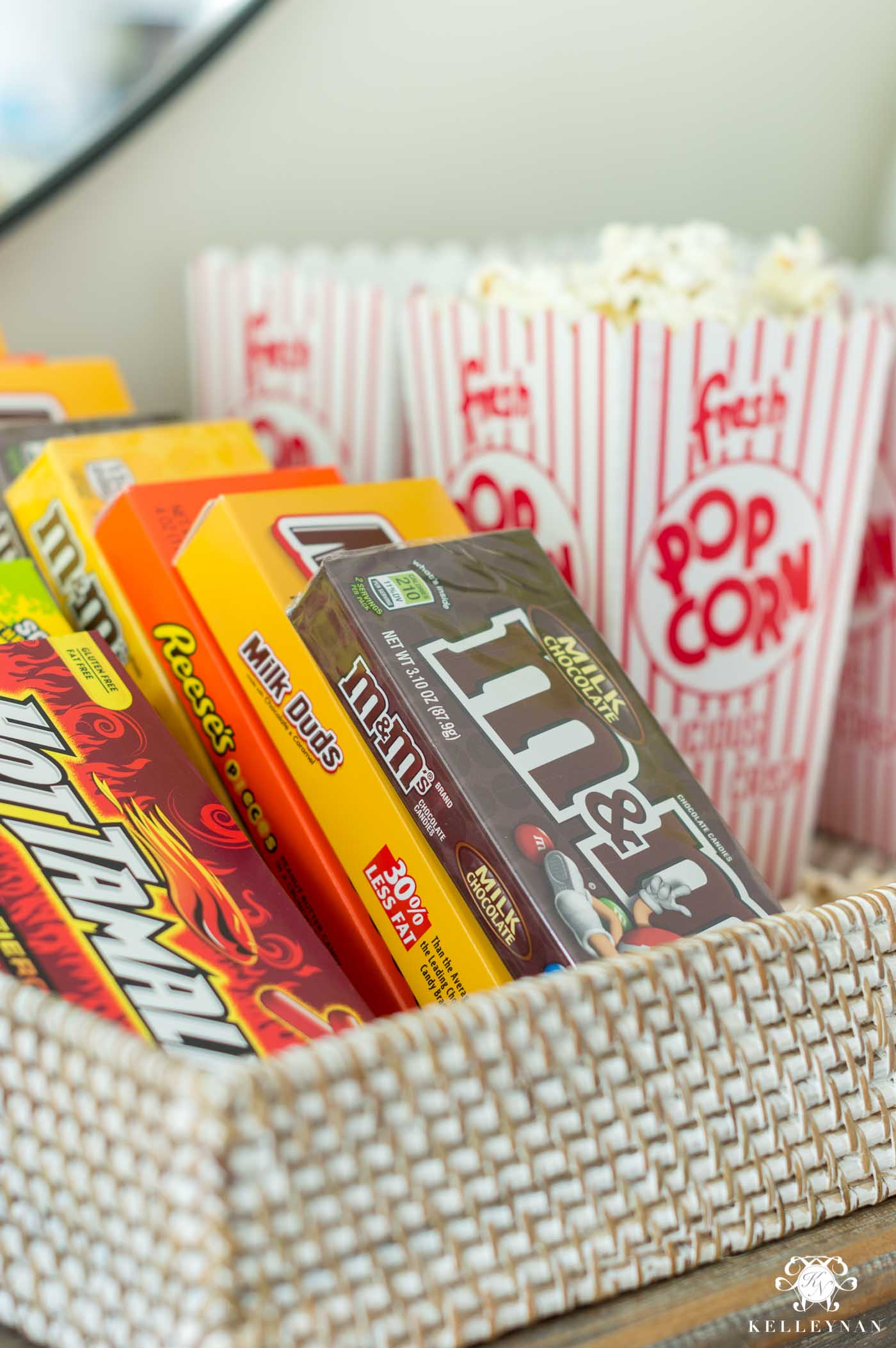 Set up an simple snack bar for easy grazing. I assembled a popcorn and candy bar, literally, right out of the bag. We use THIS popcorn because it's light and minimally seasoned (and good!), which makes the perfect popcorn base for fun seasonings. I literally dumped it right into this galvanized tub (under $8) and called it a day.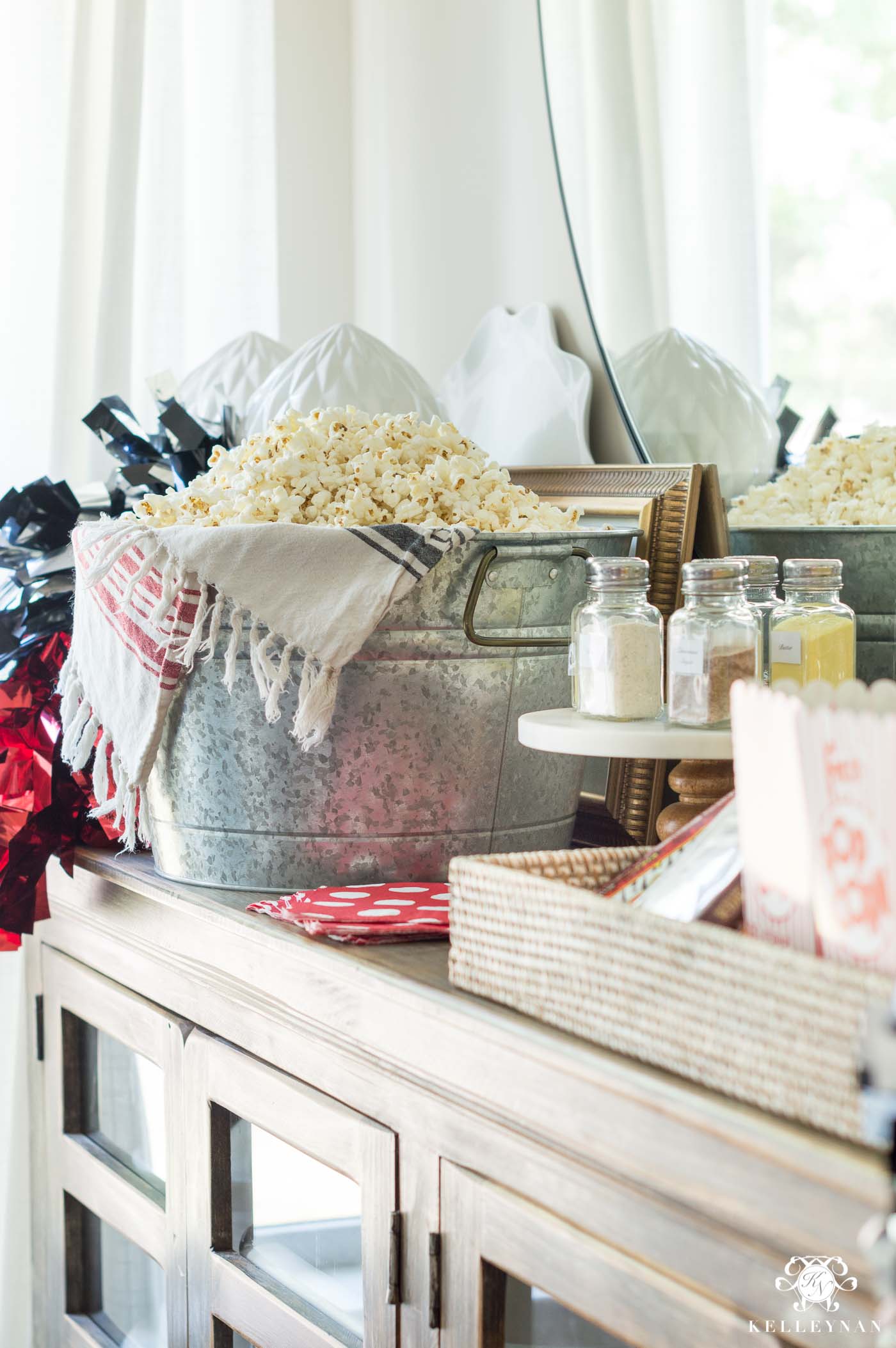 ---


---
I am always using these shakers for blends; instead of keeping the popcorn seasoning in pre-packaged bottles, I poured them into the small glass jars, printed descriptions on card stock, and used clear packing tape to label each.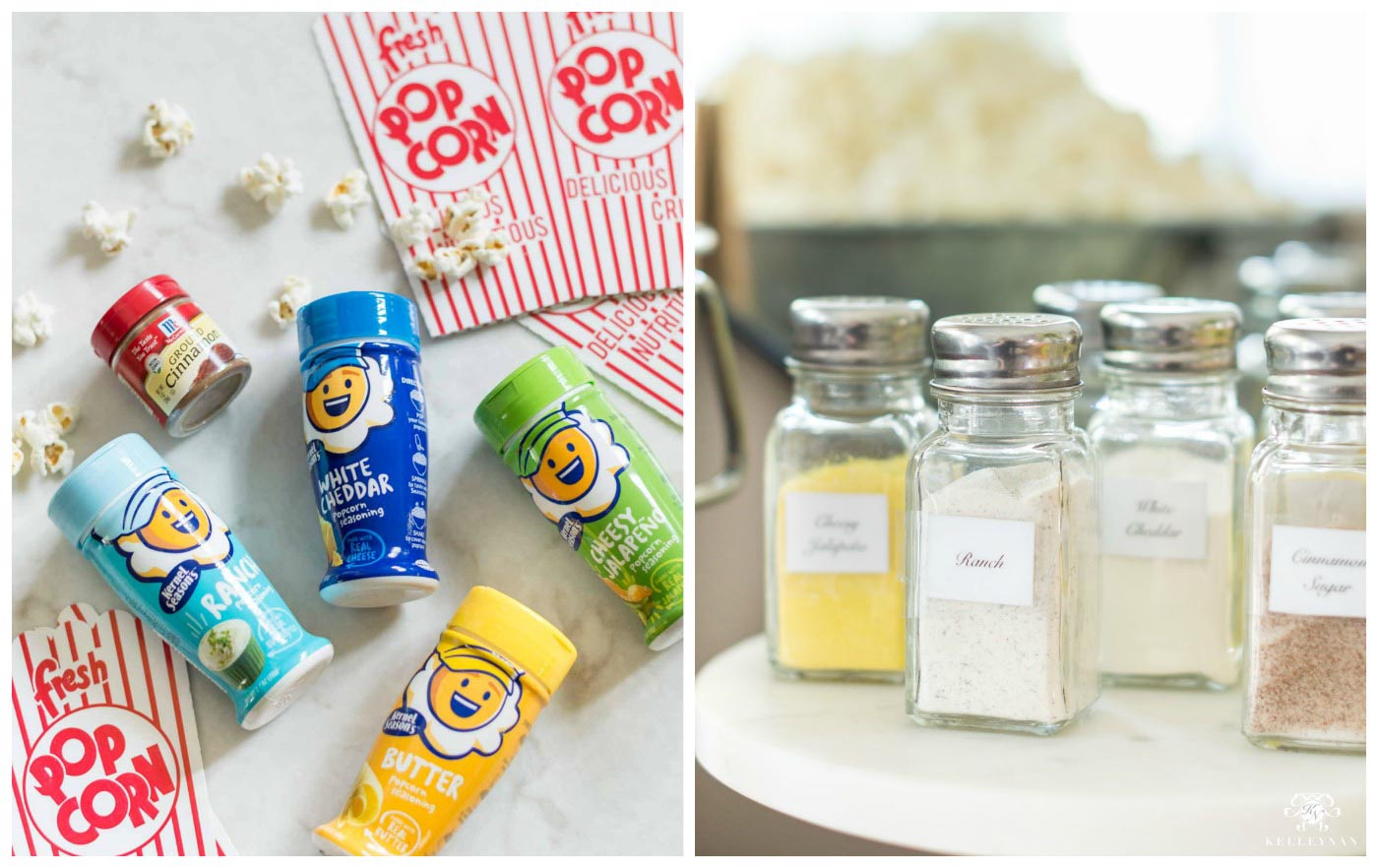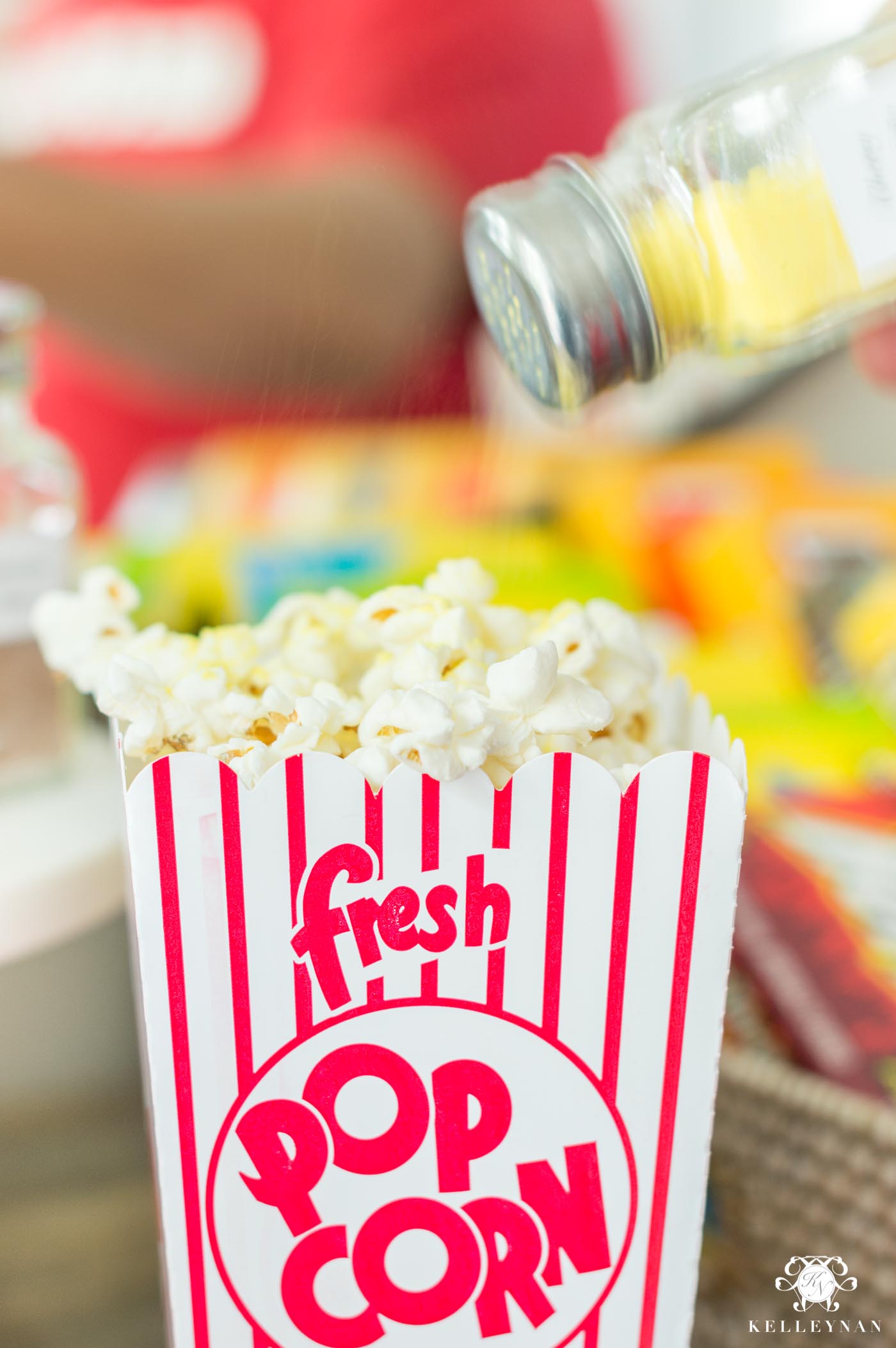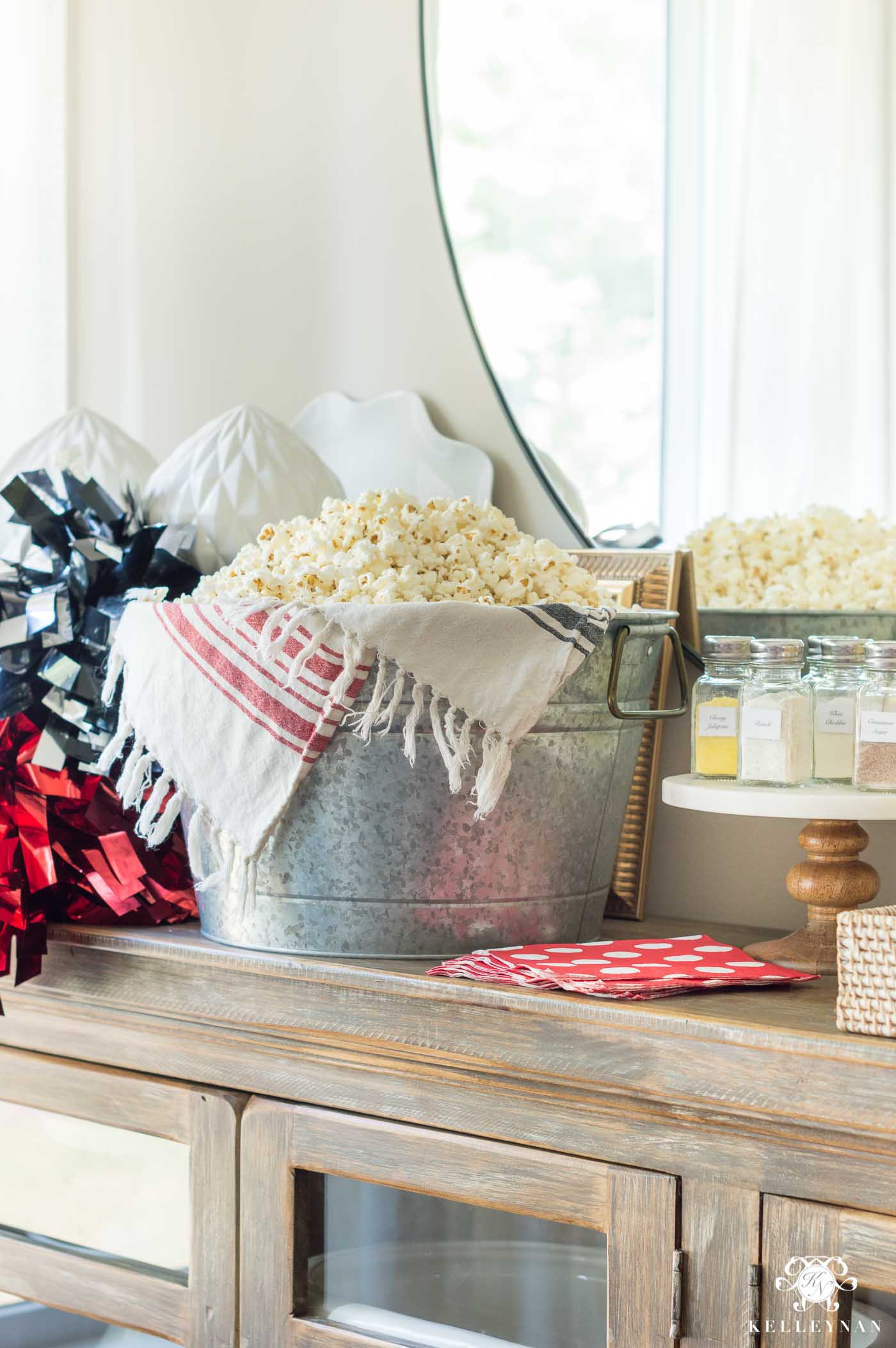 I ordered the popcorn boxes online (HERE) and grabbed the movie theater candy before hitting the check-out aisle when I was in-store, grabbing the perishables.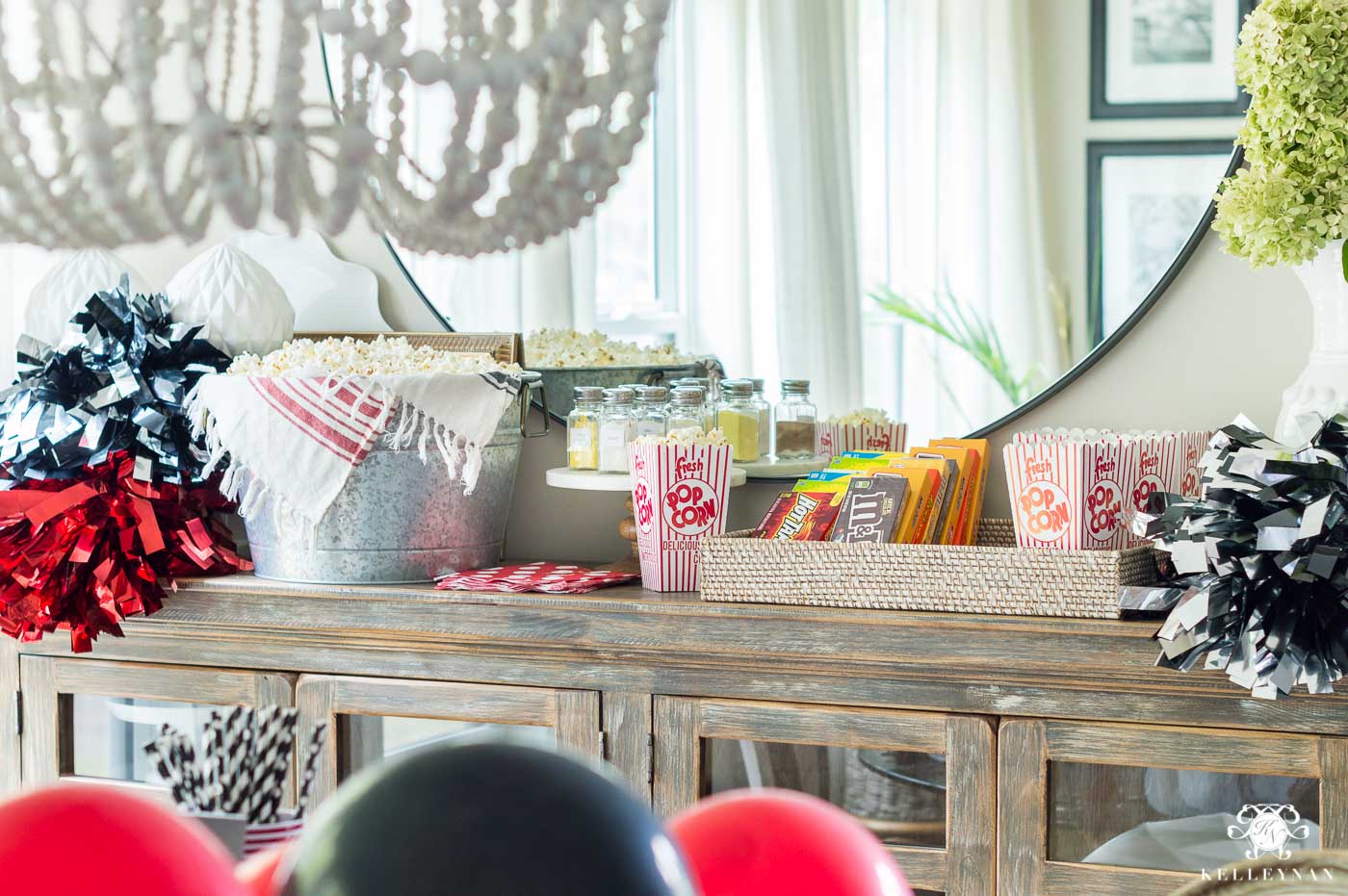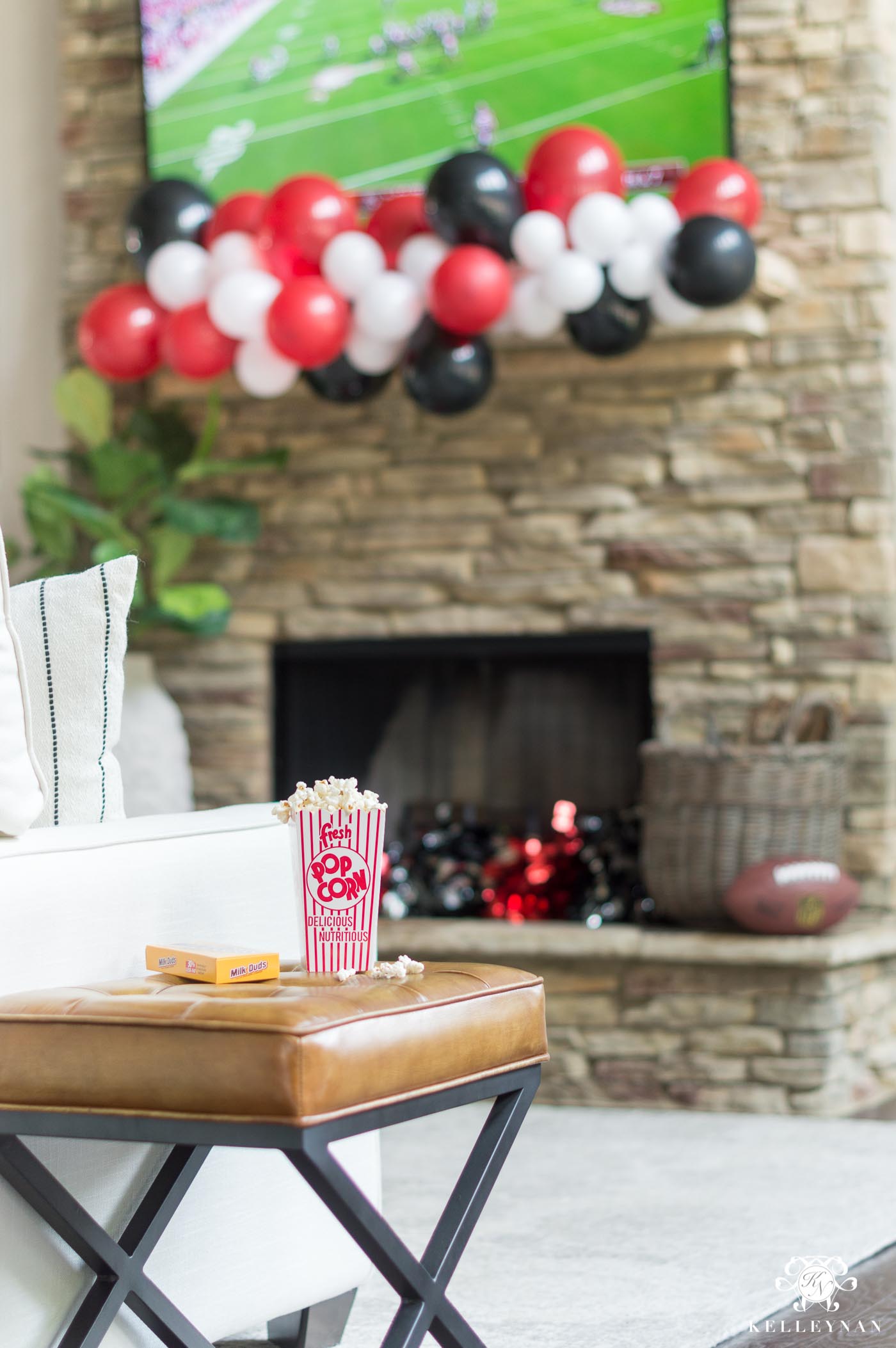 If you've got some pro tailgating tips, tell us about them in the comment section below! If you noticed a few kitchen peeks and are thinking "is she going to share, already?!", YES. My kitchen update reveal will be going live next Tuesday so if you aren't already, be sure to subscribe to my newsletter at the bottom of the email to make sure you don't miss it.