Regardless of whether or not you are a lover of neutrals (if you have visited with me for any amount of time, you probably know by now that I most definitely am), one place without a doubt to consider keeping the colors soft is in the bedroom. Neutrals evoke a light and airy calmness to a space and I can't think of a place you would want to be more relaxed than in your bedroom. But, that is neither here nor there; we aren't talking color psychology today (and likely never will as the extent of my knowledge stops after saying if I like it or not).
I recently had a client (the same client who had this shelving makeover) who wanted new bedding for her guest bedroom. She wanted to keep the project simple without any other room enhancements. She already had gorgeous furniture and this bedding.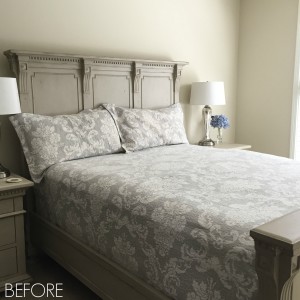 She loves neutrals but didn't think she liked this bedding set. I actually did, but envisioned it styled differently and asked if I could keep her quilt as a base to see if I could change her mind.
She had purchased a king bedding set to provide full coverage over her mattress, which is great. But, the overlapping king shams weren't working. Note: If you purchase a bedding set/bed in a bag, you don't HAVE to use all the pieces that are provided. Actually, if you have any throw pillows left over in a bedding set, you can consider using them in a chair in the room to help tie in elements across the room. A lot of bedding sets go overboard with the matching instead of coordinating. I'm not saying that was the case here; had the shams been smaller, I likely would have used them in front of some white Euros but still would have broken them up a bit.
To give the bed a more custom feel with a plush look, I added a folded duvet in a white ruched cover at the bottom of the bed and used two white euros with white ruched shams in the back. I love gray but without white, there was a lot of gray going on before. Since the headboard is tall, I also wanted to give some pillow height with the euros. There are a million different pillow configurations, but I went with two gray pillows with a slight sheen to bookend a white pillow of the same style with the same slight sheen. The front lumbar pillow has a doily-like print, similar to the quilt but in reverse. It is a little difficult to see as the "after" photos were taken after sundown.
This is the result of the switched up, layered bedding: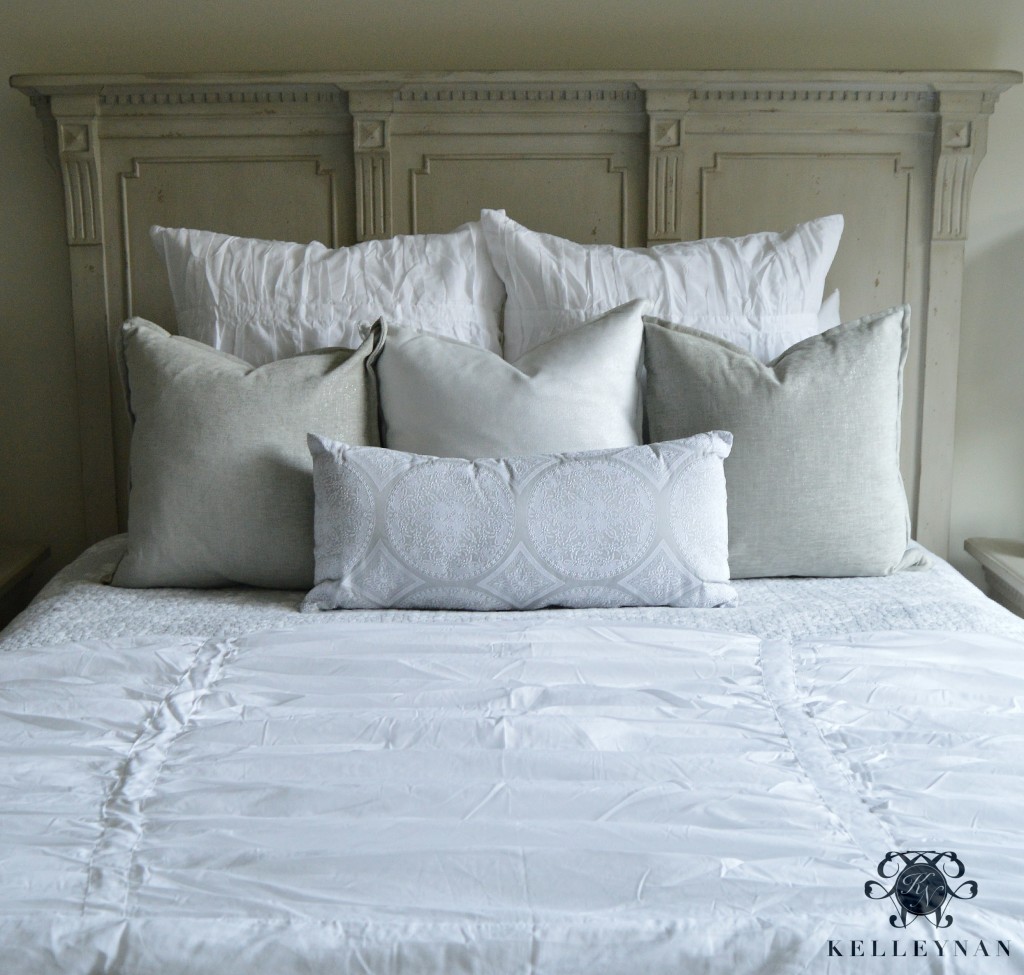 My advice is to not be scared to layer pieces together for a coordinated, custom look instead of going for the all-in-one, bed in a bag, matching set. Or, if you do, to switch out some of the provided pieces with your own color coordinated throw pillows/blankets.
I would love to hear your thoughts on your own approach to bedding. Do you prefer matching or coordinating? Do you prefer a plush bed or a simple, sleek look? I will be sharing some of my own bed transformations soon, so stay tuned!