I think as I jump from project to project, disappear and reappear, and cut back on social media, these "life lately" posts are going to be more important. With all the crazy twists and turns the past several months have thrown, I've been preoccupied with all those necessary life things while continuing to work on the back end of the website. Any downtime I have has been dedicated to my family — I wasn't able to be present through my personal sickness and then walking the final weeks of my dad's terminal cancer journey so it's become even more important than before to relish in the time we have together. So, I felt like it was time for a little touchpoint, to dish about all we've been up to and where we're headed!
*Posts on KelleyNan.com may contain affiliate links. Click HERE for full disclosure.
We are preparing for a family vacay to Rosemary Beach and I. Am. Pumped. But as with any time a trip is coming up, all the sudden, I feel pressure to cross off tons of items that have haunted my list for far too long, before we leave. We're trying to get in all the appointments, take care of all the home things… you know 😉 I thought our kitchen was going to finally be worked on while we were gone but there's continued to be a substantial delay with that too (in addition to our bathroom), so I'm putting that out of my mind.
I took spring as the opportunity to start a small (but essential, haha) bag collection for Eliza. As she gets a little older, she loves her independence and I'm even thinking about those occasional overnights with Gran Nan. Here are the cute bags I ordered…
Pink sparkle suitcase — this luggage comes in two sizes (I ordered the smaller of the two) and is carry-on size but fit for even a small child. You can personalize or monogram and it spins beautifully. Eliza will be taking this on vacation but in the meantime, wheels it all over the house. It seems to be sturdy and well constructed.
Minnie Mouse Backpack — Eliza has a mini and large style backpack and while the Minnie Mouse comes in multiple sizes, the small seems to hold everything she needs, without tipping her over. She received this for Easter but this is the bag she's insisted on carrying in the car, whenever we're going somewhere. It's great for a day-trip and makes a great car bag for road trips — and, a great carry-on for the plane! There's also a matching lunchbox HERE and a matching thermos HERE.
Small Duffel Bag — I wanted a duffel bag for Eliza to be able to take for overnights, but most duffel bags would overwhelm her. THIS duffel bag is SUCH a deal and I am THRILLED WITH IT! It's made by a small shop, is available in a bunch of colors (we did the lavender stripe), and the quality is superb. Even though it dispatches from Australia, it shipped and arrived incredibly quickly and the price includes personalization and shipping. It's currently on sale and under $45 in both solids and stripes. It is so well made and the perfect size!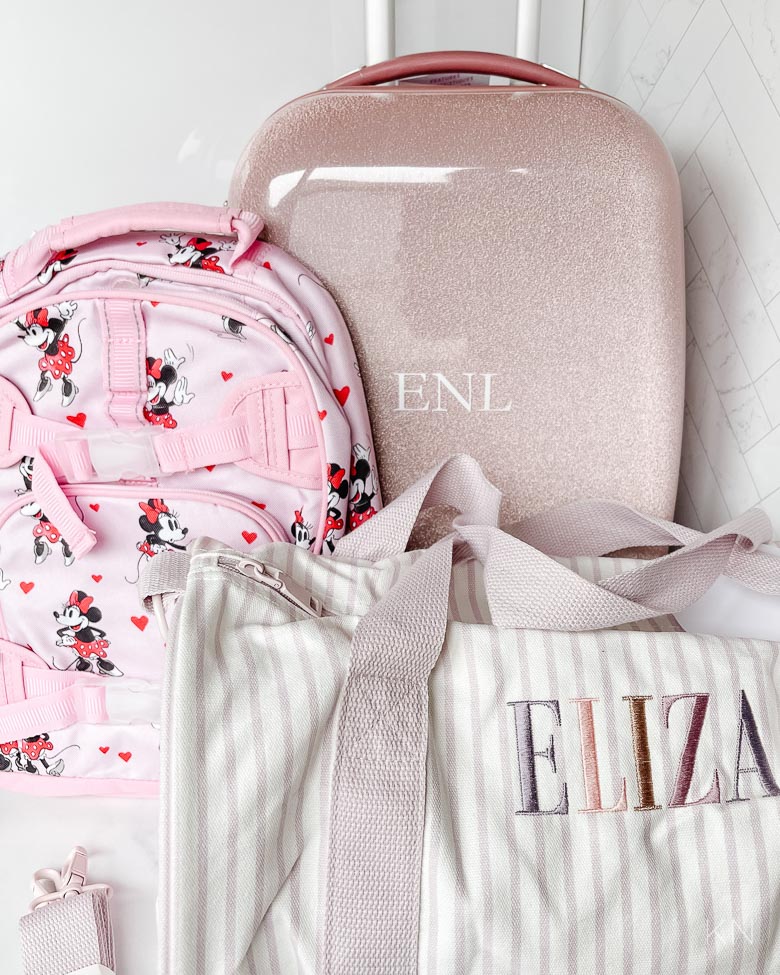 Sources: Suitcase | Minnie Mouse Backpack | Monogrammed Duffel Bag
I won't have a pre-beach post but I am counting the days and *may* post some details upon our return. I'm just really looking forward to an escape and putting my phone down.
We recently acquired a little bit of land and have made a few trips out to get a bit more acquainted with it. For now, we've just enjoyed the quiet and taking in the scenery and I love to see Eliza just be able to run and explore without the confines of a fence. Here we are a few weeks ago, after church, having a fast-food tailgate lunch picnic…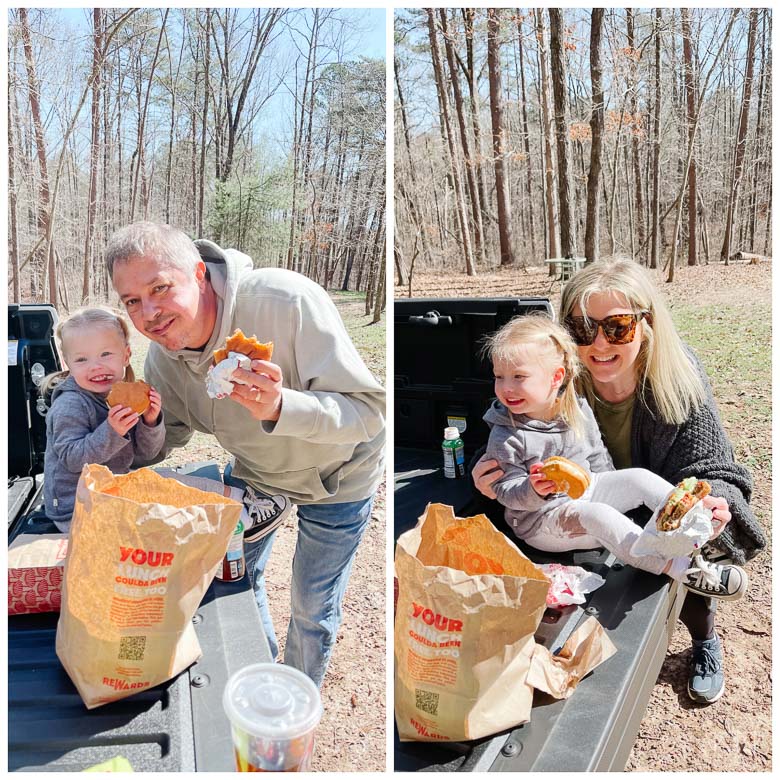 I shared this on Instagram a few weeks ago (check out the video reel of the process HERE) but my mom and I have become addicted to puzzles over the past few years. We trade them, repeat them, and love to unwind with them. I've found it's one of THE only ways I can truly shut my brain off when I only have a puzzle to concentrate on. But, the boxes and storing them has gotten out of control. So, I switched to a new system and boy, what a difference it's made.
I used THESE pouches in the 10″x14″ option, which come as a 24 pack for under $19 when you click the coupon HERE.
I used a box cutter to cut out the image on the front of each puzzle box to include with the puzzle. I just ordered THIS highly rated 2-pack off Amazon.
I used my label maker to label each bag with the name of the puzzle, brand, size, and piece count.
While I started with THIS bin, I moved to THIS Pottery Barn bin on wheels and it holds a TON with room to grow — it's also on sale right now for $25 off and has dividers if you want to section the bin off for multiple uses.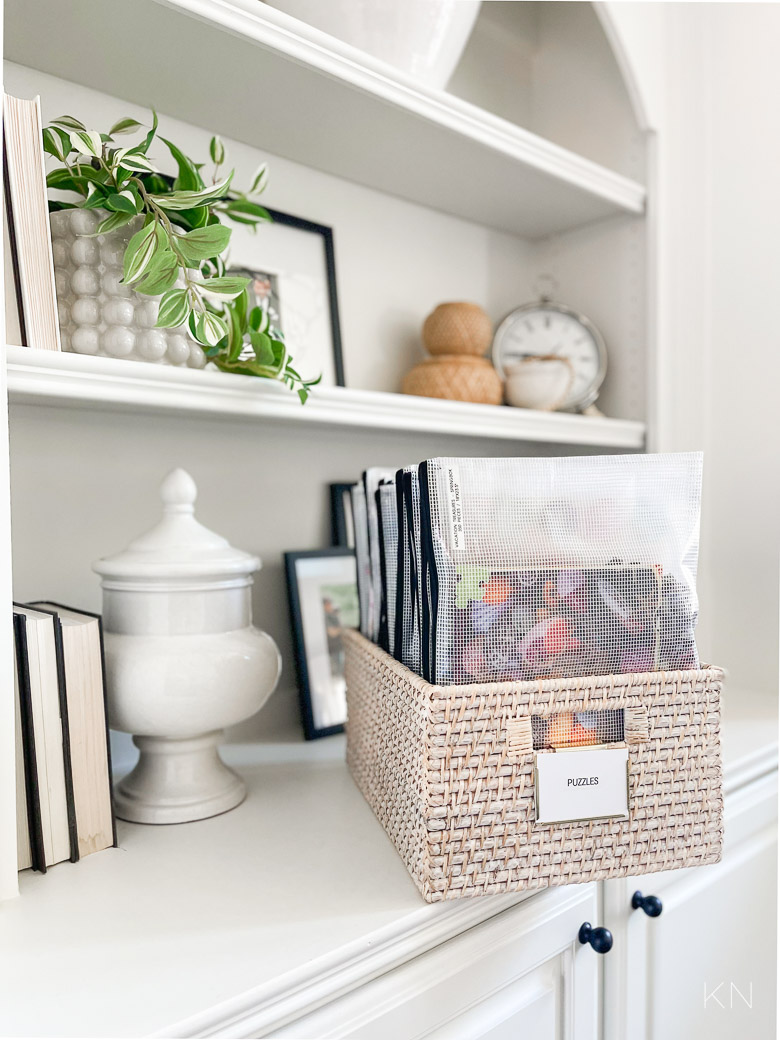 Sources: Rattan Basket | Zipper Pouches | Gold Bin Label Clip | Label Maker | Clock | Bubble Pot
My mom, took Eliza and I for an old school mall trip (Eliza's first)– complete with a pretzel, food court lunch, accessories from Claire's, Build a Bear, train, and a new pair of sneakers. Disappointingly, the carousel was shut down but our girl was a good sport. 10/10 recommend for a fun, simple throwback day and experience.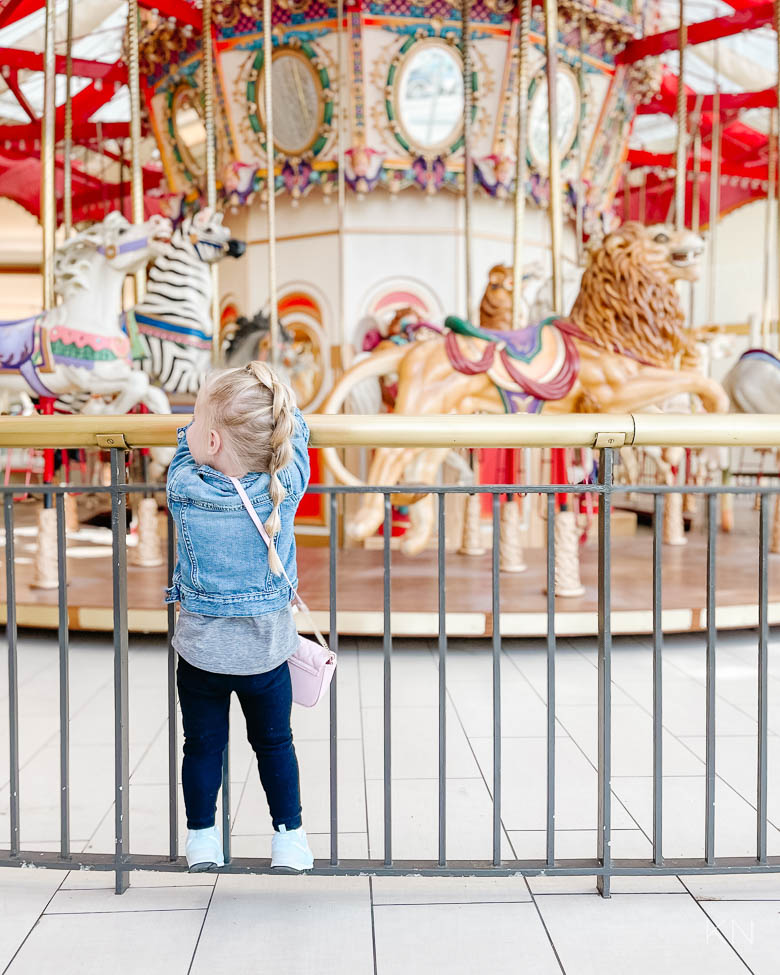 Sources: Jean Jacket | New Balance Sneakers | Pink Quilted Crossbody Purse
Eliza doesn't have her ears pierced but she did get some stick on earrings (remember those?!) from Claire's and has picked out a pair to wear each morning since. I've ordered a bunch of sets since but THIS set on Amazon sticks the best and comes with 144 pairs for under $10. You can also find a TON of sheets for half off right now (like, around $3!) HERE. I ordered sets for future stocking stuffers, treats and more.
Our Easter weekend was great and simple. We dyed eggs, ate good food, played, went to church, had an egg hunt, and smoked a brisket with all the fixins. I made cherry cobbler (recipe HERE), and my mom spearheaded the sides — you can find the spinach casserole recipe HERE and I'll be sharing the four-bean salad and hash brown casserole soon. Also, we secured our first watermelon of the year from TJs and it was surprisingly already juicy and sweet!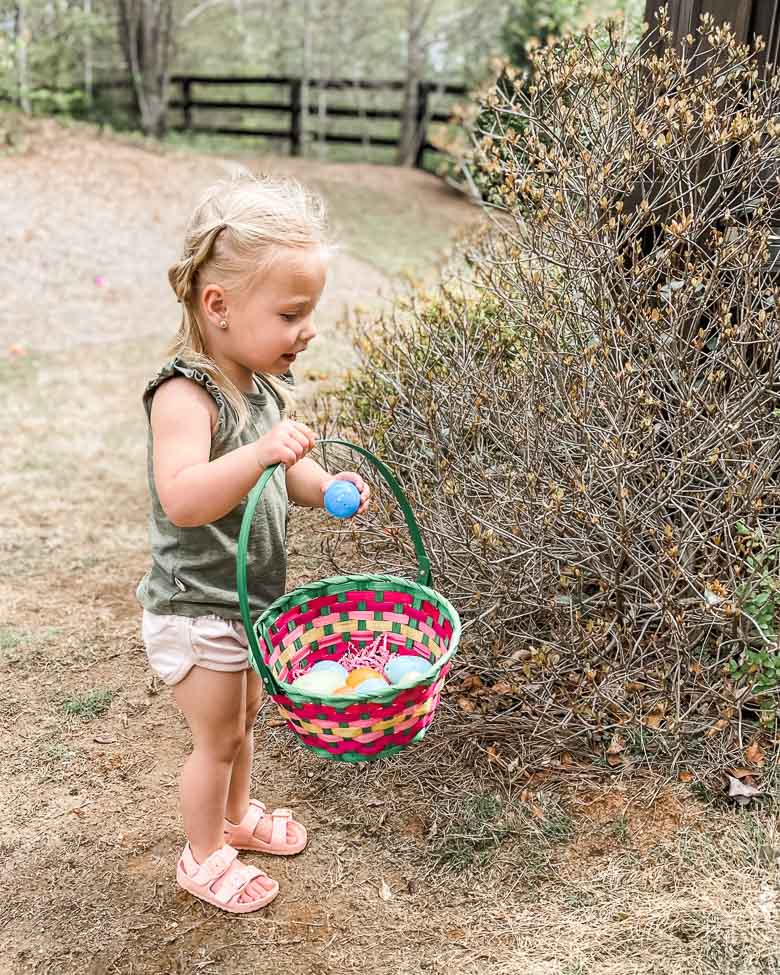 Sources: Sandals | Stick On Earrings
My sweet girl loves her new cup because it looks like a miniature version of Mommy's 😉 The best part is the straw is flexible so I feel fine with her having it in the car and running around with it. You can find it in a ton of colors in two-pack options on Amazon HERE.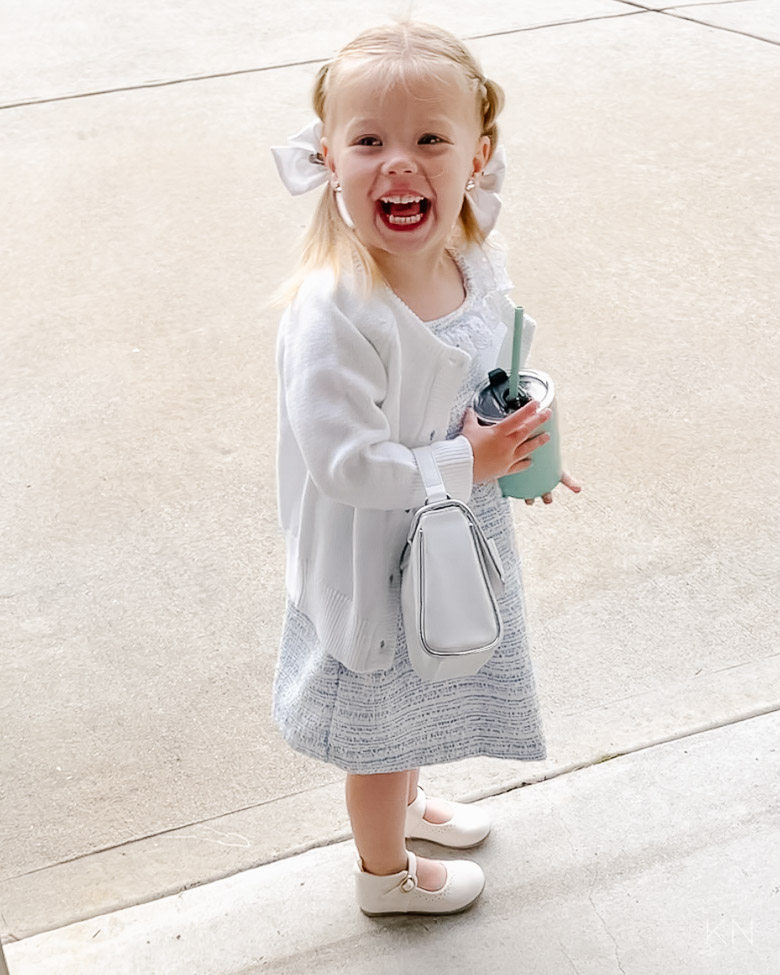 Sources: Cardigan | Boucle Dress | Stick On Earrings | Insulated Cup (set of 2)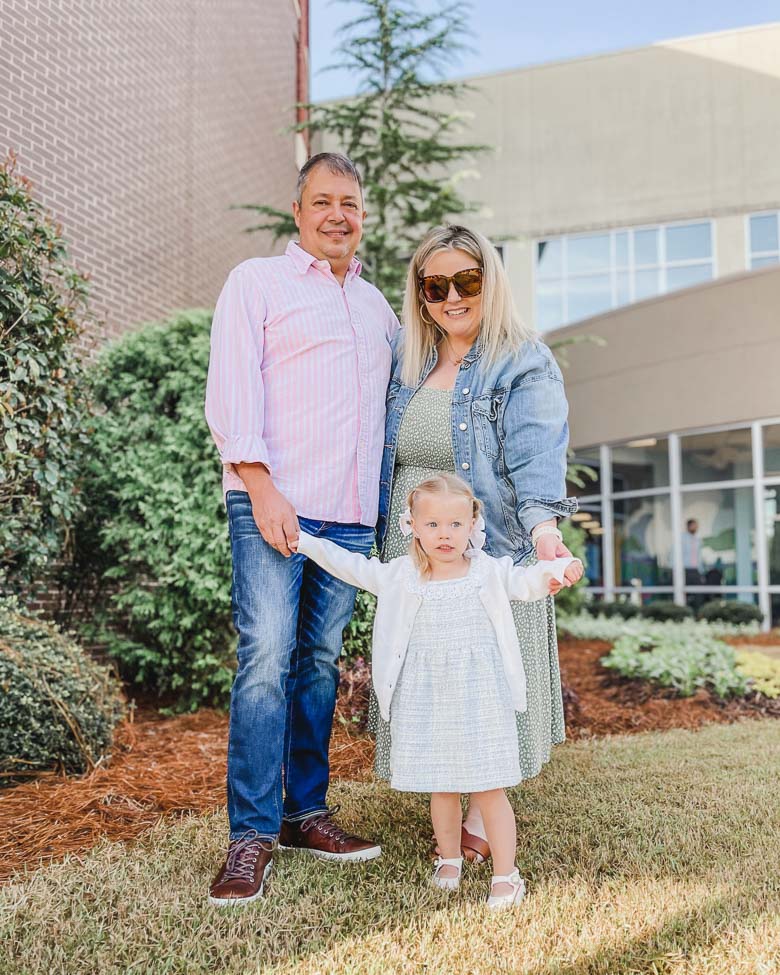 Sources: Dave's Ecco Sneakers | Jean Jacket | Sandals | Sunglasses | Cardigan | Boucle Dress | Stick On Earrings
It was just the four of us for Easter dinner so we sat at the breakfast table but I did a few simple place settings to mark the occasion. I scored some ranunculus (my fave!) at TJs the week before and folded the napkins into bunnies using a tutorial I saw The Downtown Aly post on IG.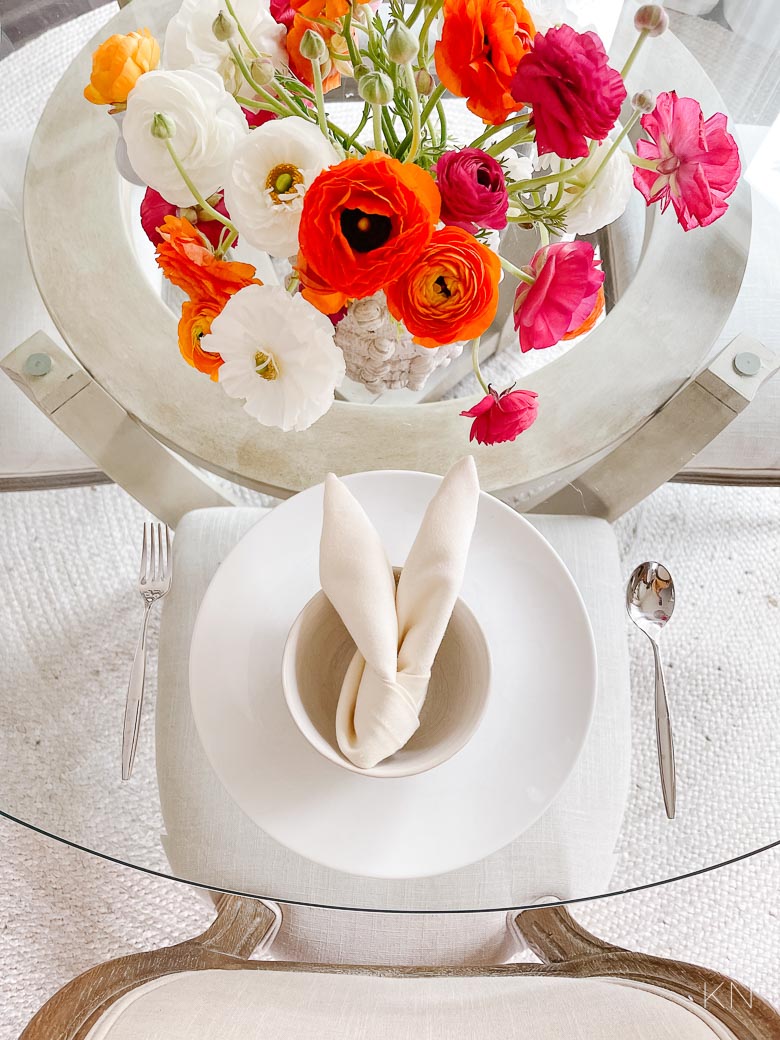 Sources: Vase (xs)| Flatware (currently 50% off!) | Dinner Plate 
By the way, I upgraded my dining flatware to THIS set (as seen in photo) several years ago and have been more than pleased with it. When I saw it go on clearance, I ordered an additional set as back-up. Since then, the price has dropped even more and it's now down to 50% off! For me, it has the perfect weight and "heft" and I love the streamlined look. You can find it currently on clearance HERE.
Last week, we played hooky on Friday to go to Disney on Ice — our girl was a sporty, modern Snow White and she loved it. What a fun experience we all had. You can see her with her backpack and her purse — both which she insisted on carrying in the car 😉 By the way, I've shared that cute quilted purse before, but H&M still has it and it's only $14.99 HERE. I can't believe how grown up she looks here!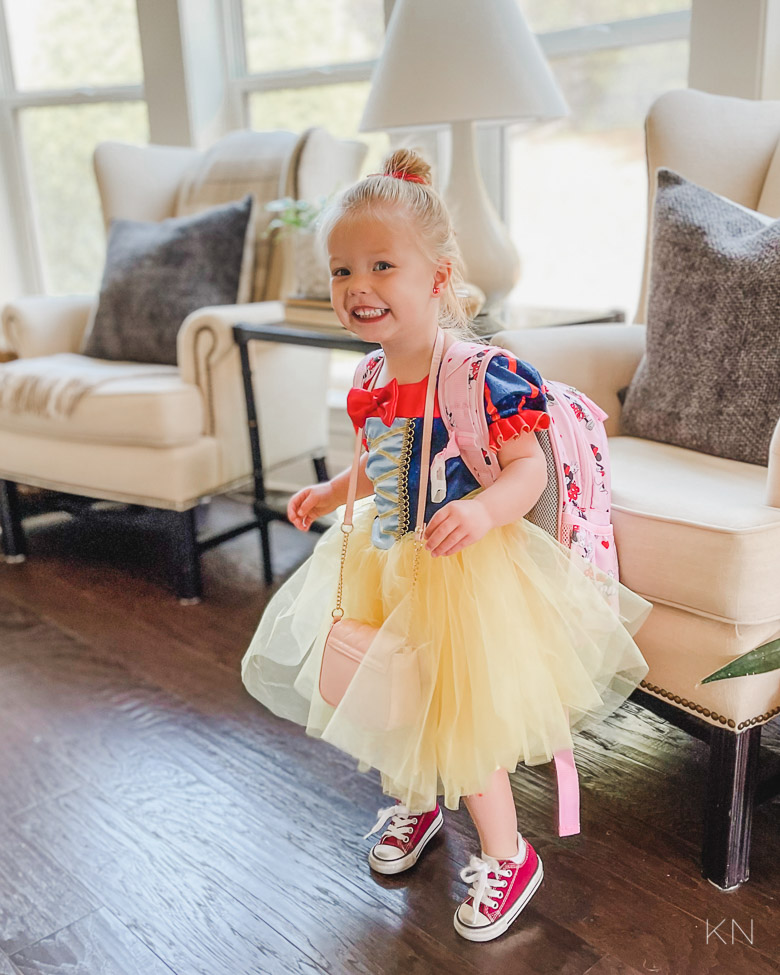 Sources: Minnie Mouse Backpack | Converse Sneakers | Pink Quilted Cross Body Purse | Stick On Earrings | Wingback Chairs | Pillows | Cane Accent Table (similar)
Speaking of "how big" she looks, I ordered Eliza's bed LAST YEAR and it was completed a few months ago. But then, it was lost in the logistical process. They have since had to re-order a bed to be made and now are estimating a late June arrival. So, Eliza continues to sleep on her mattress on the floor like a champ — she knows no differently and has done SO WELL. You can see her big girl bedroom plan HERE — just another project that was unexpectedly delayed, haha. I'm rolling with it but after so much that's been out of my control in 2022, it would feel good for something to go as planned. I'd like to reclaim just a little bit somewhere. We make her bed every morning (which is more than I can say for my bed, haha) and it's about the sweetest routine I've ever seen.
The bathroom still has caulk grout that needs to be fixed along with a few other small things and I don't know why it's taken more than a year to finish. Ridiculous. Once the caulk grout is fixed, regardless of other tweaks that need to be made, I'll likely go ahead and photograph it to share. You can see the last progress update (far too long ago) HERE.
The rest of our weekend was spent outside, planting, cleaning up porches, grilling, and playing. It was life giving soaking up all the sunshine, warm weather, and sun! I think the Georgia pine pollen is JUST about finished up, too 😉 Eliza continues to love to help and is down to lend a hand with whatever we're doing. Dave plants a few varieties of peppers in a couple large planters each year and ends up pickling all the leftover jalapeños at the end of the season.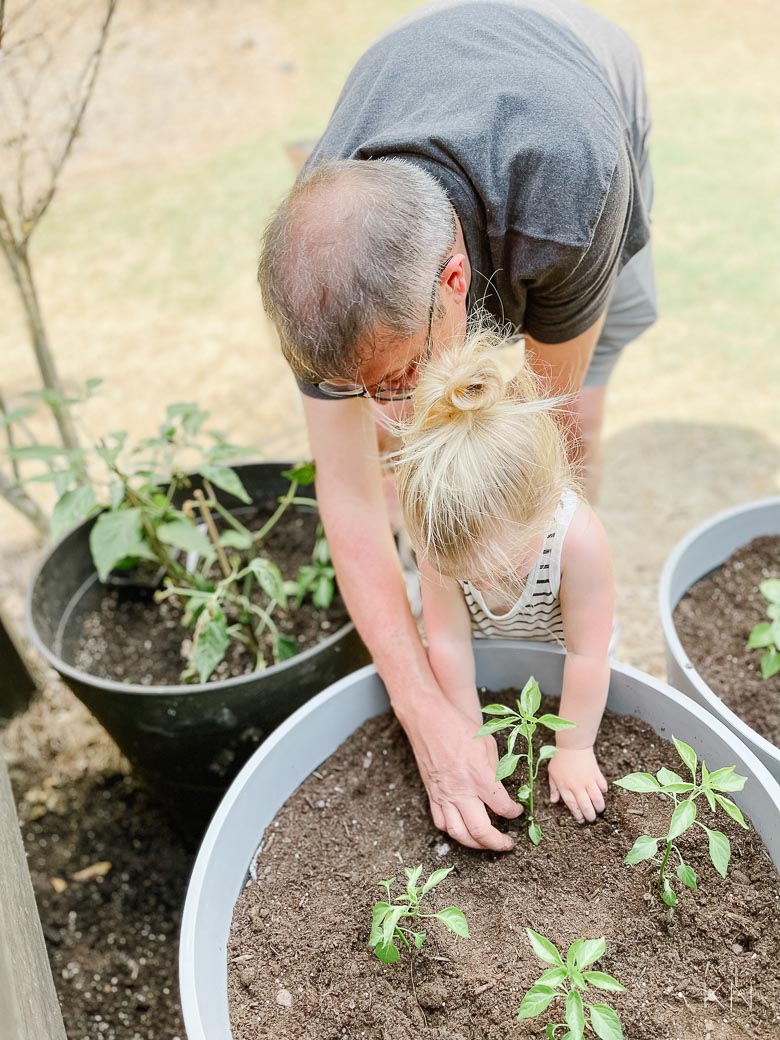 We don't have an actual sandbox but I did grab a spare bin from the basement and dumped a bag of play sand we'd had for two years inside for a makeshift sand pit. This kept Eliza entertained for a good part of the weekend.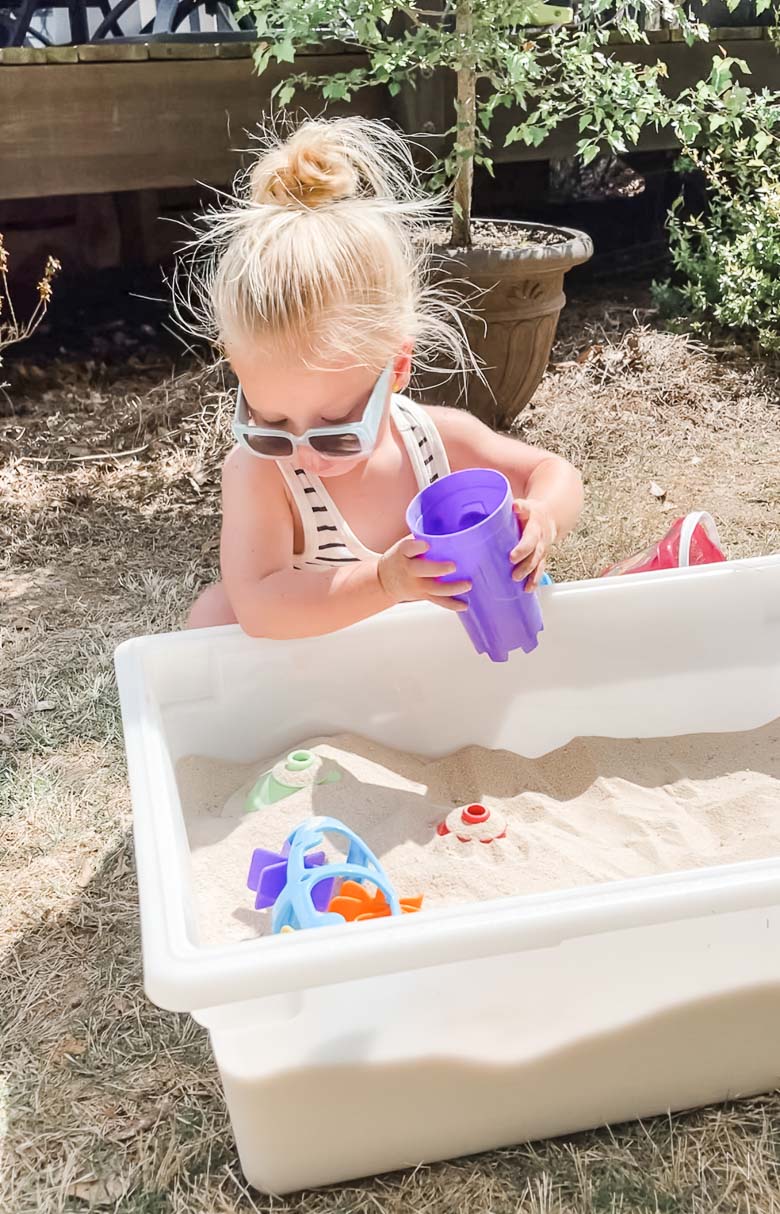 Sources: Sunglasses (cat eye version still available)
In addition to playing and working in the yard, we did sidewalk chalk and bikes at Gran Nan's and even made a trip to the park. This girl is fearless. And, it's terrifying. But, I'm also so proud. She's never scared to scale anything and conquers each playground we visit.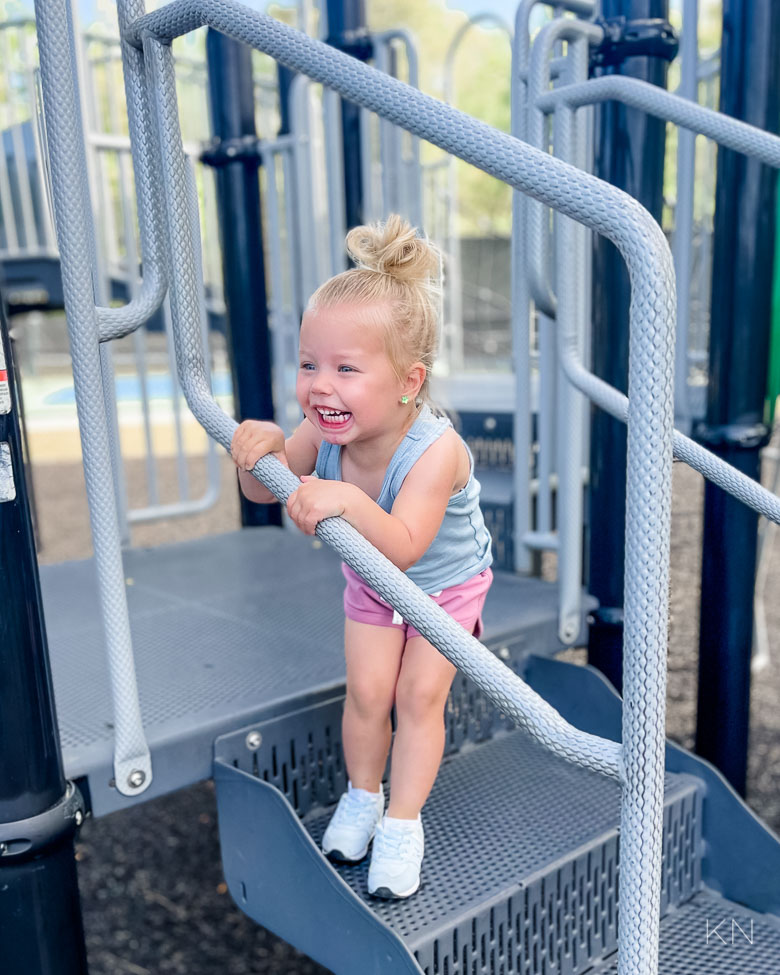 Sources: New Balance Sneakers | Stick On Earrings
It may seem like most of my updates involved Eliza and that's because… that's where most of the updates are. She's our focus and we're loving every bit of it. We tried "ballet" but recently switched to gymnastics and she already is all in. I think she's going to love going because she already does so many of her own moves at home. We love seeing what she gravitates toward sand we'll definitely let her try team sports as she ages in to those, too. She has so many interests and is so adaptable. I can't wait to watch her discover her talents and passions over the years to come.
Other exciting things on the horizon — originally, Dave and I wanted to travel to Europe (we've never been) for our 10 year anniversary this fall. But, we just don't feel great planning for a trip that requires leaving the country at the moment. So, I booked a hotel in Jackson Hole, Wyoming! If you have recommendations out there, I'd love to hear them! We'll  be making the trip early/mid October.
A little bit of final randomness…
I've gotten back on track with my daily vitamins and refill my vitamin dispenser each Sunday. After seeing my vitamin organizer, Dave was sold and my mom also ordered one HERE.
I binged the second season of Bridgerton after not being as big of a fan of the first season as most. I actually preferred the second season, and then went back and watched the first season again. I also loved watching the latest season of Selling Sunset.
I listened to Everybody Fights — the audiobook version — and if you are married, I 100% recommend. It isn't a long book and I want to listed to it again with Dave. It was written by Kim and Penn Holderness (of the Holderness Family who I adore) and while there's awesome tidbits, it's refreshing (and funny) to know other couples face some of the exact same decisions, challenges, etc.
We've had a few annoying surprise home repairs (like a leaking water heater expansion tank) so I'm hoping those are finished for now. No more surprises! We are also getting ready to address some drainage issues in our back yard and will likely need to re-sod at that time, too.
With so many venues requiring clear bags — including our Disney On Ice show — I had pre-ordered a couple inexpensive options from Amazon. Ultimately, I kept both. My requirements were for them to have long straps for an easy cross-body style, as well as zipper closures. THIS one is larger and perfect if you're carrying for multiple people, need to bring rain gear, plan on a jacket, etc. It's only $12 and ultimately what I carried last week for souvenirs. THIS one seems to have higher quality clear plastic, is smaller and perfect for personal items. I ordered it it white trim but it comes in four colors, including pink! Some colors are $14.99 and others are $15.99 HERE.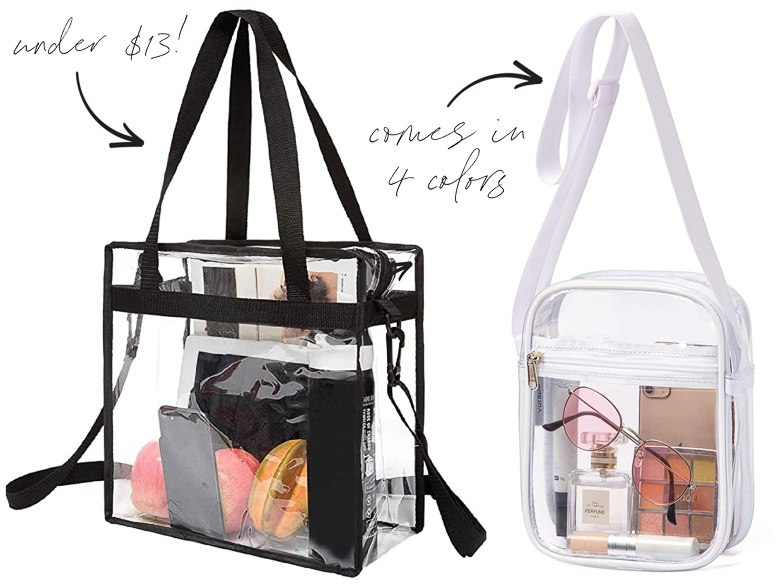 Larger Black Clear Bag | White Clear Bag
Today marks the start of the annual 2-day Way Day event and I'll be making some time to try to decide on and secure a few of the larger pieces for my home projects. Here are a few reader favorites that are currently on sale and noteworthy to mention…
*Wayfair sale items in the below photos will be linked in red.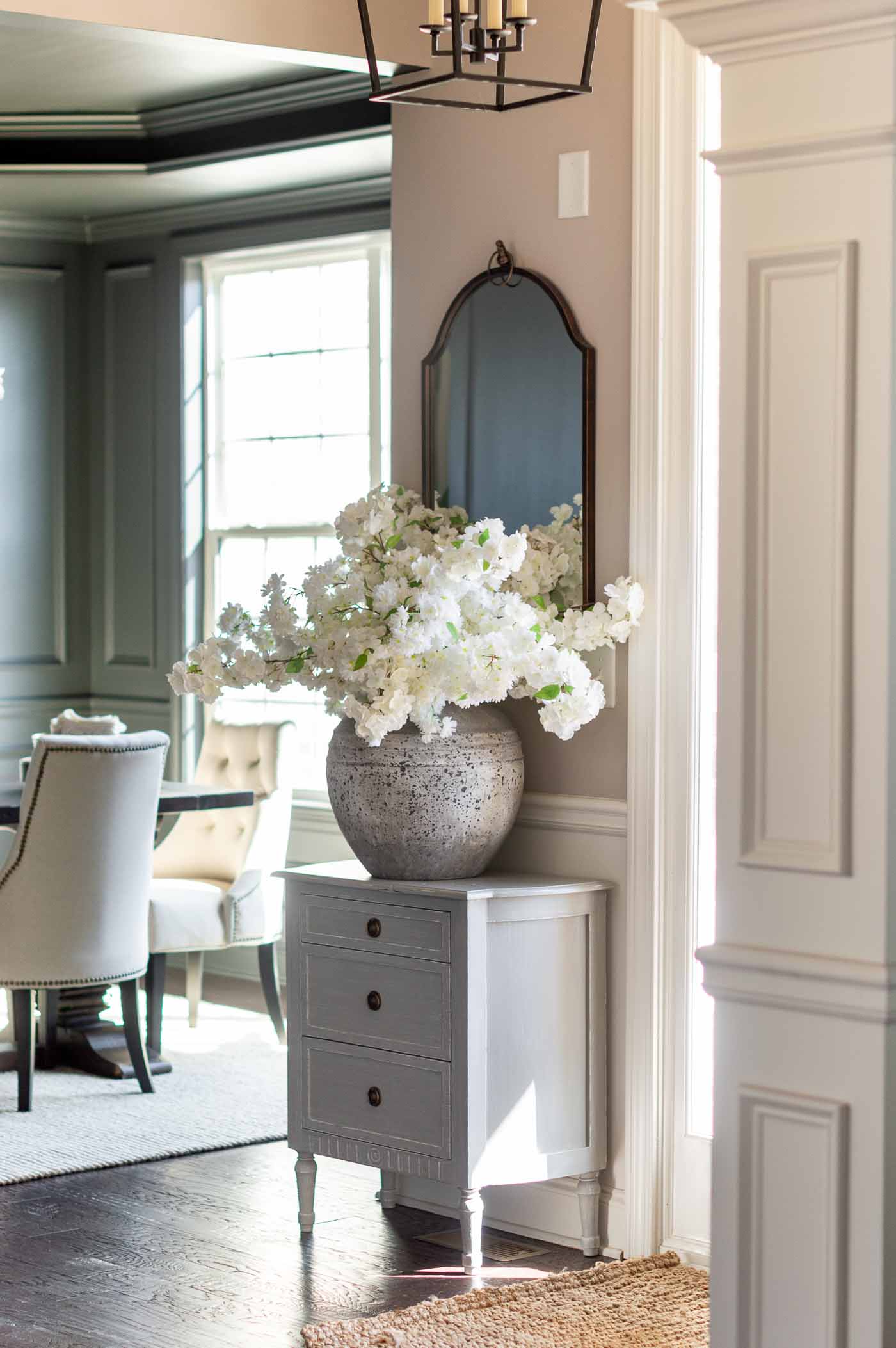 Sources: Lantern Chandelier | Gray Chest | Mirror | Jute Entryway Rug | Large Cement Vase | Cherry Blossom Stems – 44″ | Cherry Blossom Stems – 40″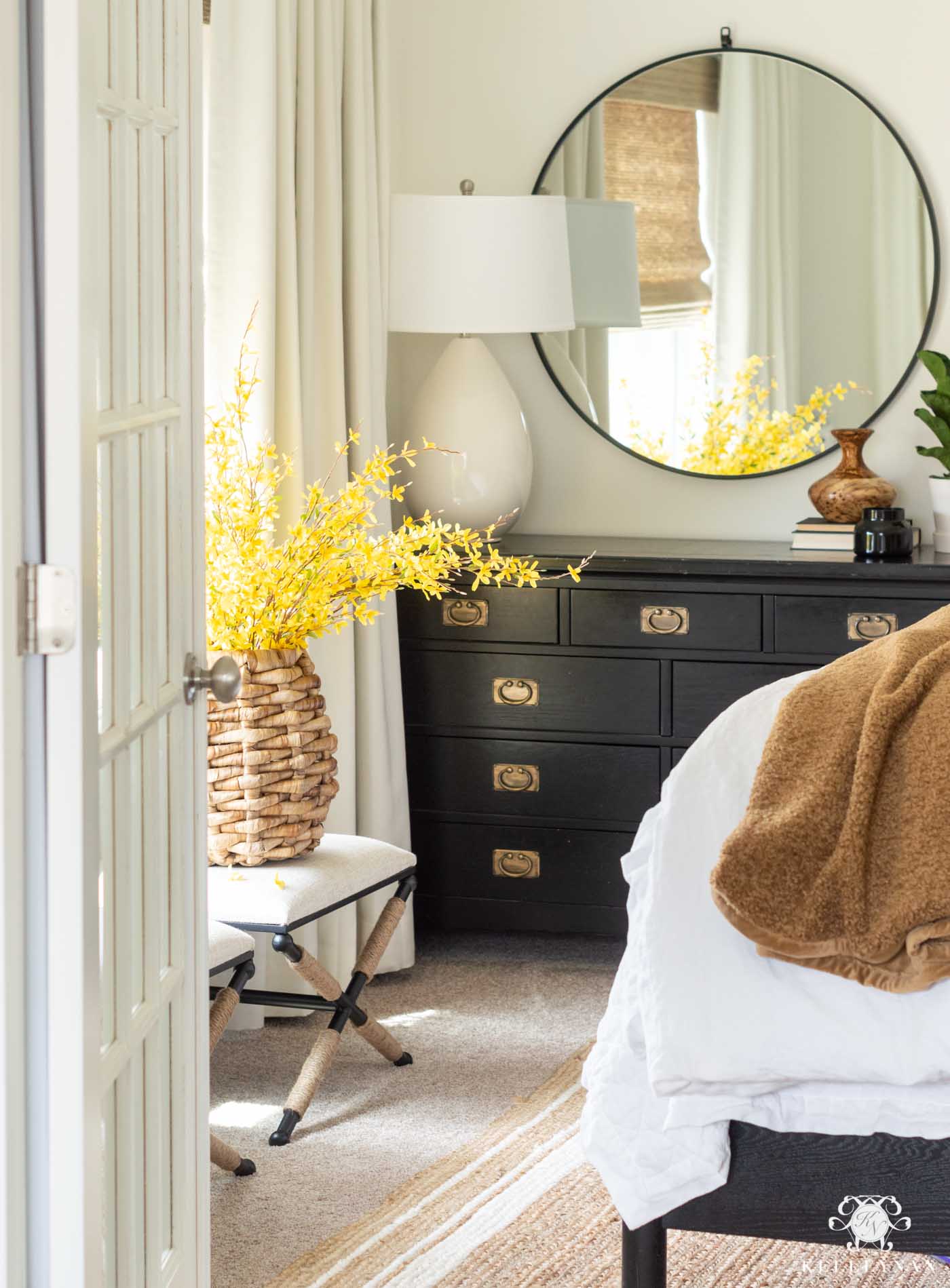 Sources: Round Mirror (black; 36″) | Dresser (similar) | Lamp | X Bench | White Linen Duvet Cover | Diamond Linen Quilt | Teddy Bear Throw | Forsythia Stems | Jute Rug | Candle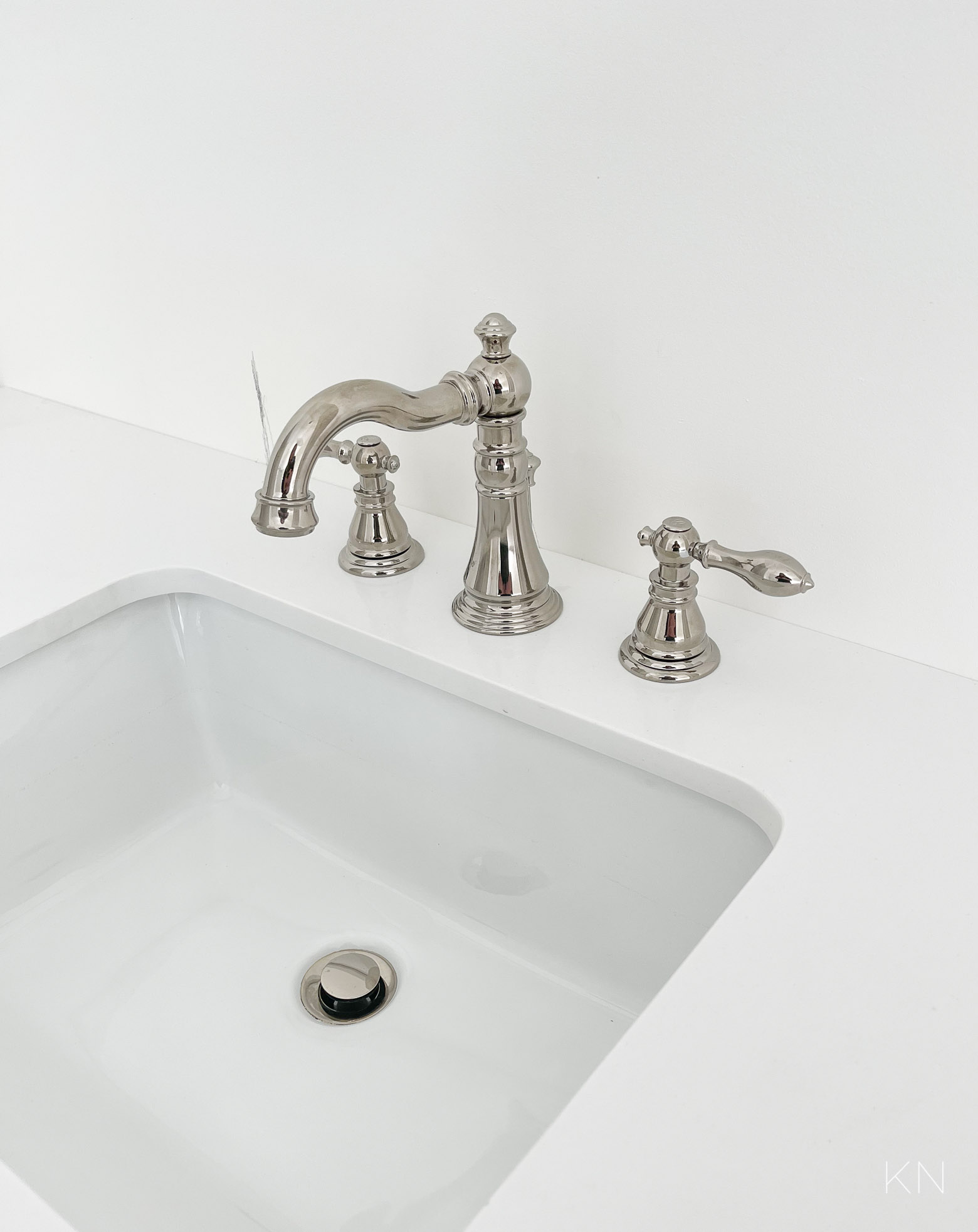 Sources: Faucet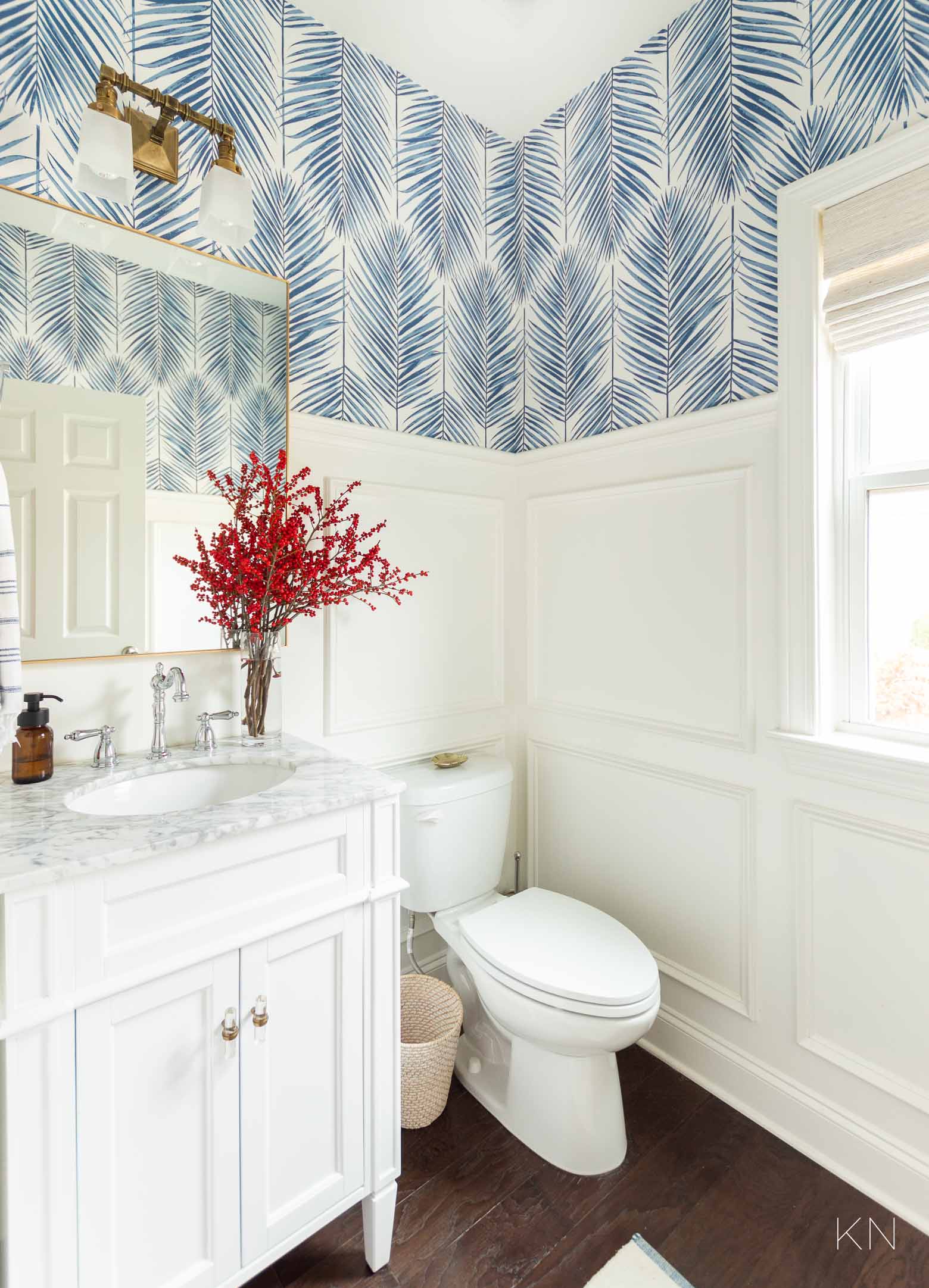 Sources: Vanity | Faucet (chrome) | Mirror | Sconce | Wallpaper | Rug | Turkish Hand Towel | Waste Basket
You can browse the full sale (everything ships free — even furniture!) HERE.
The item at the top of my list I'll be searching for during Way Day is a hood insert for the kitchen. I had finally picked one out and sent it to my contractor for approval but never heard back and now it's out of stock. So, that will be priority.
I'm looking forward to being off the map and totally out of touch next week and can't wait to recharge and come back reinvigorated, ready to tackle those pesky and looming life things that have been hovering. It's been a "season" for sure, but I'm catching a glimpse of light at the end of that tunnel. <3