I was running errands this past Thursday and I glanced down at my dashboard thermostat – 85 degrees! In north Georgia, I think winter just kind of skipped us altogether (we didn't make a fire in the fireplace a single time :/) and I'm over it. I've held onto faux pine branches but it just doesn't feel right in flip flop weather so I'm moving on to all the pretty, fresh hues. The blue and white decor that was put away for Christmas has been brought back out and with each bedroom update or room textile refresh, I'm finding more and more spaces are getting decked in my favorite color palette — something I picked up from my grandmother, and then my mom. It's classic, it's coastal, and it's an easy way to blend eclectic styles together. Whether you just want to dip your toe in with a small intro of blue and white, or are already fully committed, today I'm rounding up a few favorites from home to fashion, from decor to organization, in addition to sharing some blue and white moments in my own home.
BLUE & WHITE HOME DECOR & MORE
*Posts on KelleyNan.com may contain affiliate links. Click HERE for full disclosure.*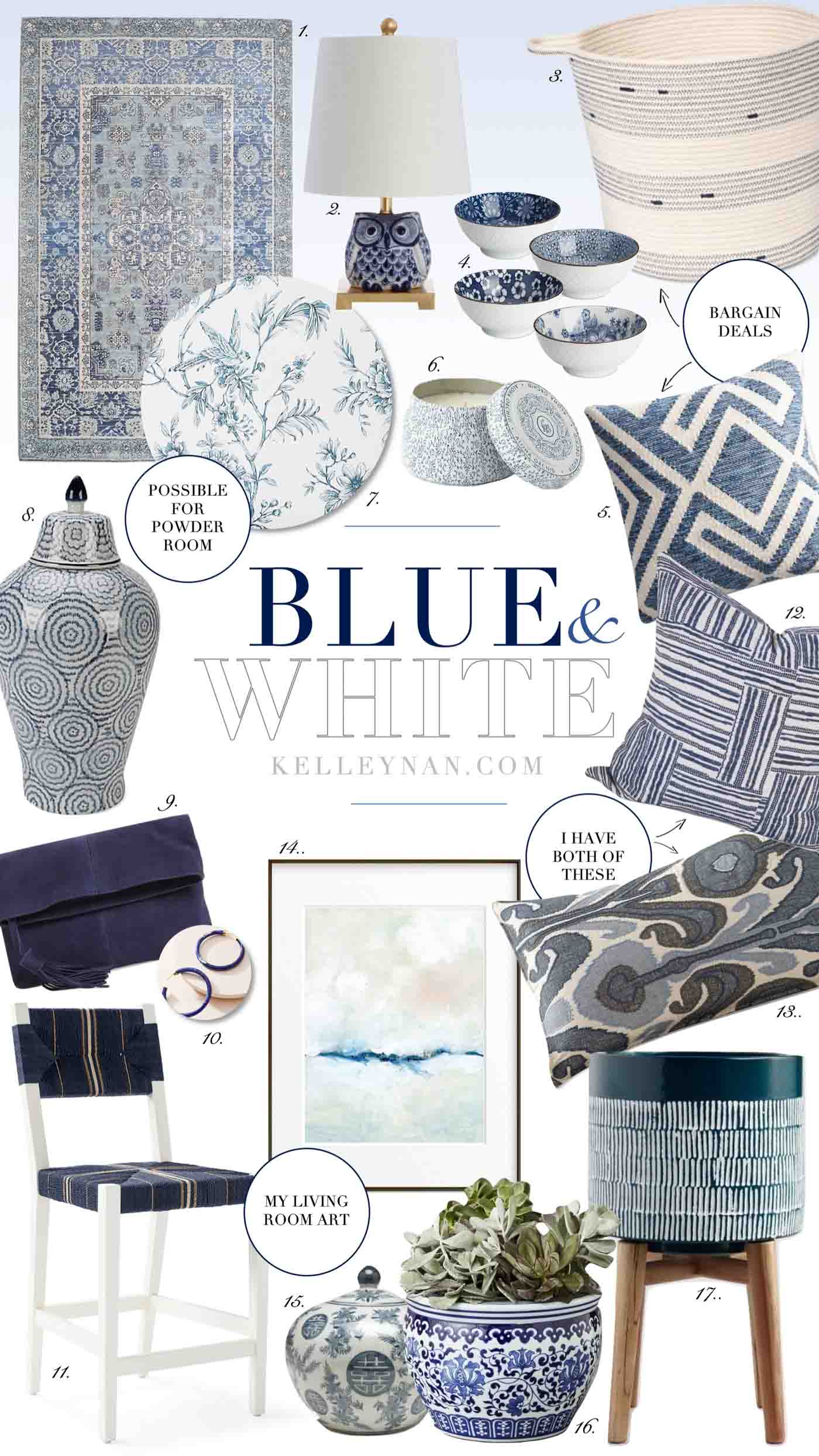 1. Rug // 2. Owl Lamp // 3. Rope Basket // 4. Cereal/Soup Bowl Set // 5. Geometric Indoor/Outdoor Pillow // 6. Capri Blue Candle // 7. Wallpaper // 8. Ginger Jar // 9. Suede Clutch // 10. Tortoise Shell Earrings // 11. Carson Counter Stool // 12. Quinn (Line) Pillow // 13. Ikat Pillow // 14. Art // 15. Small Ginger Jar // 16. Planter // 17. Planter on Stand 
---

---
At $36.99, THIS sweet little brass, blue and white owl lamp is a precious steal! And, if you're looking for storage for your office, kid's room, cabinet, or closet, THESE rope storage bins are under $20; I actually just grabbed a couple of THESE for the nursery last week.
I'm asked often where I find my blue and white jars (everywhere) but they can get pretty expensive; THESE 8″ jars are only $35.
We haven't started back on the powder room just yet (I think I may have tossed to many balls at once and I'm waiting for them to all fall haha) but I am mulling over which direction I want to go with the wallpaper. (I did get THIS mirror in gold a few months ago so it's the only strong commitment thus far, aside from the wall trim we added when we did the kitchen.) I LOVE the direction of THIS blue and white floral wallpaper, though. And, speaking of "kitchen", I considered a version of THESE stools before ultimately going with the rope style I ended up with. They do come in both counter and bar height, in four different color combos  😉 *You can get them right now for 20% off with code ENTERTAINING HERE. Coincidentally though, it was my love of these stools that led me to springing for the bed (HERE) I just purchased for Mama Nan's room (which by the way, is still on mega sale 😉 ).
My living room feels best when it's dressed in a little blue and white and THESE pillows have made their way around multiple rooms in the house over the past year. The art you see in the background (HERE) is huge and took this sad blank wall up about 10 notches when we hung it. I went for the 40″x54″ but it comes in seven sizes, all the way down to a 5″x7″, matted or un-matted, and in almost 20 different frame options.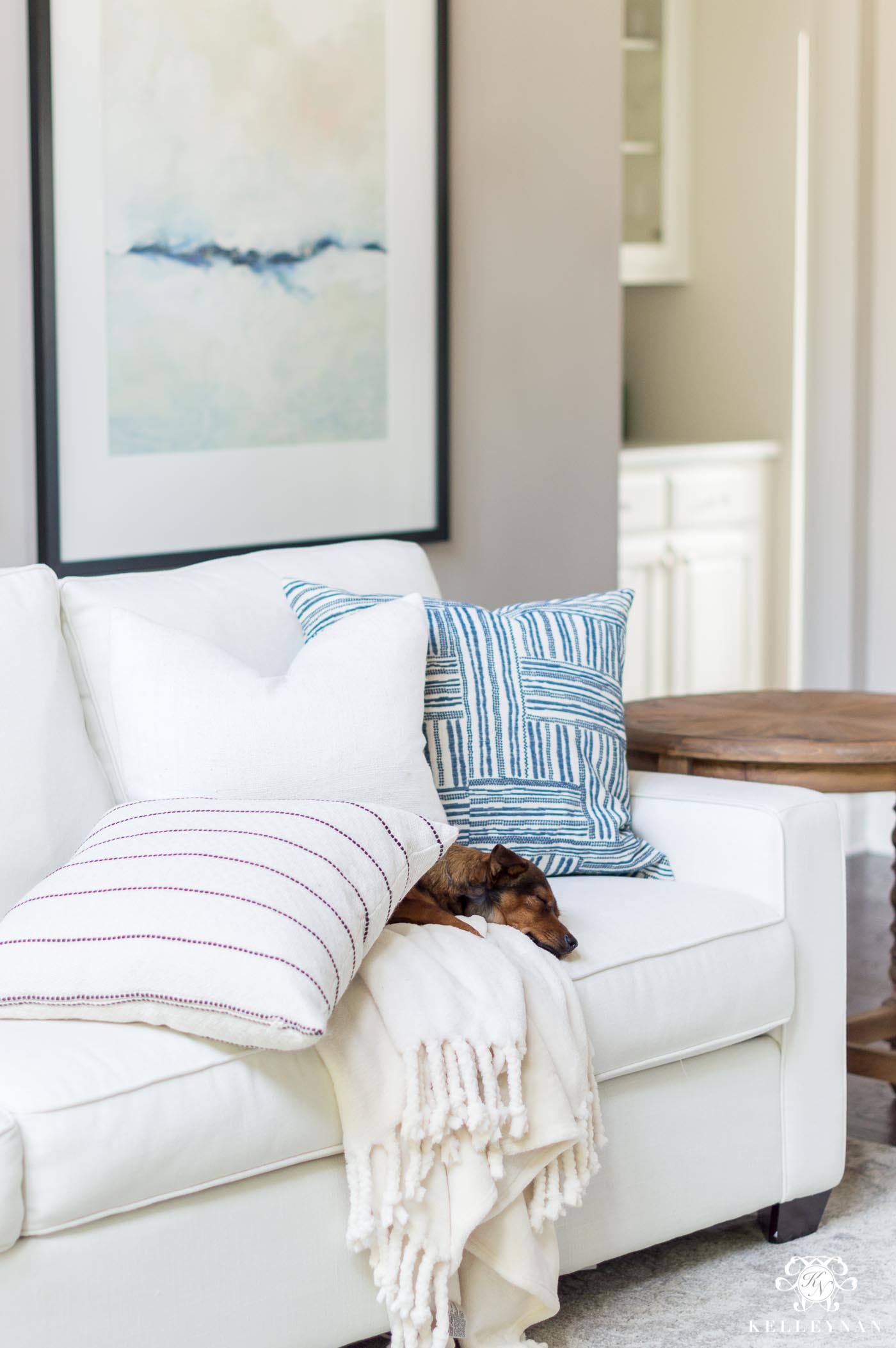 ---

---
A more recent blue and white moment is happening in Mama Nan's room; I just shared my plans for her bedroom update this past week HERE. I love all the different blue hues in the ikat lumbar pillow but pay attention to the size – it is much larger than any of my other lumbars and I did have to order an insert along with it 😉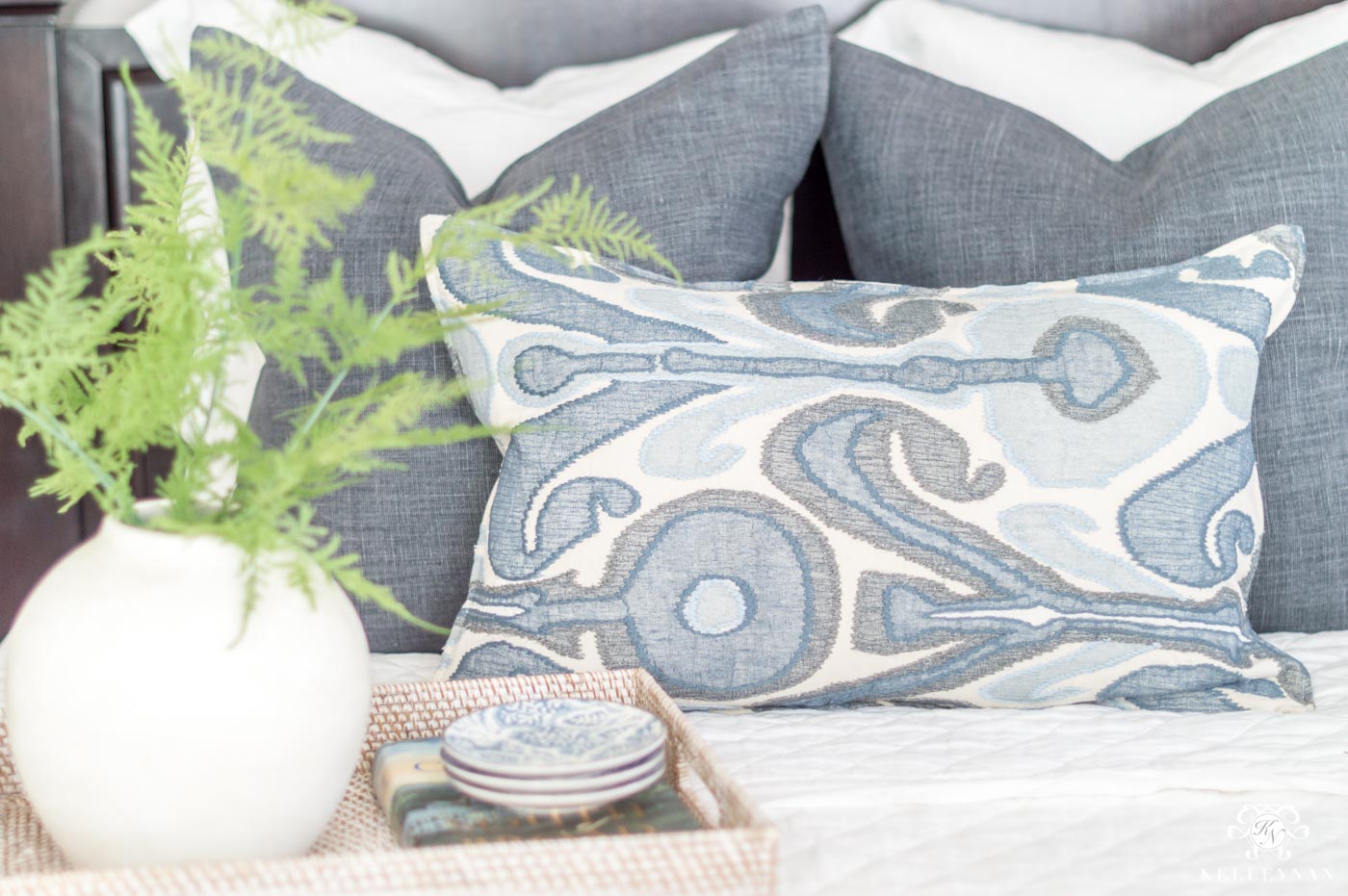 ---

---
The first room I committed to blue and white (while still leaving it fairly easy to switch up color palettes) was the blue and white guest bedroom. THESE indoor/outdoor geometric blue and white pillows remind me of the throw pillows on this bed that went out of stock a while ago (just at a fraction of the cost 😉 ). The striped duvet cover actually comes in a couple of other colors.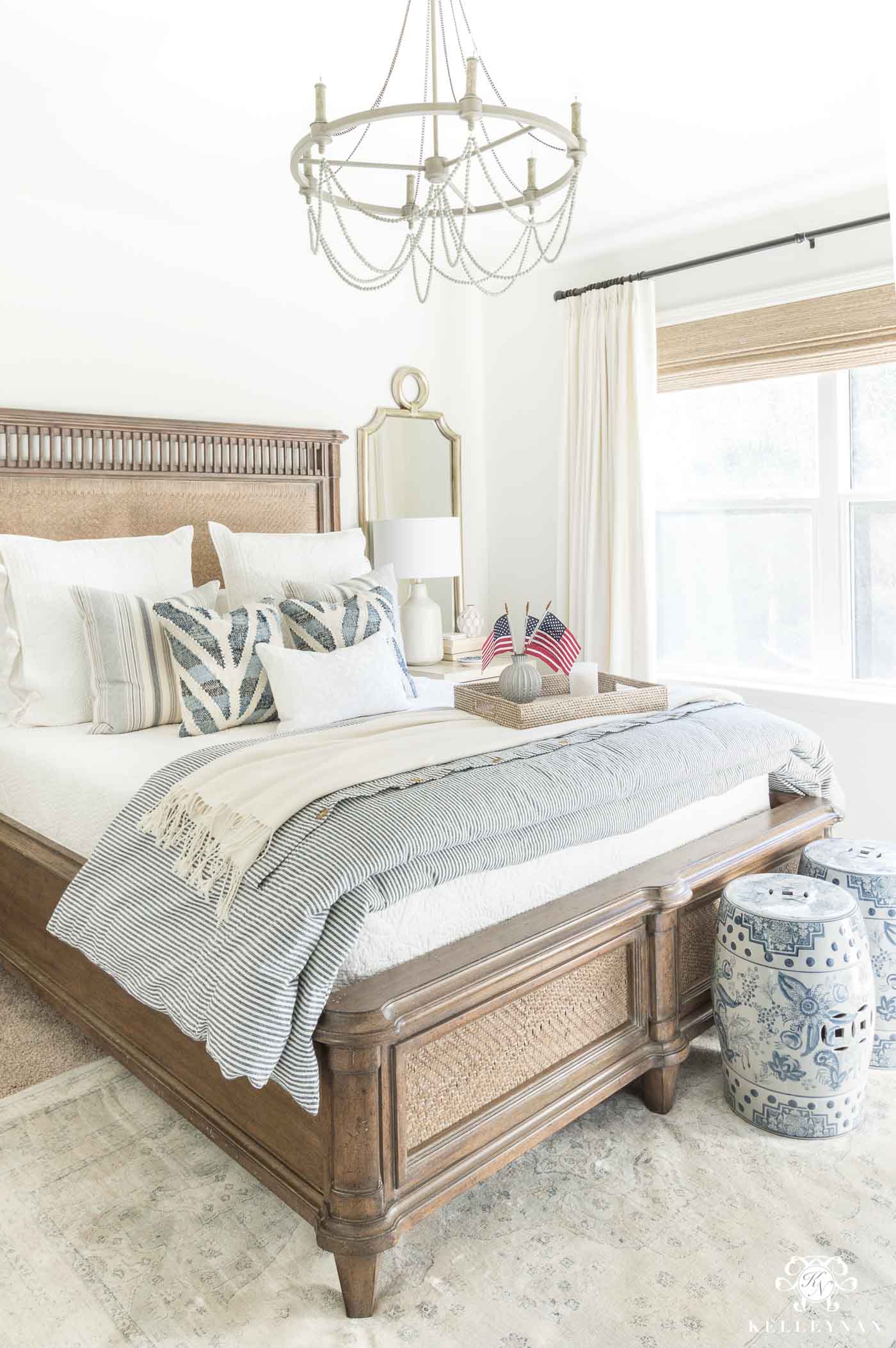 ---

---
My bedroom has been through it all from wine red to deep green to lavender and all neutral, but this blue and white is probably the look that re-appears most often, throughout the seasons. Sometimes a little pillow pop is all ya need 😉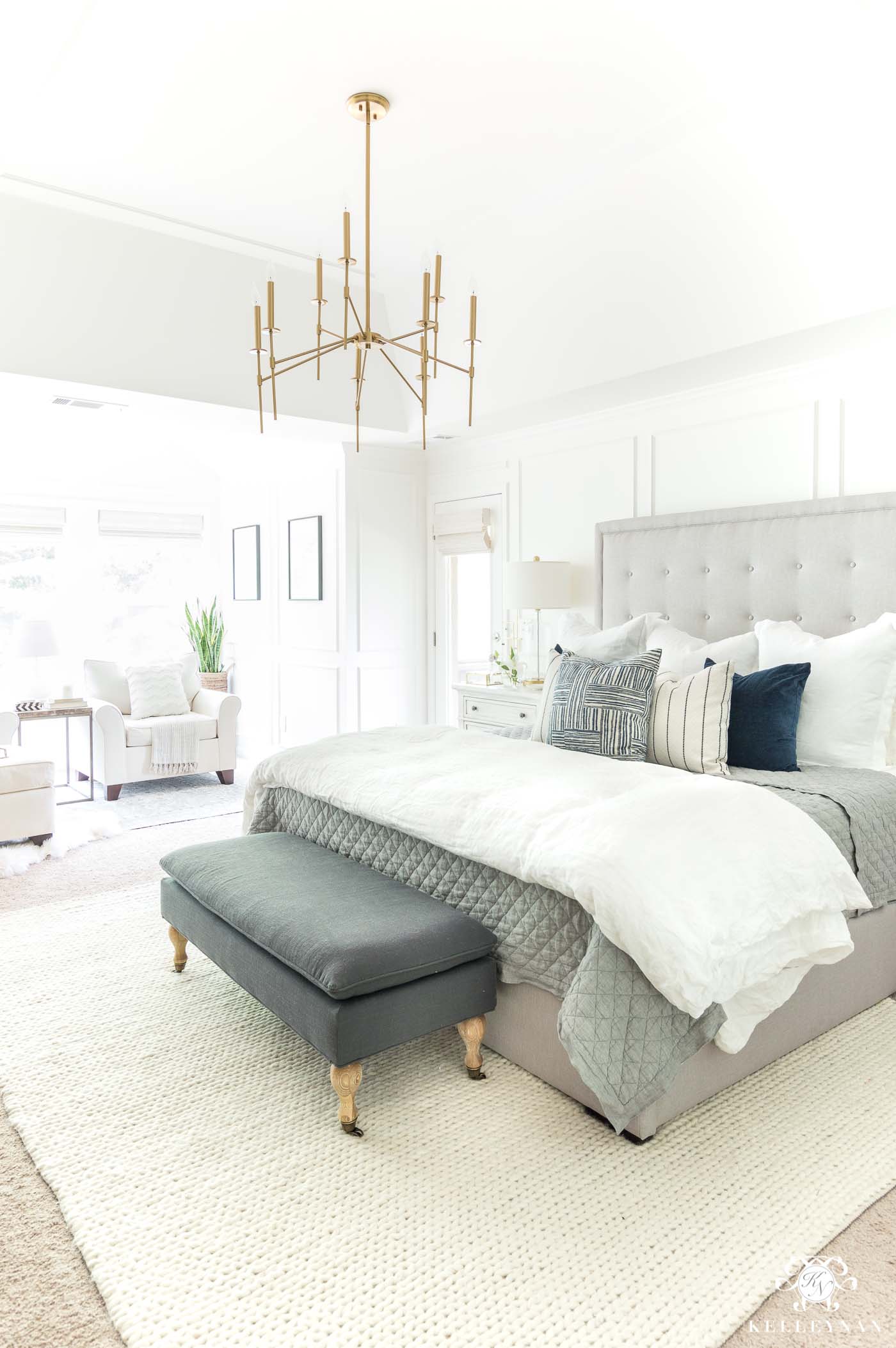 Blue Pattern Center Pillow // Black Stripe Pillow // Indigo Velvet Pillow
---

---
Starting this weekend, I'll be shifting from blue and white to all things green in celebration and preparation for St. Patrick's Day. Subscribe to receive emails at the bottom of the post and catch all the upcoming entertaining ideas, room makeovers, and even a few personal things I'll be sharing ;).
---
Scroll & Tap to Shop the Post

---