I know you're not supposed to wish away the days but after this heat stroke of a summer in Georgia, the day following Labor Day can't come soon enough! That week, my army of pumpkins will start making their way up from the basement and regardless of actual temperature, I will at a minimum pretend that the hoodies I will insist on wearing are necessary 😉 . I am staying true to the same base decor I used last year, but there will be some pretty big changes… I just hope they turn out as I envision them. But, I'm currently still in planning mode. I've started browsing Pinterest and Instagram, and stalking scoping out lots of favorite blogs for ideas and inspiration. Today, I am thrilled to be joining seven other bloggers to share our own ideas to help give a little jump start to the seasonal brainstorming. I will be sending you on to the next blog in our little loop at the bottom of this post; believe me, I will be touring and taking notes right along with you 😉 Welcome to Best of Fall: Decorating Ideas & Inspiration.
If this is your first time here, welcome and thank you for joining us today! You may not know me yet but I am a big advocate for a neutral base with optional, occasional, color incorporated. Last year was our first holiday season in our home and our seasonal decor stayed pretty true to how I decorate our home the rest of the year. I even carried the inside theme to the outside and front porch. I loved this look and was able to keep it up through Thanksgiving. Here is an earlier shot of my mums; just like my ferns in the warm weather months, I insist on getting these at Costco. They are a fantastic deal, grow to a monstrous size, and last. This year, I am planning a bit of a different look for my outside. If you change your mind as much as I do, try to purchase decor that can be used across multiple styles you may test out over the years, and use the perishable/natural decor as the place of variance.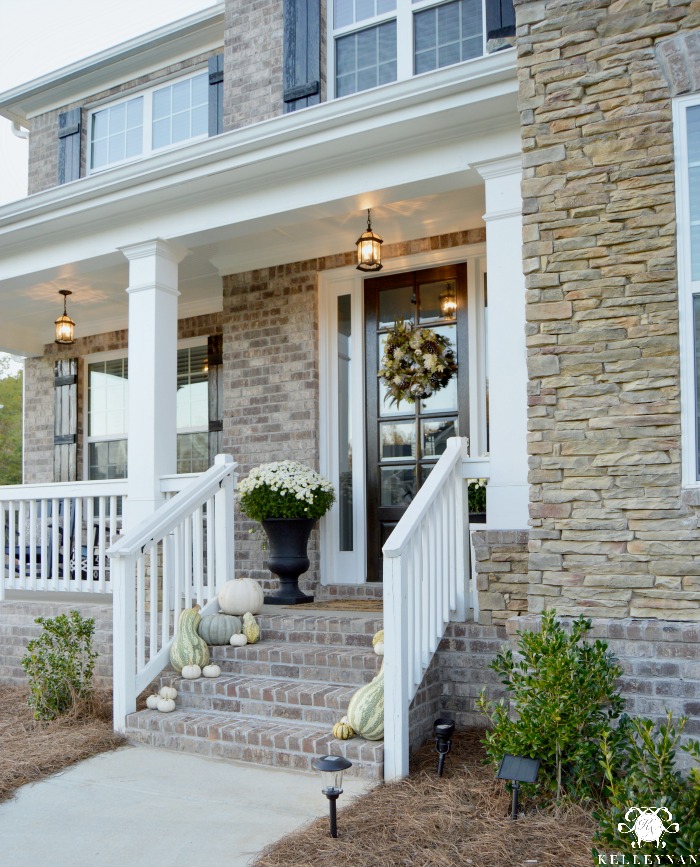 GET THE FRONT PORCH LOOK

Inside, navy was the most prominent accent color in my living room. I brought out some of the darker grays and even a few (very few) natural browns. Are you wondering where the oranges are? Why I don't have red woven throughout my home? Well, something else you may not know about me just yet is that I am a big believer in not decorating by what we think we are supposed to see, but by how we feel. Fall makes me think of coziness, heavier layers, and natural elements. That is how I decide on my seasonal decor. You are not obligated to use literal decor or traditional colors.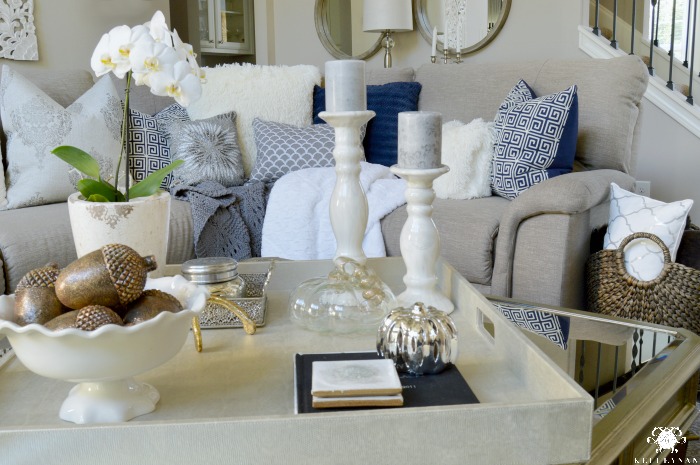 I stuff baskets with throws and pillows and position them all over the house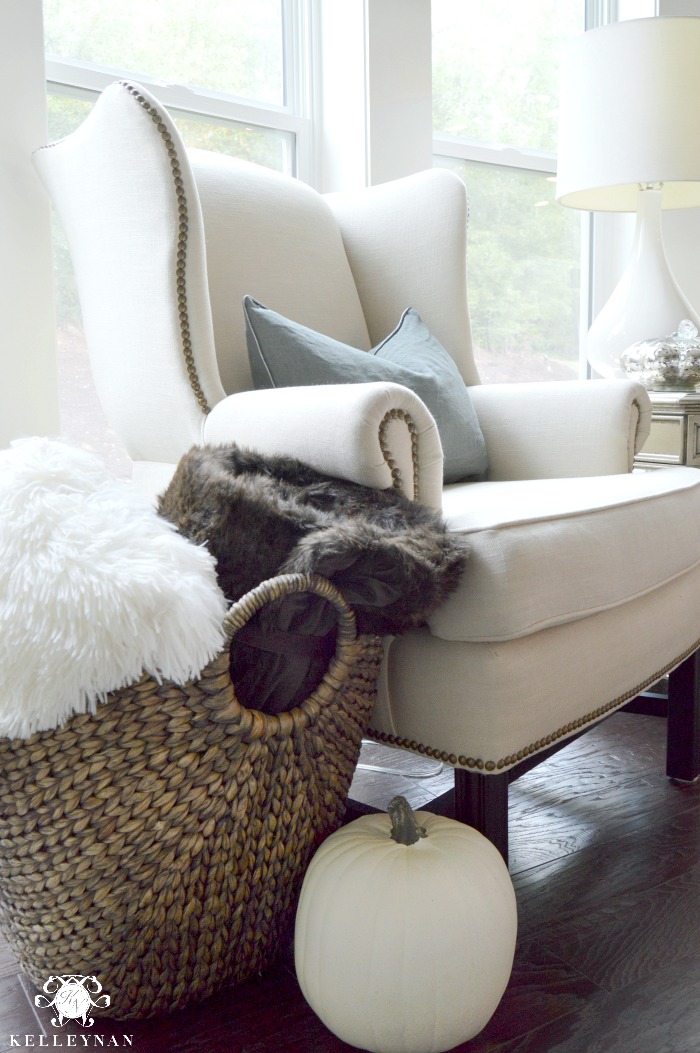 And I don't go easy on the sofa, either. Choose some heavier fabrics, different textures, and layer them up and you've got fall.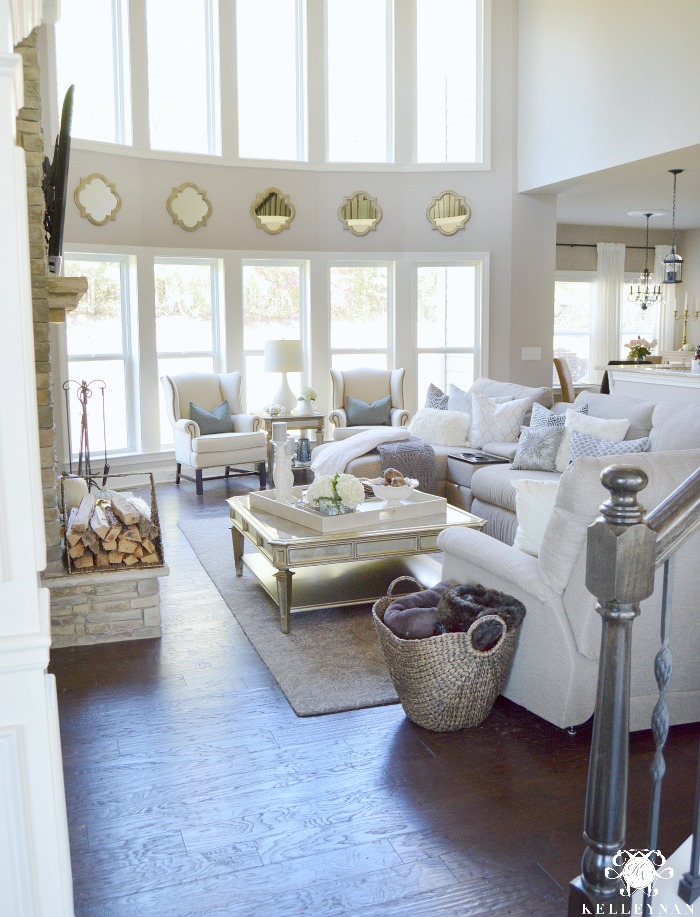 GET THE LIVING ROOM LOOK

[Visit this post for full living room sources and details]
Just like I start regularly wearing hoodies, even if the AC is on blast, I also long for cozy, comforting fires. If it isn't quite cool enough to set the fireplace ablaze, you can create a similar ambiance by using candles. These with the antique mercury glass (HERE) are my favorite.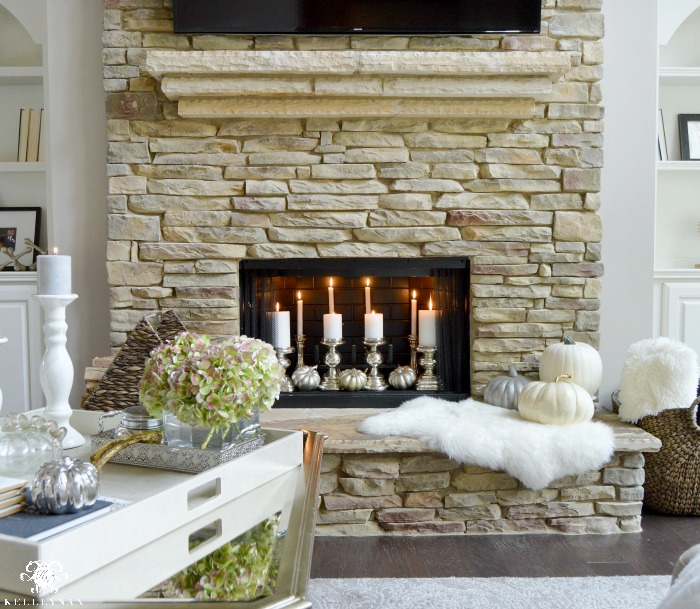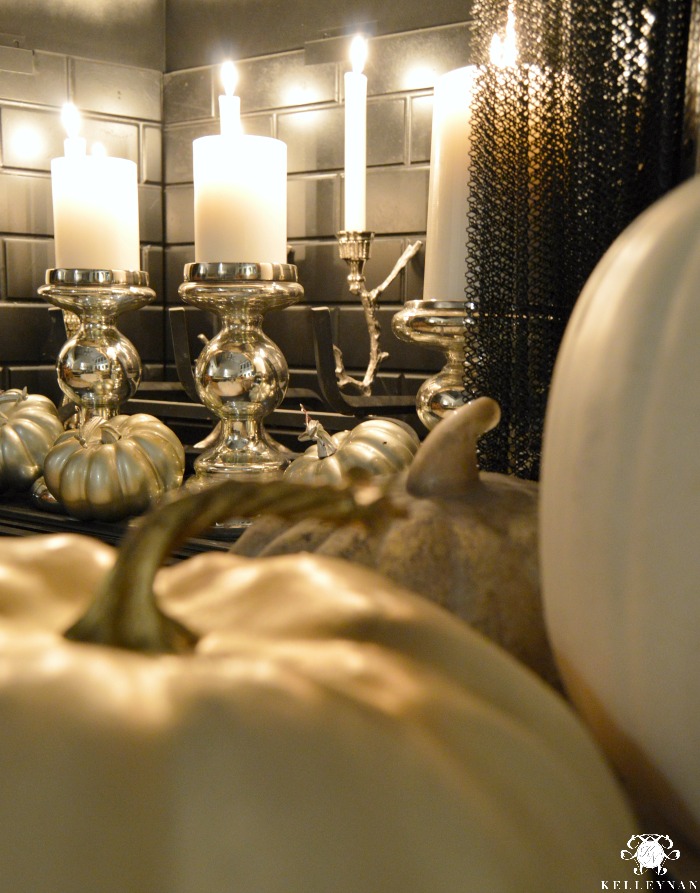 I use a lot of silver and gold during fall (ok, I use a lot of silver and gold throughout the entire year), but mixing metals on these fall tablescapes show how you can easily make it work for you.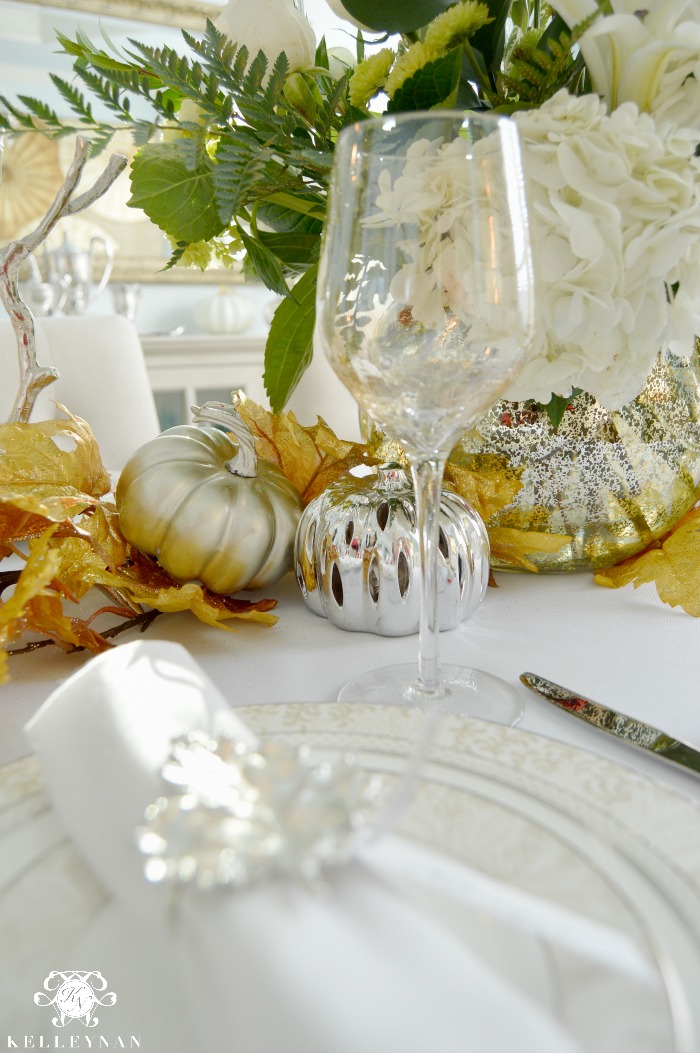 I created a fall garland, running down the table and switched out the centerpiece for two totally different looks. I typically like to concentrate more on the centerpiece and linens so I can use my neutral china.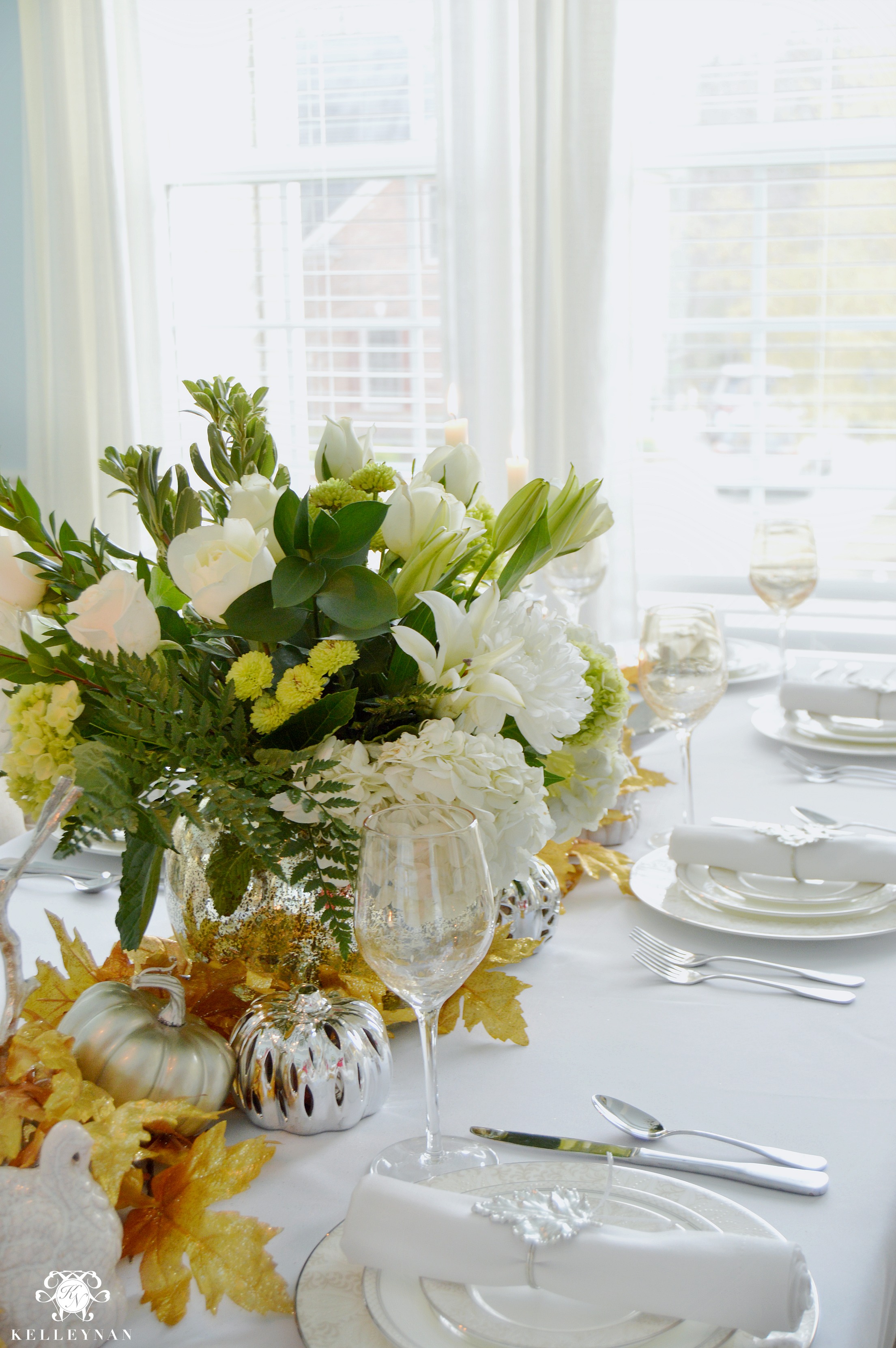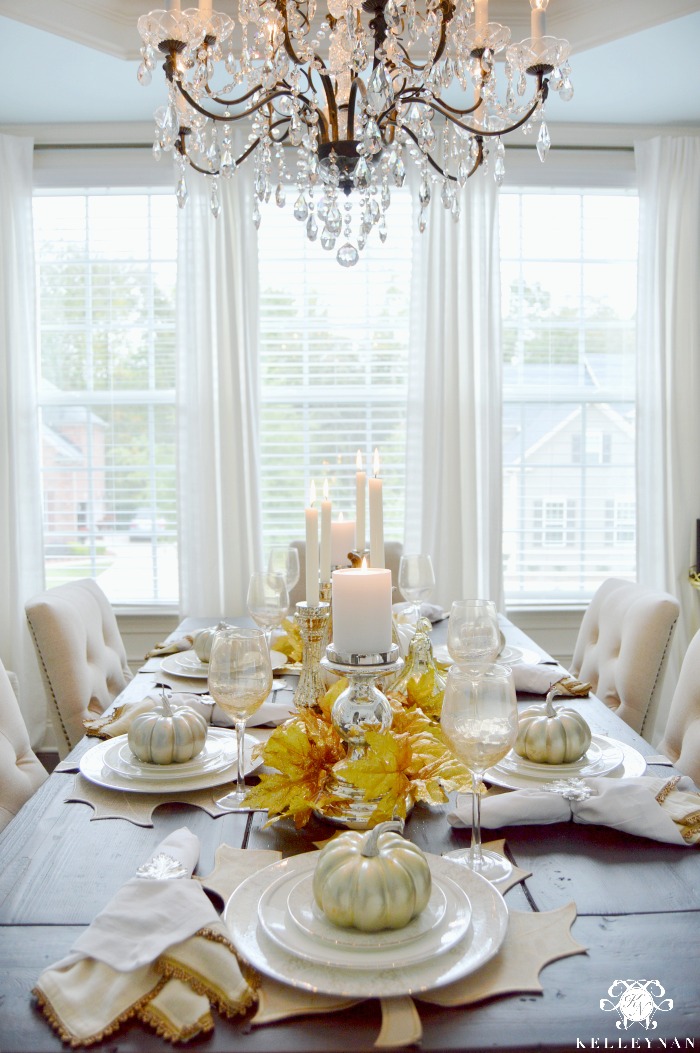 GET THE DINING ROOM LOOK

[Visit this post for full dining room sources and details]
These silver leaf napkin rings are the perfect elegant accessory. You can find my china patterns HERE (dinner and bread plate) and HERE (salad plate), and the crackle wine goblets HERE.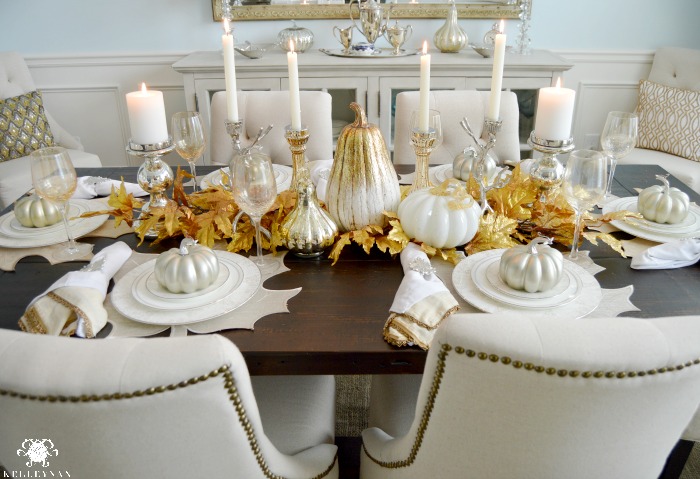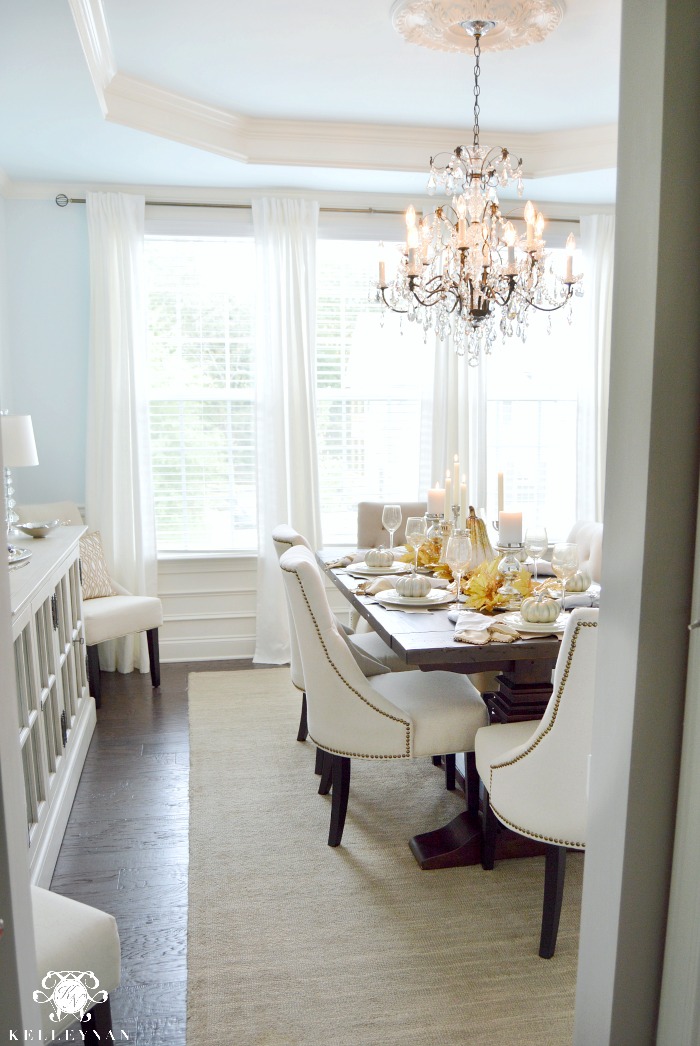 I concentrate most of my efforts in the common spaces but also enjoy the addition of a single, discreet pumpkin in unexpected spaces. The little mercury glass number was the only bit of fall in this guest bedroom; it was the perfect way to bring in just a hint of the season.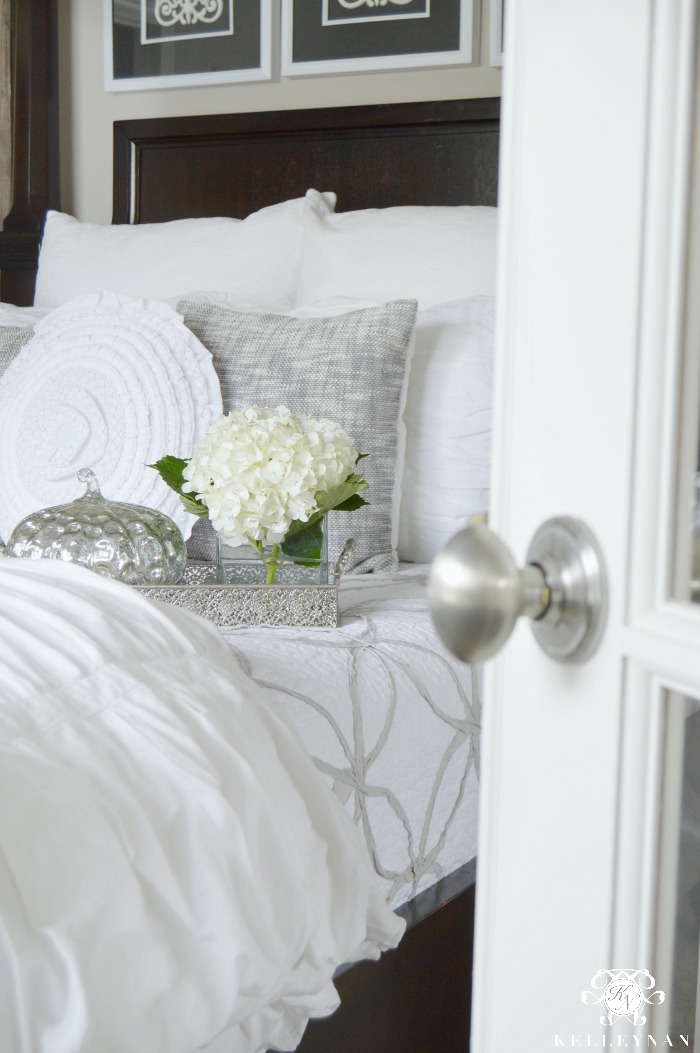 GET THE GUEST BEDROOM LOOK

[Visit this post for full guest bedroom room sources and details]

Just as I layer textures on my sofa, table, and bed, plush pumpkins are a great way to layer texture throughout your decor. I mix mine with metal and glass varieties. Pinecones make their way into the decor at this point also and stay through winter.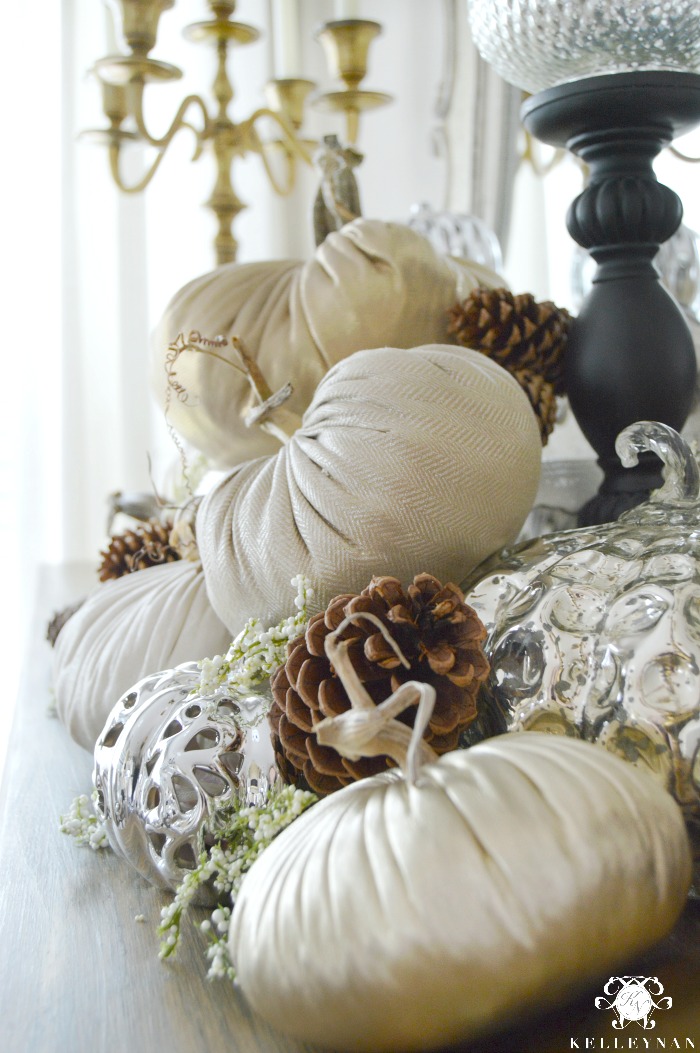 The most obvious and easiest way to get a jump on fall is to start lighting those spiced anything candles. Keep those babies burning during the evenings and weekends. If you are at home during the day, get your hands on a few more and keep them going then, too.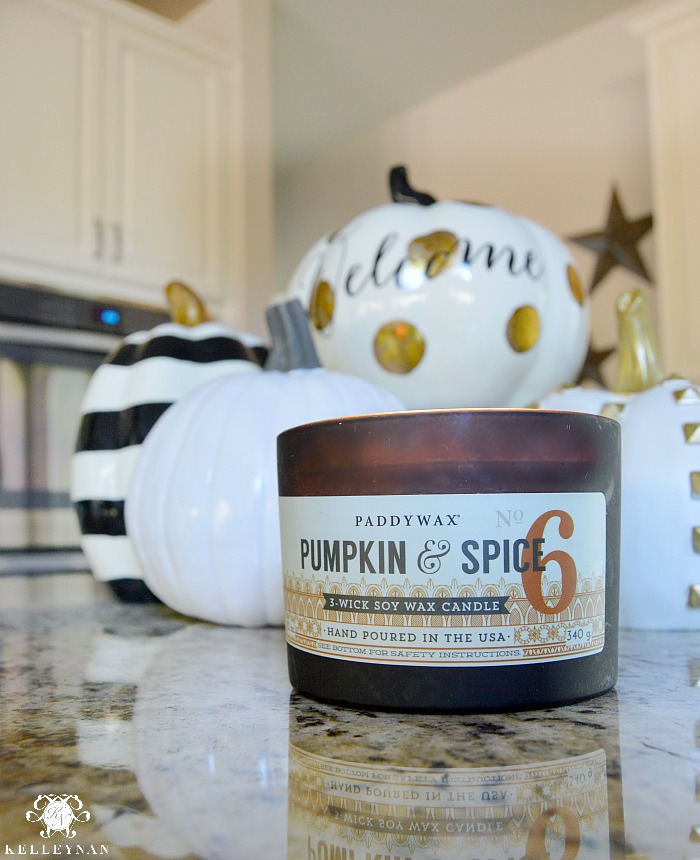 And as of this past weekend, I've already started simmering slices of oranges with cinnamon and vanilla on the stove – just like Mom used to do 😉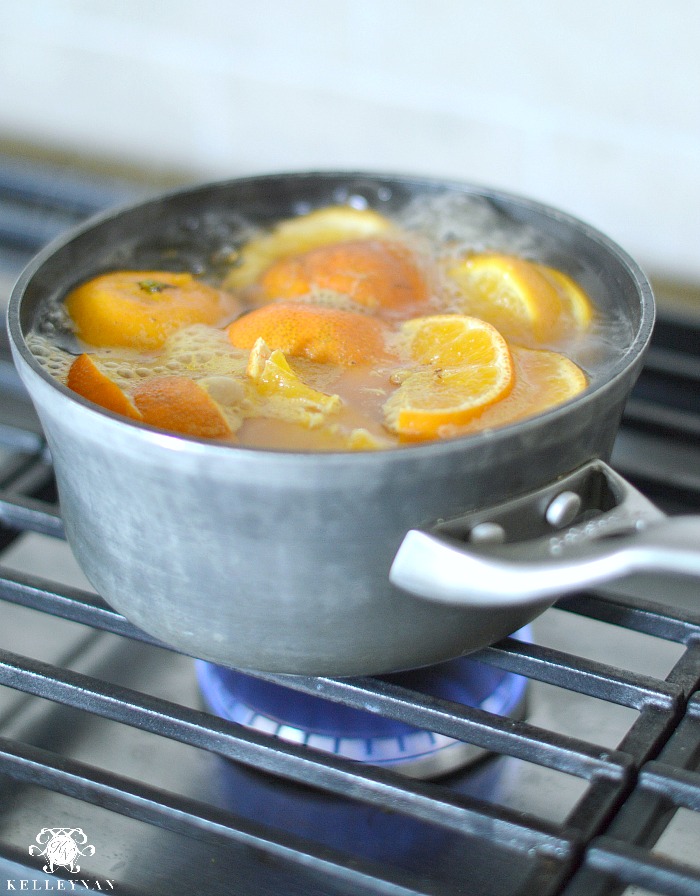 Last year was the first year I really got into using sheepskin when I brought out the fur. If you missed my recent post on why you need a sheepskin, you can check that out HERE. You can do something as simple as draping one on your hearth or chair back and you'll totally be ready for fall.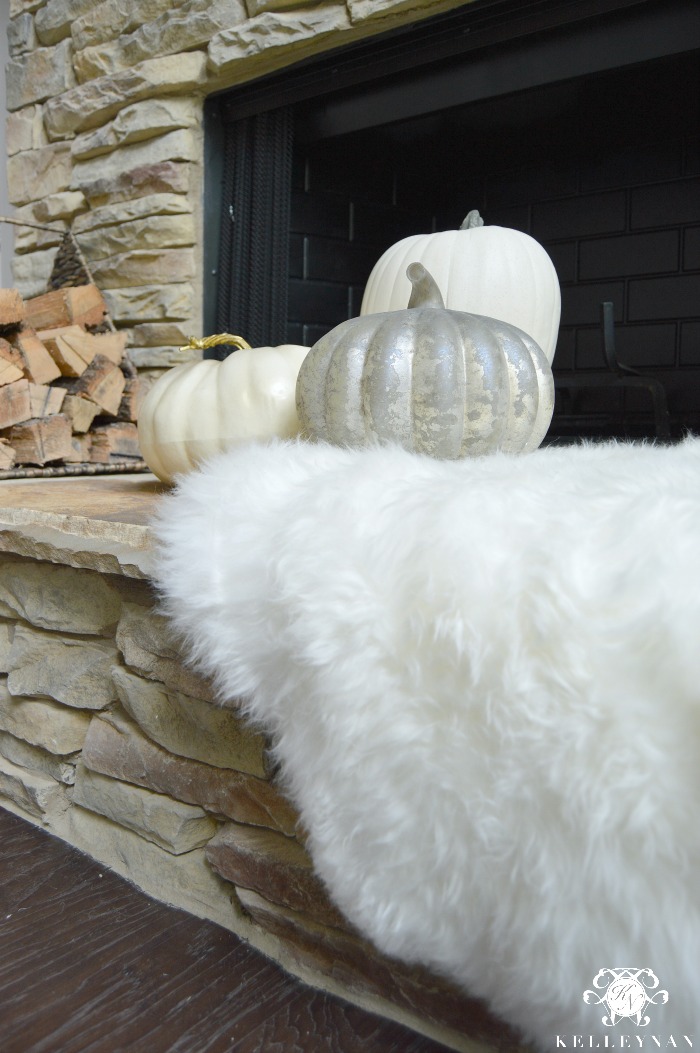 By now you can probably tell I like to set up little mini pumpkin patches all over the house. If you shop for some new pumpkins this year, try keeping a grouping of three in mind. And, if you don't find just the color you're looking for? Spray paint them. Last year, even though I found several white pumpkins, the orange were much cheaper in some circumstances. I brought home the less expensive varieties, taped off the stem, and spray painted them with what I had on hand.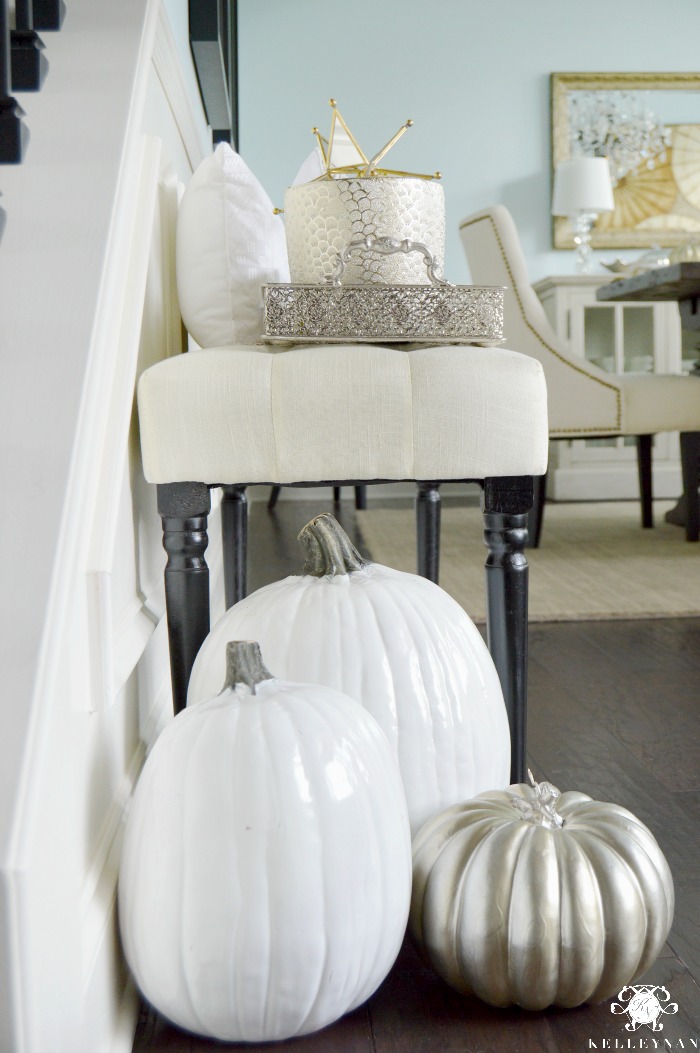 Now that you have taken a peek into my home and the simple ways I welcome fall, I hope you are thinking about how you can decorate this year, not exclusively based on sight. If you love those traditional autumn leaf colors, bring 'em out! If those harvest colors don't necessarily speak to your home, try something else. The only rule in seasonal decorating is- there are no rules. Give your home a feel which maximizes the joy of the season for your family.
PUMPKIN PICKS

Next, you will want to head over to Ann at On Sutton Place for some of her fabulous ideas. Here's a little peek of what's ahead 😉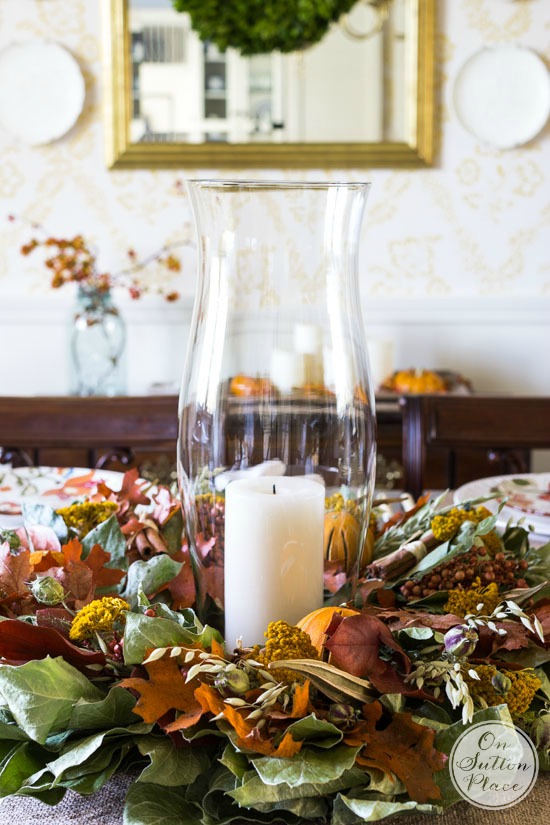 Each blog will direct you where to go next at the bottom of their posts; continue to loop because you won't want to miss any! Just in case, here's the rest of the awesome lineup 😉
 *post contains some affiliate links*