It's less than a week before Christmas and I'm starting to dial it back a bit and settle in to enjoy these last days to the fullest. I am making an effort each day to celebrate the season – I've been eating all the food, watching all the movies, and doing every activity possible while sitting under one of our trees. Our 12 days of Christmas box has helped hold us accountable to taking a time out each day to relish in the spirit. More on that HERE.
Part of the fun of the season is in doing ordinary activities, but adding a little extra "special-ness" to them to make them extraordinary. So much of Christmas is about magic and child-like wonder. Movie nights are fine…. BUT, announcing a fun movie night with snacks, "special" drinks, new Christmas pajamas and all the fixings? THAT is what my childhood dreams were made of. (Ok, and my adult dreams, too 😉 )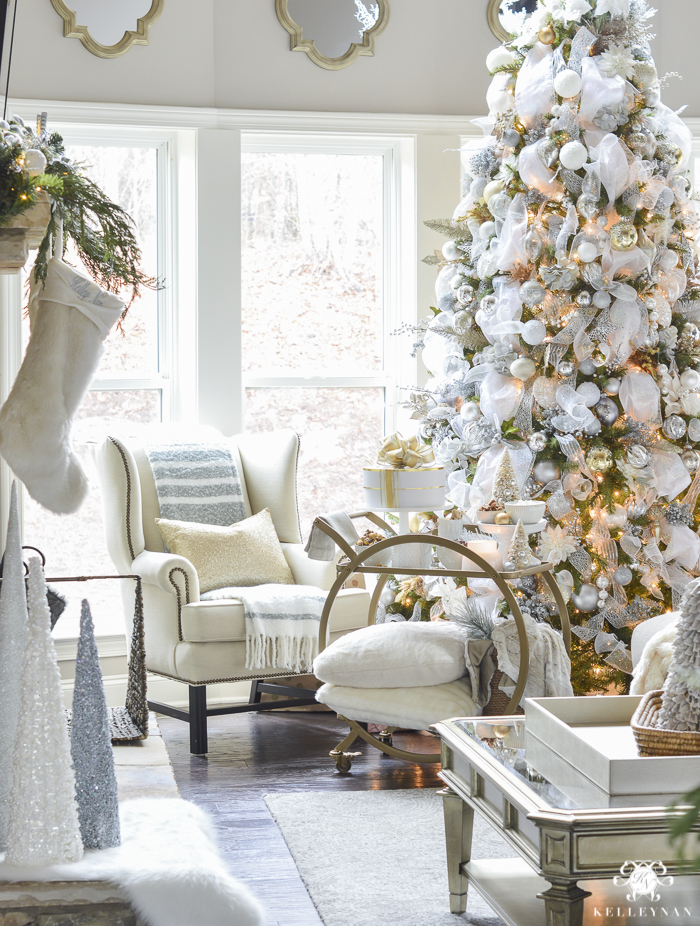 Here's how to quickly create the most memorable nights of the season. Load up a bar cart/table/stand/chair (anywhere you can stage goodies) with all the activity essentials. If you are planning a night of driving around, looking at lights, some fun new cups, pajamas, Christmas tunes, blankets, snacks, etc. can be arranged as the "announcement". A movie night in? Prep a favorite movie, game, snacks, takeout menus. blankets, etc. You've seen YouTube videos of the creative ways parents tell their children they are going to Disney World, right? Taking a bit of that effort into announcing/surprising your loved ones with a simply planned holiday evening can be just as fun. Ok, almost as fun 😉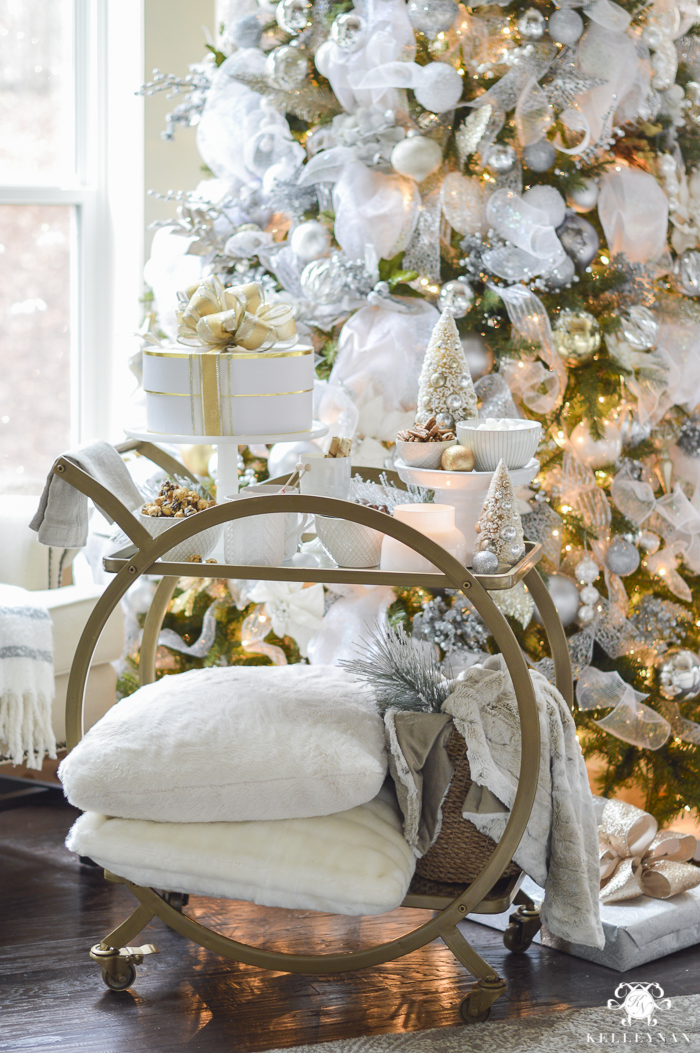 This cozy cart holds all the goodies for a mid-afternoon Hallmark Christmas movie marathon- a few of our 12 Days of Christmas cards have indicated something involving lounging and watching movies – clearly, we both were begging for some R&R haha.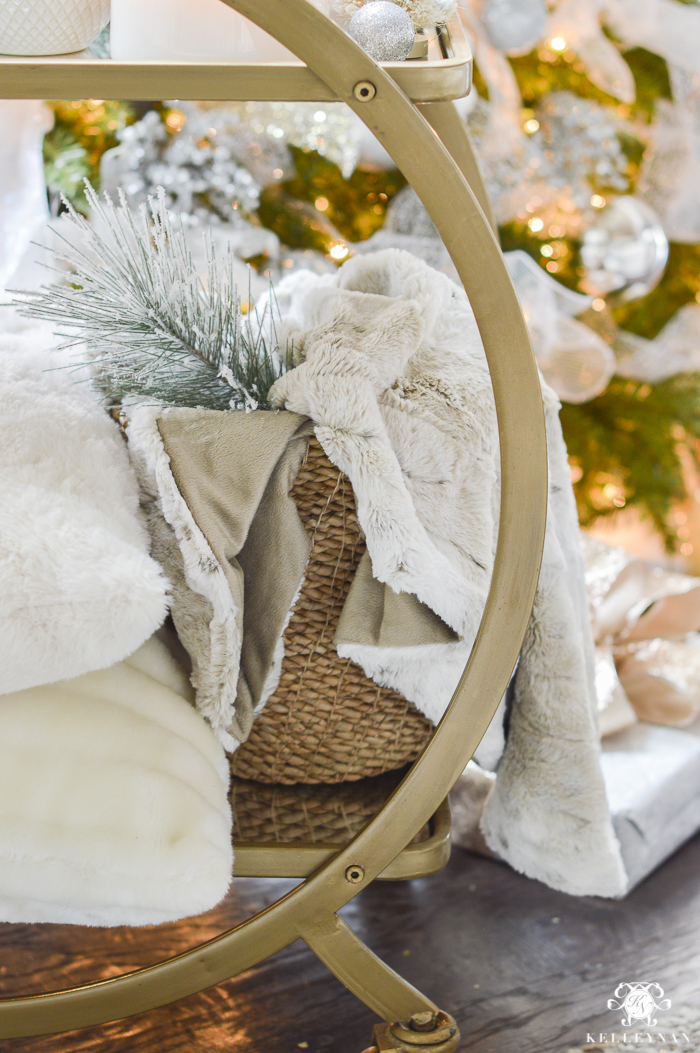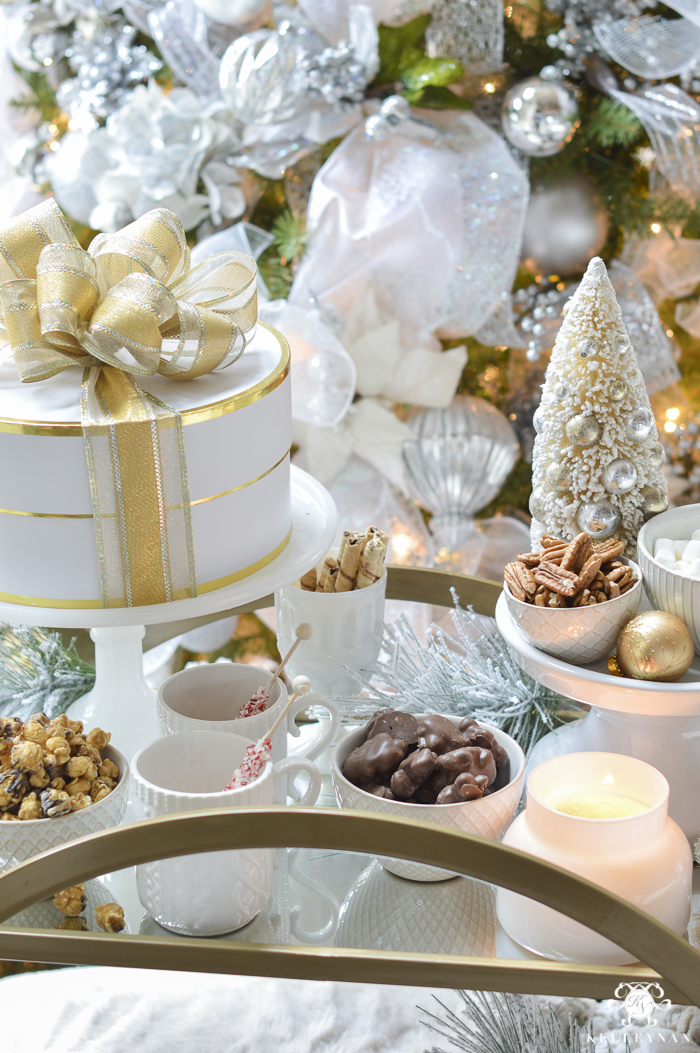 You can plan ahead for fresh baked goodies and favorite snacks, but, if the activity is impromptu, it's totally ok to raid your pantry to see what you have on hand. Simply distributing snacks and arranging them in bowls like a little snack bar will make all the difference.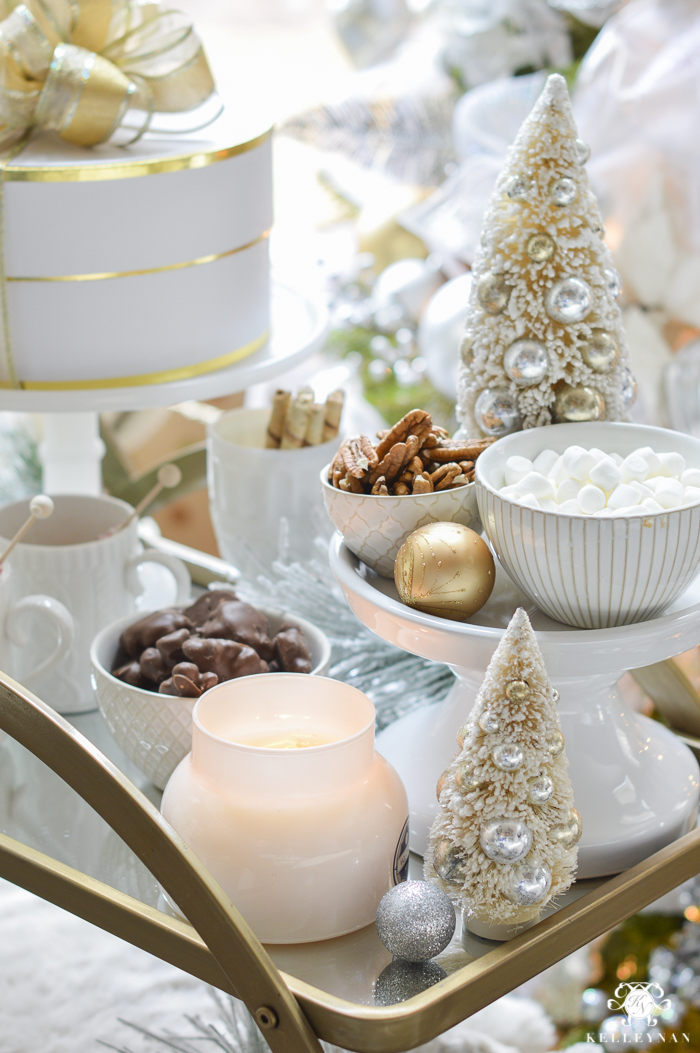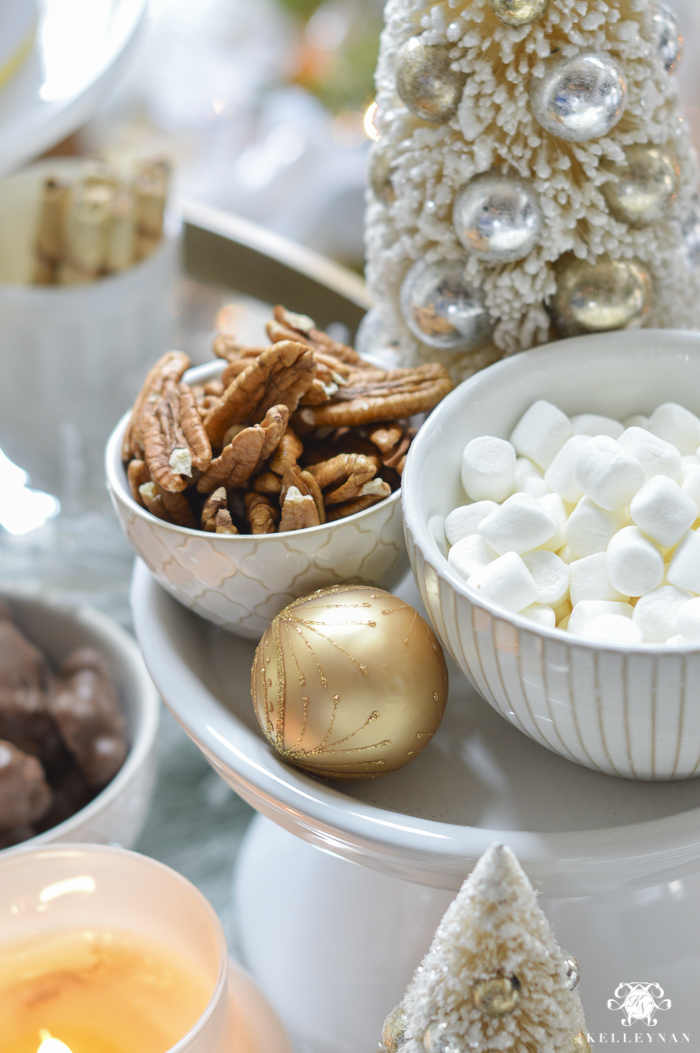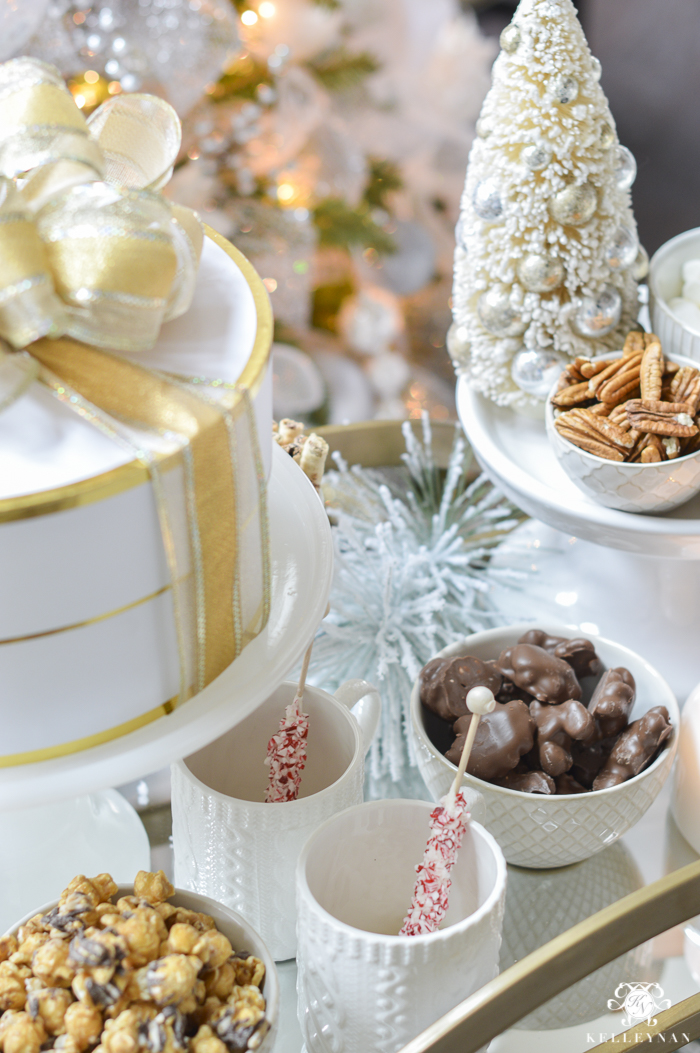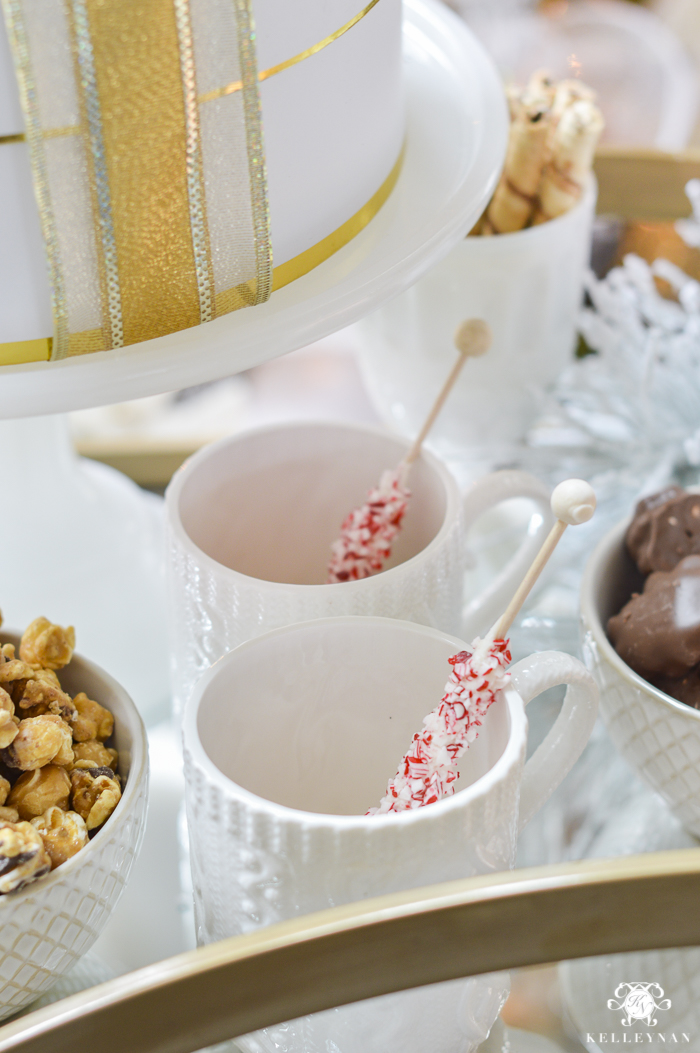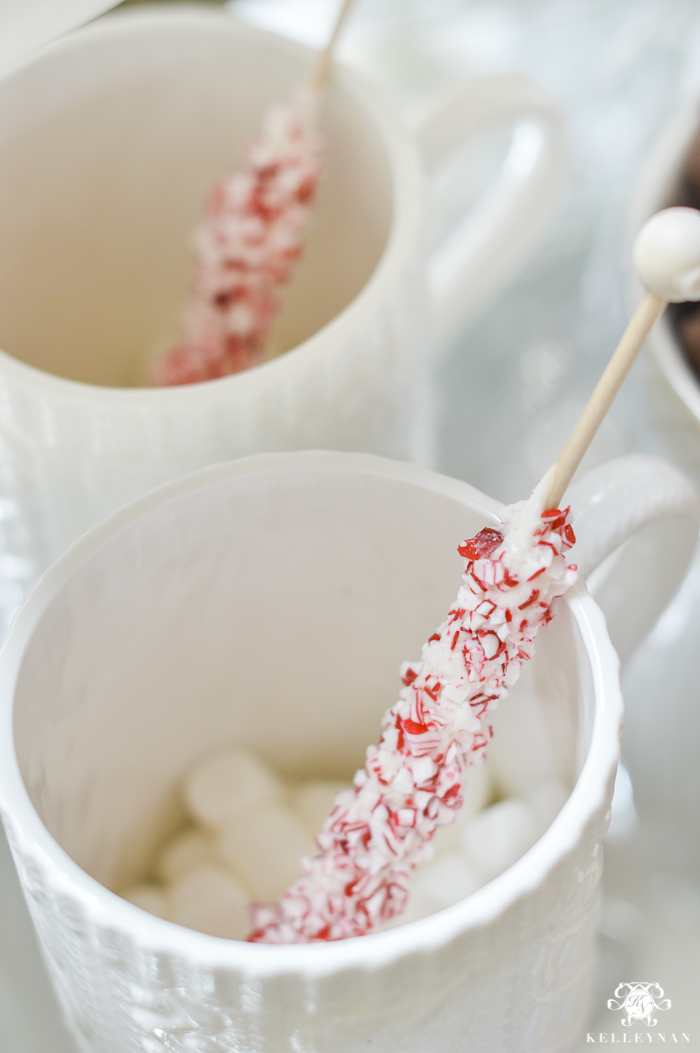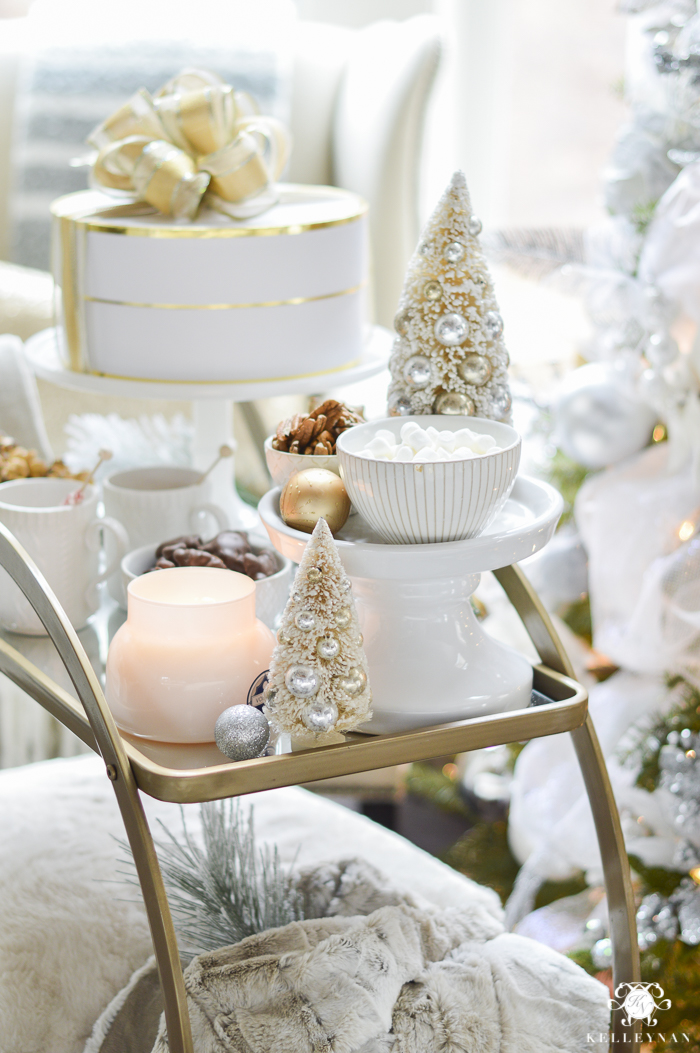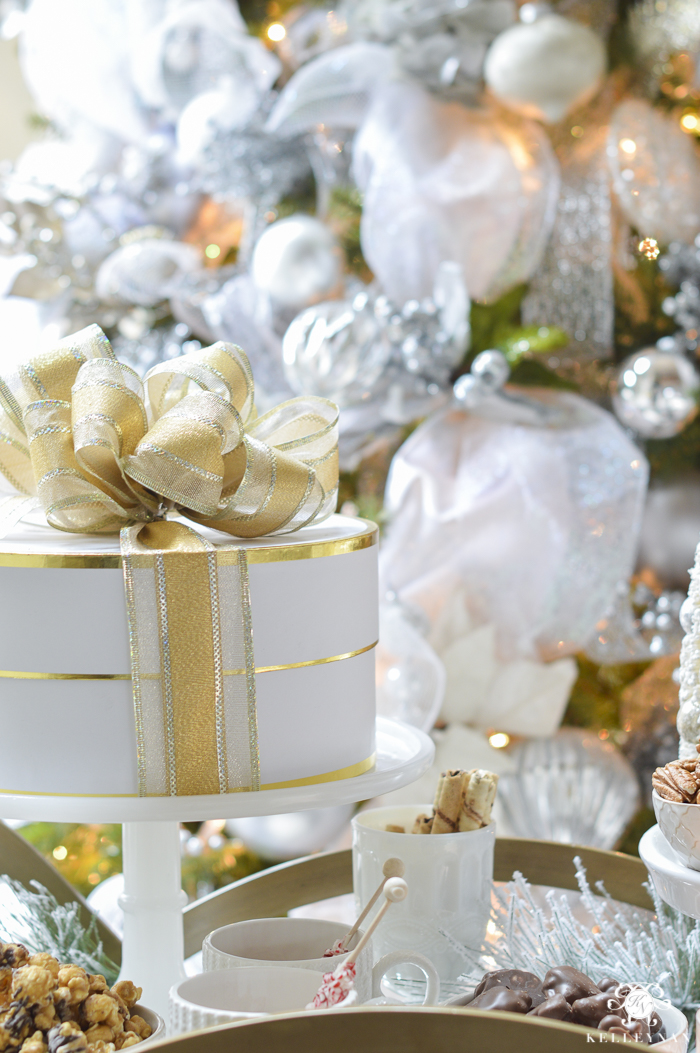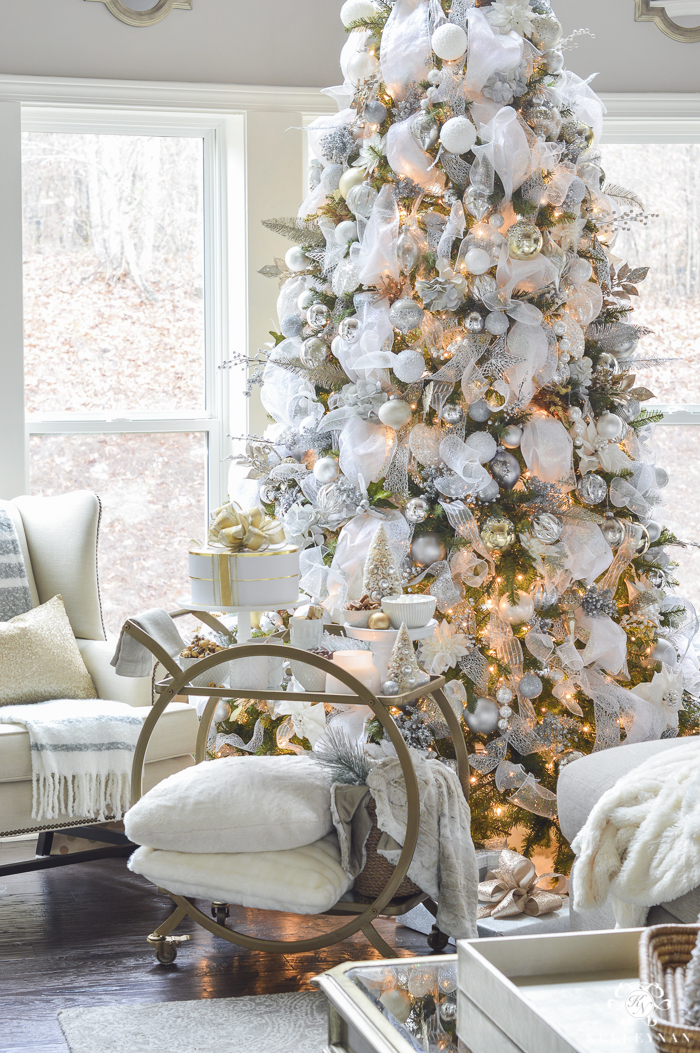 And when night falls, there is no place I would rather be than under the twinkling lights in our own home. I grew up creating special memories underneath the Christmas tree specifically.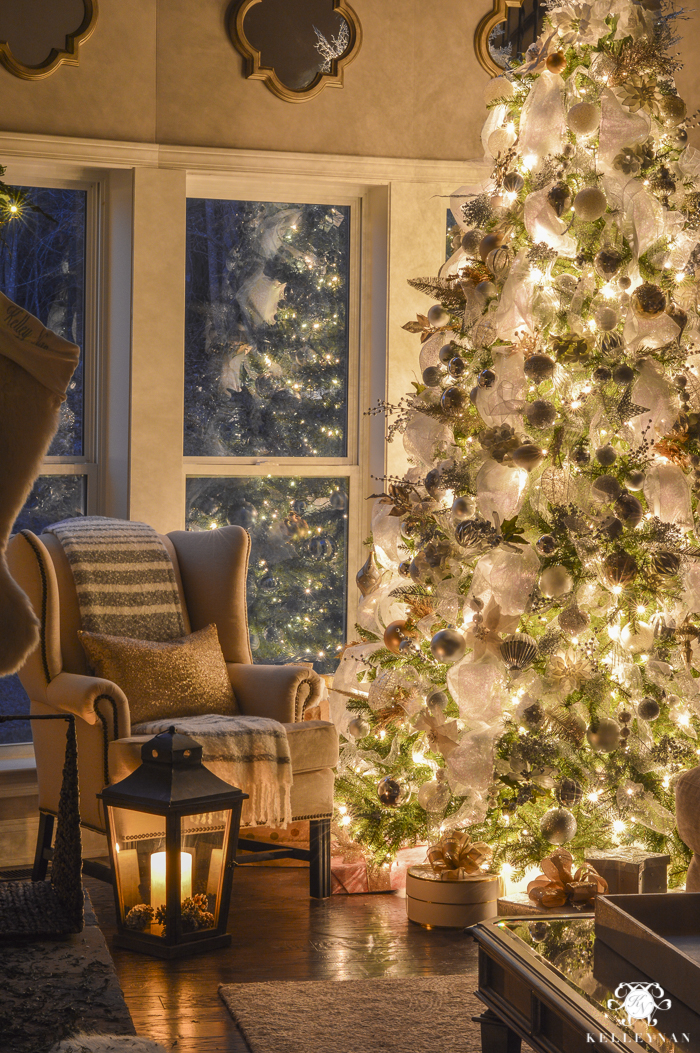 We had a dedicated evening each season where we would have festive "special" drinks (mine was usually a variety of Shirley Temple, complete with Maraschino cherries), with no distractions – only Christmas music and each other. It's where we would recount our blessings and wrap our gifts. It's where I would lay out a blanket to nap and where I would look forward to seeing the latest additions of my mom's impeccably wrapped gifts.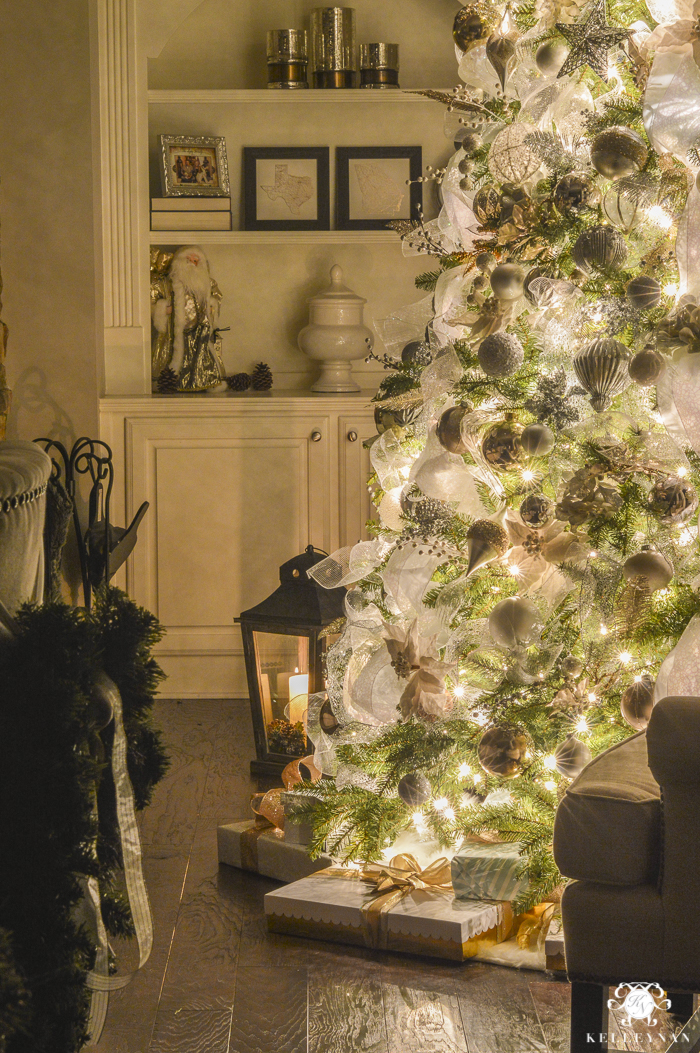 We have already driven around to look at lights a few times and will continue to throughout this week. We are fortunate that our neighborhood is filled with gorgeous displays – there is something touching about the effort people make in their exterior decor to bring enjoyment to others.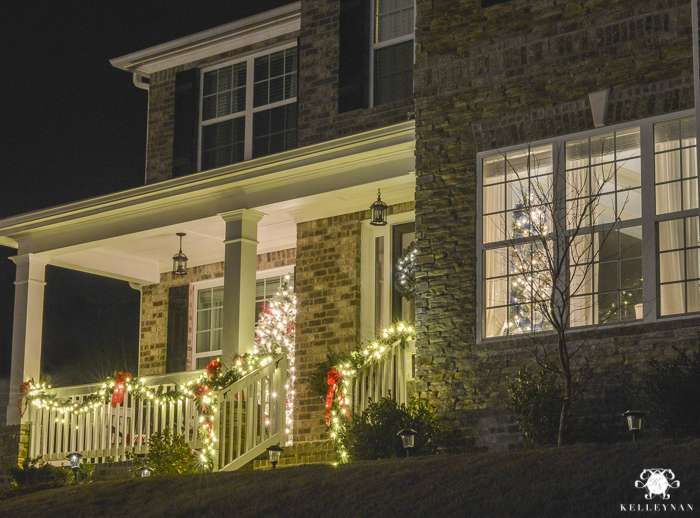 Our home is simple- traditional greenery with red bows and white lights on the front porch (complete with a woodland, flocked Christmas tree), but she still holds her own 😉 If you have brought a festive touch to the outside of your home, pour some hot chocolate, grab some blankets, put on some Christmas music, walk outside, and ENJOY it.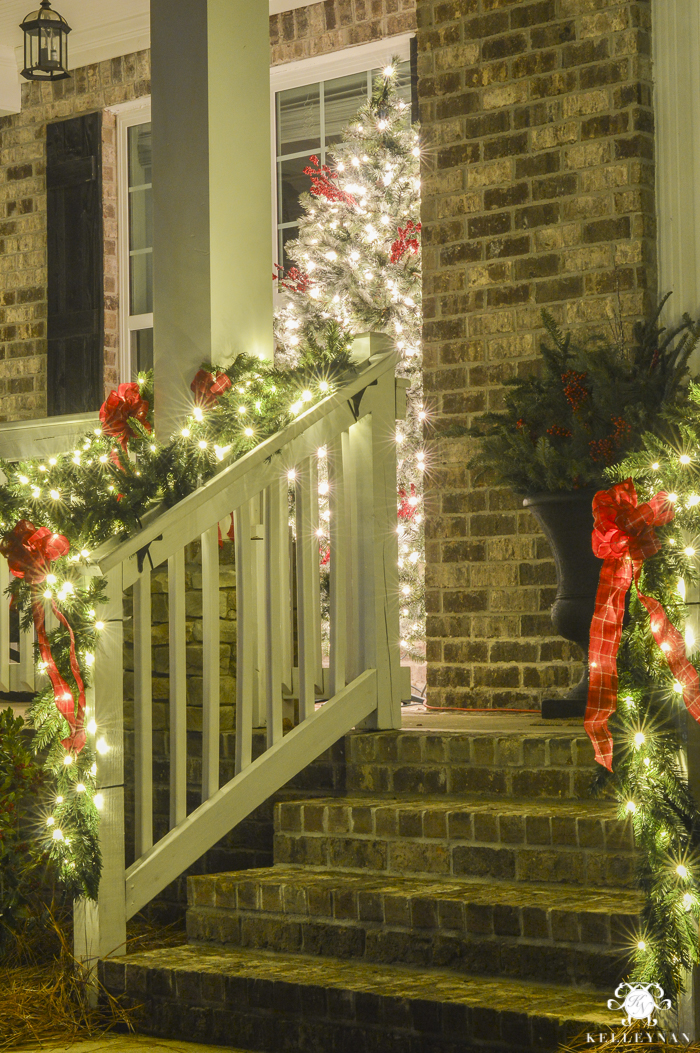 My husband is plotting to go Clark Griswold next year; I may support a "half-Clark" 😉 To see our entire home during the day, you can check out our Christmas Home Tour HERE.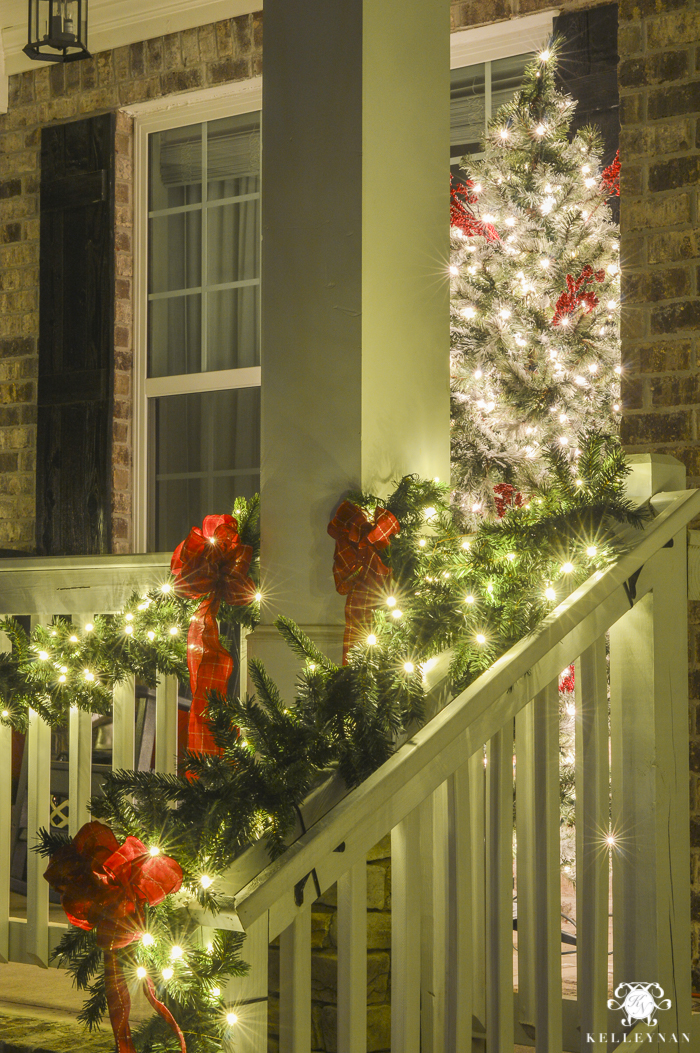 I'll be back on Thursday sharing my favorite cookie recipe, just in time for Christmas. Wishing you a beautiful, magical week – I challenge you to do something to make your days just a little more whimsical.

GREAT ROOM

Bar Cart | Thatcher Wing Back Chairs | Table Lamp | Garden Stool | Blanket Basket | Quatrefoil Mirrors Between Windows | Gold Foil Texas & Georgia State Art Prints | White Lidded Urn | Mercury Glass Candle Hurricanes | Tree Art | Round Mirrors: World Market – no longer available (SIMILAR) | Wooden Tray: Pottery Barn – no longer available (SIMILAR) | Coasters | Volcano Candle | Mirrored Console Table: HomeGoods (SIMILAR) | Log Carrier: HomeGoods (SIMILAR) | Sheepskin (SIMILAR) | Silver Rimmed Hurricane: Pottery Barn – no longer available (SIMILAR) | Console Table Lamps: HomeGoods (SIMILAR) | Oversized Tray | ZGallerie Palais Side Table (IDENTICAL) | ZGallerie Palais  Coffee Table (IDENTICAL) | Rug: HomeGoods (SIMILAR) | Alarm Clock | Pitcher: HomeGoods (SIMILAR) | Sofa: La-Z-Boy Aspen Collection | Fan: Progressive Lighting | Pillows | Fur Throw: HomeGoods (SIMILAR) | Gray Afghan: HomeGoods (SIMILAR) | Striped Throw: HomeGoods (SIMILAR) | Paint: Versatile Gray by Sherwin Williams | Trim: Creamy by Sherwin Williams | Flooring: Nottaway Hickory in Weathered Saddle
*Post contains affiliate links*