Happy Valentine's Day! This time last year, I still had icy, frosted wreaths hanging in celebration of winter. This year, the weather never fully committed so I'm still wearing flip flops from last summer. I'm ready to divorce the idea of a cozy winter and exchange that hope for an early spring. Seriously, though. I was at my accountant's office yesterday evening, looked around, and realized the cherry blossoms were in full bloom! I snapped a quick shot and posted it to Instagram in honor of Valentine's Day, but what I'm really thinking is that Mother Nature went on vacation and her sub is dropping the ball.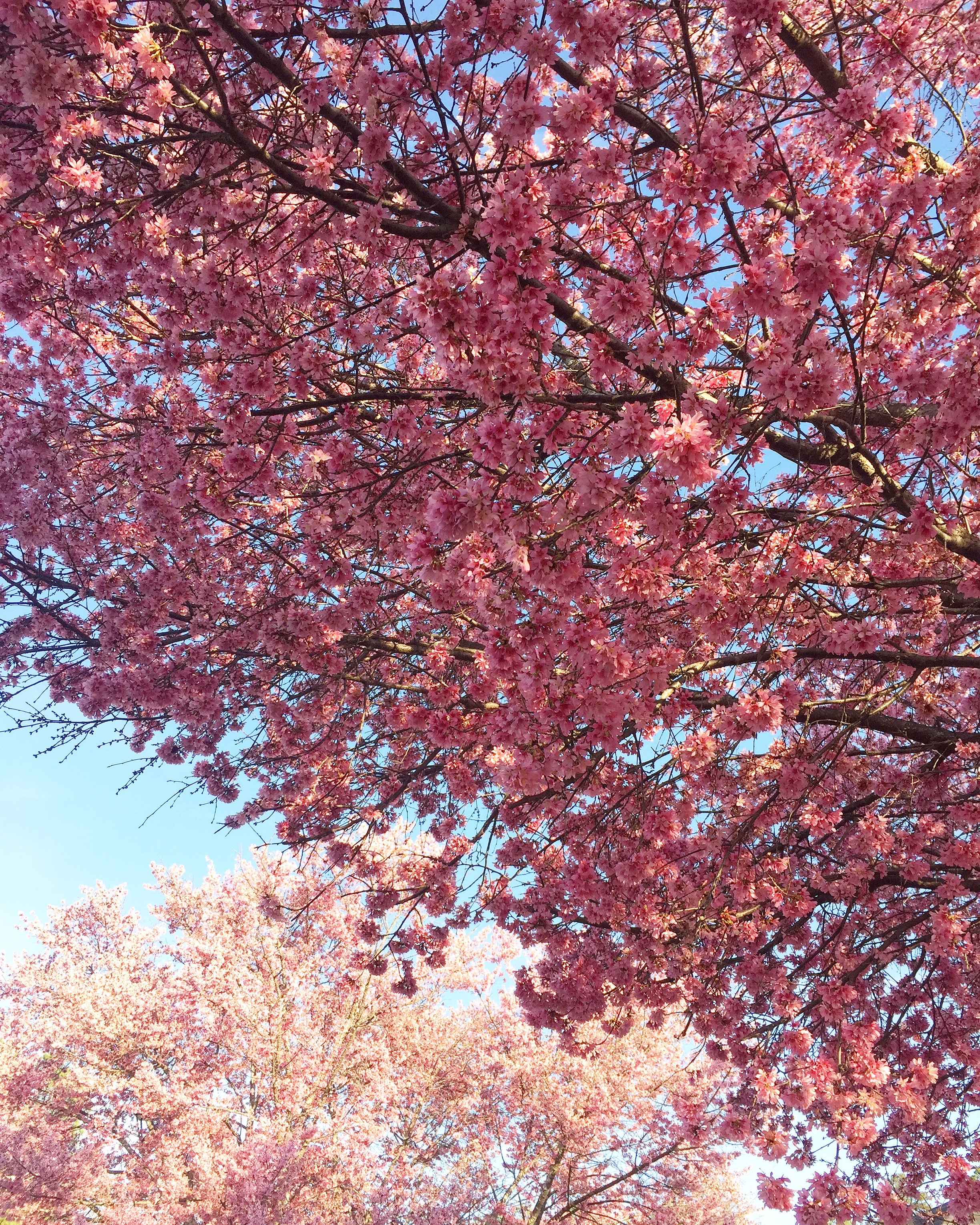 So, that's it. I will not be a slave to winter decor because of the date. Some of you may be buried in a snow drift but for those of you down south, you feel me, right?! I may not be breaking out beach balls and straw purses just yet but I was more than ready to bring just a hint of warm weather indoors. So,  while I was at Trader Joe's, I grabbed a few no-fail staples, came home, and set to work. If you are in the same boat as me, all you need is your local grocery store for these three ways to bring spring to the kitchen for less than $10.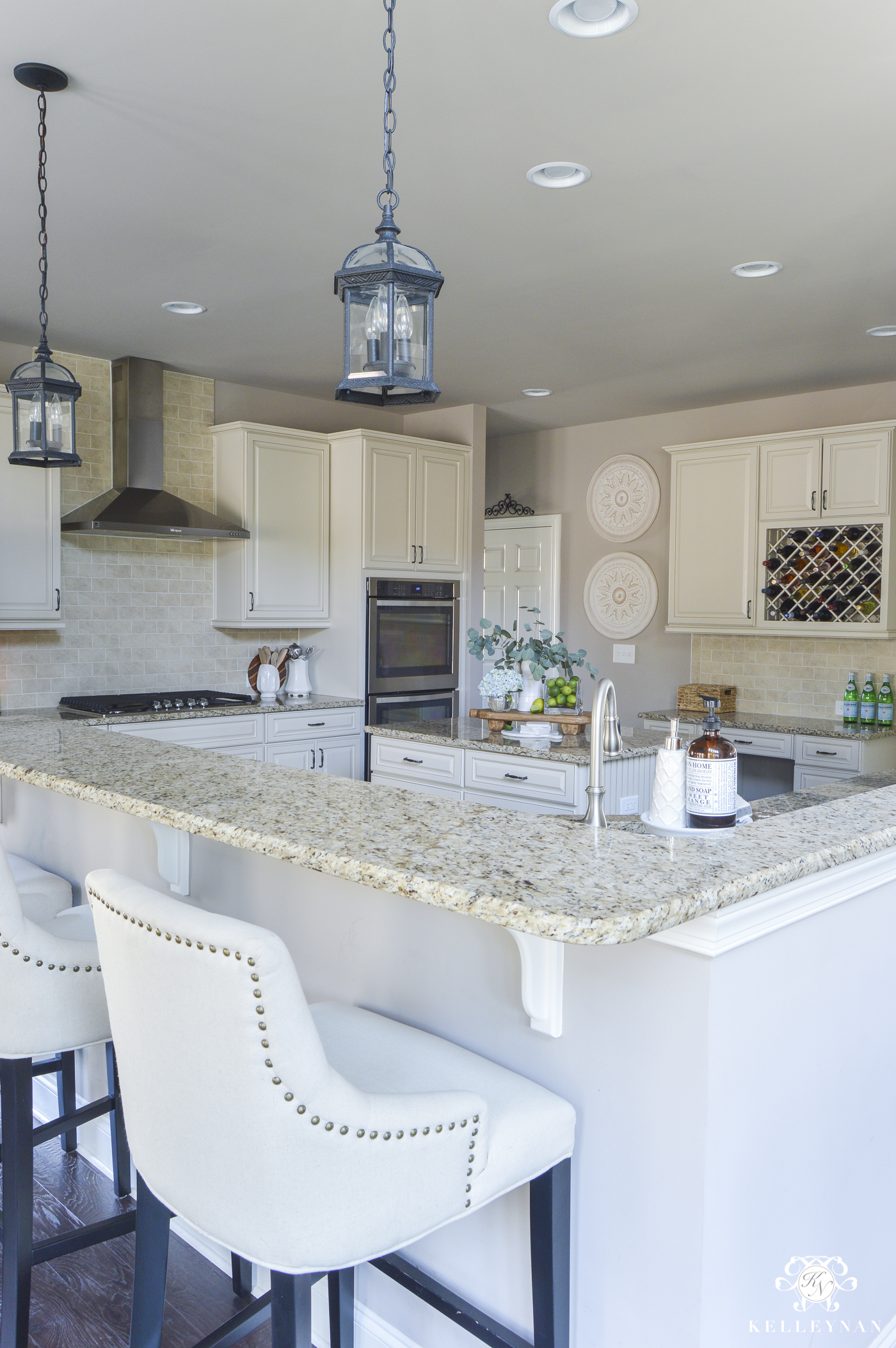 WARM WEATHER BEVERAGES ON DISPLAY
I love using lemonade, sparkling waters, and pretty juices to add a lil' pizzazz to the kitchen and bar carts. In the fall/winter it's all about heavier drinks and ciders but during the warm weather months, anything that looks cheery or makes you think "refreshing" is a good pick. Bonus- using consumable items to decorate is super affordable.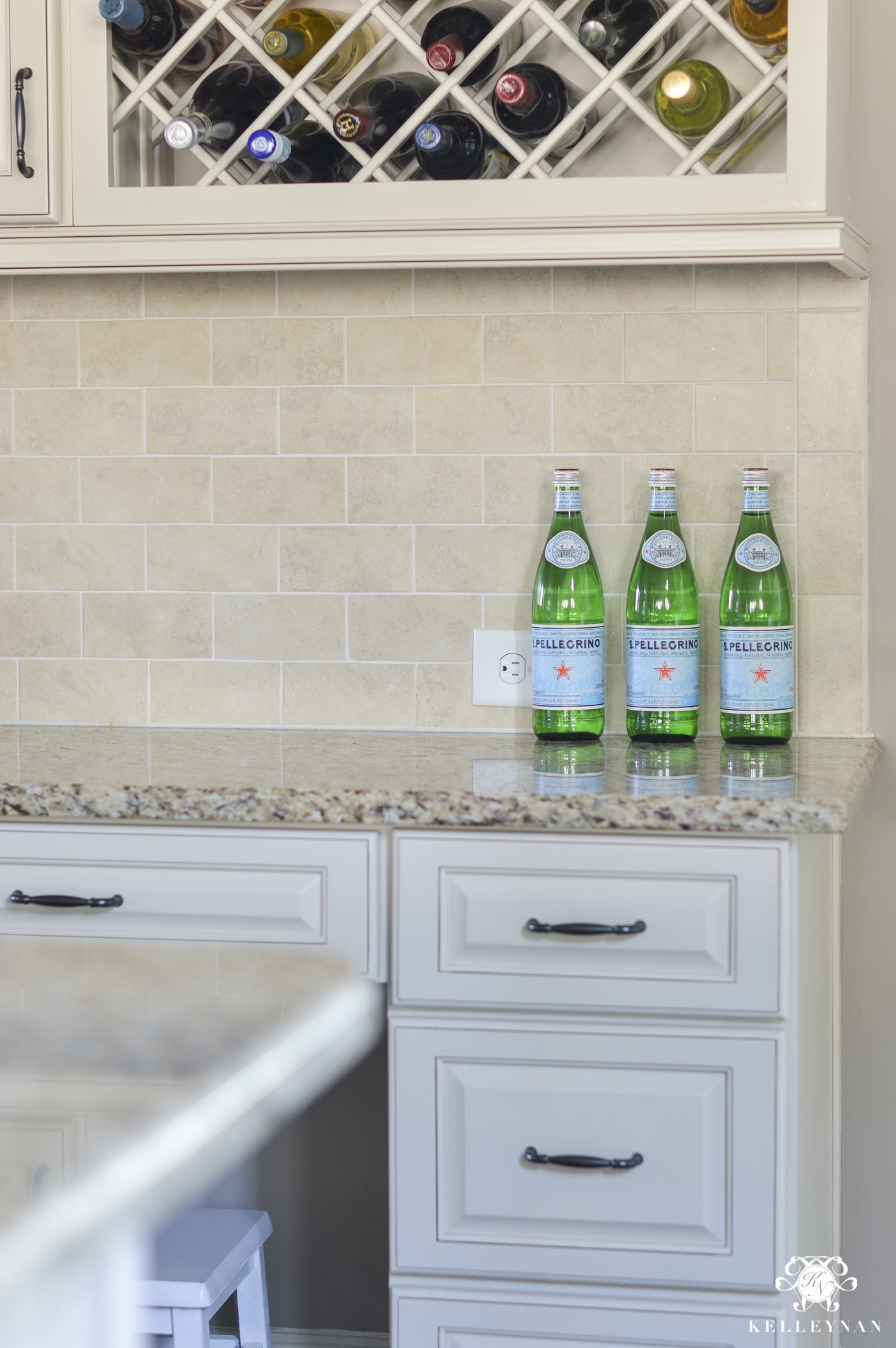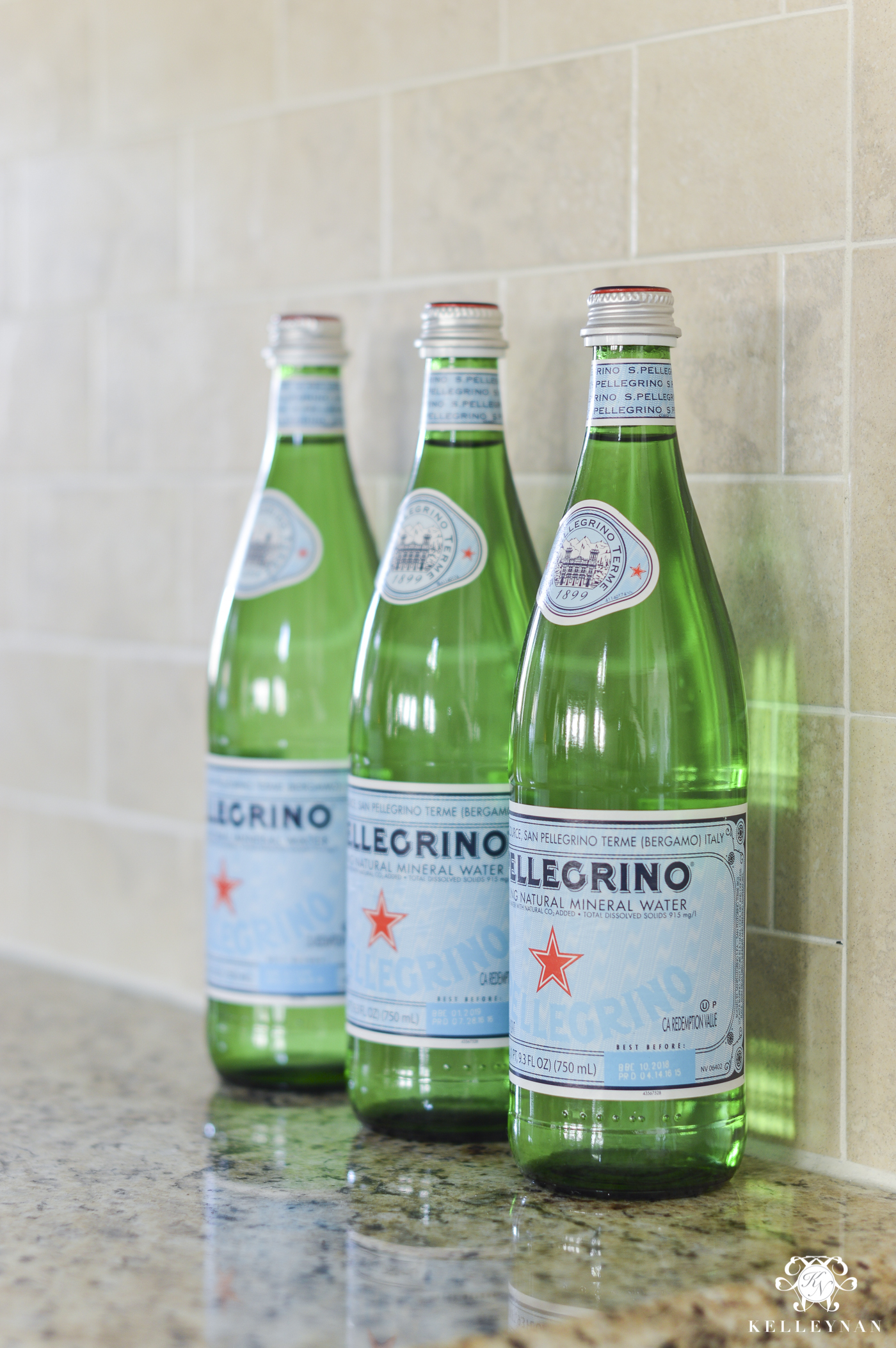 LEAFY EUCALYPTUS
Don't get me wrong, you can go full on floral and create a gorgeous spring display but a bunch of leafy green eucalyptus goes a long way, lasts a long time, and will only set you back about $2.99. It's a total win in my book!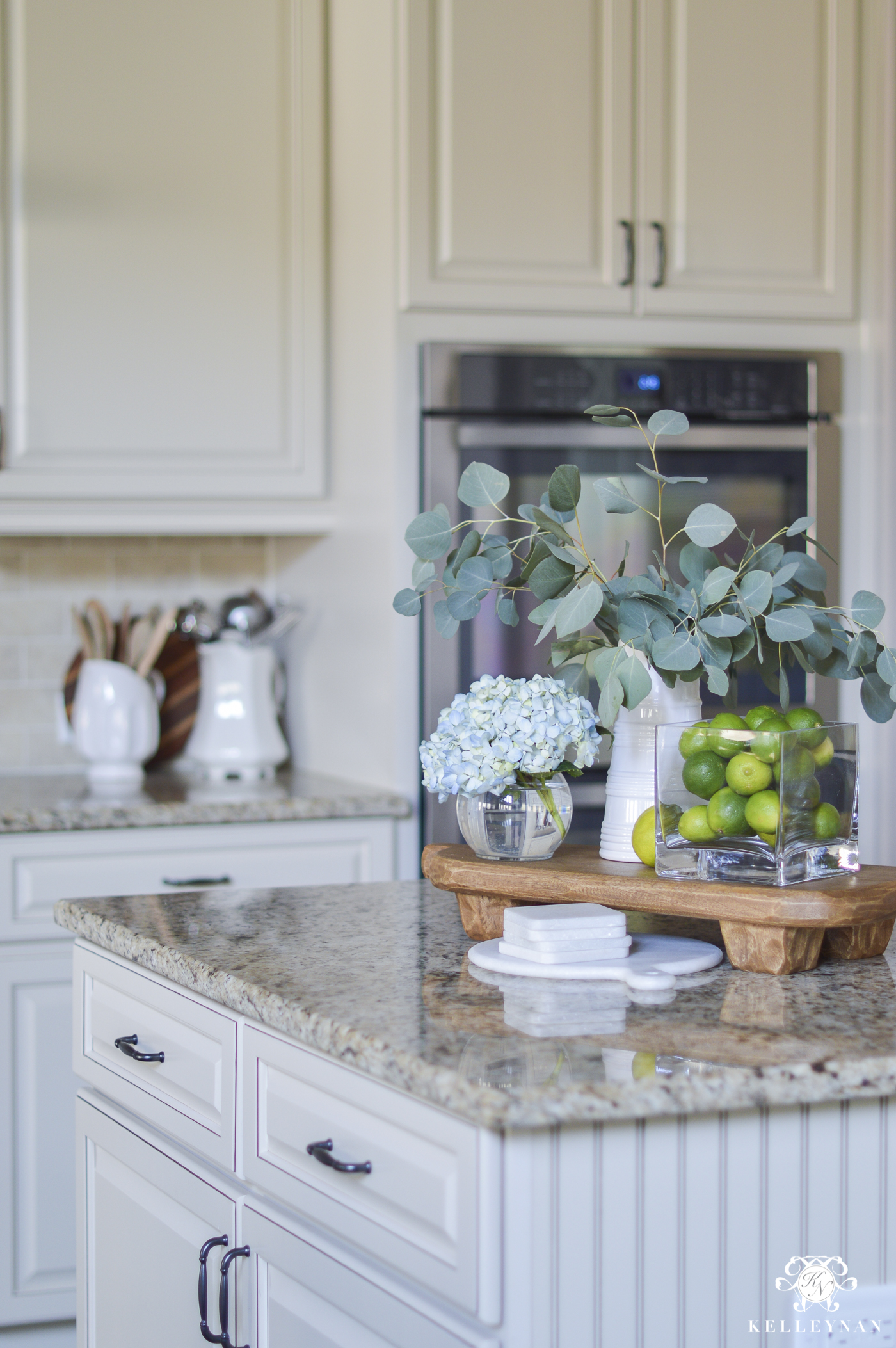 You can get it year-round but the the simple act of bringing green in, will make you start thinking about the outdoors. I have had hydrangeas spread throughout the house for several weeks so I brought a single bloom into the island vignette, but it totally isn't necessary. Costco will sometimes have the big, flat eucalyptus but Trader Joe's has it every. single. day.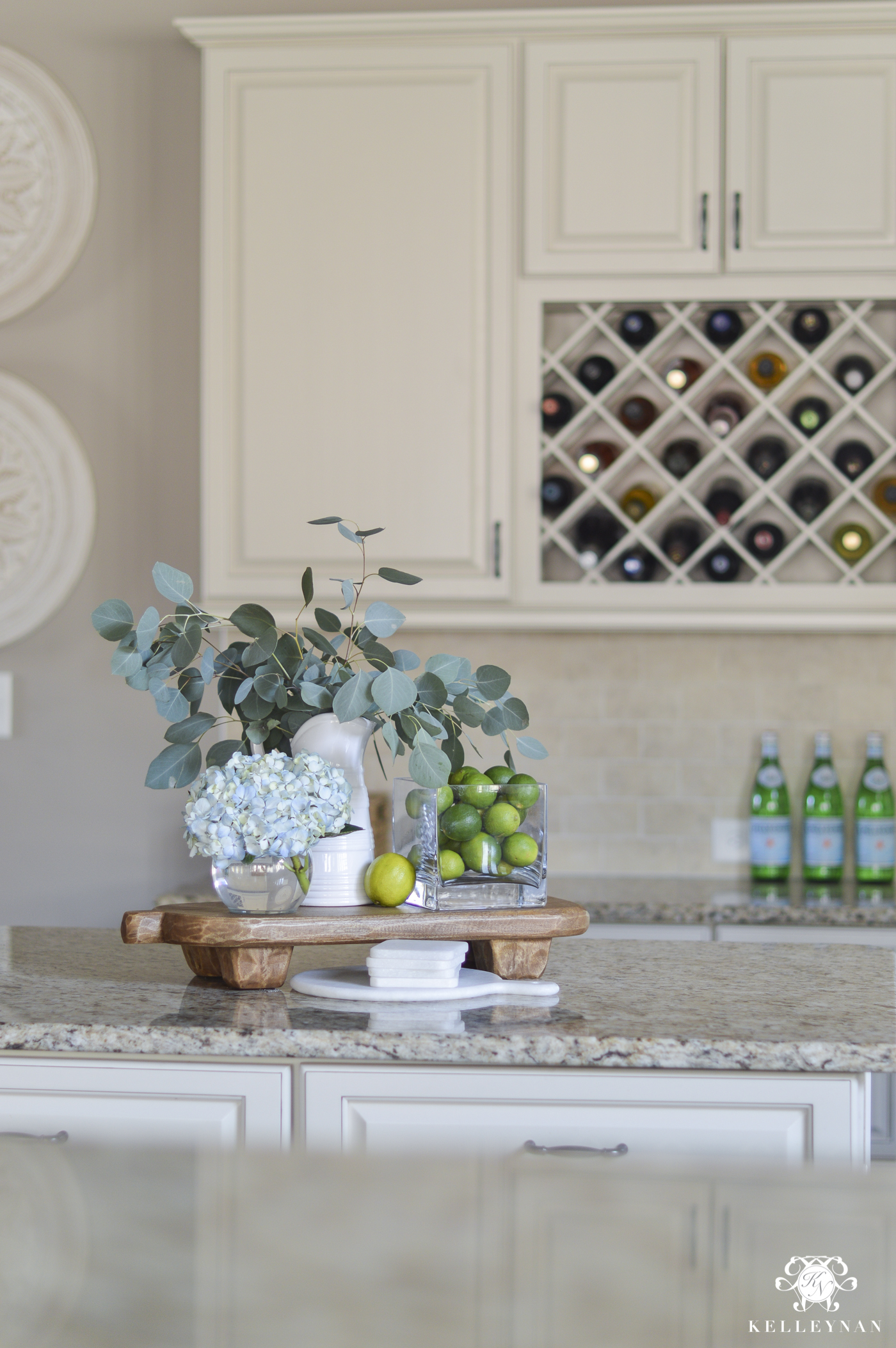 I don't think I've shared my wooden medallions on the wall next to the garage door; I found them at HomeGoods but have a near identical medallion in my office from World Market which you can find HERE. It's currently on sale for under $50 😉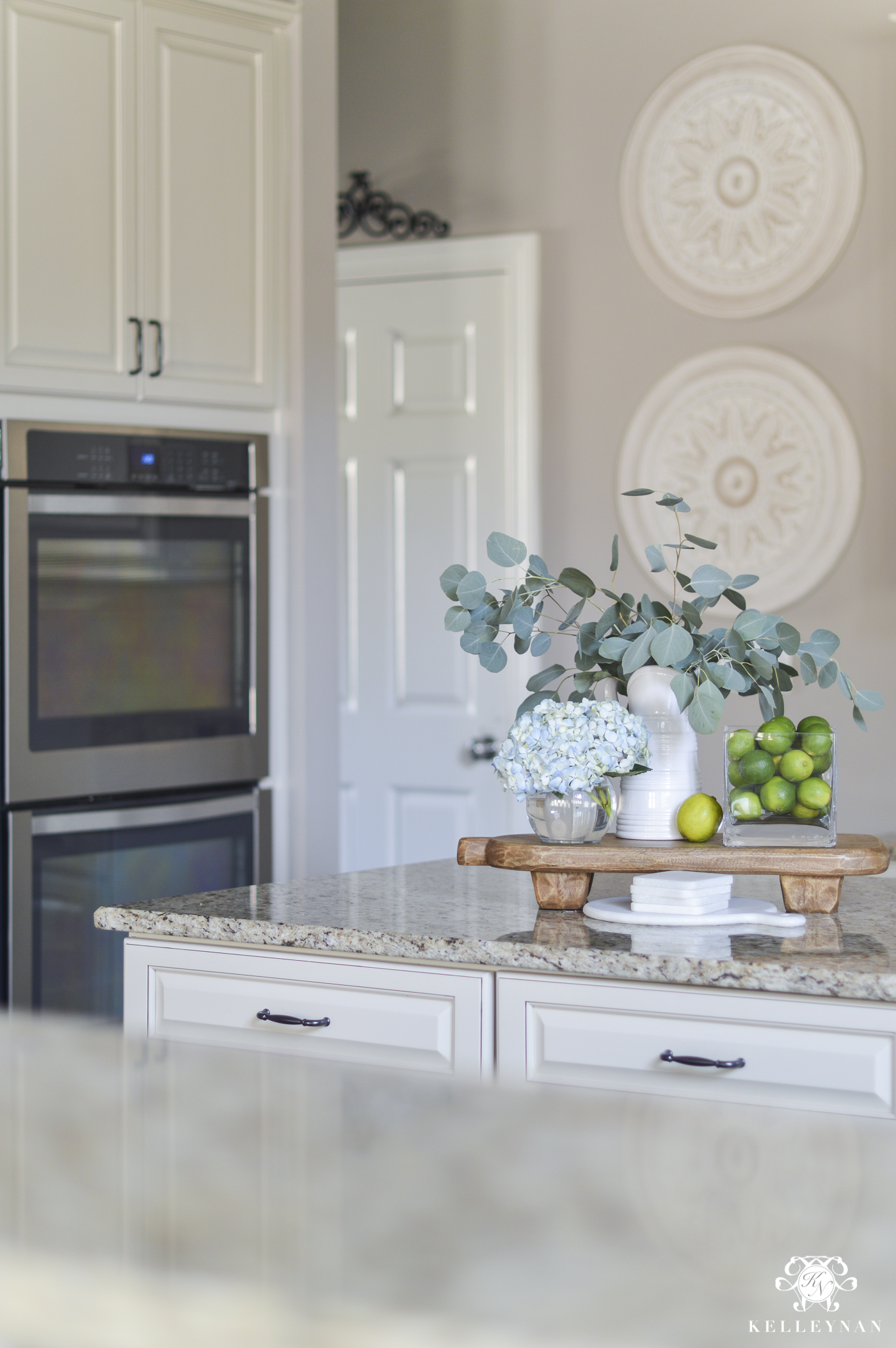 LIMES/CITRUS
Another easy, inexpensive way to bring in all the warm weather vibes – citrus. I purchased two bags of limes for $1.29/each and put them in a clear cube vase for an instant bounty of freshness.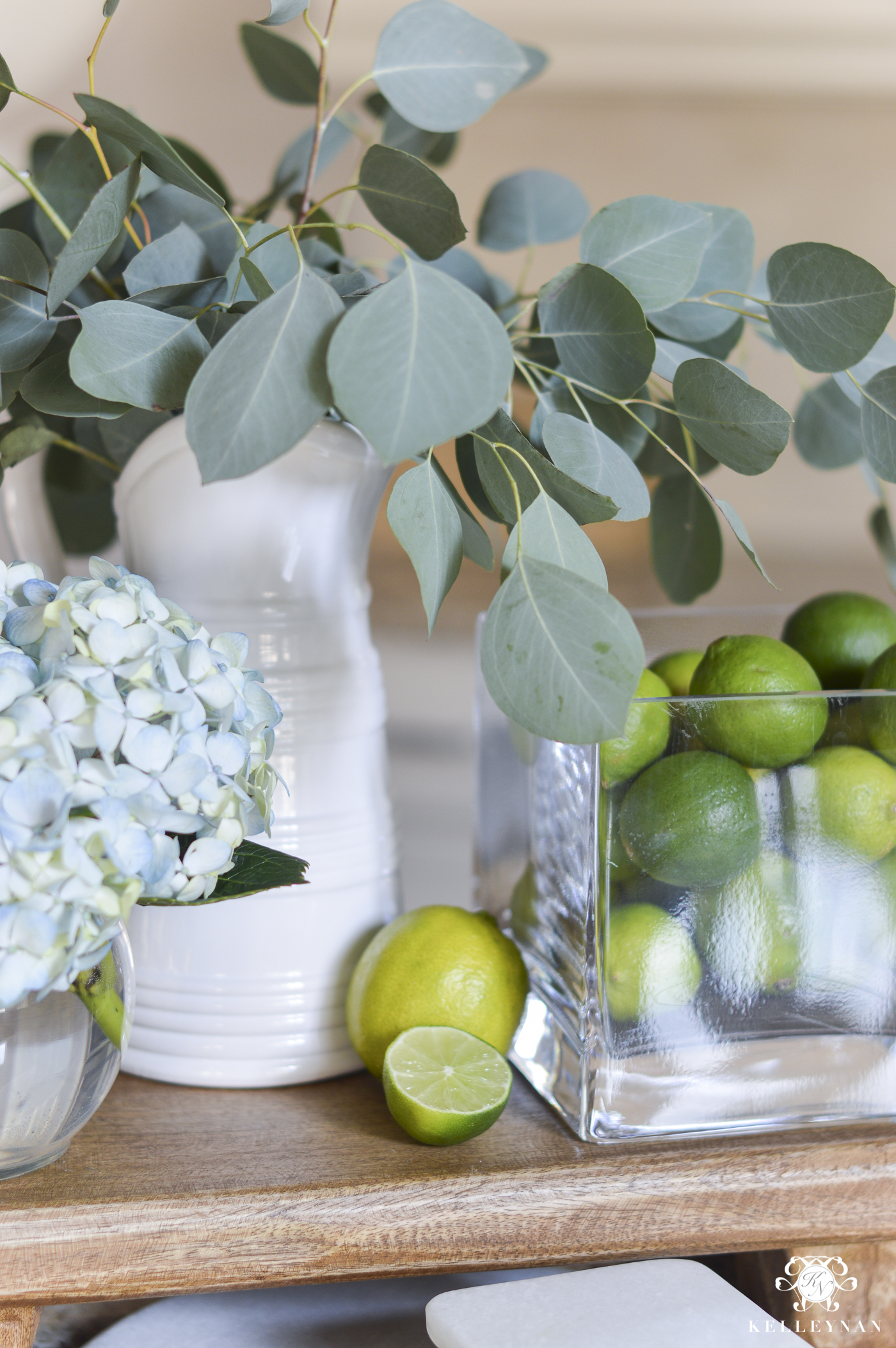 Will I use two bags of limes? Unless we switch to margarita night every night for the next week, no. But for $2.50, it doesn't matter if they won't all actually be consumed. It is fresh, inexpensive decor. If you insist on having them serve another purpose, plan to use them in cooking, infuse your water, and, grind them in your disposal for the "fresh factor".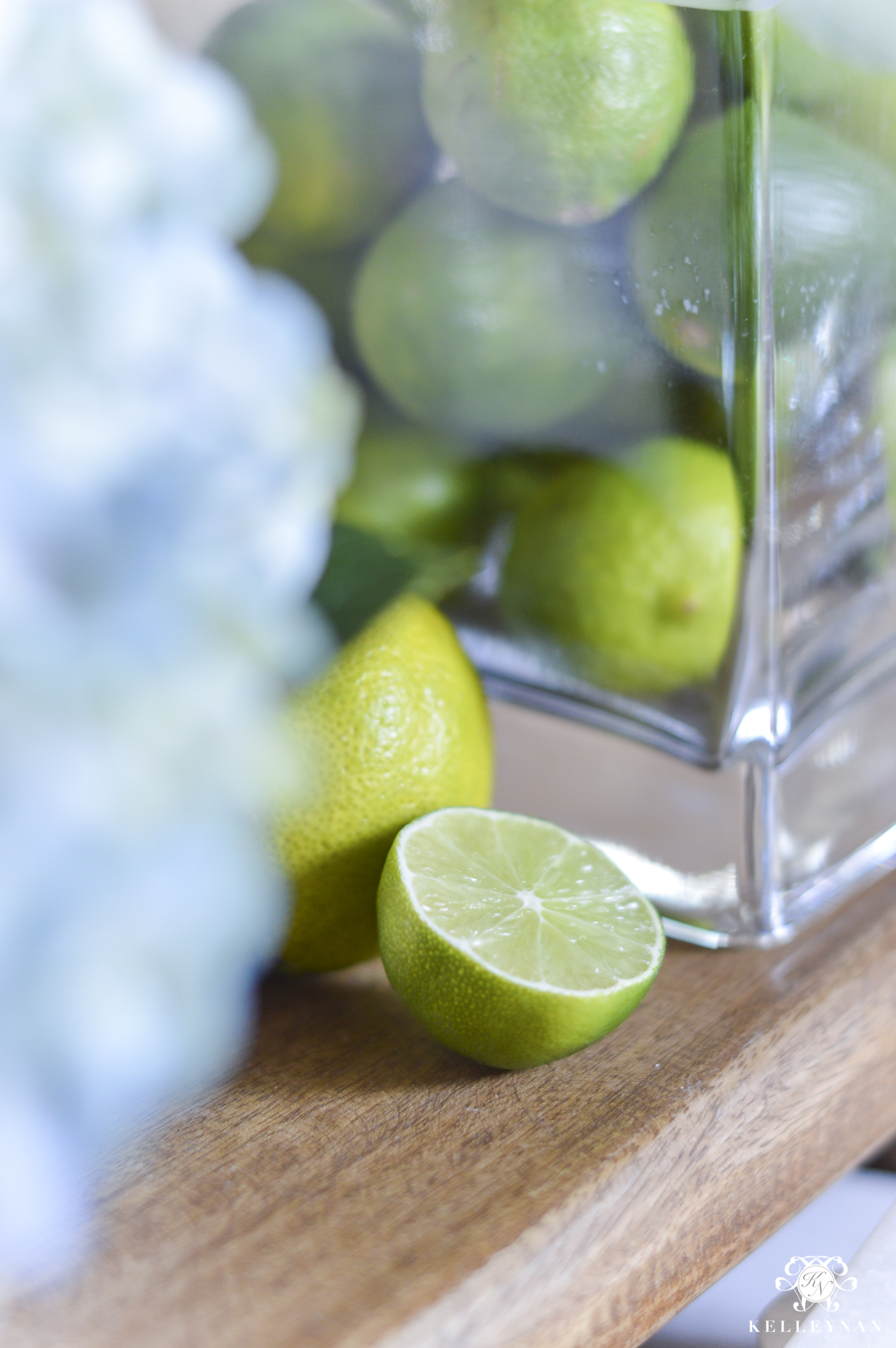 *BONUS*
Those three grocery items will instantly transition your kitchen but if you want to go a little further, look in your drawers and bring out a colorful kitchen towel…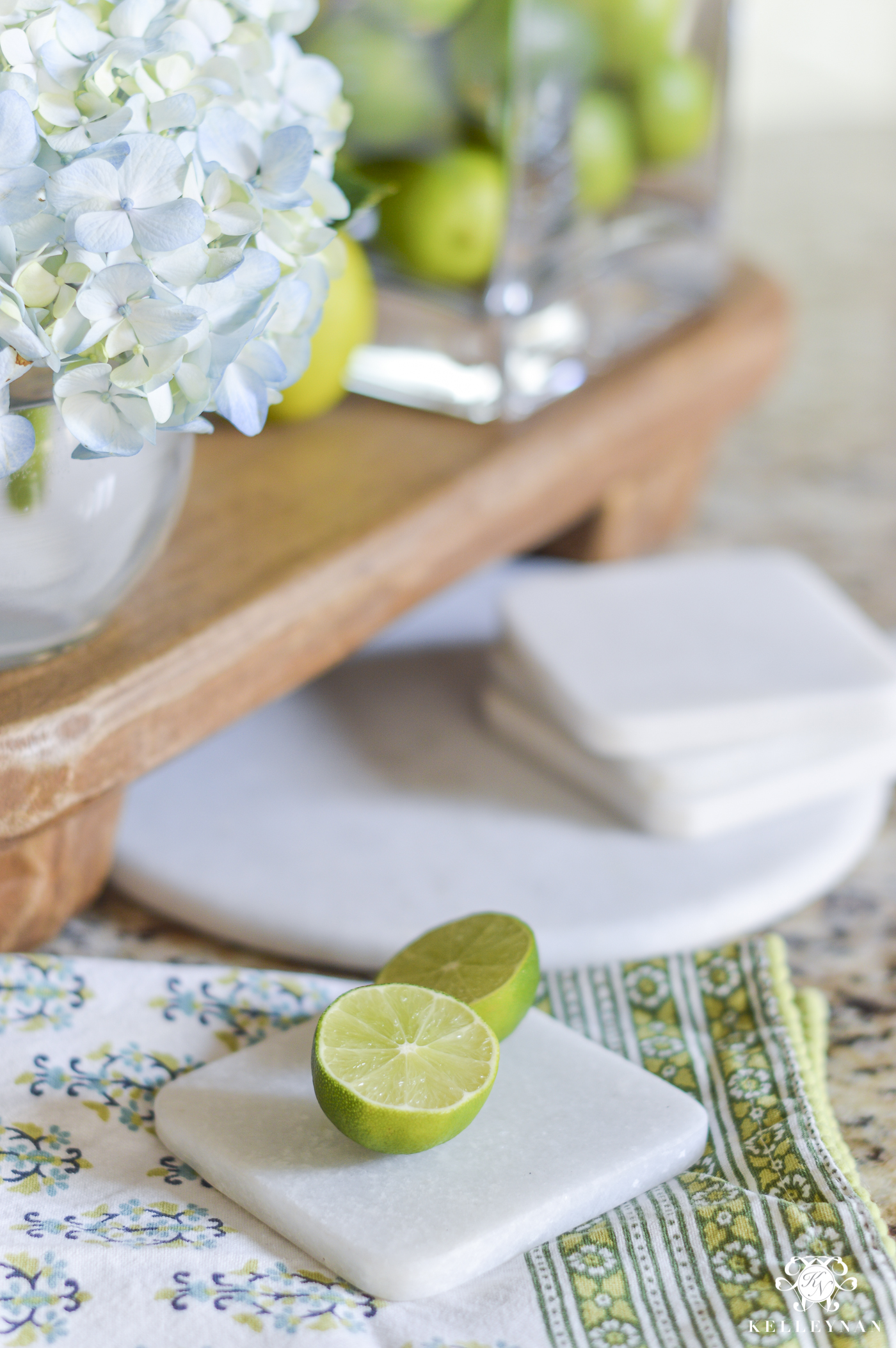 …and haul out the fresh scented candles. I found this little green number at HomeGoods and had to have it; it smells almost identical to my favorite volcano candle! These will now be on my permanent "hunt list" when I shop.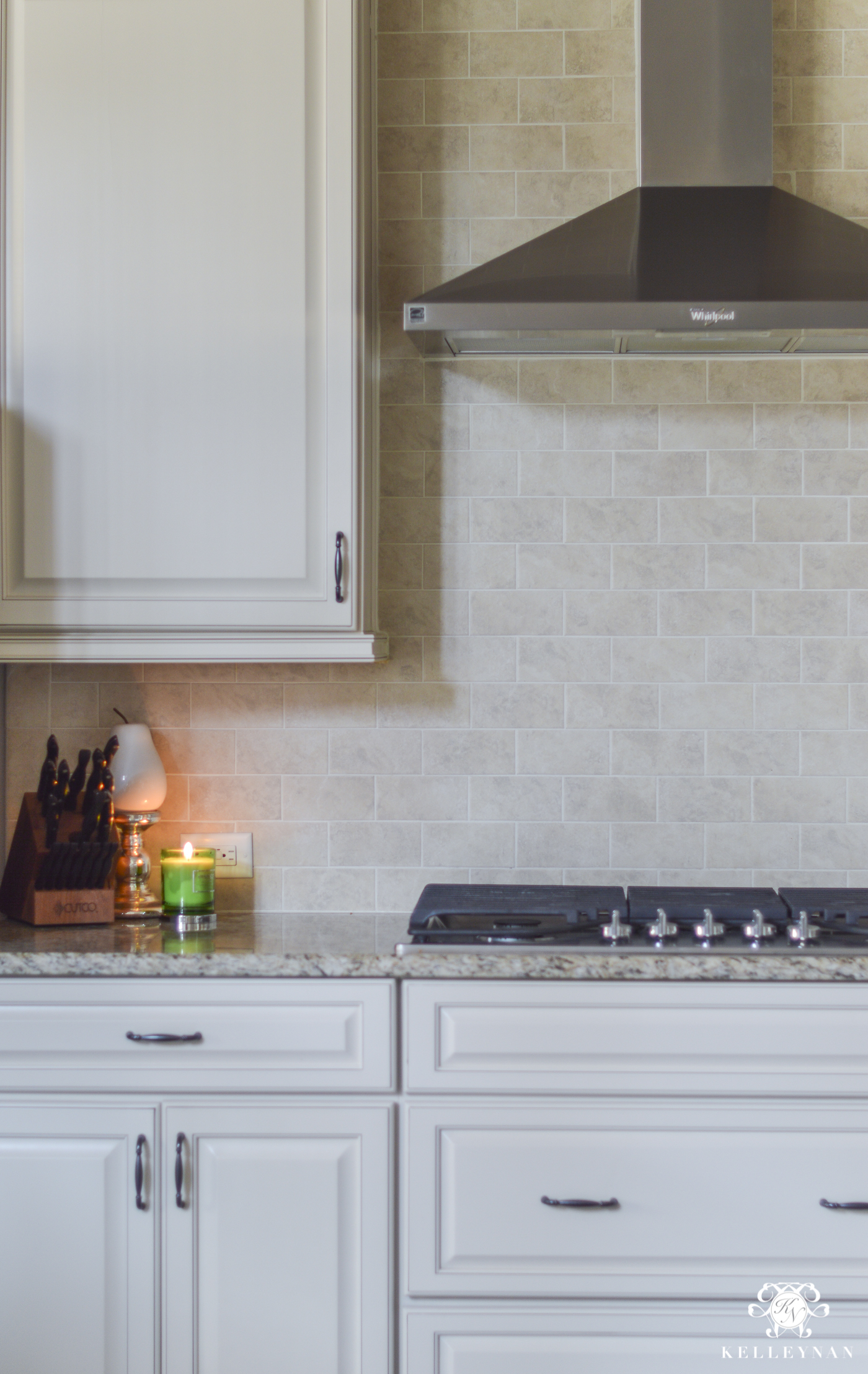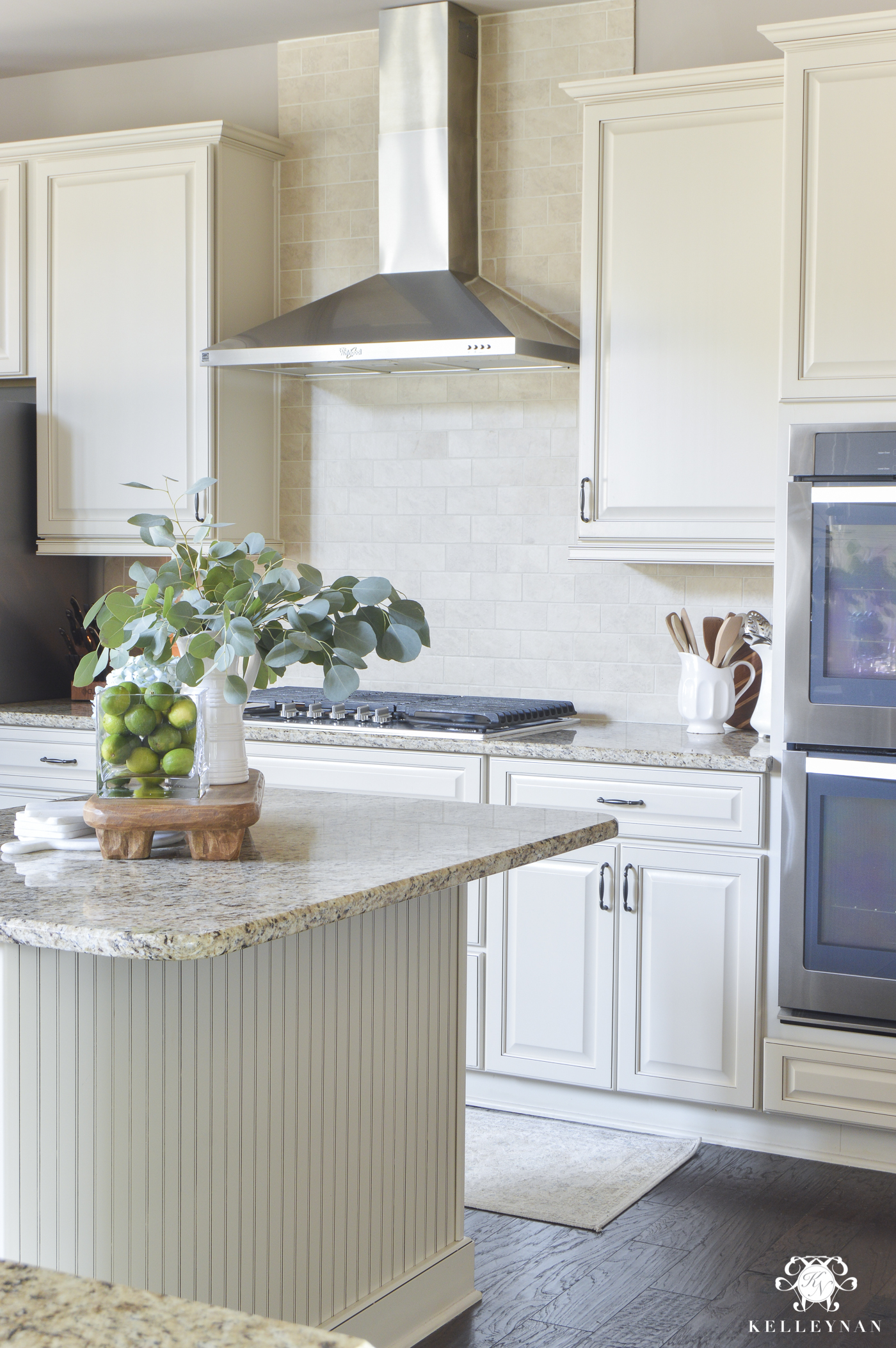 What do you do to rush welcome in the coming season? Are you buried in snow? Or, are you "over" the non-winter? Do you decorate with items from the grocery store? I want to hear all about it!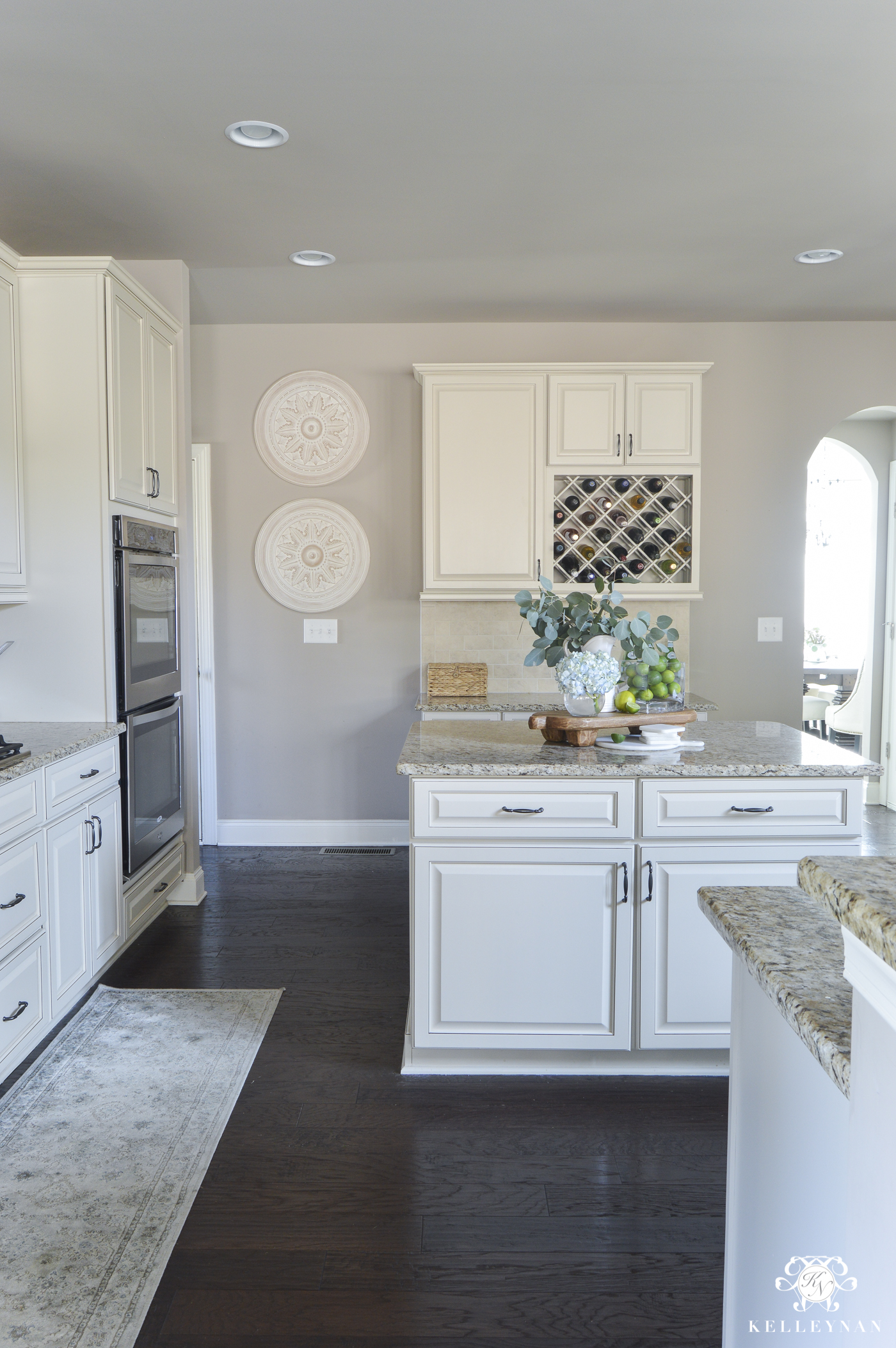 Scroll and Tap the Image to Shop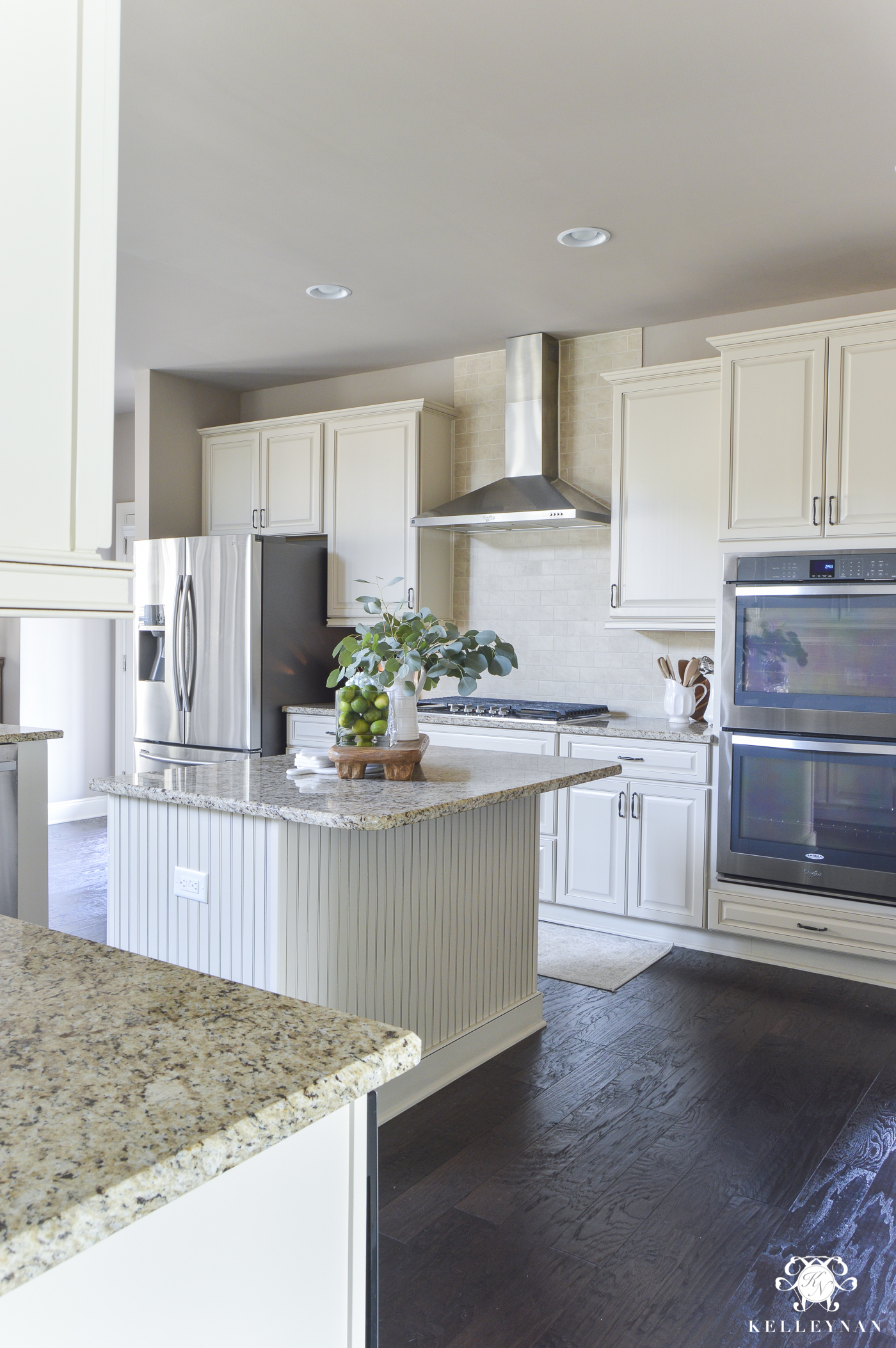 Bar Stools | Marble Cheese Board | Wooden Paddle Board | Round Wood Wall Decor (Similar) | Coasters | Pedestal | Ceramic Artichoke (SIMILAR) | Pedestal Bowl: HomeGoods (SIMILAR) | Candle Holders | Refrigerator | Cabinet Pulls: Pewter (SIMILAR) | Faucet | Stainless Cooktop
 | Stainless Steel Canopy Pro Style Wall Mount Range Hood
 | Runner: Costco | Paint: Perfect Greige by Sherwin Williams | Cabinet Paint: Unknown | Granite: | Backsplash: | Flooring: Nottaway Hickory in Weathered Saddle
Hover on the image below to pin it for later!