I hope you all had a wonderful Valentine's Day! He brought me flowers, I made him cupcakes, we exchanged cards that made us both smile, we grilled steaks, and we binge watched Homeland (We are in Season 5 and addicted!). Perfect. If you have kids, did they come home with Valentines that looked like Martha Stewart personally crafted them? Or, maybe you were the Martha? I saw friends sharing the most creative little cards gifts which both impressed me and terrified me. In this social media-driven world, it is so easy to compete but, if you made the most [email protected]## Valentines with your kid, because you truly enjoyed it, and you see it as a time to get creative- props to you! Seriously. For someone who loves grand displays but is always seeking short cuts, I am in awe of so many of you moms! No judgement here- remember my post (pep talk) last week (HERE)? Relish in the things that make you happy; we are all unique in that way.
Ok, back to the cupcake part. My husband loves yellow cake with butter cream frosting. Pretty simple guy, right? He doesn't ask for German Chocolate cake or a three tiered complicated number… just the most basic dessert one can have. Even simpler- he loves frosting from the can. Why mess up a good thing? Why complicate things? Give the man what he likes for Valentine's Day! 😉 With a short lunch break to whip a batch together, I was thankful for his tastes. I do like to try new recipes on/with him but this was not the day for that. I wanted a way to make my store-bought-cake-mix and canned frosting a little more special. I didn't want to buy a bunch of embellishments, nor did I have time for that. I didn't want to waste money on several cans of frosting. Then, I had an idea. For those of you who host parties, prepare treats for your kid's class, or look for a way to make a cute dessert display without hiring an outside baker, this is for you 😉 Ombre cupcakes. You need your ingredients for your cake mix, a can of frosting, and one bottle of food coloring. That's it. The simple ombre cupcakes with canned frosting I whipped together (again, in less than a lunch hour) were so easy, I almost didn't share. But, then I thought about those of you like me who like little ideas – not necessarily full blown plans to build a grand homemade wedding cake.
You may have seen the ombre trend over the last few years in hair, paint, etc. For those of you who aren't familiar with "ombre", it is a gradual color change… a color gradient from light to dark. And, from wall details to cocktails, it can make a huge visual impact. Here's an example- my color-loving friend Brittany of Addison's Wonderland had created a blue ombre staircase in her previous home.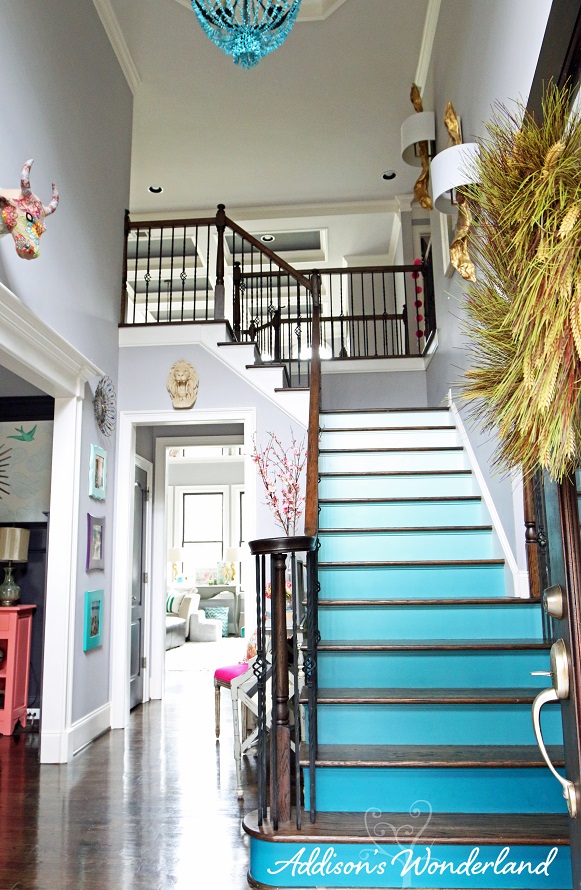 Pretty awesome, right? That gradual color change is "ombre". So, in deciding that a gradual color change would be my "wow" factor to make my cupcakes a little more special, here is the result.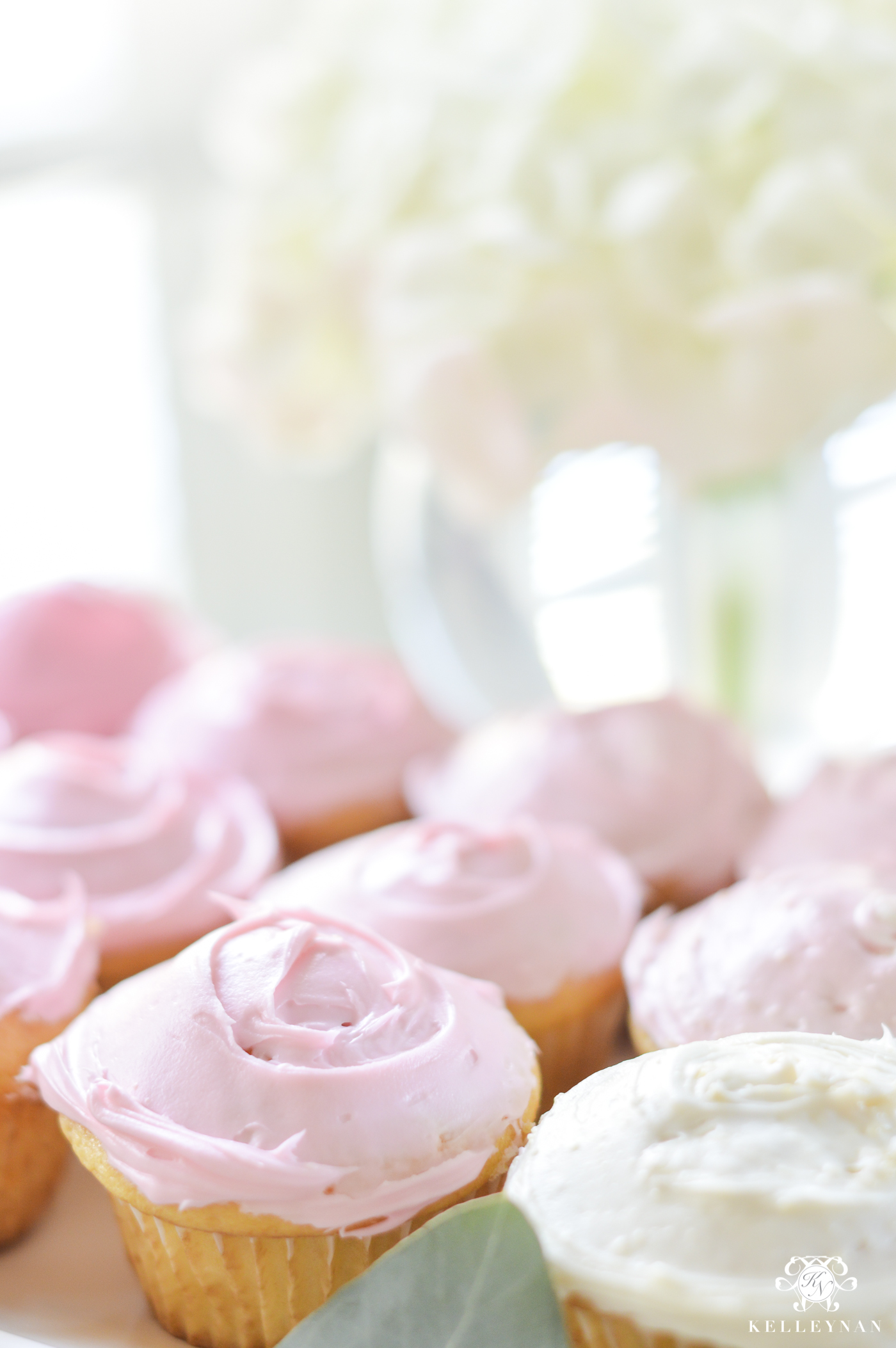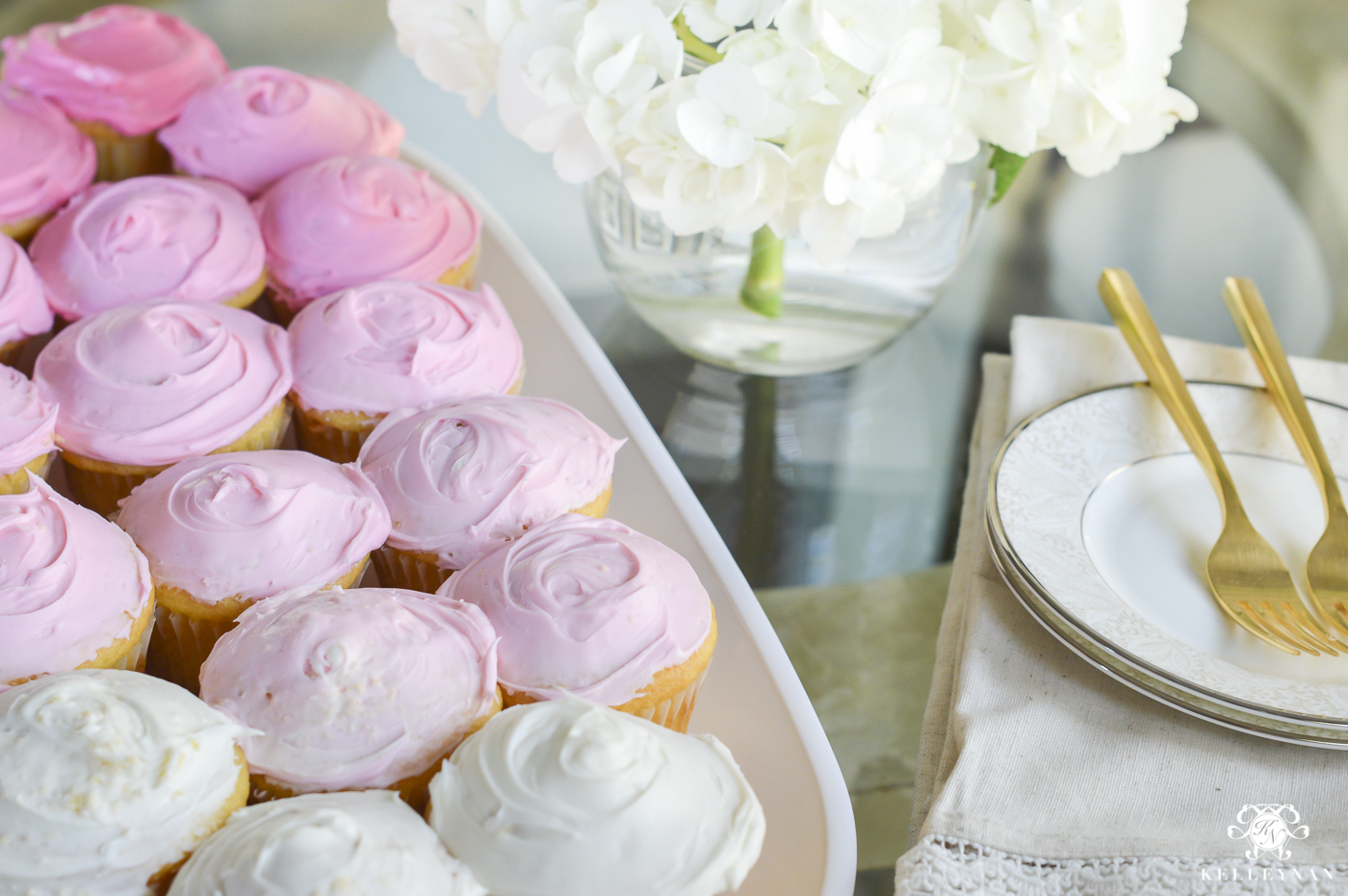 The technique is as simple as it gets but I absolutely loved the result.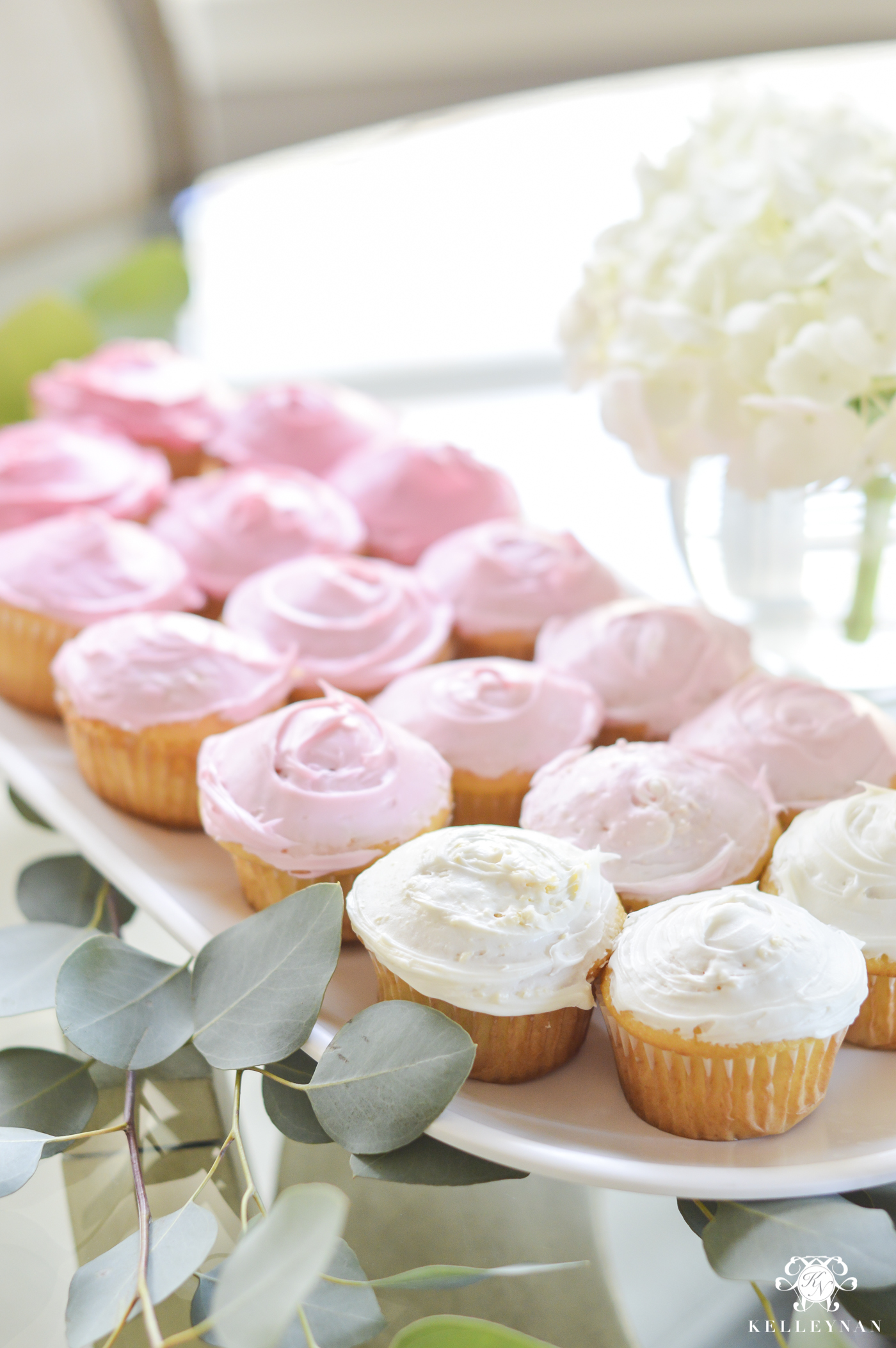 Start with a can of white frosting. Mix your can of frosting around in its container to soften it a bit. When your cupcakes cool, use a small spatula to frost your treats. The number of cupcakes you have with determine how often you add color. If you have a LOT, you may do several cupcakes before adding food coloring. If you only have 12, you will be adding food coloring every other cupcake.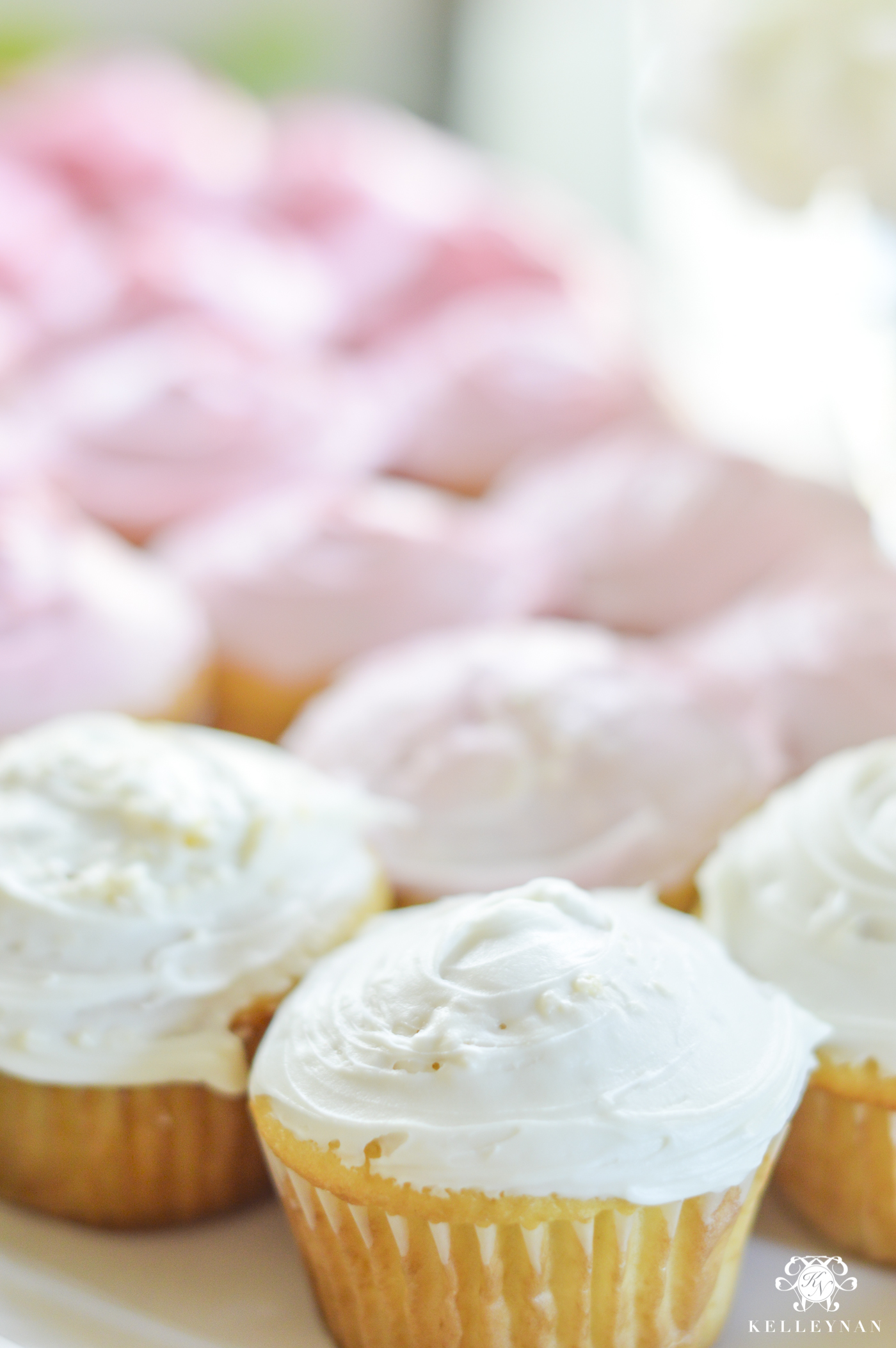 Start from lightest to darkest. Your first cupcake(s) will be the plain white with zero food coloring. I had a neon pink in the cabinet so that is what I went with. I frosted three cupcakes in the plain white and then added a drop of food coloring to the can. I mixed the frosting until there were no color streaks. Note- from white to the first pink was the biggest color jump. You could even squeeze a drop on a paper plate and then use a toothpick to transfer even less color over to the icing can.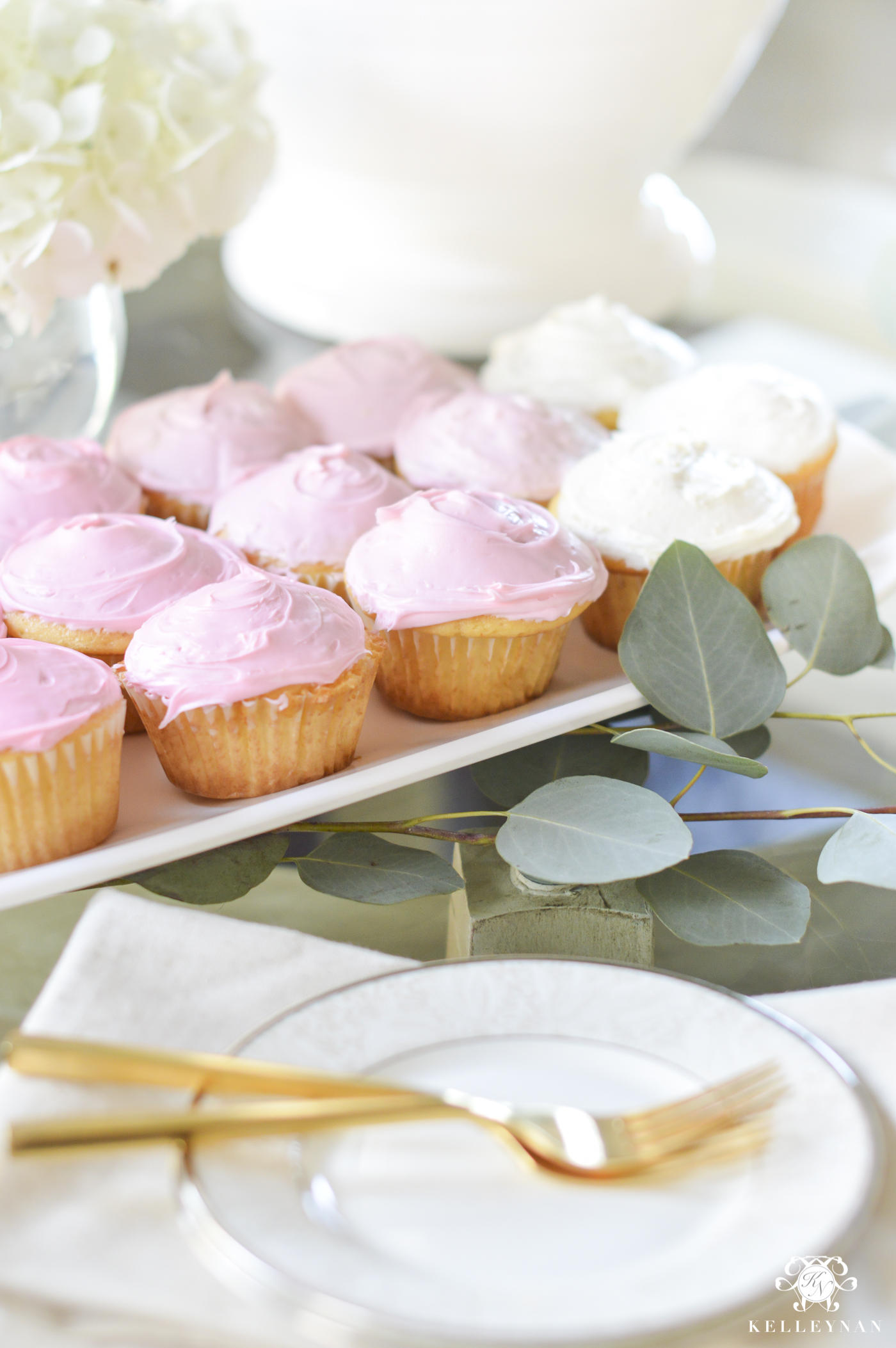 After every few cupcakes, add one drop at a time. If you go too dark, you can't go back and make the icing lighter. If you need to add extra drops for the last cupcakes, go for it! I love the home-made spatula-d icing look which reminds me of the pretty, raw lines on naked cakes which are all the rage right now. No need for perfect dollops or spiraled piping- just simple, easy beauty.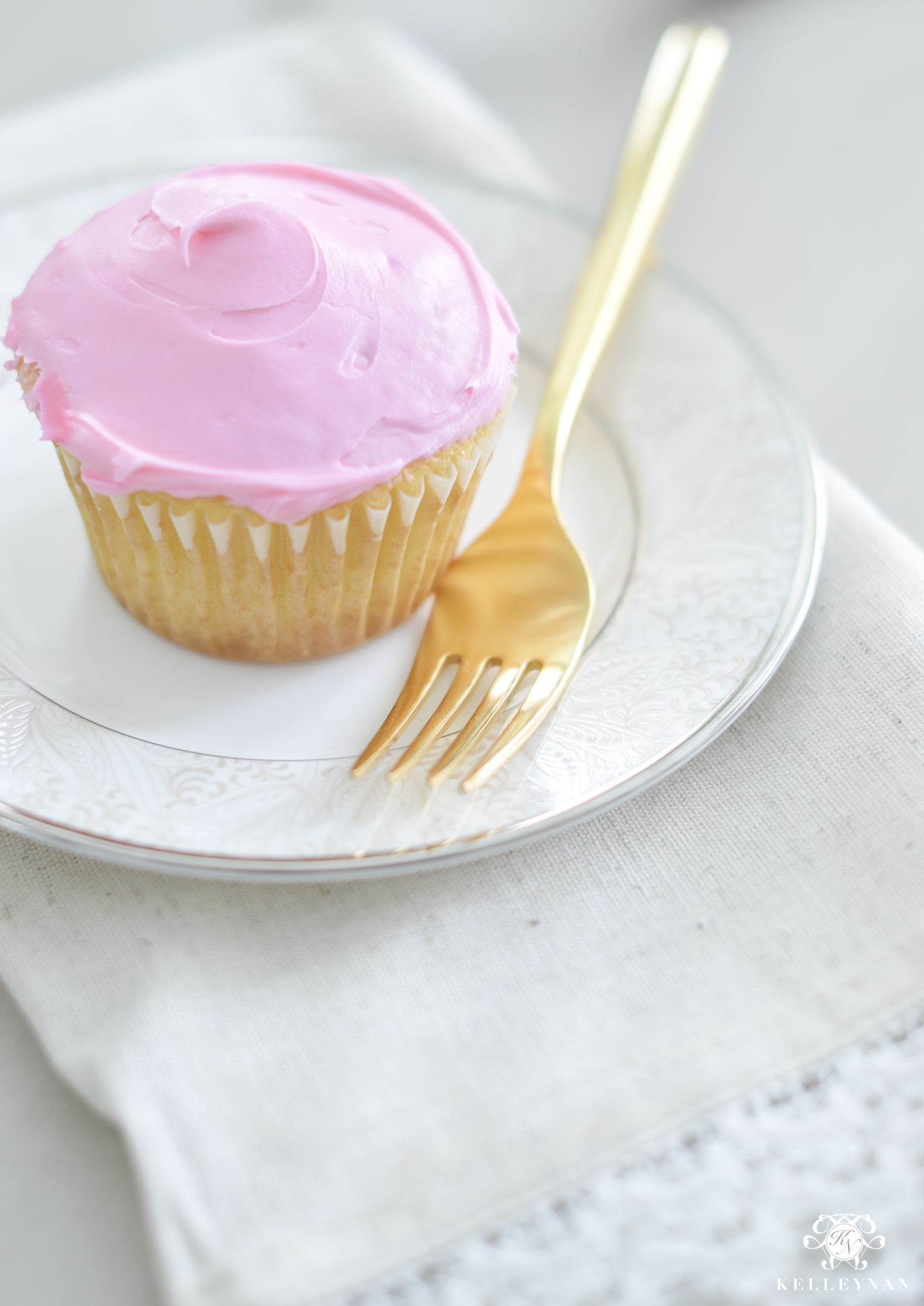 These were as easy as it gets. And delicious. And a huge hit. I'm no cake decorator but with gradient icing, you don't have to be. The overall ombre effect is the decor. If you use this technique, please send me a pic! Here's to adding just a little special touch to make the ordinary a little more extraordinary.


*post contains affiliate links*
Hover on the below photo to pin for later!