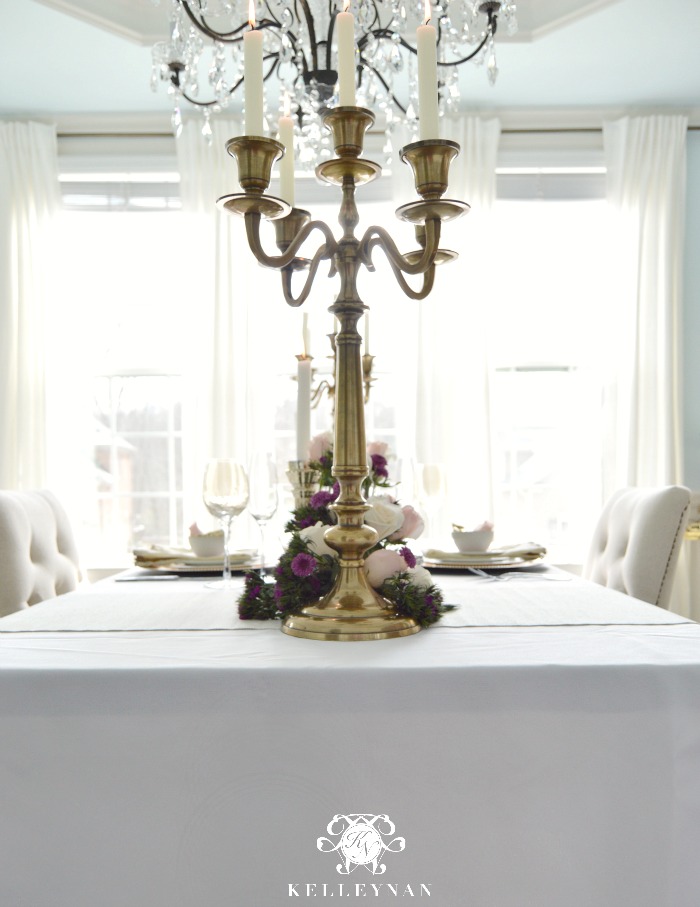 I have mentioned before that whenever I am creating a themed/holiday table, I prefer to go less literal and instead try to create a setting which evokes a feeling/mood I am looking to achieve. Valentine's Day can be tricky but it doesn't have to be. Here's why. Most of the actual Valentine's Day decor we see is comprised of cute cutout hearts, red roses, and sweet homemade banners. And, hey, I am all for it! To prove it, you can even check out my own simple ribbon banner tutorial I recently posted HERE. I love sweet Valentine's Day decor. But, here is where it can get tricky. If I were set out to create an adult table, head to Target and start stocking up on anything and everything I came across that was red and/or had hearts from the Valentine's section, I would end up with a very literal "Valentine's Day" table. There is nothing distinguishing the children vs. adult Valentine's Day, and there is a very big difference. This approach would likely lead to a table better suited for a fifth grade father/daughter dance. I will say it again so as not to be misunderstood: I LOVE CUTE VALENTINE'S DAY DECOR! But, I know that paper hearts and the Dollar Spot probably aren't going to "give me all the feels" when we sit down for a special dinner. I don't know who is to blame… I know it is understood that those balloons on sticks are supposed to make us feel desired, but they just don't… not me anyway. The good news? It is way easier to create a Valentine's Day table if you think less about creating an actual "Valentine's Day table".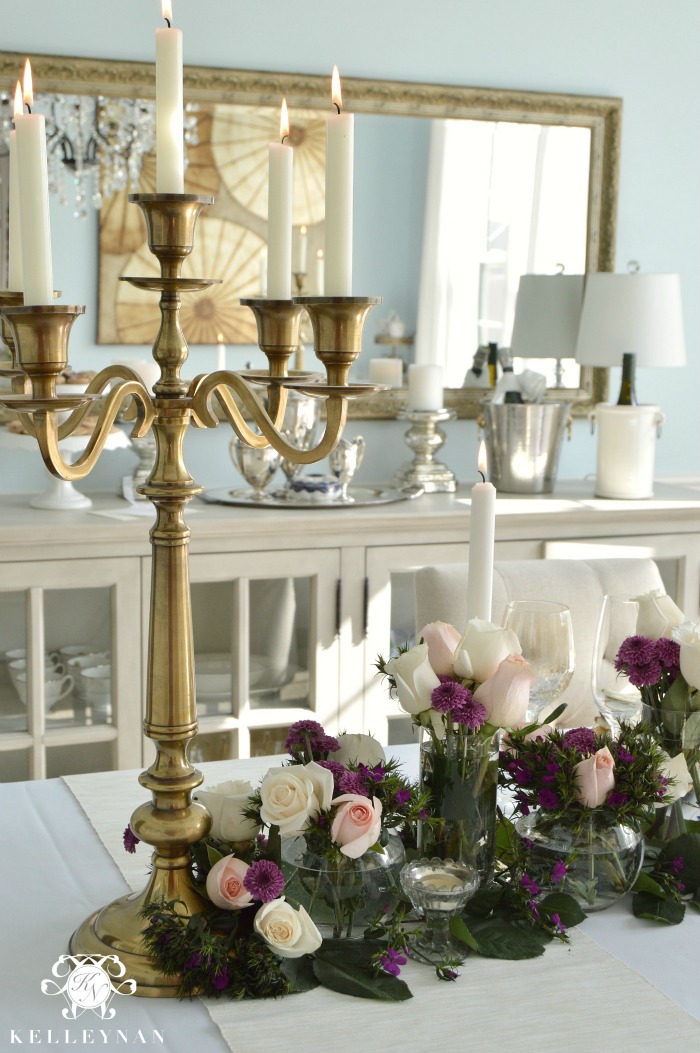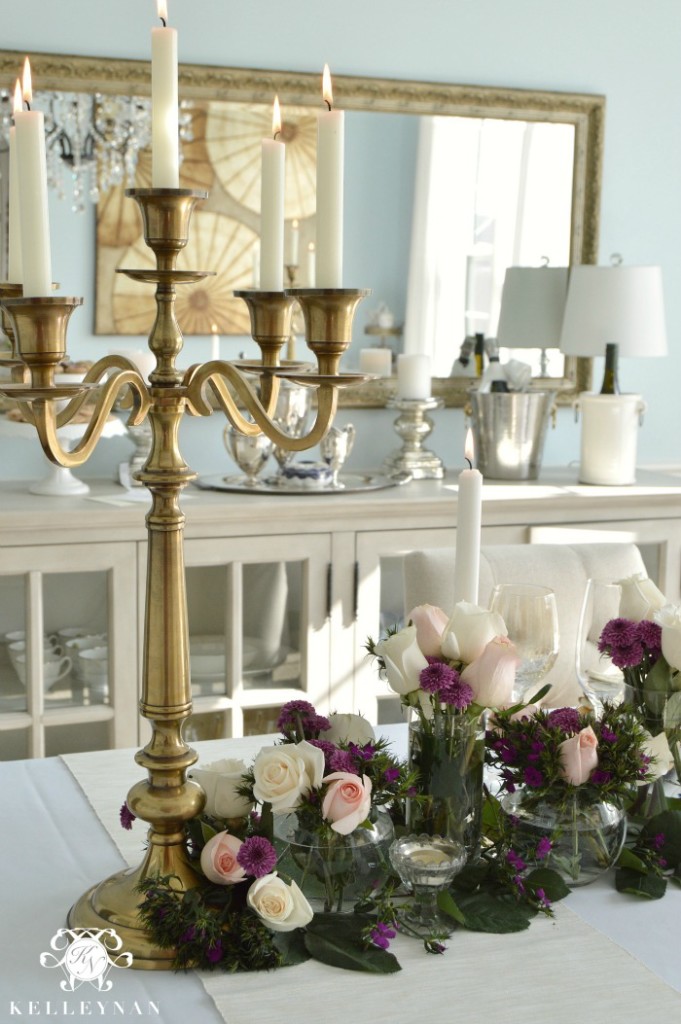 Full disclosure, my husband and I do not have children, which puts us in the less cute-crafty category automatically. But, if you have kids and are fortunate enough to get a sitter on Valentine's Day, or any date night for that matter, and want to make a special dinner for two, these same suggestions apply.
I wanted a romantic table – a sweetheart table – which makes me think of flowers, candles, and a touch of elegance. (Notice I didn't say romance makes me think of red cardboard hearts and strips of red and pink crinkle paper.) I have seen gorgeous family/party tables which incorporate more of what you traditionally think of with Valentine's Day. My point is not that that option can't be stellar, it is that if you are looking to create a romantic table, think outside the box and use more of what you associate with the mood and less of what "Valentine's Day marketing" says you are supposed to use. So, with those elements in mind, I set to work.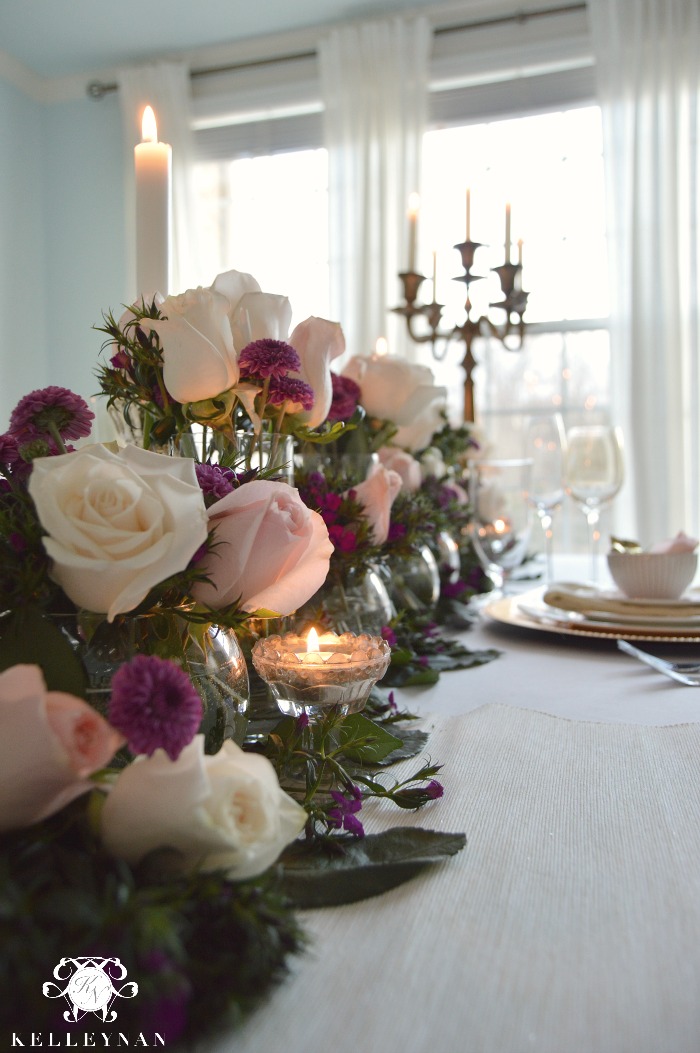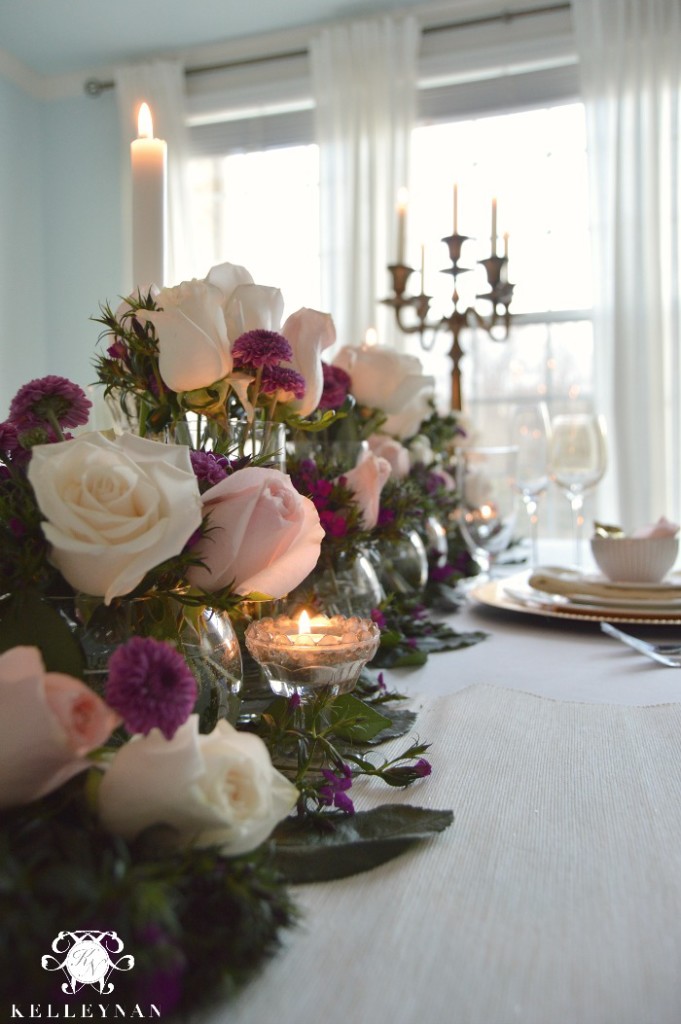 One of the reasons I love keeping my tableware neutral is that I can make white, silver, and gold coordinate with any holiday or season. With the exception of my flowers, I shopped my home exclusively to create this table.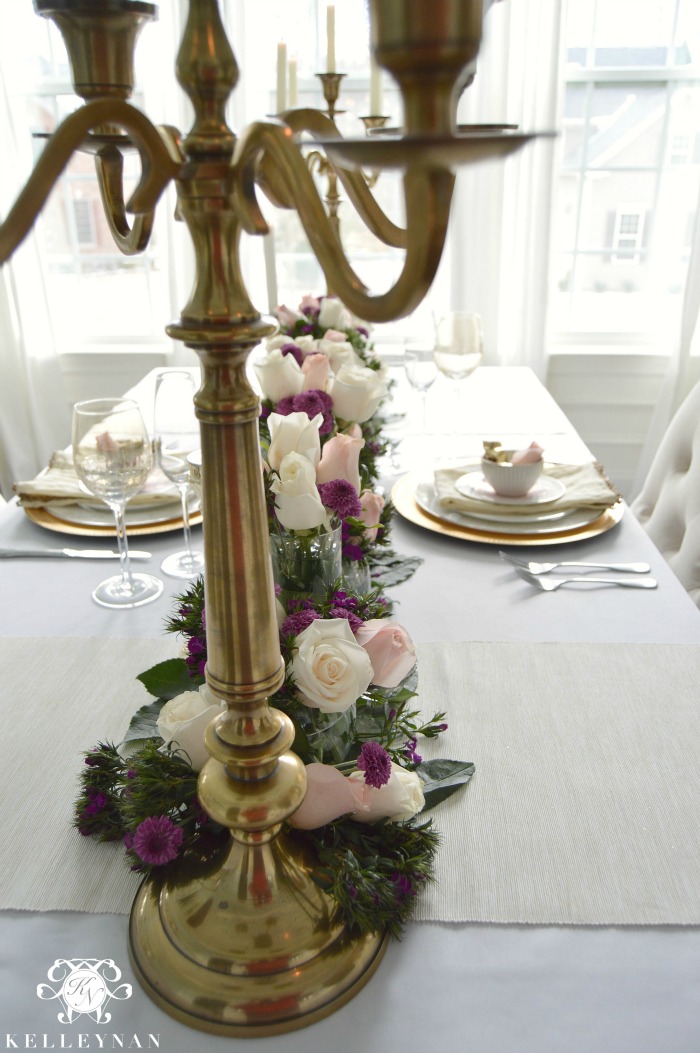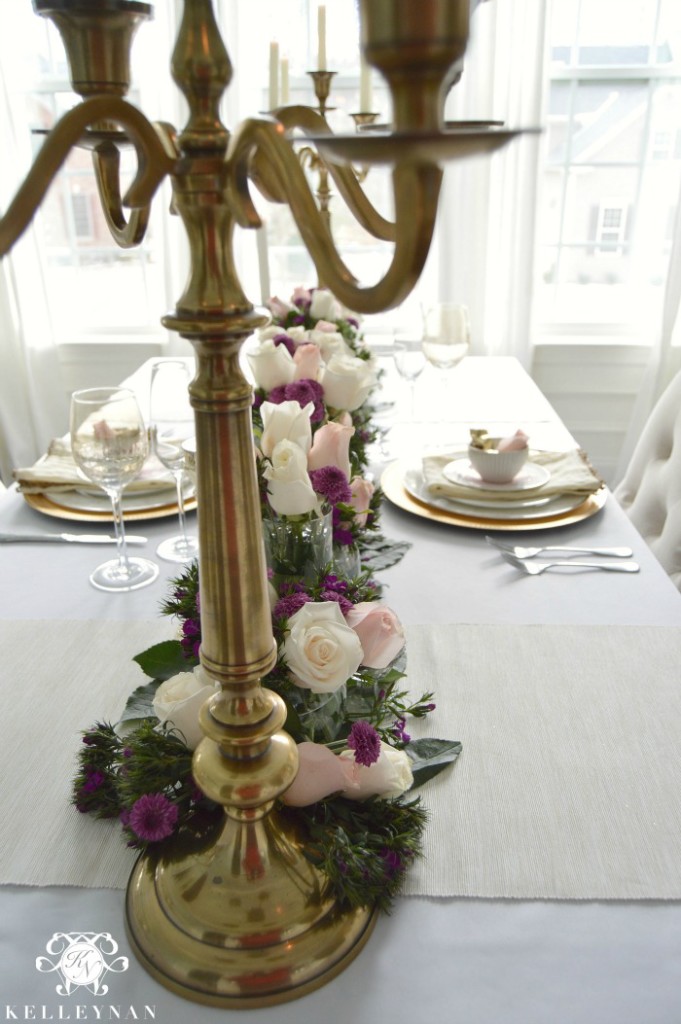 The first step I took was to literally make this table a "table for two". I removed all the chairs except for the two I placed in the center of the table, facing each other.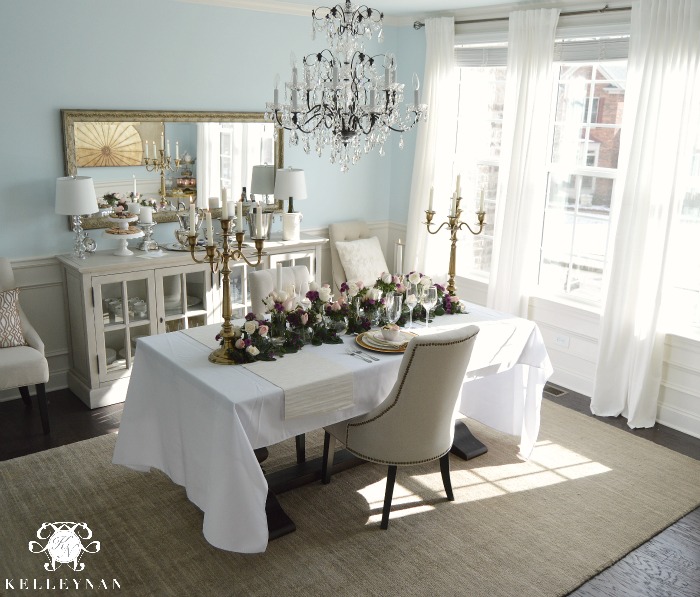 I took one of my trusty white tablecloths, reminiscent of what you would find in a nice restaurant and laid it as my base. The length actually fits my table with the leaves in; although the ends are a bit long, because chairs aren't on the ends, it works. Next, I took two runners (HERE
) and spread them out on either side of the table setting. Because I only set the table for two, extra fabric helps take up visual space and makes the table look less bare, without adding any clutter.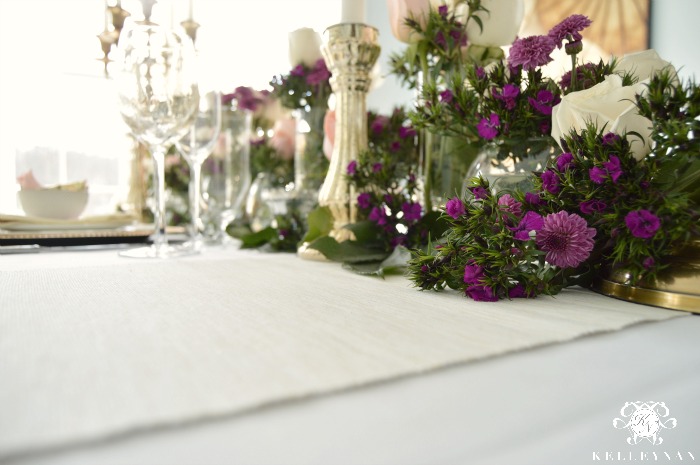 While I typically like to create one statement centerpiece with height, I went against my norm in creating this table. I wanted to keep the center of the table low so there would be a clear view across to the opposite seat.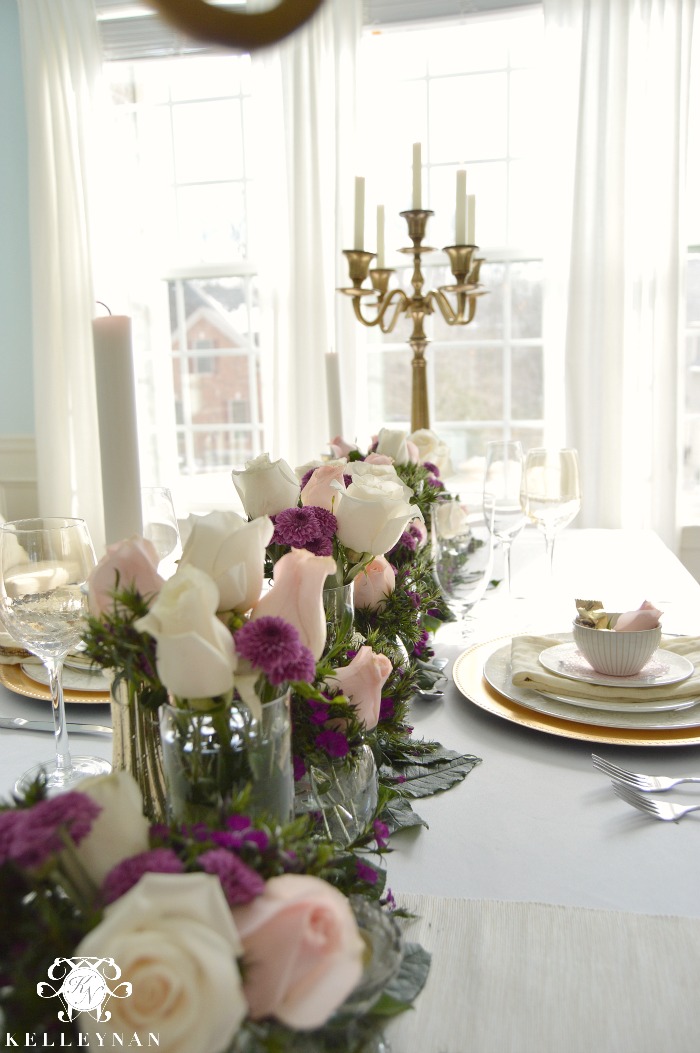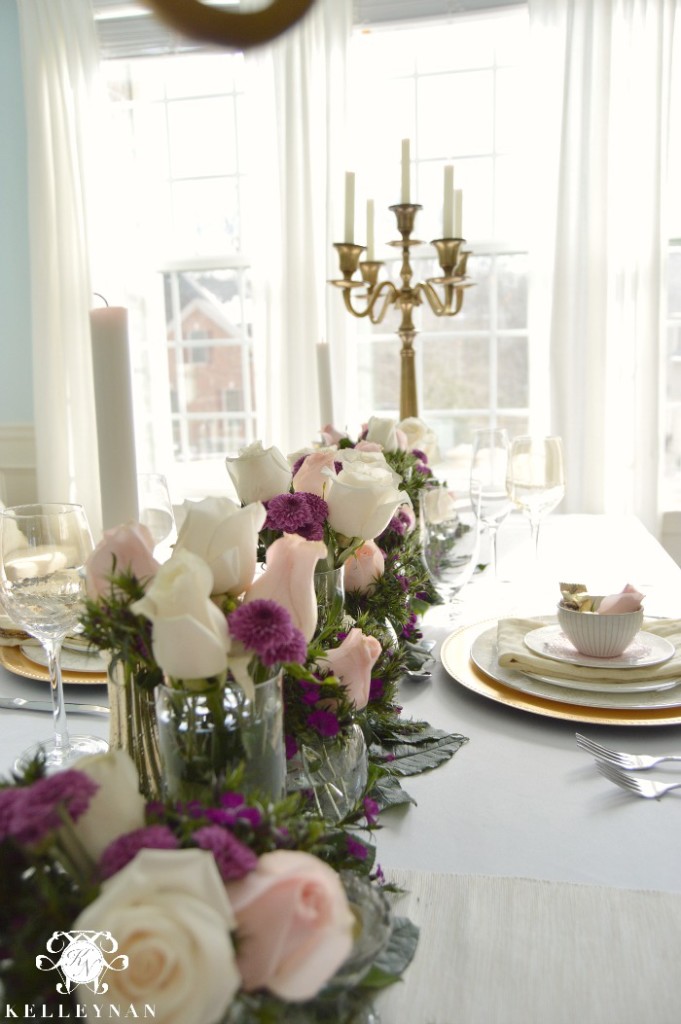 I decided on short cut flowers, scattered and stretched across the length of the table. I used six small, round vases (from the Dollar Tree), and alternated five plain cylinder drinking glasses from the kitchen to form the arrangements.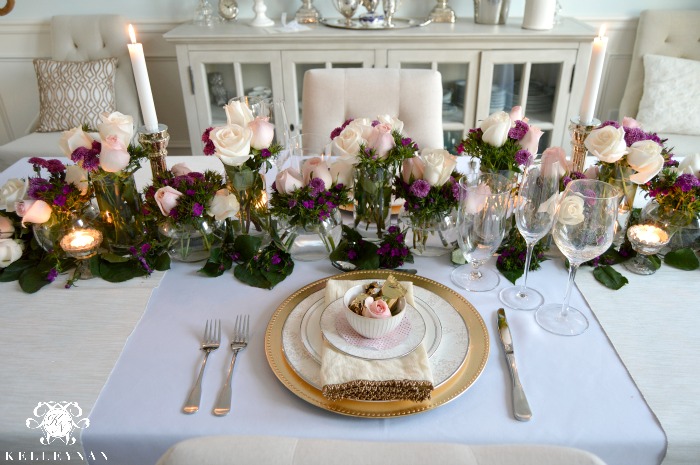 I used the gold candelabras from my breakfast buffet on the ends of the table, and some mercury glass votive and tapered candleholders I keep on hand, arranged down the table.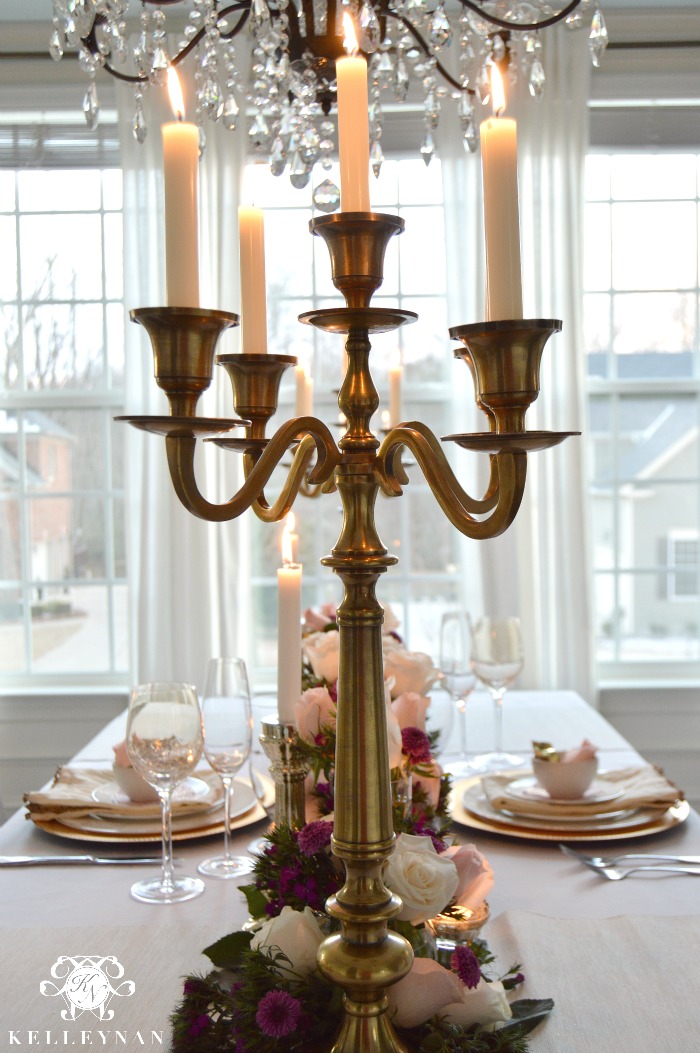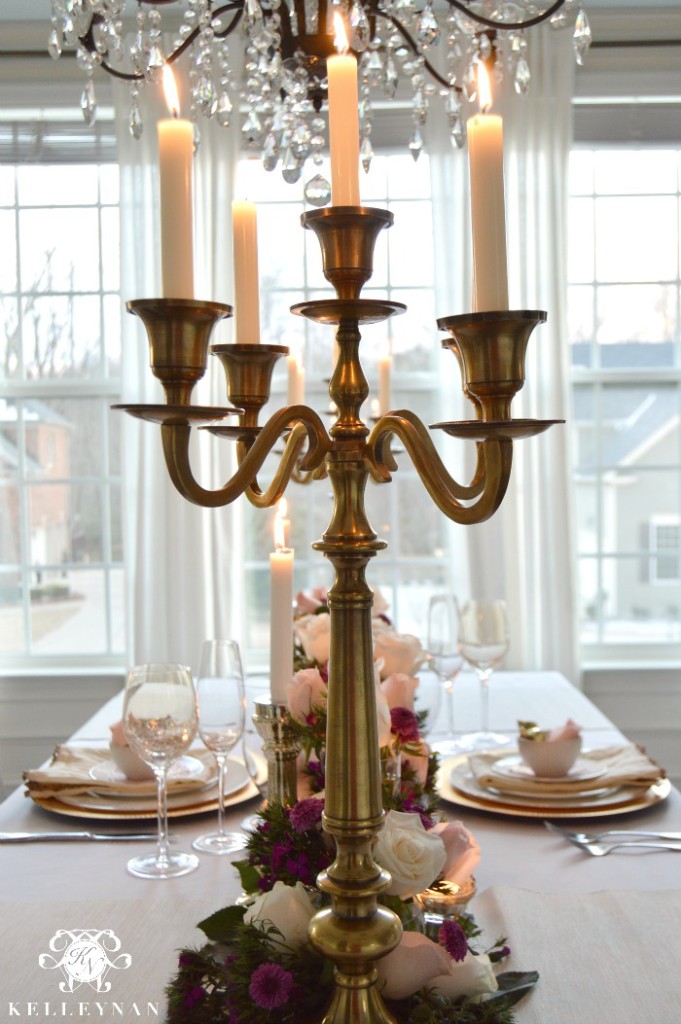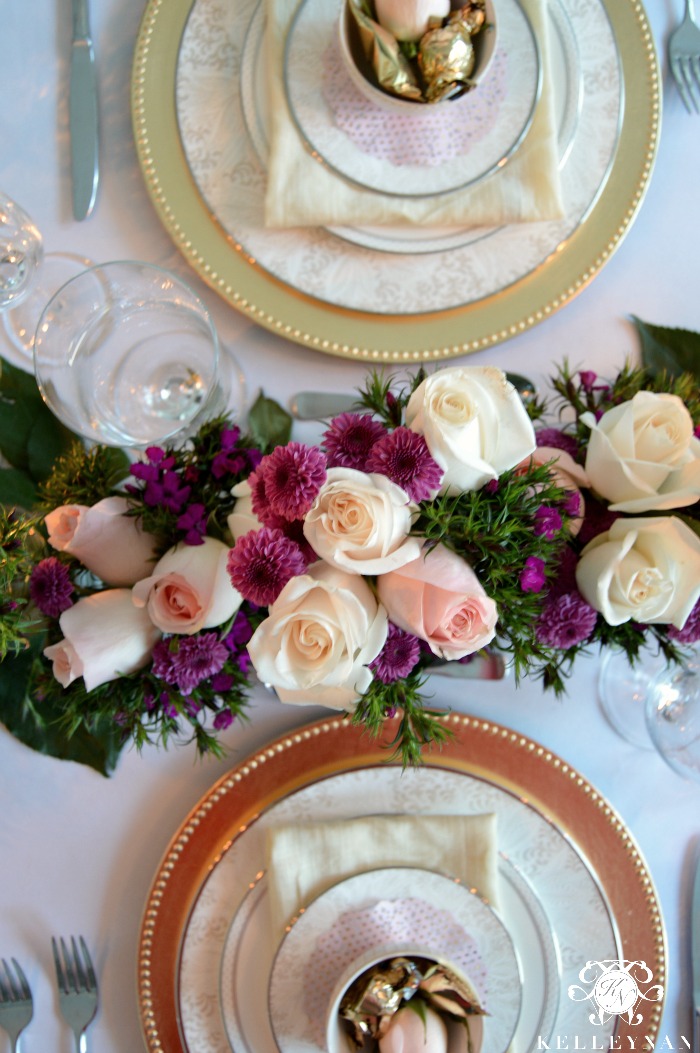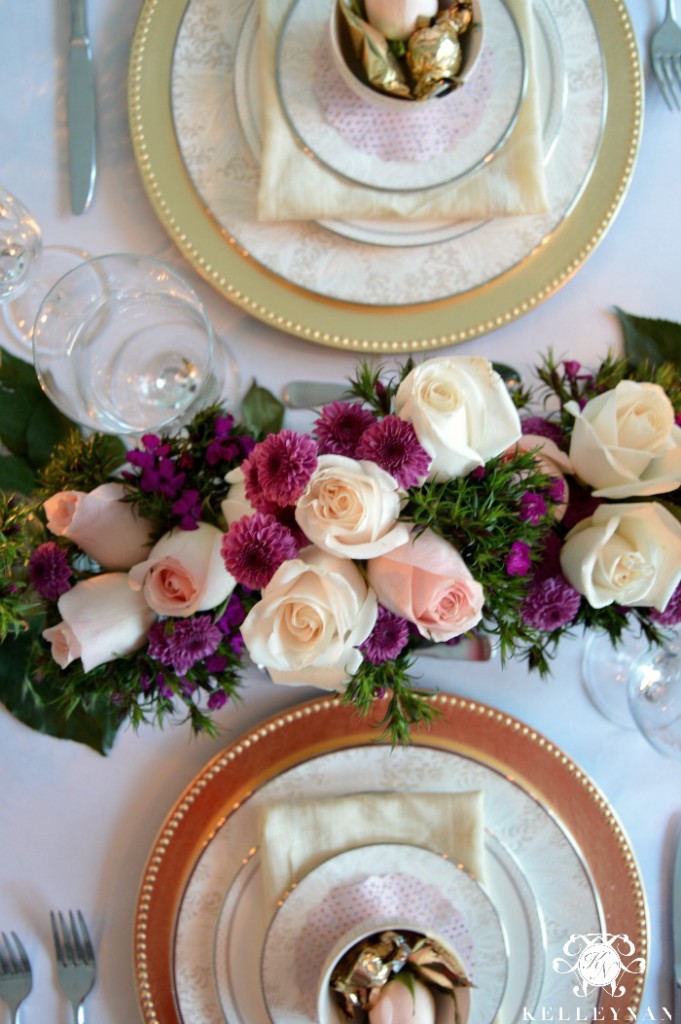 I layered a gold charger with my china and gold beaded napkin; all of these pieces have been used in previous tablescapes. I did have some pink and gold doilies that I used to place a little ramekin of sweets on top. You can find these cute little bowls HERE.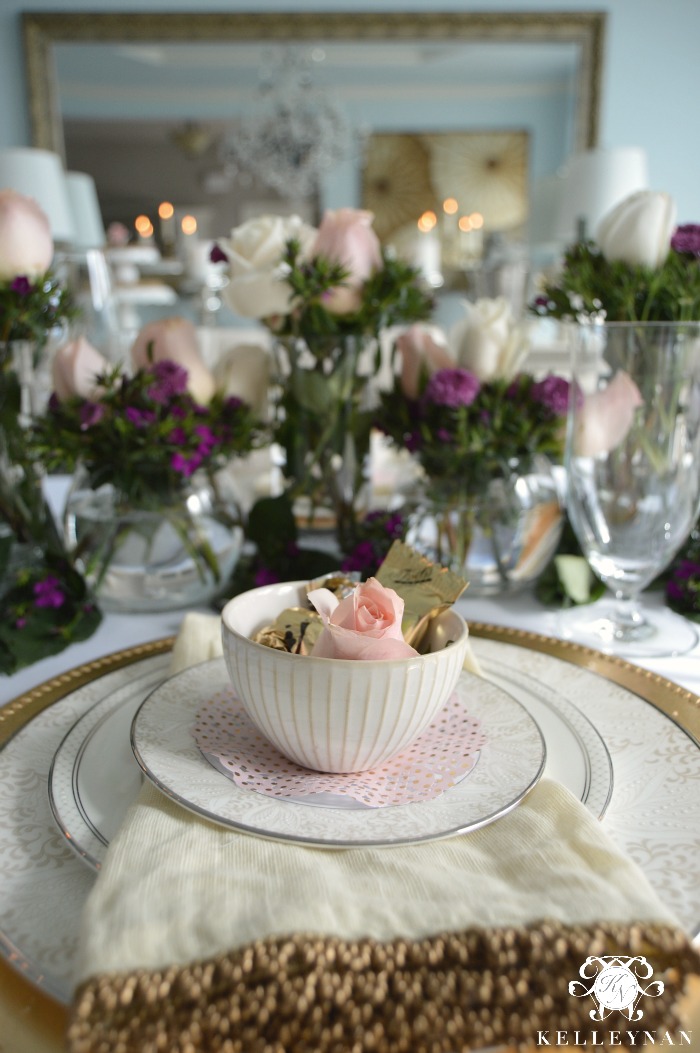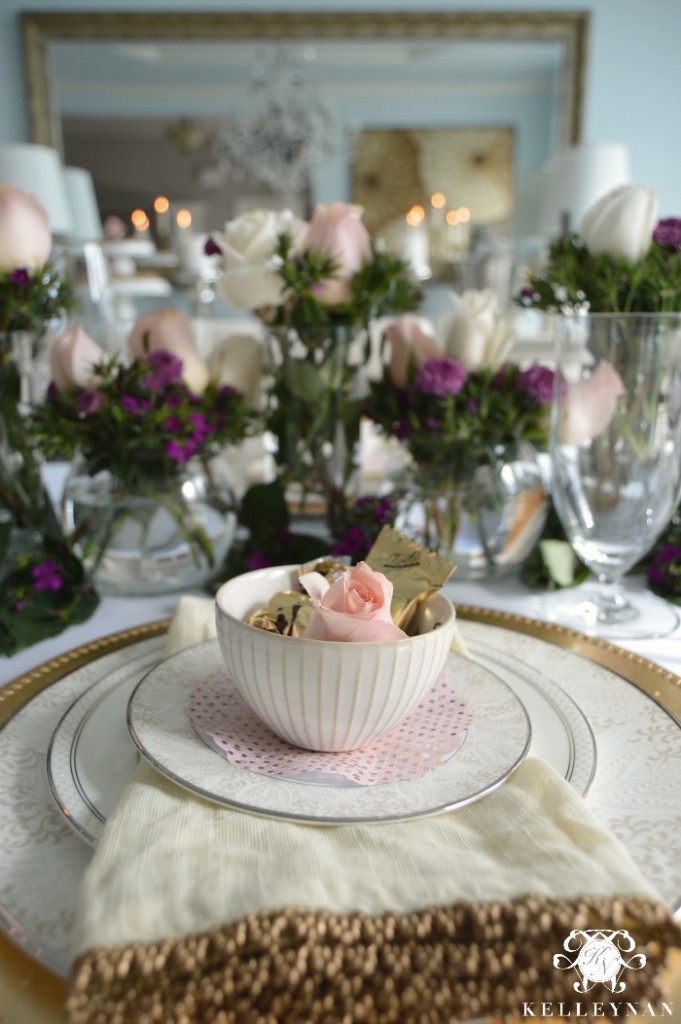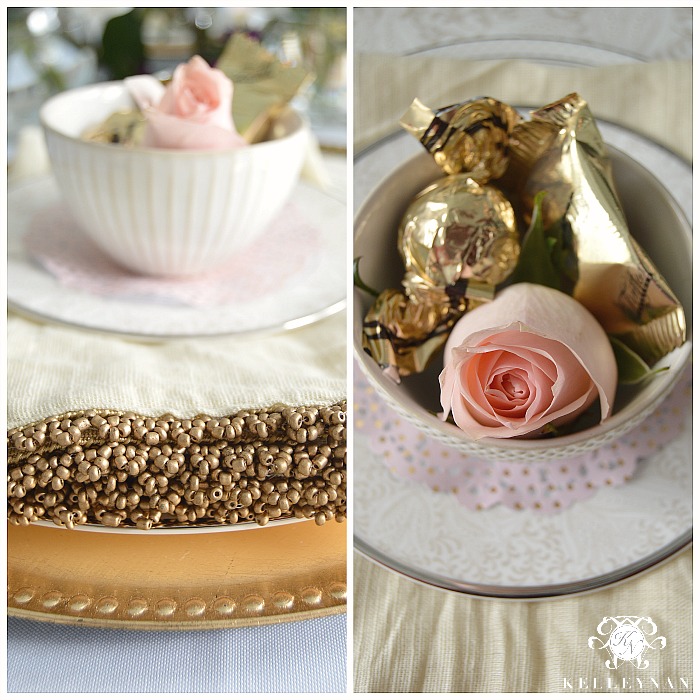 The place settings each have a champagne glass, water glass, and wine glass which is difficult to do on this table when it is fully set. Definitely an advantage of only having two place settings.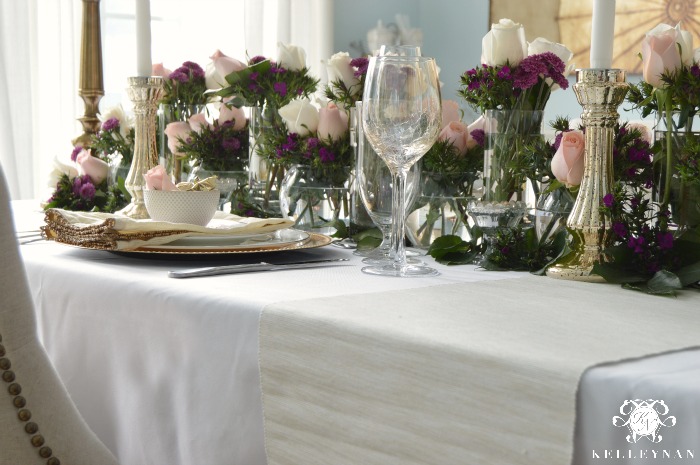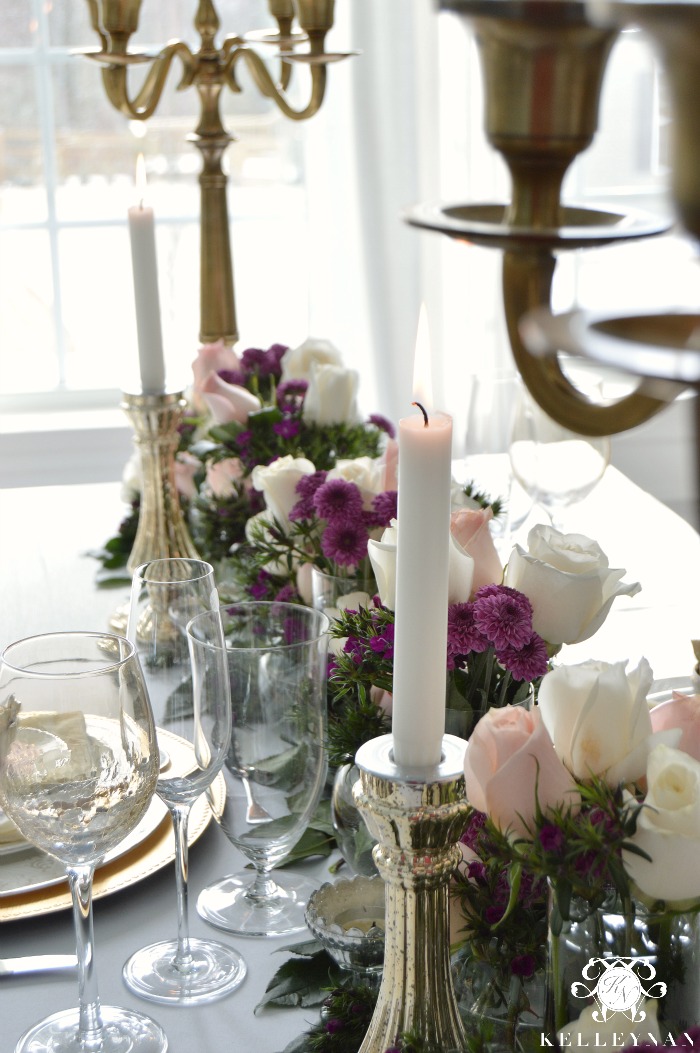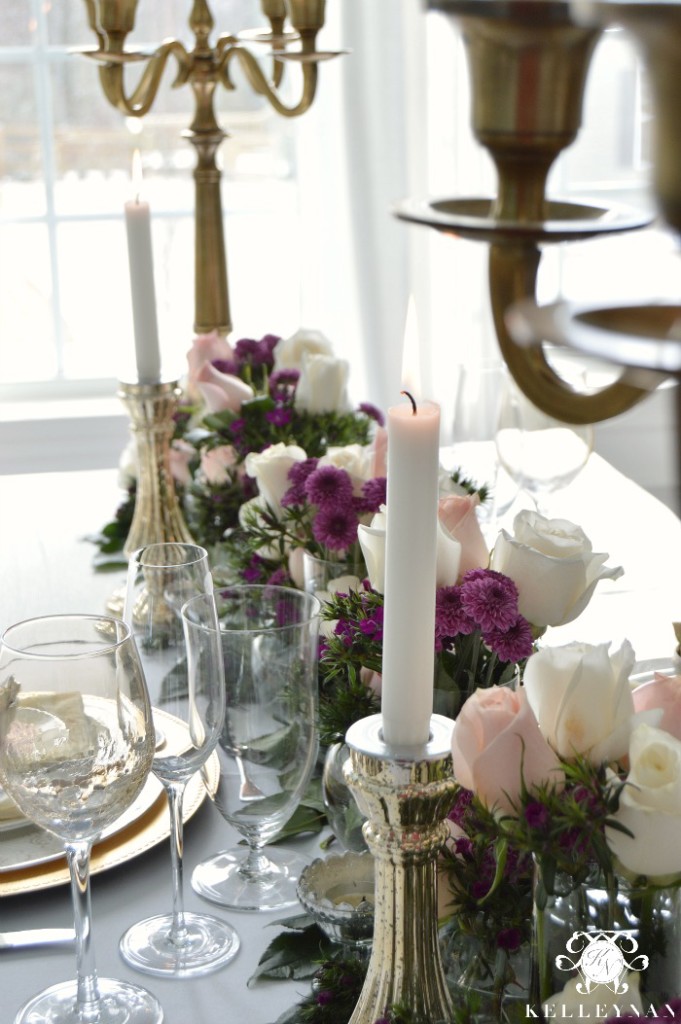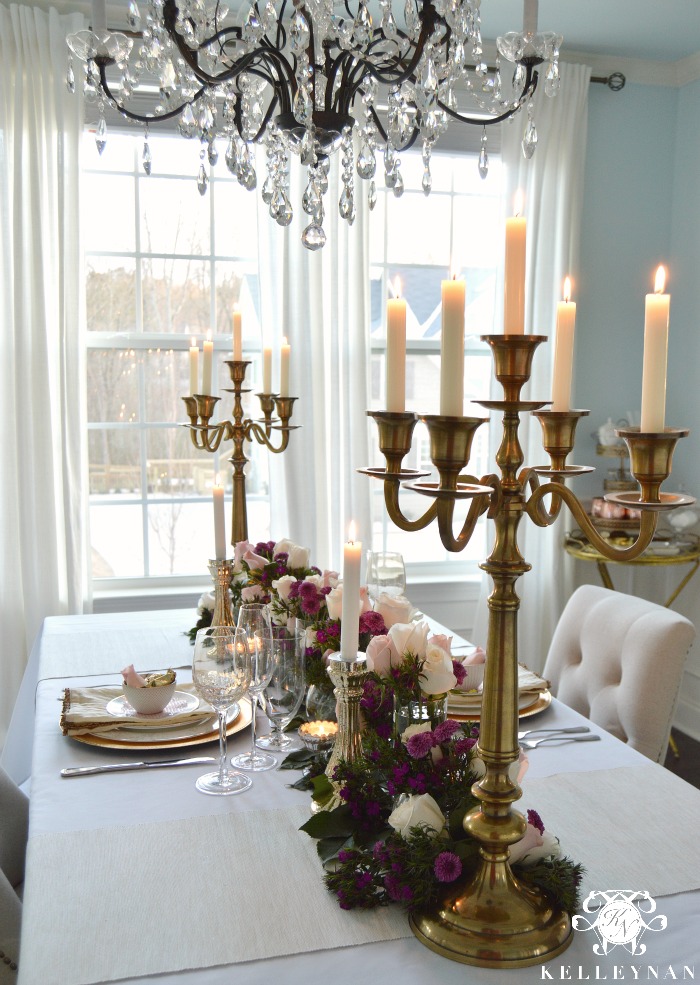 You may have a tendency to think as I often do, "why go through the trouble for just me and my husband?" The truth is, that is exactly when you should go through the trouble. Eat at the table and use your nicest dishes. Mood light, soft music, and all those other stereotypes, yes, follow those too!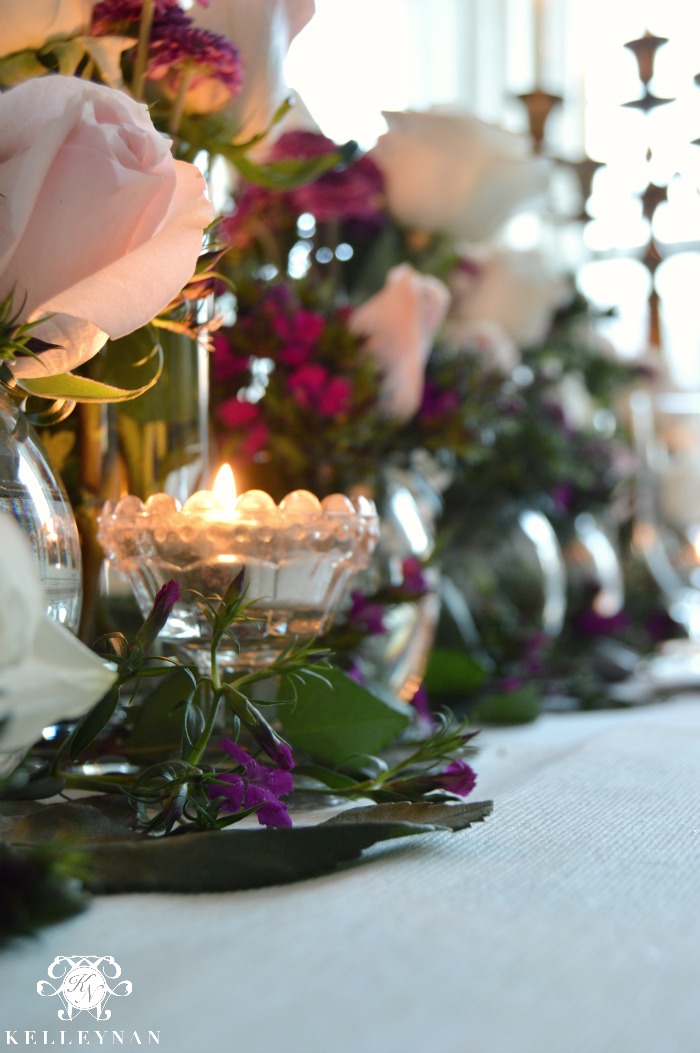 My goal was for my floral centerpiece to come together like a garden hedge. Per the usual, I quickly selected all these from Costco- two bunches of two dozen roses, and two garden bunches. Full disclosure, when I ran into the store, trying to get home before serious weather hit, I was hoping they would have my favorite blush roses; I also didn't envision using the lavender flowers as I did. Regardless, I like how the flowers worked together to form a little "garden" on the table.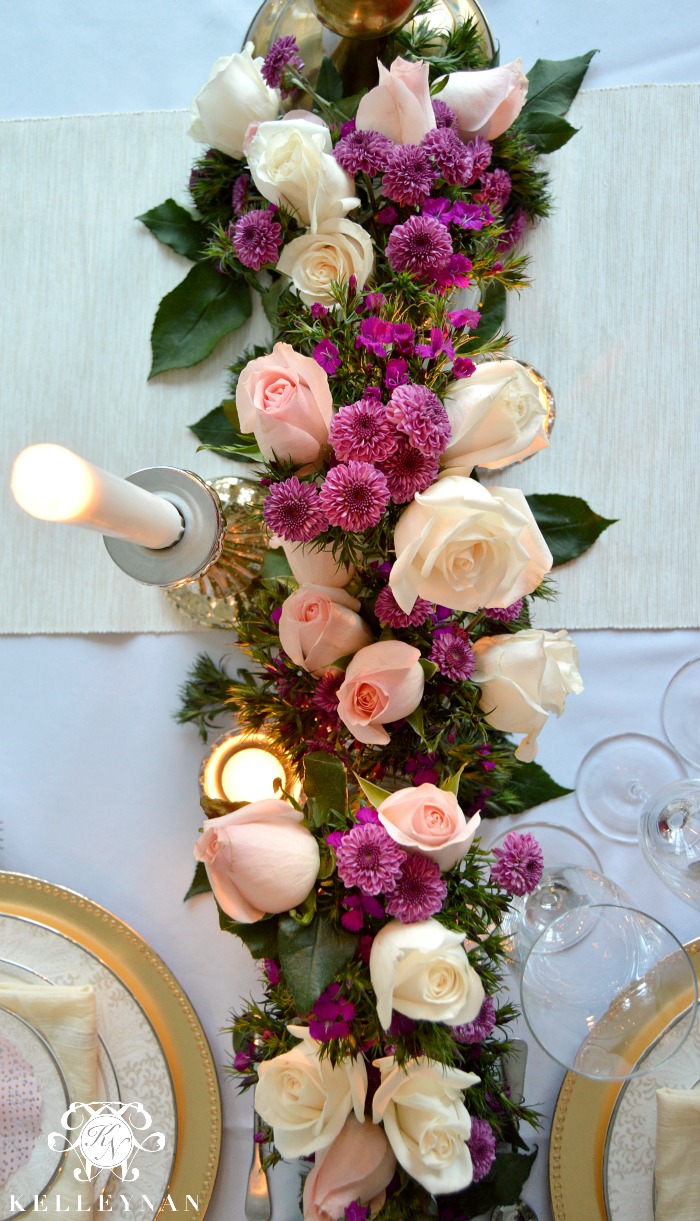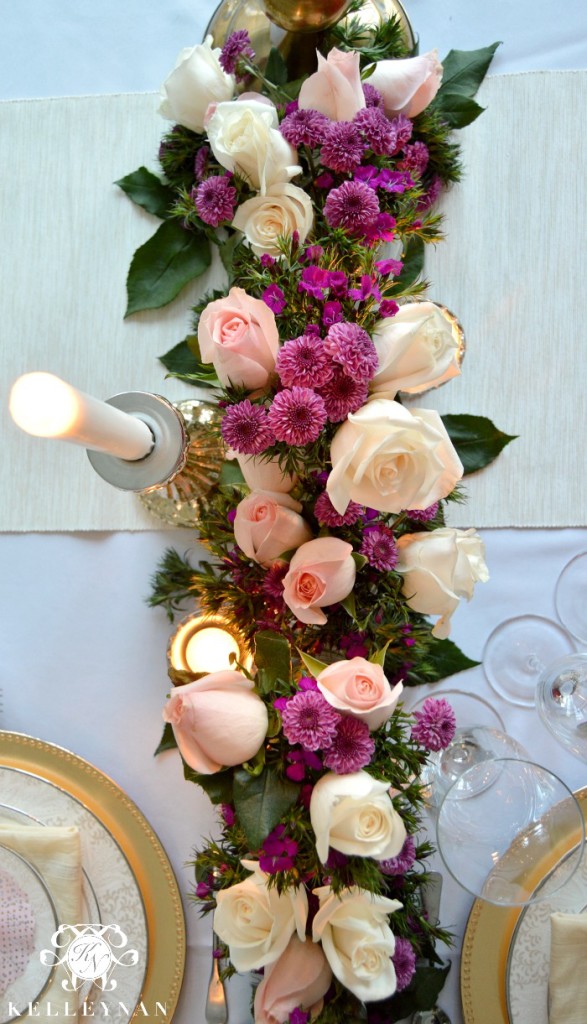 Another tip- to help enhance the fullness of my table "garden hedge", I picked a few stems and tucked them at the base of the glass vases. The leaves trimmed from 48 roses which typically pile up in the trash after being trimmed worked perfectly.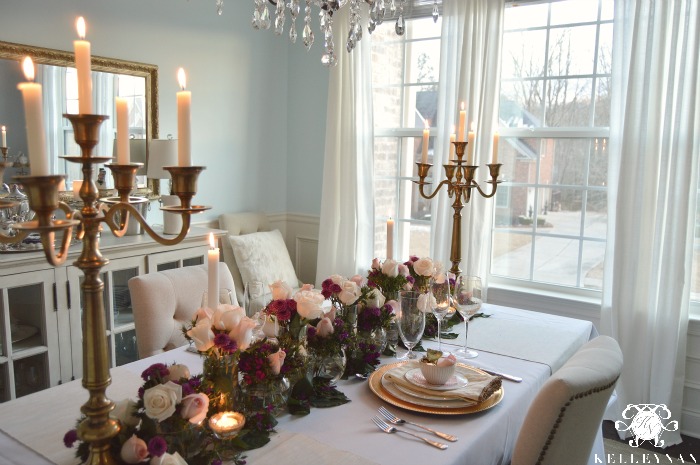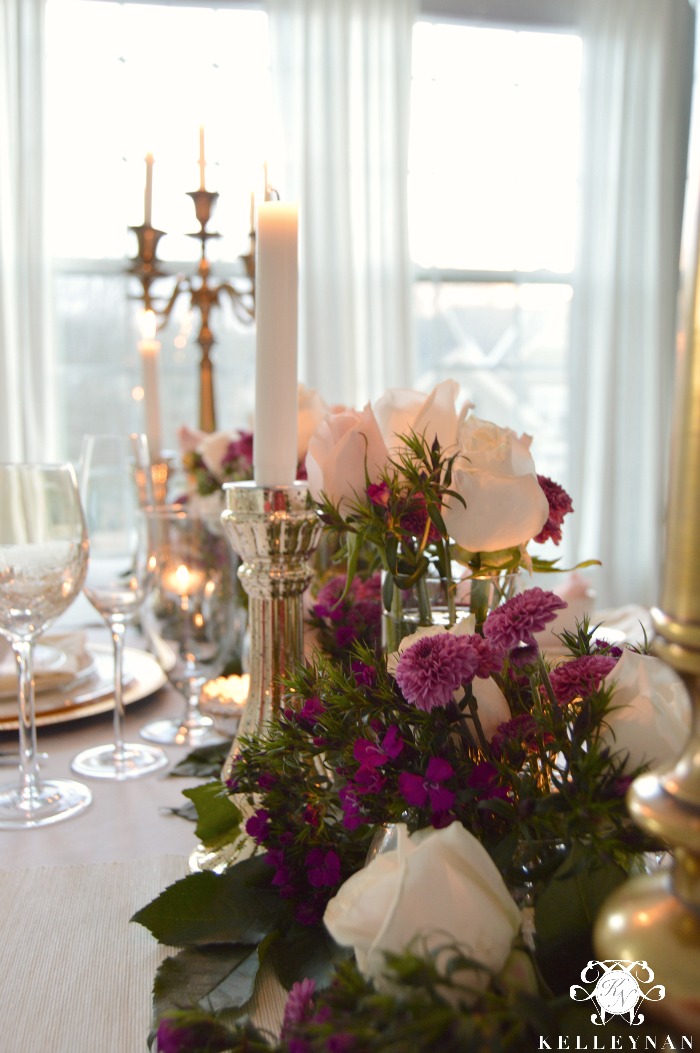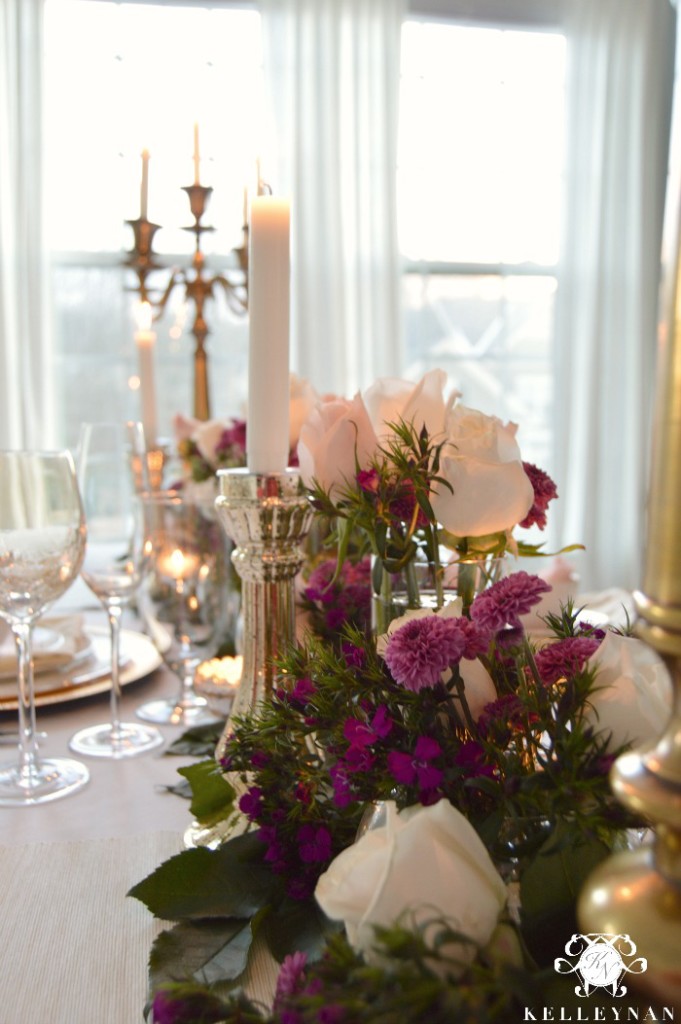 I love the effect the short votive lights have, radiating and reflecting through the clear glass vases.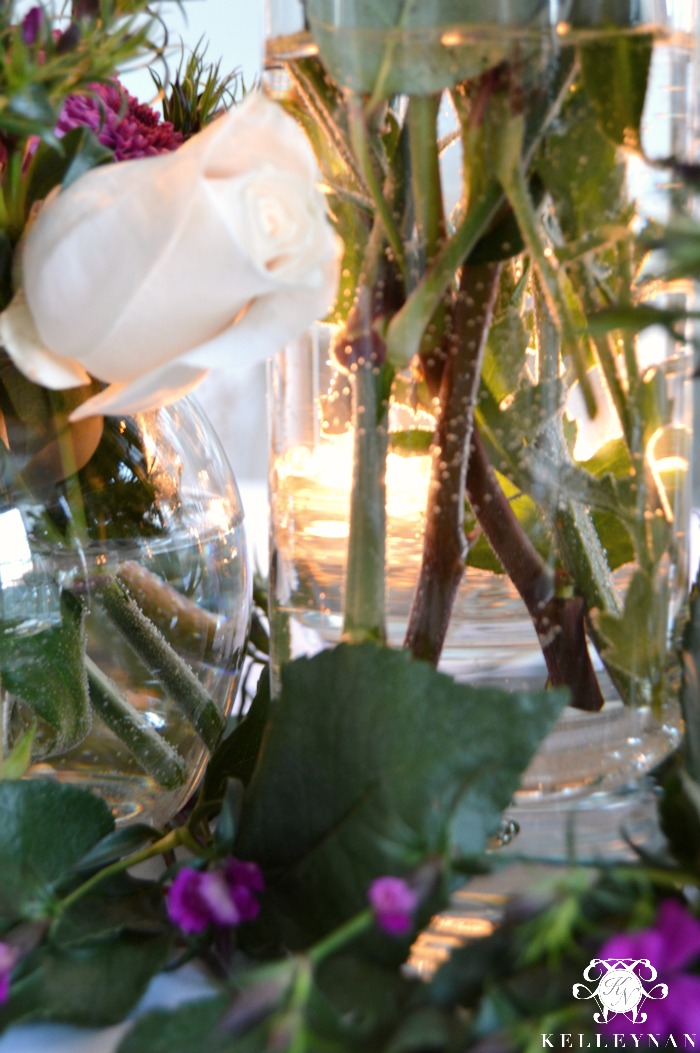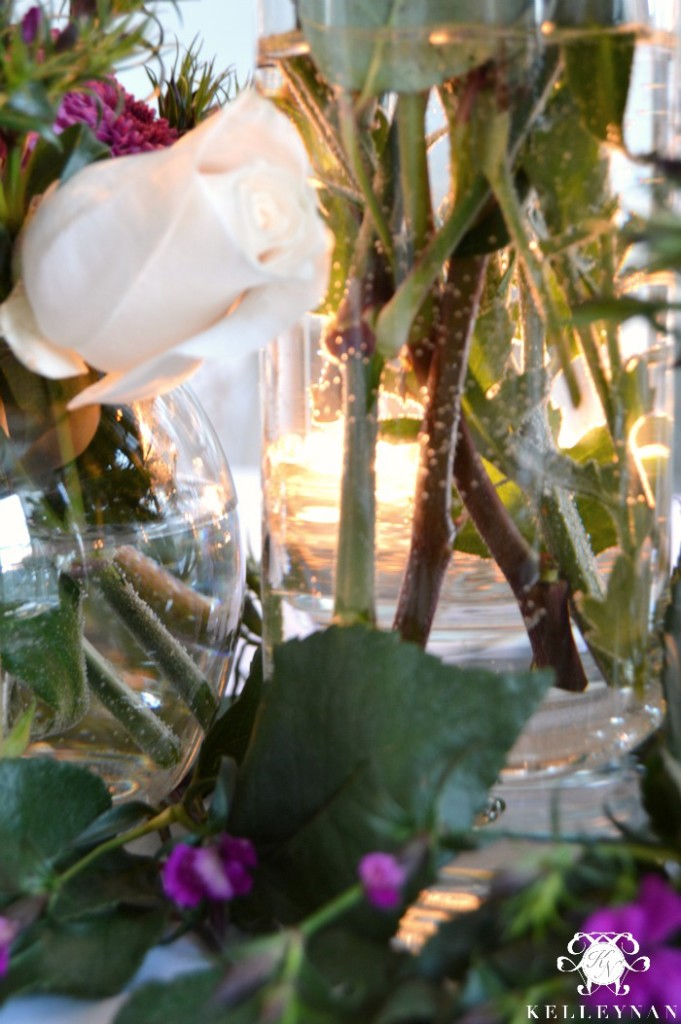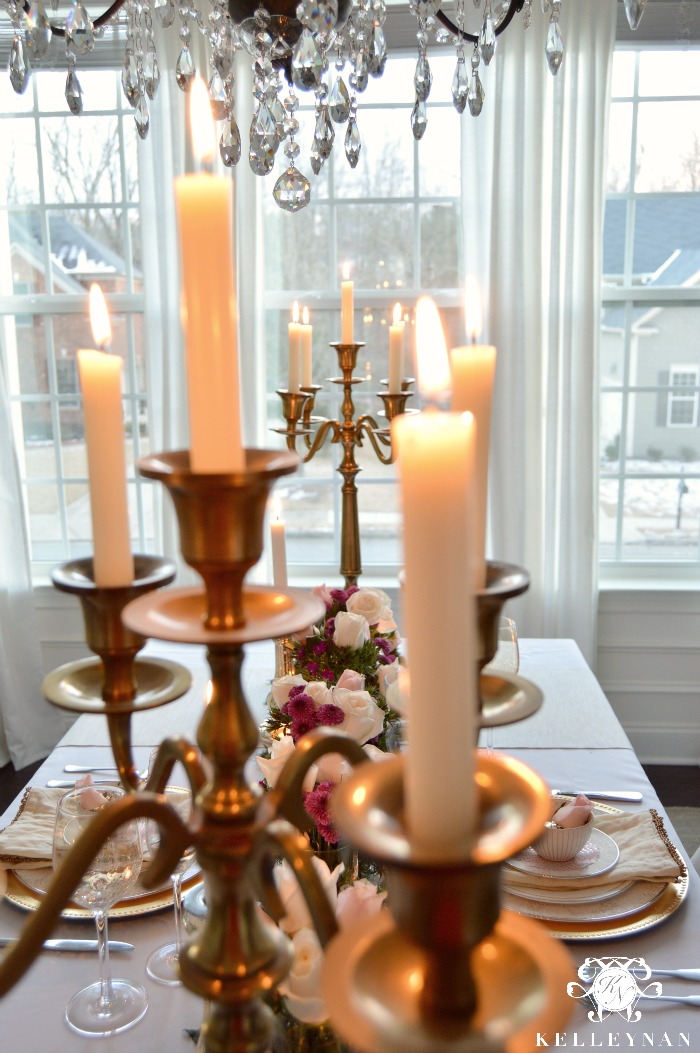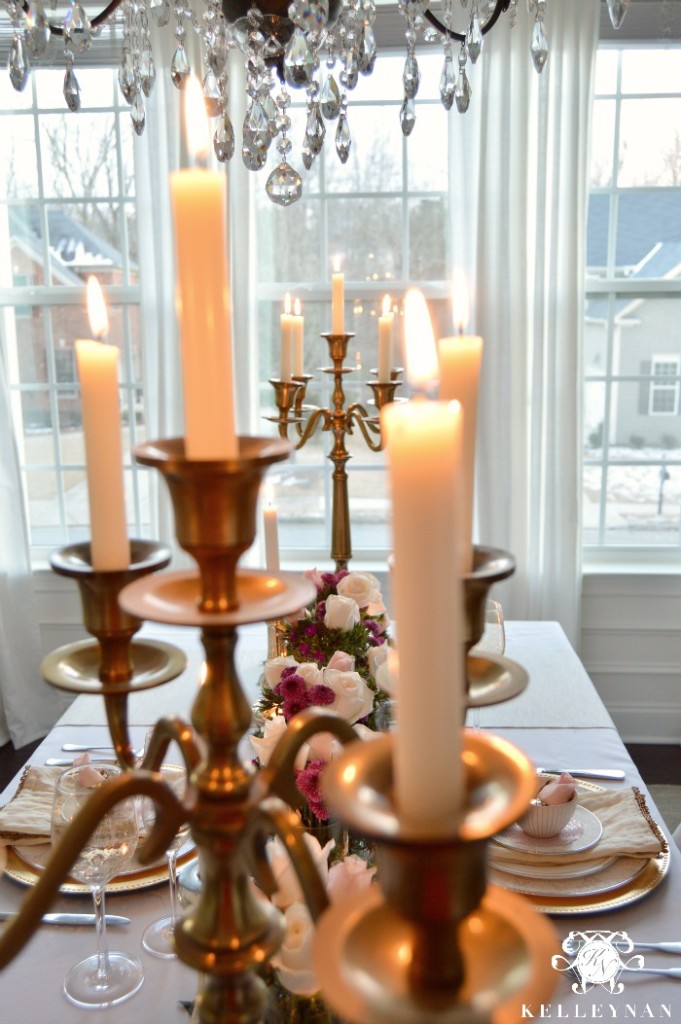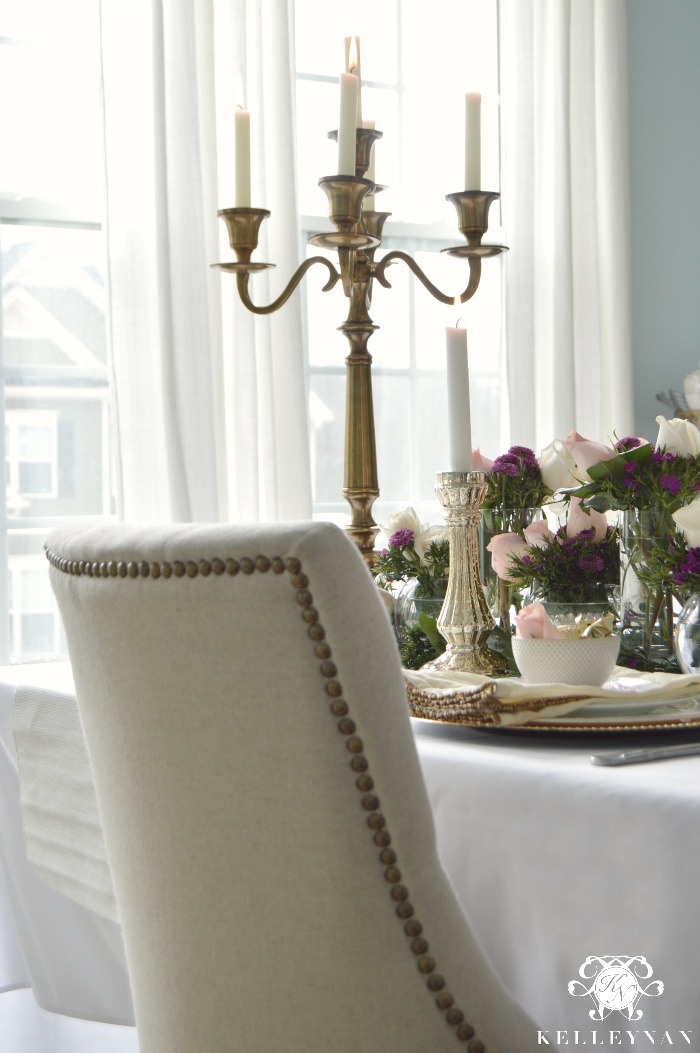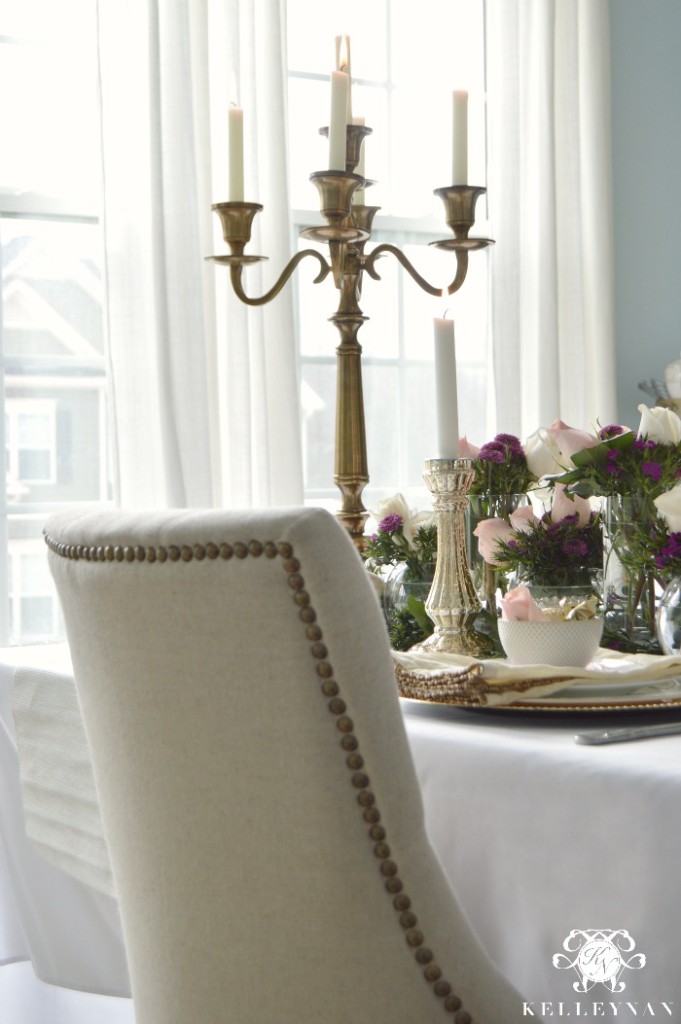 The buffet serves as the perfect spot to set up your sweets, gifts, and beverages.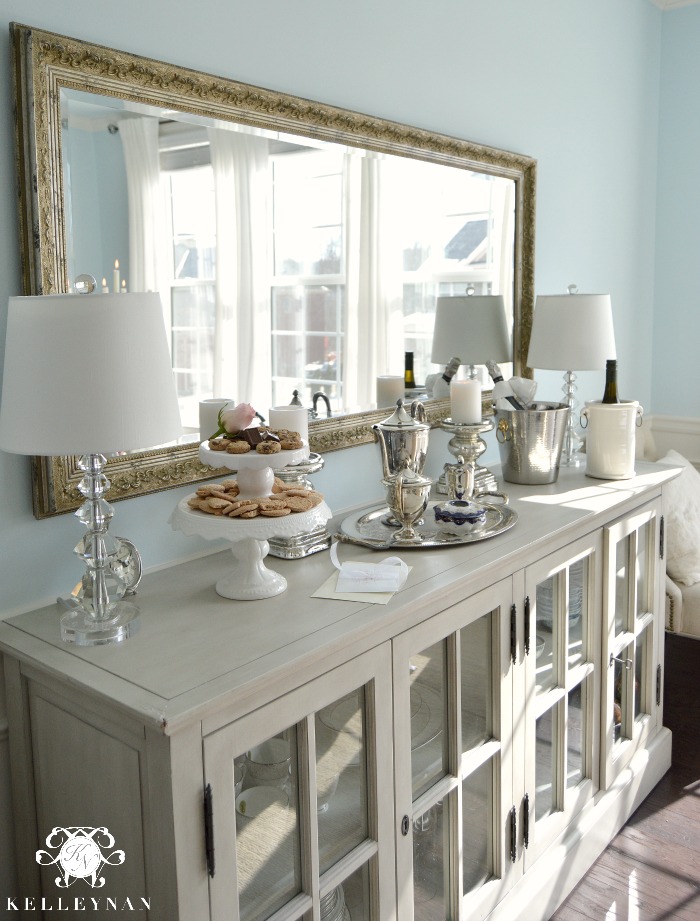 Chocolate covered strawberries on similarly stacked white cake stands would be perfect. Here are a few similar pedestals: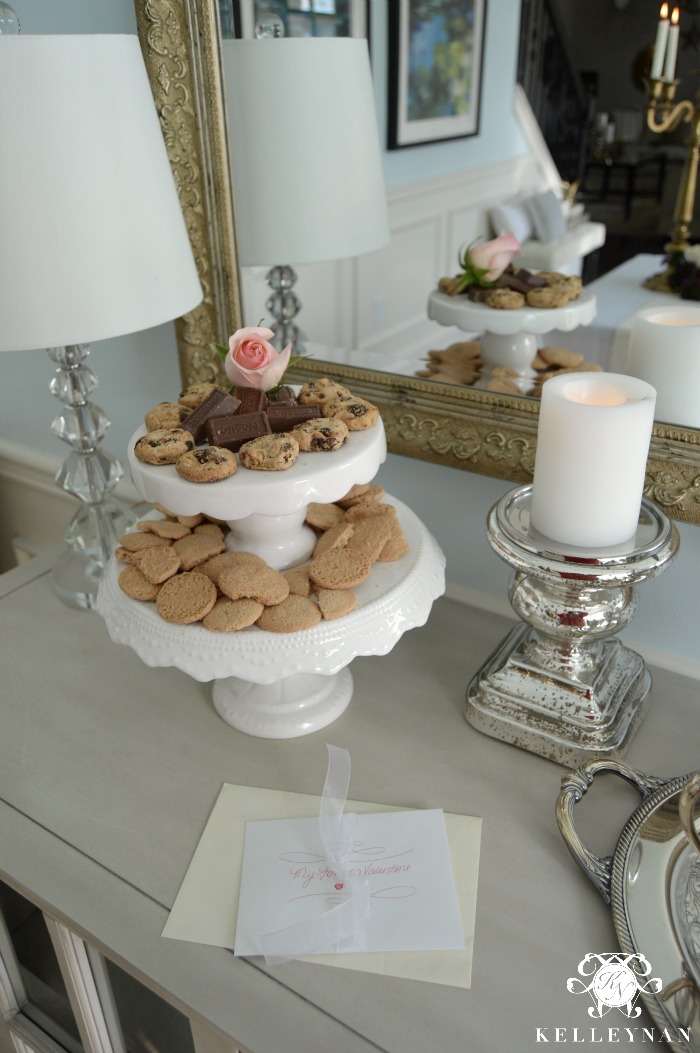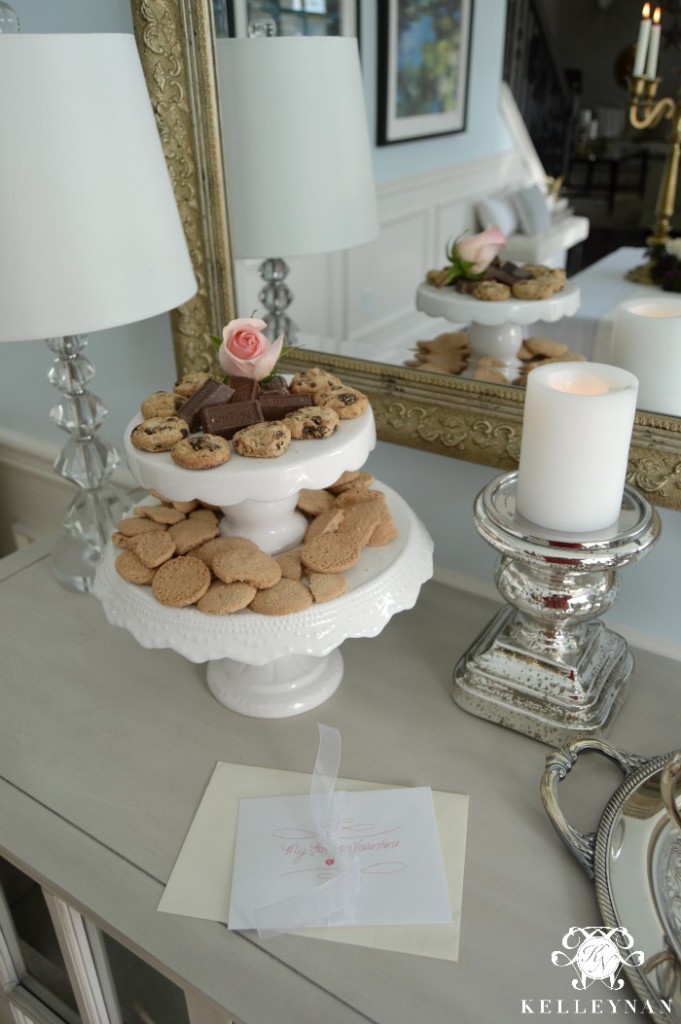 If you don't have time to make/buy sweets, see what you have on hand. You can dress up chocolates and boxed cookies simply in the way they are displayed. Say hello to my unwrapped fun sized Nestle bars, Famous Amos cookies, and ginger spice cookies I received in a gift basket during Christmas!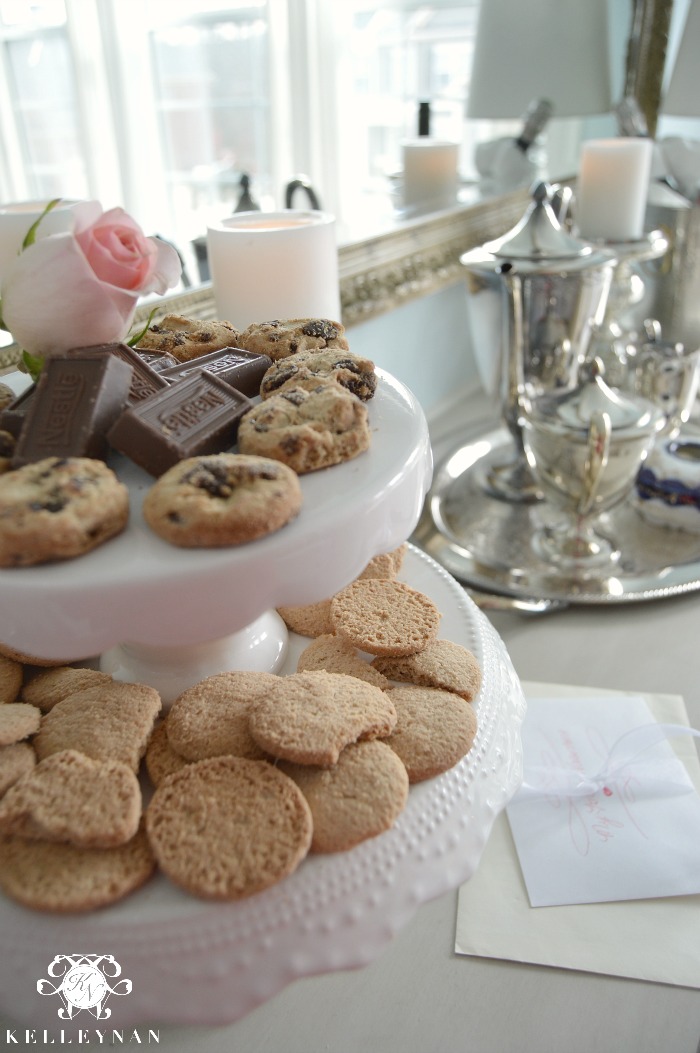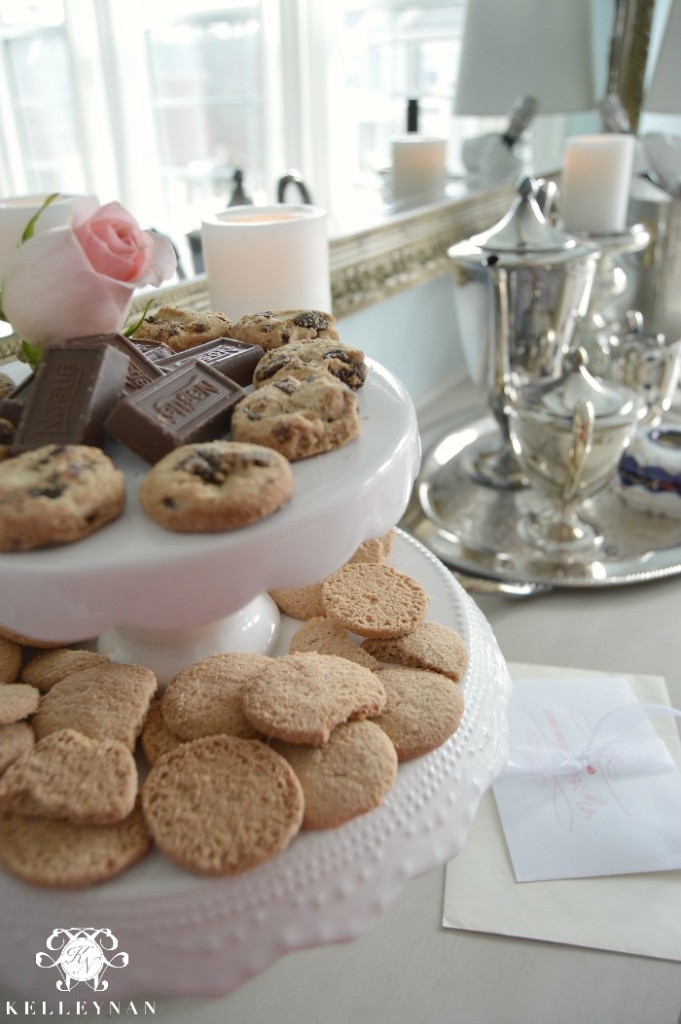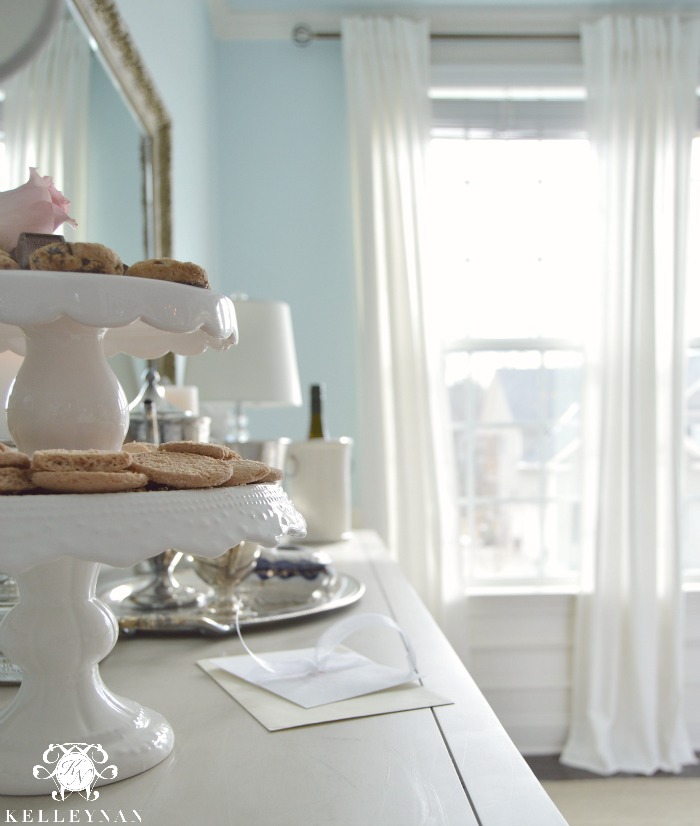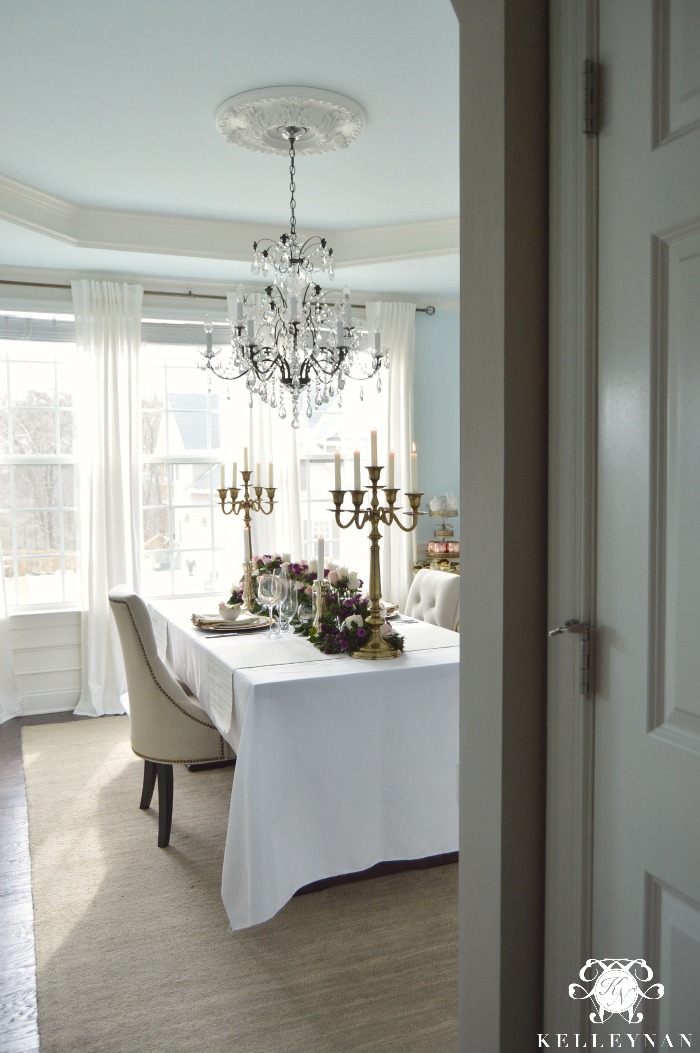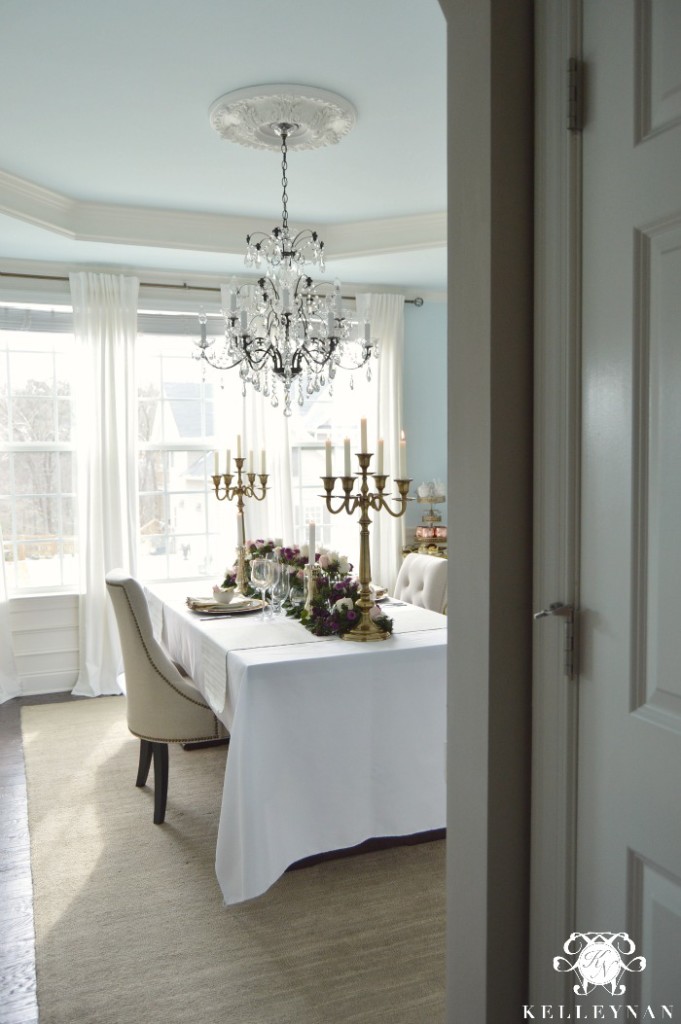 I hope that my take on a romantic Valentine's Day table for two has inspired you to see what you have around your home to create your own special, date night table. My guess is that you will discover the pieces which will more successfully help you create a romantic setting than if you were to come home with 10 boxes of red cellophane packaged chocolates.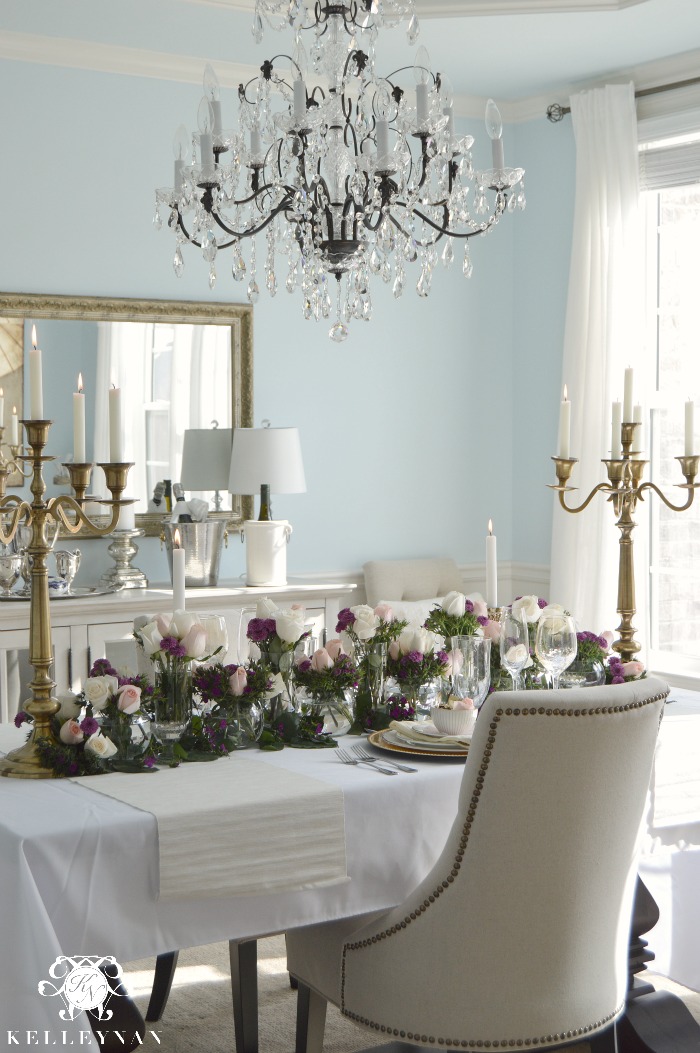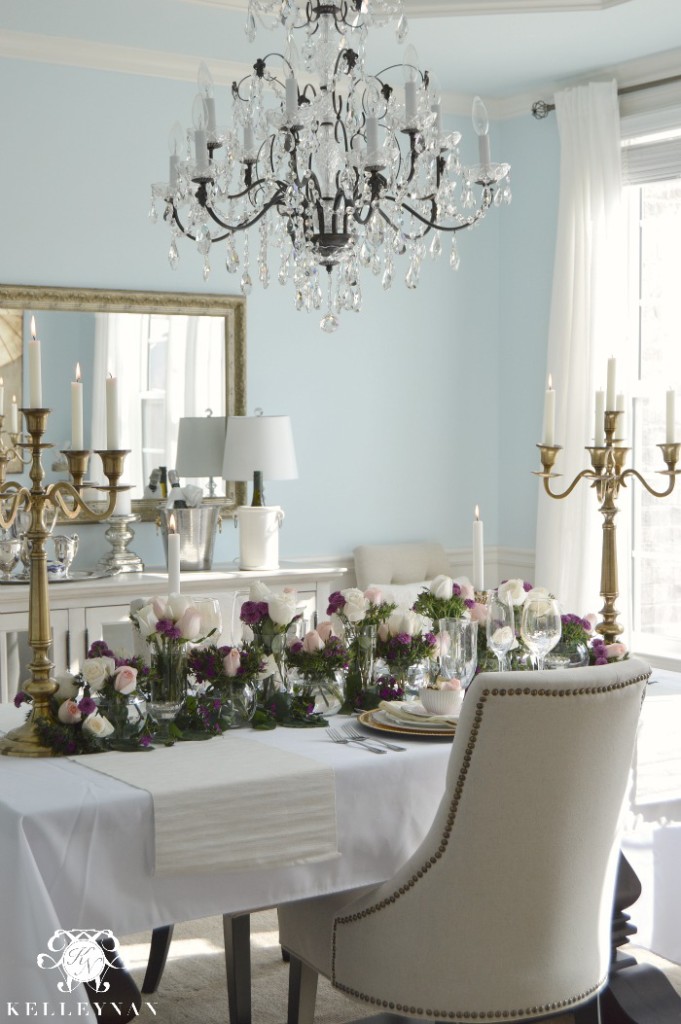 Additional Sources:
Dining Table:  (84″ in Salvaged Brown)
Buffet: (72″ in Distressed White)
Curtain Panels: (98″ in White)
Rug: HomeGoods- Calvin Klein wool
Mirror: HomeGoods
Pillows: Pier 1
Curtain Rod: (120″ in Antique Brass)
Lamps: HomeGoods
Candelabra (Similar)
Silver Tea Service: Family Heirloom
Paint: Sherwin Williams- "Lauren's Surprise"
Chandelier and Medallion: Progressive Lighting (Roswell, Georgia)
*Affiliate links used*