I hope your Memorial Day weekend is off to a wonderful start! Somehow, I found myself helping Dave remove and apply decals on his truck. I'm not even gonna go there haha. Just know – it was a pretty "American" Friday night and totally fitting for the kickoff to the holiday – workin' on a truck in the garage, ordered pizza, grilled meat, watched a new comedy… After a few weekends of back to back activities and obligations, we are looking forward to taking it easy. I think I'm gonna be whipping up some appetizers for the weekend to snack on and maybe even get a little festive with the first frozen cocktails of the summer. Dave's birthday falls on Sunday but our celebrations are typically low key. Just like me, he prefers home over anywhere else but I'm not discounting any possibilities 😉 Today's Snack Around the Plate is a good one – and, since I've already spent an embarrassing number of hours sifting through sites, waiting for Memorial Day weekend sales to post, I've included some favorite finds, deals, personal favs, and some items from my own cart at the bottom of the post.
*Posts on KelleyNan.com may contain affiliate links. Click HERE for full disclosure.*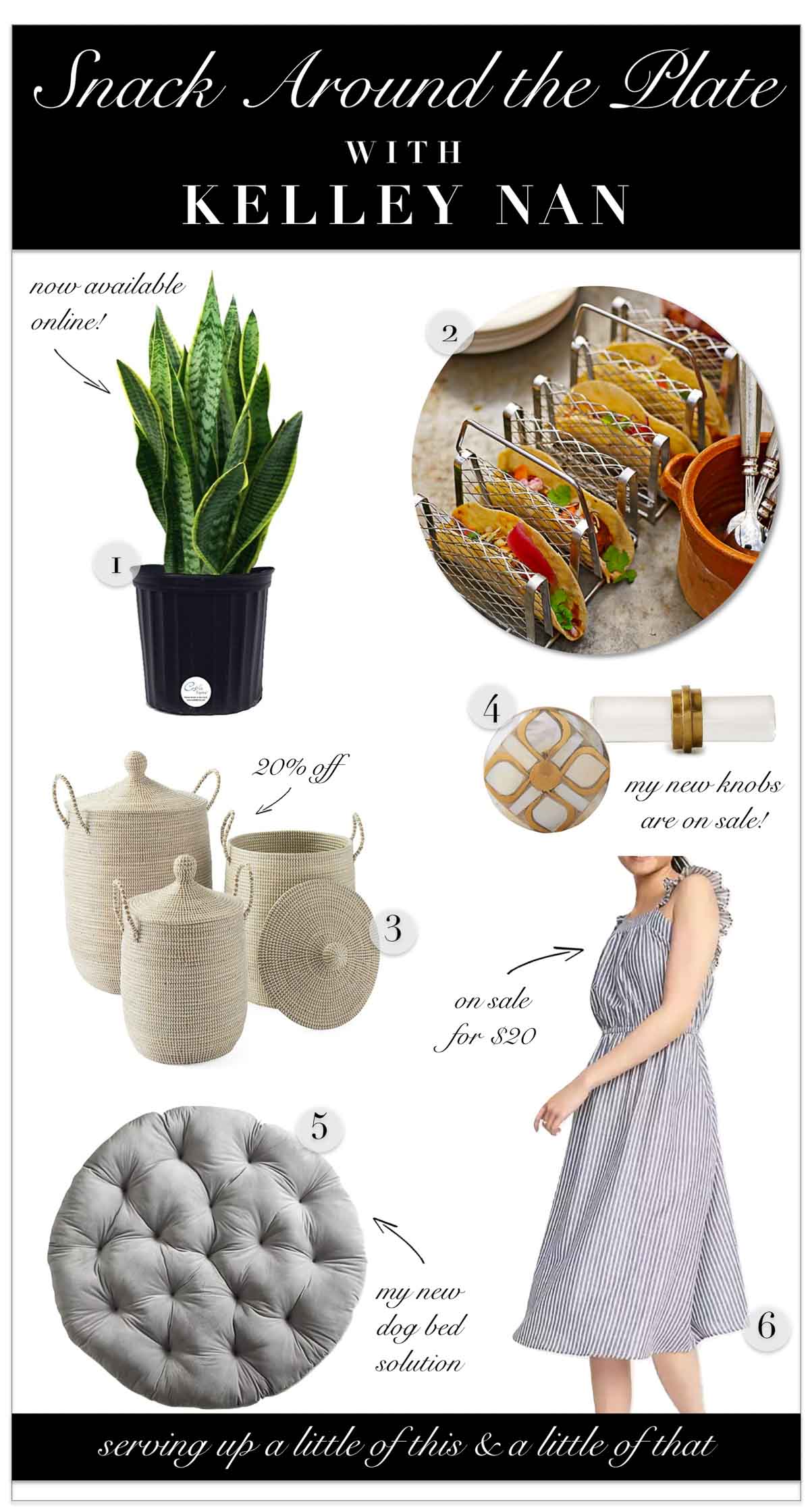 1. The EASIEST Houseplant EVER now available online // I don't have a green thumb. For the most part, my method of gardening and keeping plants alive is to have to care for them as little as possible, and throwing water on them, in passing, whenever I think about it. Well, I now have several houseplants because I finally found a few varieties that were made for me. Namely- the snake plant aka "mother in law tongues". I have three of them next to windows throughout the house and they literally only take 1/4 cup of water every couple of weeks. I found mine at home depot but several readers had said their local stores didn't have any- well, the good news? You can now order them online via Amazon (one is $29, the other $30, plus free shipping for Prime members). They have two color varieties available (I have both) so, if you don't trust your thumbs in the plant arena, you have to give these a try. Seriously. // Shop them HERE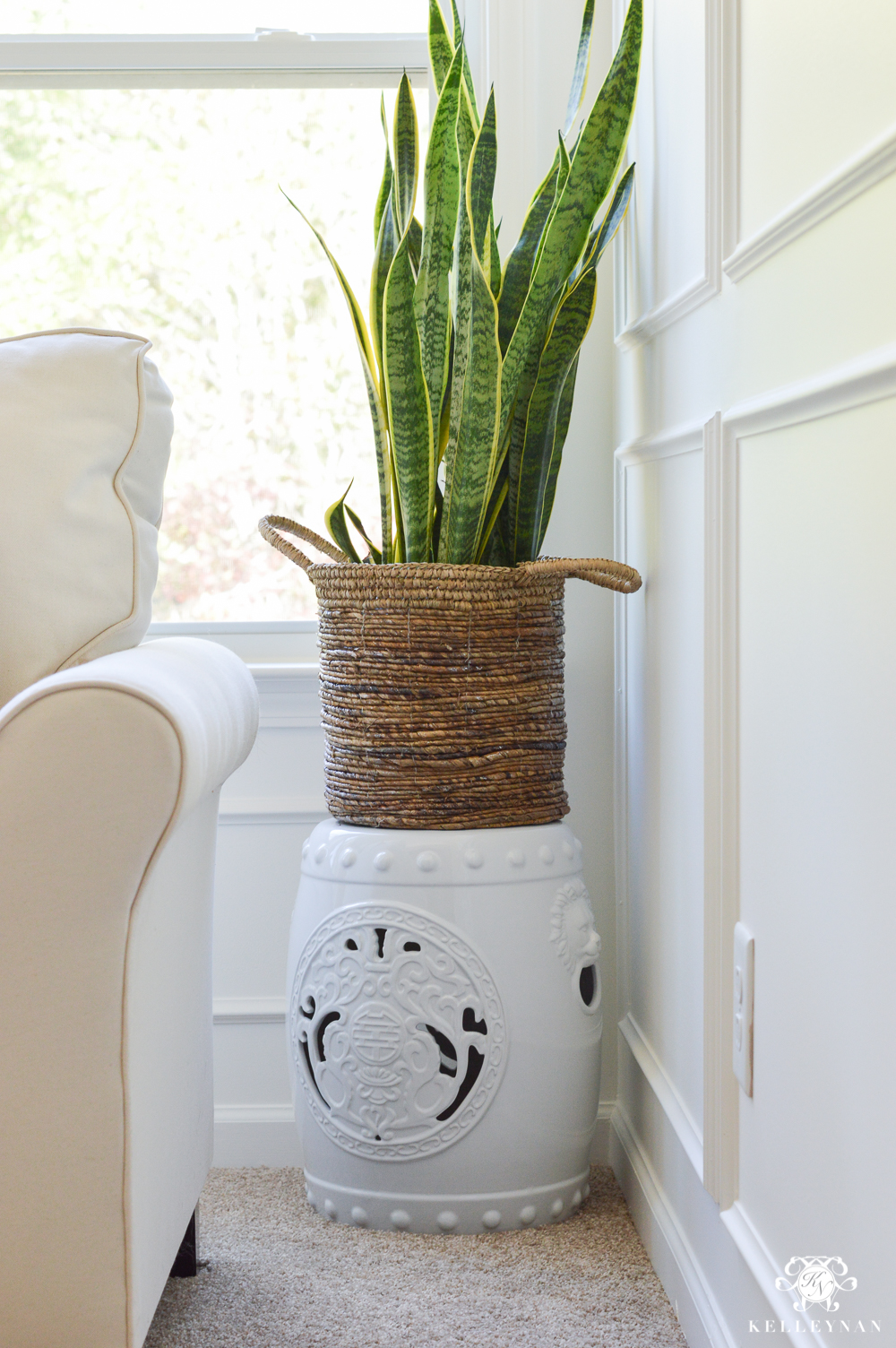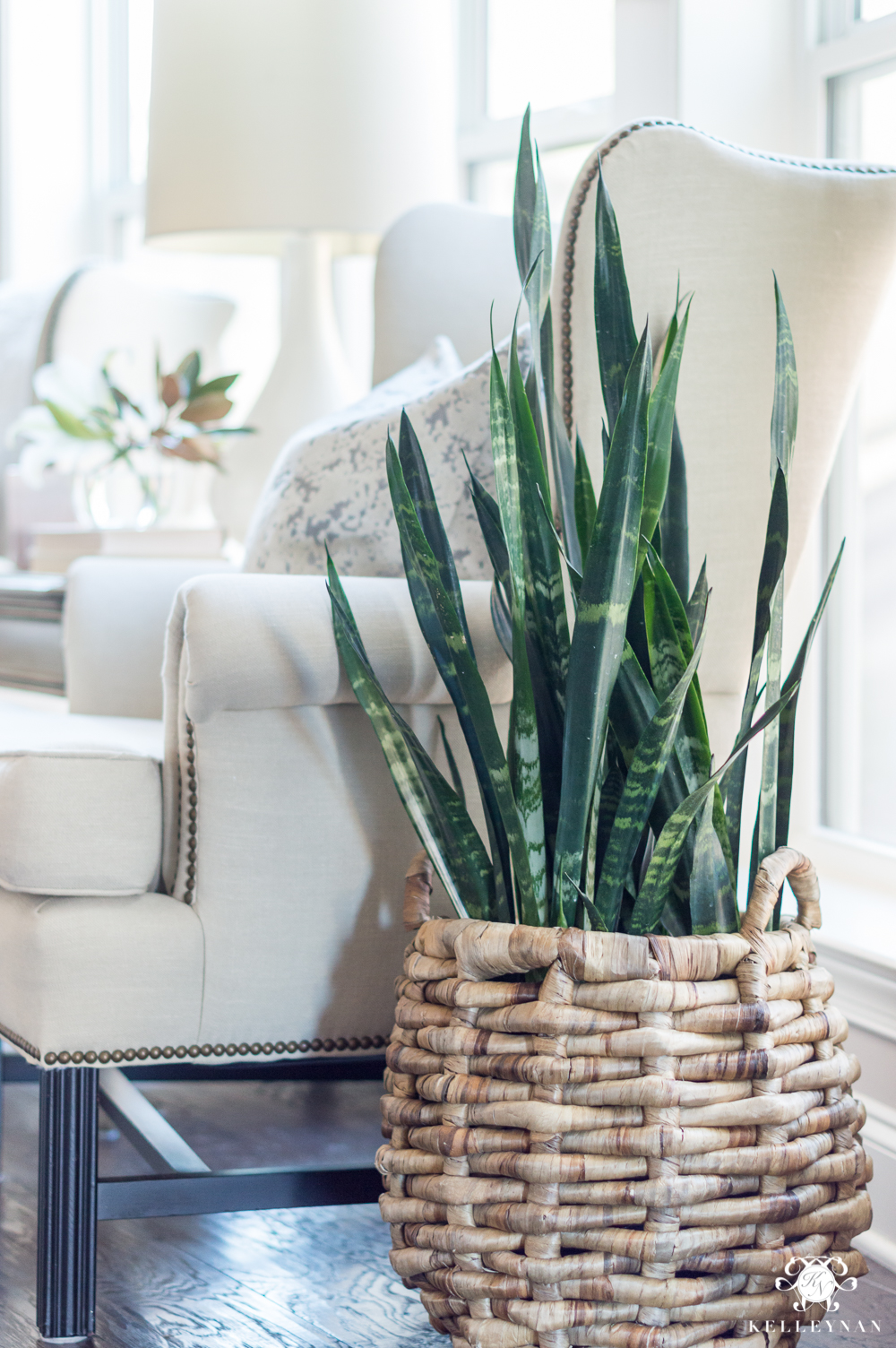 2. Taco Holders // I actually saw some taco holders at Pottery Barn recently and thought they were brilliant; unfortunately, by the time I was ready to share, they were already made unavailable ( isn't that how it always goes?) But, I found a similar model from WS that I actually like better. They each hold two and you have the option of a single or double pack; they also have handles! I have the worst luck with soggy tacos. By the time I finish the first, the other laying on my plate is drenched, covered in beans, and ultimately gets eaten with a fork- taco salad style. This weekend, you can actually get them for less than 1/2 price! They are already on sale, plus, you get an additional 20% off (plus free shipping) with code SPRING. In my cart, after tax, they appear at $8.87 for a set- um, heck. yes. // Shop them HERE
3. Lidded Basket Trio //  I have had all the heart eyes for these baskets for a long time. Remember my post on 11 ways to use baskets around your house (HERE)? Well, the possibilities are endless with these, especially with the lids. Even the smaller sizes would be perfect for a guest bedroom hamper. Or, a small kitchen hamper for dirty towels. Or, a small hamper in the mudroom/entry. Each size is on sale for 20% off right now and they come in multiple colors! // Shop them HERE
4.
New Knobs
// One of the reasons I rushed to get my butler's pantry makeover reveal published
(literally, it wasn't schedule until mid-June haha)
was so I could share my new cabinet and drawer replacement knobs while they are on sale. These go in and out of stock and aren't discounted often. But, right now, you can get them at 20% off, plus free shipping. Because most projects call for several, now is the perfect time to spring for several (I was able to call and get a price adjustment- woo!). I ordered both sets, only intending to use one, but in person, I loved them both. So, I mixed the sets and instead of sending back the extra, I'll be hanging onto them for other projects.
(PS: it is free shipping AND free returns if you aren't 100% sure ;)).
 I don't have a lot of brass but these are so subtle, they are the perfect "stepping stone" and discreet little touch.
 \\ Shop the clear & brass T bar knobs HERE; Shop the Mother of Pearl & brass knobs HERE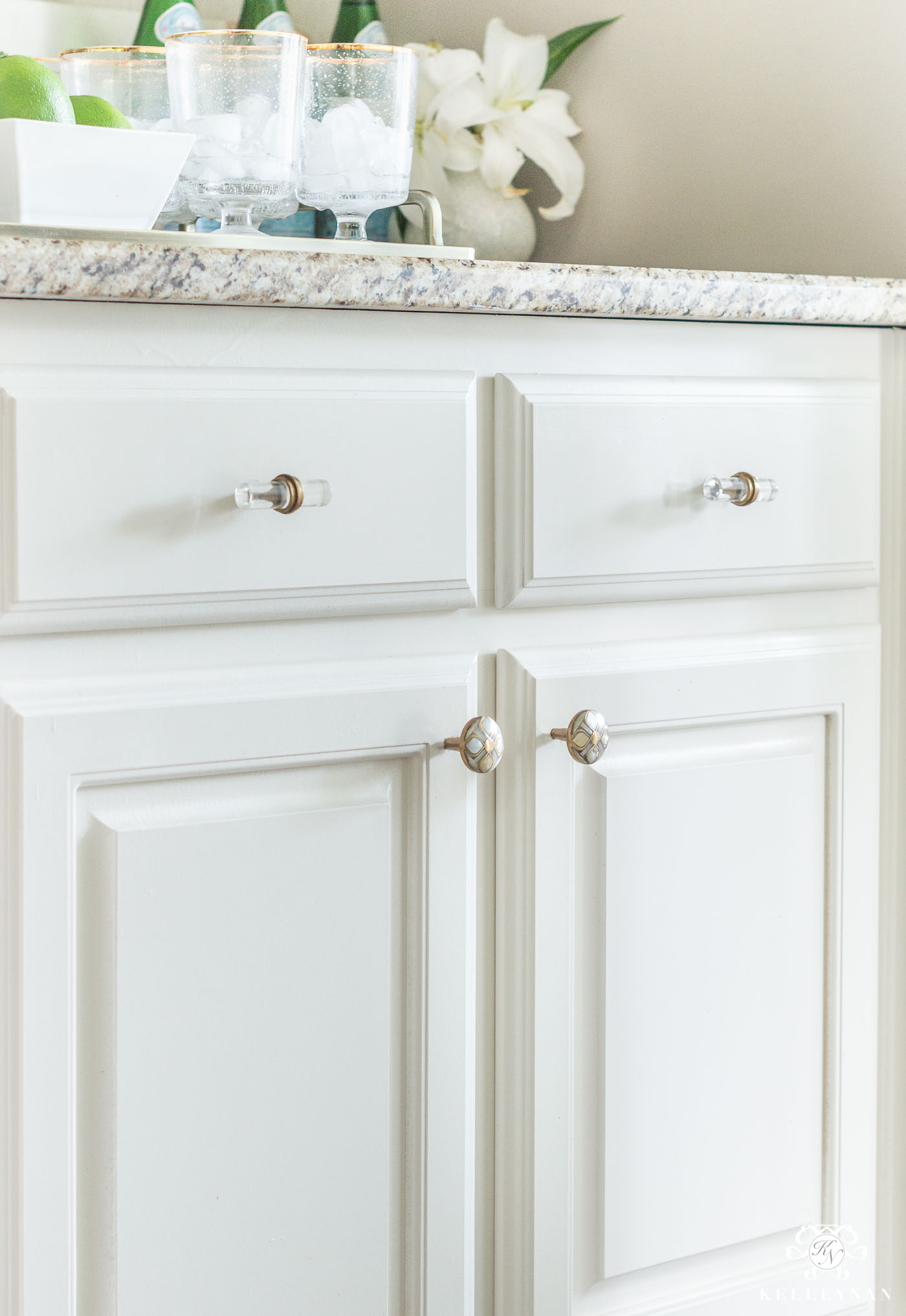 See the full butler's pantry makeover post HERE
5. A Substantial & Affordable Dog Bed Solution // Some of you may not know but we have three dogs. And, while they are the absolute loves of our lives, two of the three (the smallest ones) have never met a dog bed they didn't see as a challenge. I've rotated between going cheap (knowing they will tear it apart) and investing in something substantial (hoping the tough quality will deter them) and have been disappointed time after time. When I took to my stories the other day on Instagram, I had a flood of suggestions. Most everyone who had found success swore the Costco Kirkland brand beds were the best; and, I totally believe it. I almost drove out to pick one up when Jen of The House of Wood messaged me and said she had used this papasan cushion for her 100 lb. destructive pup and it was finally the solution they had been looking for. Her cushion is going on multiple years, y'all. And, they are WAY cuter than the Kirkland beds and about half the price of some of the higher end, large dog beds I've purchased before. So, I ordered one in gray. It arrived two days ago and so far, all I can say is the dogs love it and treat it more like a mattress and less like a toy. I hope and think it may be what we have been desperately needing. (THANK YOU, Jen!!) This weekend, you can get free shipping with code SAVEMORE, plus, if you want two, they are buy one, get one half off. // Shop them HERE
6. Summer Dress Staple // If you're like me and light-weight dresses are your summer staple, you can't beat this adorable little number that is on sale right now for $20. Yep, you read that correctly. 2. 0. It comes in multiple colors and is already in my cart – it's perfect for cookouts, vacation, and to dress up or down. It comes in a few colors, too 😉 // Shop it HERE
---
Scroll & Tap to Shop

---
Memorial Day Weekend Favorite Sales & Key Finds
It's the biggest sale weekend thus far of 2018; I have a little list I'll be looking to fulfill over the weekend and have already scoured through some of my favorites. Here are some of the best deals and favs I've found.
---
Serena & Lily
20% off everything with code SUMMERDAYS

---
Pottery Barn
Buy More, Save More (up to 30% off), plus free shipping with code SAVEMORE

---
Nordstrom
Half Yearly Sale (up to 40% off!)

---
Old Navy
50% off tanks, tees, dresses, shorts, & swim | Extra 20% off entire order

---
Kate Spade
Extra 30% off sale (plus free shipping) with code GREATFIND

---
Other Notable Sales
Have a wonderful and safe (and hopefully, long) Memorial Day weekend. And don't forget to take some time to remember our heroes <3