We are in the middle of a holiday hosting weekend and I just realized that with us getting ready to head out of town, we gotta put this season's activities into overdrive! Tomorrow will be one of our final pre-Christmas days available to do what we want to do and see what we want to see. We haven't even reserved a night for our annual hot chocolate/pjs/ride-around-to-look-at-lights evening just yet. (Honey, if you're reading this, we officially have plans tomorrow! 😉 ) I've been wrapping gifts as they come in which has made for a much less overwhelming approach BUT a much more overwhelming, ongoing mess haha. We prepared our little tokens for those who help us throughout the year (Note- if you give your mail carrier a little something, the sooner the better! It isn't uncommon for them to have subs closer to Christmas); made a little annual gift to our favorite local nonprofit; and I think MY Christmas shopping is finished. We've made some treats; watched carolers at the big fireplace at the front of our neighborhood (our local high school chorus comes annually- for that, I am grateful!); and have seen ALL the Hallmark Christmas movies. Last night, we celebrated with my dad and tonight, we'll celebrate with a couple neighbors. We had a rare snowfall, we've enjoyed fires, and we've made a diligent effort to truly enjoy this Christmas season.
But, I know this season is also hard for a lot of people, especially coming off of such a heartbreaking year for so many. It makes me reflect on our blessings and how important it is to love on one another. And while no one person can do it all, try to take a moment and think about this. "Do for one what you wish you could do for everyone". What does that mean for you? Whether it's sponsoring a child or giving your time to help a neighbor, in the midst of all the magic and excitement of the season, make time to do something for someone. My mom and brother started somewhat of a tradition a few years ago when they had a "pay it forward" day – an entire day of surprising others through small tokens of generosity. Dave and I loved the idea and ever since, each Christmas, we try to look for opportunities to pay it forward. Ours isn't groundbreaking or earth shattering but we typically go to a restaurant and either anonymously cover another table's bill, or, if our server did a great job, we'll change things up and leave something we hope will make a difference. I promise, if you take care of someone's coffee at Starbucks, that is $4 you will never regret spending. Lastly, if there is something you do/have done/plan to do for someone, let us know in the comment section at the bottom of the post. I used to think that acts of kindness should be done quietly but you know what? Talking about them inspires others to follow suit. So, let's talk about them!
Wow, y'all, when I sat down to write, I didn't anticipate rambling on and on but this morning, I have had so many emotions – grateful and humbled but also a little broken for so many people. But, most importantly, hopeful. Because there is so much good out there. In the midst of everything so many have endured this year, seeing communities and strangers band together gives us all hope, I think.
So, I didn't plan to go off on a tangent when I was planning to share this week's Snack Around the Plate, but, I think it's important. So, I'm gonna leave that right there as an encouragement and reminder, for you and me, that there is still plenty of time this season to make a difference in someone's life. Now, on to mid-December favs.
*Posts and pages on KelleyNan.com may contain affiliate links | Read the full disclosure HERE.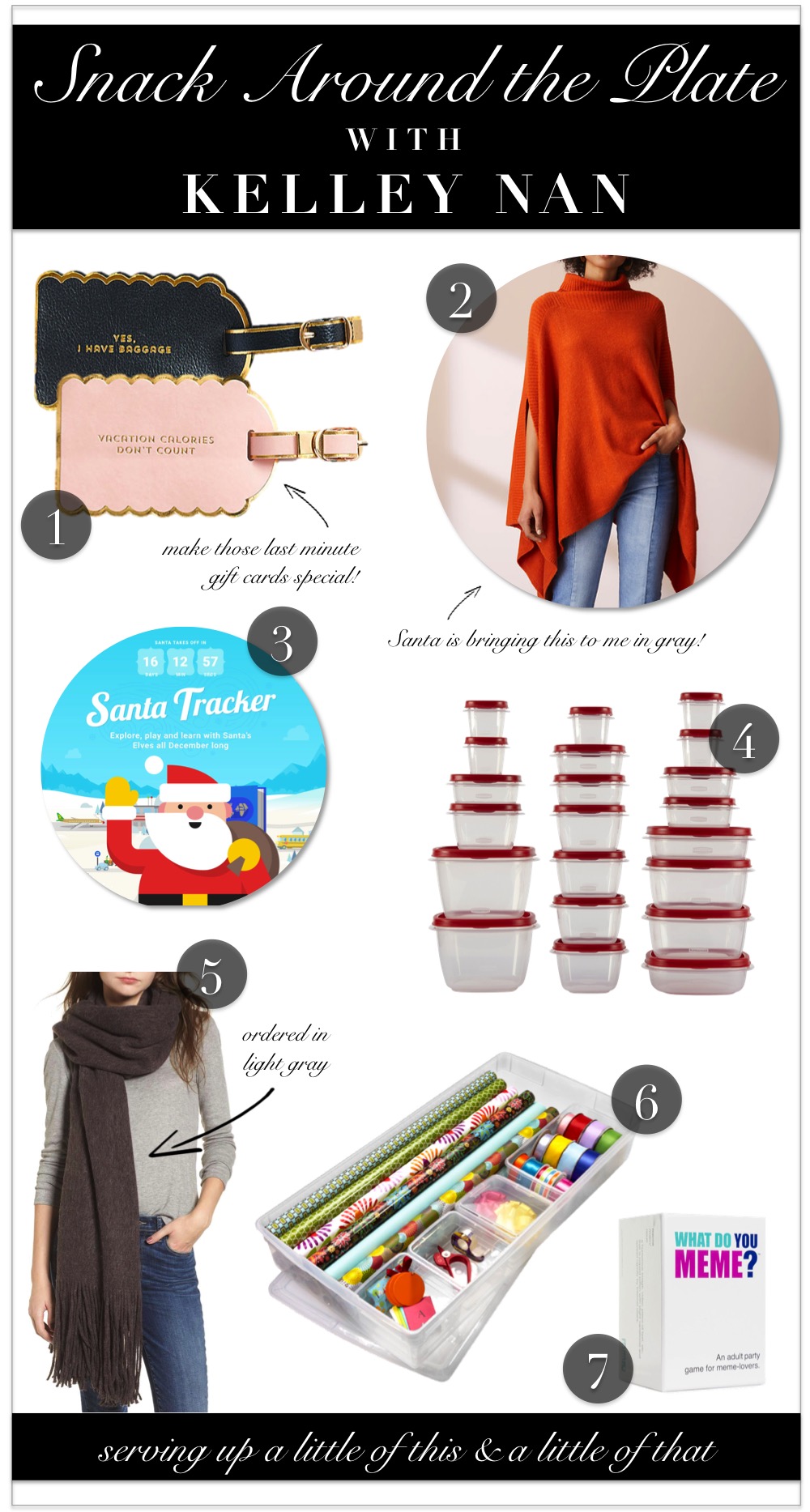 1. Quirky Luggage Tags: I never set out to give a gift card but let's be honest. I bet all of us will be giving at least one this year. I shared ideas on how to make gift cards more sentimental (HERE) and one of my favorite ways to take to dress them up a little bit are to enclose them in a luggage tag. These are so original and under $13 (plus, if you're super nervous, they are offering $5 flat-rate two-day shipping 😉 ). Shop them here: "Yes, I Have Baggage" Luggage Tag; "Vacation Calories Don't Count" Luggage Tag
2. My Christmas List Poncho: Santa has already received a "hint" that someone would love this in gray 😉 He's also already received a tip that it is 30% off right now! If you are looking for a gift, there's no guessing in this one-size-fits-most piece. The fit is adorable and you can see other angles (and what it looks like in the gray that's on my wish list here: Rib Trim Poncho Sweater
3. Santa Tracker: Have you seen this?! The Santa Tracker has an advent-type countdown with a new activity/game each day leading up to Christmas. On Christmas Eve, it will be tracking Santa in real time. If you have kids, check it out – it will be the perfect addition to the night before Christmas excitement! Track Santa here: Santa Tracker
4. New Set of Food Storage: This one may have you scratching your head but y'all, I am so itching to start the new year with my leftover containers under control. The disastrous, unorganized state my cabinet is in is just, well… shameful haha. I have so many that are gross, without lids, missing, etc. that I am planning to use what I have to send guests home with leftovers and start the year organized, with a cohesive, new set. This 42 pc. set is under $20 and is eligible for free, two-day shipping via PRIME. Shop the set here: Food Storage Containers
5. Free People Oversized Scarf: I just got my scarf this week and it is the most perfect scarf I have ever owned. No joke. I love huge scarves that I can double over, wrap, tie, etc. but most of my blanket scarves are as wide as they are long. With a not-so-long neck, they have a habit of basically eating my head. Other scarves are so short that by the time I wrap them, the ends don't extend past my chest. This SUPER long scarf is available in several colors, is so soft, and while it is long and substantial, has much less horizontal bulk. Basically, this will probably be the only scarf I wear this winter. Shop the scarf here: Free People Oversized Scarf
6. Wrapping Paper Organizer: I bought a vertical wrapping paper organizer about a decade ago and at the end of last season, it met it's demise when the bottom fell off and tumbled down the stairs. Since then, I have used a portion of it but my wrapping situation has gotten a little out of hand since I haven't had a good place to store everything. As you work to finish your gift wrapping, it's the perfect time to go ahead and make sure you have everything organized for storage so you can start next Christmas, ready to go. That is exactly what I'll be doing. Shop it here: Customized Gift Wrap Center
7. The Game You NEED: I have actually shared this in a previous SAP but had to resurrect it just before Christmas. With lots of family and friend get-togethers, this is SO fun and SO hilarious. It's like an Apples to Apples or Cards Against Humanity but instead of two phrase cards, you have one that's a photo. You use your hand of phrase cards to make the most clever/funny meme. It's also a great gift if you're looking to give activities and experiences. (Note: not suitable for kids 😉 ) Shop the game here: What Do You Meme?
Friends, I'm wishing you all a wonderful, festive, holiday weekend and don't forget – I would love to hear stories of goodwill and what this season is all about in the comment section below. xoxo