It's been a few months since I tackled an organization project and while I haven't made time to take on anything extensive or monumental, that's ok – there are plenty of projects that can be completed before finishing your morning coffee. Have any cabinets or drawers that could use some attention? I'll bet you do 😉 And that's the perfect place to start when you don't have much time to devote (you can see a full list of organization projects, based on the time you have HERE). The contents of our living room built-ins have been screaming at me beyond the closed doors. When we moved in, it was an easy place to unload boxes and haphazardly toss in yearbooks, scrapbooks, electronics, and games, close the doors, and call it "done". And then, I never went back to actually see what we had and get it in order. Last week, I took some time (literally, half an hour) and as a result, now have an organized game cabinet. Today, I'm sharing the simple details and a few storage solutions for this 30-minute makeover.
*Posts on KelleyNan.com may contain affiliate links. Click HERE for full disclosure*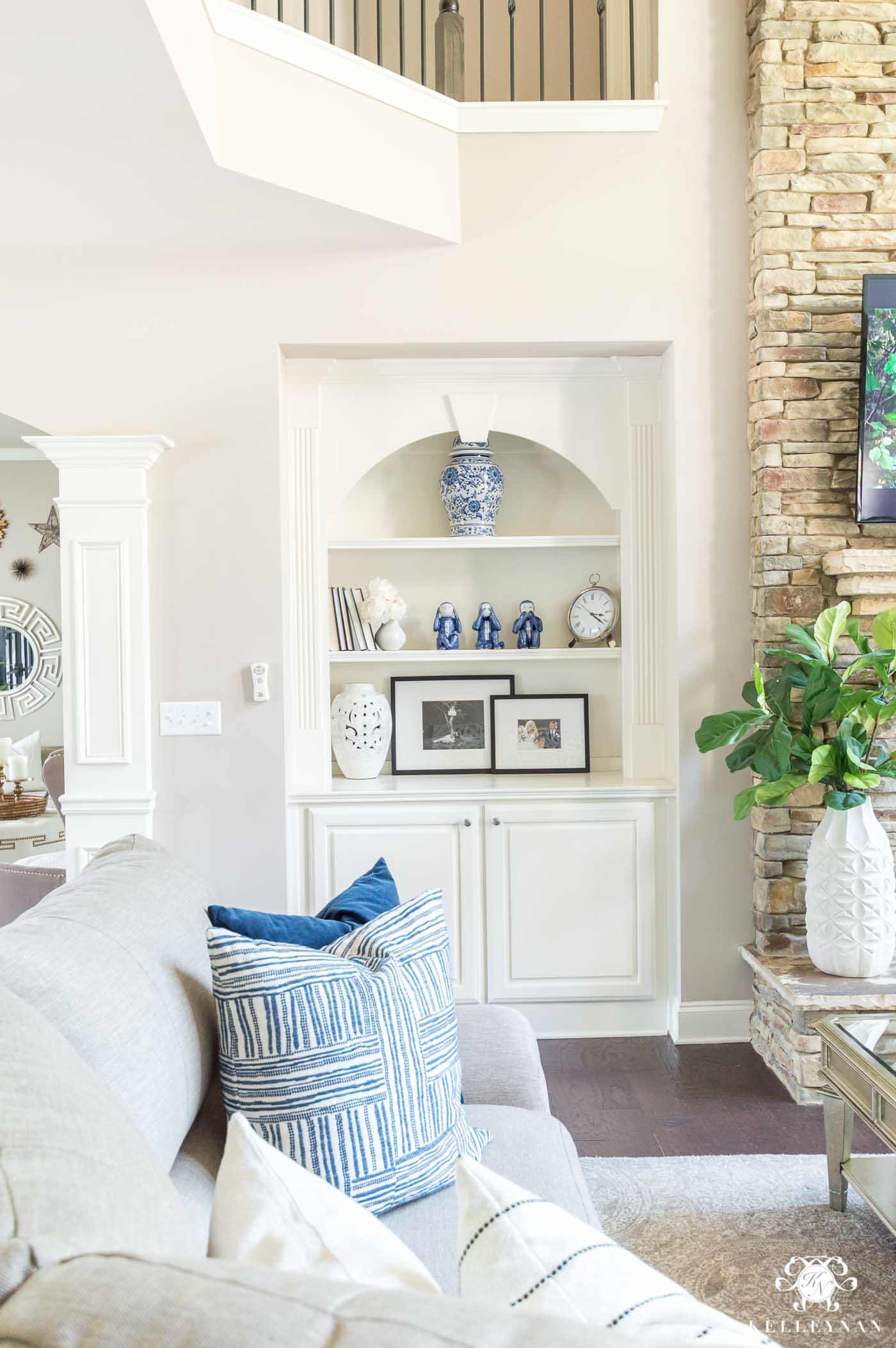 We are in the process of going cable-free (this month!) and once we do, I'll be tackling the other built-ins, and getting the other three cabinets in order. For those curious about what solution we're moving to – we already have Amazon Prime, Netflix, and Hulu. In our area, Hulu Live seems to be the best option because they now carry all the local channels in our area (Dave's must-have for sports). We already use their regular streaming service so the fee will encompass the streaming service we have now, too; it even has a virtual DVR. (Are any of you using Hulu Live? We'll be switching mid-month 😉 )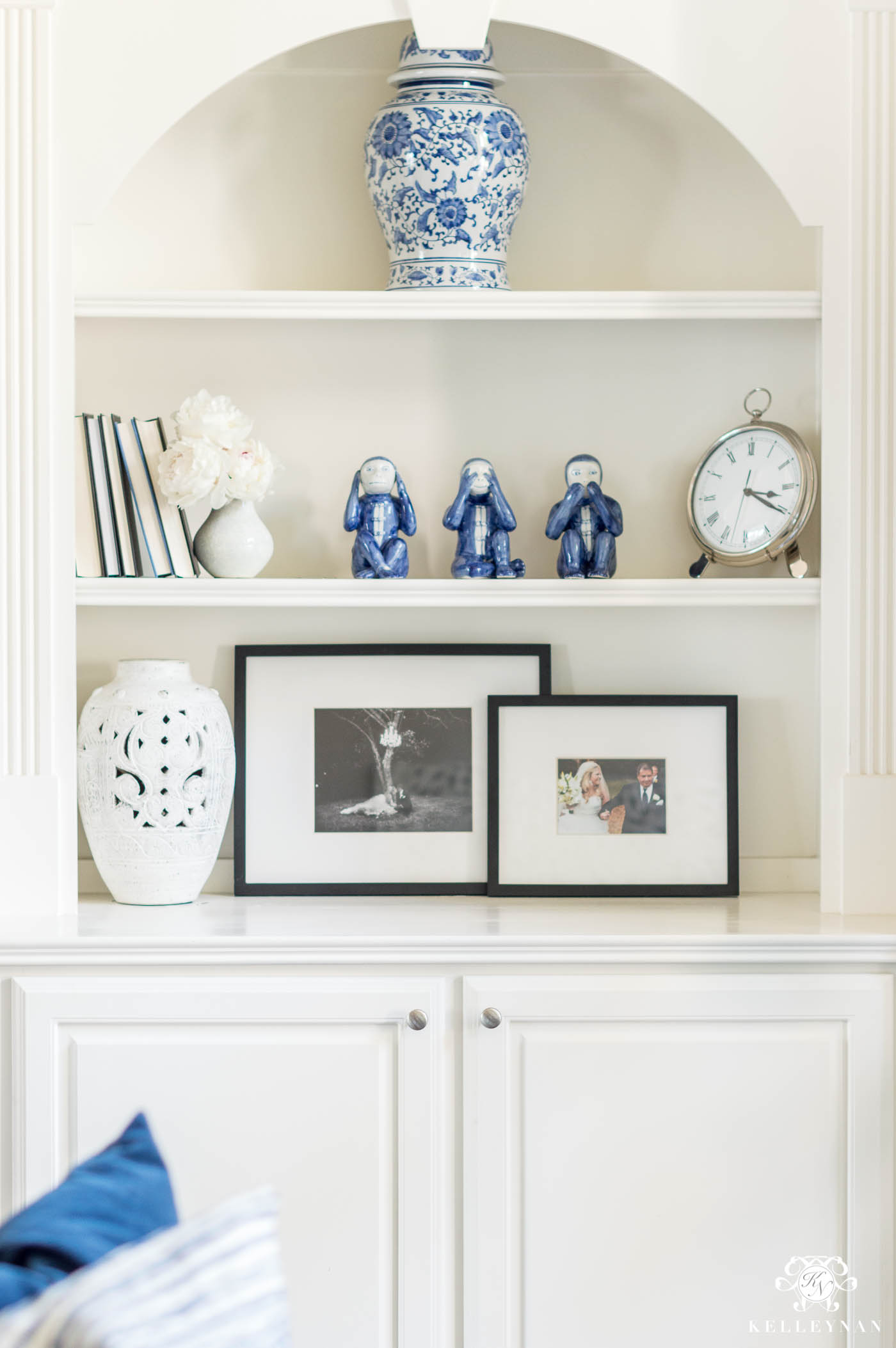 Ok, back to what's behind this specific cabinet 😉 The cabinet was piled with everything from games to earbuds and old cameras, all the way from front to back. You guys- we found three old digital cameras, along with a few disposable cameras that had never been developed. I got a few messages that it's actually hard to find places to develop them now! Who knew?! Haha. We have no idea to whom they belong but they have to be 12+ years old
minimum
. There were not just stacks of magazines that I never got around to reading, but catalogs from Winter 2014. Yes, like regular 'ol Pottery Barn catalogs with four-year old product. Here's what it looked like when I started…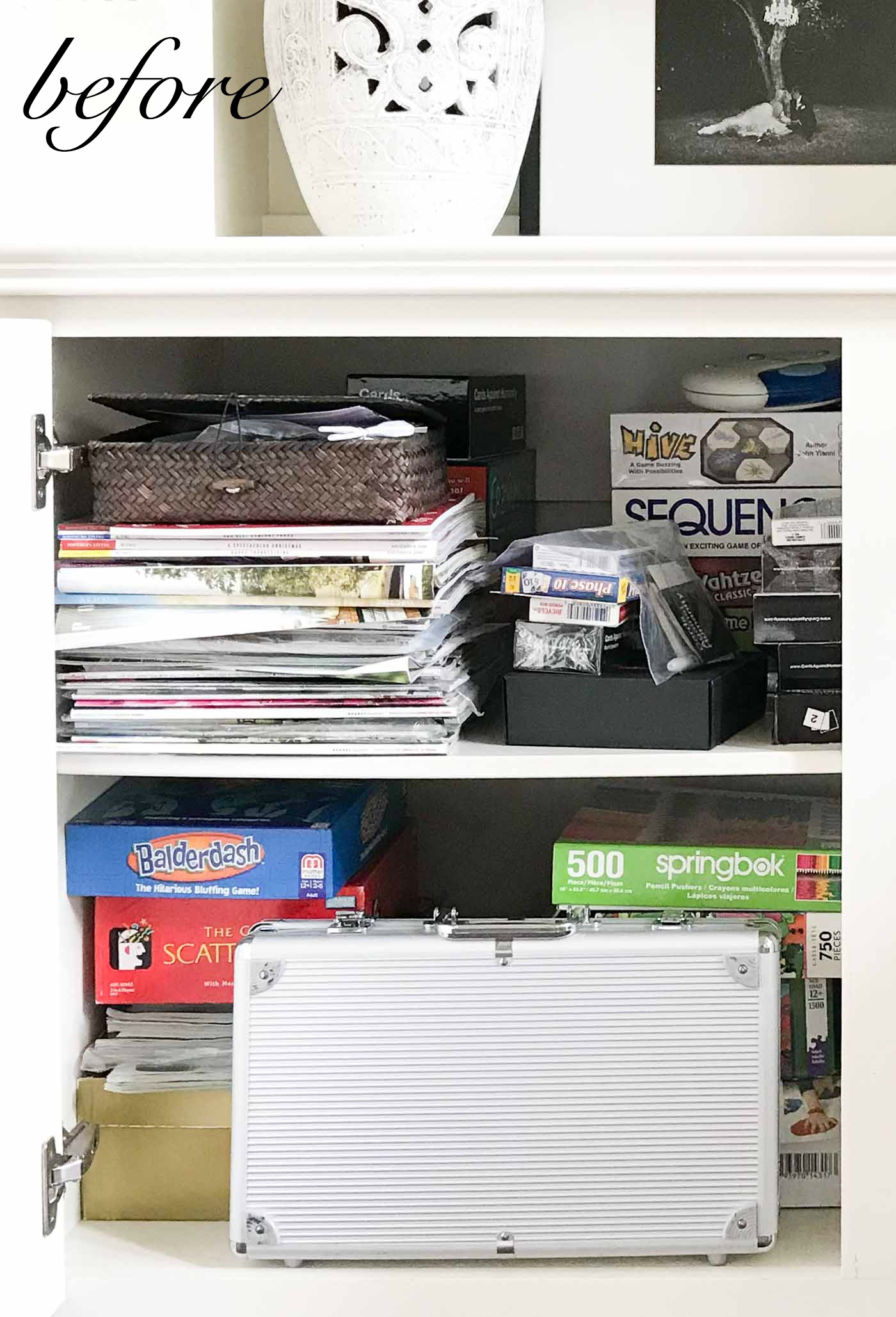 And this is where I ended up 30 minutes later.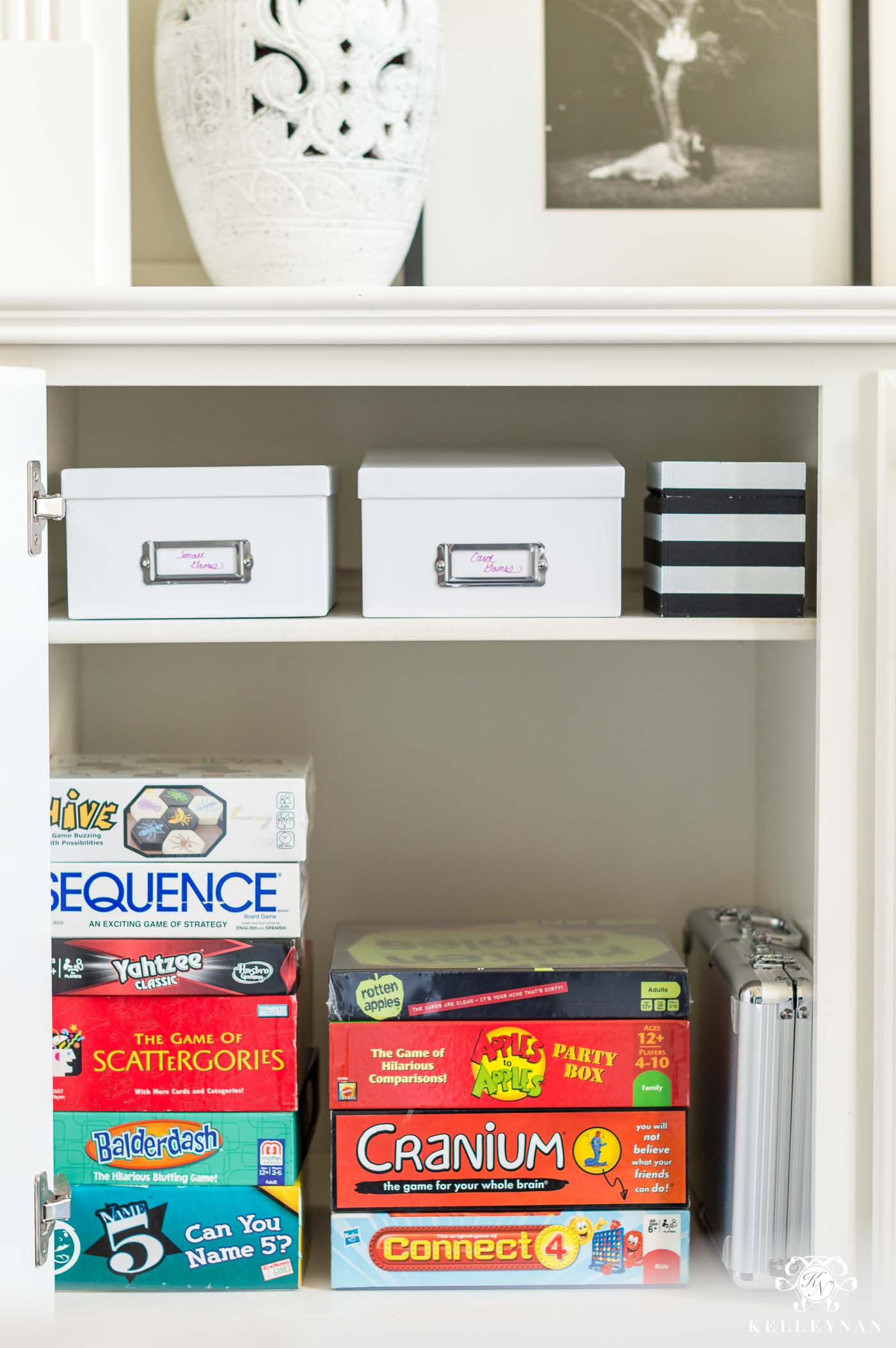 I'm totally going to break it down in three simple steps. Y'all, my "game cabinet" is actually a game cabinet now.
1. REMOVE, SORT, & DISCARD
Like we do with most projects, take everything out of your cabinet. Don't try to organize and sort as you go. Take it ALL out. Start sorting your contents for "Keep", "Trash", "Donate", and "Relocate". If I hadn't gotten to those magazines in four years, I knew no craft project or coffee table could save them. They were all trashed. All electronic parts and books were set aside to be distributed to a rightful home and puzzles that I had already completed (along with games we would never play) were put into a donation pile. I am all for getting rid of things you don't need and won't use but I did keep a few things around for guests that may visit with their kids, like Connect 4. I just don't want to take on the responsibility of monitoring something more animated like Twister (donation pile) haha.
2. GROUP BY SIZE & TYPE
We like games but we are two adults with a modest collection. If you have a lot more than we do, you may want to first break down into child/adult categories and then break down by size. If you have small or odd-shaped (not typical board games) games, set those aside – we have another plan for those 😉 Set all your card games to the side, decks of cards, game pieces, etc.
3. CONTAIN & LABEL
One problem I had before was that my small cards and games were totally lost in the big, cluttered cabinet. (This totally resulted in duplicate games, by the way.) I decided to contain those in separate groups and based on the piles I had left after stacking my board games, created boxes for small games and card games. Especially if you have Cards Against Humanity, you need to do this 😉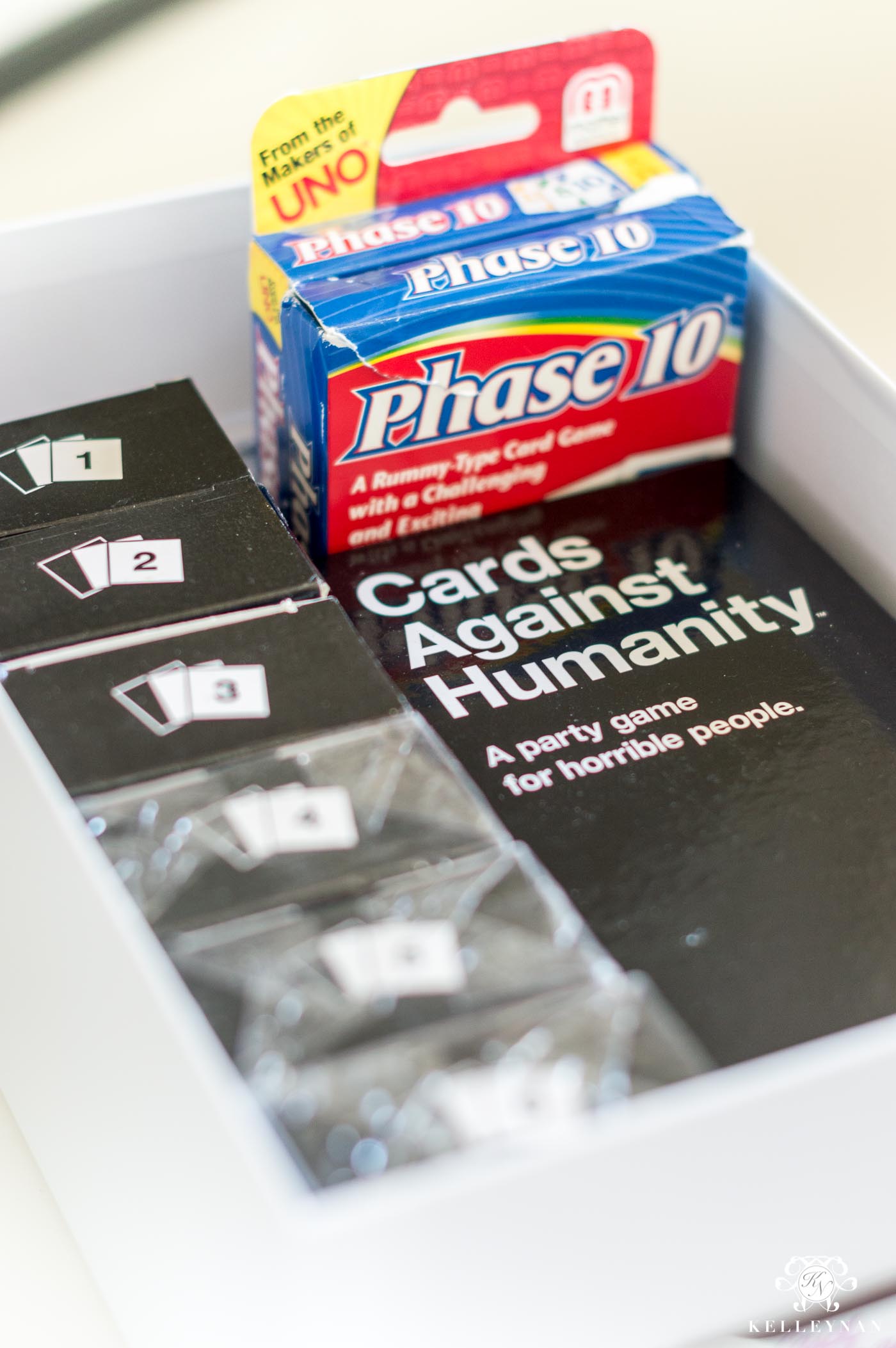 My favorite solution in the entire cabinet was by accident. Because our card decks were never organized, we have quite a few… these don't even include the sets in the poker case. Because we have so many, I was looking for something that would contain these decks all on their own. Enter, the recipe card box. They fit in there perfectly. If you have an old one you aren't using , this is money 😉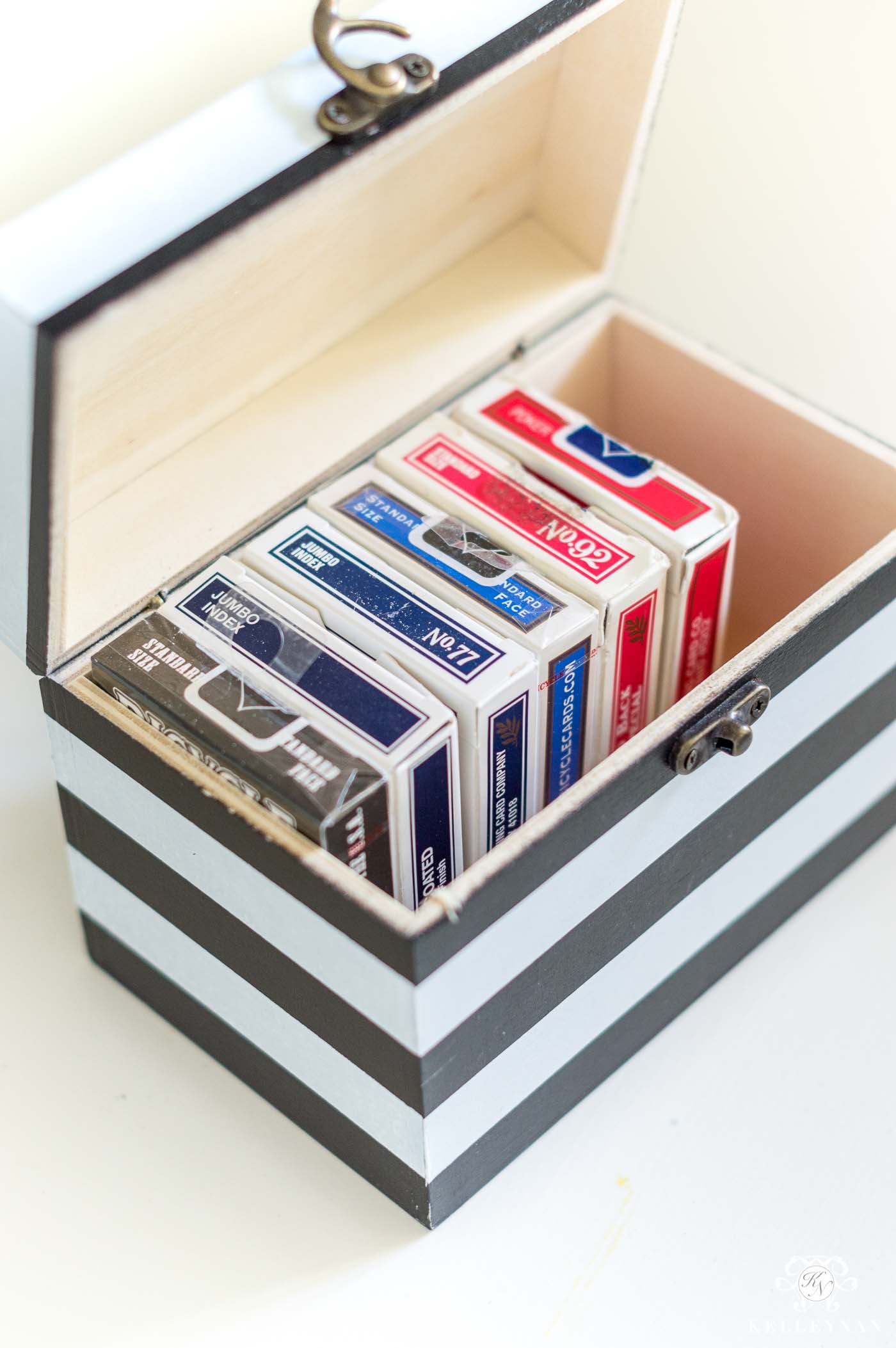 I could have kept the shelving at the level it was set but there was little room left for board game growth and far too much left on top of the small game boxes, I readjusted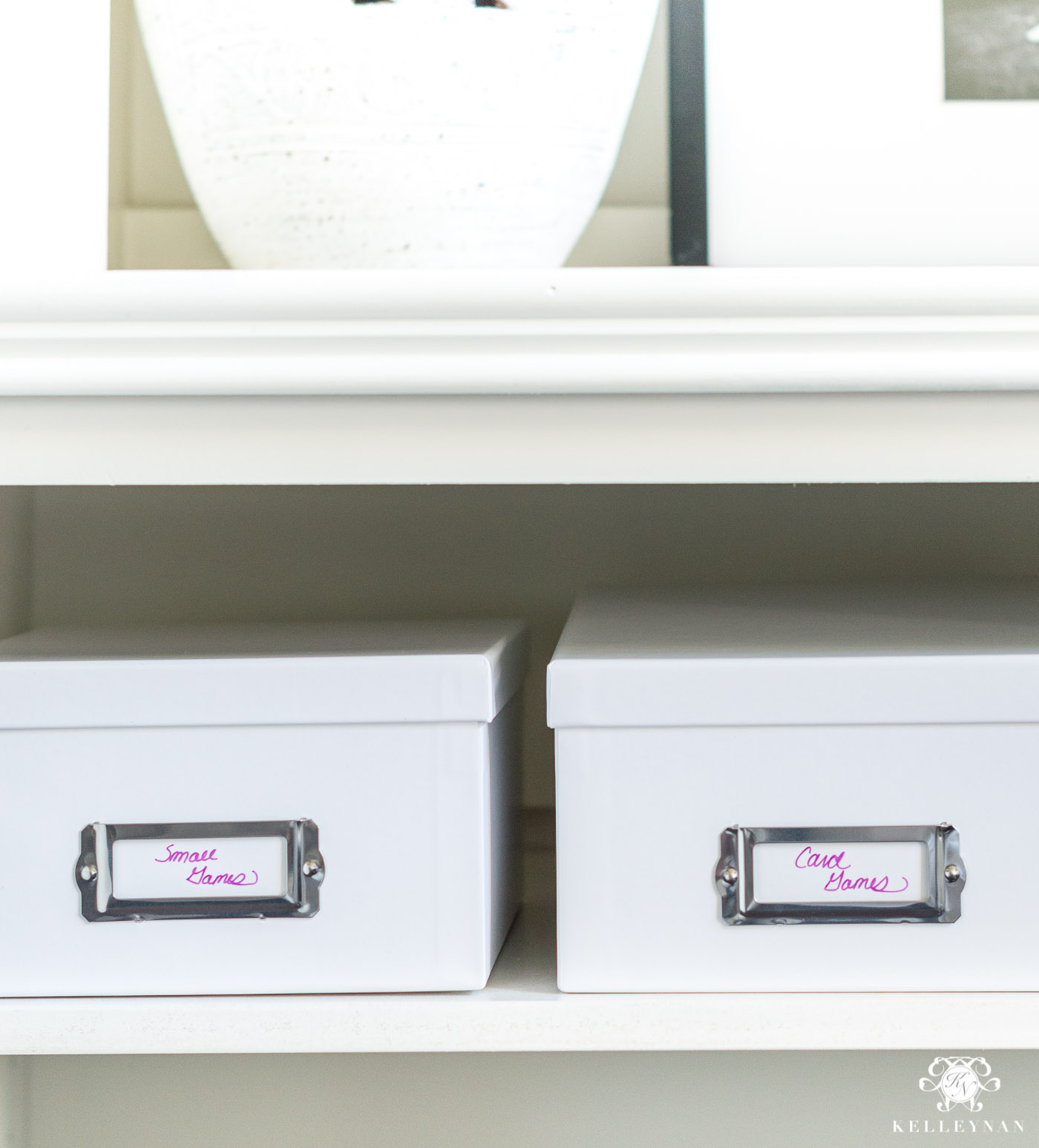 ---
Scroll & Tap to Shop

---
30 minutes of removing, sorting, tossing, boxing, and labeling, and I was done. If you have stepped away from organizing for the past few months and are ready to take on a few new projects, start small. This will motivate you to jump right back in 😉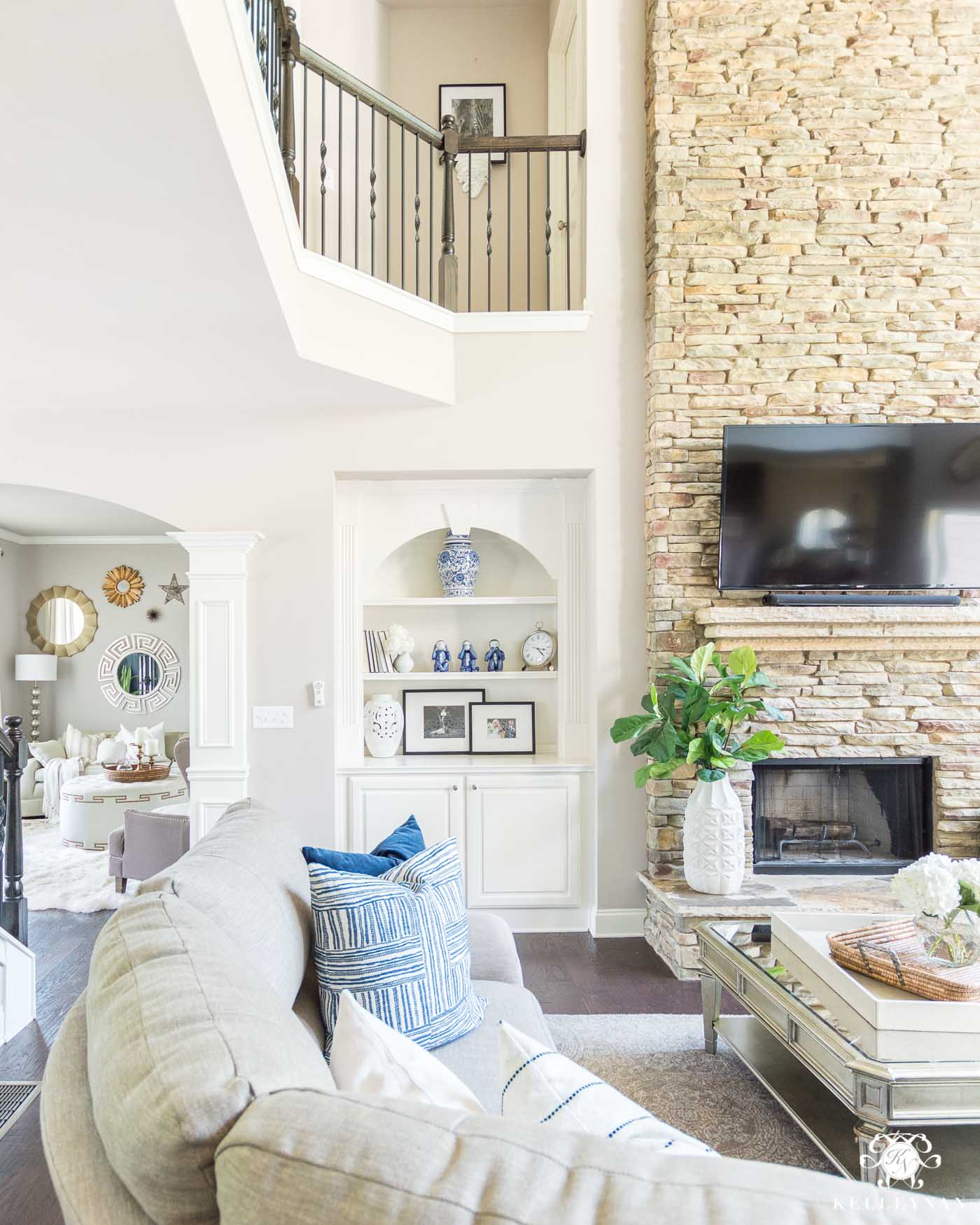 ---
Scroll & Tap to Get the Look

Tap Pillow Links Below to Shop

1. Striped Pillows | 2. Indigo Print Pillow | 3. Indigo Velvet Pillow
---
FYI: I've mentioned this several times but my all time favorite game is
Balderdash
– if you don't know its amazingness, it's under $10. 😉 Spades is my favorite card game, played with a standard deck of cards.
Scroll & Tap to Shop a Few Fav Classics & A Few New Games


---
Looking for other spaces to organize with limited time? Check these out:
See the full organization project gallery with lots of home organization ideas HERE.