Last year, one of my first projects was to whip my linen closet into shape. Remember the one in our bathroom with all the towels and toiletries? If not, you can take a look back HERE. One of the most received questions following that project was "where are your sheets?" Well friends, I had a dirty little secret. Another linen closet with spare bedding that was possibly in more dire straits than the closet in our bathroom. After procrastinating for over a year, I finally decided to take her on this past weekend. It. Was. BAD. But after a few hours, I had a small organized linen closet, plus, some new ideas to store bulky bedding.
*Posts on KelleyNan.com may contain affiliate links. Click HERE for full disclosure.*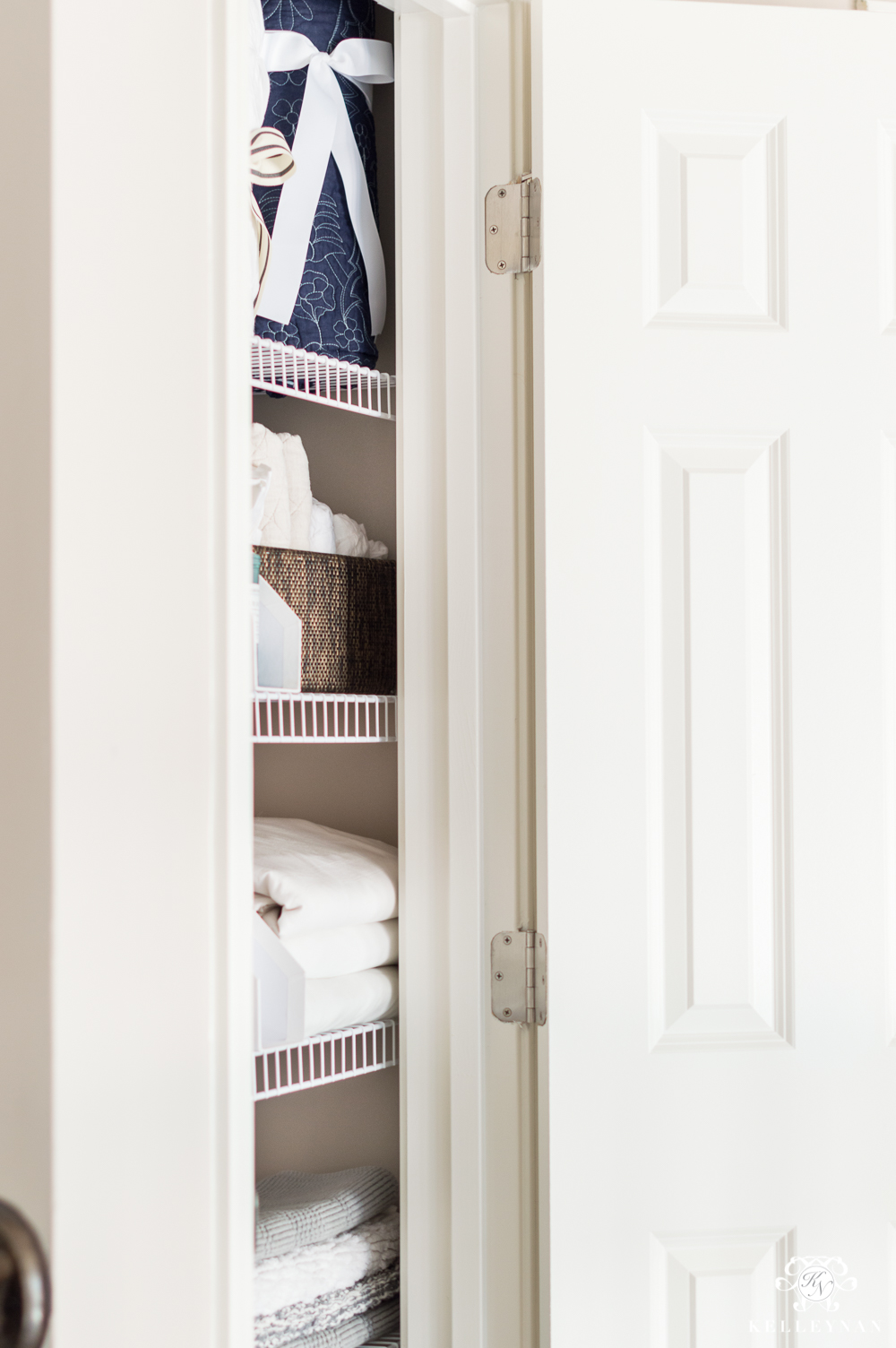 When I finally opened the door, this is what I was greeted with.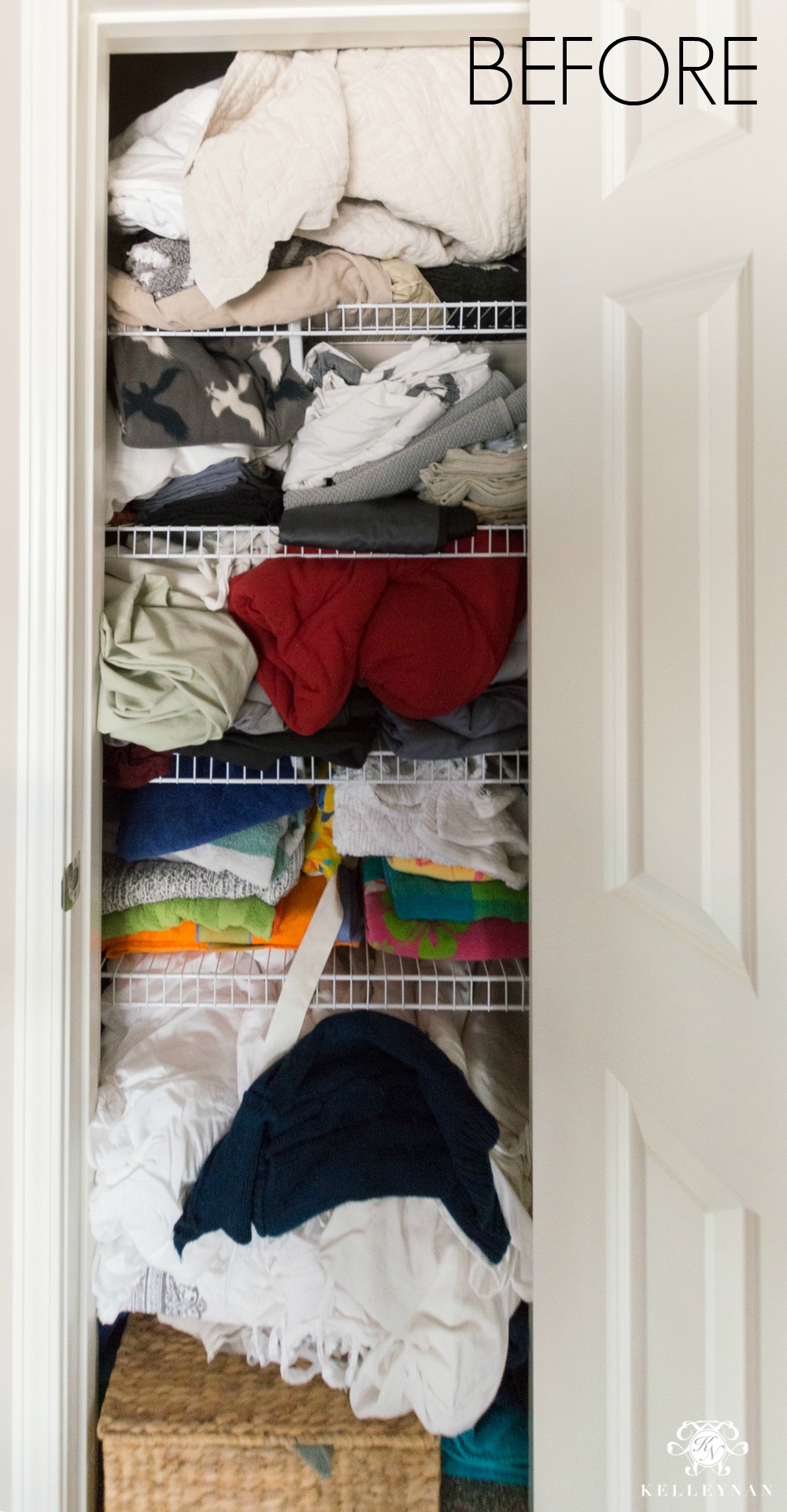 You. Guys. We don't curse on KN dot com, but this was a serious WTF moment. I knew I was going to have to channel some creative ingenuity. I probably could have benefitted in using an Elfa system in here but this was one of those projects I wanted to knock out quickly and easily in an afternoon. Luckily, I wasn't eaten by some monster hiding behind all that stuff, and here's what I was able to pull together in a few hours.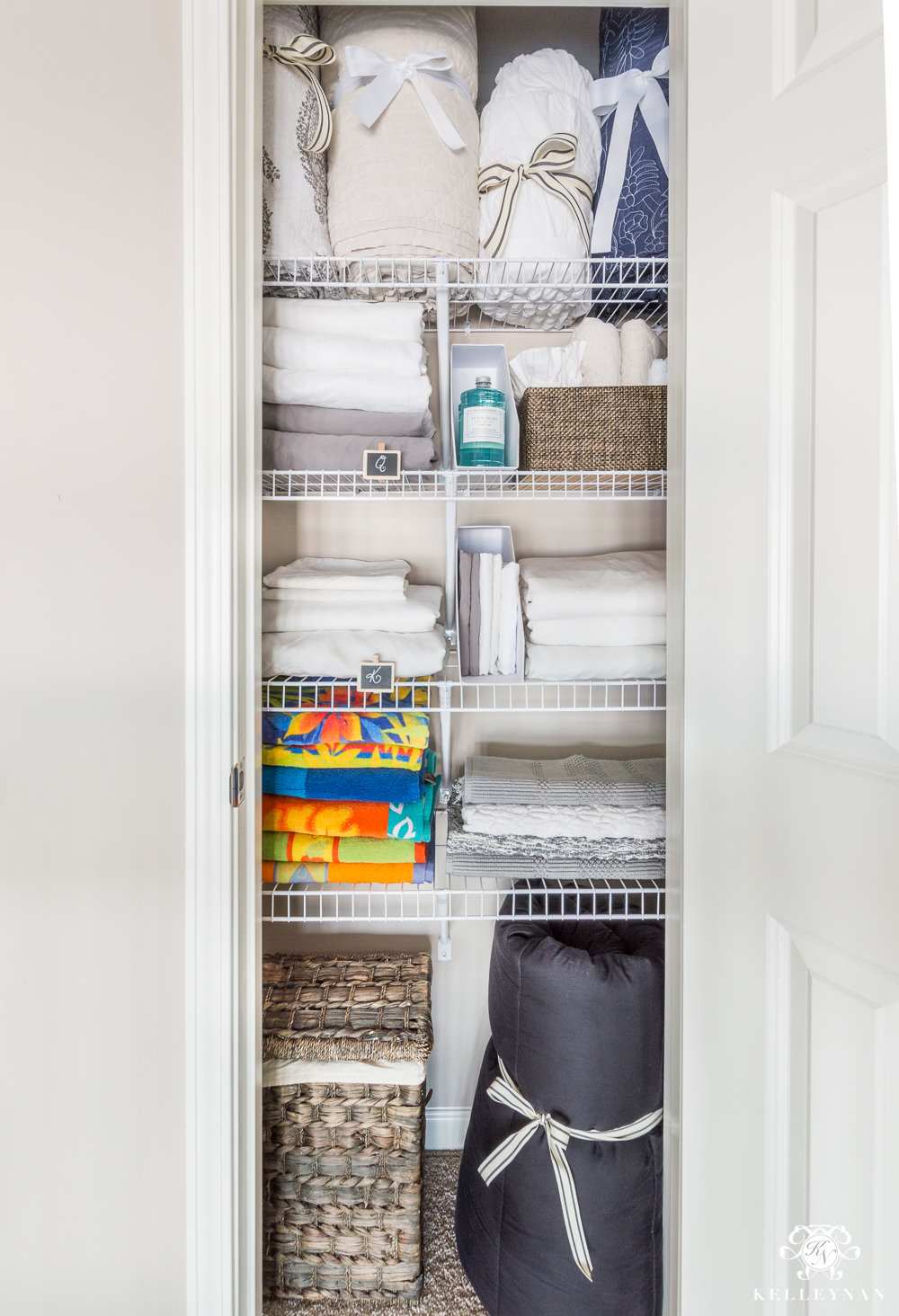 All the fist pumps. All the praise hand emojis. All the fireworks-style "oohs" and "ahhs". When I stacked the final sheet set in here, I pretty much felt like a queen. (Forcing myself to make a little more of an effort on folding sheets may have contributed to that feeling 😉 ). I wasn't shy about starting the project. I just pulled everything out and started grouping it in categories. 1. You may not be able to tell by the photo below because everything kind of runs together. The worst of it is on the far side behind the railing. 2. HOW IN THE WORLD DID I HAVE THIS MUCH STUFF IN THAT TEENY TINY CLOSET?! 3. This is actually about a quarter of the way into the project when I'd already created two bags and had a few things staged on the guest bed. 4. This is not a joke, haha.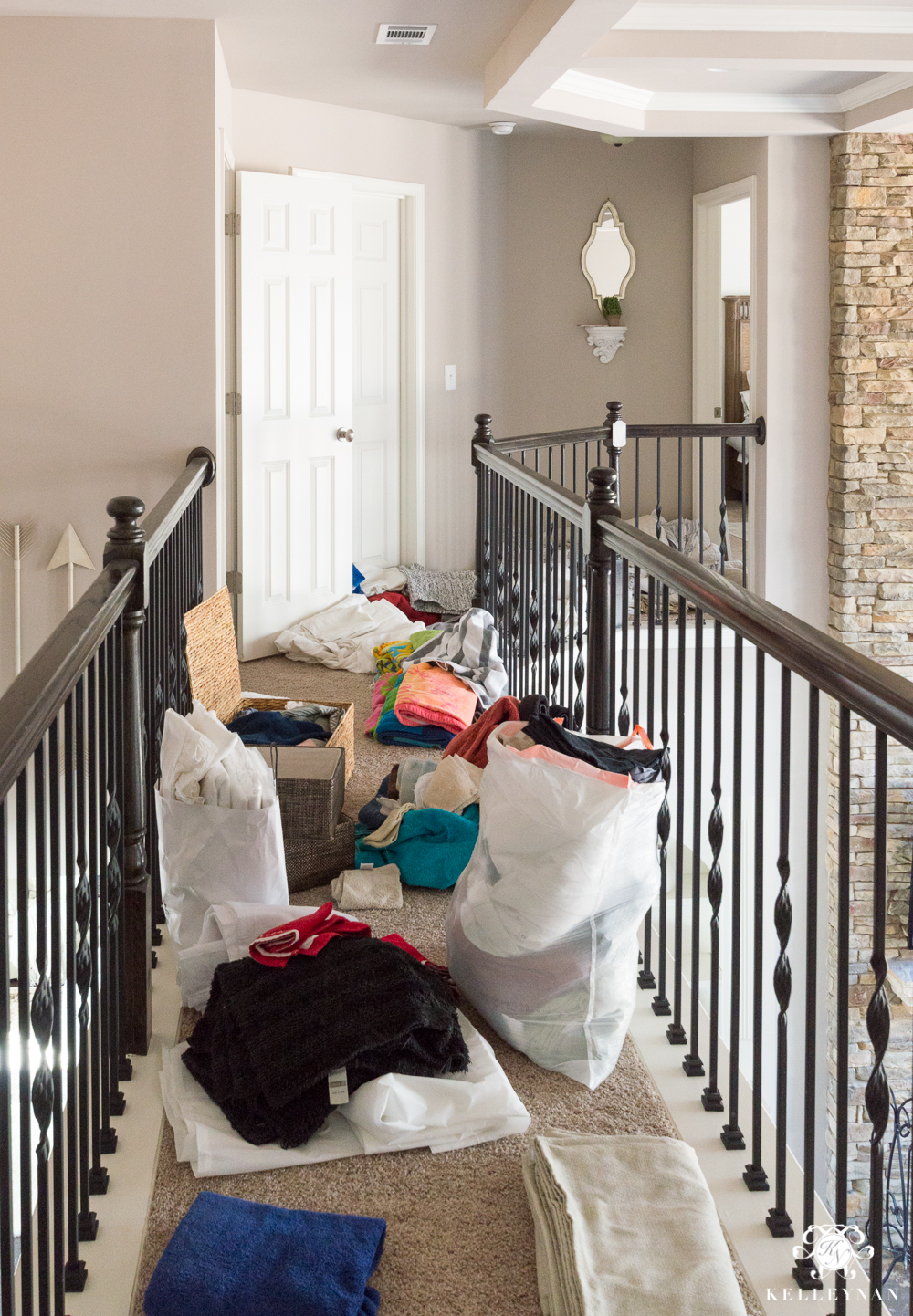 A few fun discoveries- a maroon t-shirt sheet set from college (we are talking well over a decade ago) with holes I was hanging onto – "just in case"; any bath mat/bathroom rug I'd ever purchased; sad, cheap looking single curtain panels that had never been used from my first apartment; and a full chest of dog clothes.
I knew the biggest challenge would be coming up with a solution for all the bulky bedding – how do you store quilts, comforters, and duvet covers in such a tiny space? And just in case you can't see how tiny this thing is, I would guess no more than three feet wide. If I folded them, 1. the closet is so shallow, they would have to be specially folded even more narrow (therefore becoming more bulky) so the door would close; 2. the top of the door frame would basically only provide access to one. The others would be stacked high into oblivion without a way to reach them. Like several of my closets, the closet ceiling is far taller than the door frame. Lots of unused awkward space. So, I decided the best bet would be to store them vertically. By rolling them and tying them with ribbon. This was one of those organizing "ah-ha" moments that I got far too excited about, but y'all. It worked like a dream. I mean, these are bulky King-sized bedding- they stand up without any problem, like a stiff sleeping bag. Bonus if you have ribbon you haven't put away from the holidays 😉 (That's totally what I did, but you can find the cute ticking stripe HERE (similar) and the white grosgrain ribbon HERE.)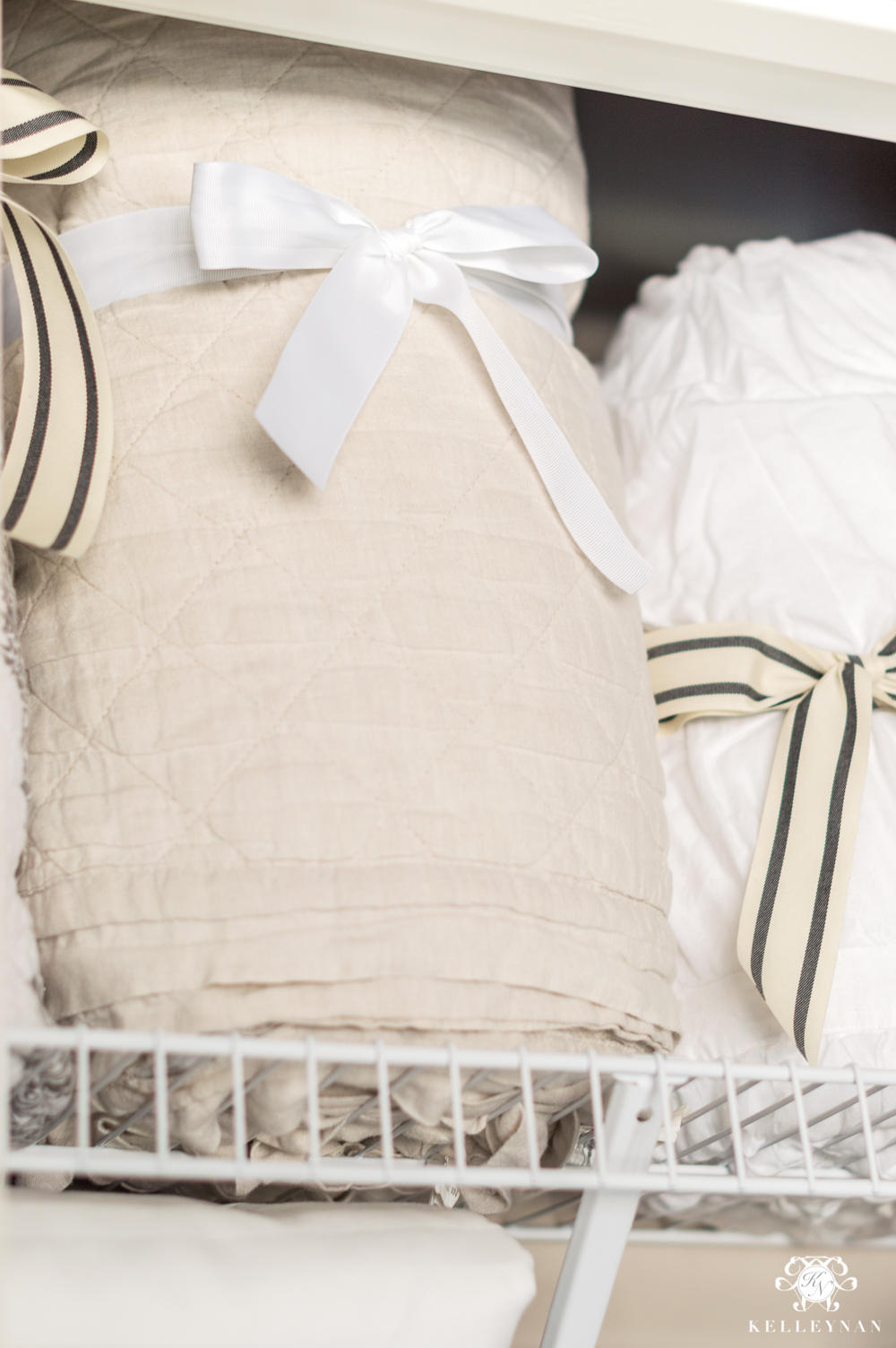 ---
Source for Bedding: Belgian Flax Linen Quilt 
---
One of the other items I had to corral were the fleece blankets we use for the pups. I had a small lidded hamper collecting dust in the basement that fit perfectly under the bottom shelf and since my first rolling method worked so well, I rolled again for easy access. Way better for accessibility than stacking.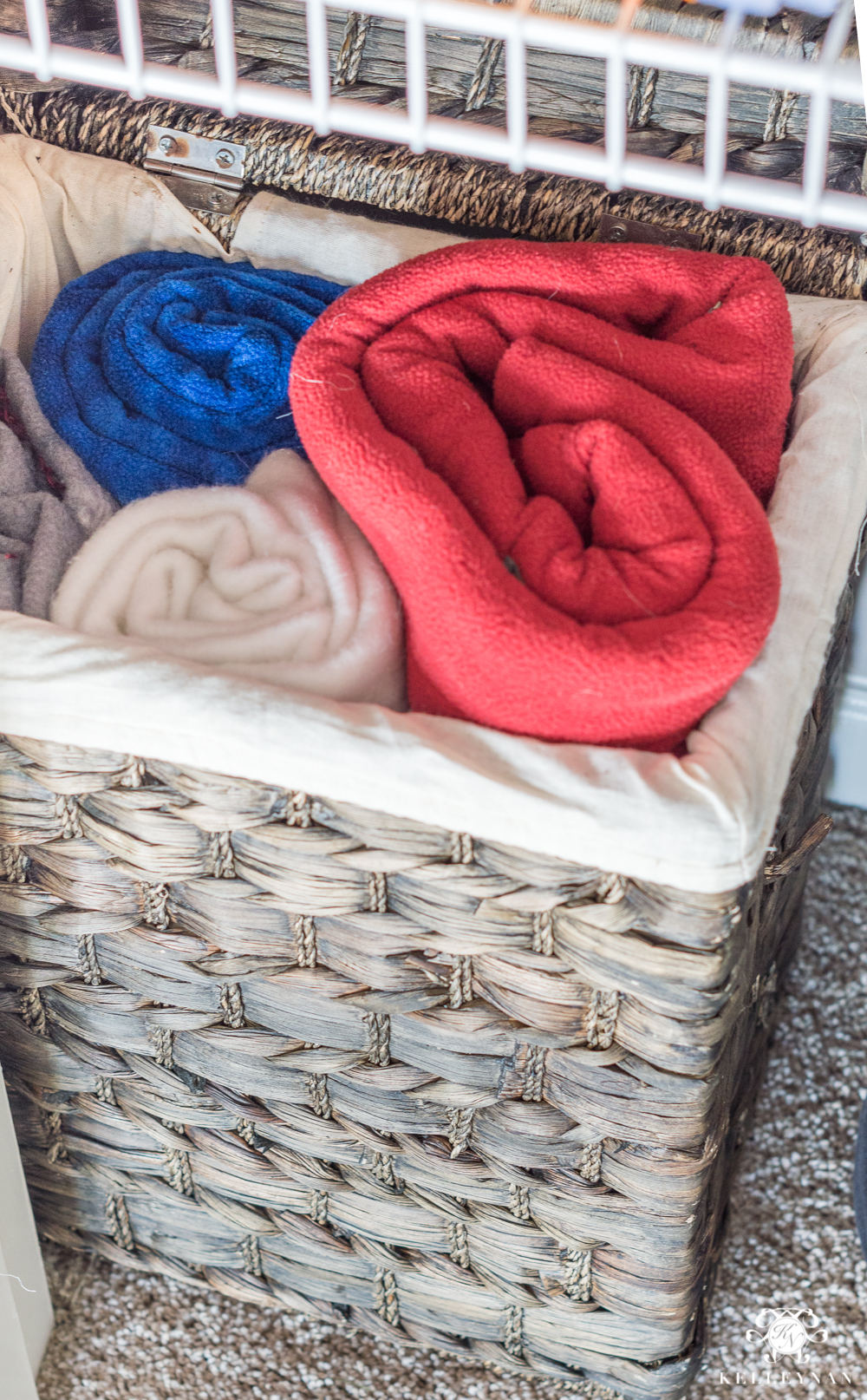 Another solution that came to the rescue were these magazine holders. When I was stacking my sheet sets, I didn't want my pillow cases to get lost underneath others. The "everything in the pillow case" method also didn't work because my shelves are too narrow and the closet is just that small. The narrow but tall magazine organizer let me file them right into a narrow little space. (This was for standard-sized pillow cases. Since we only had one extra set of king-sized, those fit just fine, stacked on top of the king sheets.) PS: I don't rotate our sheets too often because I'm so in love with the ones we have on our bed currently. You can find those HERE. Worth every penny.
I also didn't have much room to store our overstock of hand soap.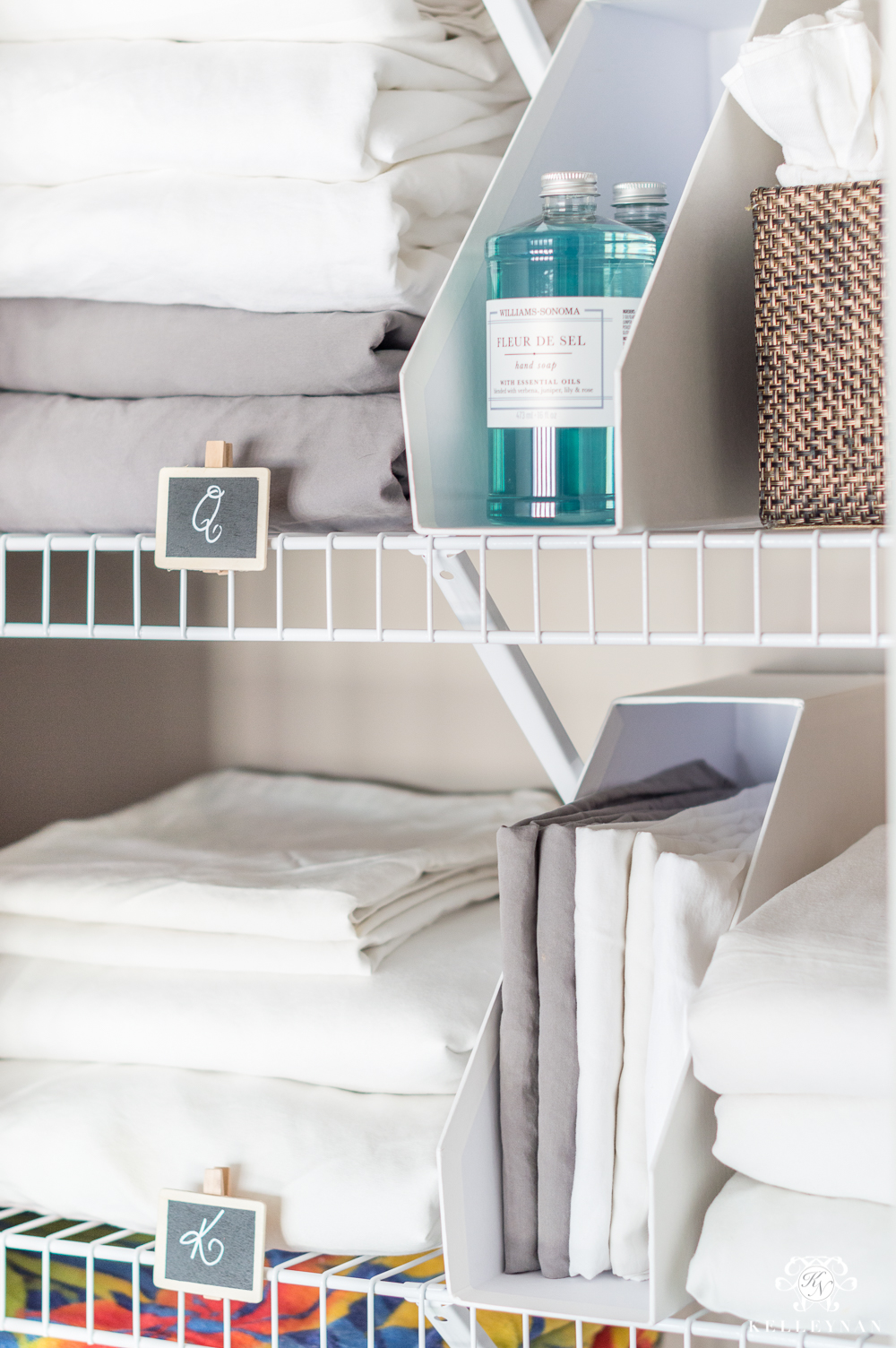 The size of the magazine holder fit four of these (my fav soap line from Williams-Sonoma) perfectly.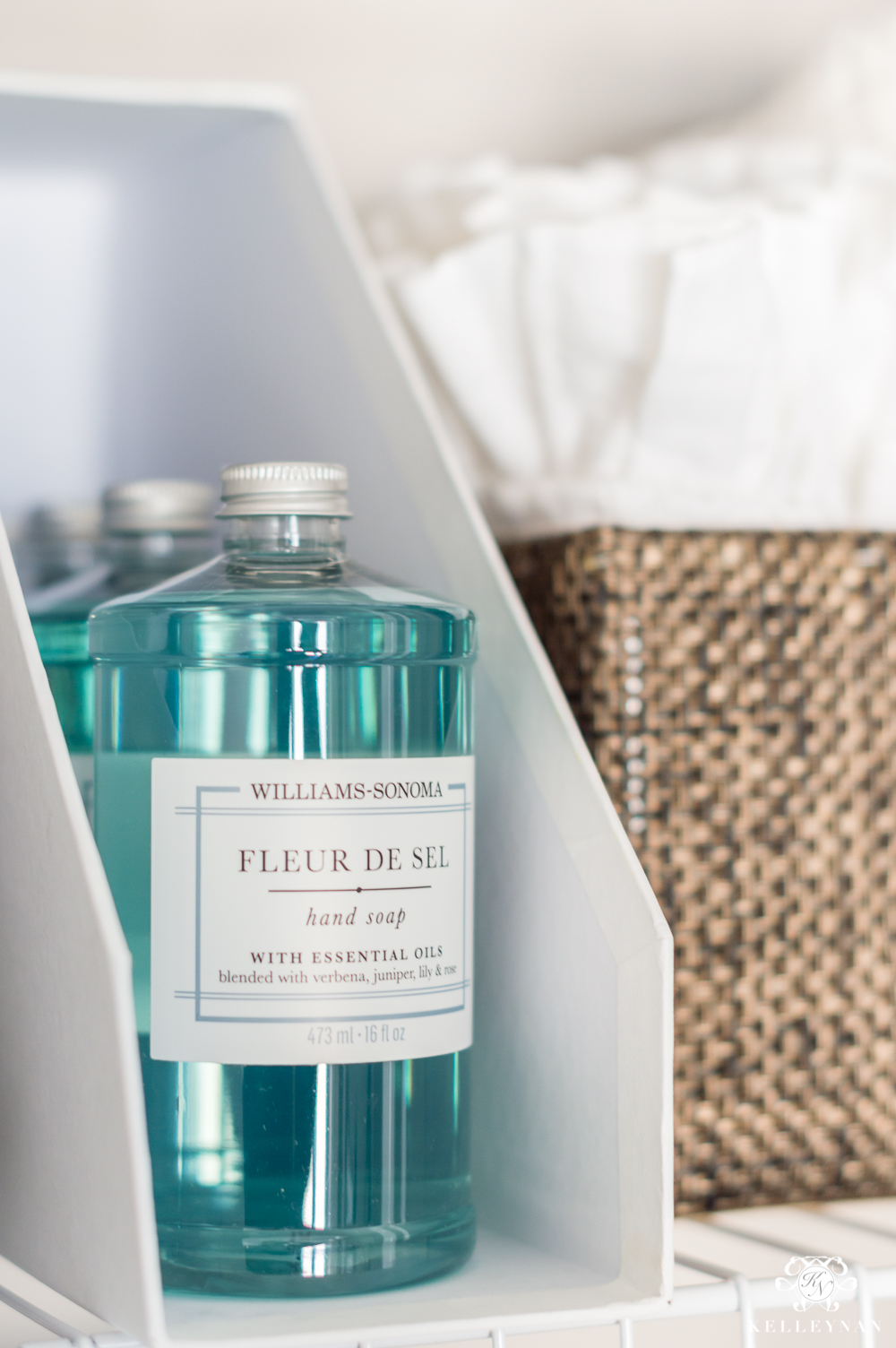 ---
---
Did I mention that I took the time to try to really fold my fitted sheets? (Just because it totally deserves a second brag acknowledgement 😉 ) I don't think I'll ever have it "down" completely but folding them all at the same time, using the same method helped immensely. We got rid of more than three bags of stuff between donations and trash, but still have more than enough. I didn't get rid of anything just for the sake of getting rid of it, either. I was determined to create a home for everything we held onto. I even held onto small rugs that were in good shape- just not 75 of them.
The beach towels were a different animal. For two people who don't go to the beach that often (and who frequent a pool maybe a handful of times in a year), we sure did have a lot of beach towels. But, they come in handy so often (car/rain emergencies, traveling with fragile items, etc.), I didn't mind hanging onto those that were in good condition (even though these vibrant Hawaiian heart attacks aren't the most attractive things.) I'm pretty sure Kris of Driven by Decor will be sending me some more subdued, age appropriate towels soon though ;). (Inside joke I couldn't resist haha)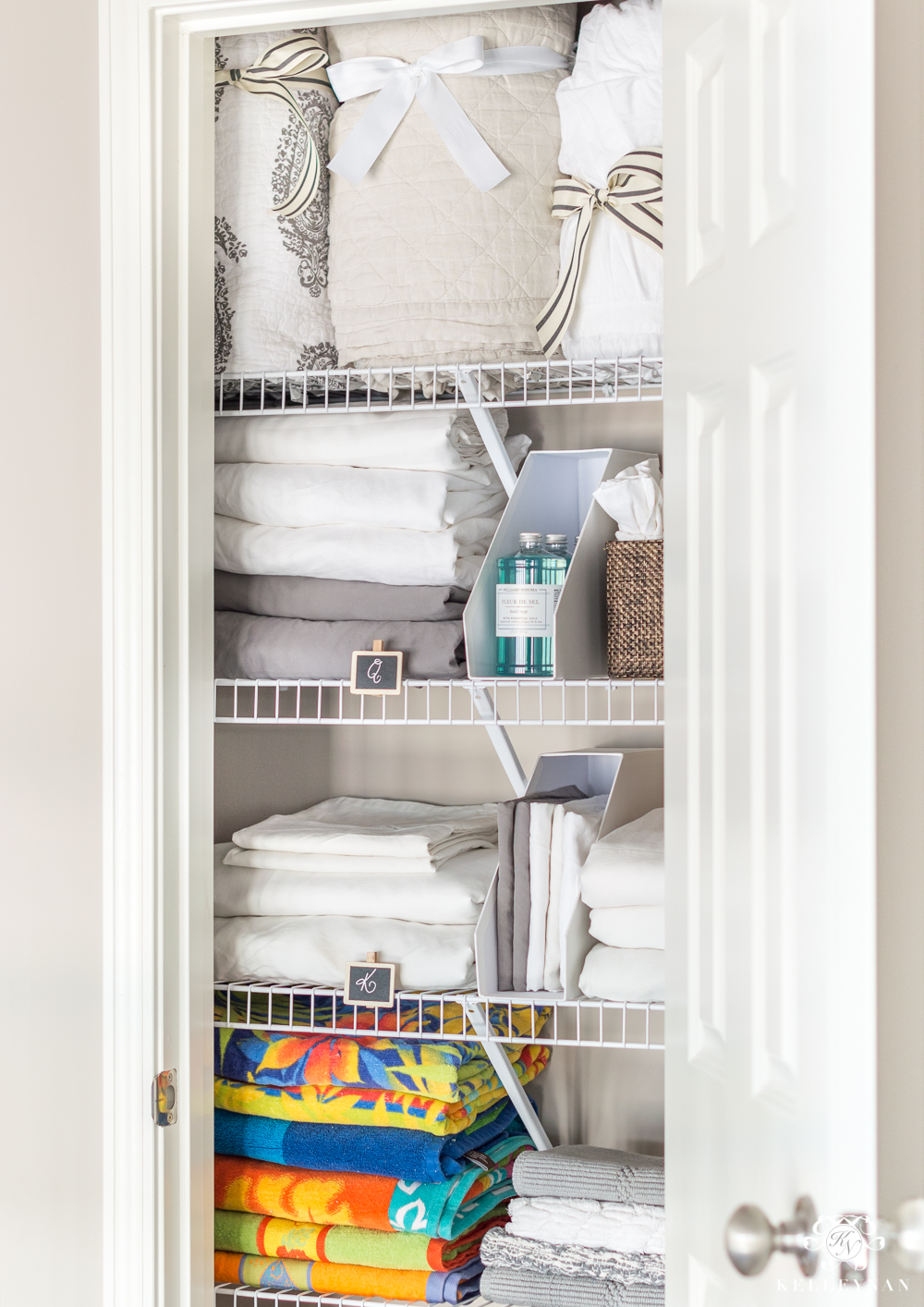 ---
Sources: Magazine Holder | Storage Bin | Chalkboard Clips (similar) | White Marker | Striped Ribbon (similar) | White Ribbon
---
I added these little wooden Chalkboard Clips (similar) to differentiate sheet sizes between shelves, which work perfectly for wire shelf labeling. And, as always, I used my favorite chalk markers (HERE). In the spirit of total honesty and full disclosure, I had "practiced" drawing (what I thought) were versions of a queen's crown and a king's crown on some junk mail in the kitchen. I'm definitely not the artist and ultimately decided on a simple "Q" and "K". (How cute would that have been, though??) Dave came in from working outside, spied the evidence before I got rid of it, and totally got a kick out of what can only be described as something resembling the artwork you might find on the back of a 13-year old's notebook.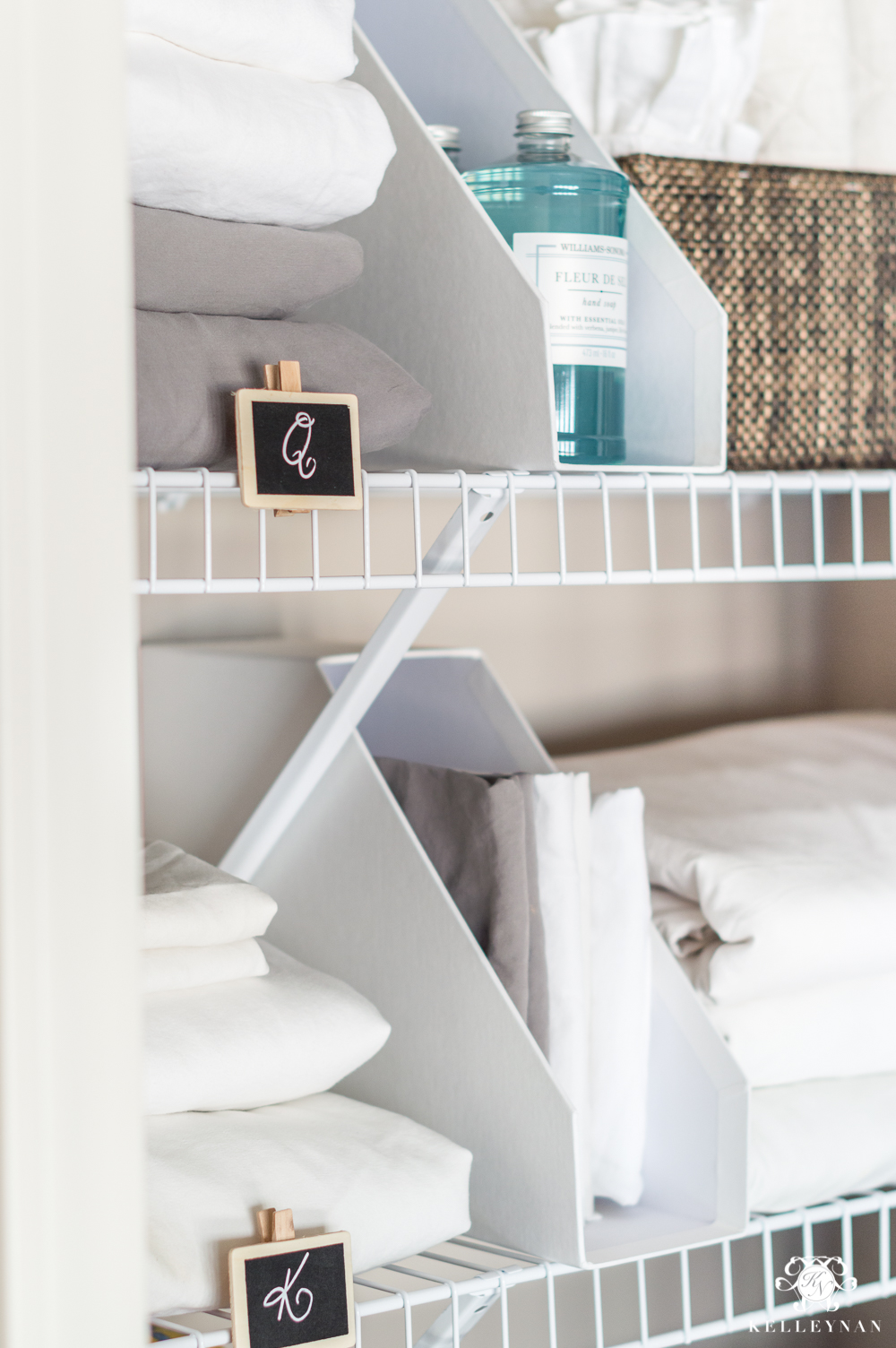 While the bedding pillow shams received their own bin (HERE), you won't find throw pillow covers in here. I wouldn't be surprised if even this entire closet had been dedicated to just the covers of the throw pillows, they likely wouldn't have fit. That's another project that will be coming 😉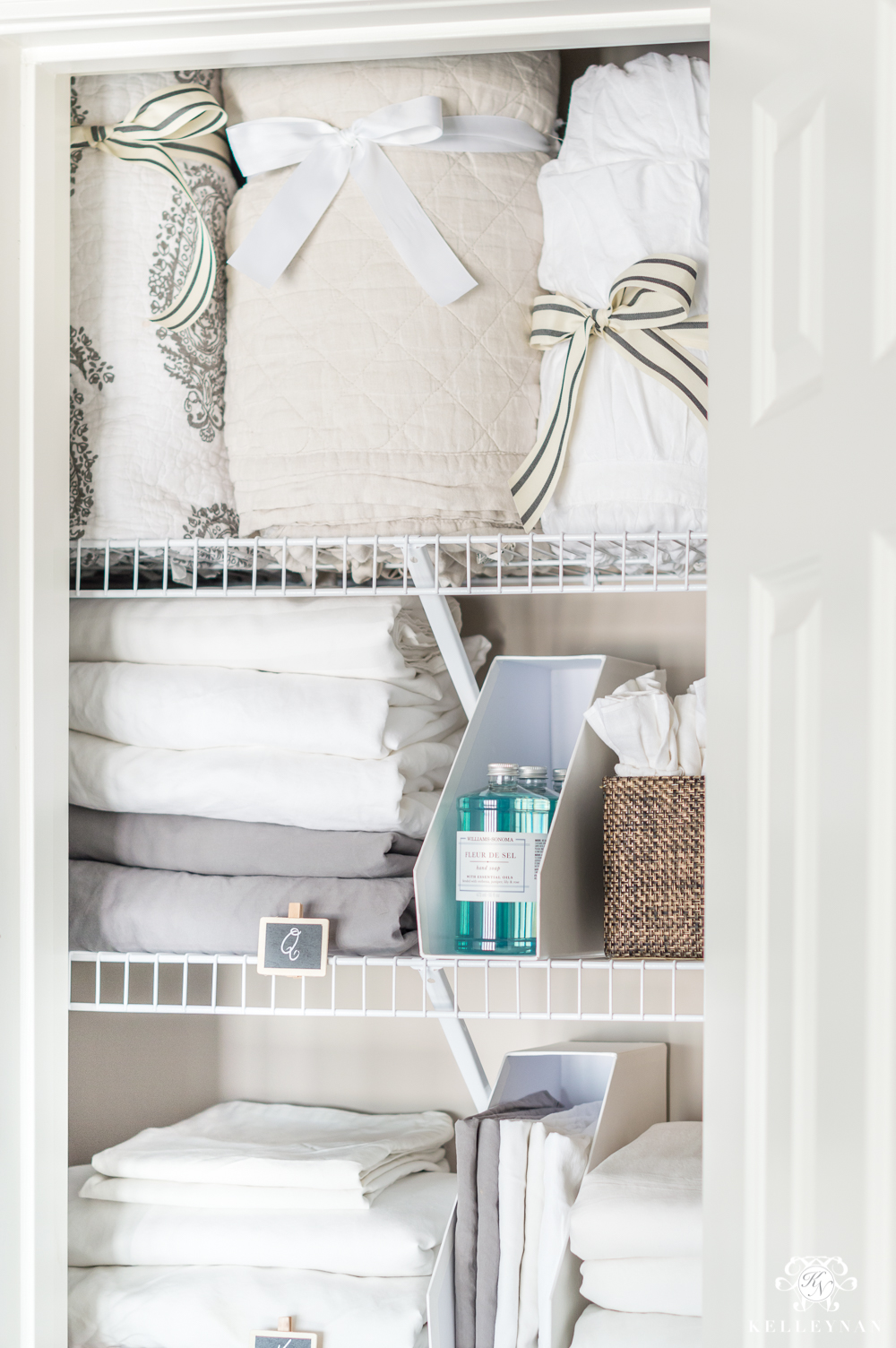 Such a breath of fresh air (and a little weight off the old shoulders) to have this small organized linen closet and all that bulky bedding conquered.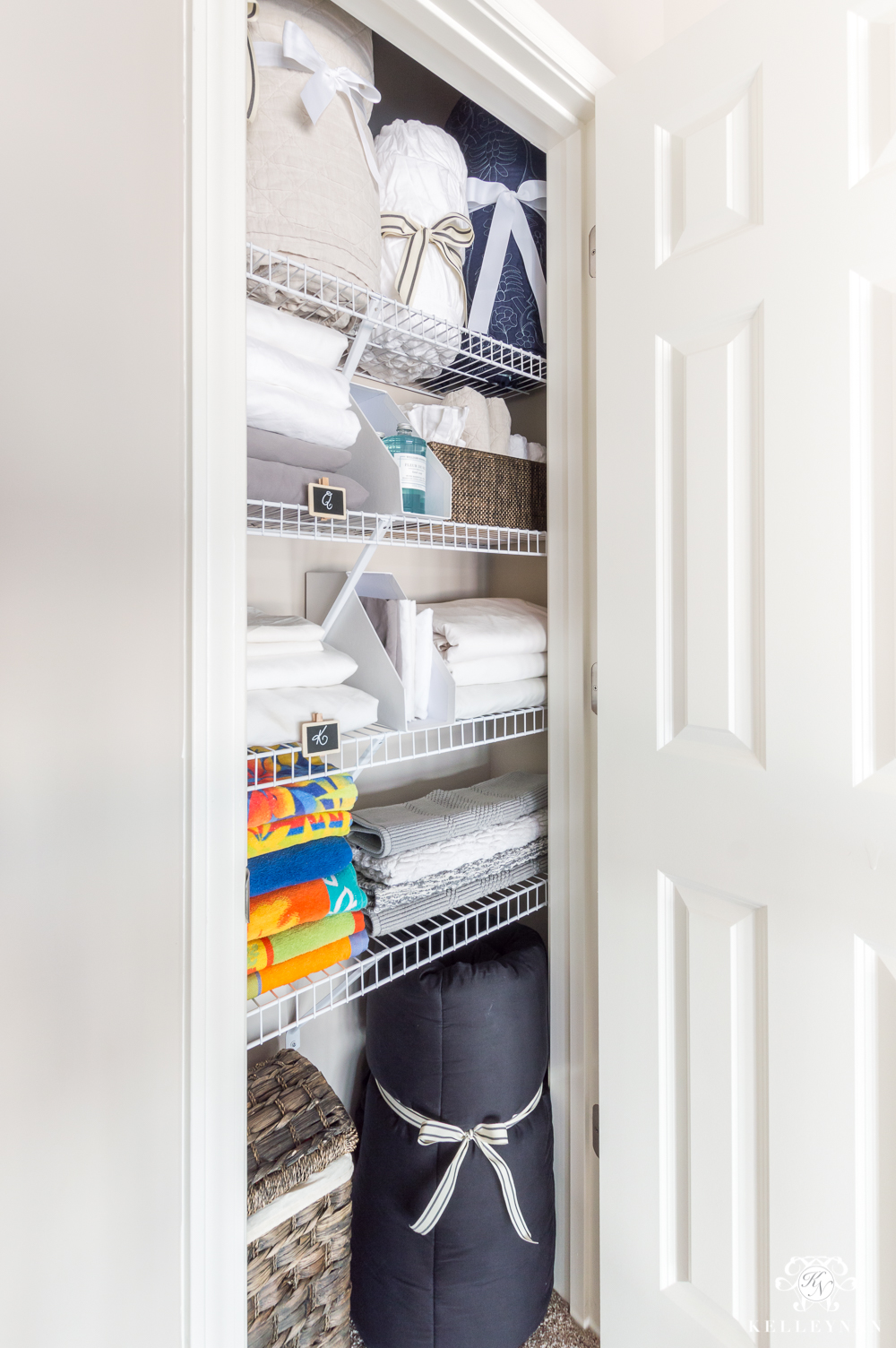 To see all of my featured organization projects, you can check out the organization gallery HERE. To make sure you see all my upcoming projects, subscribe to my emails at the bottom of this post.

Woven Bin | Magazine Holders | Chalkboard Clips | Chalk Pens | Favorite Sheets | Black Ticking Striped Ribbon (similar)| White Grosgrain Ribbon | PB Belgian Flax Diamond Linen Quilt | PB Hadley Ruched Duvet Cover | Williams-Sonoma Soap | Hamper: HomeGoods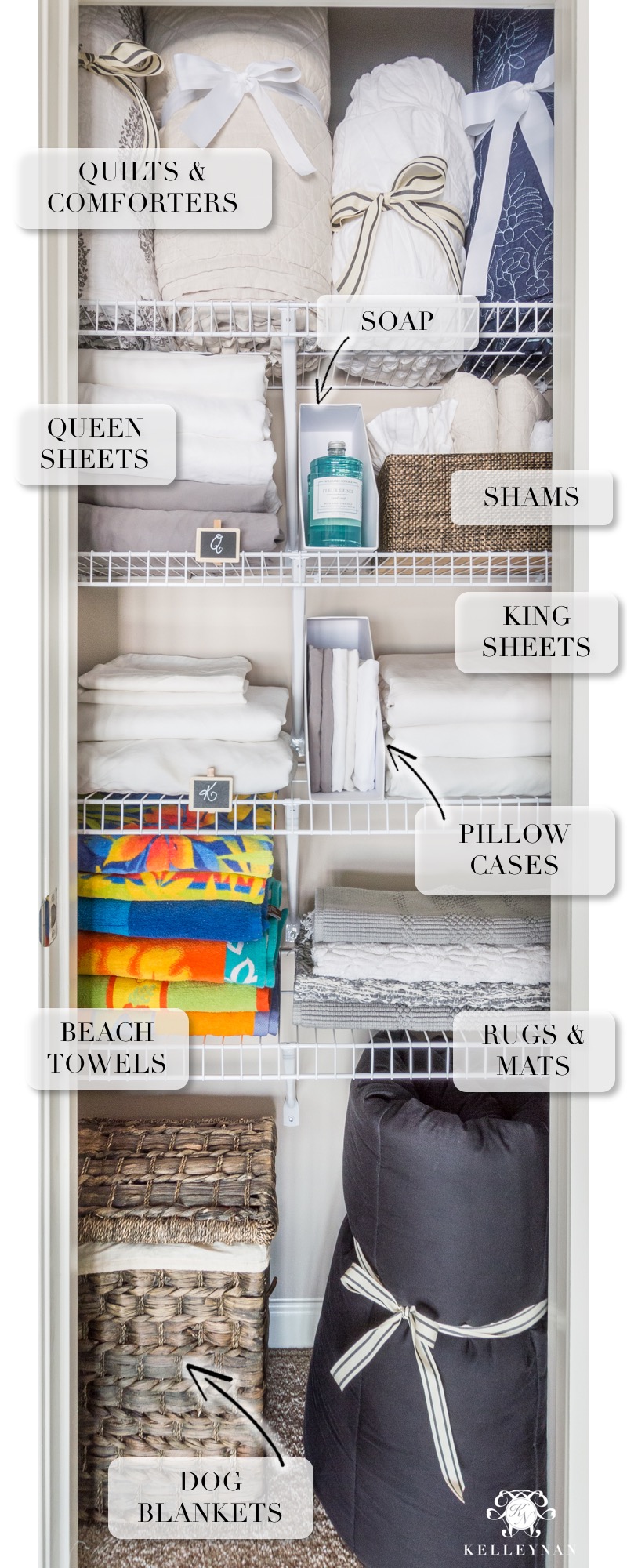 </div)