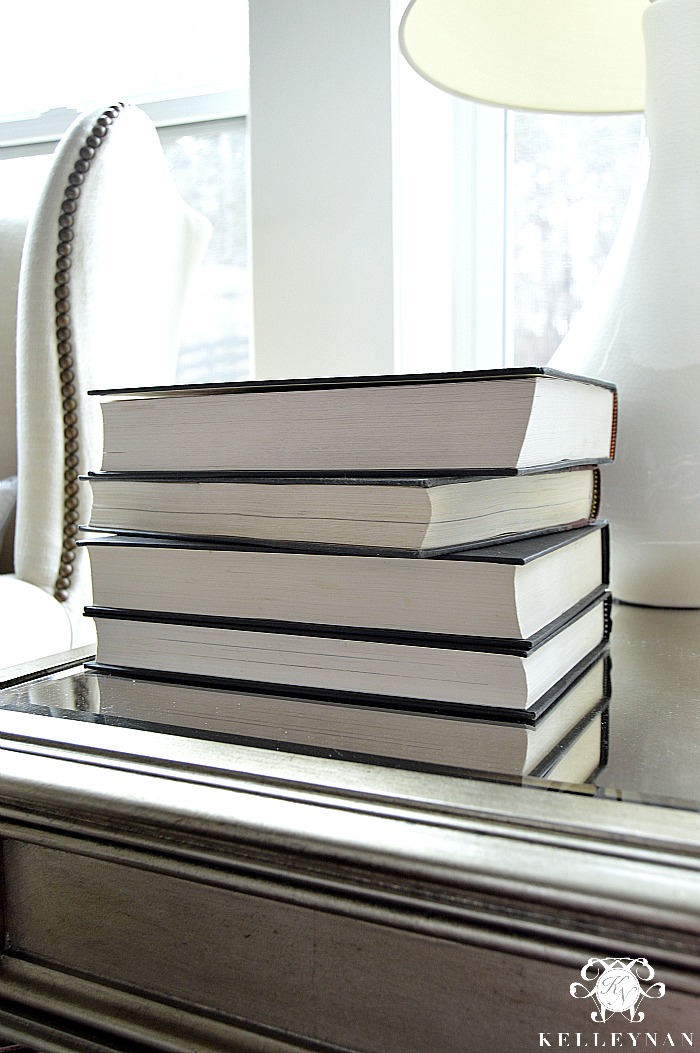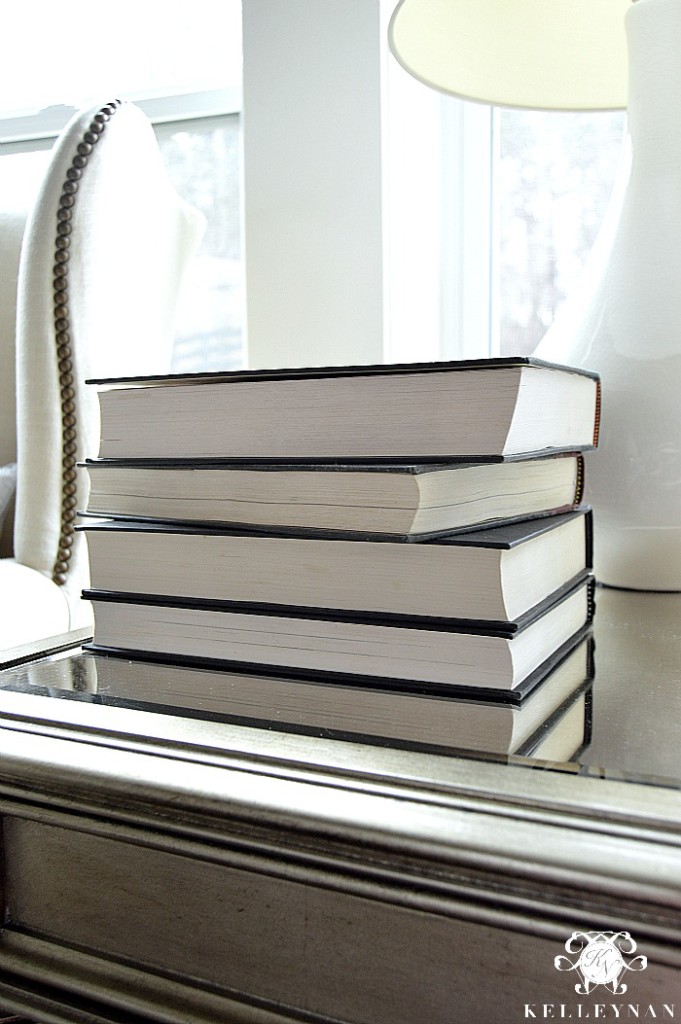 You have probably heard more than once that books are great to incorporate into your decor. But, what does that mean? And how? Bookshelves are an obvious place to "decorate" with books, but where else? Well, I too am a huge fan of using books in my decor; to me, books are like trays in that they can instantly pull a look together. Like trays, using books as risers, a way to elevate some of your decor, can instantly enhance the look of your vignettes. I even have our bedside lamps sitting on small stacks of books since I wanted just a little more height. Whether on your coffee table, side tables, buffet, or shelves, if you haven't already, try incorporating some books and see the difference it can make. If the cover doesn't match, you can either remove the jacket or, head to a local thrift store and scout out some cheap books with the appropriate color spine. (You can check out a bookcase makeover in which I used monochromatic books HERE).
Think of books as pillars to display and showcase some of your decorative items. You can easily shop around your home for book toppers, but I wanted to share my personal "go-to's" for inspiration. There are tons of options and the only "rule" I try to stick to is keeping my accessory toppers in proportion to the books – something fairly low. Along with being some of my favorite ways to style books, these are some of my favorite versatile pieces to keep on hand in general.


Decorative Boxes- an easy way to keep a streamlined, structured look.
Cloche- even with a few sprigs of greenery, using a small dome directly on the book's surface is a great way to showcase a simple item.
I have stars everywhere! To me, they are some of the most simple objects to incorporate into vignettes to pull a look together.
A small vase/bud vase with blooms- After arranging our primary bouquets of weekly flowers, I usually have some sprigs or leftovers I like to arrange in small bud vases. If you don't want to sit it directly on a surface, try placing in on top of some books for a more intentional look.
Geode- crystallized and patterned rocks like agate and geodes are everywhere right now. I have some sprinkled throughout our home and they have become a staple. To me, they seem to say "Hey, I like nature, but I'm also a little fancy."
Fruit- When I saw my friend Tamara (citrineliving.com) use artichokes in her living room, I felt like I had been missing out by keeping my faux fruit in the kitchen. I may not use all fruit in this area, but some varieties (like artichokes and pears) just seem to work.
Magnifying glass- when in doubt, throw a magnifying glass on top. They go hand in hand with reading material, it makes total sense, and, it can offer a sophisticated look to your vignette.
Urchins- For the last couple of years, urchins have been super popular. I even have extras stowed away in case I need something to dress up a flat book quickly; these are probably my current number one go-to.
Candle & Wishbone- A pretty candle can go a long way (this Volcano candle is my absolute favorite that I talk about all the time). The wishbone is a fun decor piece because of the nostalgia it creates, but similar to my stars, is easy to incorporate into any vignette.
You can shop the post below:

Identical items used when available; similar items sourced when exact items are not available. 
*affiliate links used*