It's Snack Around the Plate time and it's random, as always!
What is a "Snack Around the Plate"? Growing up, this was the phrase my mom called meals she would assemble with random favorites when scouring the pantry and fridge. And, while each item didn't totally go together, assembled as one collective, I loved them! Basically, "Snack Around the Plate" posts are just a smorgasbord of randomness — "a little of this and a little of that" from all things lifestyle. It's a mish-mosh highlight reel from a favorite recipes to favorite finds.
*Posts on KelleyNan.com may contain affiliate links. Click HERE for full disclosure.
Find a full description and details following the graphic below.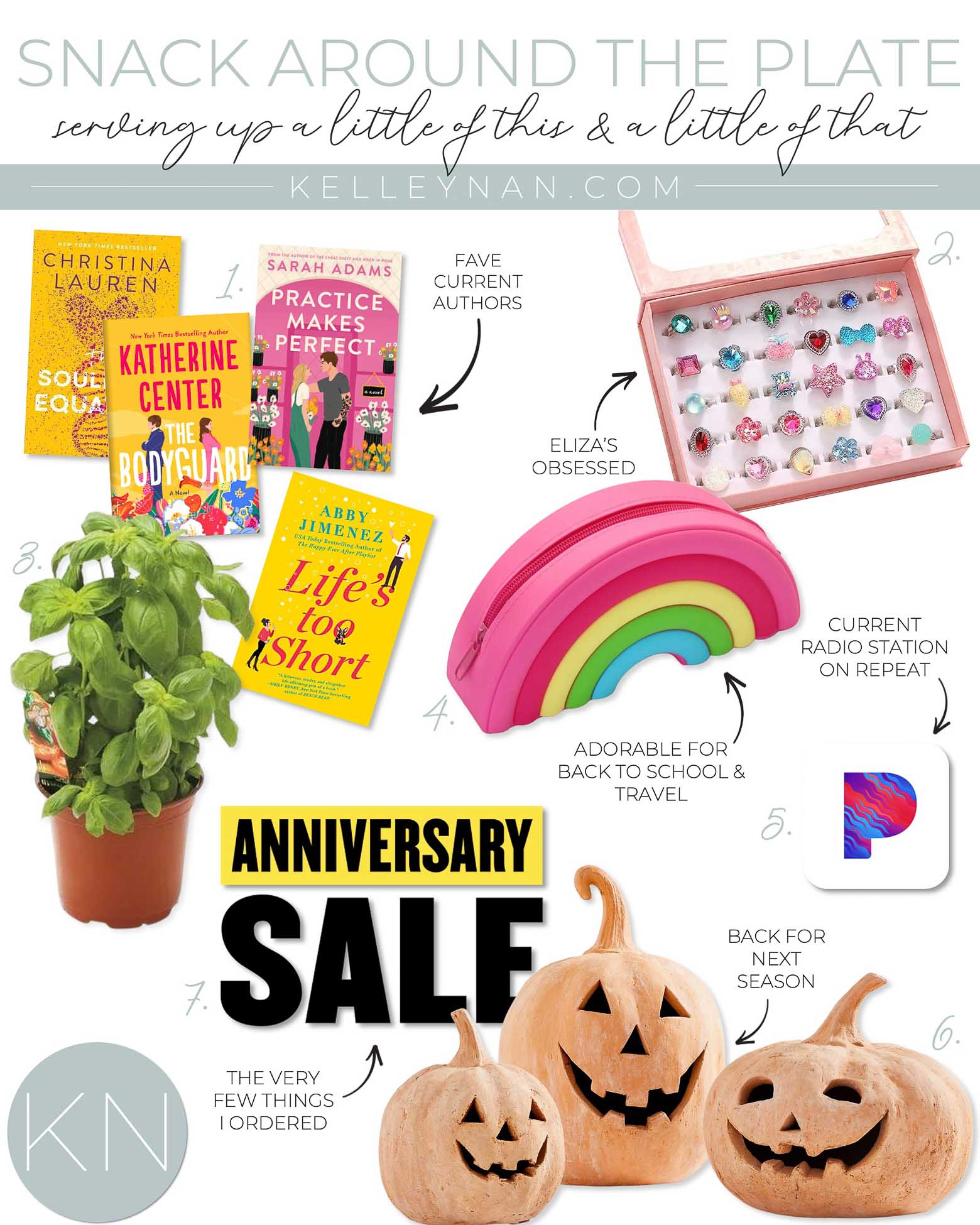 1. Favorite Current Authors — I've been sharing a lot of books I've enjoyed (ones I'd rate with 4+ stars HERE) but there are certain authors that I get so excited about, I can't read through their catalogs quick enough. The two on the top of the list are newer for me but leave me feeling happy each time I finish a book. If you look for a feel-good escape, these are the authors you need to know. The bottom two I've been enjoying for longer but one thing they all have in common is likable, well developed characters. If you aren't familiar with them or you don't have any books in your TBR queue by them yet, add them ASAP.
2. Dress Up Ring Set — I had no idea when my mom gave Eliza a set of inexpensive dress-up rings off Amazon how much she was going to 100% adore them. I also didn't realize she would be wearing them every day, beyond the house, when she goes to school. The rings are adjustable and even fit Eliza's tiny fingers. It's a proven winner for a gift idea and Gran Nan just ordered this additional 24-piece Dress Up Ring Set that Eliza will be receiving in the mail soon!
By the way, if you have a little one who loves all the girly stuff, THIS set of stick-on jewels is the deal of all deals. Almost 2500 stick on gems in 15 colors that serve as Eliza's daily earrings.
3. Basil Plants & Garden Wins — If I were asked, "What fresh herb is a must to have on hand during the warm weather months?" — My definite answer would be, fresh basil! This fragrant, leafy herb goes so well with vegetables, salads, sauces, grilled meats, and basically ALL of the favorite meals we love to enjoy in the summer.
You can certainly purchase fresh basil in the little plastic pack in the grocery store. But I've found that these packs often include non-usable stems and don't last anytime at all, even with proper refrigerator care. For about the same price, my grocery store also sells potted basil plants. A fresh plant produces so much more basil, lasts for weeks (with the proper care) and is a fragrant "add" to your kitchen counter. As a note, your basil plant will require regular watering and natural light to thrive inside. I like to keep mine next to my kitchen sink, which has decent light and serves as a reminder to water regularly.
We added a planter box to our backyard this year, and have been growing our own tomato and pepper plants. While the peppers (bell, jalapeno and serrano) are off to a slower start, we have been enjoying bounty from our tomato plants for the last couple of weeks. Home grown tomatoes are so superior to what you find in the store and we want to make sure a single one doesn't go to waste. I never refrigerate tomatoes — home grown or otherwise — and since the home grown tomatoes haven't had to travel from farm to warehouse to store, they last a pretty long time. I LOVE a good tomato sandwich and that's been my lunch of choice since the plants have been producing.
One of my favorite meals to serve in the summer is this easy to make, Fresh Tomato and Pesto Pasta. But if fresh pesto is not in the menu plan, I substitute finely cut basil ribbons for the pesto, and the resulting pasta dish is absolutely delicious! (I may even prefer the tomato/basil version over the tomato/pesto version. :)) This Fresh Tomato and Pesto Pasta or fresh tomato and basil pasta is a great way to use those smaller home grown tomatoes. (I like to reserve my larger tomatoes for sandwiches or to serve sliced!) Just make sure you finely dice the tomatoes so they fit in the pasta crevices. I also add the resulting juice from the chopped tomatoes to the warm pasta.
BTW, my favorite tomato knife is perfect for slicing and dicing tomatoes thinly and evenly!
4. Adorable Rainbow Pouch — I was browsing around on the retailer website for back to school deals and this rainbow pouch caught my attention out of nowhere. Not only is it one of the cutest things I've seen for school, but it's also perfect for travel.
5. Play THIS Station for Perfect 90s Nostalgia — All summer at the pool, we've been playing "The Wallflowers Radio" on Pandora. And every single person who has come over has asked what station it is. It's 90s alternative, but better. Because it isn't just the usual stuff you hear when you think of 90s alternative. It includes the best stuff you forgot about, deep cuts, and old faves. All the nostalgia and feels and some of the best music you probably haven't heard in a while 😉
6. Terracotta Pumpkins Are Back! — These things were fire last year and while we're still a little ways out, the infamous jack-o-lanterns are back this year! Popular fall pieces went quickly and early last year so if you had your eye on them last year, consider this your warning 😉
7. Nordstrom Anniversary Sale — Influencer Status begins today! I haven't talked much about the sale the past couple of years and as I've stayed home more, I've shopped it less. Also, the seemingly increasingly short stock of items has been frustrating. But, when I saw this year's previews, I was excited about a few items and actually planned to shop it a little more for the first time in a while. They have some new items that are long time personal faves at sale prices that are rare.
But, even though today is the first day I can shop and non-cardholders can't start shopping until July 17, it looks like several items have already gone out of stock, out of sizes, and out of colors. they may restock so it's still worth a look to see if something comes back but honestly, I already feel a little deflated from the first look where I was looking forward to the sale a little more this year. That said, below I'm sharing a few personal faves from ladies, home, and beauty.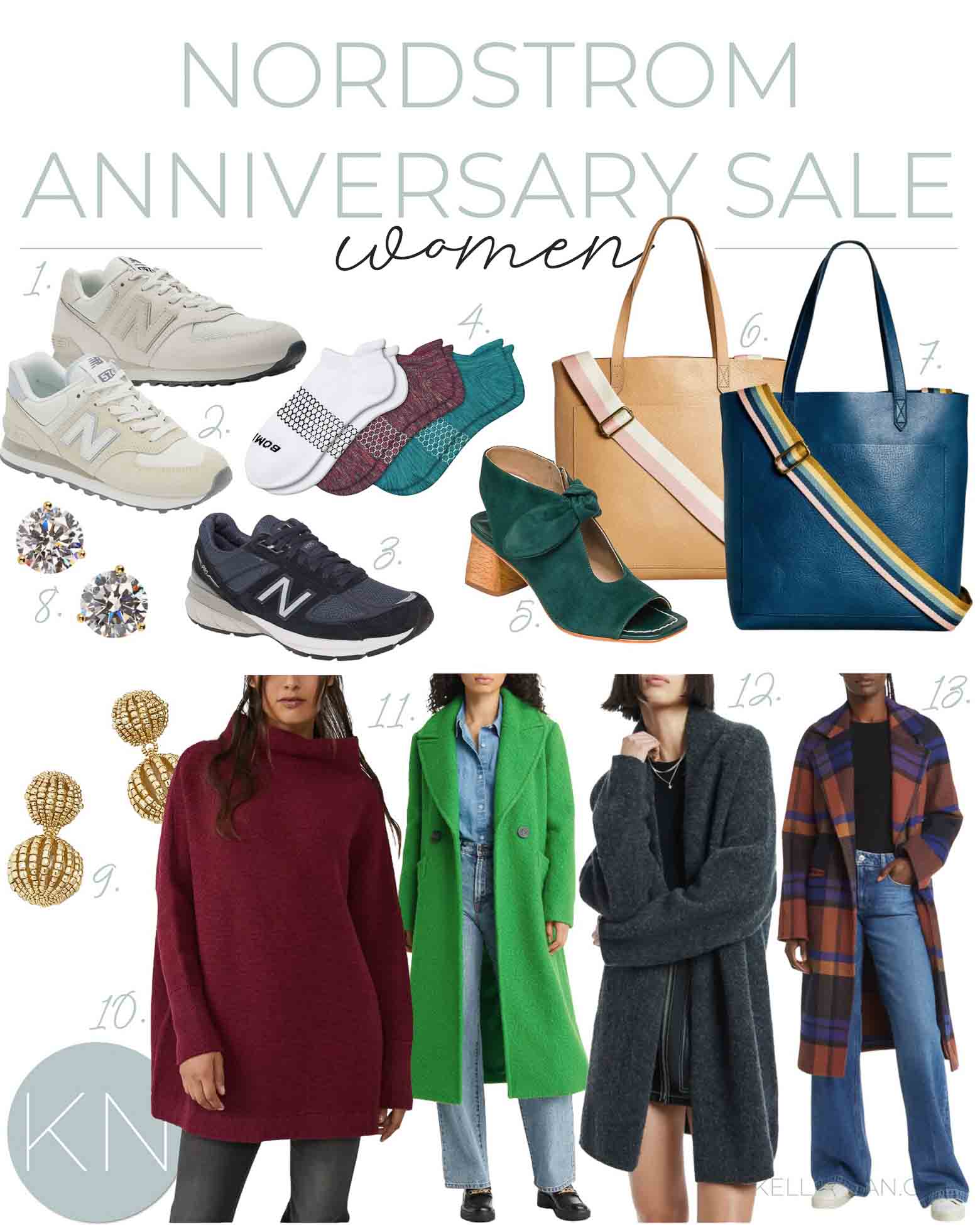 1. New Balance 574 Unisex Sneakers (21% off) | 2. New Balance 574 Women's Sneakers (21% off) | 3. New Balance 990v5 Sneaker | 4. Assorted 3-Pack Supima Cotton Blend Ankle Socks (37% off)| 5. Bernardo Lizzie Sandals ( 29% off) | 6. Madewell Earthen Sand Medium Transport Leather Tote (34% off) | 7. Madewell Blue Hematite Medium Transport Leather Tote (34% off) | 8. 4 ct. Cubic Zirconia Earrings (34% off) | 9. Beaded Statement Drop Earrings ( 38% off) | 10. Free People Slouchy Tunic (46% off) | 11. Long Line Coat (44% off) | 12. Long Cardigan (36% off)| 13. Relaxed Fit Plaid Coat (43% off)
I basically live by Madewell leather totes and use them as my daily purses (alongside fabric webbing straps). I love that they brought THIS neutral (6) and THIS blue leather Madewell tote (7) to the sale — bonus points for the cool strap colors and the fact that they included the webbing straps. These are just great quality bags and the medium is a great univeral size. Also, THIS AllSaints bag is stunning, with the different handle options, and I can't decide which color is my favorite. It looks PERFECT for fall.
I was shocked. Literally shocked that my favorite walking shoes (3) (like for actual walking — not just errands) are new to the sale this year. I've always ordered them directly from New Balance and they've always been excluded from sales and promos at both New Balance and on Free People. I love the wide toe box of New Balance (I order 1/2 size down in these) and have had duplicates of every color offered over the past several years. This deal literally never happens. They're comfortable, have great support, and are definitely worth a try while you can get free delivery and returns, if you're a walker!
When it comes to all the other times (like running errands), I prefer the less expensive 574s (and also get this style for Dave.) The unisex version has several colors (HERE) (1) and the women's version (2) has multiple colors HERE.
I have no business ordering THESE chunky open toe heels with ties (5) but they come in several colors and are ADORABLE. I had a similar black of black ones without the chunky heel and wore them to every occasion I could.
If you're a Bombas sock fan, you already know 😉 I became a fan this past Christmas season and now, they're all I want to wear. I love the fit and thickness and THESE SOCKS (4) (they have several sets on sale right now HERE) will be one of the few things I purchase. You can find the mens HERE, which I'll also be ordering. I wear a 7.5 and prefer the snug fit of the small.
I wear THESE earrings (8) daily in the 4ct option (2ct/ear). They're part of the sale annually and they look fantastic in real life. I'll be grabbing another pair while they're $32. There's a few sizes but I think this size is perfect enough to look real while still being able to see them clearly.
THIS is my favorite Free People sweater (10) and I own more of this style than anything else in my closet. I was excited to grab this wine color but it's currently out of stock. I'll continue checking back to see if they add that color back but my black one that's available (along with a few other neutral tones) is fail proof. I prefer to size down one on this one for a still oversized fit.
I also really like THIS Top Shop sweater at a little bit of a lower price point (under $50!), specifically in the pink and oat color options and ended up grabbing it in pink.
THIS cardigan (12) is one of the pricier items I included but I love the wool blend material, shawl collar, and overall fit.
The long coats (11) & (13) aren't my typical since they're a bit bolder, but I am loving the color and pattern! Especially if you're outfit is typically basic and black like mine 😉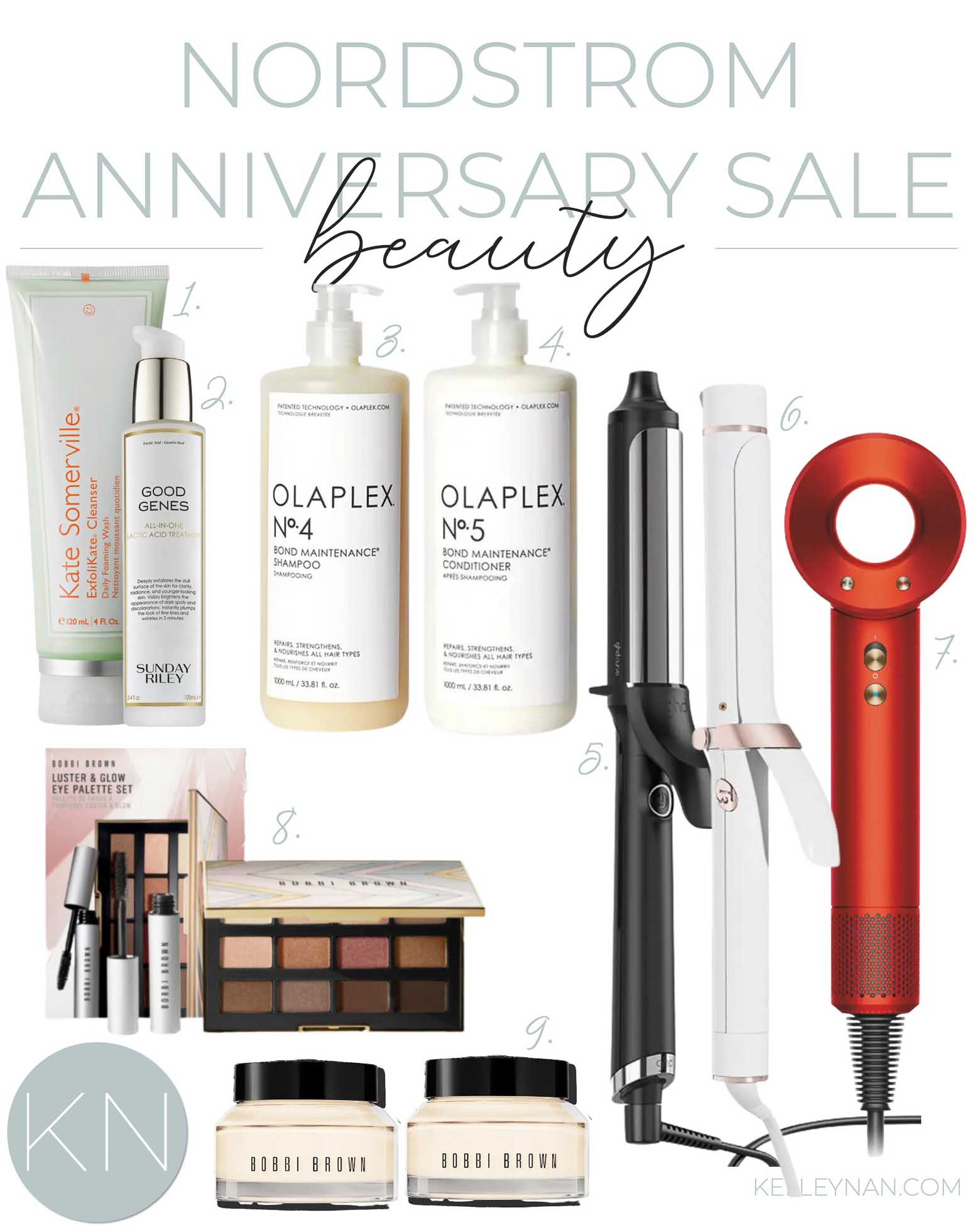 1. ExfoliKate Cleanser Daily Foaming Wash (30% off) | 2. Jumbo Good Genes All-In-One Lactic Acid Face Exfoliating Treatment (35% off) | 3.  Jumbo Olaplex Bond Maintenance Shampoo (20% off) | 4. Jumbo Olaplex Bond Maintenance Conditioner (20% off) | 5. GHD Soft Curl 1 1/4″ Curling Iron (33% off) | 6. T3 SinglePass 1 1/4″ Curling Iron (33% off) | 7. Dyson Supersonic Hair Dryer (12% off) | 8. Bobbi Brown Eye Shadow Palette & Mascara Set (62% off) | 9. Bobbi Brown Vitamin Enriched Face Based Priming Moisturizer Duo (50% off)
While beauty deals are limited, most of my daily skincare is included in the sale — it's an incredible time to grab some of these pricier items at a discount.
I use THIS cleanser (1) in the shower, and follow it with THIS lactic acid treatment (2), and finish it off with THIS face base (9) (the most amazing moisturizer/primer combo!). You can then put makeup on.
I love THIS beautiful shadow palette (8) — like love LOVE.
I've never had big bottles of Olaplex in the pump bottles but THESE (3) (4) are tempting me — they seem like a better design for my preference and the volume to price is great. The standard bottles are $30 for 8.5 oz — these are almost 4x the size at 33.8 oz! I just grabbed both the shampoo and the conditioner.
The Dyson hair dryer (7) is one splurge tool I'm so glad I purchased during a previous Anniversary sale (I love this year's dryer/case color combo!)
I have and use THIS T3 curling iron (6) and it's wonderful. But, I've also heard raves that people love THIS ONE (5) even more.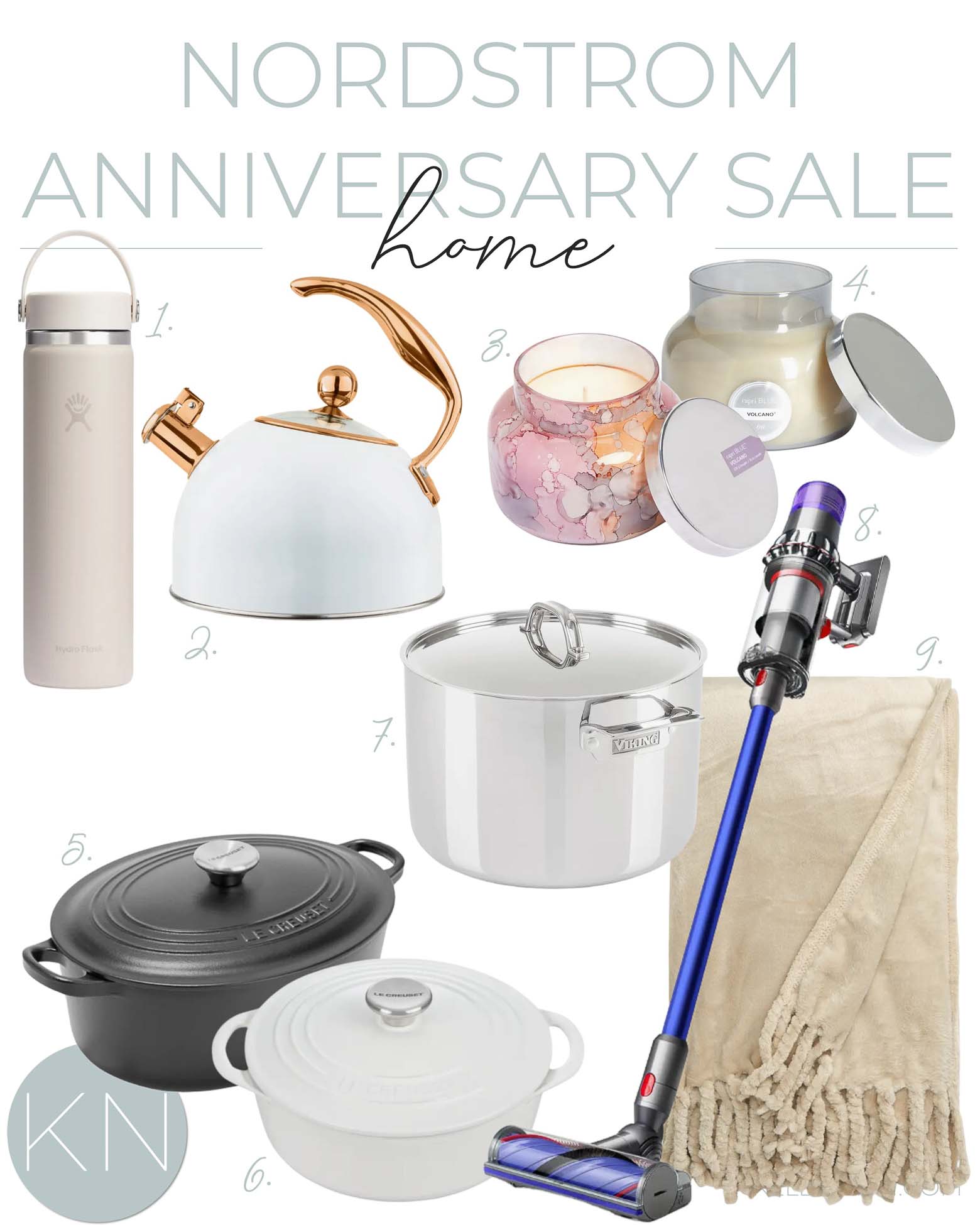 Hydro Flask 24-oz Wide Mouth Water Bottle (25% off) | 2. Viking 2.6 qt Tea Kettle (20% off) | 3.  Capri Blue Volcano Watercolor  Jar Candle (28% off) | 4. Capri Blue Volcano Grey Blue Jar Candle (28% off) | 5. Le Creuset 4.5 qt Oval Dutch Oven (36% off) | 6. Le Creuset 2.75 qt Enamel Dutch Oven (37% off) | 7. Viking 12 qt Stainless Steel Stock Pot w/Lid (42% off) | 8. Dyson V11 Extra Cordless Vacuum Cleaner (17% off)| 9. Bliss Plush Throw Blanket (31% off)
There's good deals on some Le Creuset (5) & (6) if you've been hoping to elevate our cookware and I am digging THIS Viking stock pot (7) for soups and sauces!
And, while it's maybe the most regular Anniversary sale home item, I will continue to sing the praises of this $19-on-sale-uber-soft-tassel throw (9). Between me and my mom, we probably have 20 of them now, in every room, in 12+ colors, and have given countless throws as gifts.
We're currently having some family time and shortly after we get back, Eliza starts PreK. (WHAT?!) Did you shop the Anniversary Sale this year? Are you planning to? I feel good about my few snags and will continue to check some of the items I was hoping for that went early./div>