The Nordstrom Anniversary Sale is LIVE for early access cardholders! If you aren't a cardholder, the sale will be available to shop on July 19 but you can still browse and make note of fall and winter staples now. I typically go for more casual/cozy separates during this sale but since I anticipate being extra home-body-ish this year, everything I'm looking for is to wear out the house, on errands, or for an occasional girlfriend dinner. The home selection is smaller this year than in years' past but there are a few tried and true favorites you've probably seen my highlight regularly for a while. Today, I'm sharing 13 top favorites that I have or am shopping this year from women's to beauty to men's to baby to home. I have a few more favorites at the bottom of the post, too 😉
*Posts on KelleyNan.com may contain affiliate links. Click HERE for full disclosure.*
As a reminder, all orders ship free and returns are free, also (key for me when it comes to items like shoes where I may order a few sizes). The sale will be going on for the next month but items will sell out often.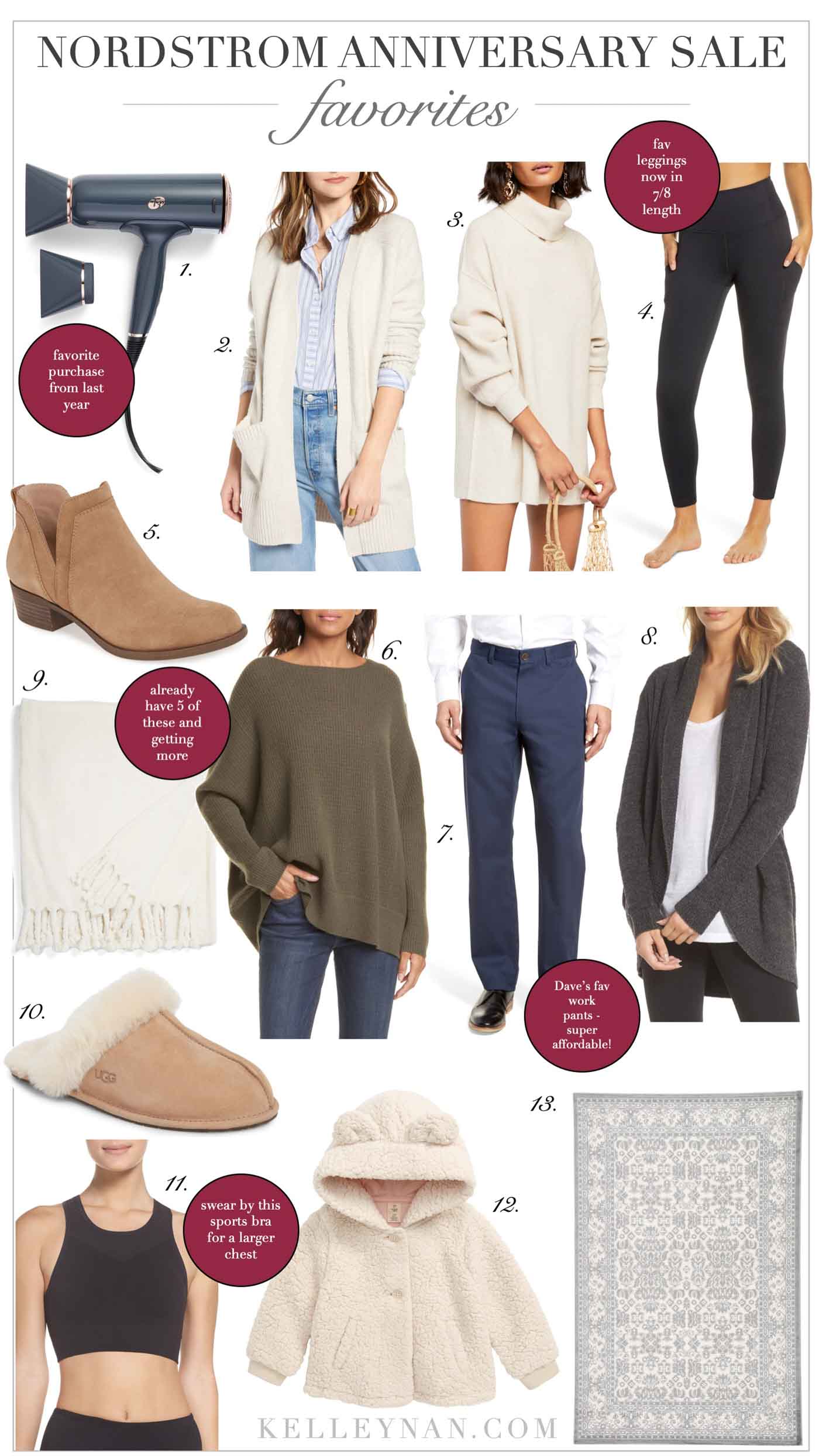 1. T3 Cura Hair Dryer // Sale: $155; Regular: $235 // This is my favorite purchase from the sale last year. After using a straightener for the past two decades every day, I no longer have a need for it. I can, for the first time, blow dry my hair totally straight using this T3 (with nozzle attachment) and a boar hair bristle brush. I am considering getting the 1.25″ T3 Single Pass curling wand (HERE) this year.
2. Throw On Cotton & Wool Blend Cardigan // Sale: $58.90; Regular: $89 // Oversized slouchy cardis are my fav and this one is in my cart for this year. It comes in several colors but I'm really drawn to this style in the cream.
3. Free People Softly Structured Knit Tunic // Sale: $98.90; Regular: $148 // This is in my cart for a few reasons- 1. I love Free People; 2. I love the length and 3. I love the sleeves. It also comes in several colors and is perfect for my fall uniform leggings.
4. Zella Live In High Waist 7/8 Leggings // Sale: $38.90; Regular: $59 // The regular high waist Zella leggings are my favorites but on me, they are long. Not enough to bother me but now that they are making a shorter version, I'm loading my cart up!
5. Bebhina Waterproof Bootie // Sale: $86.90; Regular: $129.95 // These come in several colors and I love the cut and height. They're easy to dress up or down and are perfect for (if you're like me) prefer a dressy-casual when you "dress up".
6. Oversize Cashmere Sweater // Sale: $199.90; Regular: $329 // This may just have to be my splurge this year. Cashmere is usually out of my budget but I absolutely love this sweater — both in style and color.
7. Wrinkle-Free Straight Leg Chinos // Sale: $45.90; Regular: $69.50 // We started getting these pants for Dave two years ago (semi-business casual and wears with a button down) and have even purchased when they aren't on sale. The price can't be beat and they come in several colors. We'll be stocking up on more pairs this year.
8. Barefoot Dreams CozyChic Lite Circle Cardigan // Sale: $76.90; Regular: $116 // This was my first Barefoot Dreams purchase when I *got* all the hype. It really is the softest material you will ever feel and even though the price is higher, so many people go back for other colors after experiencing their first one. I have tried a few of their cardigans and the circle is my favorite cut.
9. Kennebunk Bliss Plush Throw // Sale: $25.90; Regular: $39.50 // These sell out each year (they come in TONS of colors) because people like me love them so much, they start collecting them for all over their house. I have five already and will be going back for more this year. As much as I would love to try the Barefoot Dreams throw, I can't bring myself to do it because the price of this one is crazy amazing and SO SOFT!
10. Ugg Scuffette II Slipper // Sale: $54.90; Regular: $84.95 // Because I work from home and am a homebody, I wear out my Uggs more than most people (I wear them 24/7). So, even though some can go a decade in the same pair, I treat myself to a new pair of slippers each year. This price is crazy awesome and will be my purchase for the year (they don't even have them this low at the outlets!)
11. Zella Fusion Sports Bra // Sale: $28.90; Regular: $39 // Another one of my favorite finds from last year, I have a hard time finding pull-over style sports bras with a larger chest. These are my favorite! I stocked up last year during the sale, and still ordered more a few months ago at full price. I'll be ordering more of these this year.
12. Kid's Cozy Fleece Jacket // Sale: $31.90; Regular: $49 // I'm ordering this for Eliza for this year; it's more practical than other coats and I think she'll get more use out of this than others. For just over $30, I am totally good with taking my chances on how many times she'll be able to wear it.
13. Jaipur Eugene Rug // Sale: Starting at $36.90; Regular: $49.99 // This has been a favorite rug for a long time. It's a great neutral and with both grays and ivories, is easy to bring into any space. Because of the pattern, it also looks like it will hide dirt in higher traffic/living room/dining room areas.
I'll be sharing some other sale items in my home in posts over the next few weeks; to stay in the loop, subscribe to my emails at the bottom of the post.
Sale Favorites