This past Saturday, I woke up and paused. I tried to remember what I had planned for the day and realized that for the first time in a while, I had nothing I had to do. Don't get me wrong, I still have plenty on that never ending to-do list but I didn't have a hard deadline that I had to spring out of bed and tackle. I have an out of town work trip coming up this week and a wish list I've been adding to for quite a while. While I prefer online shopping for most things (I can't remember the last time I went to a mall), I decided that if I was going to get everything I needed before I left, I would need to go to the physical store. It was a two hour round trip, the food court was too crowded to grab lunch, and I ended up spending more than six hours inside, but ultimately, I crossed Saturday off as a success. I accomplished pretty much everything I set out for – some new makeup, some work things for Dave, a few basic staples… but, mixed in were some things I was SUPER excited about so I'm gonna share some of my weekend haul favorite finds.
For your convenience, this post contains affiliate links.
I have wanted a pair of comfortable sneakers for a long time. I can't believe it but up until Saturday, my only suitable walking shoes were Nike tennis shoes and my Yellow Box flip flops (addicted). But it is always a quandary of what to wear to look a little more put together when a lot of walking is involved… and let's face it, sandals and flip flops aren't always practical. I try to make them be, but they just aren't haha.
I found this cute little pair of leather sneakers (available in multiple colors) that are so soft, they feel almost like suede. I thought, "Do I even like sneakers? Will they look dumb on me?" They seemed to be well cushioned so I slid them on – and then fell in love. They were a bit of an investment but I knew I would get my money's worth. Plus, after I actually put them on, there was no way I couldn't get them. If you need a comfortable walking shoe, this is it. I've come to realize that I would rather have a few pairs of quality, versatile shoes that I will wear a lot than a ton of cheap shoes that hurt or won't be worn.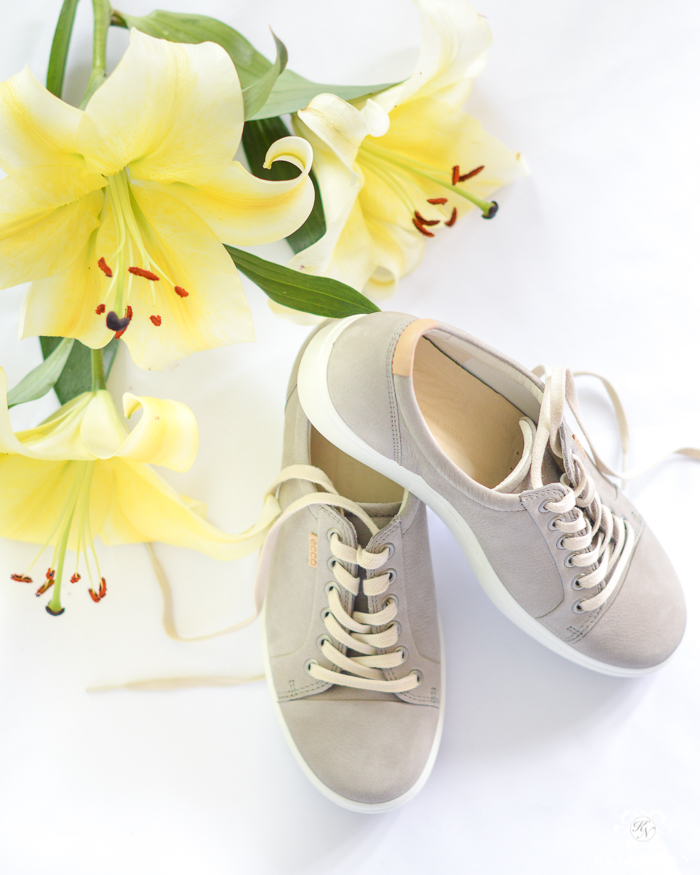 | Gray Sneakers |
These will be my airport/city/errand/everything shoe. As an FYI, they run true to size.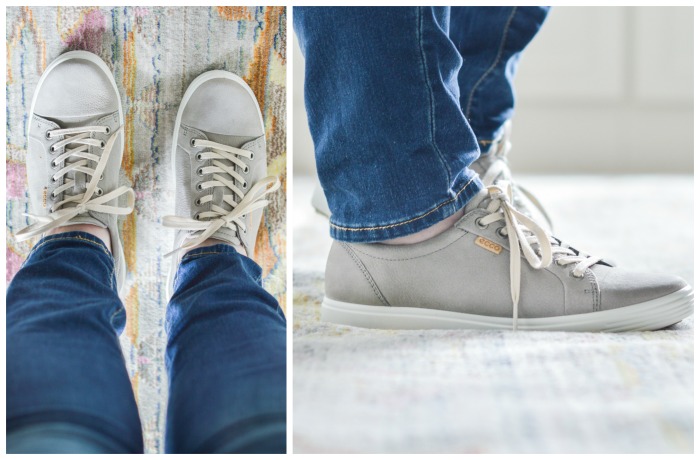 When I go on work trips, I do a lot of running around, standing, setting up, etc. I have to have a comfortable shoe but I have never loved how flats look on me. I also have a hard time finding pumps I like and because I have a wide foot, I usually end up having to size up… it never feels quite right. I set out in search for a comfortable kitten heel and hit the jackpot with a pair by Louis et Cie. I won't be wearing them for an extended amount of time until this week but right out of the box, they felt amazing and I could pretty much run across the floor. They also come in a wide (which is what I bought) so I was able to go with my regular size. They're available in leather and suede in several colors – I will be getting the Mink Suede next 😉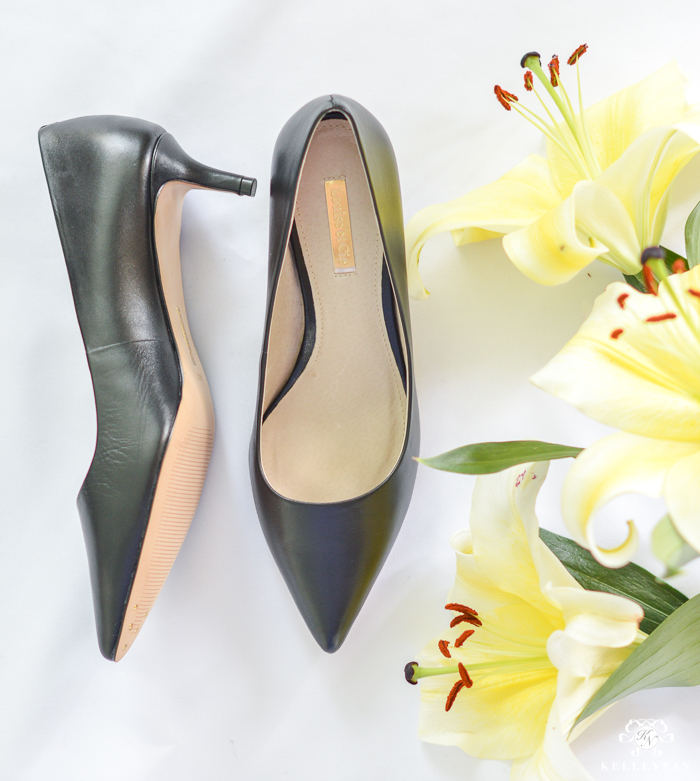 I was drawn to this pair of Vince Camuto booties in tan. Bonus- they are 50% off right now!! I tried them on and loved them. Like serious LOVE. But, I didn't need another pair of tan booties; I needed a pair of gray. I loved them so much I was ready to get them anyway… then, I found out they were available online in gray. Done. The sales associate placed an order for me to have them overnighted so they will be getting here tomorrow. Whether you have a lot of boot weather left or want to set them aside until next boot season, you can't beat this price for quality suede booties.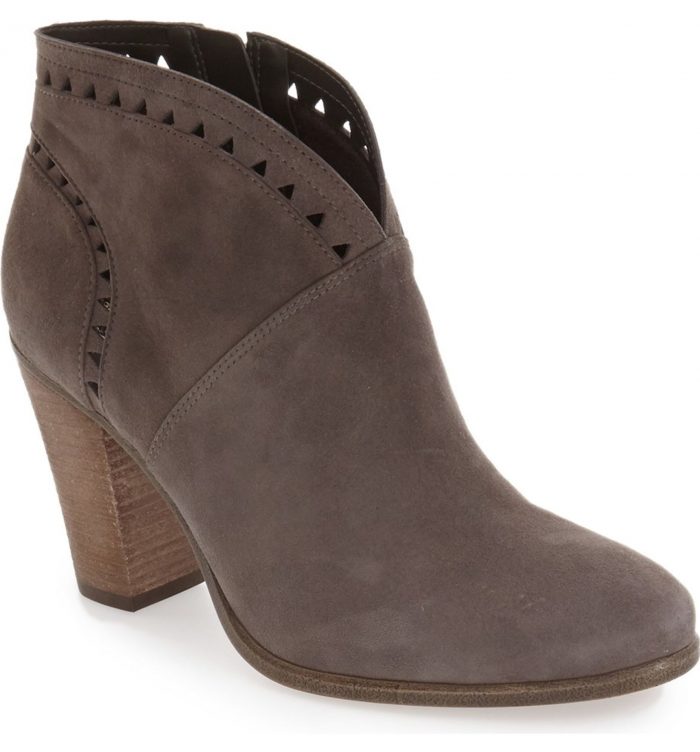 | Gray Booties |
I found this adorable oversized jacket at Anthropologie; it looks thicker than it really is and will be able to be worn into the spring. (Note: it runs large) It's easy to dress up or down and first up, I'll be pairing it with this top from LOFT. (Use code NEWNOW at LOFT for 40% off everything!) I originally shared those Aldo booties in black and loved them so much, I got another pair in tan. I have worn both pairs almost exclusively all winter.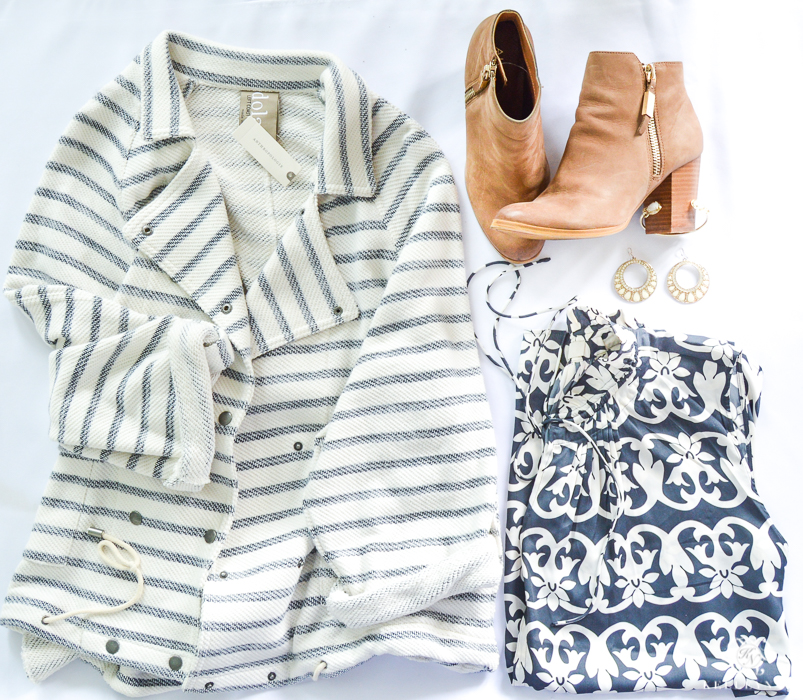 | Striped Jacket | Blue & White Top | Tan Booties | Bracelet |

As I mentioned, I run around a lot on my work trips so I don't like to feel constricted. I love shells that are longer and have room to move – both the coral and blue are between $20 and $30 with the NEWNOW code. Note-size down as they are super roomy. I am loving the tie-necks! The black is actually a tunic by Free People; it has a button snap with a lower cut 'v'. it also runs on the larger side as much of that line does. It also comes in blue and white and while; I'll most definitely be pairing mine with leggings 😉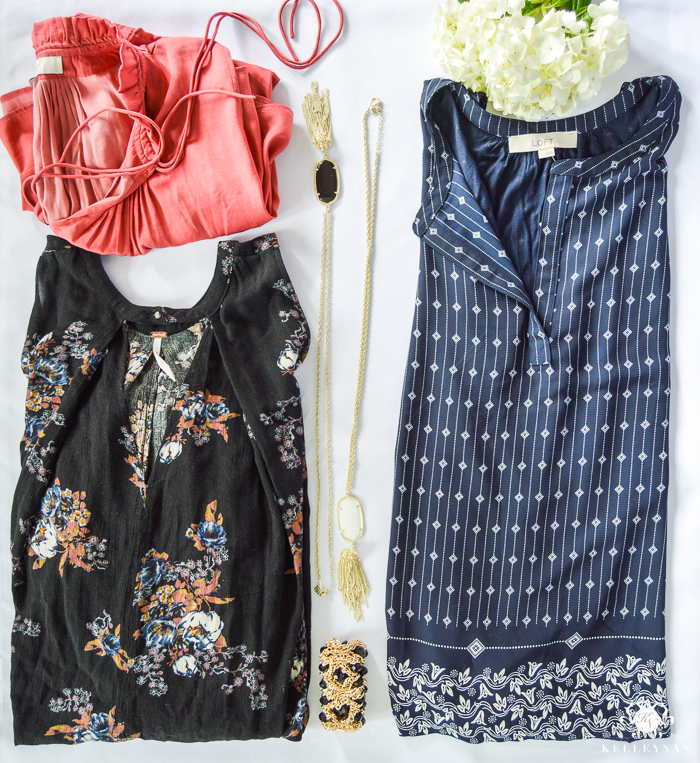 | Coral Top | Floral Swing Tunic | Blue & White Top | Black Necklace | White Necklace |

I'll be sharing as I'm able from New Orleans later this week; if you aren't already, you can follow my stories on Instagram for the latest. I have very limited time while I'm in town but if you have any quick must-do's/see's, send them my way!