I've been in the middle of finishing and sharing several space revamps so that's been a focus since each of them have been in the works for more than a year. But, I thought today would be a good chance to pause and talk about some of the other things we've done/have been focused on, especially as they relate to our current priorities of minimizing, decluttering, and being more intentional. Let's get to it!
What is a "Snack Around the Plate"? Growing up, this was the phrase my mom called meals she would assemble with random favorites when scouring the pantry and fridge. And, while each item didn't totally go together, assembled as one collective, I loved them! Basically, "Snack Around the Plate" posts are just a smorgasbord of randomness — "a little of this and a little of that" from all things lifestyle. It's a mish-mosh highlight reel from a favorite recipes to favorite finds.
*Posts on KelleyNan.com may contain affiliate links. Click HERE for full disclosure.
Find a full description and details following the graphic below.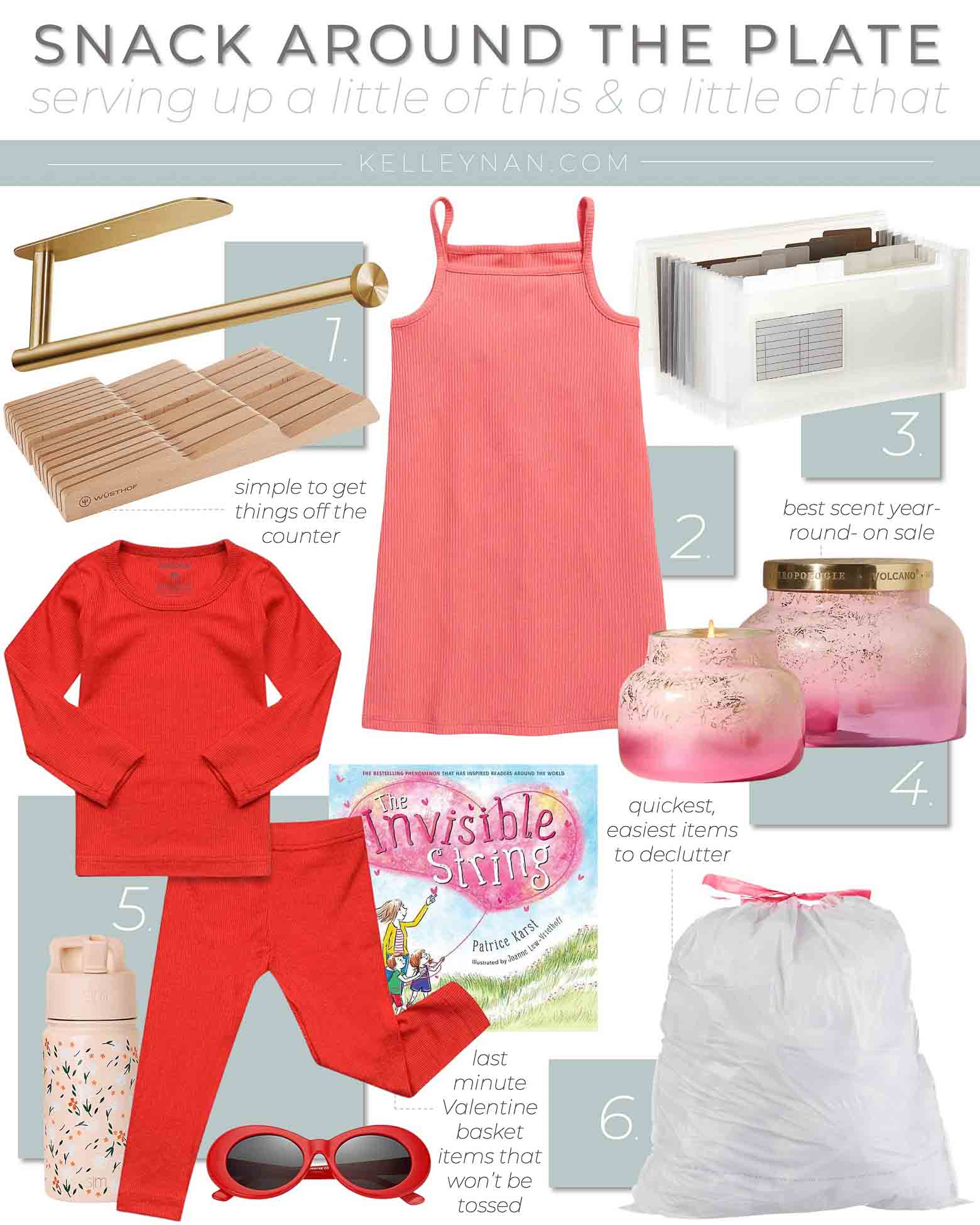 1. Solutions to Relocate Countertop Items
In my journey of minimizing with a primary aspect being to free up visual clutter, I wanted to free up some space on my kitchen counters. I already only had functional items on display but I was yearning for a cleaner feel. I'll be sharing the kitchen makeover reveal next week and will follow up with more detail in a subsequent post, specifically dedicated to what's now going on inside my kitchen drawers, but I made a few small strides over the past few weeks and I've been thrilled with both their functionality, and how they also achieved the goal of tucking things away that were formerly on the counters.
I don't have a built in paper towel holder but that seemed like an easy item to prioritize hiding, since it's a necessity but also one of the most unattractive items that was on display. I needed to keep the roll easily accessible since I'm always reaching for them. I started looking for solutions to mount them, simply, inside a cabinet door. My under-the-sink doors are too small to accommodate a paper towel roll — and the depth would have been to great — but our kitchen island appliance cabinet with wide doors was the perfect spot. I also wanted something I could do quickly as soon as it arrived — not just put on a to-do list to eventually get to. I found THIS paper towel holder that is self adhesive and it has worked beautifully. It comes with a couple extra adhesive strips, just in case. I affixed it to the door and waited until the next day to add the paper towel roll. It also comes with hardware, if you prefer to mount it under a cabinet/on the wall, but I love how easy the adhesive option was. My mom was impressed and ordered one also (HERE) — it's available in four finishes and arrives next day (to our address) via Prime.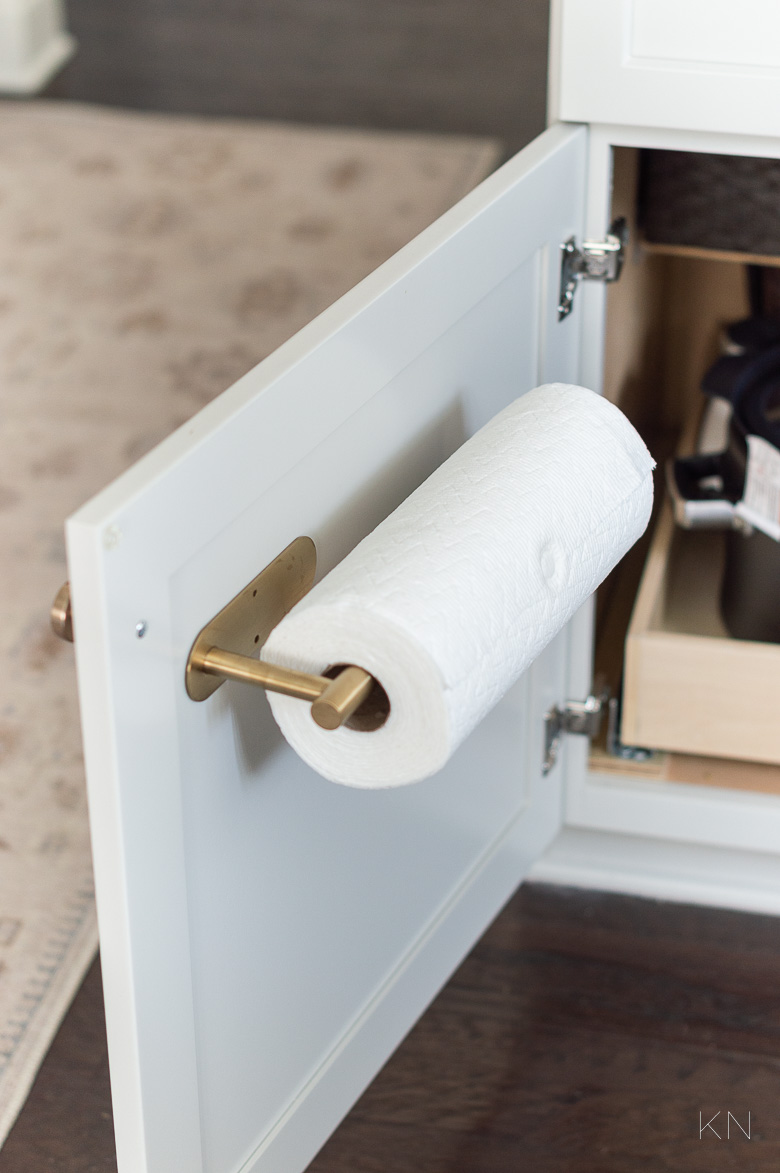 Another item I successfully moved off the counter was our knives. In theory, that should be simple. But, we had a large knife block — in which we use all the knives — and we cook daily. I had already purchased a smaller in-drawer knife block by the same brand as some individual nice knives we've collected outside of the main knife block. I hadn't identified drawer space yet so I hadn't actually implemented the drawer block yet. So, drawer by drawer, I decluttered items I no longer needed, things I don't use because I have too many identical things of their type, etc. When I was finished, I had more than enough space. The 7-slot WÜSTHOF knife block also came in a 14-slot version of the same shape, so I ordered it. They fit together perfectly and have enough slots to accommodate our full collection. I also love how substantial the block is and how easy it is to grab the knives. I secure it in place using my favorite bamboo expandable drawer dividers (HERE) — they come in a pack of four in both short and long options. I'm sharing more detail on these soon and how much more I appreciate them (I didn't know I could love them more) now that they've transformed my kitchen drawers.
The knife block is a little more than other similar blocks, but the quality is fantastic and it deservedly has a 5* rating. (Note: the gap below is part of the block — a space that's available for a knife sharpener)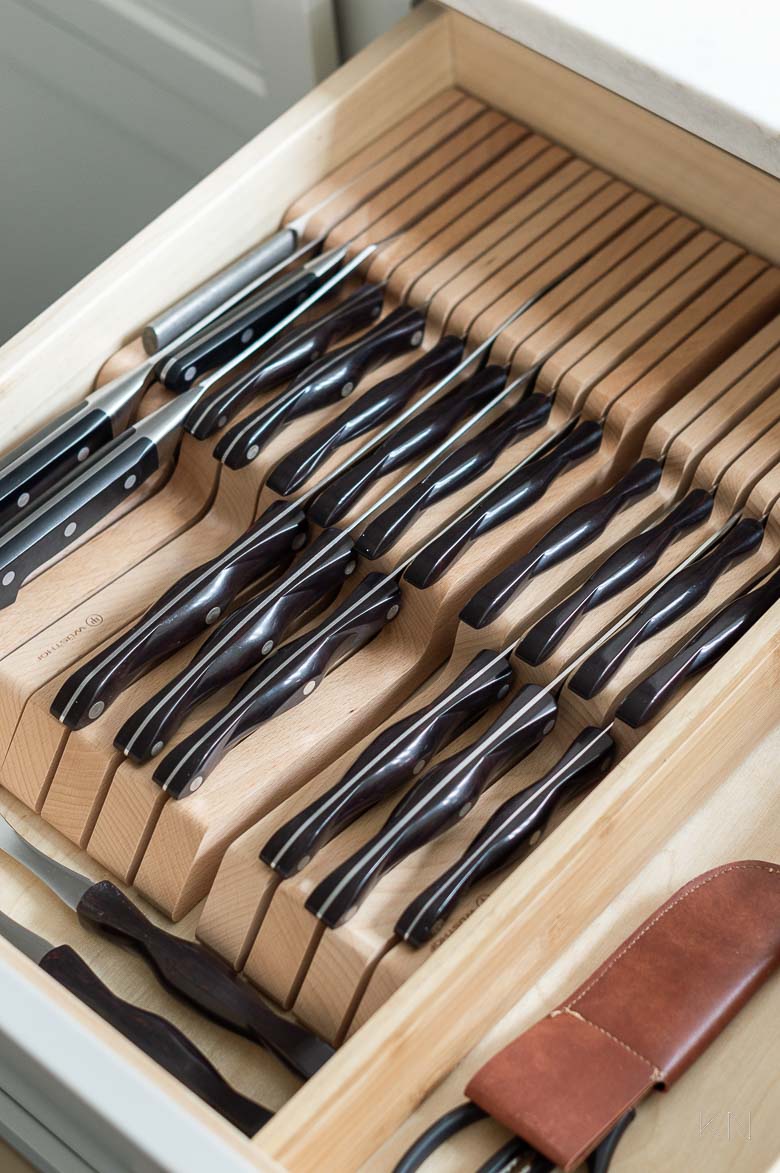 Knife Blocks | Expandable Bamboo Drawer Dividers
And here's an extra point of pride. Instead of accepting my natural inclination of saving the old knife block — you know, for "one day, just in case", I tossed it. Major win. As a bonus bonus, we've had it on our list to get our knives sharpened for years. Literally. Before we put them in their new block, Dave took them in to get sharpened. So, it's basically like we have all new knives.
January 2023 was the first month ever I didn't buy any clothes for Eliza. Ever. Not a single thing. As a matter of fact, I didn't buy a single clothing item at all for anyone in our family. I'll be sharing a new habit post (you can catch the most recent 10 habits on decluttering HERE), but that was crazy-good for me. Maybe you have more willpower and restraint than I do and if so, you may not be as impressed, but if you're built like me and fewer things give you more pleasure than adding to your kid's closet, maybe you get it.
I shared before that I think it started because while we were waiting for Eliza, shopping for her was a therapy and a way I could confirm my faith of her into existence. We had such little control over anything during our journey to become a family and that was one thing I could control. So, that habit continued. It's more than buying for her — it's truly an emotional habit — not bad but it could benefit from being curbed a bit. Eliza is a really slow grower so she can wear things for a long, long time which contributes to the volume in her closet. This doesn't help a slow-growing need for a more quick life cycle of clothes to whittle her closet down a little. But, alas.
Ok, so now that I've given a preamble about my relationship with shopping for Eliza, we'll get to what this is really about today. A few days ago, I broke my 40(plus)-day fast and made a couple modest purchases for Eliza. I was won over by THIS little summer shift dress that was on sale, plus, I had a few extra incentives as a card holder so I was able to grab it for like $7. It's a basic ribbed cotton blend that seemed perfect for our new yard this summer and is casual enough for a pool cover-up and play, but cute enough for school or to even wear to church. I sized up and the length is longer than I anticipated but still great — unlike a lot of summer dresses, these aren't too short. It comes in several colors and it was so versatile and such a good deal, I ordered four colors. That part sounds more familiar to my former practices, but I really am convinced that she's going to get a ton of wear out of these. They are still on sale HERE in sizes from 12M to 5T.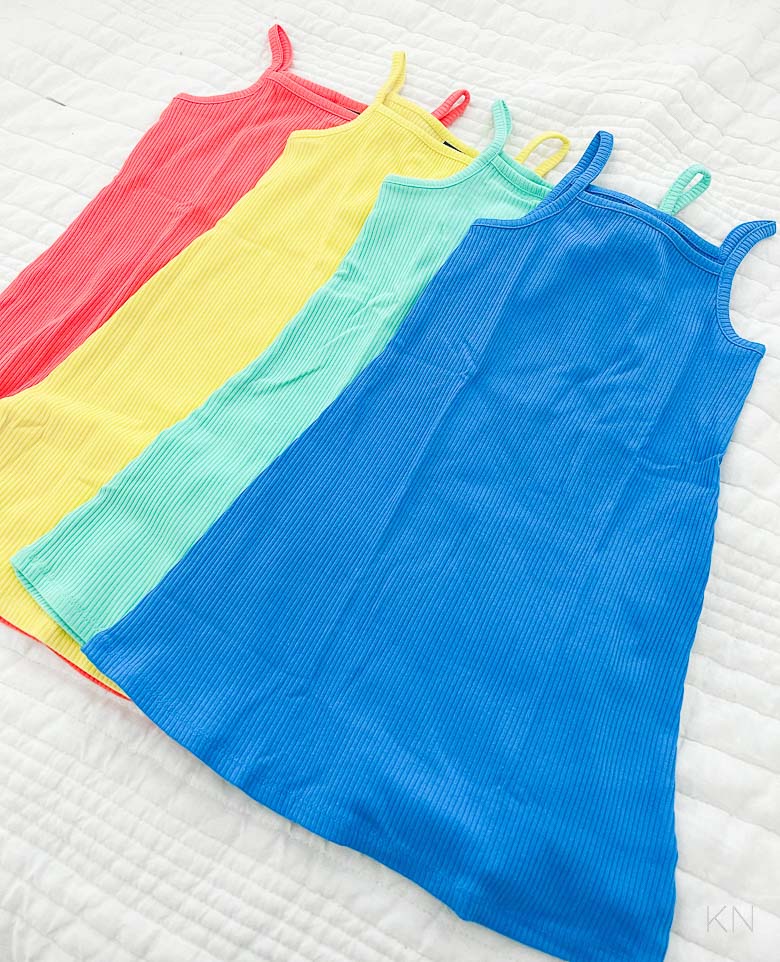 Little Girls Ribbed Tank Dress 
Here's a few other items from my order (an extra 25% off is applied at checkout)…
I know some of you are living the paperless dream. That's something I haven't faced yet and so each year, at the start of the year, I buy a new receipt organizer. I know that's kind of a boring topic but I know tax time is at the forefront of mind for a lot of you. I haven't found anything — on Amazon or otherwise — that competes with the way THIS accordion file works, and it's size. Most are short with a more narrow base than top. There's a reason I go through the extra hassle of ordering THIS from The Container Store every. single. year.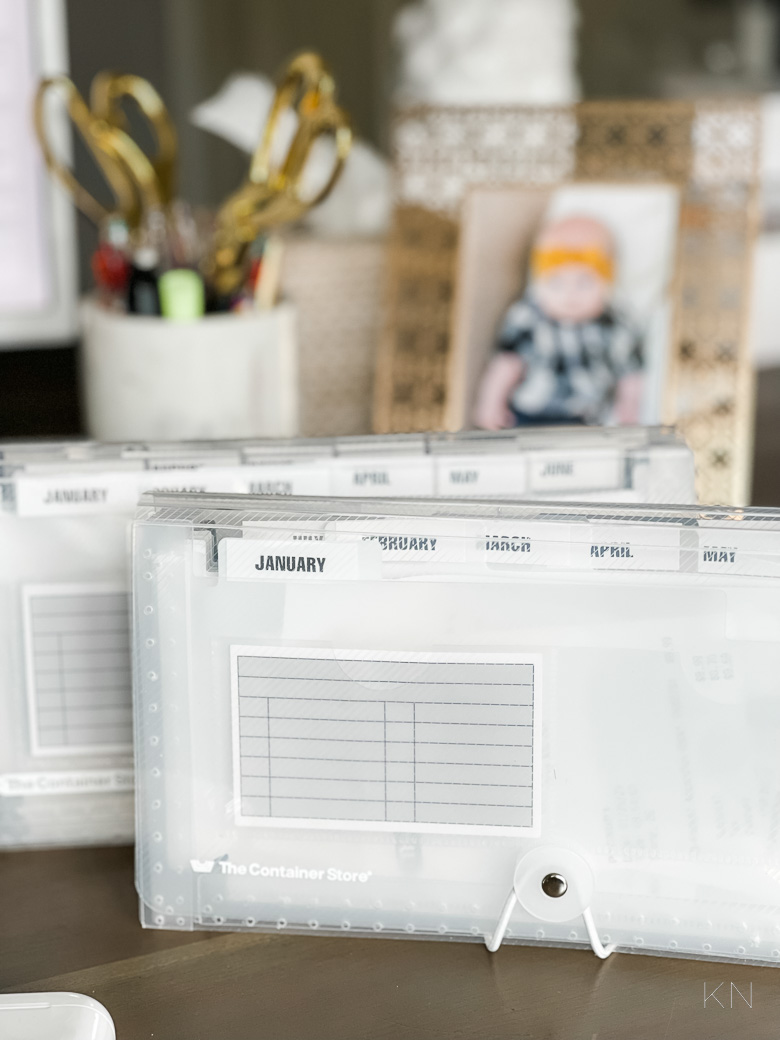 One way I'm trying to work on being less overwhelmed is by emphasizing more items that aren't season-specific. Without a doubt, my top season-transcendent scent is Volcano; somehow, it's fresh a fruity for summer, but kind of smokey for cooler months. Perfect year-round. Anyway, if you're with me, THIS jar color is on sale right now.
5. Last Minute Valentine Gifts You Won't Be Throwing Away
Do you do a Valentine basket/gift? If not, there's zero wrong with that. But, if you do, two things — 1. kid gifts out of semi-obligation can easily go into the category of accidentally accumulating too much stuff — like things that won't hold interest for long before they should be tossed/passed on. And, 2. if you forgot, Valentine's Day is in four days. Since I'm working on being intentional and reasonable with quantities — your standards as to what that means are your own — I'm sharing a few last minute Valentine basket/gift ideas that will get here in time (confirm via delivery date under each item, but they do where I am 😉 ) and are also items that will be incorporated into regular routine that will stick around a while and don't just add to excess.
Books: Even if you just wanted a little something — or a little something to accompany a small treat, you can't go wrong with a book or two. Below are a few 5* rated ideas for preschool-aged kids. Several arrive the same or next day and several are also on special for BOGO 50% off right now.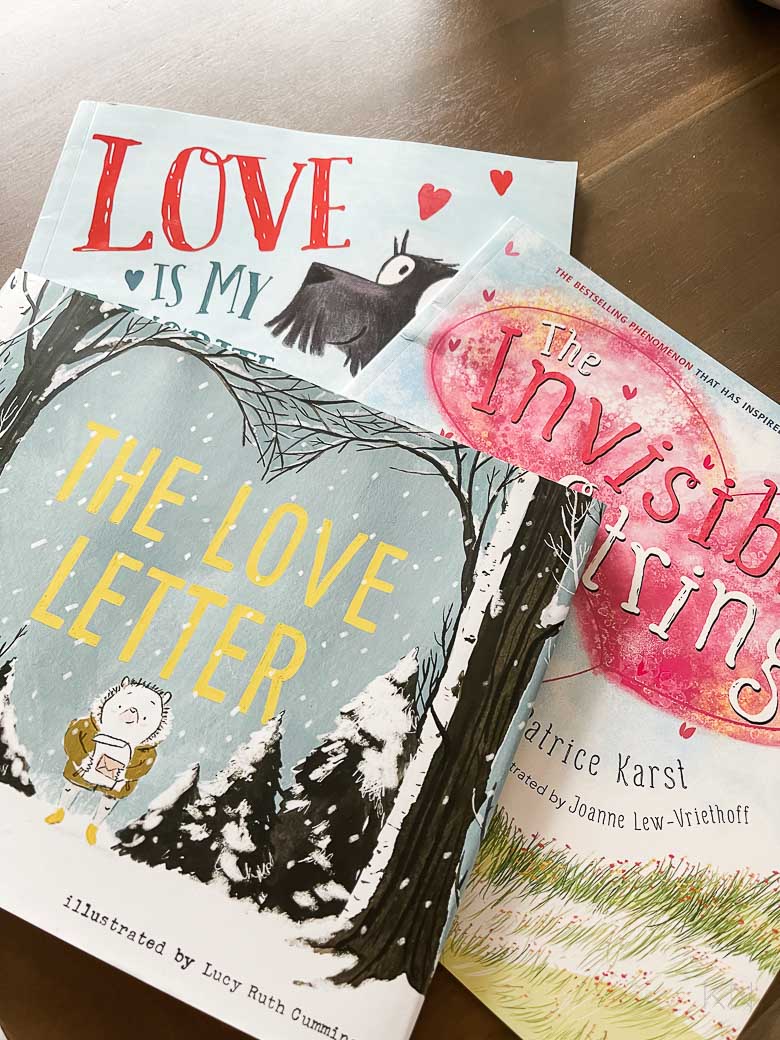 THIS Card Game Set: This one is a little random but it's in Eliza's basket this year. She's really into games right now but I don't want more board games taking up space right now, and the perception of a board game is "on Valentine's we get big gifts" which I don't want her thinking. THIS game card set comes with Crazy 8s, Go Fish, Old Maid, Slap Jack, Memory, and War. It also arrives by tomorrow.
THESE fave fitted affordable pjs from Amazon: We love the long sleeve/pants and short sleeve/short version. You can also find the striped version HERE. (We have several colors of all). Her red long pjs for Christmas are now being used as her "red pjs for Valentine's Day". Of course, she wears them regardless of upcoming holidays ;), but if your kid could use some fresh pjs, it's a great excuse to fit them in as a gift and if you haven't tried THESE, they're AWESOME. If you don't need new pjs, don't get new pjs.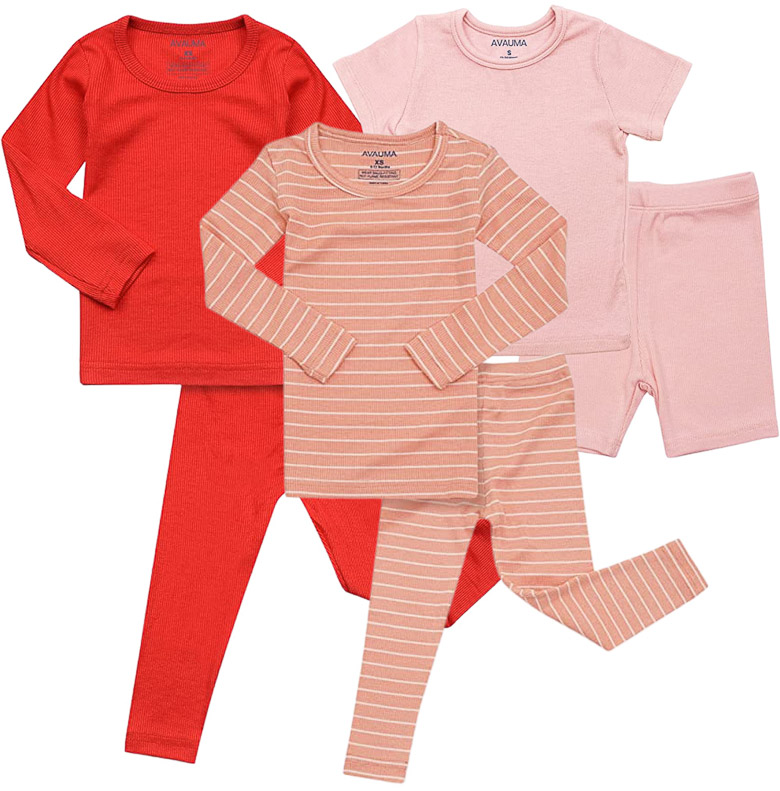 Long & Short Sleeved Pajamas | Striped Version
THIS favorite insulated thermos: We got rid of all Eliza's handle cups and small cups and now, only have three insulated thermoses for her. She uses them daily and THESE are the best. Lots of colors and patterns are available HERE.
THESE darling retro oval sunglasses for under $8:We also have THESE cat eye sunglasses in both red and white and they're an all time fave! If you already have sunglasses, these may only add clutter but if you don't, I 100% recommend.
THESE scrunchies: Eliza uses them and they're the PERFECT size for her, hold wonderfully, and are currently $8.99 for a pack of 12. After our first pack, I was sold so I went back and bought more color-ways.
6. Easiest Things to Declutter Quickly
Something that was an eye-opening "duh" moment for me, that I learned in Decluttering at the Speed of Life was that unlike some projects (and for me, organizing), is that you don't have to devote a lot of time, an hour, afternoon, or weekend to declutter. Or at least, to start decluttering. Decluttering isn't the same as organizing — it's literally just taking stuff and getting rid of it. You can declutter a drawer, cabinet, basket, or maybe even a closet in minutes, without setting aside special time for it. The realization that I didn't have to plan to start and that I could literally just open a drawer and do it was simple but made a difference for me. Since I've been working on slowly decluttering (again, as I have time or get on a roll- not that I've planned for), I've gravitated toward spaces/items that have been simple. Here are a few of the easiest things to identify and subsequently get them out of your house (I know because I tackled them all in the past week or so 😉 ).
candles
car
florist vases
canned goods
purse/wallet
dying plants
takeout sauces & plasticware
random cups
pens (old/from businesses, or just if you have too many, only keep your favorites)
expired medicine
shopping bags
Are you on a mission or has anything we've talked about over the past couple weeks resonated with you? Have you had any wins, successes, or small steps forward? I'd love to hear about it in the comment section below. For more space reveals, minimizing, and general randomness, be sure to subscribe to emails at the bottom of the post. Weekend newsletters see the most in varied and personal content so if posts like this are your fave, that's a good place to visit ;).