It's been a minute since my last Snack Around the Plate, but as the Christmas season approaches, my list of finds and favorites I've been dying to share has continued to accumulate and grow. Fittingly, today's SAP is totally themed around prepping for Christmas — from decor and gadgets to things to look forward to and gift ideas. Ok, and a few things I've "gifted" to myself, too 😉 I think we are all ready for some magic and sparkle, so amidst all of our planning and preparing, today I'm sharing a whole lotta randomness that I hope you can relate to as we begin the holiday season.
*Posts on KelleyNan.com may contain affiliate links. Click HERE for full disclosure.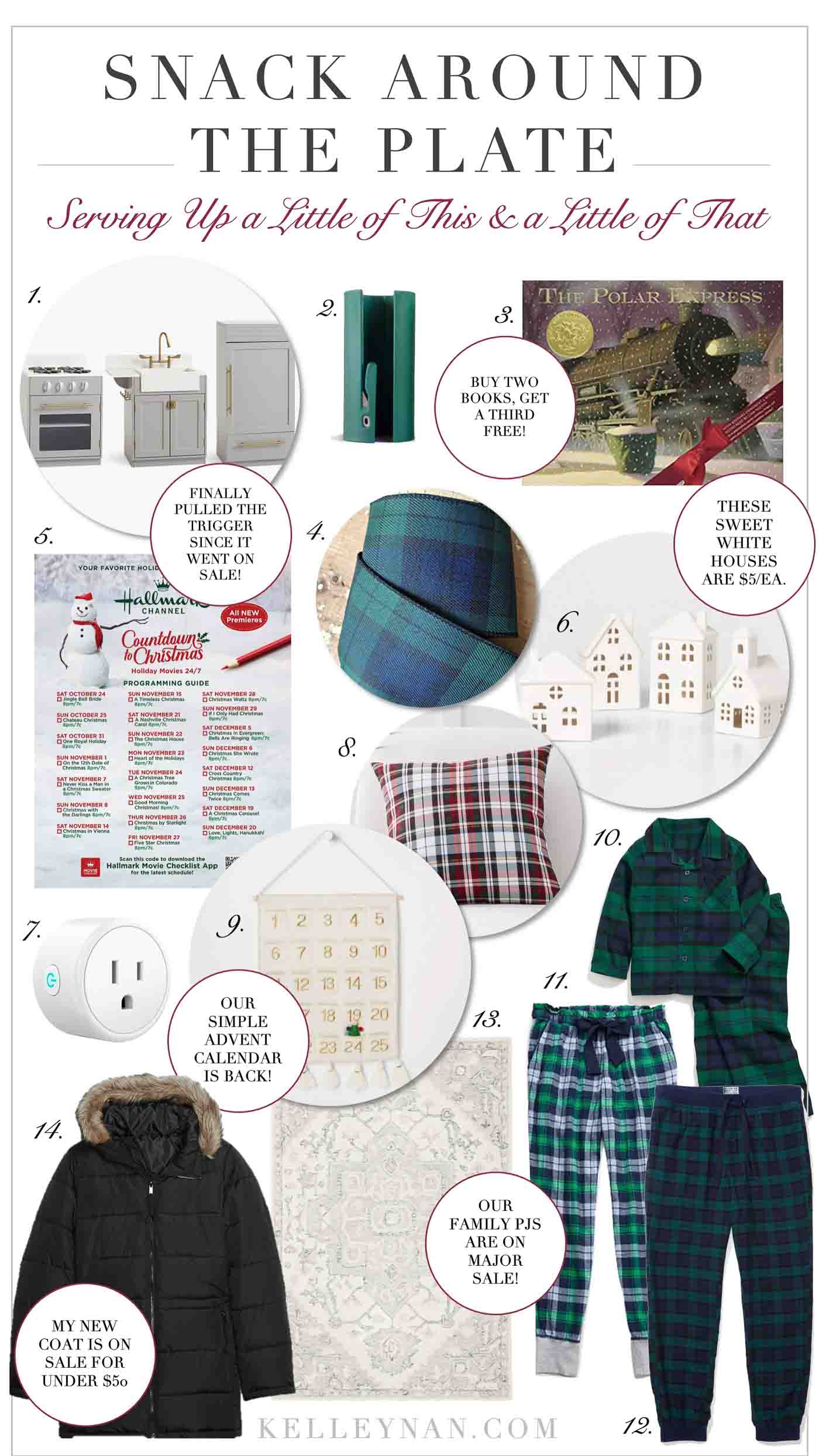 1 | 2 | 3 | 4 | 5 | 6 | 7 | 8 | 9 | 10 | 11 | 12 | 13 | 14
1. Chelsea Play Kitchen:   I've been watching this play kitchen for months — I've planned since last year that Eliza's main Christmas gift for this year would be a play kitchen and the fact that her favorite "toys" are now the pots and pans in the kitchen, it made me even more excited for her to have a kitchen she can "cook" in. After a lot of research and reviews across several brands,  the overall consensus was that it seemed far more likely to last for years to come and was a lot easier to assemble than others — not to mention, I love the way it looks. But, it doesn't change the fact that it's pricey. In hopes that the KN IG community may point me to other alternatives, I posted a poll and asked for personal experiences and without sharing which play kitchen I'd been considering, the overwhelming majority said that while it isn't cheap, they 100% recommend the Chelsea kitchen (the same one I had been considering). So, I watched and waited — hoping that it would come down on price, even a little bit, and as of this morning, it did. When it dropped almost $200 below regular price, I pulled the trigger — it comes in both white and gray and I opted for the white. I was so happy to secure it while it's available and if it discounts more during the holiday, I will just have to look away haha. To me, it was important to make sure we could secure it before Santa comes. You can find the separate component version (which I ordered) HERE, or the all-in-one version — which is far less expensive — HERE.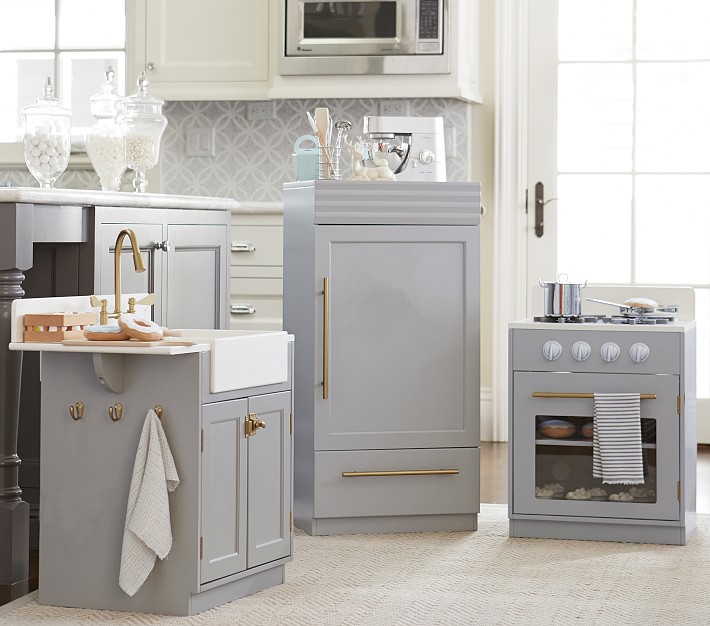 2. Wrapping Paper Cutter:  I ordered this gadget after watching a video and was totally sold! It slides right over your wrapping paper roll and has a small blade in the groove for easy and more straight cutting. Mine just came so I haven't been able to test it out just yet but I'm hopeful this little tool is going to change my wrapping game. You can see a video and more details on it HERE.
3. Buy Two, Get a Third FREE Books (& Games):  I stumbled on this deal last night when I was looking for a couple of Christmas books for Eliza and was thrilled to see the offer for "buy two, get a third free". While I ordered a few book she won't be ready for this year, it was a great time to stock up on classics as well as board books she can enjoy this year. You can find the full page HERE — almost all books I searched were included — along with the books, the deal also applies to games! If you have some tough folks on your Christmas list, you may find some good scores HERE. Here are a few books I ordered for Eliza for both this year and future years…
Scroll & Tap to Shop

4. Hallmark Christmas Movie Countdown Schedule:  After this crazy year we've had, I think Hallmark Christmas movies are just what we've been needing and as we approach the 2020 finish line, let's face it, we deserve the Hallmark Christmas movies in all their cheese and happiness! I found the new Christmas movie countdown HERE and you can find the full Hallmark Christmas movie schedule HERE.
5. Blackwatch Plaid Tree Ribbon:  If you're an email subscriber, you've already seen a sneak peek of this year's tree — if you aren't you can subscribe HERE to make sure to get exclusive sneak peeks in the future! After sending the peek, I had several of you email me to ask about my 2.5″ wide blackwatch plaid ribbon — I found it through a small shop and ordered 15 yards (I used other ribbon, also) HERE. It's a nice fabric ribbon with wire edges and while I don't typically save my ribbon from year to year, this is one I will be hanging on to. The shop carries lots of other ribbon, too, which you can find HERE.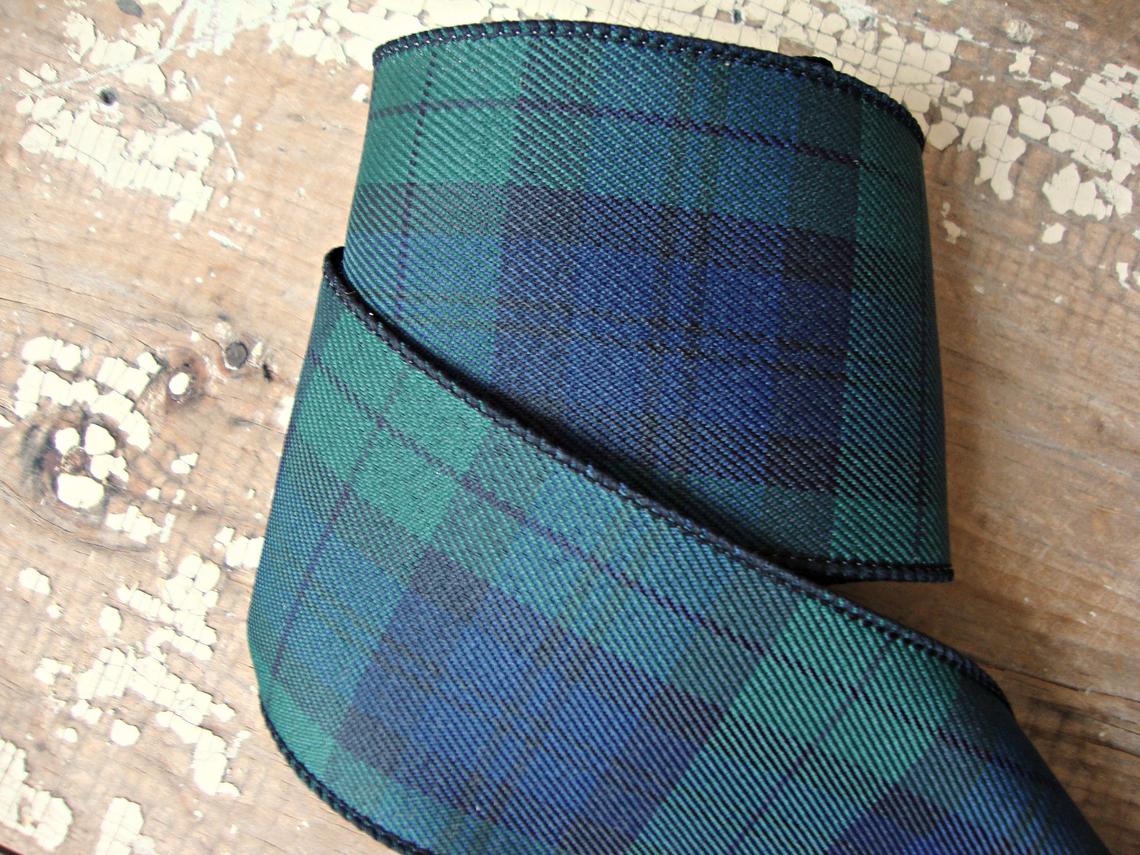 Blackwatch Plaid Ribbon (photo via shop)
6. White Village Houses:   Before decorating this year, I knew I wanted to use simple nordic houses I could pair with some twinkle lights on top of my black bookcase. I wish I had waited until finding these cute white houses because they are only $5/each! They are darling, versatile, and you can create an entire tabletop/shelf village vignette really inexpensively.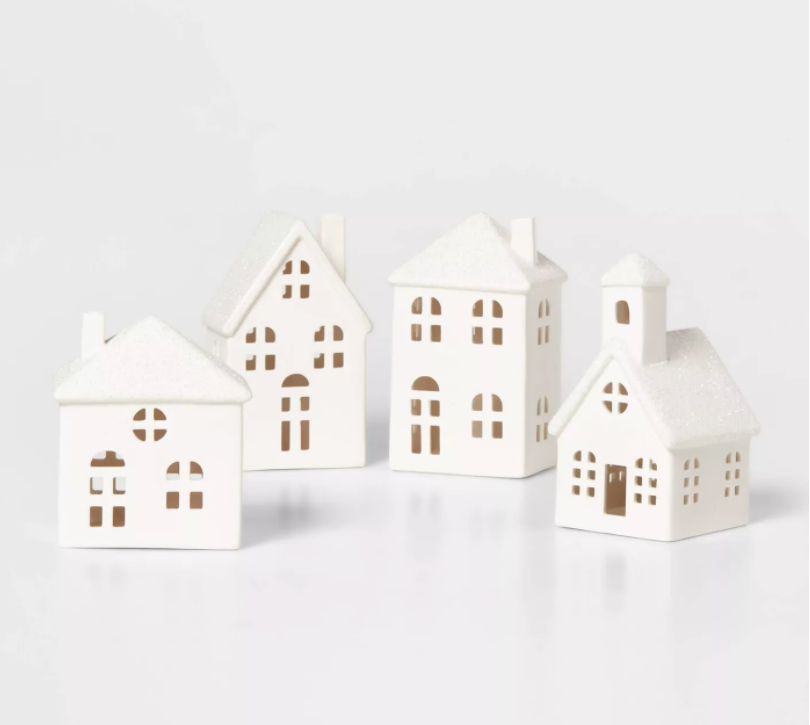 Short House | Tall House | Tall House 2 | Church
7. Smart Plugs:  When we went to pull out our typical smart plugs, we couldn't get them synced this year. I don't know if it's a network thing or what happened but after a quick search, I decided to switch gears and go for THESE Alexa smart plugs. While you can choose a one pack or two pack, I got a few of the four packs to make sure our bases were covered — you can ask your Amazon Echo to turn them on and off, and even group them together. We have a group called "Christmas Lights" and only excluded Eliza's tree, since her hours are different than ours. You can also ask them to turn on or off individually, and even toggle from the Alexa app on your phone. Dave got them set up quickly and we are so happy with them! If you haven't switched to smart plugs for Christmas lights (trees, garland, etc.), give these a try HERE.
8. Plaid Indoor/Outdoor Pillows:  I haven't had "good" pillows on my front porch, during the holidays, in years. When I was sitting with my mom, looking for her front porch, we both ended up ordering the same pair of plaid pillows, for the same set of rocking chairs (totally typical for us 😉 ). These outdoor pillows have such a pretty color variation in the plaid and are on sale right now HERE. If you have over $79 in your order, use code SAVEMORE for free shipping!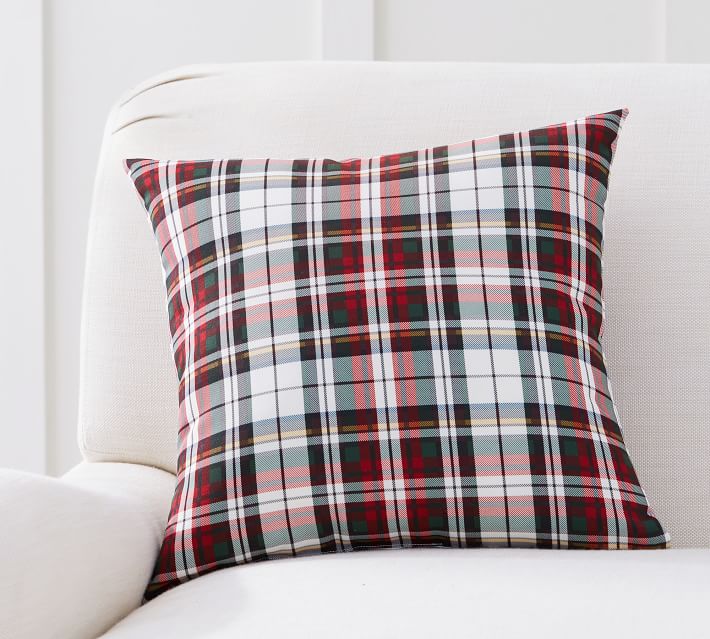 9. Advent Calendar:  Our advent calendar is back! It's a simple, felt hanging calendar that I secured to the back of our door with a command hook and has a movable piece to transfer from pocket to pocket in December. I started having a few inquiries this past month when it wasn't in stock, but after checking this morning, I can say it is officially back. While I like the simple, neutral cream of the one we have (HERE), THIS ONE has just a little more color and whimsy and is adorable — especially for only $10! there are several other simple and affordable options here:
Scroll & Tap to Shop

10. Baby & Toddler Pajamas | 11. Women's Aerie Plaid Pajama Joggers | 12. Men's Plaid Pajama Joggers:  What started as christmas pajamas for Eliza (in our Christmas color scheme, nonetheless, haha), ended up turning into a coordinated family pajama effort. I found THESE plaid jogger pajama bottoms on sale (and ordered two pairs) for myself, so I decided to round out our family trio and ordered THESE men's plaid flannel joggers — also on sale — for Dave, also. Eliza's little two-piece pajama separates come in several colors are are 50% off today, for only $13.50 for the full set HERE! I got Eliza the navy and green blackwatch plaid, but here are the colors they come in…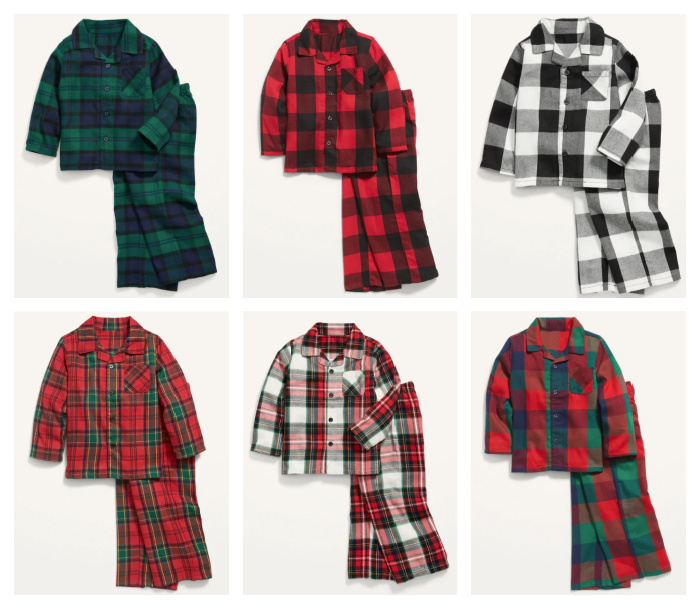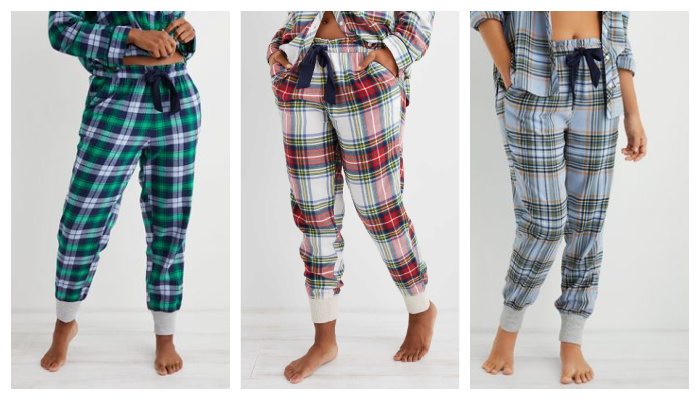 13. Rug:  I think I mention this every year but along with building my gift list and conquering the Christmas shopping, the cyber and Black Friday sale that happen this time of year is also a great time to watch for deals on any pieces you may be hunting for yourself! Any room makeovers or upgrades or switches — while it's a little more difficult to think of ourselves while we're doing for others, you can find deals that will help you save in the long run.  Wayfair is gearing up for their big Black Friday sale and has a ton of "first chance deals" in their Black Friday Preview Sale, from decor to furniture and appliances (you can check those out HERE) — orders $35+ ship free. I'm going to be sharing a conversation room update soon but my latest addition — THIS RUG — is beautiful in person and the quality is fantastic. You can preview it HERE and stay tuned for how it looks in my room 😉 I went for the Ivory/Beige but the Ivory/Blue is gorgeous, too.
You can scroll & tap to check out just a few of the items — from lighting and rugs to decor and furniture here:
Lighting

Decor/Storage/Accent Pieces

Mirrors

14. Puffy Winter Coat: I haven't been to the Gap Outlet in forever, but popped in the other day on a whim. I wasn't shopping for myself but on my way to check out, I walked through the coats and ended up coming home with two — isn't that how it always works? haha… I don't have a warm, casual coat and at this price — with the really cute faux fur hood detail — I grabbed the black version at doorbuster price for $44.99! I love that it's longer and covers behind and zips comfortably, even when wearing layers. While it's puffy, it also isn't overpowering and doesn't add that unflattering bulk. I tried a shorter version from a retailer I typically love about a month ago and hated it, so this was a refreshing find! You can find it in all three colors HERE.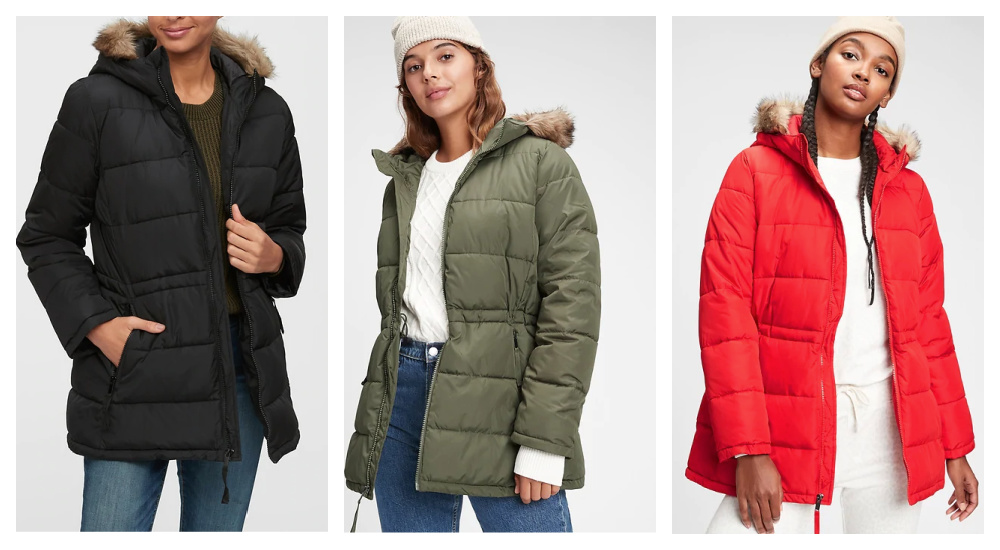 The other coat I picked up in black (it also comes in camel) is this long, dressier top coat, also on sale.
While we are in the middle of the busy season of buying, planning, and decorating, it's also the time to start thinking about your community and those around you who deserve to be thanked and/or supported, where you're able. Your favorite local nonprofits are likely in more need this year than ever before, serving more people than in past years, and are probably working on their year-end giving initiatives. Don't forget to check in on them and what their greatest needs are — whether it's funds for improvements, holiday funds, or they're in the middle of a specific capital campaign. I truly believe the power of supporting community (local) charities in and we try to live by "doing for one, what you wish you could do for all". Small acts of kindness matter and gestures of kindness make more of an impact than you may realize. Wishing you a beautiful start to the season and we head into the holiday season of 2020. xoxo