I'll be the first to admit — I'm not the one in our household who typically prepares the southwest, Mexican, and Tex-Mex dinners. Well, except for the chicken tortilla soup (HERE); that's all me! 😉 Dave is a phenomenal cook and having grown up in San Antonio, he's had a lifetime's worth of practice. But, when it comes to stepping outside of the tried and true, old faithful dishes he's made for years, I'm totally up for the challenge. Whenever we go to Tex-Mex restaurants, I typically order some version of the same thing — chicken enchiladas verdes. While they're all a little different, the idea is usually the same: creamy green salsa, cheese, and finely shredded chicken. I started experimenting a few months ago and today, I'm sharing my version of my trusty fav — good for family and perfect for weeknights (or any nights) — a big pan of cheesy chicken enchiladas verde.
*Posts on KelleyNan.com may contain affiliate links. Click HERE for full disclosure.*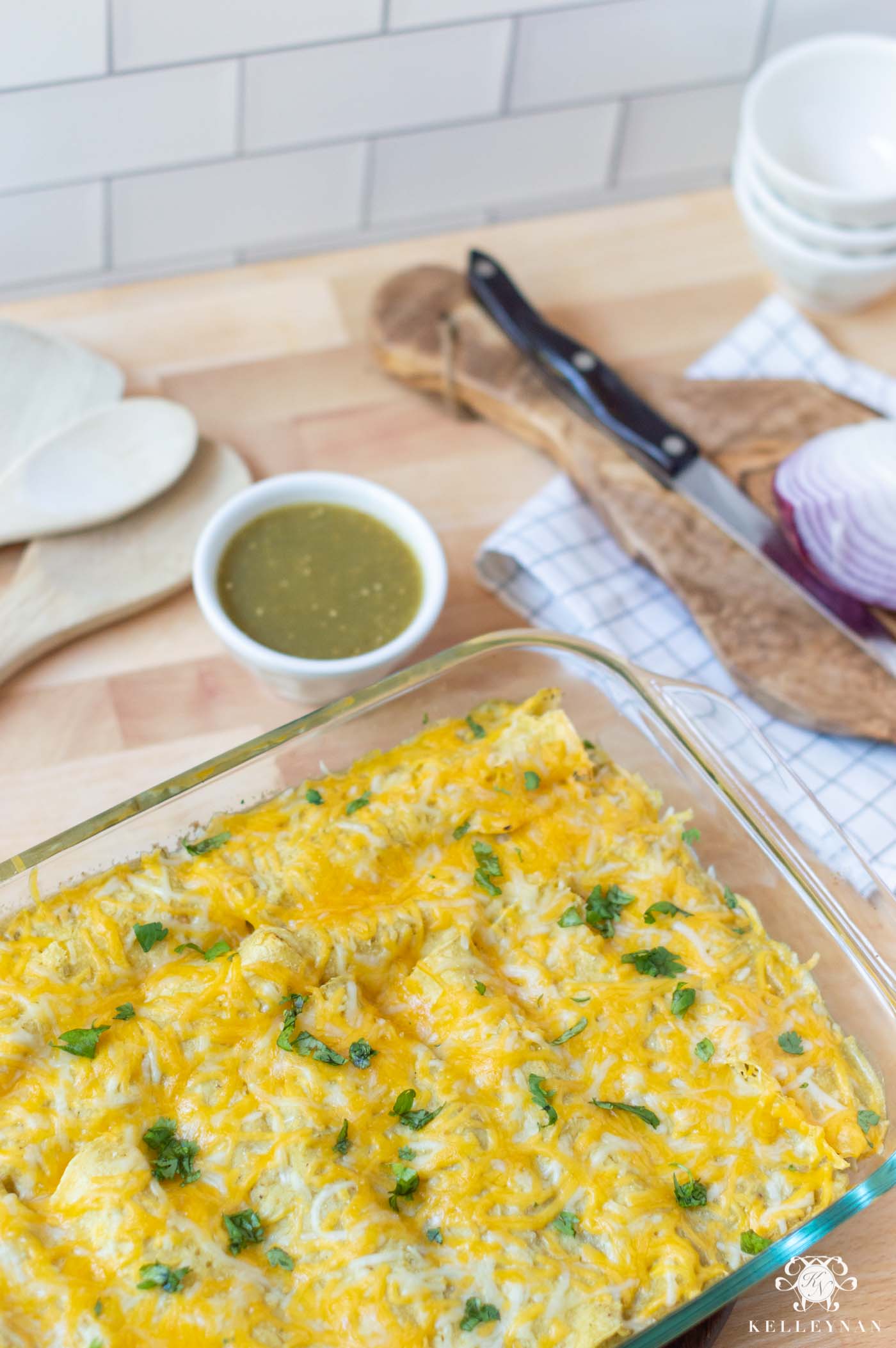 Chicken Enchiladas Verde Ingredients
I have used different versions of similar ingredients and while I have my preferences, any of them can achieve a similar result. Here are the included ingredients that you can substitute or choose other options.
Onion: while I prefer purple onion, truly, any onion will do.
Salsa verde: I use it in the jar and I prefer Trader Joe's to other brands. That said, the Trader Joe's is only 12 oz. so you would likely need at least two jars to get enough coverage. I have made it with 12 oz. and while there's little room for error, I was able to make it work. Other store brands are fine, also, or, you may prefer to make your own salsa verde!
Greek yogurt: I use Greek yogurt for a sour cream substitute whenever I can — there are some people who swear they have to have regular, full fat sour cream wherever sour cream is used… I'm not one of those people. Greek yogurt is so similar to me but it is a smidge tangier. Even though I use Greek yogurt, you can still opt for sour cream in this recipe 😉
Corn tortillas: I don't usually prefer corn tortillas but for enchiladas, I do. You can still use flour if you like.
Cheese: I typically go for Monterey Jack or a Mexican blend but you can totally experiment with your cheeses!
Garlic: The garlic I use to saute is the minced garlic in the jar we keep in the fridge. You can totally go for a fresh clove.
Chicken broth: Whenever I boil my chicken for a recipe or casserole, I like to cook it in broth — I just think it gives more flavor. That said, I usually won't go above an extra can; I will use water to finish filling the pot. While I think chicken is better with broth, you can substitute water (just make sure to use lots of seasonings when you boil it).
Kitchenaid mixer: This is how I shred my chicken, on the "2" setting, with the paddle attachment for about a minute. It's quick, easy, and gets the chicken really nice and fine. If you don't have a mixer for this shortcut, use two forks and chop. The more fine the shred, the better. As a tip, I actually purchased my Kitchenaid mixer through eBay's Kitchenaid shop, fully backed and refurbished with a Kitchenaid warranty for a fraction of the price. It comes in original packaging and you would have no idea — it literally is made to be brand new. You can also shop replacement parts and attachments through their eBay storefront also, HERE.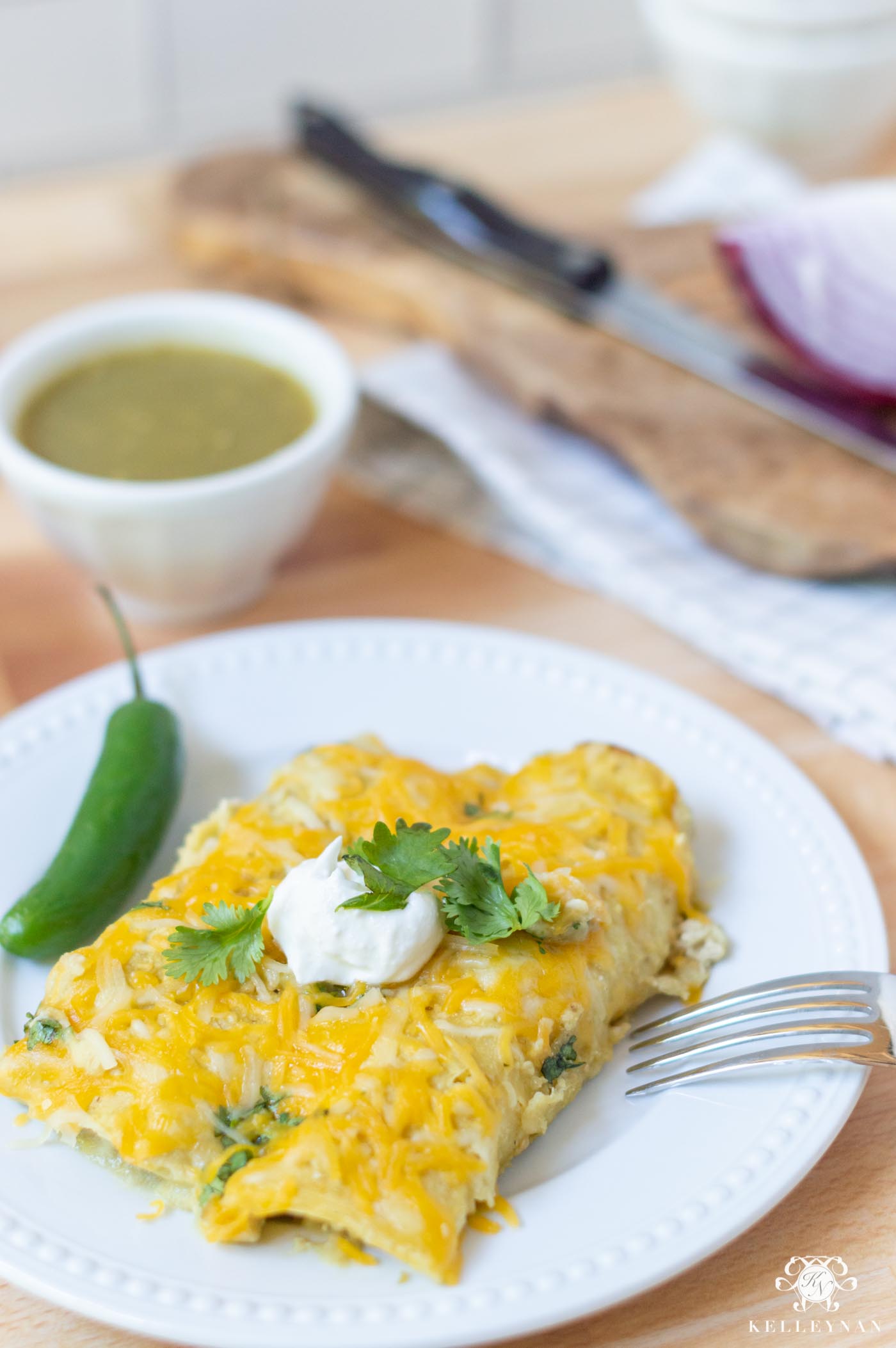 How to Make Chicken Enchiladas Verde
This recipe yields approximately 12 enchiladas — perfect for a family of four. While they are definitely best, fresh from the oven, they can be enjoyed as leftovers, also. Serve with a side of rice and enjoy! Be sure to read the note regarding the corn tortillas, following the recipe.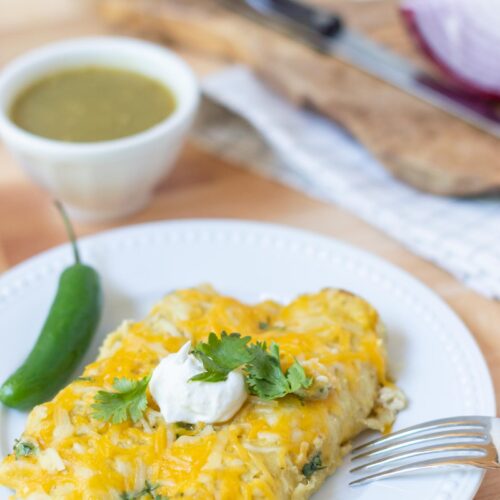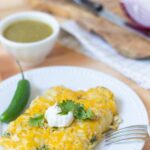 Cheesy Chicken Enchiladas Verde
Cheesy Chicken Enchiladas made with green salsa, Greek yogurt, and corn tortillas
Ingredients
2

chicken breasts

1

can chicken broth

1

tsp

garlic salt

dash of pepper

1

16 oz

jar salsa verde

1/4

C

plain Greek yogurt

(could use sour cream instead)

1

Tbsp

olive oil

1

small can green chiles

1/2

large finely diced onion

1

Tbsp

minced garlic

1

package corn tortillas

(will use approx. 12 tortillas)

2

C

shredded cheese

(I use Monterey Jack)

1/4

C

washed, chopped cilantro leaves

(for garnish)

extra Greek yogurt or sour cream

(for garnish)
Instructions
Add chicken and chicken broth to a pot; add water until chicken is covered. Add garlic salt and pepper and boil for 13 minutes, or until chicken is cooked through and no longer pink in the center.

While chicken is boiling, combine jar of salsa verde and Greek yogurt together; stir until well mixed.

Using a spoon, drizzle and spread a very thin layer of the salsa mixture on the bottom of a 9"x13" baking dish (this will prevent the tortillas from sticking). Set dish to the side.

Once the chicken is finished, remove from pot and shred, finely. To make this step incredibly easy -- and save time -- I place the cooked chicken into the Kitchenaid mixer and using the paddle attachment, set it at a "2" until the chicken is finely shredded. Set chicken to the side.

In a saucepan, heat olive oil on the stove over medium heat. After about two minutes, add diced onion and minced garlic and saute until onions are wilted. Stir in can of green chiles and then add the shredded chicken. Add approx. 1/2 cup of the salsa mixture to the saucepan and stir well until everything is "wet". Remove mixture from the stove and set to the side.

Lay a corn tortilla flat and scoop a one to two spoon's worth of filling to place in the middle of the tortilla, filling it vertically. It should be a little less than one third covered so there is plenty of tortilla to wrap around the mixture. GENTLY roll the tortilla, then place the tortilla in the baking dish with the opening side facing down. Repeat the process, lining each enchilada close to the one before it. *see notes within post regarding tortilla warming options!

Once your enchiladas are positioned snugly in the baking dish, drizzle the remainder of the verde sauce on top. You can use a spoon or brush to spread evenly, making sure the top is well coated.

Top evenly with shredded cheese and place in the oven for approx. 20 minutes.

Once the cheese is melted and the enchiladas are heated through, remove from the oven and garnish with cilantro and Greek yogurt/sour cream. Enjoy!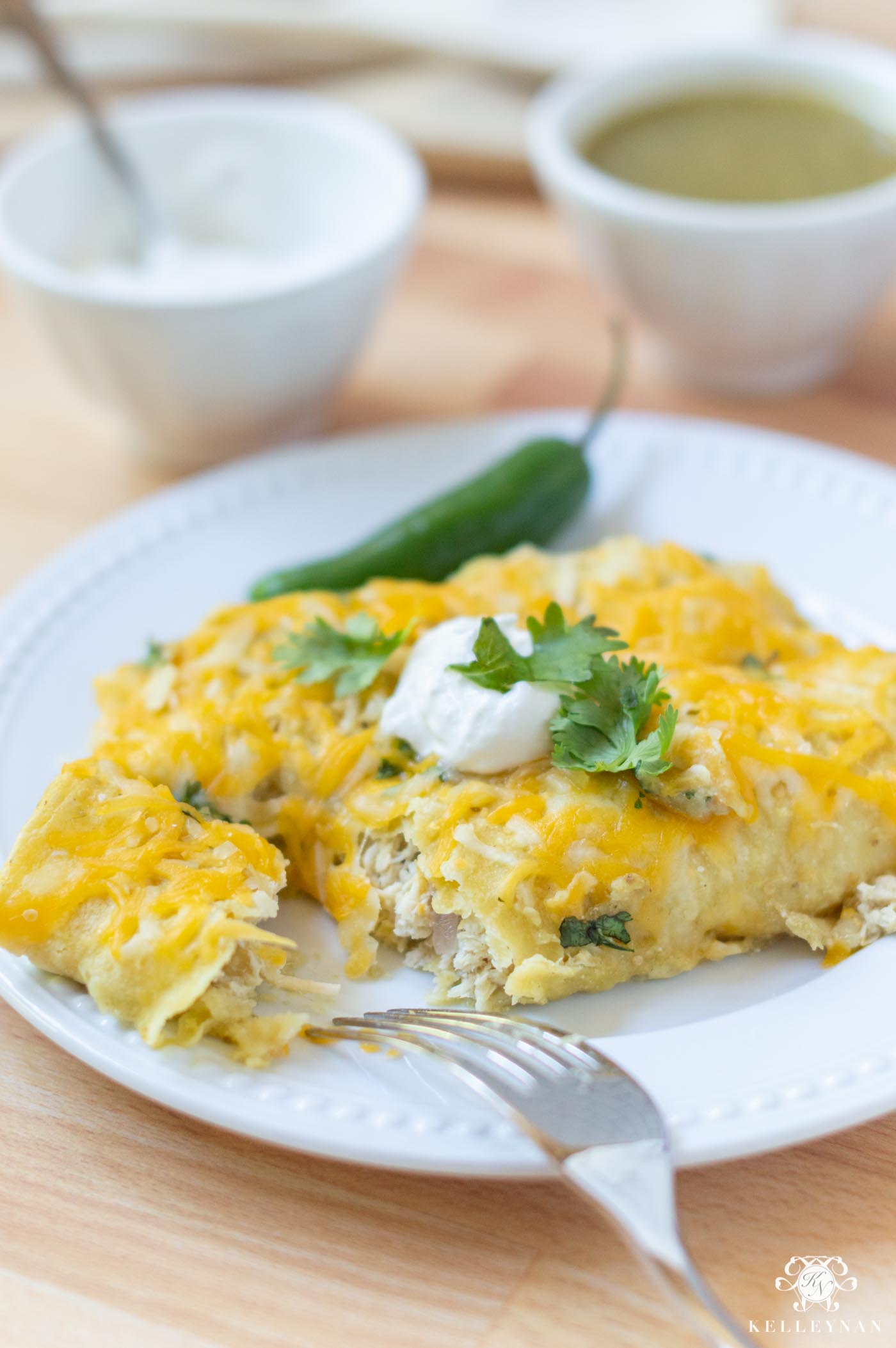 Corn Tortillas: Reader Recommendations
I shared a brief glimpse overview of the process in making the chicken enchiladas verde on Instagram stories a couple months ago. When I got to the part in rolling the tortillas, I had several messages from viewers suggesting a number of ways to make the tortillas more pliable and less likely to crack. As I mentioned earlier in the post, Dave is well versed in all things tortilla and whenever he makes a dish with corn tortillas, he actually does dip them in hot oil before filling them. Me on the other hand, I skipped that step (despite his encouragement haha). He thinks it enhances the corn tortilla flavor too, this way, so if you're in the same camp, by all means, dip those babies in oil before filling! Even though there were some cracks in the tortillas, they get covered in sauce and cheese and scooped out — almost like a casserole — and worked perfectly fine. The most common suggestion was to microwave them with a damp paper towel for a few seconds in the microwave. I tried a few versions of this method and while it may have helped a little, they still tend to crack slightly so it wasn't much different. My recommendation is that if you have the materials on hand and don't mind the extra calories and step, go for dipping in the oil before filling. If you want to stay away from that, you can try them as is (being careful) — if they crack, totally try them in the microwave with a damp paper towel.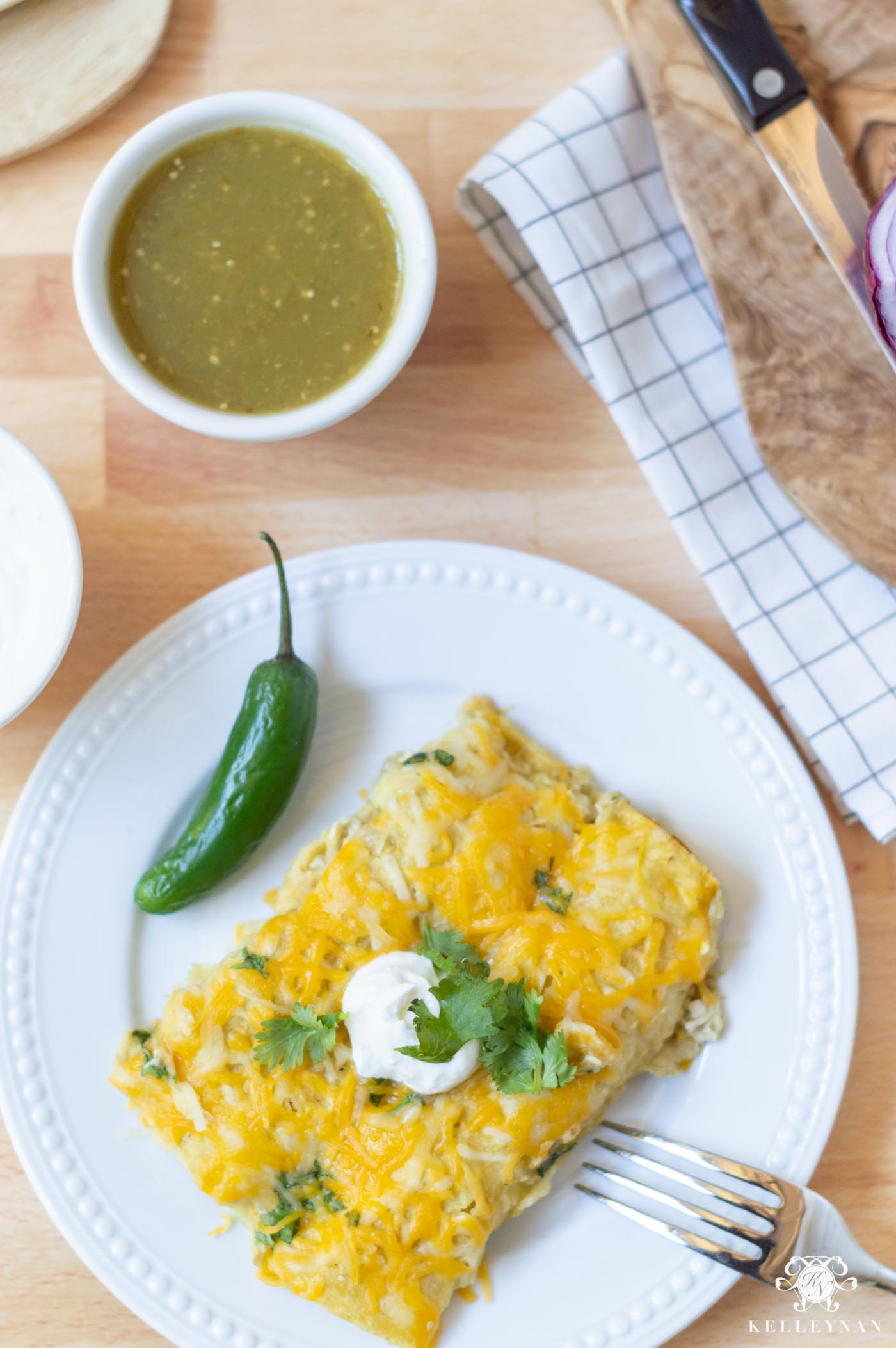 If you make this dish (or any dish), I love your feedback! For more things going on around the house and in our kitchen, be sure to subscribe to emails HERE.
Scroll & Tap to Shop Recipe Prep & Cooking Favorites

Other Posts You May Be Interested In