I had promised a while back to share my recipe for strawberry bread, back when I shared my recipe for peach bread (see HERE.) It wasn't until after Dave and Eliza came home from picking local strawberries a few weeks ago, and we set up to make a batch of strawberry bread that I realized I never did. Woops. And double woops that by the time I made it to their basket of berries they had already turned! But, I was already committed so we ran to the store to grab some from the produce section. Strawberries and peaches are at their peak right now where we live, and it's often a toss up to which easy homemade bread — strawberry or peach — is our favorite. Pin or save this recipe and I promise you won't be able to stop snacking.
*Posts on KelleyNan.com may contain affiliate links. Click HERE for full disclosure.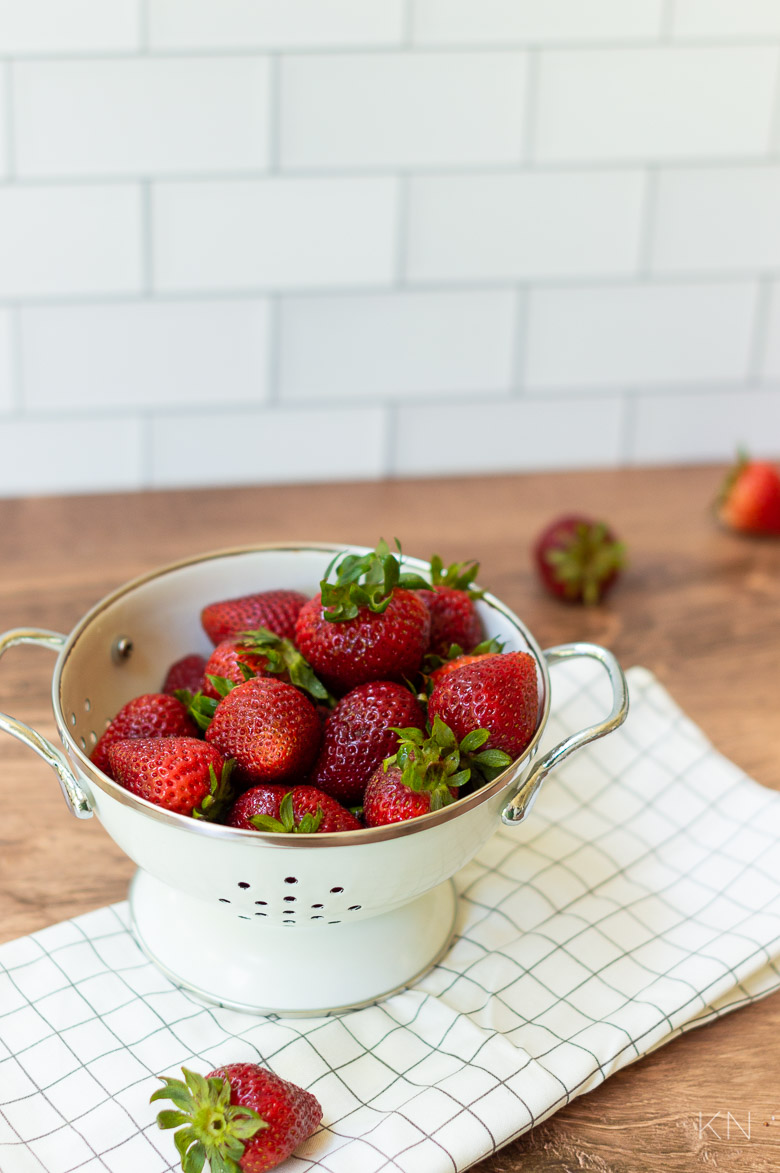 Sources: Colander (similar) | Tea Towel Set (similar)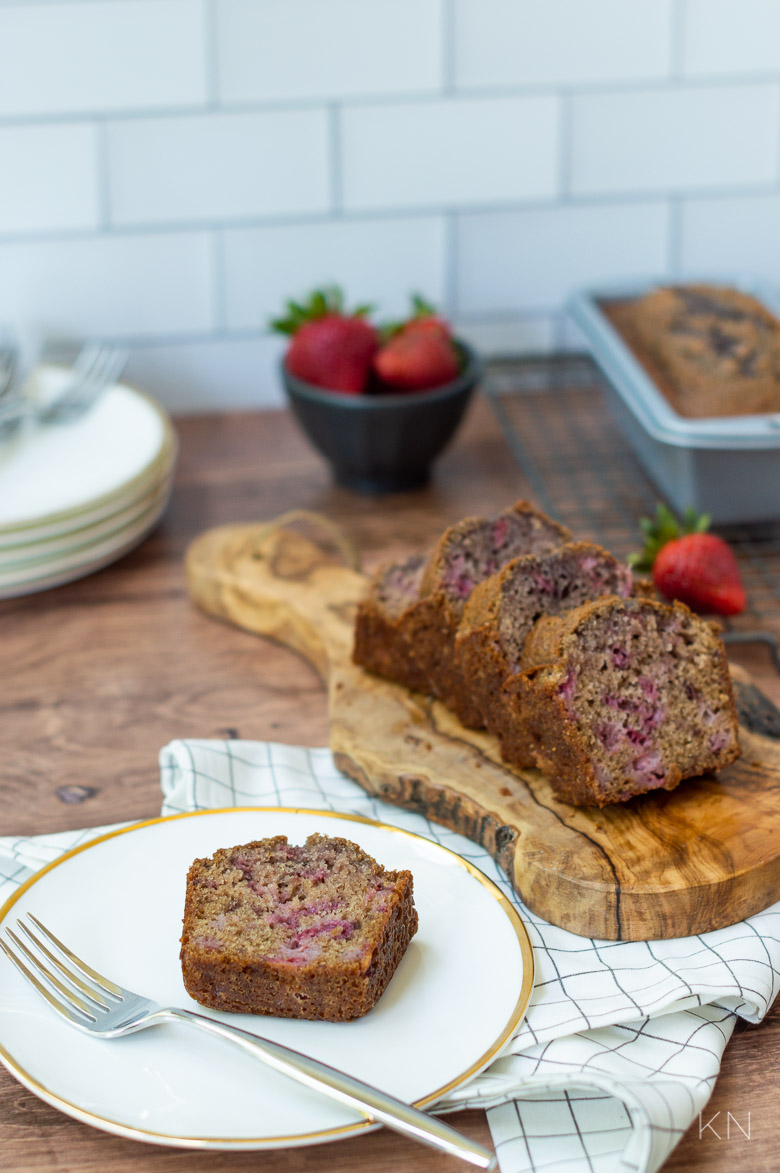 Sources: Cutting Board (similar) | Flatware | Tea Towel Set (similar)
Strawberry Bread Ingredients
This Easy Strawberry Bread is mainly comprised of pantry staples you probably have on hand, plus the strawberries. It also doesn't require any "fancy" kitchen equipment or tools. Here's what to have on hand.
9 x 5 loaf pan (I used THESE three mini loaf pans for this post, two smaller loaf pans may also be used.)
Small bowls (I like to use THESE larger measuring cups)
Fresh strawberries
Sugar
Vegetable oil
Eggs
All purpose flour
Baking soda
Salt
Vanilla
Cooking spray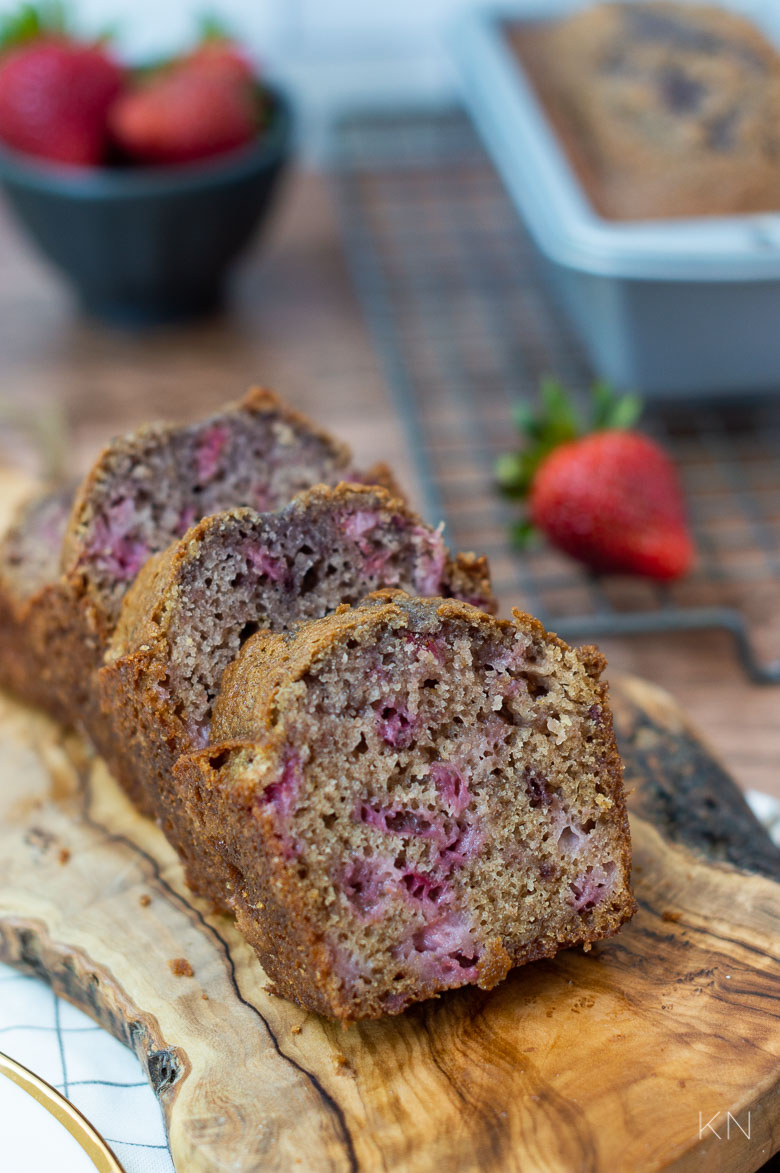 Can You Freeze Strawberry Bread?
Yes! This Easy Strawberry bread may be baked and then frozen to enjoy later, especially if you are making multiple loaves at a time. After the bread has baked and cooled, remove from the loaf pan(s), wrap in tinfoil and place in a freezer bag.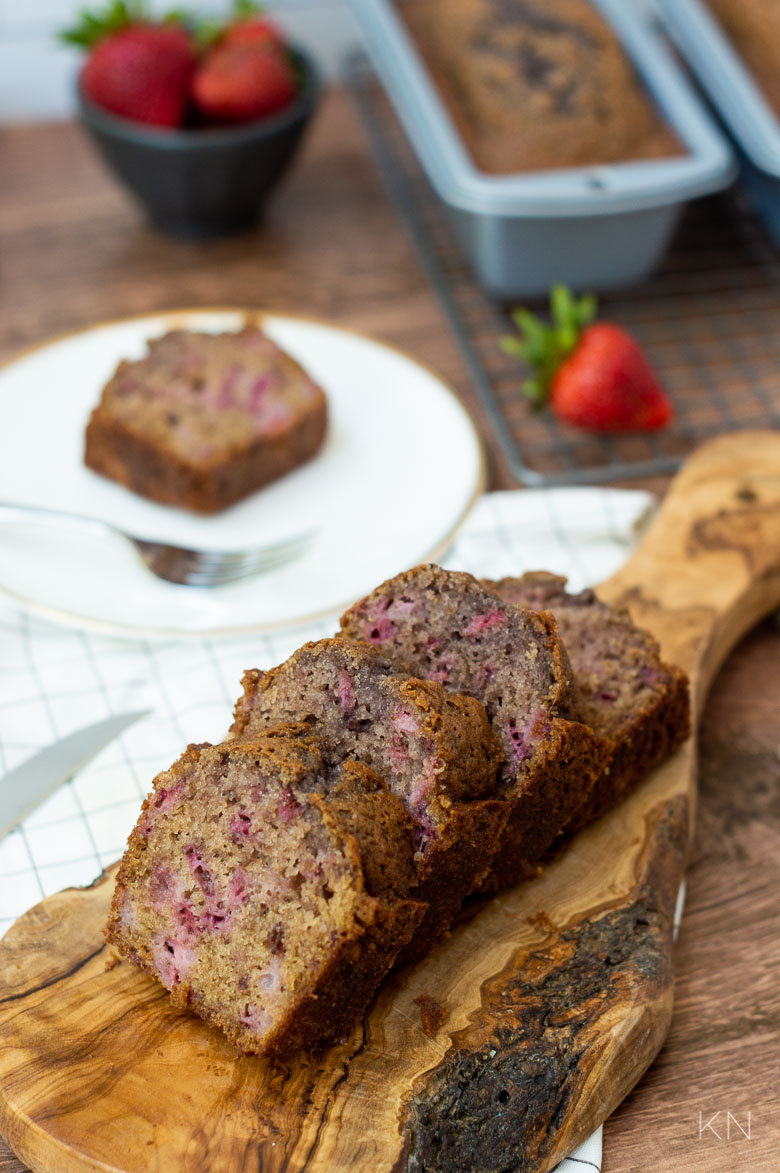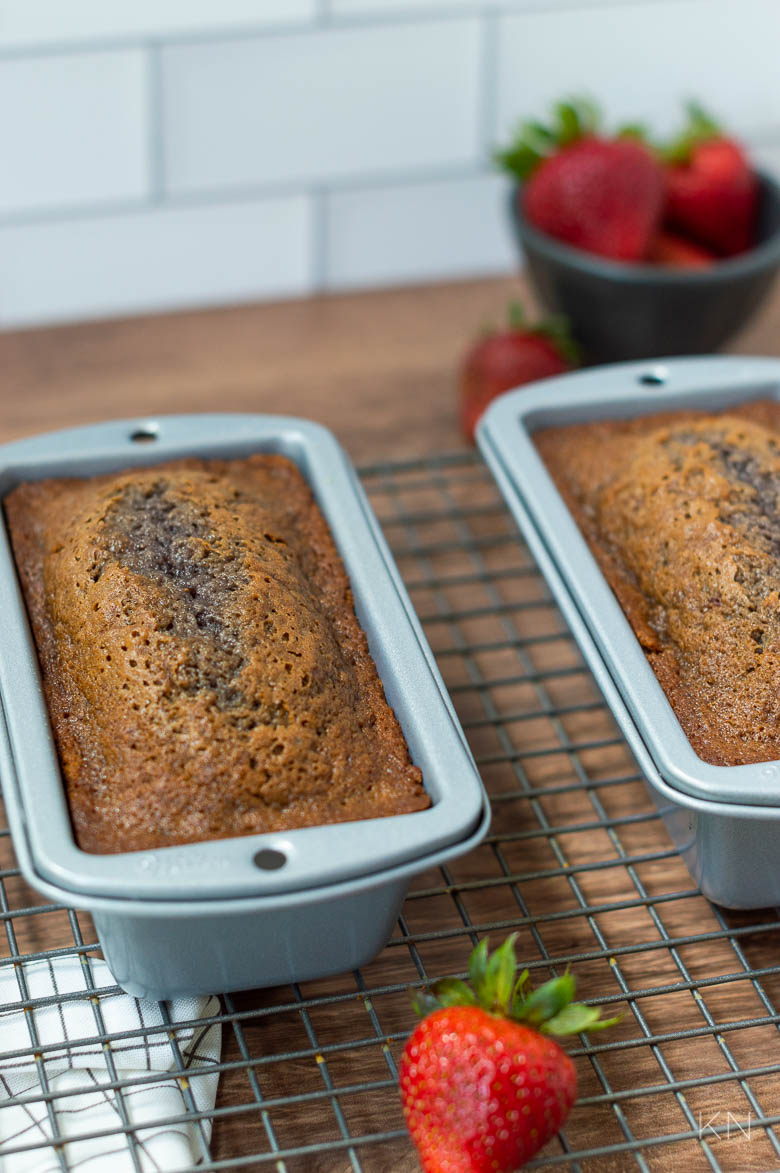 Sources: Mini Loaf Pans | Cooling Rack
Tips for Removing Strawberry Bread from the Loaf Pan
Using lots of fruit in a bread makes it delicious, but it may also cause the bread to stick more easily to the pan(s). Here are my tips for ensuring that the loaf is cleanly removed from the pan.
Make sure the loaf is fully cooked. You don't want a loaf that is too dry, so start checking for doneness five minutes before the cooking time is done. Insert a toothpick into the middle of the loaf and if it comes out with crumbs, the loaf needs to bake for a longer period of time.
Let the loaf cool completely on a cooling rack before it is removed from the pan.
When you are ready to remove the loaf from the pan, run a butter knife along the edges of the pan to help loosen the loaf.
Invert the pan on a plate and gently tap the bottom of the pan. Once the bread is released from the pan, invert it on to a plate.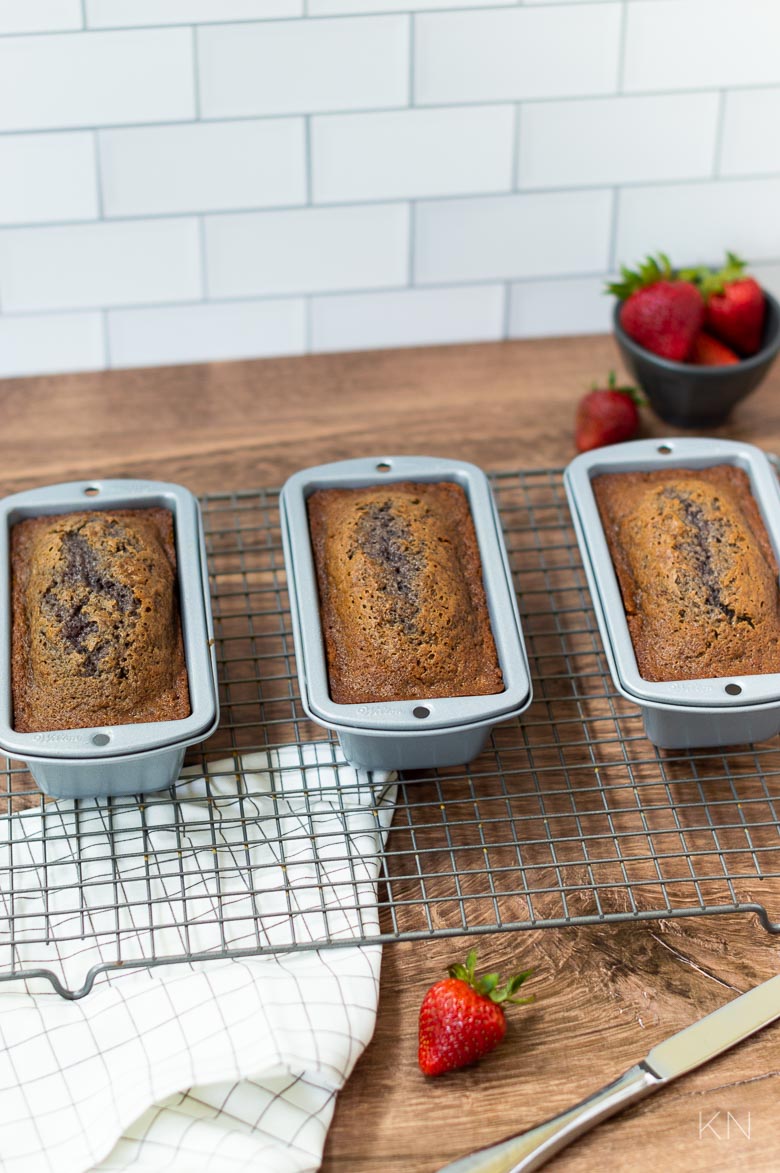 Sources: Mini Loaf Pans | Cooling Rack | Mini Matte Bowl | Tea Towel Set (similar)
What happens if the loaf crumbles when I try to remove it from the loaf pan? If your bread sticks and you deem it beyond "repair" and presentation — not just strawberry bread, but other fruit breads, too — you can use a deep dish, break the bread apart into chunks, and layer it with cool whip, nuts, strawberry jam, fresh strawberries, vanilla pudding, etc.
How to Make Strawberry Bread
The below recipe can be prepared in a single standard sized loaf pan, or, baked in multiple mini pans.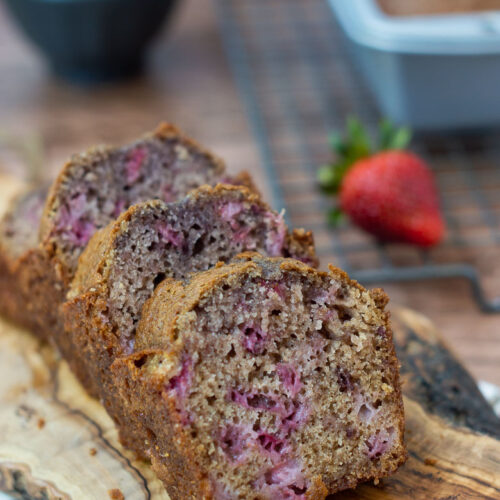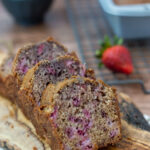 Strawberry Bread
This sweet bread, full of fresh strawberries, is perfect to make when strawberries are in season. It could double as a cake, but also works well for breakfast or for snacking.
Ingredients
1

quart

Fresh strawberries

2

Tbsp

Sugar

1

cup

Sugar

2/3

cup

Vegetable oil

2

Eggs

1 1/2

cup

All purpose flour

1

tsp

Baking soda

1/2

tsp

Salt

1

tsp

Vanilla

Cooking spray
Instructions
Preheat oven to 350 degrees and coat loaf pan(s) with cooking spray.

Hull and wash strawberries, chop into small pieces and place in a small bow. Lightly mash strawberries with a fork, sprinkle with 2 tbsp. of sugar and set aside.

Cream oil and sugar together in a mixing bowl with mixer.

Add strawberries to the mixing bowl and mix.

Add eggs, one at a time, to the mixing bowl and mix.

In a separate bowl, combine the flour, baking soda and salt. (I like to use a large measuring cup.) Slowly add flour mixture to the mixing bowl and mix.

Add vanilla to the mixing bowl and mix.

Pour batter in to loaf pan. If using two small pans or three mini pans, divide mixture among the pans.

Bake for 45 - 50 minutes, depending on oven speed. To check if the loaf is finished, insert a toothpick in the middle of the loaf. If it is clean when you pull it out, it should be finished.

NOTE: If you are using smaller pans, start checking doneness at 35 minutes.

Place pan(s) on cooling rack. When cakes have cooled, remove from pans and invert onto a plate.

This bread is delicious both when it is warm from the oven or after it has cooled down.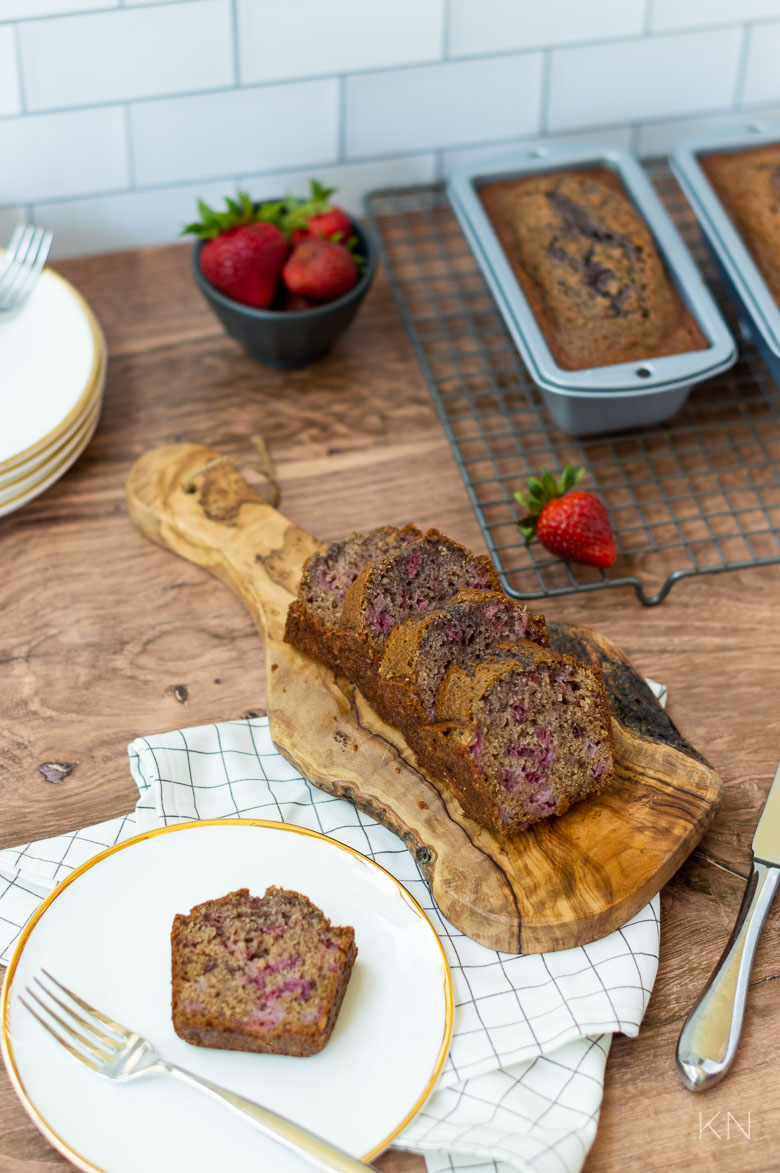 Strawberry Bread Variations
You may substitute just about any fruit or berries, that you like or have on hand, for the strawberries. Some variations include:
Blueberries
Blackberries
Raspberries
Triple berry (strawberries, blueberries and black berries)
Peaches
Apples
Pineapple
Bananas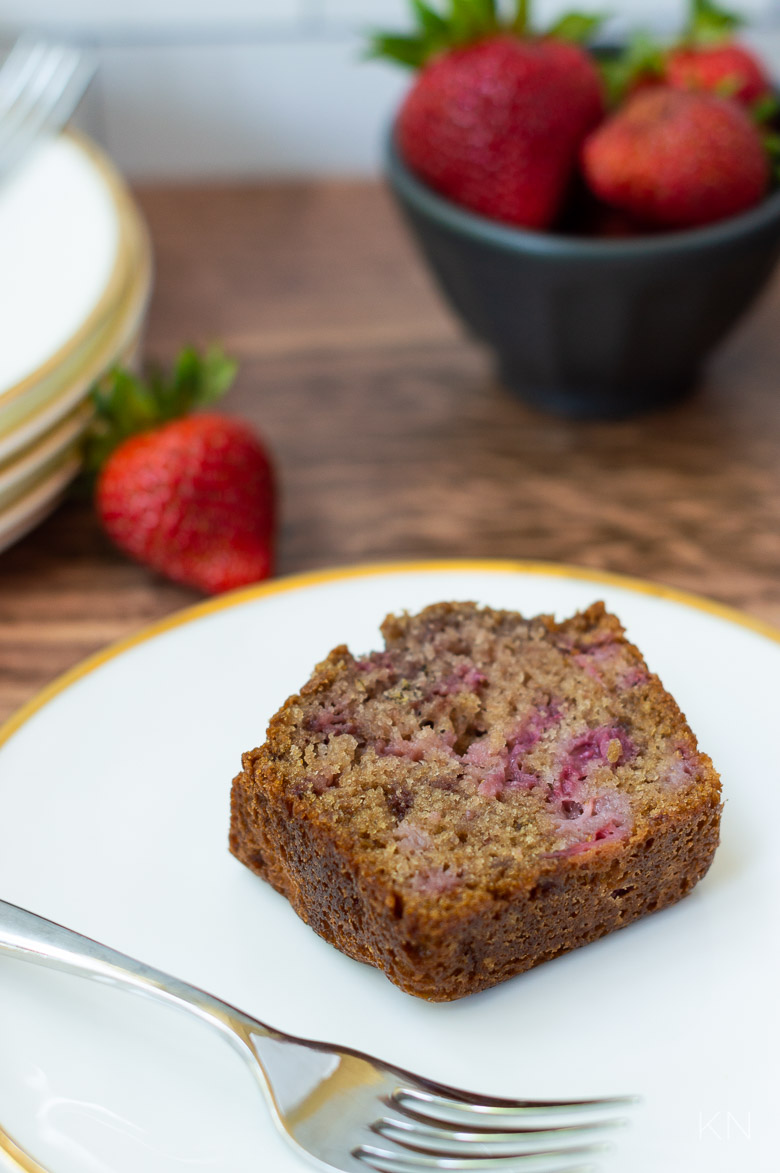 Strawberry Bread Toppings
If you'd like your bread to be more like "cake," you may add a topping or glaze to make it a sweeter bite. Some suggested toppings are:
Fresh whipped cream
Spray whipped topping
Vanilla ice cream
Strawberry ice cream
Strawberry glaze (consisting of 1 cup powdered sugar, two Tbsp. of milk, 1/2 cup finely chopped strawberries. NOTE: If you want a thinner glaze, add an additional tablespoon of milk at a time and stir.)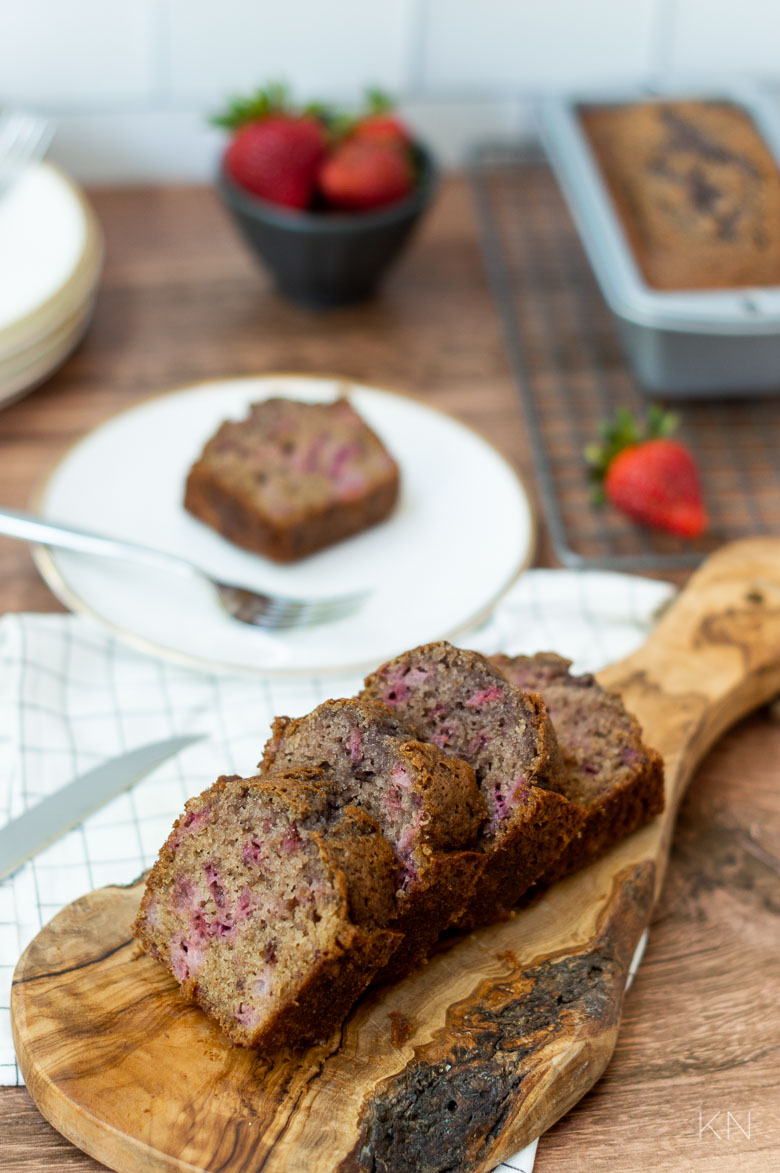 NOW is the ideal time to make strawberry bread — while the berries are plump, deep red, sweet, and delicious! If you make this dessert, be sure to come back and share how it was!
Other Posts You May Be Interested In
Pin for Later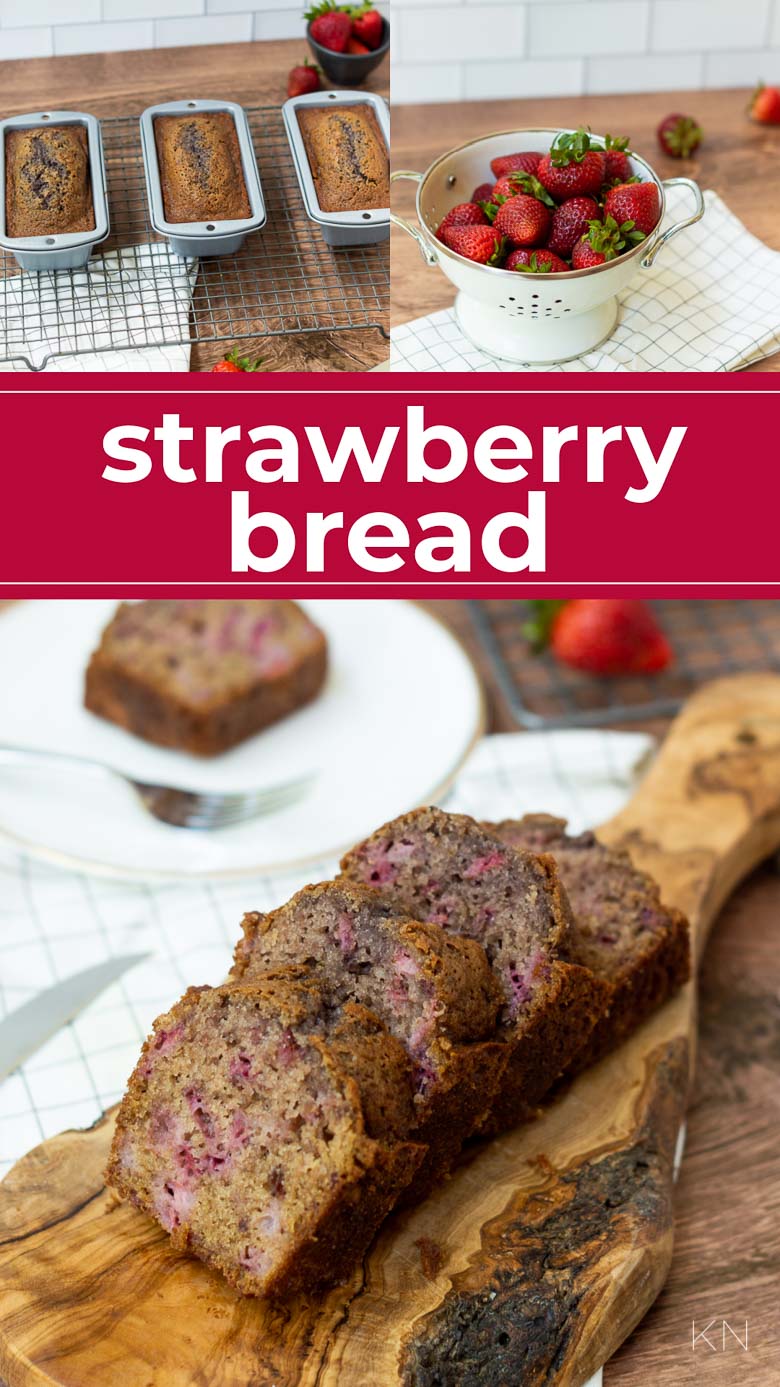 Shop Kitchen Favorites