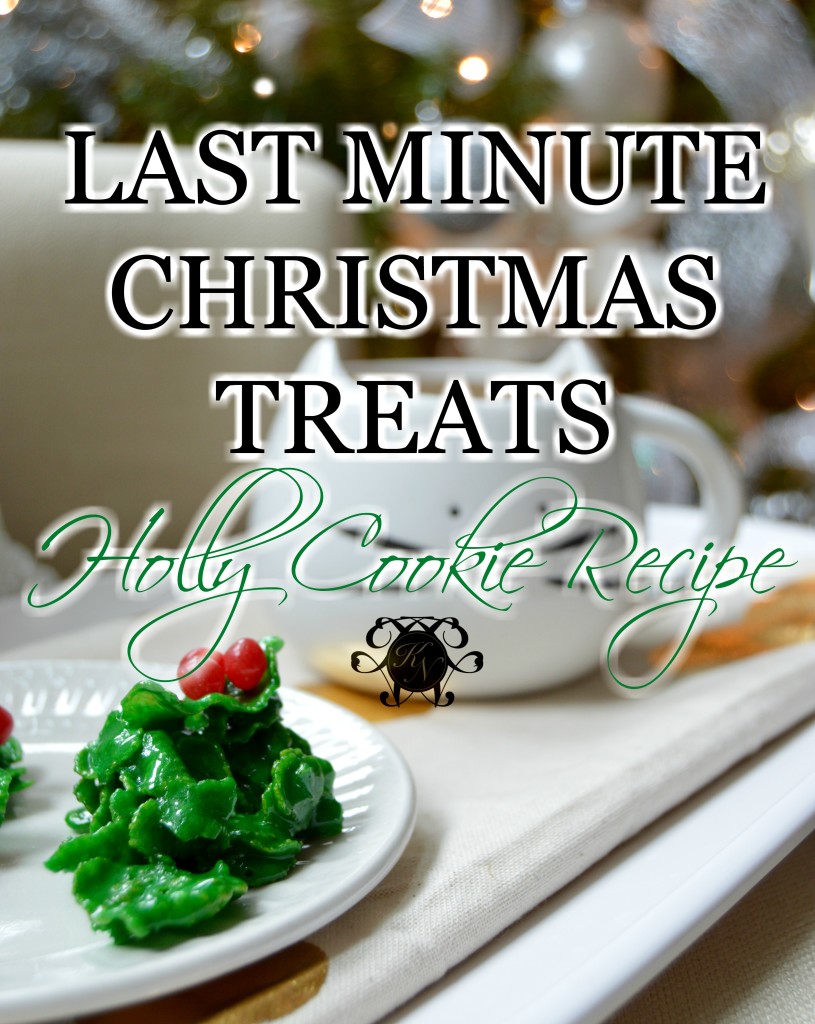 It feels like I blinked and all the sudden, it was Christmas week. Were we not just polishing off the last of the cranberry sauce and planning our leftover dinners?! During the holidays, it is easy for time to get away from us. While I try to plan ahead in sending out cards and shopping (ok, most of my shopping… some of my shopping), preparing treats, menus, and actually remembering to enjoy the season seems to come at the last minute every year. Because our family is small (just my husband and myself), most of our family is out of town, and our hectic work schedules, it is even more important to still take on some of the classic Christmas traditions, but they must be: 1. Easy, and 2. Quick. With only a few days until Christmas, I wanted to share my favorite Christmas treat recipe from my childhood, holly cookies. They couldn't be more simple to whip up and should you find yourself in a bind (needing a neighbor/host gift, last minute dessert, or a fun family activity), these couldn't be more simple or festive.
Regardless of how limited you are on time, there is always time to set a festive scene. Turn on the Christmas tunes (I chose Alabama Christmas for the occasion), pull out some cute festive holiday ware, light those holiday scents, and pour yourself a holiday beverage!
Here is what you will need:
1 stick of butter or margarine
40 regular sized marshmallows
1 tsp. vanilla
2 tsp. green food coloring
4 cups cornflakes
Red hots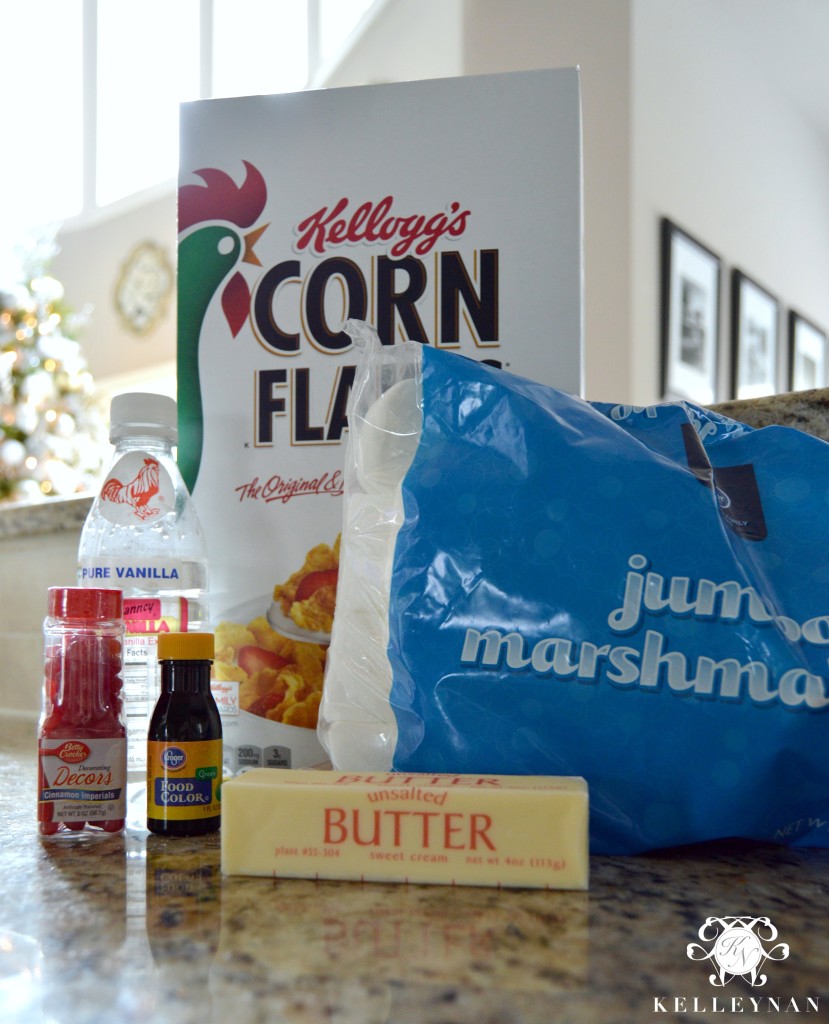 1. Because I had the jumbo marshmallows (they are HUGE), I am operating on the estimate that one is equivalent to four regular sized marshmallows. First, melt the butter and marshmallows over low heat. The smaller the marshmallows, the quicker they will melt so I cut mine up into smaller pieces.
2. Next, stir in the vanilla and food coloring.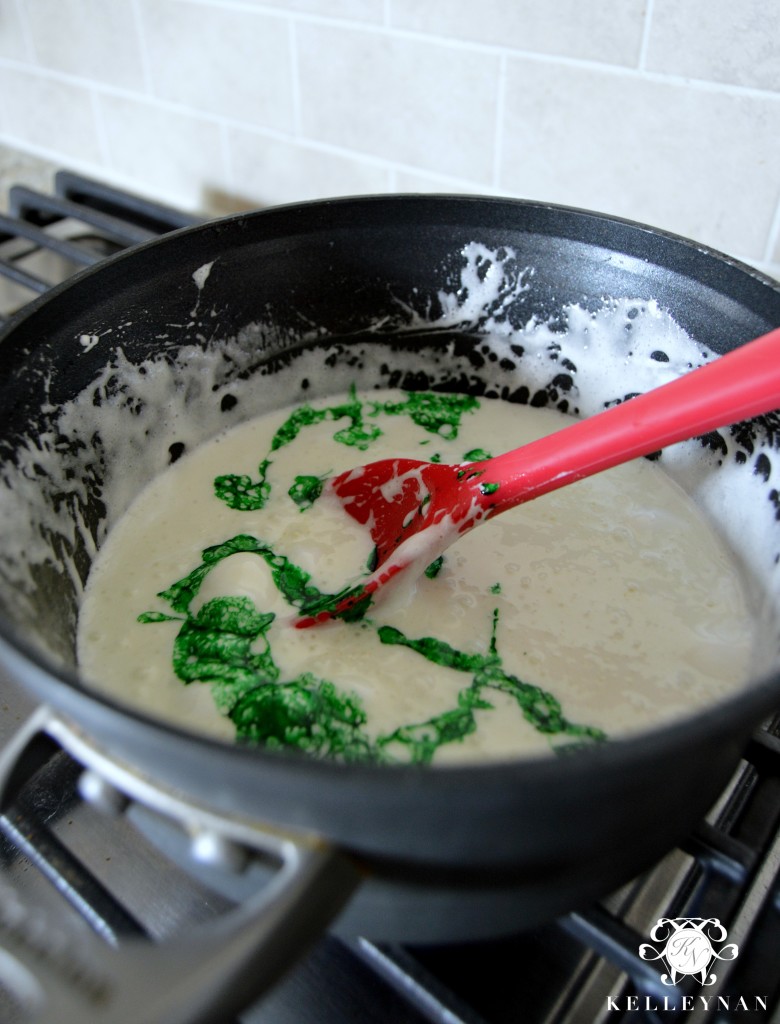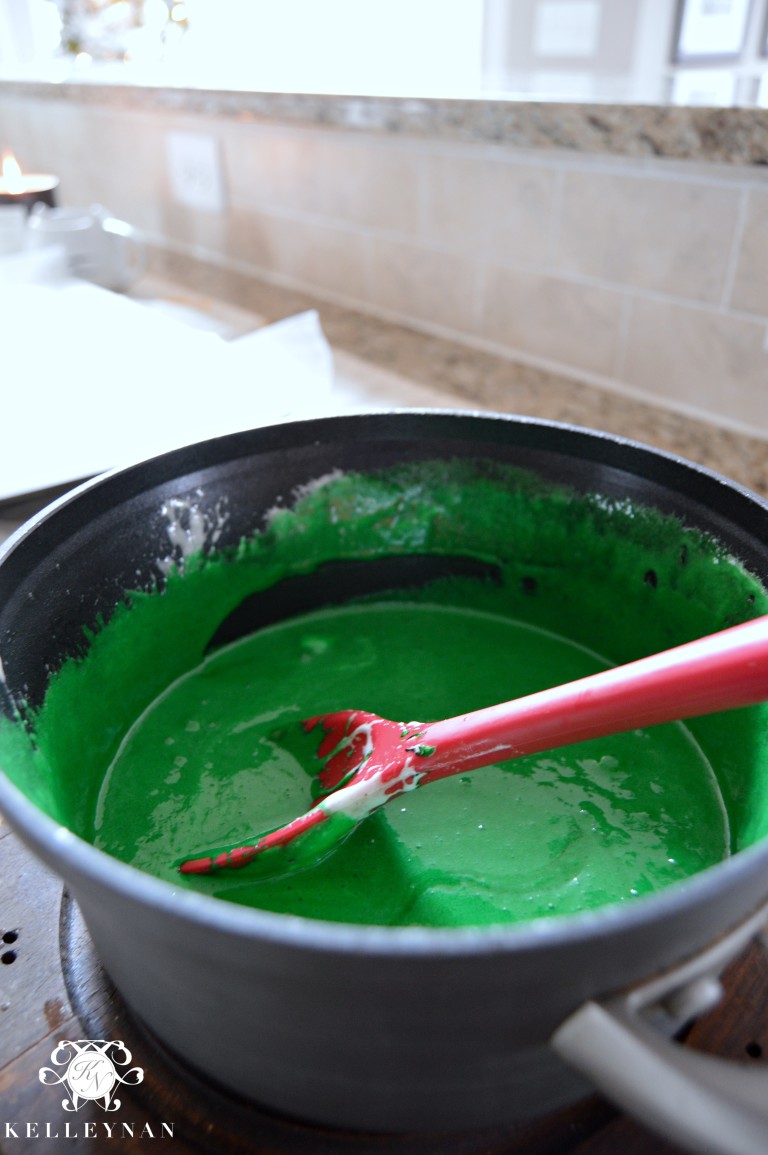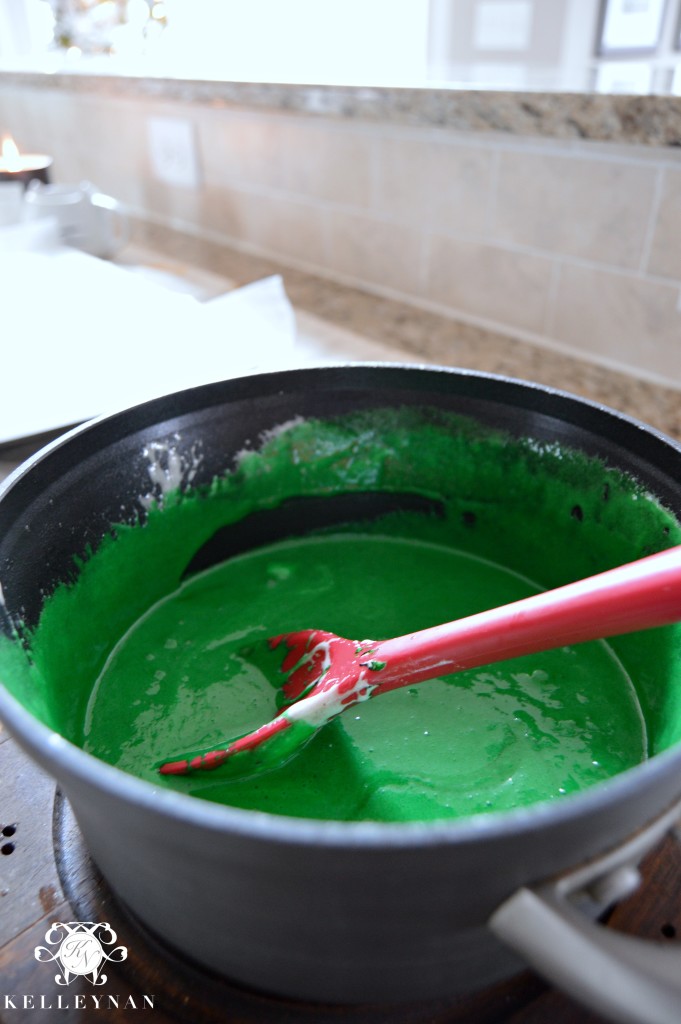 3. After the green is even throughout, gently mix in the cornflakes.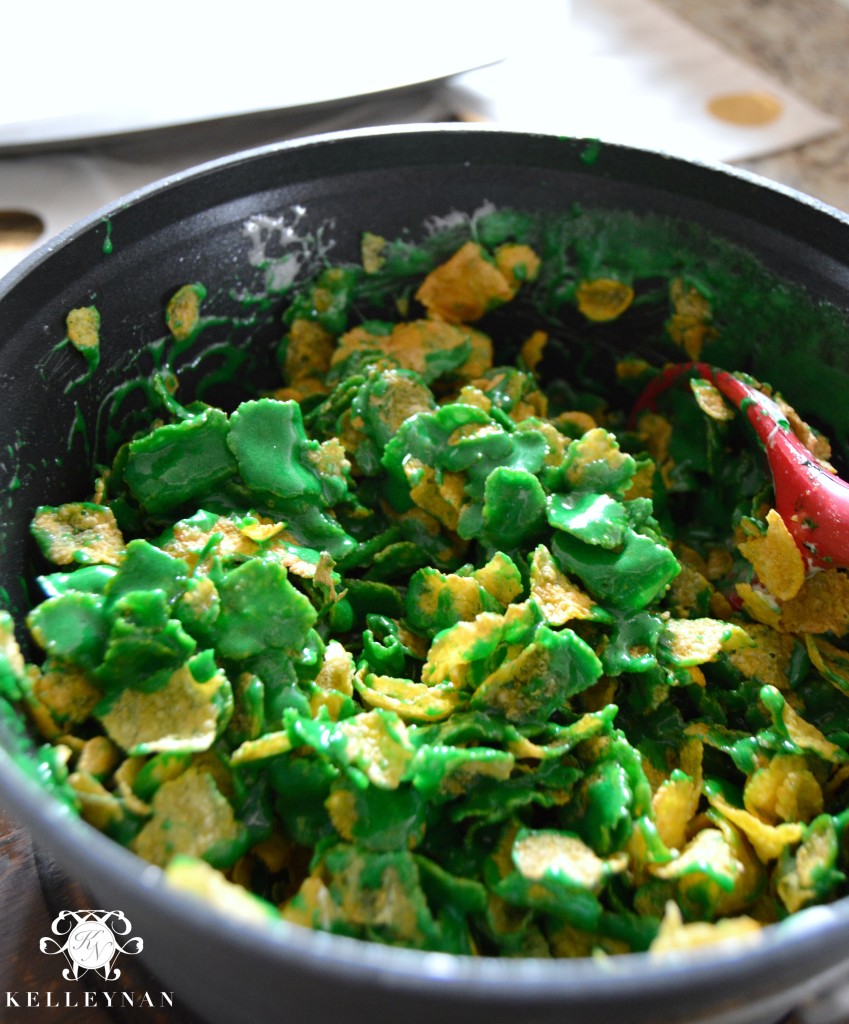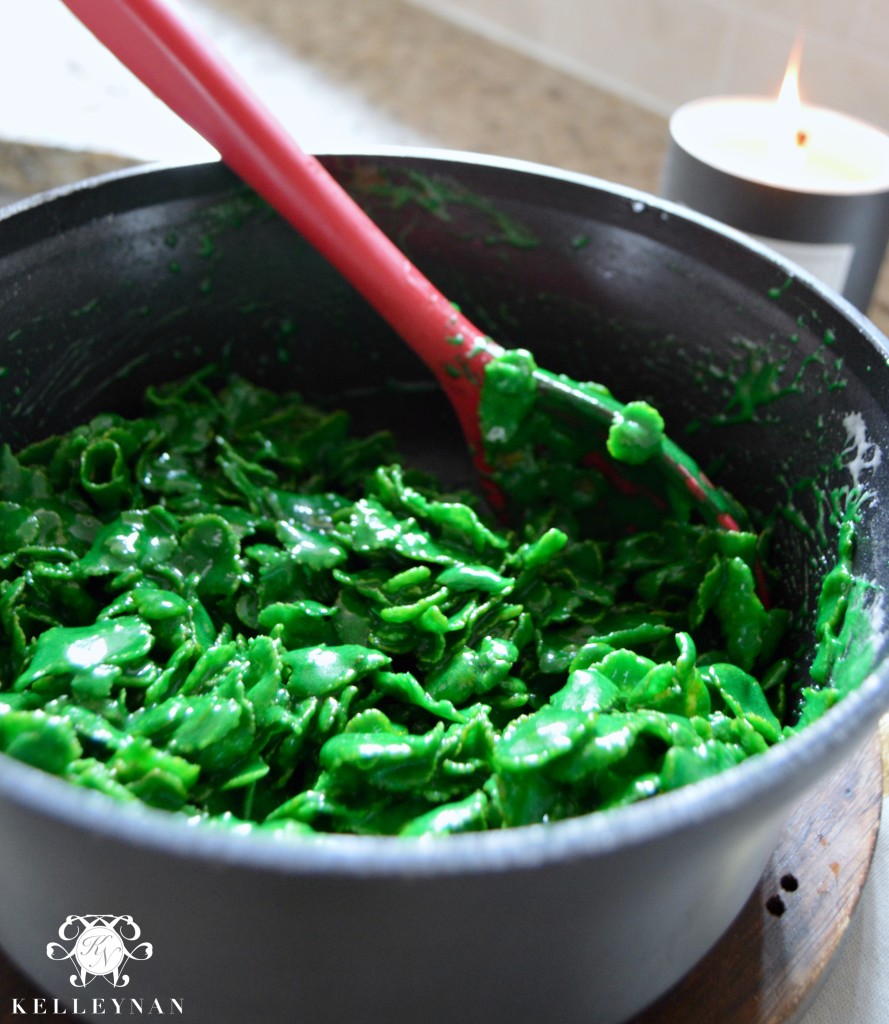 Take a spoon and scoop small globs onto the wax paper and add three red hots to each for berries. N
Note: I have actually seen these constructed as "wreaths". As I mentioned earlier, the point is something cute, quick, and easy, so I stick with the straight hollies.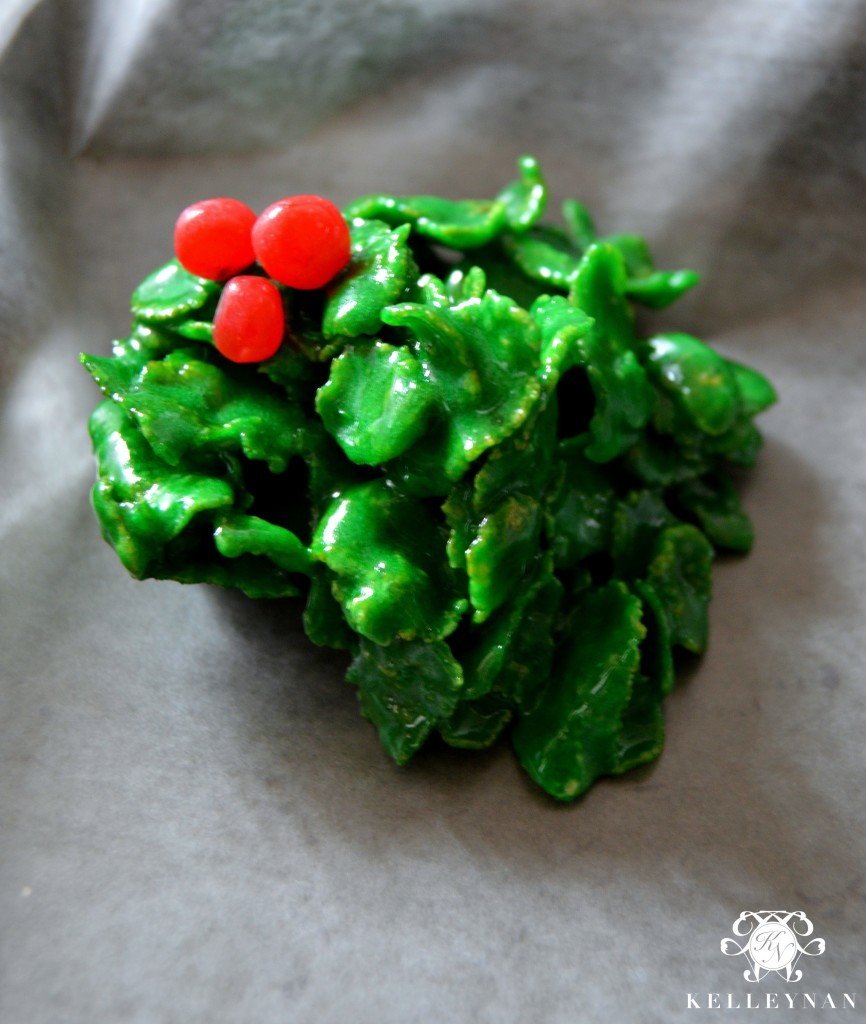 This recipe makes about two pans of hollies. Put your trays in the refrigerator until cooled; they will harden and stick together nicely.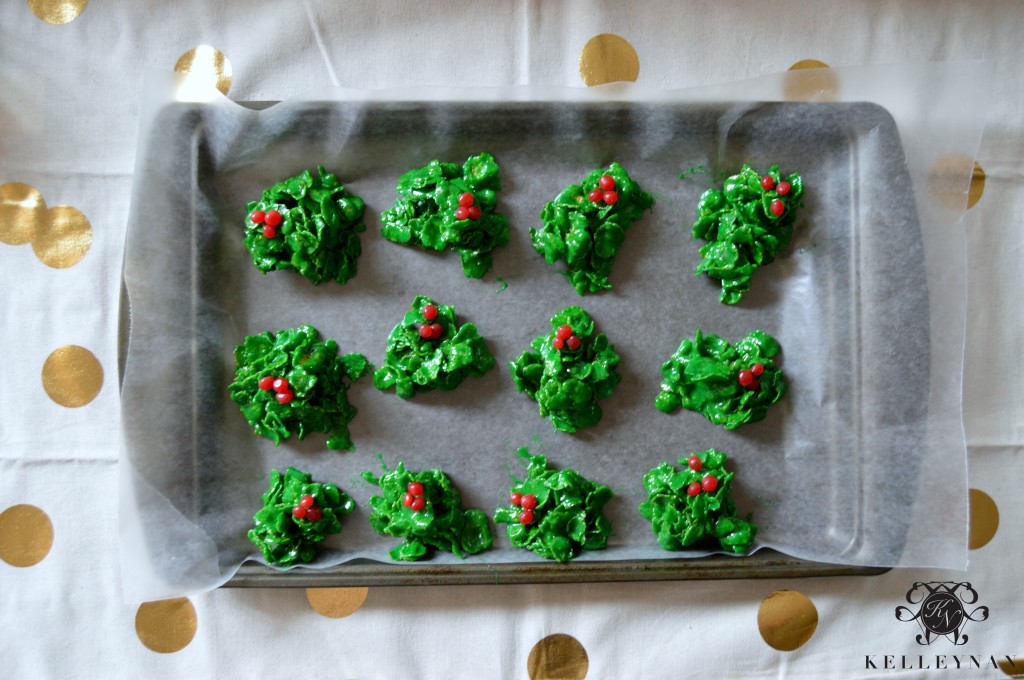 The gold polka-dot tea towels as pictured here are also from Ankit and you can find them HERE. They design accessories for some of my favorite stores like Anthropologie, Nordstrom, Forever 21, and ModCloth but you can purchase directly through their site. 
After the hollies have cooled for a couple of hours in the refrigerator they are ready to be displayed and/or consumed. A few tricks for a quick but beautiful dessert display- stack cake stands. These two white stands were a gift from my mother; they don't match which makes them even more perfect together. While you can layer and display all of your homemade Christmas cookies, you may be like me in that you are limited to one cookie, in this case, the hollies. You can arrange them on both tiers, or, place a few gourmet store-bought treats on one of the tiers.  I arranged some crispy gingerbread cookies with some candies and truffles on top.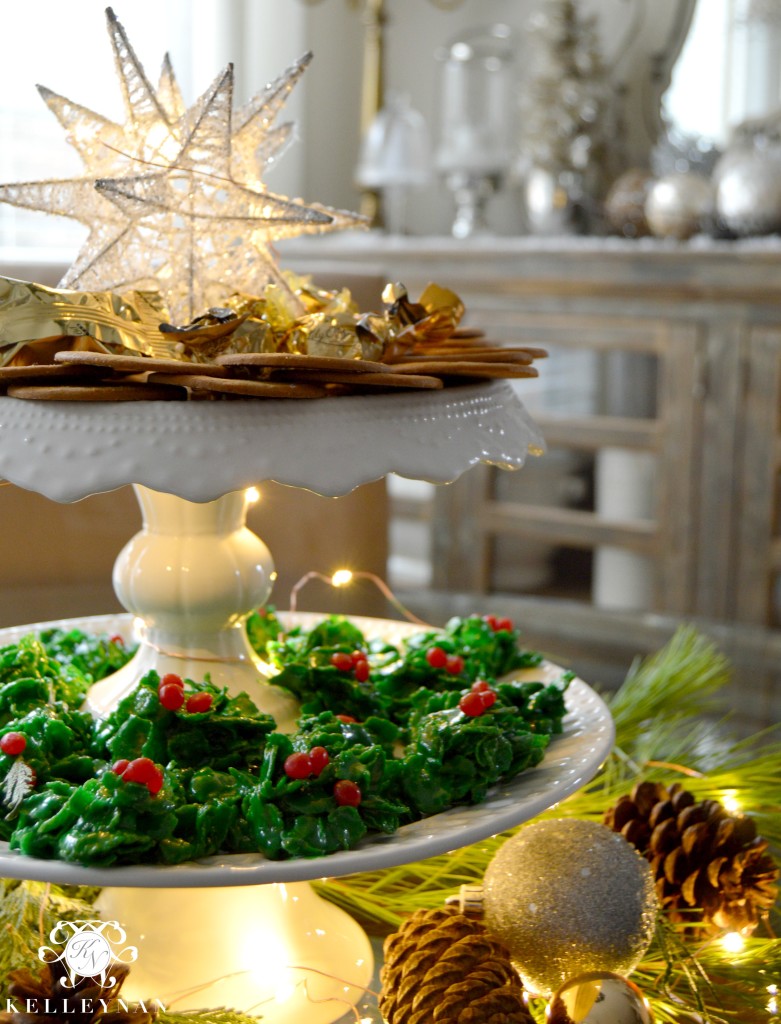 My favorite part about this dessert display is the copper wire lights I wove through the greenery and then up the cake stand. Because the wire is so thin and malleable and then lights are so small, you can put them anywhere. The glow literally illuminates the desert display, making it hard to miss. These have been my number one accessory this season, especially in little vignettes and in my table centerpieces.