I set out this weekend with a goal of tackling our outdoor spaces and with a full day still left in the weekend, I could not be more thrilled with our work and transformations. It started Friday evening when the outdoor pillows I had ordered finally arrived. Of course, the yellow Georgia pollen has completely invaded our porches, making sure its presence is known on every square inch of, well, everything. I didn't want to place the pretty new pillows on top of furniture with yellow film so long story short, after a broken, rigged up blower, water hose, cleaners from said blower's oil/gas spills, a wet-dry vac, and a few hours dedicated to the cause, we had eradicated that gross yellow stuff from the back porch.
The main space transformation happened yesterday afternoon after loading up at the garden center. I'll be sharing what we've been up to this week so be sure to check back in with me! With a warm-weather-ready outdoor space, I started thinking about cookouts and entertaining so soon as I came inside last night, I checked to see if the bar cart I had been waiting for had been made available. I have been waiting for a few months and check every week; last night, it was finally available. Y'all, I can't tell you how pumped I am – all the ways I plan to use it and all the places it will be used in. It's on sale for 25% off right now, PLUS free shipping! With some store rewards I had earned, it's coming to my house for less than $130.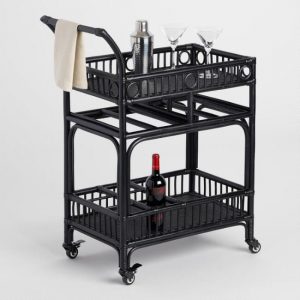 You can use it outdoors (what I am most excited about) or indoors, and make it as casual or elegant as you want. Or, you can make it casually elegant outdoors using accessories with regal finishes. For those of you obsessed with gold (I'm raising my hand, too), I've compiled some of my favorite bar and entertaining essentials. See below for my new favorite bar cart with black and gold entertaining accessories. Can you imagine the stunning display?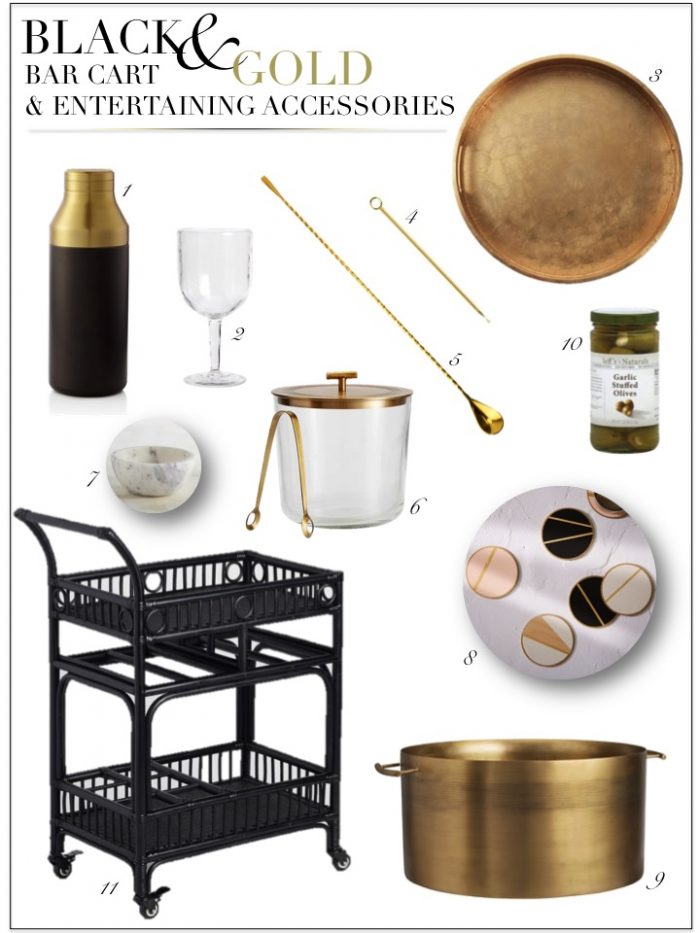 1. Rabbit Cocktail Shaker | 2. Acrylic Wine Glasses | 3. Wood & Lacquer Gold Tray | 4. Gold Cocktail Picks | 5. Gold Cocktail Spoon | 6. Ice Bucket | 7. Marble Dip Bowl | 8. Coasters | 9. Gold Party Tub | 10. Garlic Stuffed Olives | 11. Black Rattan Bar Cart

Of course, I'll be styling her up in all kinds of ways when she arrives 😉 This week is a big week – the One Room Challenge begins and I'll be sharing the start of our outdoor areas. Enjoy the rest of your weekend and please check in often this week as a lot of new posts roll out!
*post contains affiliate links*