It's one week into January and we've officially dipped our toes into 2018. How are things going? The resolution things? The organization things? The "I'm going to better about XYZ" things? Or, are you still looking around at stockings draped on the back of a chair in the living room from Christmas morning? (PS: NO judgement here! 😉 My husband grew up in a home where they left it until at least January 6 for Epiphany; my methods took some getting used to). I've finished the home "transition" (coming to the blog this coming week after several requests!) and am wrapping up the "planning" stage of my organizing/purging/decluttering projects. This week's snack around the plate all have something to do with what I've been up to or will be up to in the coming weeks.
*Note: Posts on KelleyNan.com may contain affiliate links. See full disclosure HERE*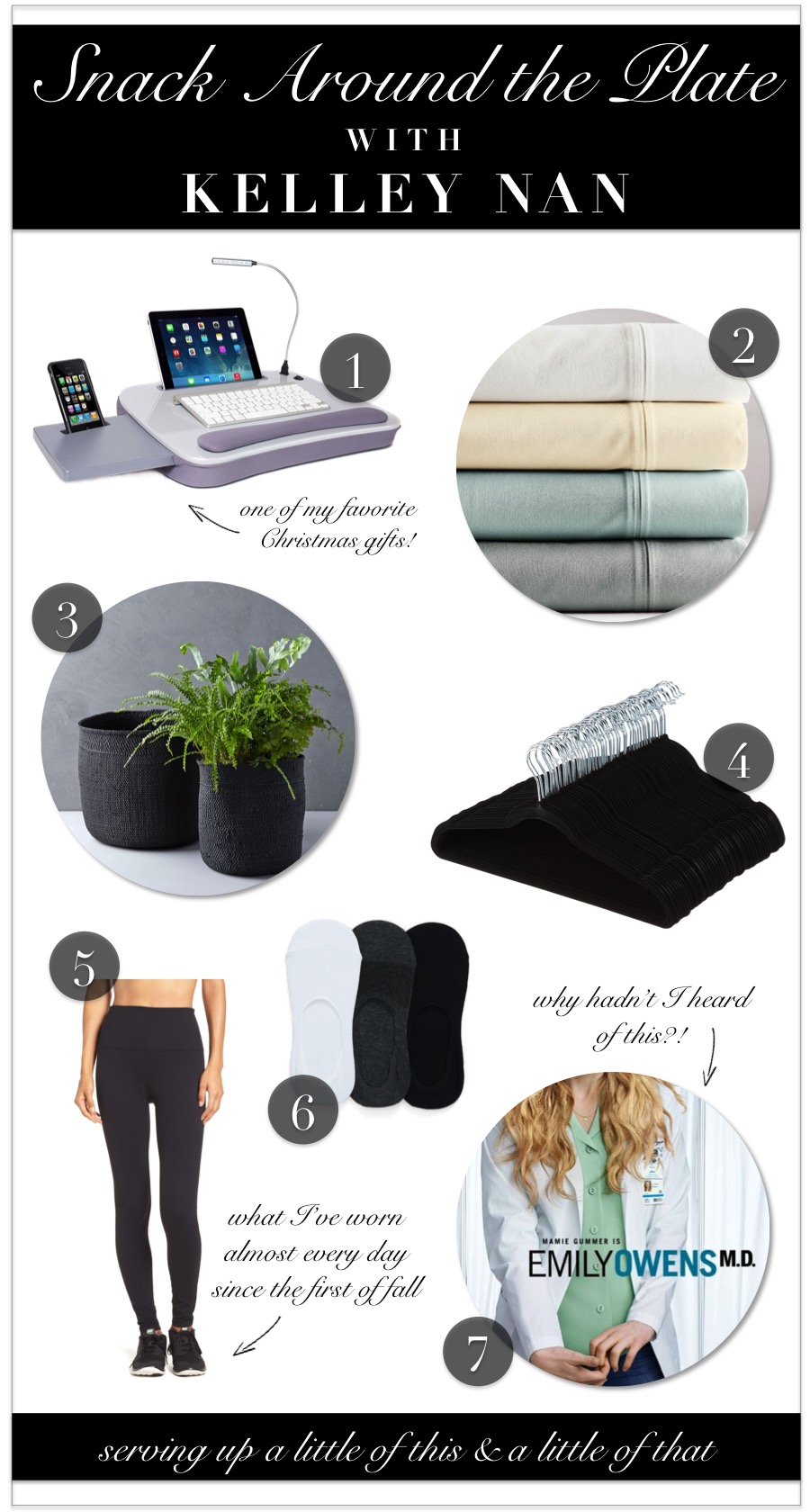 1. My new desk-away-from-my-desk (aka new best friend): One of my favorite Christmas gifts was this memory foam lap desk; Dave had observed me trying to use pillows (hello, overheating laptop hazard) and all kinds of solutions to be able to comfortably work from the sofa and in bed. Until I used this, I had no idea how much I really needed it. Especially having treated this winter as an excuse to turn my bed into my office (I shouldn't recommend this but as long as  you can be productive and un-distracted, I totally do haha), this sturdy, flat surface makes it SO much easier. Plus, I have a habit of having some snacks or work lunches in bed from time to time (hey, I didn't judge on the Christmas thing so don't judge me here 😉 ) and this totally takes away the need for an awkward tray. The memory foam lap person is an angled wedge so it levels naturally. Bonus, there is a battery powered light and toggle switch if you're working in the dark; when you aren't using it, the usb light snaps off and fits inside a little zipper pouch on the desk. There is also an option without it and the extra space with phone holder is a slide out. Shop it here: Lap Desk
2. The sheets that deserve a love song: About a year and a half ago, my favorite sheets (we had two sets for our master bedroom) were discontinued. (I know several of you had purchased and loved those, too!) We continued to use them even though frays and small holes had started to form; they had definitely seen better days. When we tackled our master bedroom this past fall, I used the opportunity to test out a new set of sheets to see if any others could make a believer out of me. Friends, we have a winner. PLUS, they are on sale for 20% off for the annual White Sale, plus free shipping. They are uber soft but substantial and a nice weight. If you tend to cycle through sheet sets  from Target, they are a little bit more of an investment but deciding to invest in quality sheets several years ago is one luxury that has proven to be worth every penny (and one thing I won't give up). Shop them here: 700 TC Sheets
3. Chic plant baskets: You'll see next week but spoiler, after having success during my other "tests", I've brought in several more houseplants (especially to warm everything up during the cold-and-definitely-not-green months). I have developed a huge crush on these African hand-woven grass, naturally-dyed baskets. I am dying to get a snake plant in the smaller one but the larger one would look awesome with summer throws… I have it on my wish list 😉 Shop them here: Handcrafted Iringa Baskets
4. The non-slip, slim hangers that will transform your closet: I know, I know, I've talked about these before. Ok, I've talked about these several times before. But, if you are still using plastic, random, or tubular hangers, you don't know what you're missing! I bet at least 70% of you have a goal to get your closet more organized (and soon). About six years ago, I made the leap from tubular hangers to these slim felt, non-slip hangers. It totally transformed my closet. It seems silly to say that about a hanger but but it makes a good bit more room (total necessity for most of us when rack space is a luxury), and the uniformity makes everything so much easier to see. Plus, I ditched the Old Navy hangers since these can actually hold tank tops and camis! Right now, you can get a 50-pack for under $17 (plus free two-day shipping through Prime). Shop them here: Black Non-Slip, Slim Hangers
5. What I've been wearing on my bottom half for basically 3 months straight: Remember when I got these live-in high waist Zella leggings last summer? I wore the cropped version for the remainder of the season and then switched to these and basically haven't taken them off. They are warm for lounging and errands but hold you in so well (in a firm but non-suffocating way) that I wear them "out", too. The thousands of reviews on their site are spot on and totally deserving of that five-star rating. If you don't have a pair yet, do yourself a favor and get them and try them. Shipping (and returns) are totally free so there's zero risk 😉 Shop them here: Zella Live In High Waist Leggings
6. The perfect no-slip, no-show sock liner: Do you have a pair of booties, flats, or low cut sneakers for which you still can't figure out what socks (or if you should wear socks)? I have had cheap sock liners in the past that were basically no better than the worthless stocking they give you at the shoe store- that don't maintain shape, stay, or really do anything. I fell in love with these when I was looking for a solution to wear with my favorite Echo sneakers (HERE). You. Guys. They even have a little rubber grippy on the back of the heel (which I fully credit for eliminating my heel blisters). They are really light weight and perfect for year-round; 100% recommended, times 1 million. Shop them here: Sock Liners
7. The quick, perfect binge watch you never knew about: Or, maybe you have heard of Emily Owens, M.D. and I'm the one who lived under a rock in 2012. I get at least 30% of "my shows" from Mama Nan. This is one she stumbled upon, loved, and passed it on to me. I was a little skeptical (I think I had heard of it but thought it may be too cheesy or not worth watching since it only aired for one season; that can't be a good sign, right?). This past week, I decided to take it on since it had little time investment (only 13 episodes) and I do love most of those CW shows. It. Was. Excellent. Dave caught me in episode 11 and even sat to watch 12 and 13 with me; when it ended, we were both sad. It has tons of actors you know/have seen, including the main character, Meryl Streep's daughter Mamie Gummer (brilliant in her cameos of The Good Wife, plus Justin Hartley of  This is Us ;). It is similar to the earlier years of Grey's but the cast is so much more relatable. You can catch it on Netflix and I totally suggest you do. I really think this will go down as one of the epic, cancelled-after-one-season tragedies like My So Called Life.
We have some fun things coming later this week so if you aren't already, you can subscribe to receive emails on project announcements at the bottom of this post. May you have a week of productivity, endurance, and satisfaction in tackling what you can.